Before Halloween the hashtag #itnails became popular again. Yes, we mean those nails with Pennywise and scenes from the "IT" movie are still trendy for the scariest holiday in the year. Choose your design with the clown Pennywise, kids in yellow raincoats, red balloons or blood drops. Stephen King, thanks for the brilliant idea!
Advertisement-Continue Reading Below
The Scariest Pennywise Nail Designs Ever
They are too Halloween-appropriate. You can`t miss the chance to consider wearing such designs. Check out the pictures below!
1. Nude Halloween Nails with a Red Balloon, a paper Ship, and Blood Drops.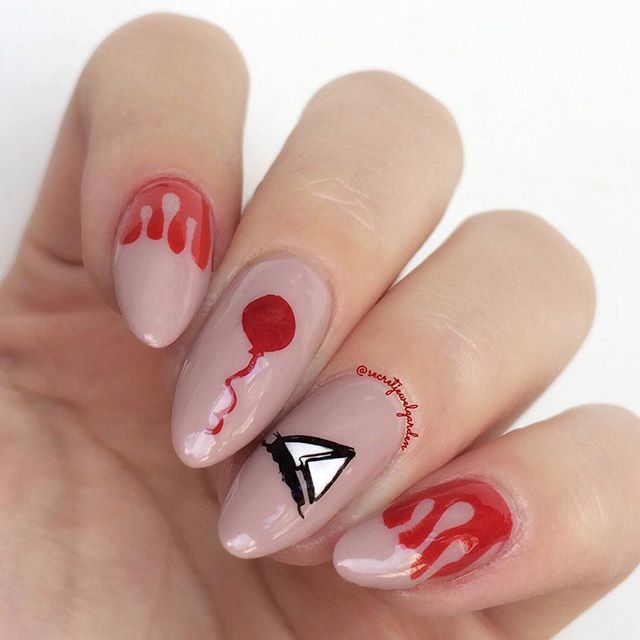 2. Nails Design "IT".
3. White Halloween Nail Design with Clown Pennywise.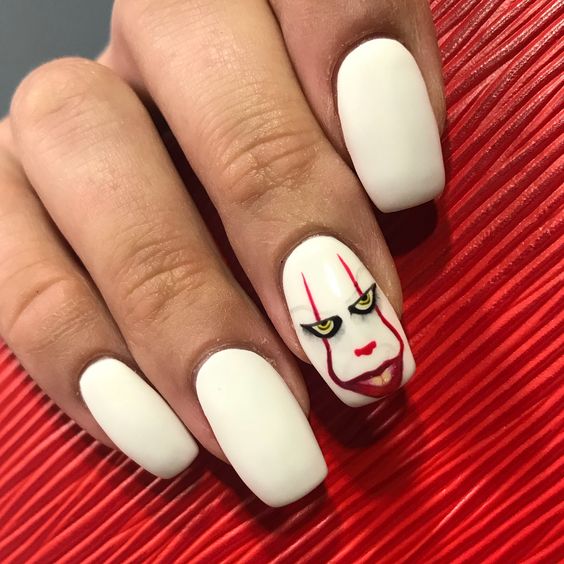 4. Halloween Nails with a Paper Ship, a Red Balloon, and a Poor Kid in a Yellow Coat.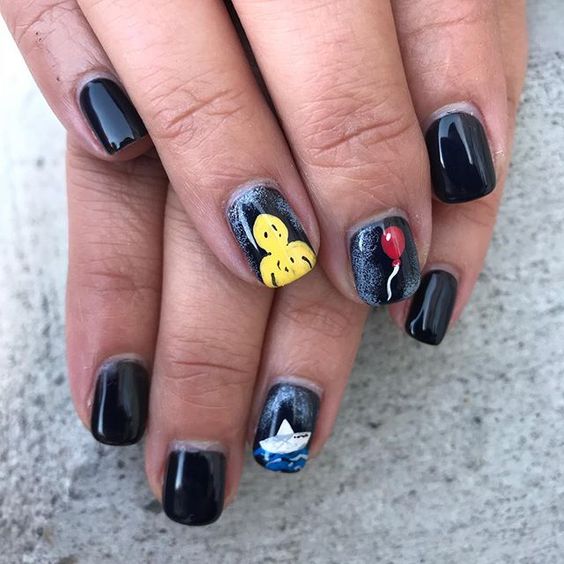 5. Pennywise`s Face and Rain Drops on Nails for a Halloween Party.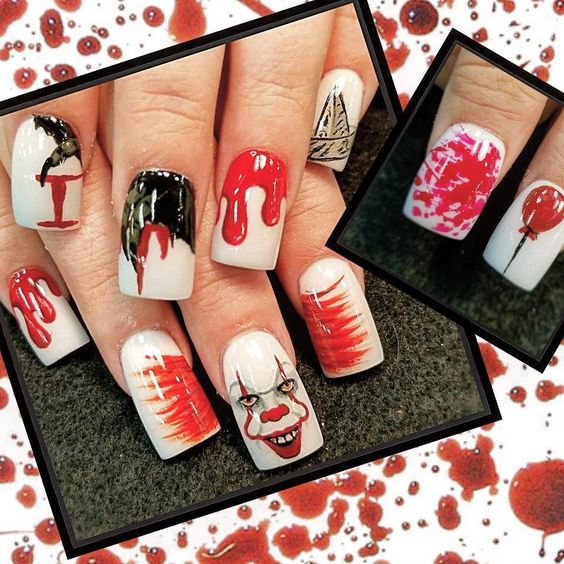 6. Black Stiletto Halloween IT Nails with a Clown.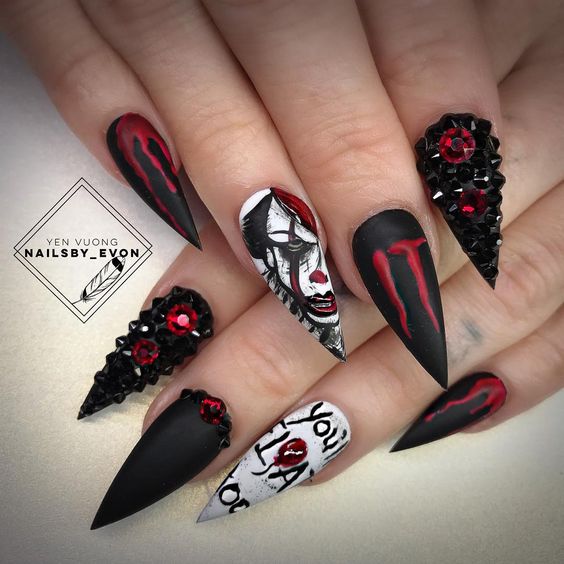 7. One Spooky Accent Nail with the Clown from the "IT" Movie.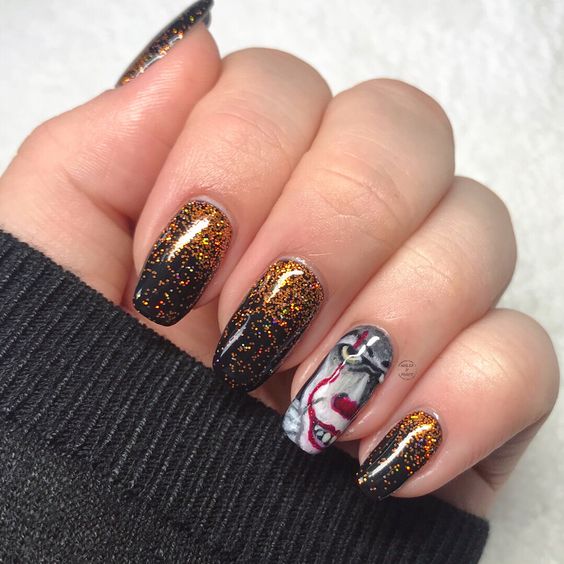 8. Extra Long Acrylic Nails with Clown Pennywise.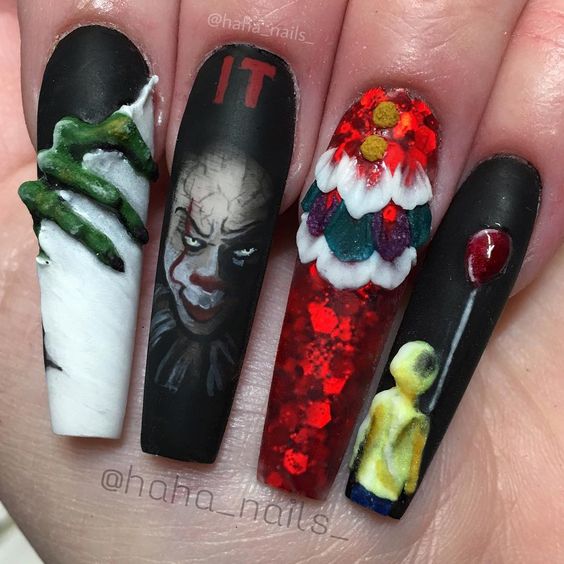 9. Unexpected French Manicure with Pennywise.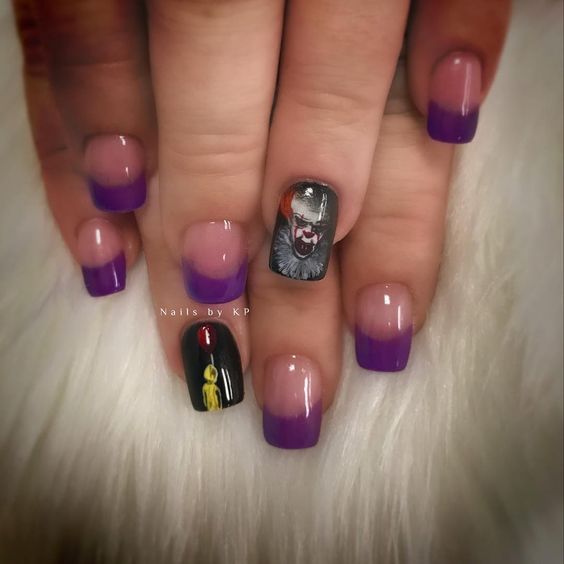 10. Pierced Nails with Pennywise.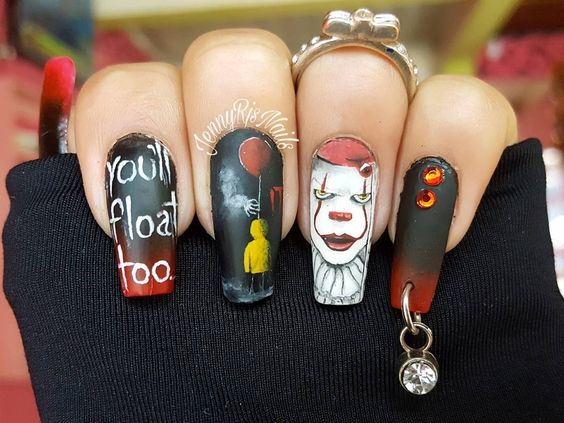 Several more ideas from Instagram and Pinterest:
Nails "You will float too" –
Now even more interesting.
White Bloody Mani "Loser-Lover":
Almond Halloween Nails with Blood Drops:
Black Nail Design with Red Balloons:
IT Black, White and Red Nail Design for Halloween:
Halloween Scary Teeth Nails:
Scary Teeth Nails – a Closer Look :):
One More "Lover-Loser" Pennywise Manicure:
So, if you want to create a really scary look, then Pennywise IT Halloween nails will be a great addition to your party clothing. And don`t forget to make a NAILFIE, such masterpiece needs to appear in your friend`s social media feeds.
READ NEXT:
Crazy, Strange and Weird Nails – Yay or Nay?
Cute Cat Nail Art: Gallery of Cat Nail Designs You Will Fall in Love With
Top Wine Colored and Wine Themed Nail Designs
Candy Ball Nail Designs: Photos and Video Tutorials
More different nail designs you will find on our Pinterest boards and on IG account @thenewestnails. Follow us, save the ideas and be inspired by our content.
Our new Telegram channel – t.me/nailspiration
P.S. Don`t forget to subscribe and get a solid dose of nailspiration every week! We promise not to spam!
All rights to published pictures belong to their authors, that`s why we provide credits (if known). If you don`t like sharing your content in such a way, contact us directly at thenewestnails@gmail.com. Thanks for understanding, you`re amazing!