Every girl likes cat nail designs, it is an axiom. You may draw a little kitten, a black cat, a Cheshire cat or any other cat family member, and your manicure will be excellent and a great complement to any possible outfit. All about cat nail art in our today's article!
Advertisement-Continue Reading Below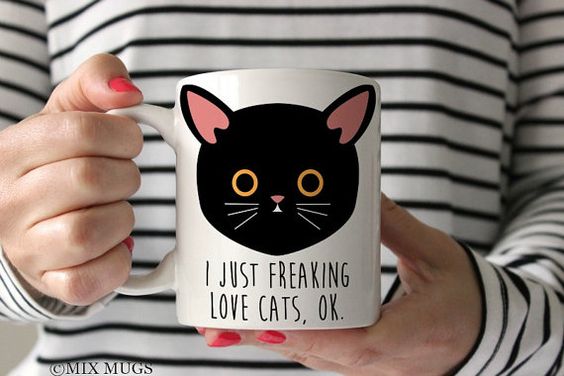 Different Types of Cat Nail Art Popular in 2023
There exist several most popular ways to make 'cat nails'. The first and the most simple – cat paw print nail art. Paws can be colorful or made with a solid color. Choose what works for you.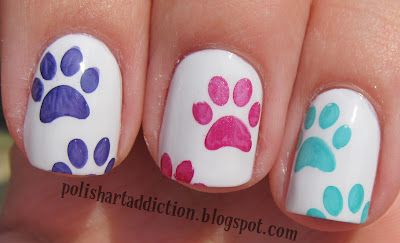 The second variant of 'cat nails' – design with a cat's face. Always cute!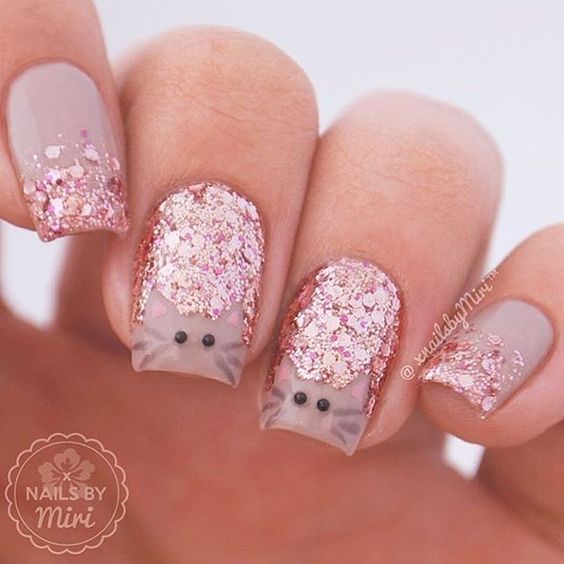 And if you want to have a masterpiece on your nails, call your nail-artist or use a slider design. Cat nails designs can be so hyper-real!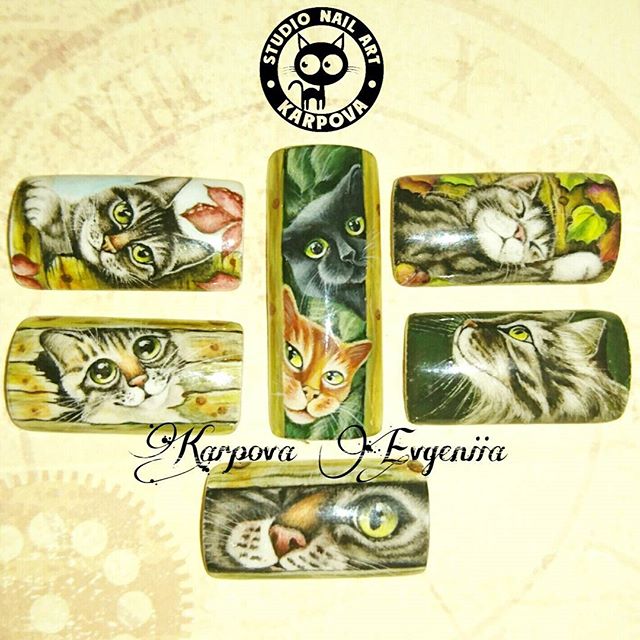 45 Versatile Cat Nail Ideas 2023
Let's see what cat nail designs you can do on nails of different lengths and forms.
1. Black and nude cat nails.
A great way to try one of this season's trends – 'half full' nail art. You don't need to 'dip' your nails into bright nail polish. It can be one of your favourite beige shades. Several nails dark, several nude, plus a cute cat design. Perfect!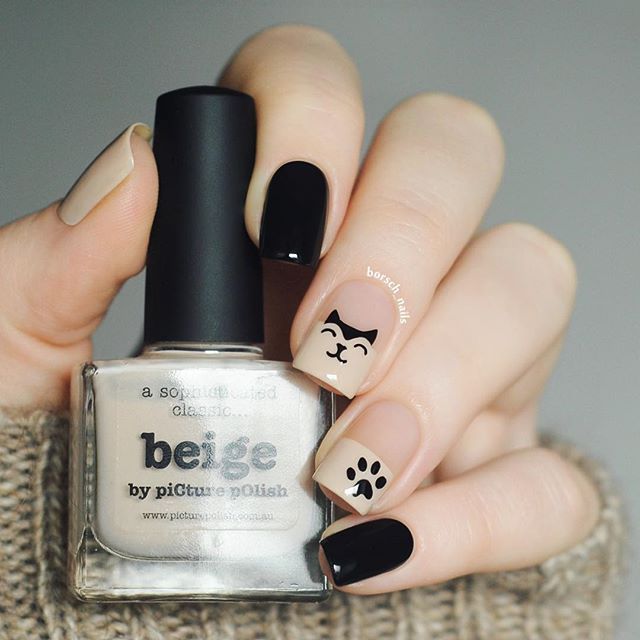 2. Gray kitten on nude nails.
So sweet! One more nude nail design, but it looks very different. Ask your nail artist do draw a gray cutie on your nails and all your friends will beg you to give her phone number!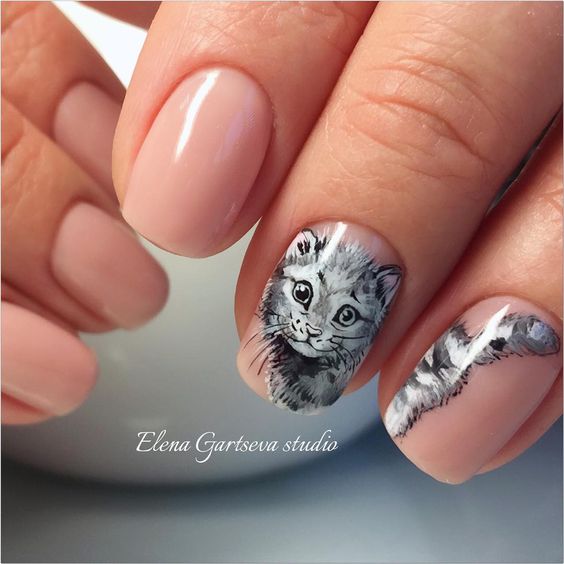 3. Stiletto acrylic cat nails.
This cat is made in the deep design technique. The silhouette is left nude, the rest of the nail is dark. BTW, there are special sliders you may use for this design.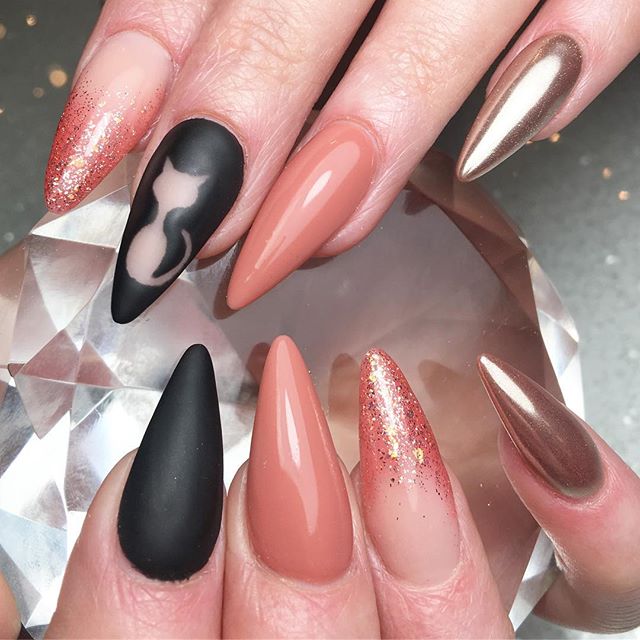 4. Pastel nails with cat design.
Choose two matching pastel nail polish colors.  One one accent nail draw a cute cat's face. Done!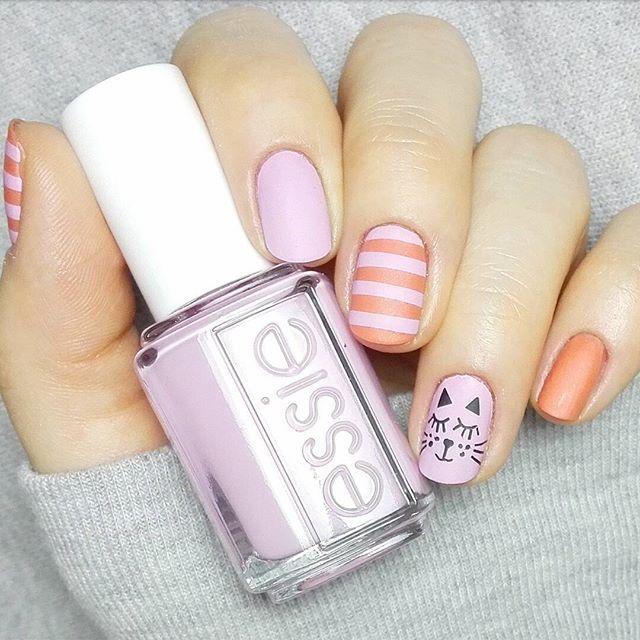 5. White nails with cat paws and cat's face.
White nails will look great with thin black details – cat's whiskers, nose, ears, and paws.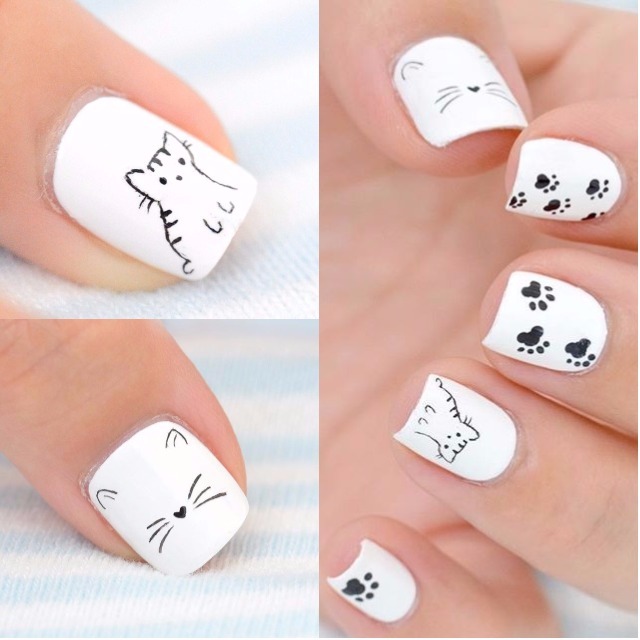 6. Orange nails with golden foil cat and paws.
Gold foil looks really great with warm tone polishes!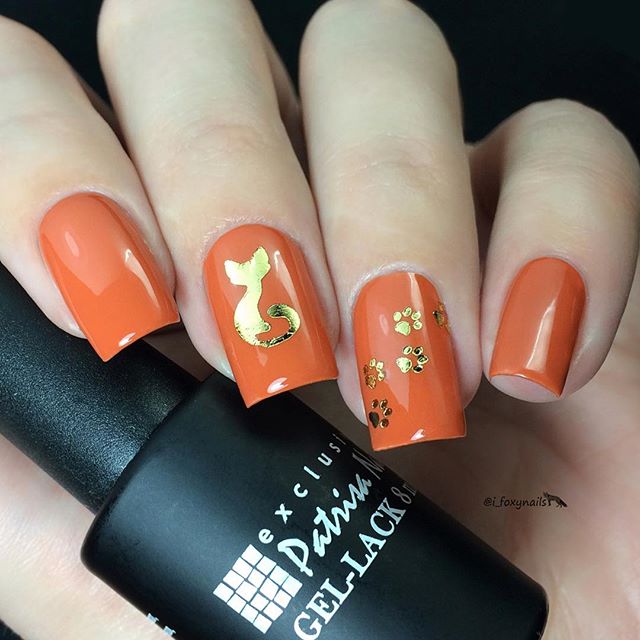 7. Fun cat nail tutorial.
In case you were in search of fun nail designs with cats. This small tutorial will help you to implement your ideas into life.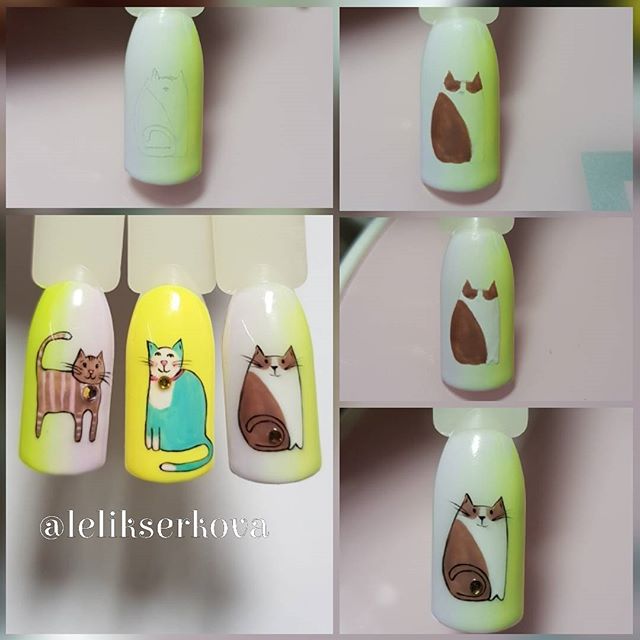 8. Black and white cats nail design.
These peeping cats are super-simple to create and very fun to wear. Save this idea for later if you like girlish designs and creative manicures.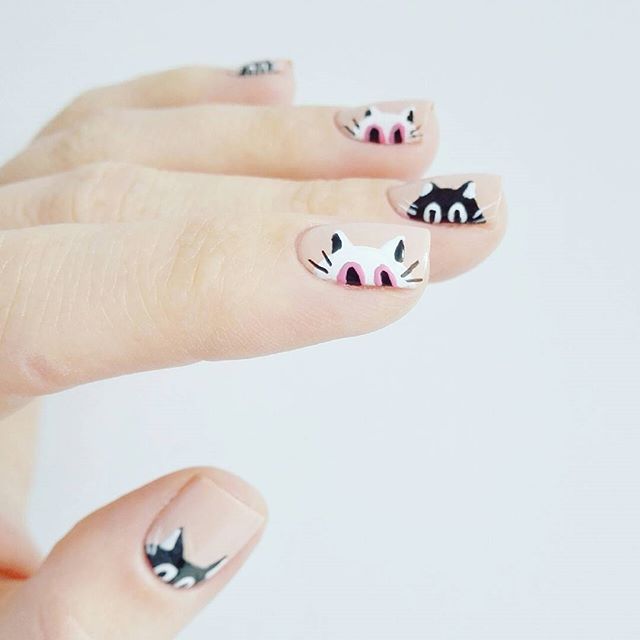 9. Geometric cat nails.
Geometric prints are in trend now. And you don't even need to have the 80th level drawing skills to try the cat nail design. Use triangles and tetragons of different sizes to form the figures of cats. Simple!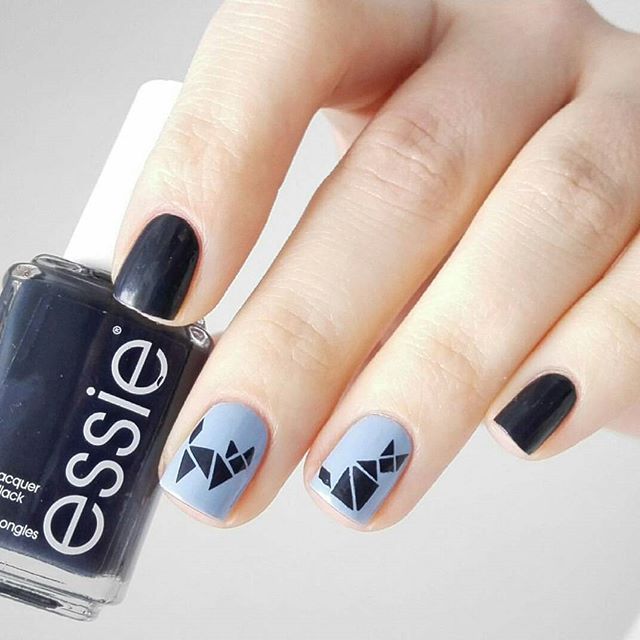 10. Black cat nail art.
If you think that black nails are boring, you may update your manicure by drawing white accents. Remember this idea for the next Halloween party. Just in case.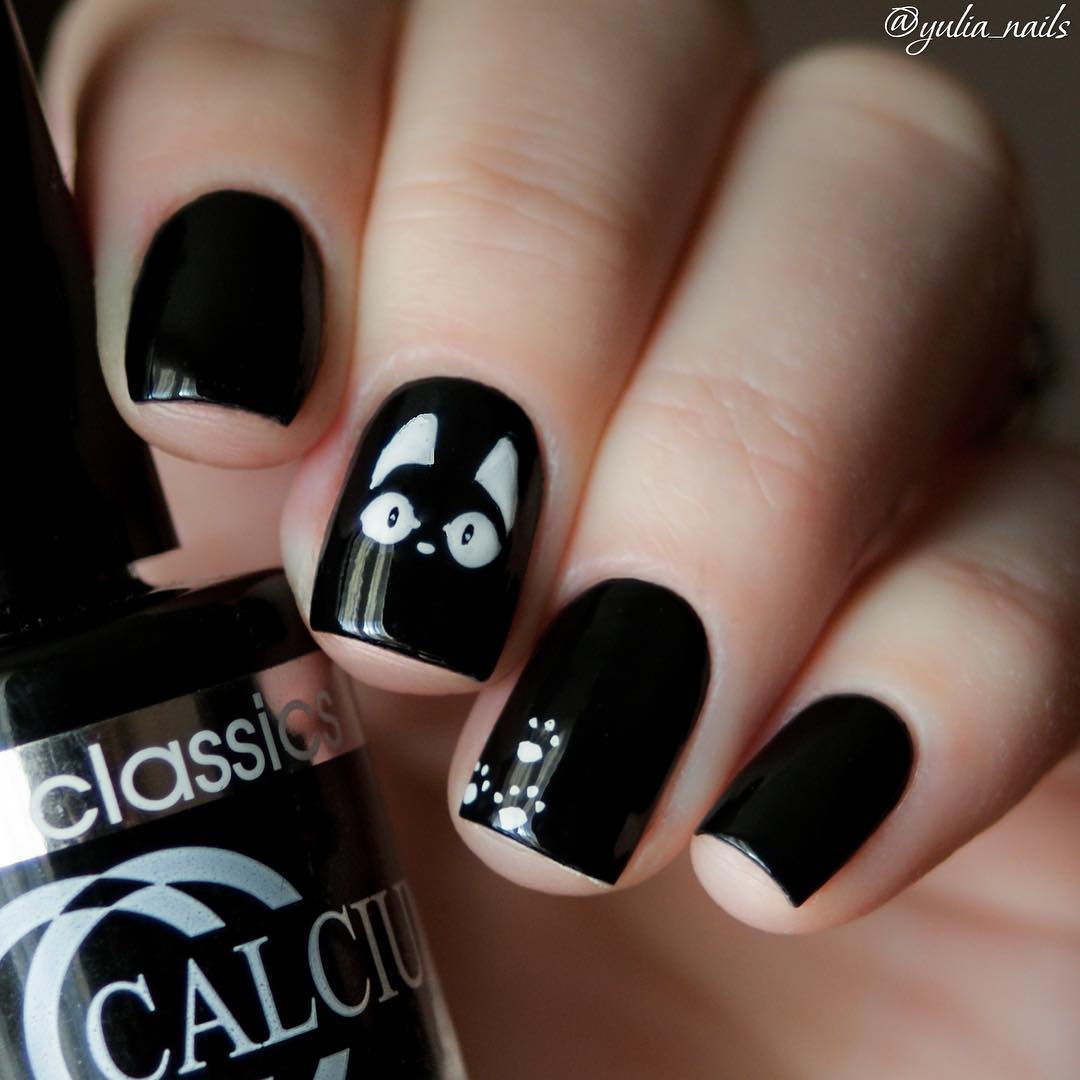 11. Nude nail design with cats.
Real nude nails lovers also need to upgrade their manicures from time to time. Choose cats and pows. Looks so Pinterest-worthy!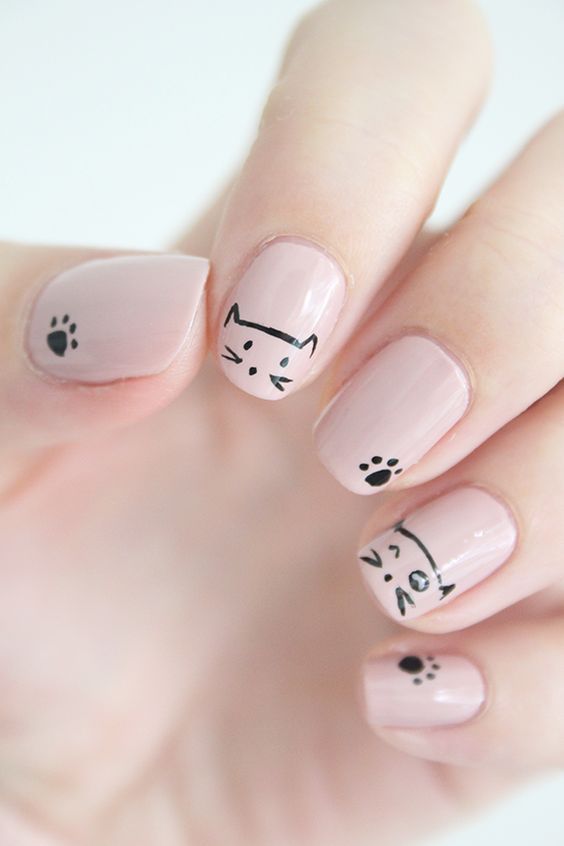 12. Pastel lily nails with black cats.
Time for a gorgeous pastel ombre and gemstones. More feminine and grown-up variant.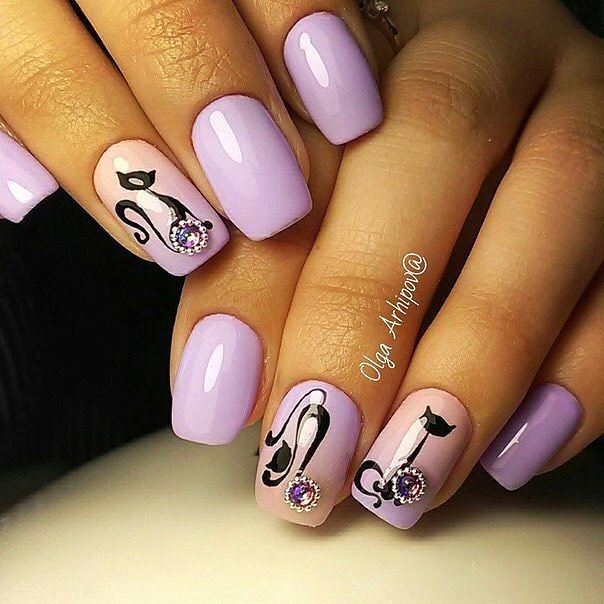 13. Cute kitty-cat on nails.
Express all your love for cats by adding a tiny red heart on one of the nails. Love this!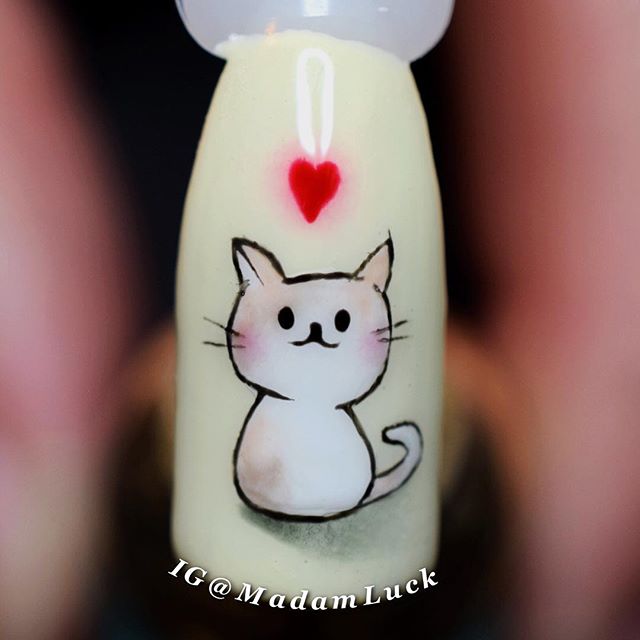 14. Neon pink nails with a cat.
Bright pink nail polish and gemstones go together like milk and cookies. This cutie cat just adds a flirty accent to the manicure.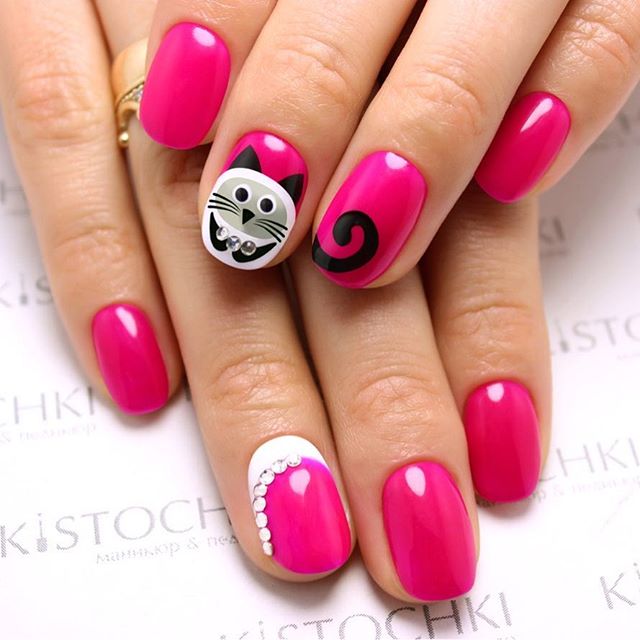 15. Red and white cat nail design.
Draw a Japanese 'maneki-neko' cat on one of your nails and it will become your lucky-charm and talisman for the next several days. Or weeks (in case you use gel-polishes).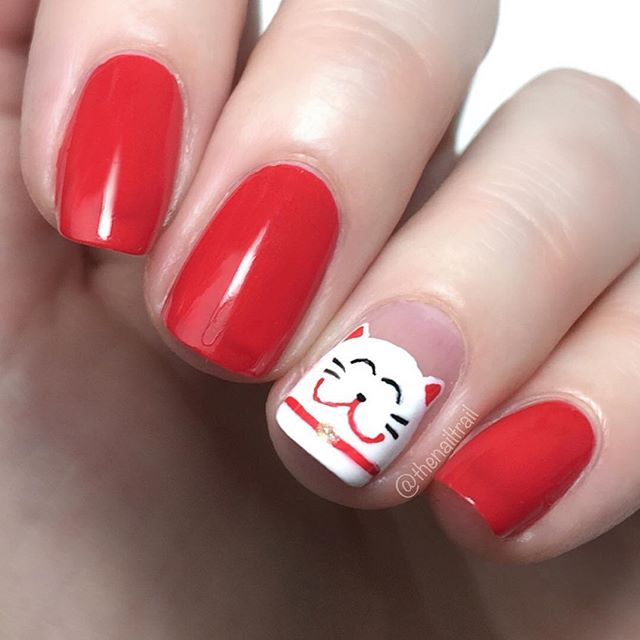 16. Stamping cat nail art.
Stamping is one more way to make interesting nail designs with little efforts. Just buy a stamping plate with cat pattern and experiment with colors.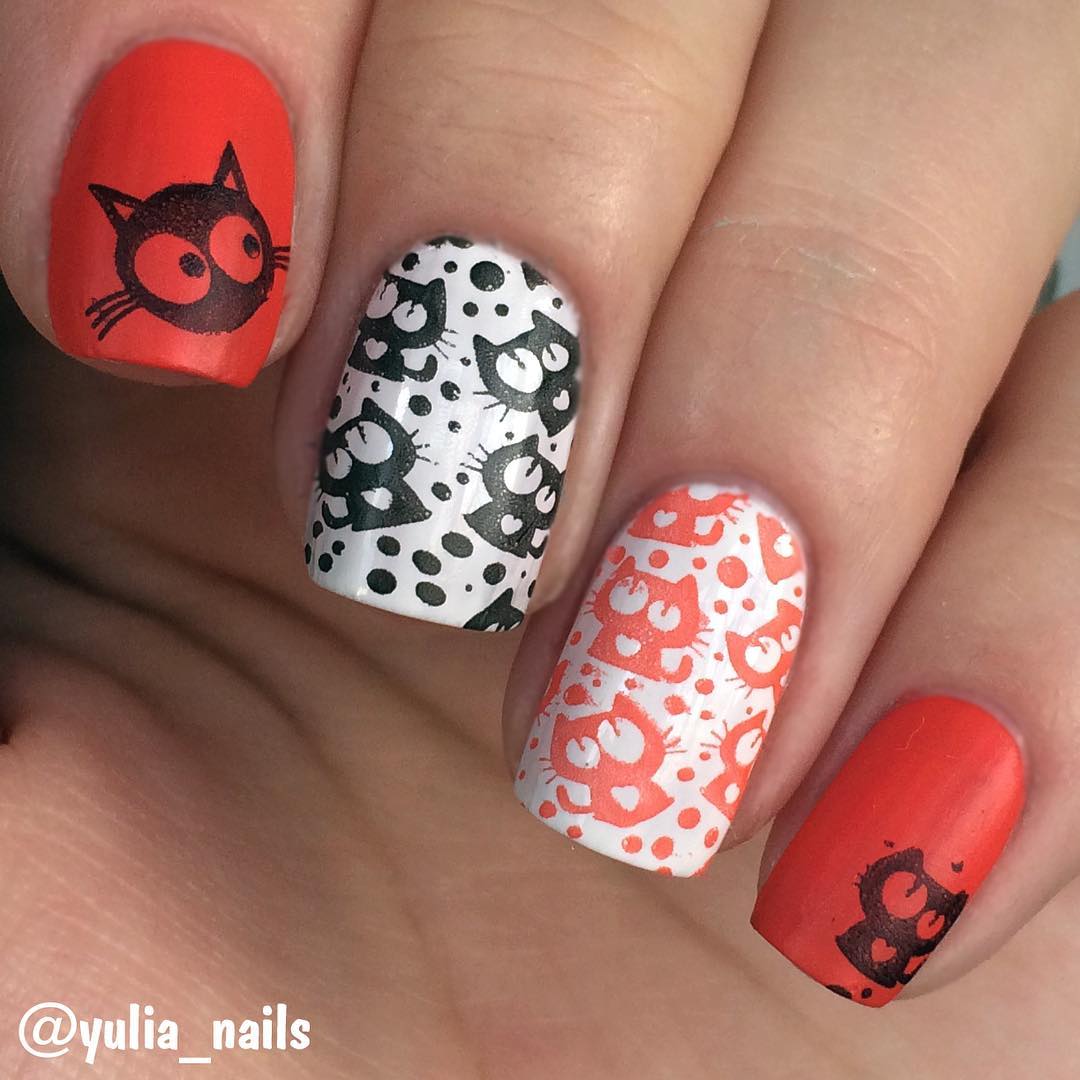 17. Glitter black and gray nails with cat silhouettes.
Adding glitter to your nails is always a right idea. Especially if it is a silver nail polish. Combine it with a jet black shade and stiletto nail shape.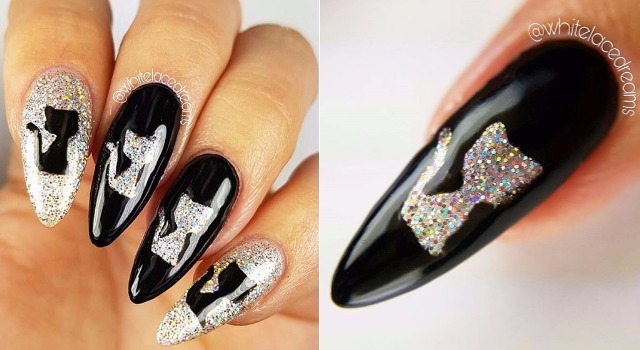 18. Hello Kitty nails.
Hello Kitty nail art looks good on teenagers' nails and adults. The age is just a number when we are talking about nails. Do you like the idea of total family looks? Make the kitty nails on yourself and create smth. very similar on your daughter's nails too. Will be fun!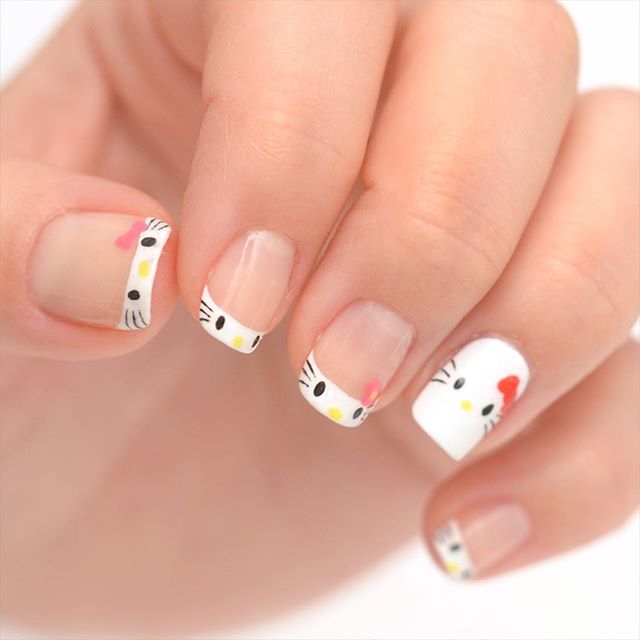 19. Pastel nail design in gray and mint shades.
Notice how matte and glossy textures are combined on the accent nail. A small kitten is a very cute addition to the trendy matte manicure.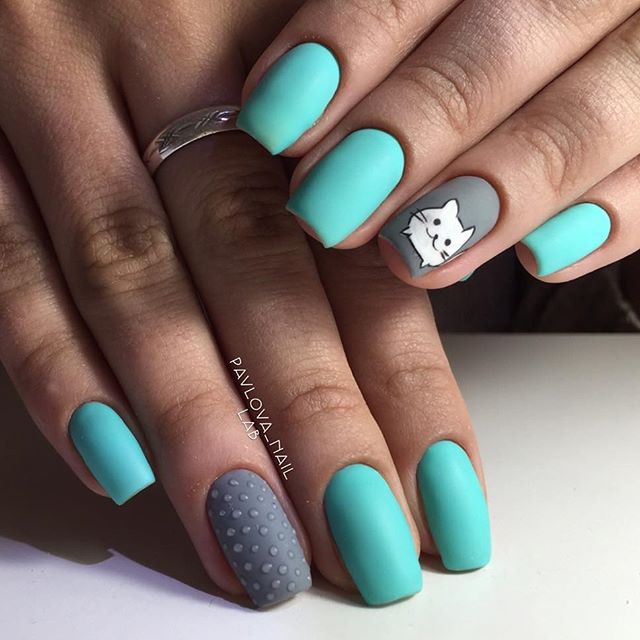 20. Long acrylic cat nails.
Cat design is a nice idea to decorate long acrylic nails. Draw your favourite cat breed. Sphynx? Persian? Balinese? Let us know in comments below!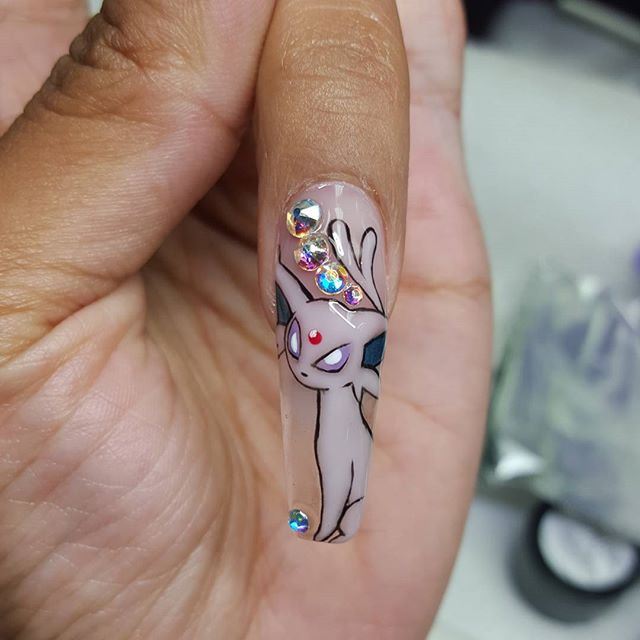 21. Gray Meow-nail design.
Trendy gray shade, popular polka-dot print, and a cute cat face – this monochromatic cat nail design definitely looks stylish.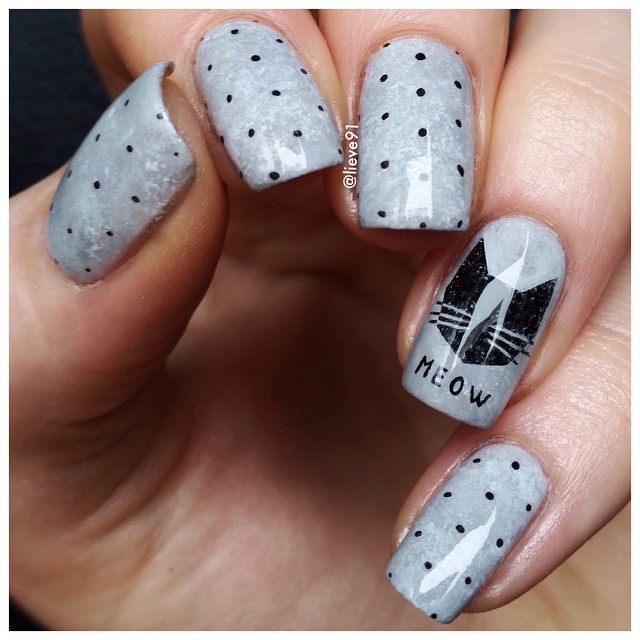 22. Black cats on yellow and purple nails.
Bright colors and funny cats will take your ordinary manicure to the next level.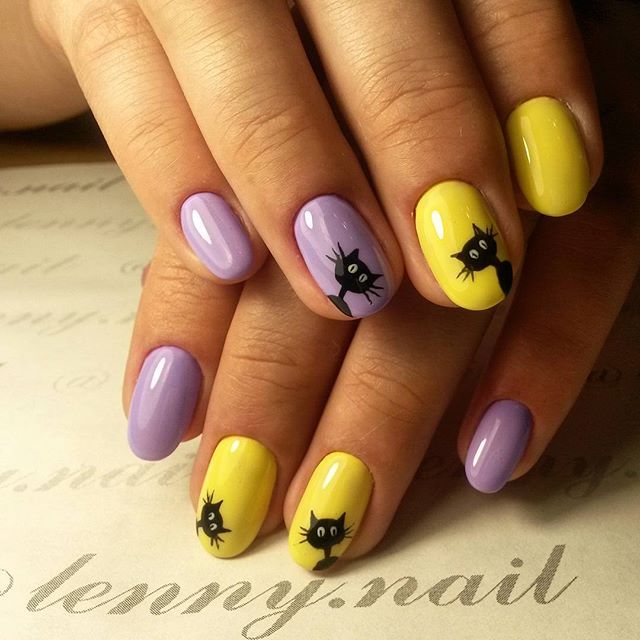 23. Cat with glasses on white nails.
Think trying nail wraps or sliders in order to achieve interesting designs.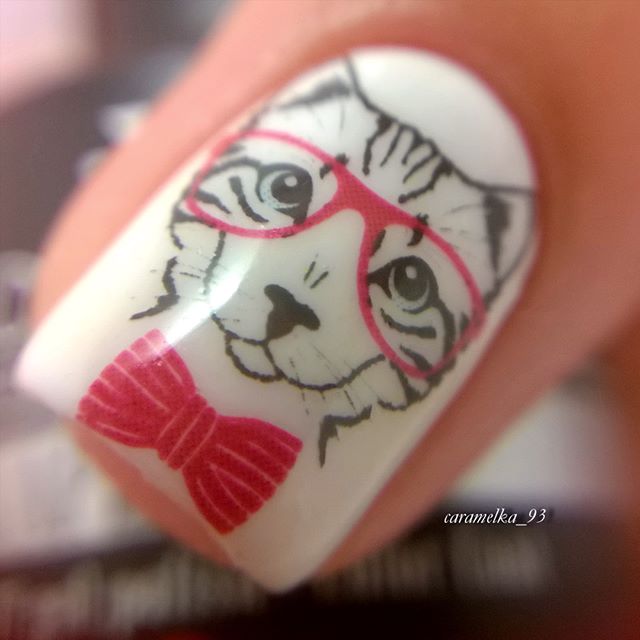 24. French nail design with a cat.
Mix classic techniques, as French manicure, with modern nail polishes and comical drawings.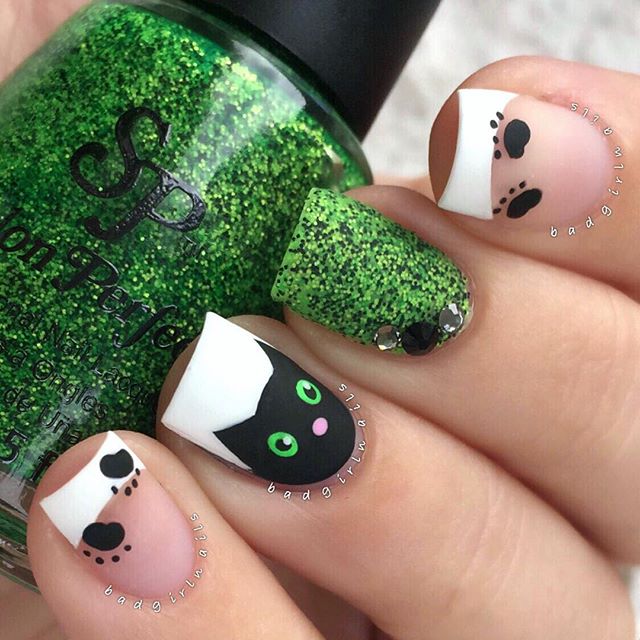 25. Nail design with cats and dogs.
If you have a great sense of humour, try this nail design called 'like cats and dogs'. Reminds of a game 'Find a Cat', but this time you'll have to find a dog among cats)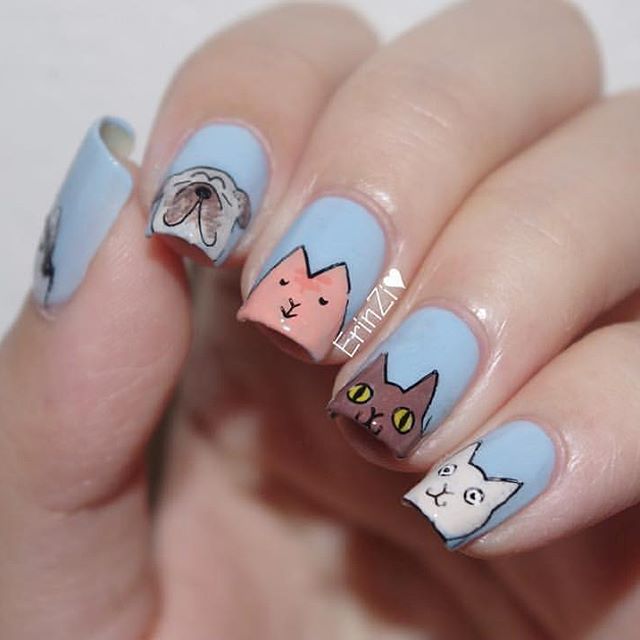 26. Funny cute cats on nails.
It seems that the majority of nail designs with cats are in pastel color palette. No wonder why. Pastel shades are thought to look the most tenderly and feminine. Do you agree? Do you like bright or pastel shades more?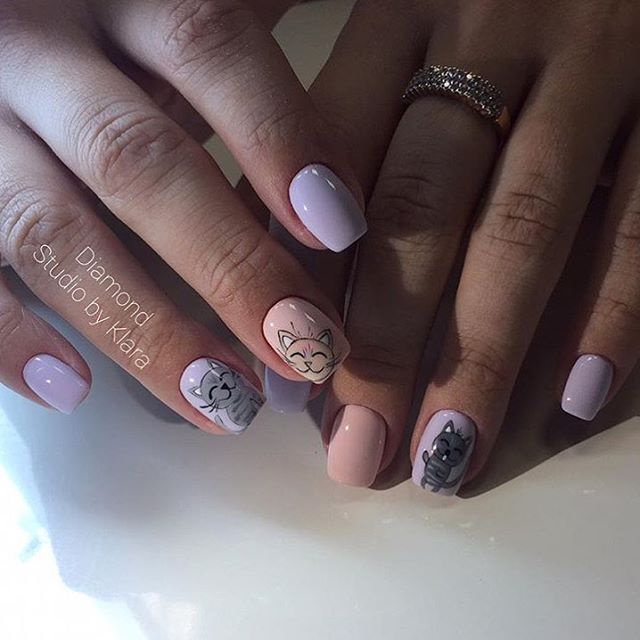 27. Pink French manicure with a cat and a street lamp.
Make similar French design for your next romantic date or any special event. Gemstones add glamour to this 'cat that walks by himself' nail art.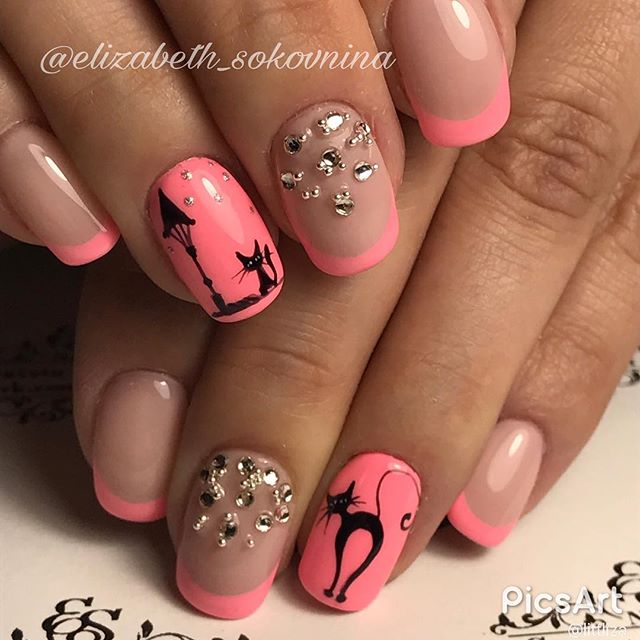 28. Funny birthday cats.
Looking for fresh B-day nail ideas? Use one of these designs with birthday balloons. Add happiness to your everyday style!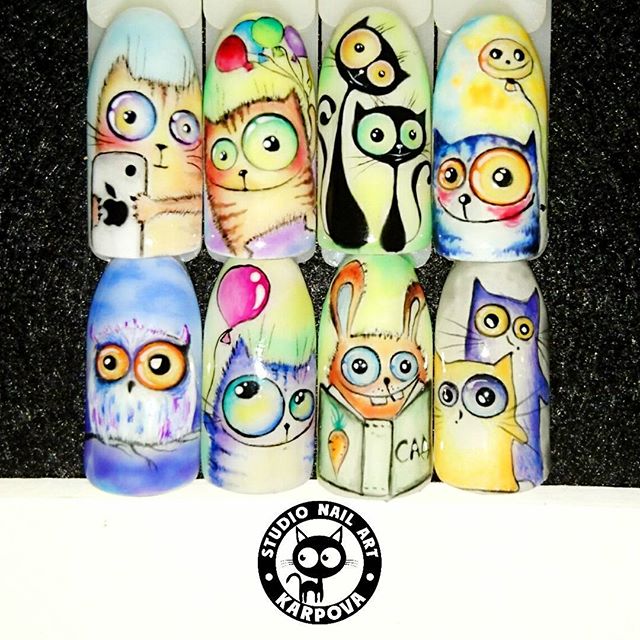 29. Kittens on trees nails.
It's a pity, but these kittens can be recreated on long nails only. And by professional hands, no DIY tutorial possible. But the idea is inspirational, isn't it?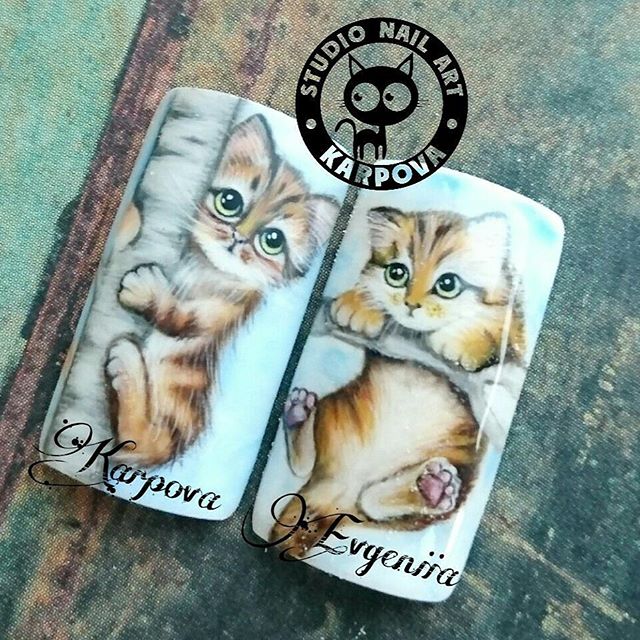 30. Pastel nail design with kittens.
One more matte design that proves that matte finish is still in trend this year. Lucky we! Who doesn't love matte manicures?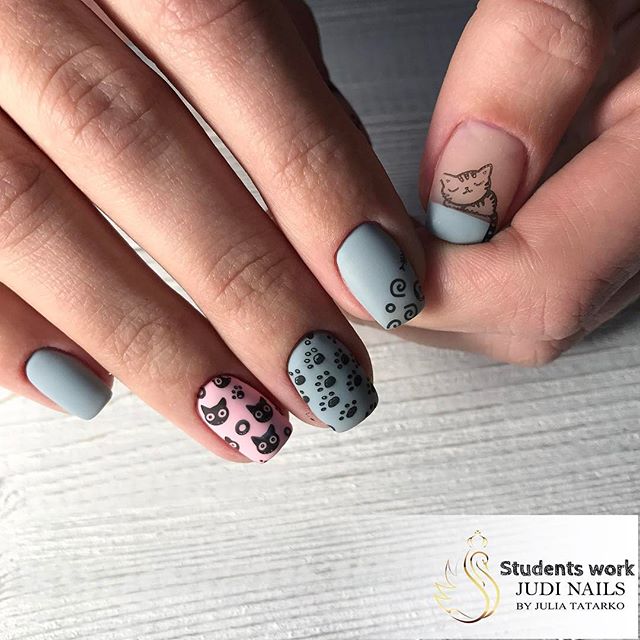 31. Pastel pink manicure with black cats on accent nails.
Looks very simple. But we can see a new idea here – gemstone cat eyes. Interesting.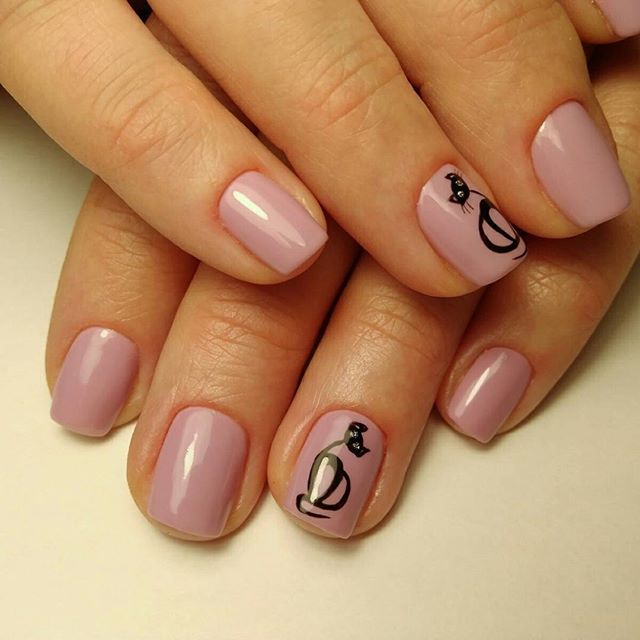 32. Black and white French nails with cat's paws.
Black and white French manicure itself is a new idea worth saving. And those little paw tracks serve as a playful detail.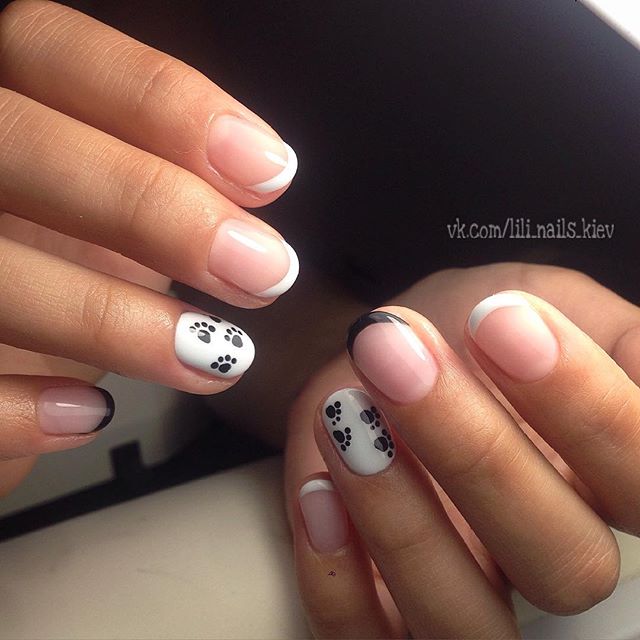 33. Nails with Simon's cat.
Simon's cat is a hero of black and white animated series, a genius creation of an illustrator Simon Tofield. If you like to watch this animation on Youtube, you'll definitely want to make the Simon's cat nail design.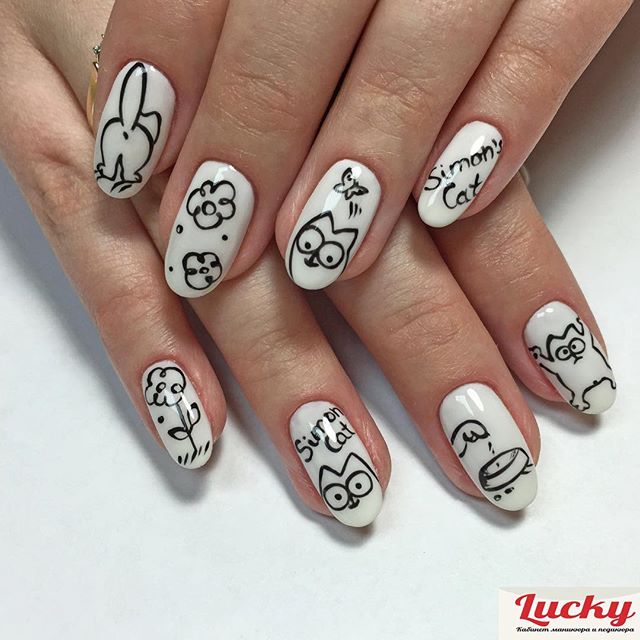 34. Fluffy cat nail design.
At first glance this cat looks like a lion 🙂 A short tutorial included for those, who want to DIY this nail design.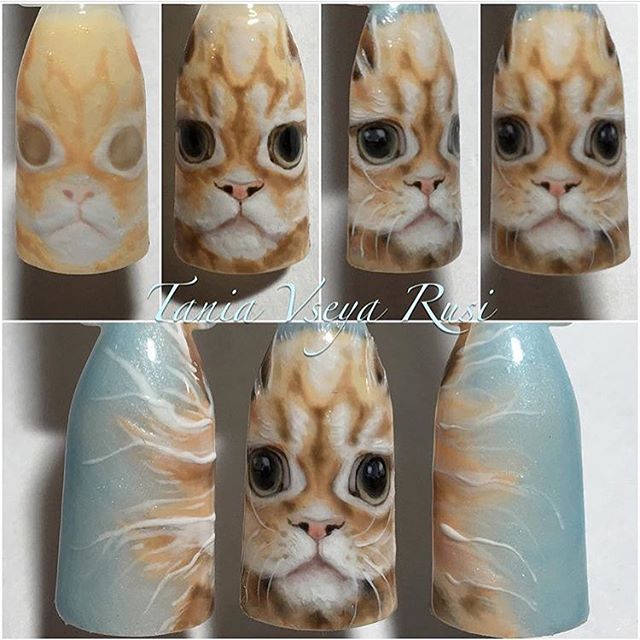 35. Black cat with green eyes nail design.
One more nail design for the next Halloween party. Our advice – take fluorescent green nail polish. Will be much more interesting.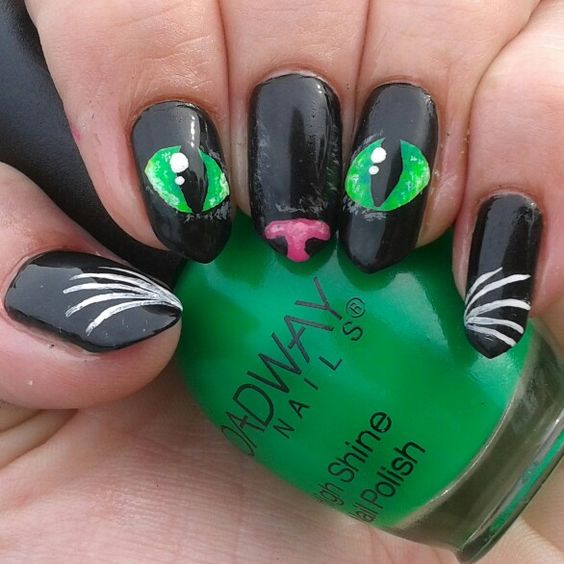 36. Fat red cat and a jam-jar.
For a lady who has a sweet tooth and is not ashamed of this 🙂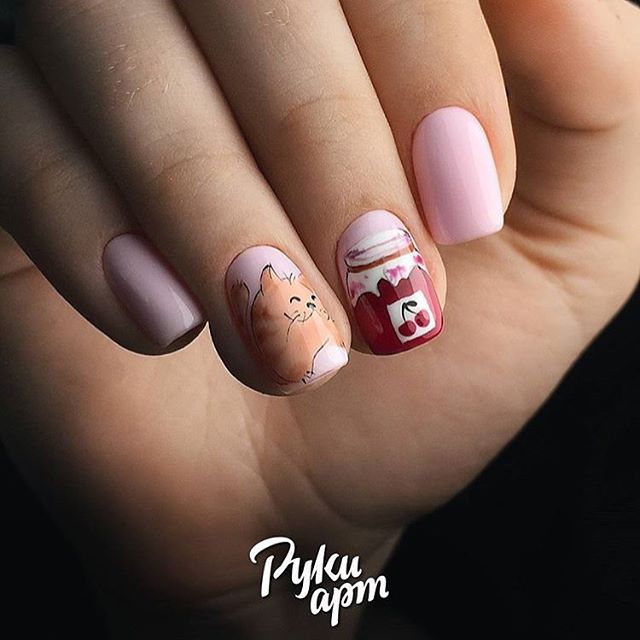 37. Polka-dot white nails with cats.
Such cat nail designs will never go out of trend, really. They are the best choice for romantic natures and true fashionistas.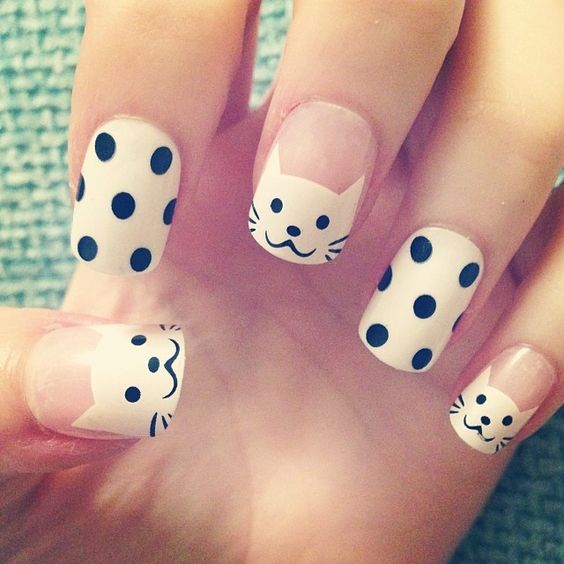 38. Nude nails with black cats and street lamps.
Step up your nail game and add to your nude nails something very unique. Gemstones and cat silhouettes will work.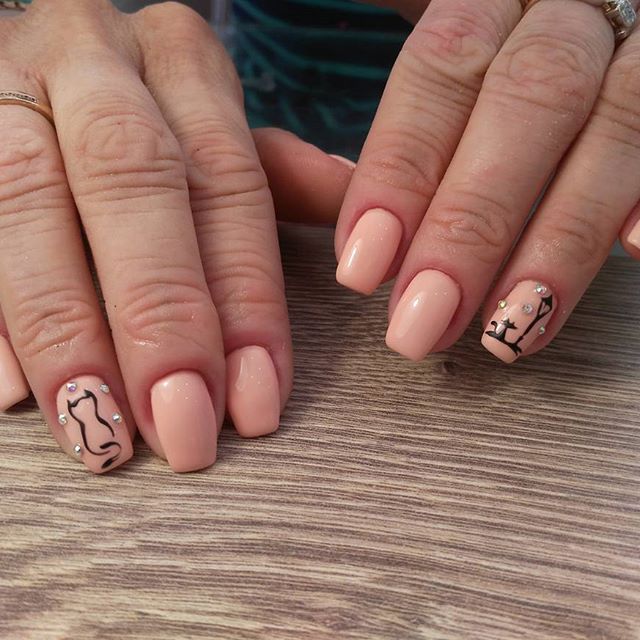 39. Small black kitten with pink pads.
The cutest cat nails design in our article! Bring a lovely picture of a kitty-cat and your pro nail artist will draw it for you.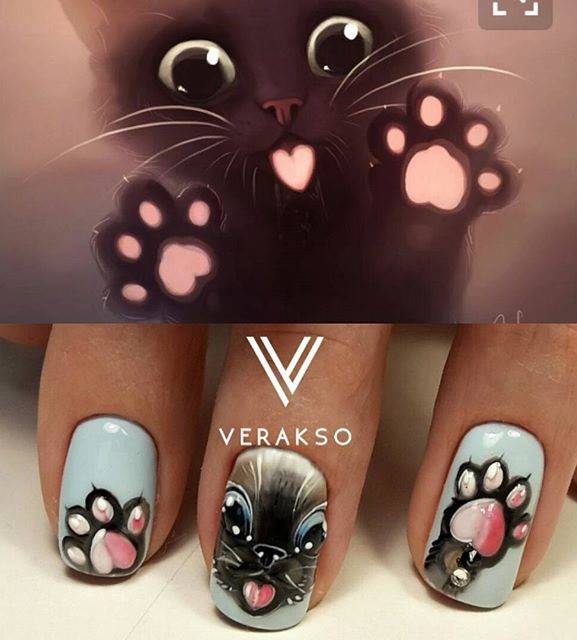 40. Cheshire cat nails.
One more fictional hero in our selection of inspirational pictures. For real lovers of the 'Alice's Adventures in Wonderland' book.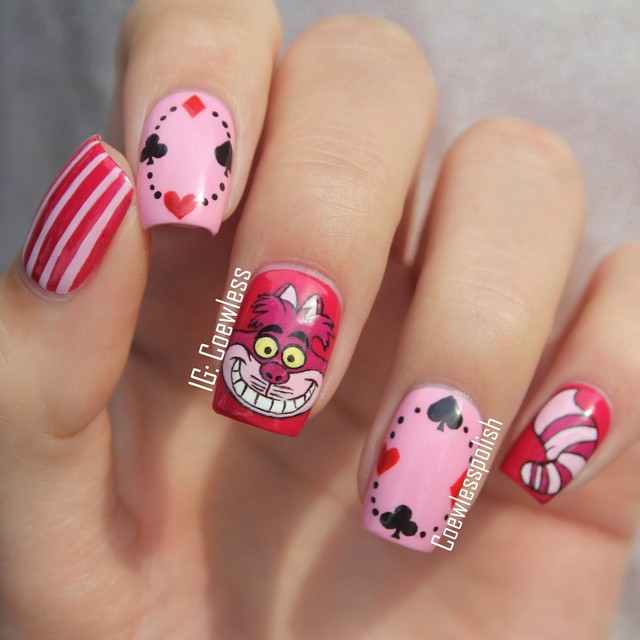 41. Light purple nails with a black cat.
Cute and simple cat nail art. Interesting base color, several noticeable details, glossy finish. Purr-fect!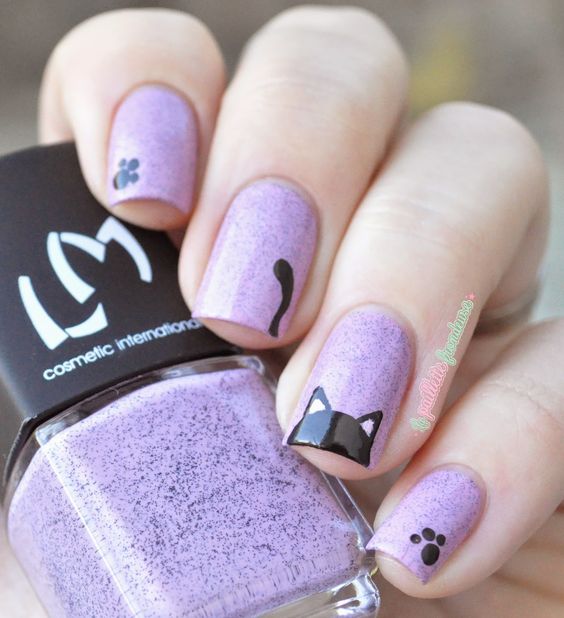 42. Dark cat nail design on pastel base.
A new take on classic geometric designs. Every detail is perfect.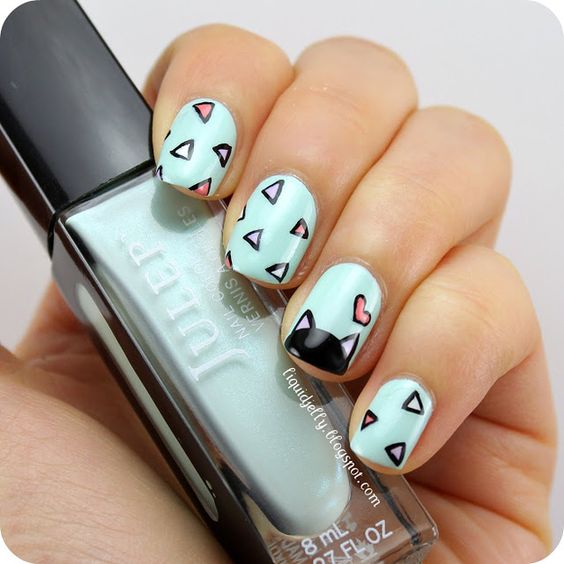 43. White and black glitter manicure with kittens.
A cat nail design you can master in several minutes. These kittens are water-stickers.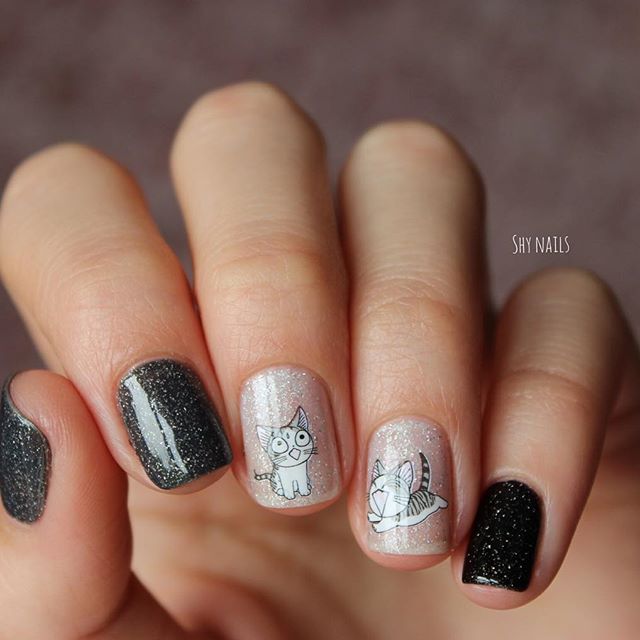 44. Black nails with holo cat silhouettes.
Wow, a very amusing cat nail design. Holo nails are super-trendy. We seriously felt in love with this nail design at a first glance!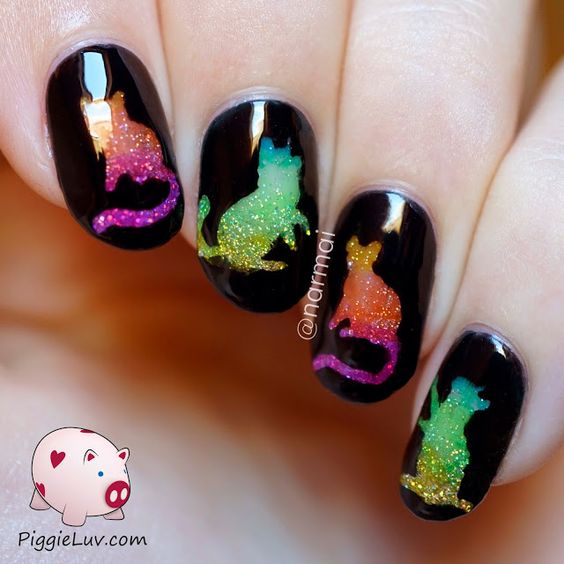 45. Blue glitter cat nails.
Cat nail art doesn't have to be complicated. Sometimes the simpler the better. This design is even work-appropriate.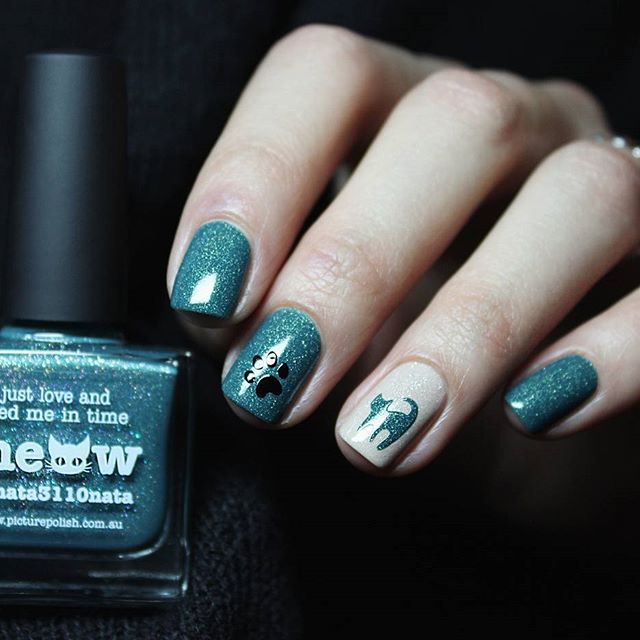 Our Instagram
Our Pinterest
Hope you liked these cat nail ideas and are going to try some of them in the nearest future. Subscribe, follow us and comment on our blog posts!