Looking for new Thanksgiving nail designs and ideas? We have chosen 40 best nail arts from Pinterest and Instagram to share with you today. Happy Thanksgiving, dear!
Advertisement-Continue Reading Below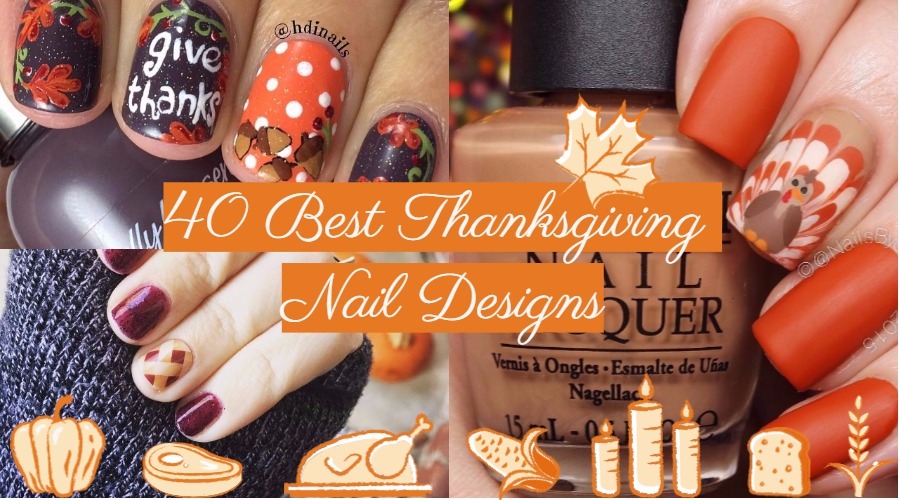 In this article you`ll find:
lists of Thanksgiving nail colors and trends;
40 newest Thanksgiving nail designs from Pinterest and Instagram;
very interesting Thanksgiving acrylic nails;
easy Thanksgiving nails video-tutorials from YouTube;
where to buy Thanksgiving nail decals.
The Trendiest Thanksgiving Nails of 2023
Surefire Thanksgiving nail colors in case you have time (or desire) just to paint your nails in 1, max 2 shades:
all shades of orange from pastels to pumpkin and tangerine tones;
brown colors – chocolate, mocha, caramel, cinnamon, etc.;
yellow shades – most often mixed with oranges;
metallic golden for accents;
white nail polish – as a base for cute nail designs;
green Thanksgiving nail color – rare, for leaves;
deep plum nail color;
all glitter nail polishes.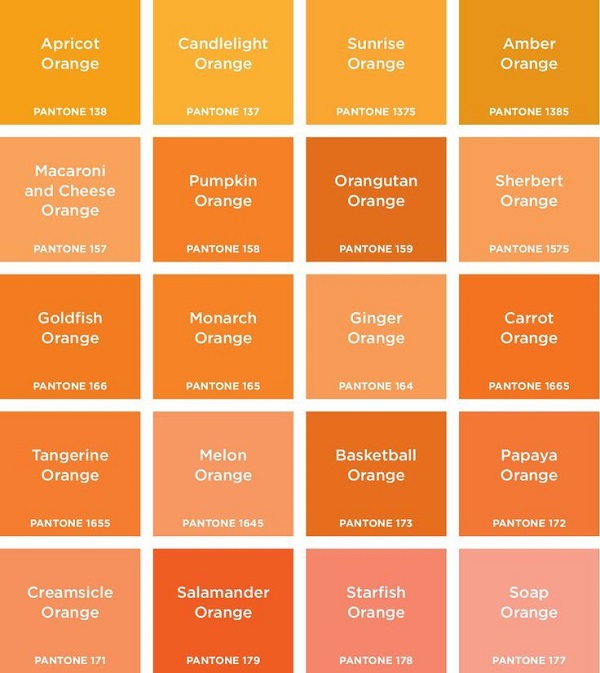 RELATED POST: Fall Nail Trends: Colors and Designs
The most in-demand nail designs for every Thanksgiving, and this 2023 in particular, are the following:
Turkey nail art – the most thematic;
Thankgiving pie or tart design;
Thanksgiving nails with cornucopia (horn of plenty) design;
wheat spikelets;
shattered glass Thanksgiving manicure;
water marble technique;
ombre in Thanksgiving shades.
We also came across bomb glow-in the dark design, a lot of cute Thanksgiving acrylic nails, fall French manicure ideas and other cool options. Read on to see the examples.
Thanksgiving Inspired Nails from Instagram and Pinterest
Of course we checked these social media platforms among the first for fresh nailspiration. Our finds are a real godsend for all those who still don`t know what to recreate on their nails this year. Thanksgiving nails will be never boring again!
1. Orange water marble nail design with a Thanksginig turkey.
Cute, cute, cute. And coating is just perfect.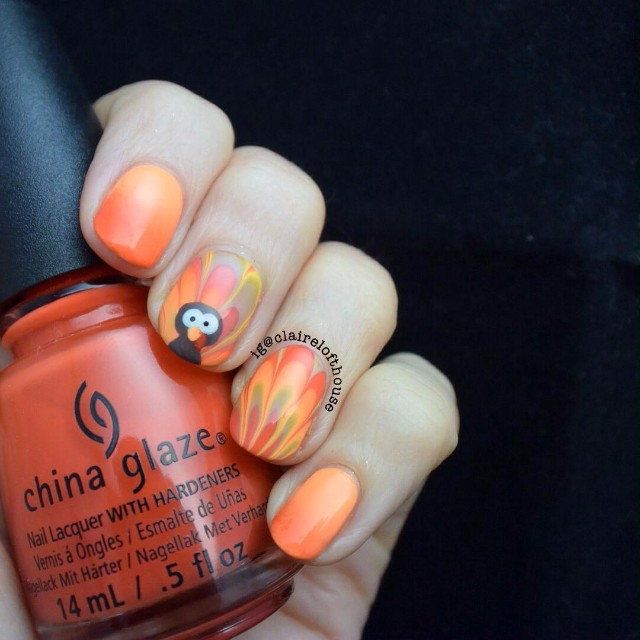 2. All-in-one acrylic design: a turkey, fall leaves, foil, stones.
Just nothing to add. However, nothing to take away either.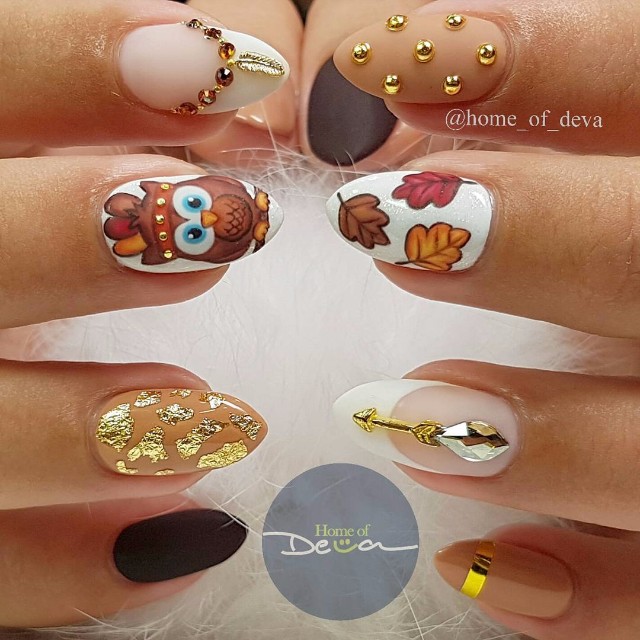 3. Thanksgiving acrylic nails with ombre.
It is even better to say 'Thanksgiving acrylic nails with glitter ombre' 🙂 Cute and very easy!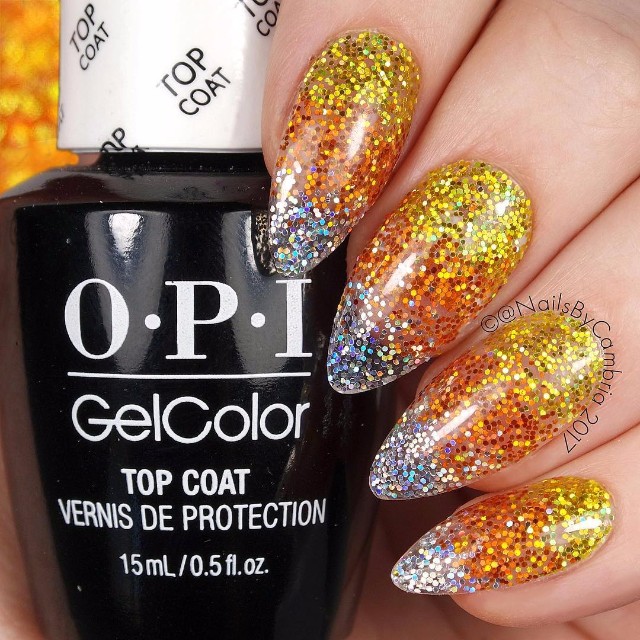 4. Matte turkey nail design.
Simple and very thematic.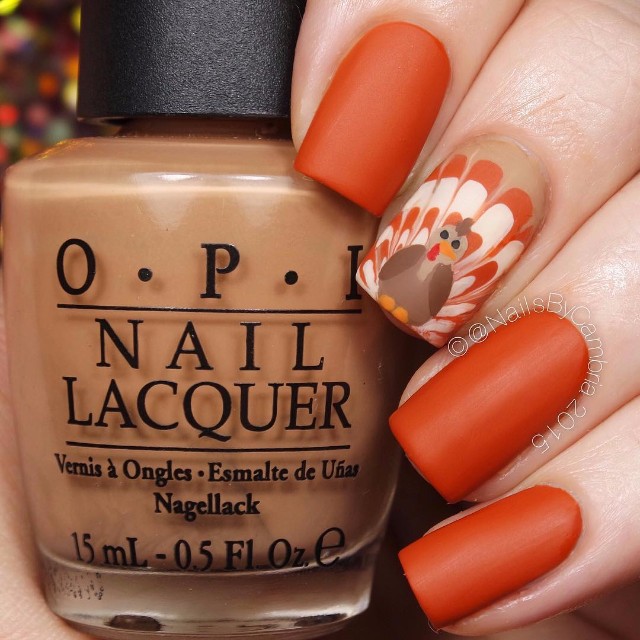 5. November shattered glass nail design.
This one can be easily created at home. You just need a metallic gold foil and a good top coat to fix everything in place.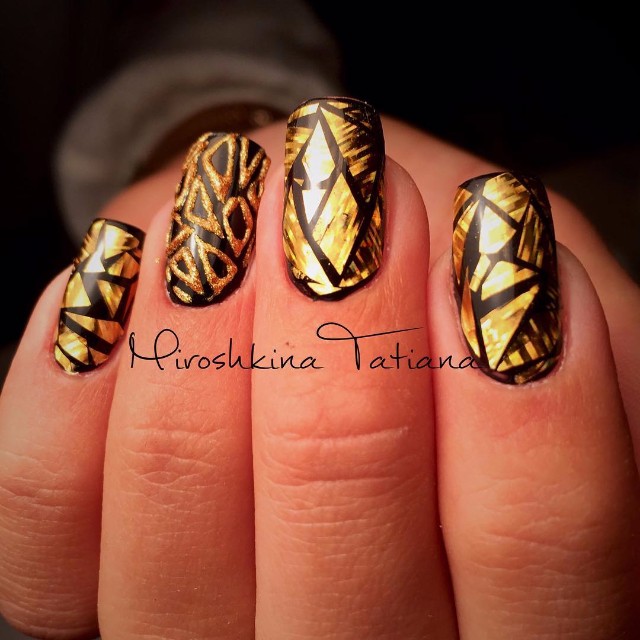 6. Wheat spikelets Thanksgiving nail design.
Brown and metallic gold nail polishes pair together perfectly. Very warm and hygge nail design for fall!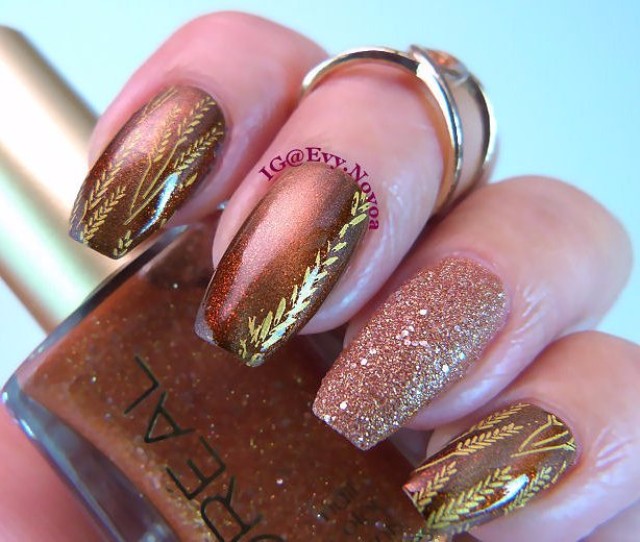 RELATED POST: 40 Heart-Warming Hygge Nail Designs
7. Cute acrylic nail design for Thanksgiving.
Looks pretty much like #2 design, but is more bright thanks to different color choice. That moment when you need smth glamorous for your nails.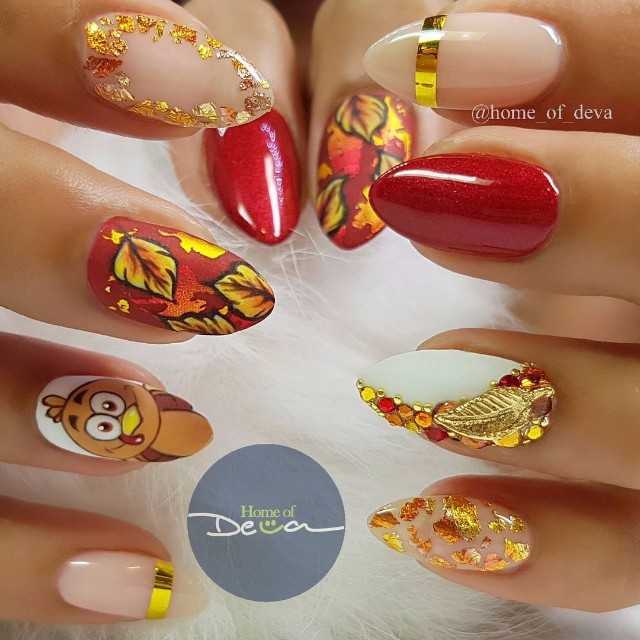 8. Easy Thanksgiving nails in water marble technique.
At the end of the article you`ll find the exact instructions how to make a water marble design for Thanksgiving. Something similar you may create using a pin and several matching nail polish colors. Wet techniques are very easy and always give a unique result.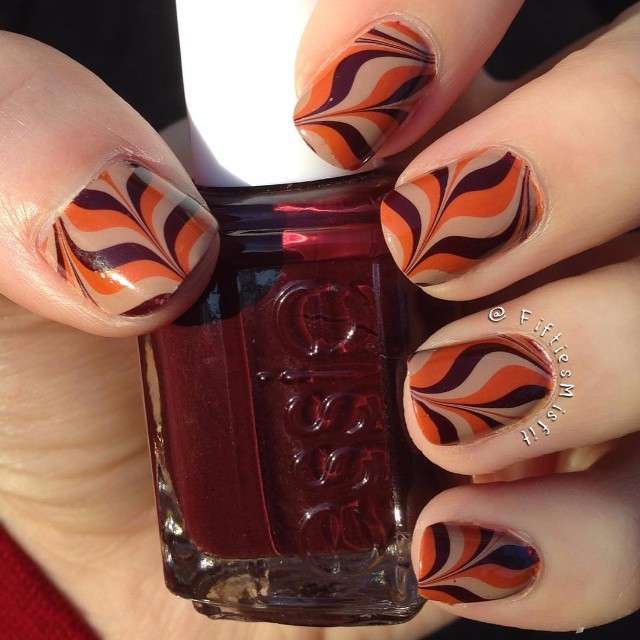 9. Stiletto nails for Thanksgiving dinner.
A hype nail design of the previous year, that is still in trend in 2023.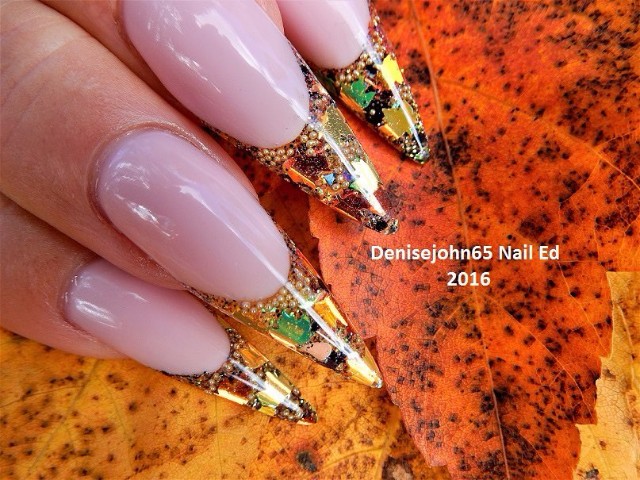 10. Thanksgiving tart nail design.
Looks like a nail decal was used here. Where to buy nail decor for Thanksgiving nails – read below.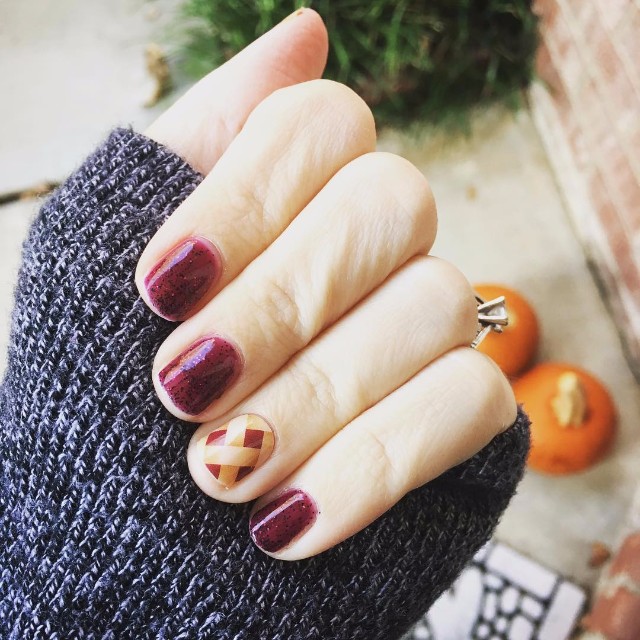 11. Chocolate nail design with turkey`s eye.
Very fun! And fast.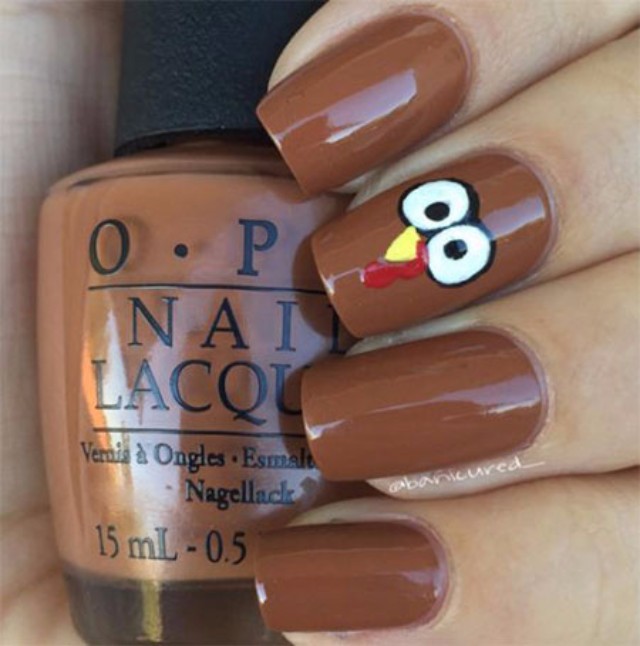 12. A horn of plenty gold and plum nail design.
Looks stylish and … more upgrown or what.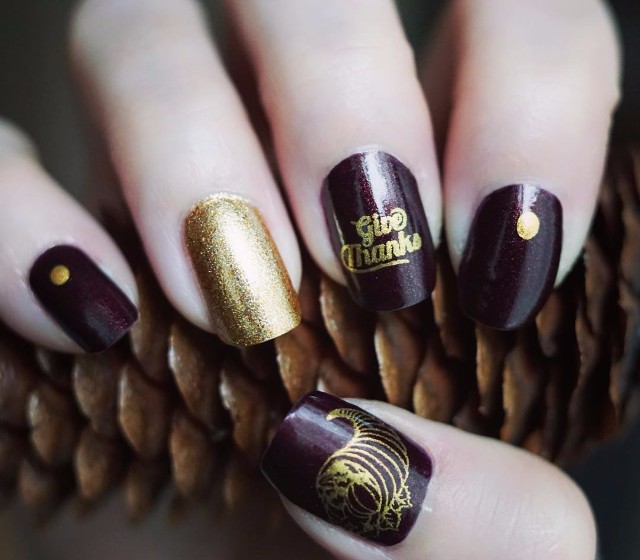 13. Abstract dry brush strokes nail art.
Creative and non-banal. Something brand new among Thanksgiving nail art designs ideas.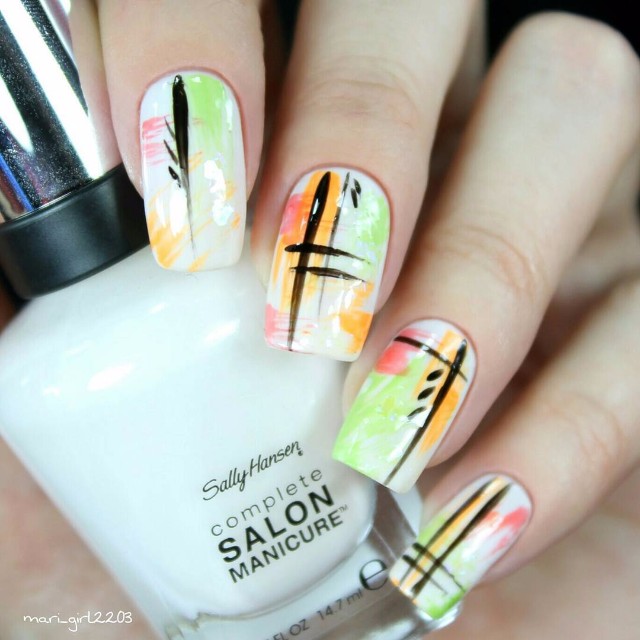 14. Turkey nail design with glitter tips.
If you think that something still can be improved in your Thanksgiving mani, sprinkle glitter on it and voila, your nails will look fabulously.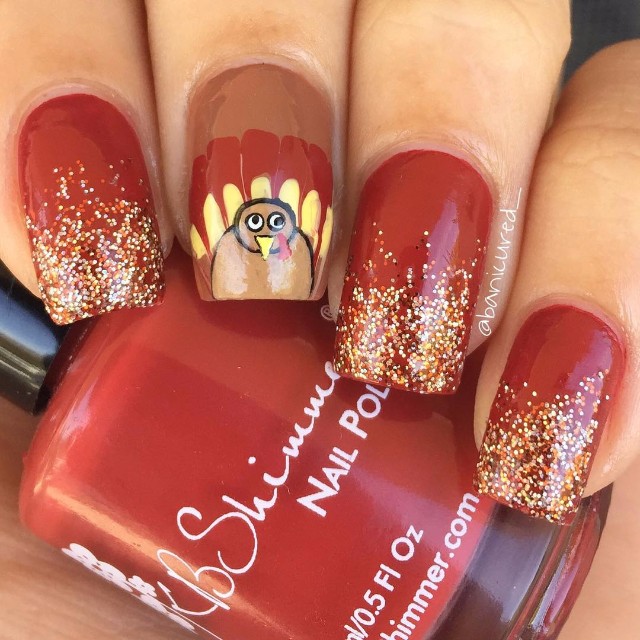 15. Multicolored nails for thanksgiving with a turkey.
Here we see both a fun drawing, and glamorous foil accent nail. However, the balance between these two contrasting things is maintained.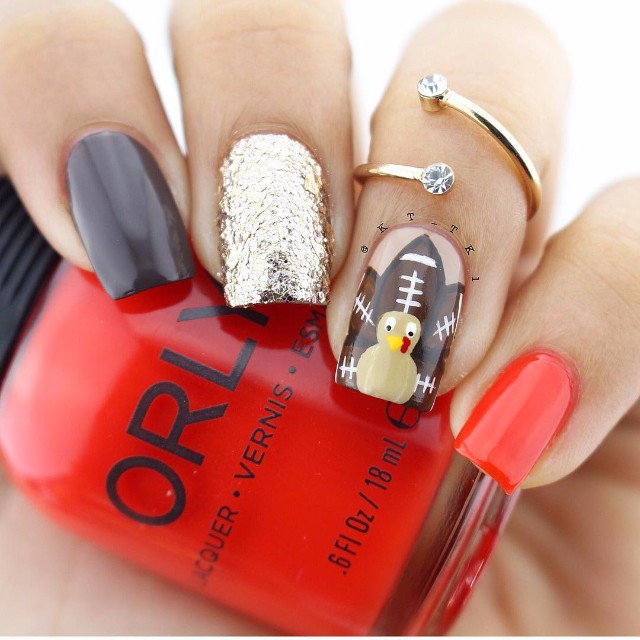 16. Grey Thanksgiving nails with hints of gold.
Gray nails can also be taken to the whole new level for this Thanksgiving. Add a thematic design and a few decorative accents.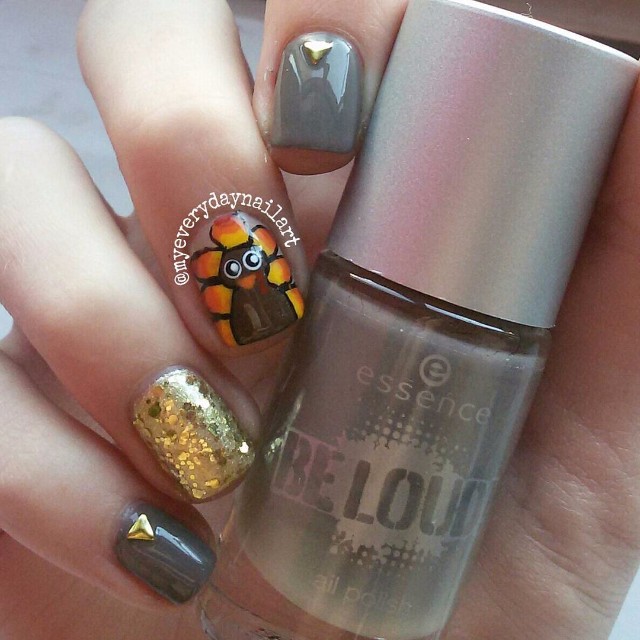 17. Turkey feathers nail design for November.
More quick way to create a turkey nail design for this holiday. Pay attention to choosing a great-looking shimmering base for your manicure.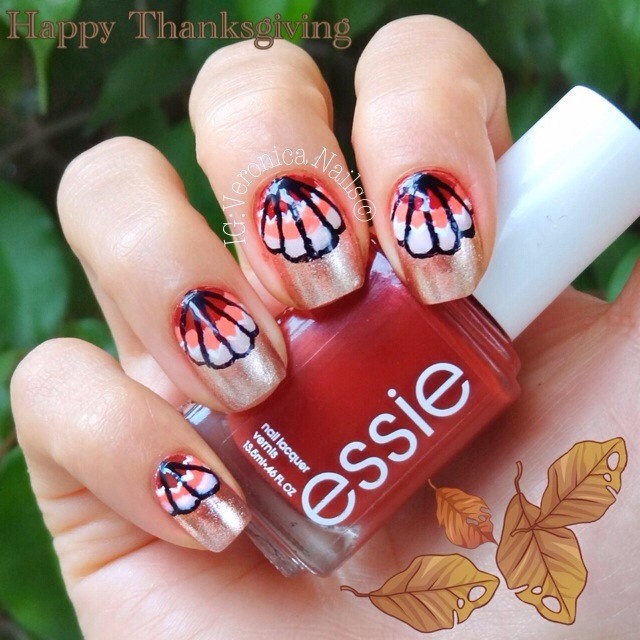 18. 'Give thanks' nail design with leaves and acorn.
Will take a lot of time to recreate, but is worth it.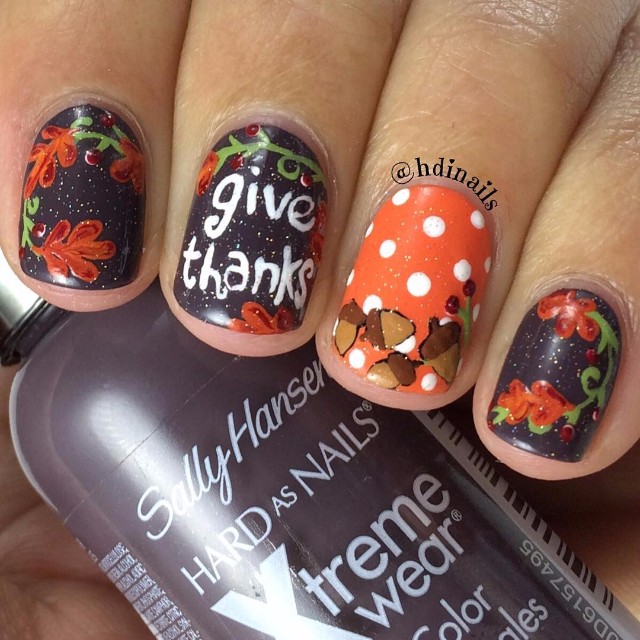 19. Orange, yellow and brown water marble nails.
The simplest idea ever.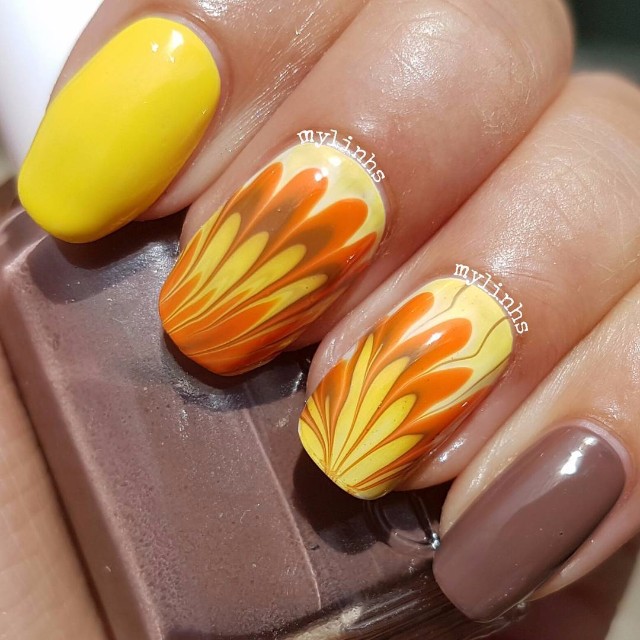 20. Thanksgiving gray and black turkey-and-pie nails.
When you already have a mani, but want to add something thematical for the Thanksgiving dinner.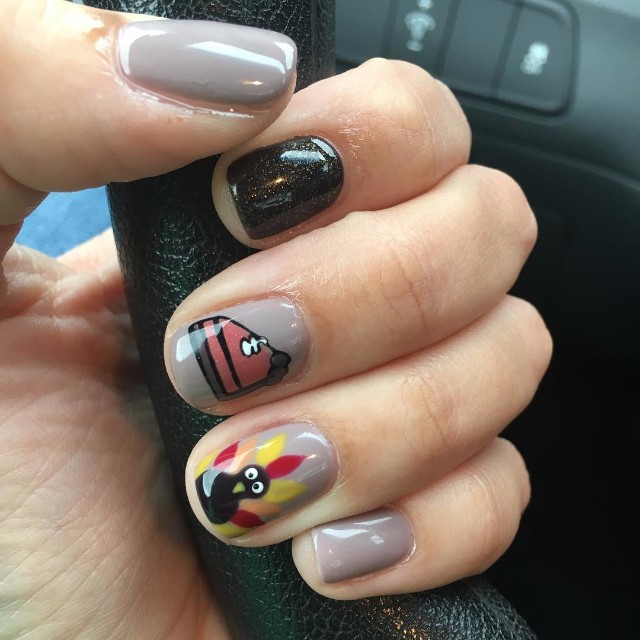 21. Polka dot nail design for Thanksgiving.
Dotting tool is a real time saviour when you are in a rush but want to create a cute girlish nail design.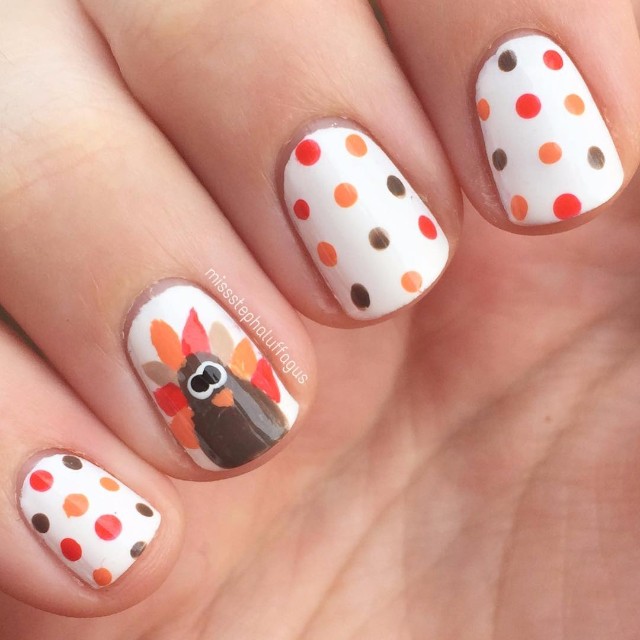 22. Thanksgiving meal nail design.
Not for all, but can be fun to wear, so we`ll just leave it here.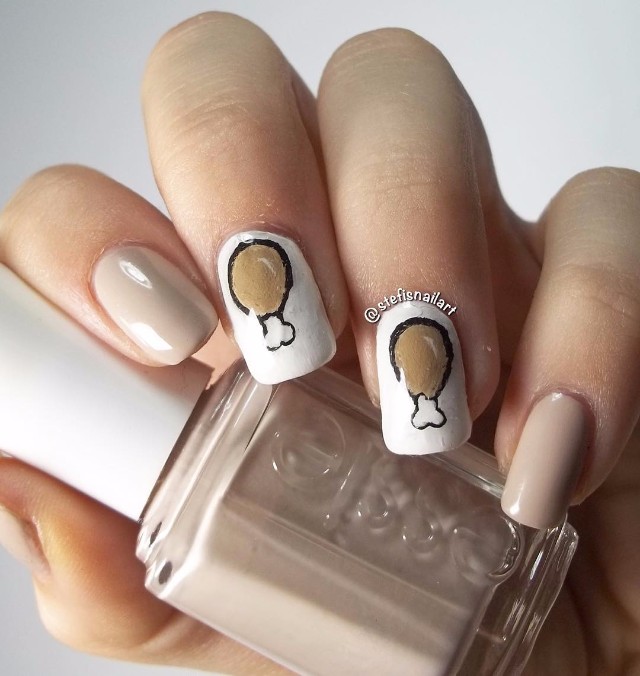 23. Interesting yellow nail design for Thanksgiving.
Wow, stunning. But you will definitely need some help from outside for creating this masterpiece on your nails.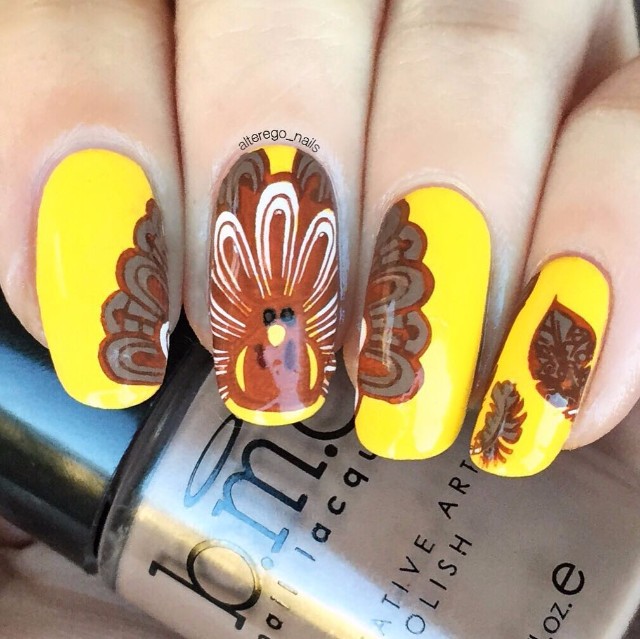 24. Thanksgiving dinner nail design with meals.
Yes, turkey time!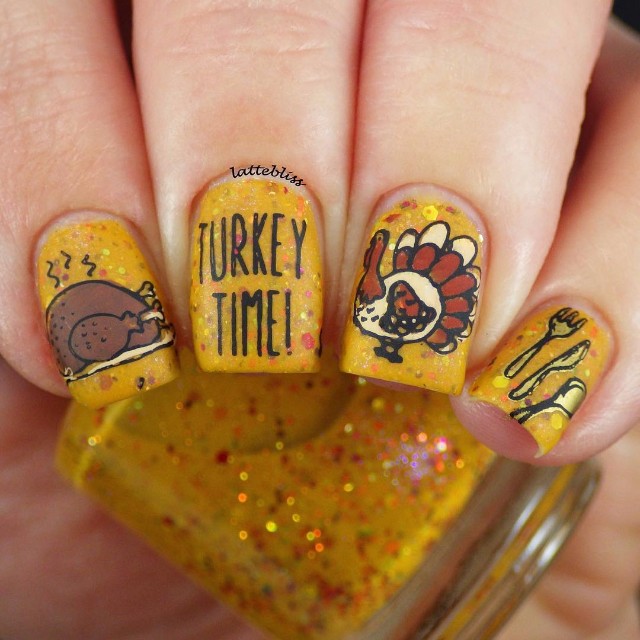 25. Simple white and orange nails for Thanksgiving.
The so-called 'last-minute' idea.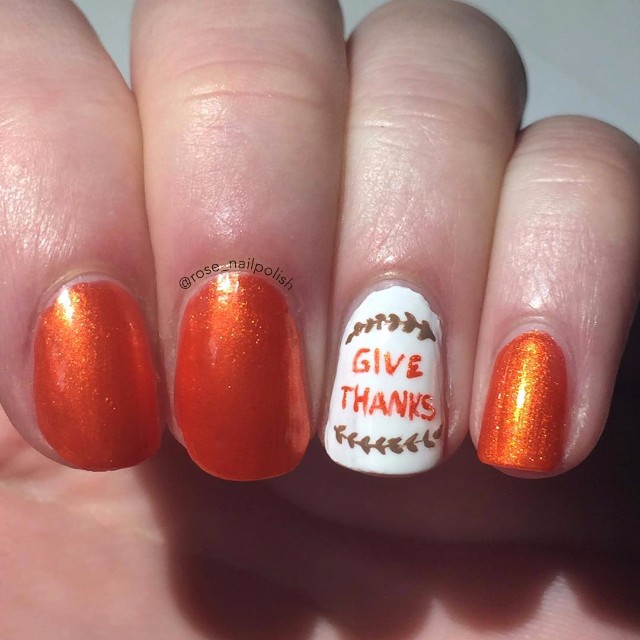 26. Cute turkey nail design variation.
As you have already understood, turkey is the most popular character on Thanksgiving nails. Add some leaves in similar colors and your Thanksgiving day nail art is ready to gather compliments.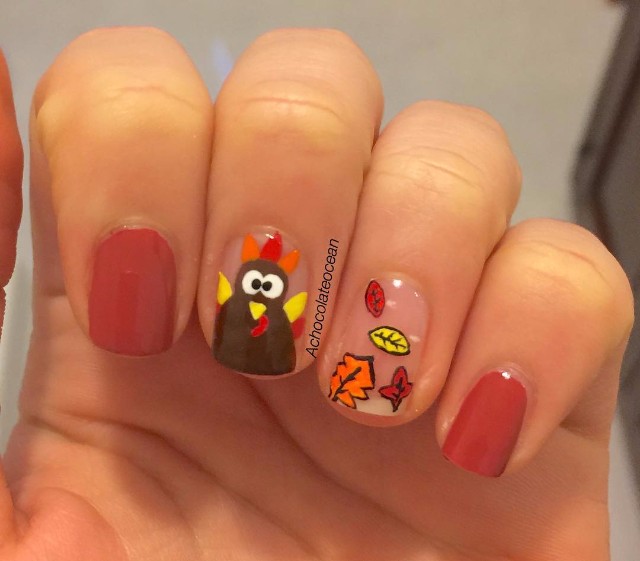 27. Thanksgiving stamping on nails.
If you have little to no time, use a stamping plate with thematic fall pattern. No stamper? Try nail decals.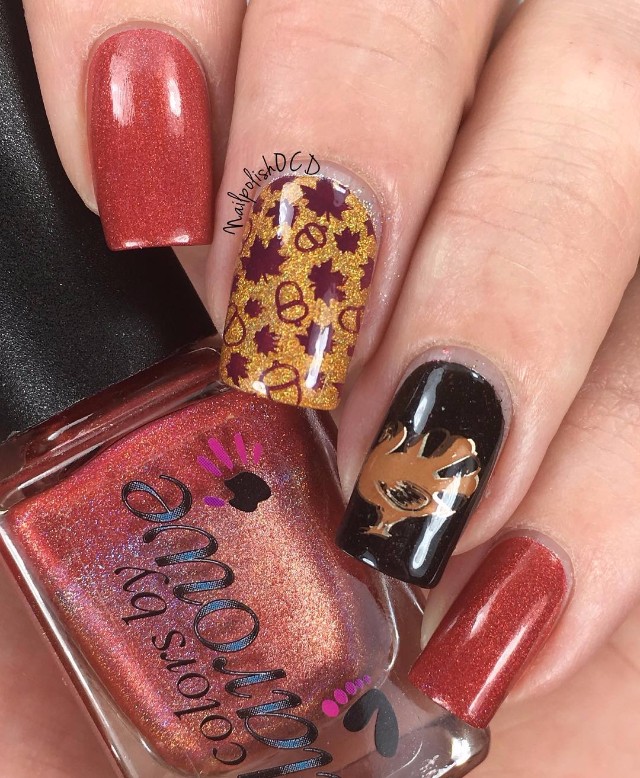 28. Nude nail design with pumpkins for Thanksgiving.
At last, a design with pumpkings and stamped phrases.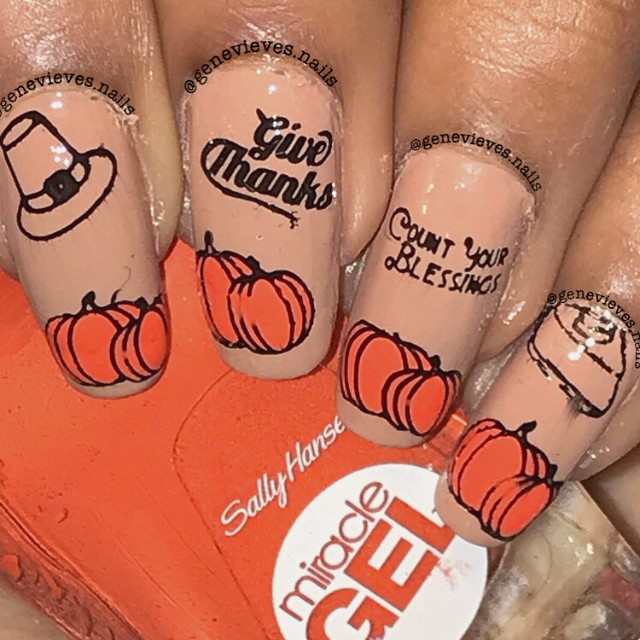 29. Dancing turkey nail design.
A fun and creative idea, isn`t it?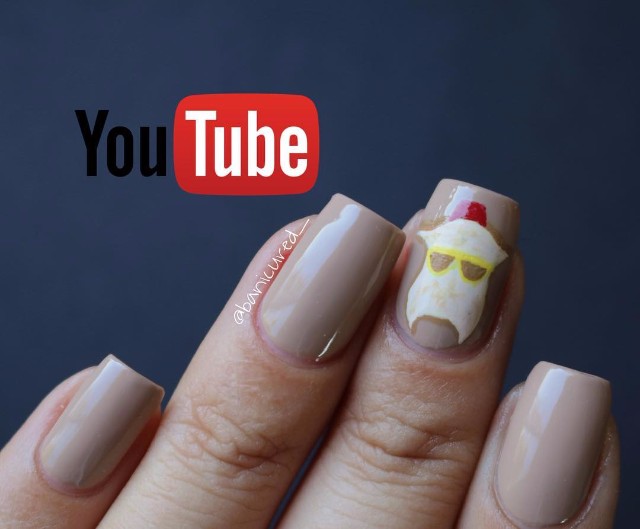 30. Pumpkin pie nail design.
A real piece of art.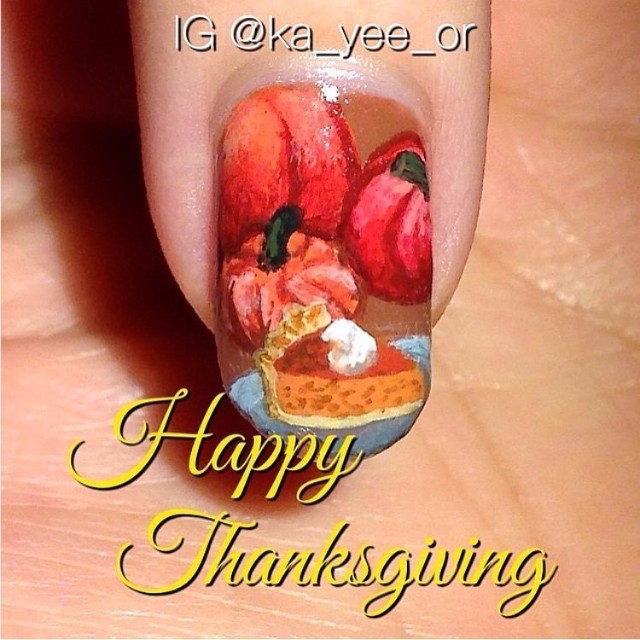 31. White and chocolate fall sweater nails with leaves.
Actually, you don`t necessary need to draw turkeys or pies on your nails. Make any favorite fall nail design. Though turkeys are also very fun)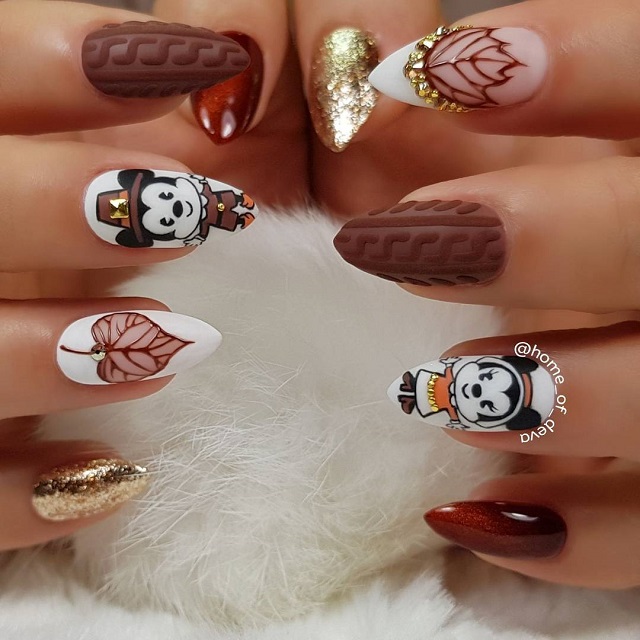 32. Short Thanksgiving gel nails with nail wraps.
Short nails also deserve to be pretty. To make them last longer switch a simple nail polish into a gel one. Here nail wraps were used.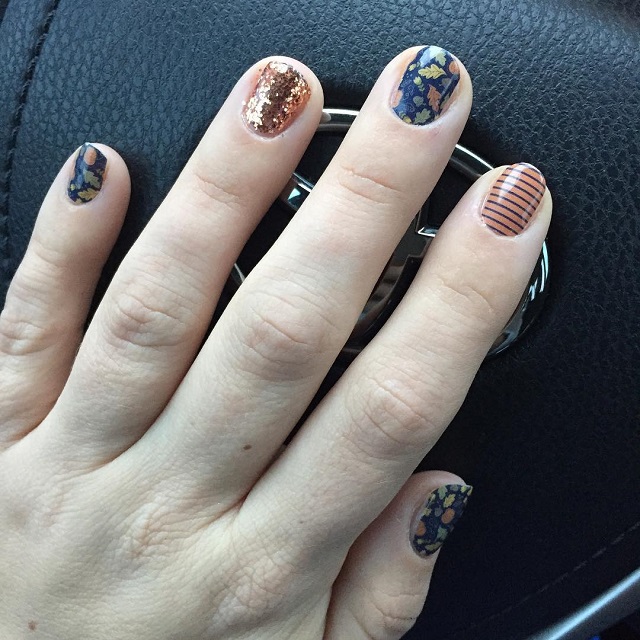 33. White Thanksgiving nails with dots and turkey.
One more variation of dotted nails for Thanksgiving.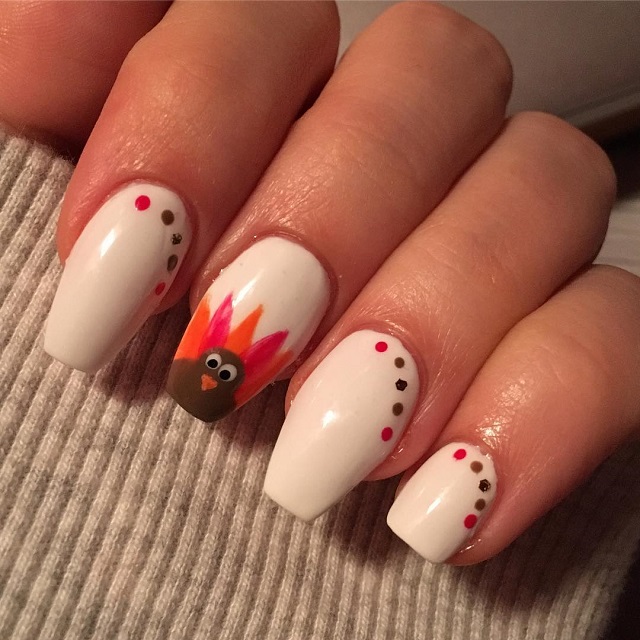 34. Thanksgiving dinner pie nail design.
Looks so 3D! The nail artist did a good job!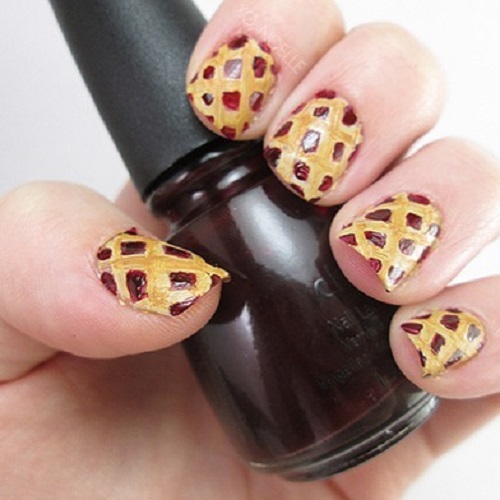 35. Turkey footprint nail design.
Add turkey footprints to make your Thanksgiving manicure more cute and attractive.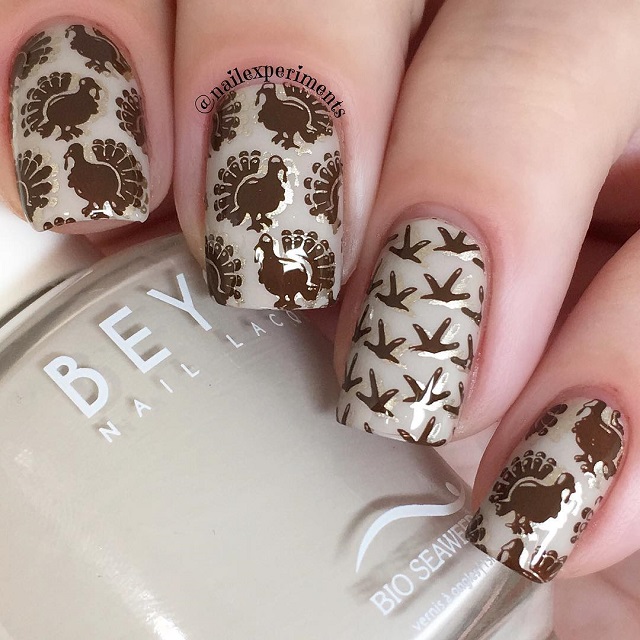 36. Short white, green and orange Thanksgiving nails art.
Nails for Thanksgiving that have all chances to gain the favour of all your friends. Lovely!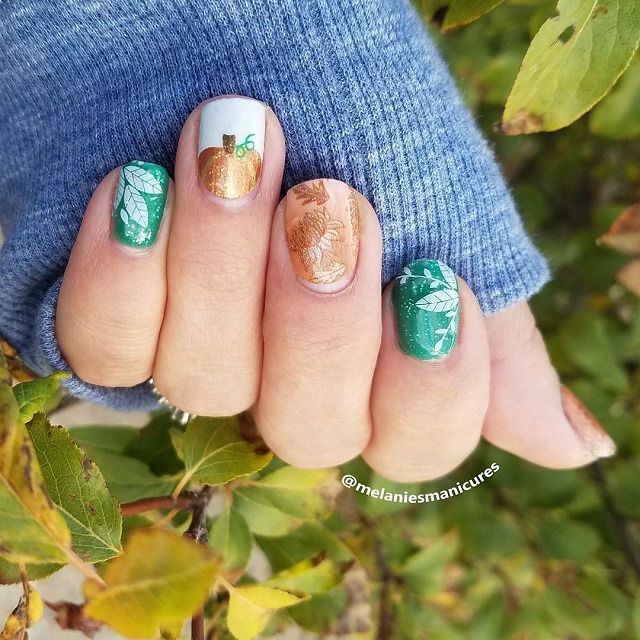 37. Easy fall glitter nails.
Nude base+glitter+several lines in fall color palette=quick and cute decision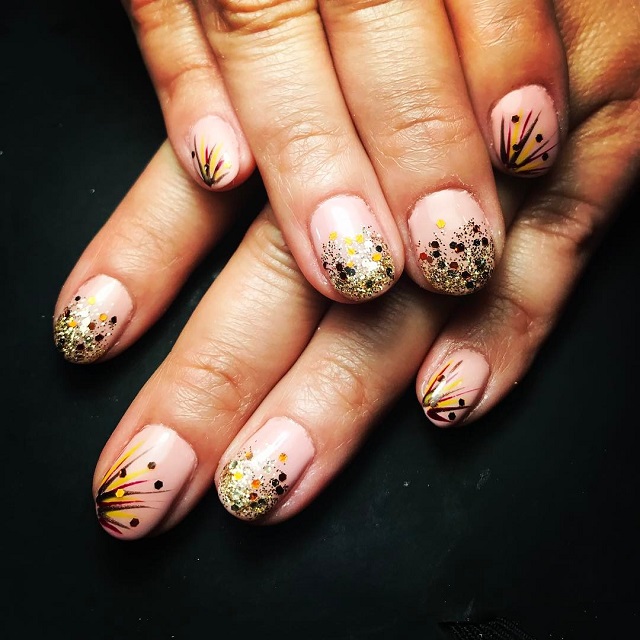 38. French fall nail design variation with glitter tips.
That is how a Thanksgiving French manicure should look like 🙂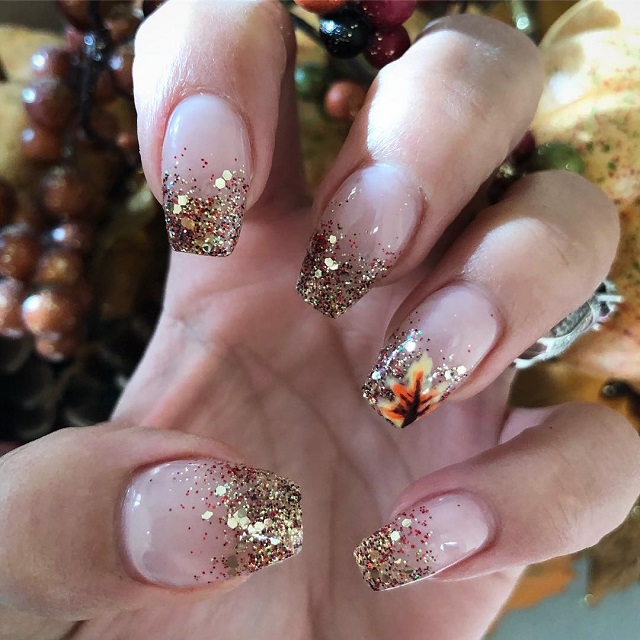 39. Green and orange nails for sweet November.
Sometimes the simpler, the better. In this case the author of the manicure combined 2 Thanksgiving shades, made a trendy half-full nail design, which was mentioned in our article about fall trends, and got a very cute and inspiring result.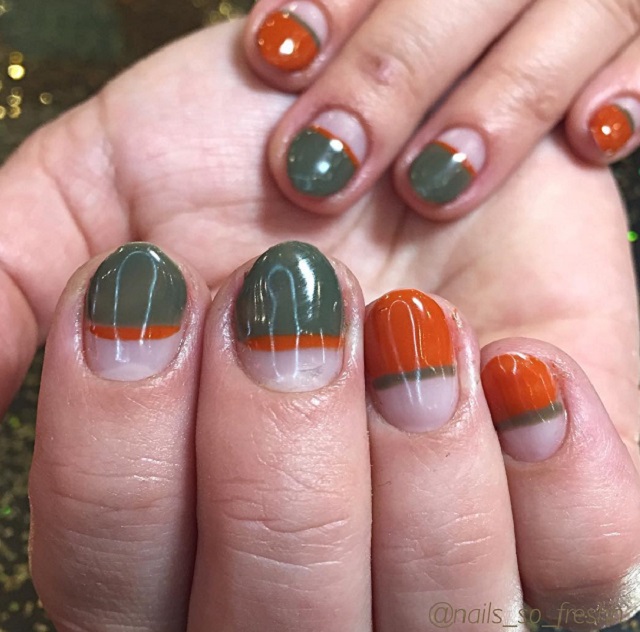 40. 'Give thanks!' green nail design.
It's getting so close… Can you taste the turkey now too?!! :))) Anyway, this design is classic and a perfect idea to finish off with.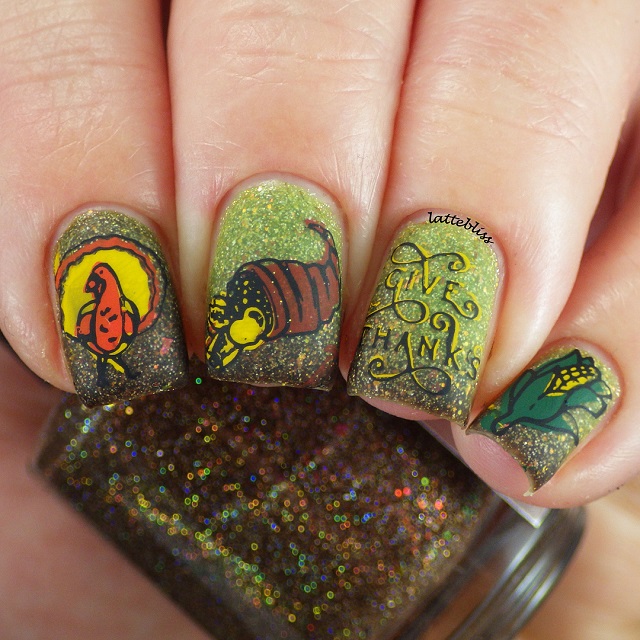 Thanksgiving Nail Decals: Types, Where to Buy
Let`s imagine you want to have the best nail design for this Thanksgiving, with a pie print or a cute turkey print, but you`re not an artist and your fave nail technician is fully booked for November or you don`t know what salons are open on Thanksgiving, or… No matter the reason is, but you have to create smth. complicated for celebrations very-very quickly. The best way to do a fast nail design in this case is to use Thanksgiving nail decals.
You may buy Thanksgiving nail decals on Amazon (links are clickable):
1. Thanksgiving themed nail art water slide tattoo decals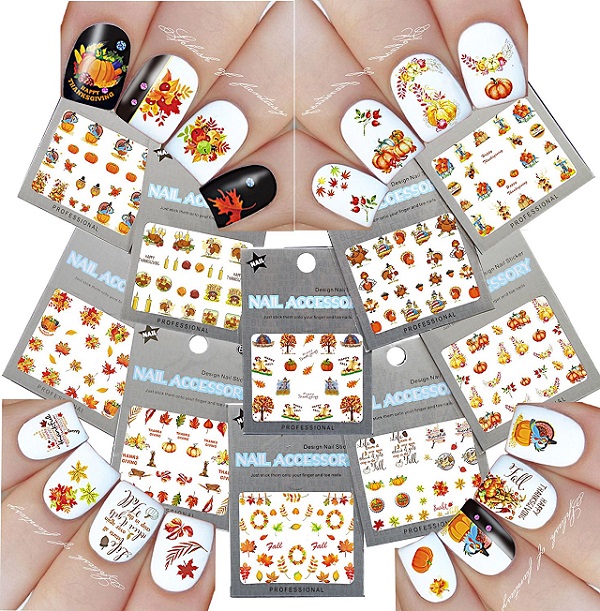 2. Fall Thanksgiving holiday Mickey Mouse nail art decals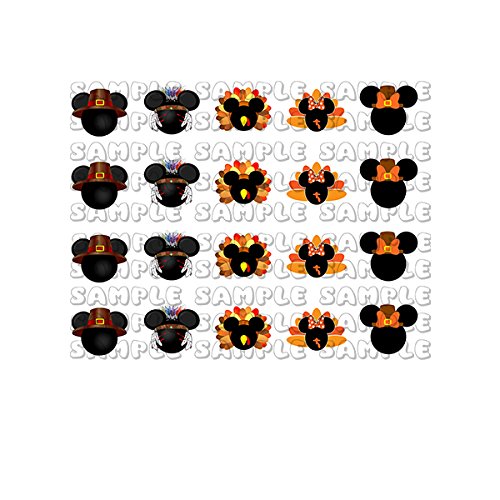 3. BONNIESTORE water decals for Thanksgiving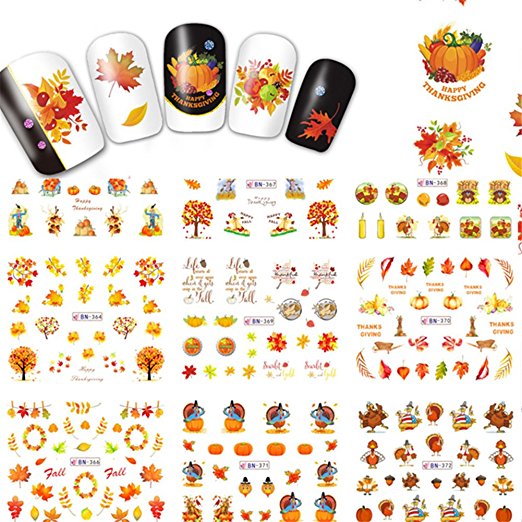 4. Thanksgiving turkey nail art decals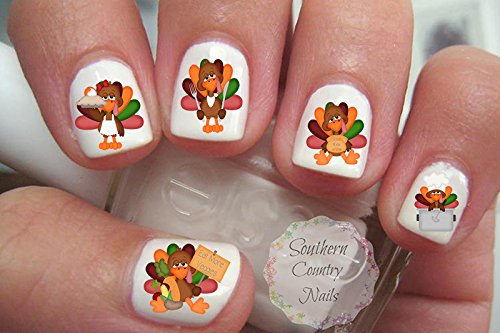 5. Jamberry Thanksgiving nail decals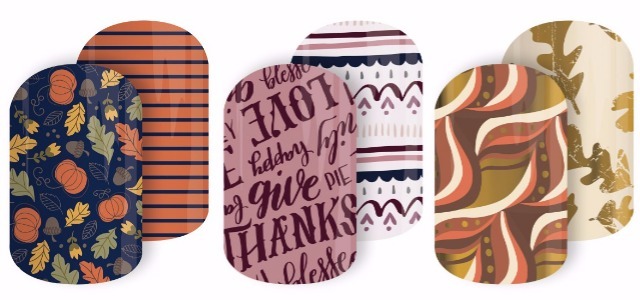 Thanksgiving Nail Art Tutorial Videos
Several short video-instructions how to make perfect Thanksgiving nails:
– the promised above BOMB glow-in-the-dark nails by The Nails Queen
– water marble Thanksgiving nail design by Corynn Musser
– DRY (!) water marble Thanksgiving nail design shared by JauntyJuli
– simple turkey nail design by Jenny Claire Fox
– polka-dot nail design for Thanksgiving by Elizabeth aka eabnailart
More nail designs you can find on our Pinterest boards and on IG account @thenewestnails. Follow us, save the ideas and be inspired by our content.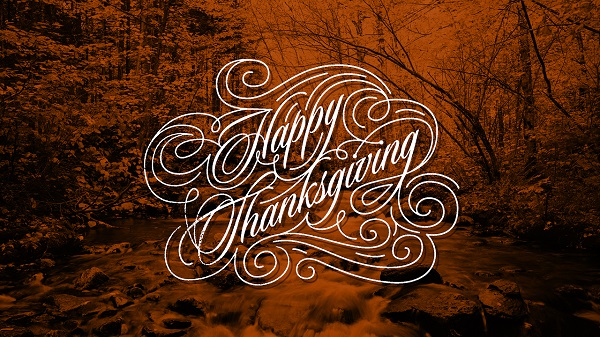 All rights to published pictures belong to their authors, that`s why we provide credits. If you don`t like sharing your content (although it is taken from public accounts), contact us directly at thenewestnails@gmail.com. Thanks for understanding, you`re amazing!