HYGGE NAILS are a trend and a must-try for this cold 2023's season. We selected TOP-40 ideas how to bring more HYGGiness into your nail designs. We guarantee you'll finally find the key to true happiness in your beauty routine!
Advertisement-Continue Reading Below
Hygge is pronounced as 'hue-guh', not 'hoo-gah'. It is a Danish word, meaning everything cozy and pleasant. A home can be very hygge, an outfit, a cafe interior, an atmosphere, a book… and a nail design too!
What makes nail designs more 'hygge'?
First of all let's define what are the features of hygge nail designs. The main is coziness, so this season opt for:
soft pleasant colors – nude, white, plum, dark blue, chocolate brown, gray, wine shades;
rhinestones, glitter, metallic silver and gold nail polishes;
matte finish;
geometric ornaments, checkerd print, stripes;
traditional cozy designs – cable knit sweater design, polka-dot, flowers;
coffee themed nail designs.
Top 40 HYGGE Cozy Nail Art Ideas
Now let's move to the next stage of obsession with cosiness – considering the most attractive and hygge-spirational photos. Aren't they cute?
1. Red, black and white polka dot hygge nail design.
The top design on Pinterest boards when you tape 'fall nails' or 'winter nails' keyphrases. A perfect cozy combination of red, white and black colors, plus those pretty girlish dots…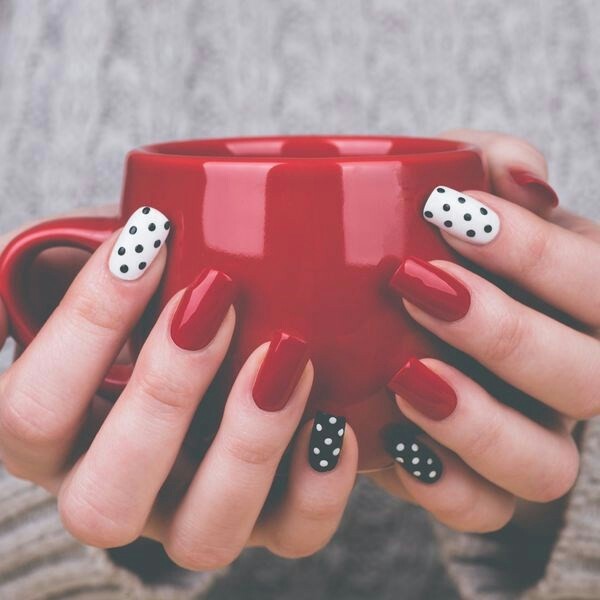 2. Magnificent nude and violet matte nail art.
So much hygge in this matte beige and bright violet design with notes… The nail artist you need to subscribe to if you like geometry on your nails and ideal color combos. So click the link below the photo and follow her on Instagram. These hygge nails are just perfect. And so are her other works, we swear!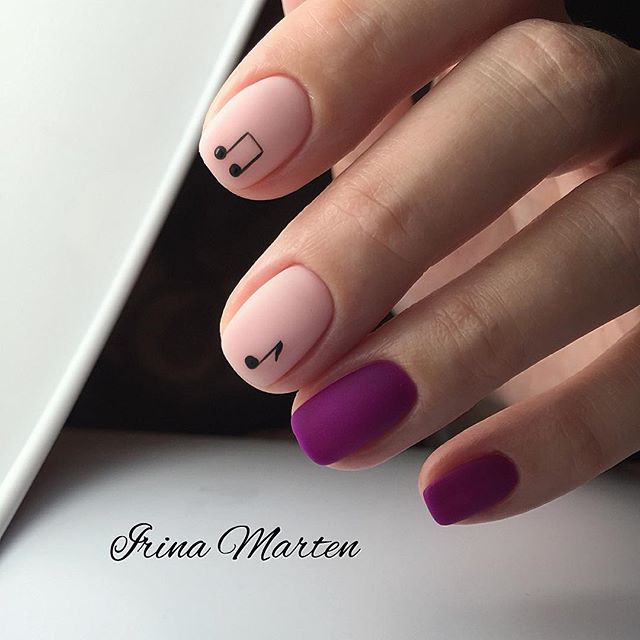 3. Cozy violet and gold nails with hygge effect.
You know that coffee mugs with inspirational quotes are very hygge. And if you want to make your Insta photo with a new nail design hygge too, you need to hold such a cup, really! look at this nail design: you can DIY it easily having a purple matte nail polish (or purple nail polish+matt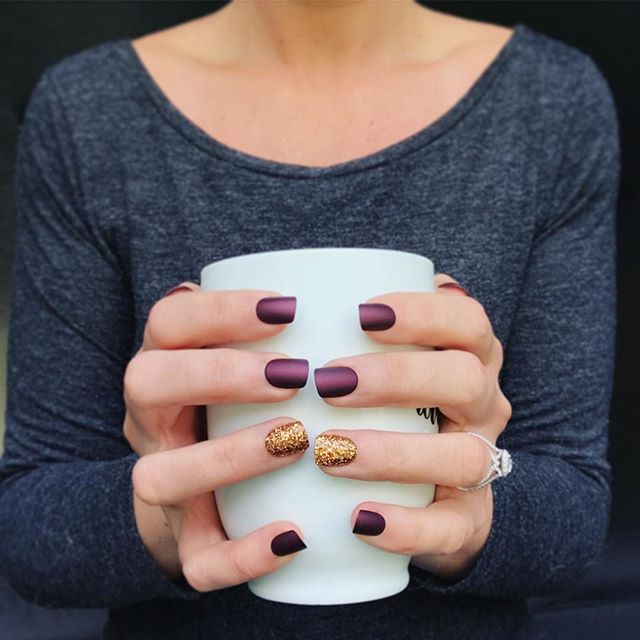 4. Black hygge nails? Yes, please!
Dark nail designs can also be very hygge. As an evidence – the following geometric nail design. Two nails are nude pink, with geometric patterns, the others are matte black. Stunning!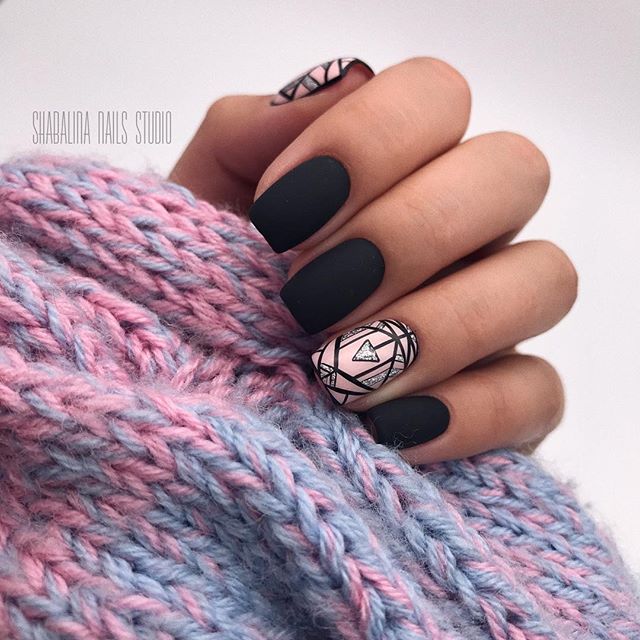 5. Hygge caramel nails.
Coffee and caramel shades are very typical for hygge-style. You don't even need to add any design, everything is so simple and so cozy. Coffee and milk, chocolate, caramel shades – are very in today.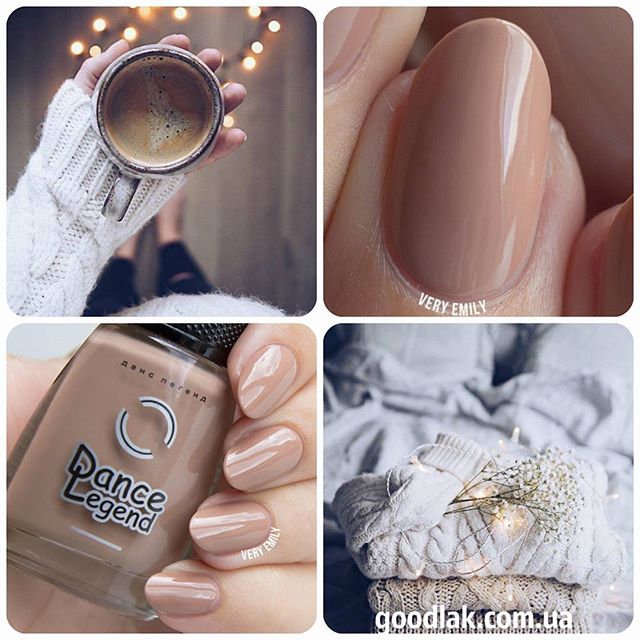 6. Winter hygge nail design.
This one from Pinterest was regularly seen in different nail design publics and groups in social medias. Top-rated and highly-desired during holidays. Best choice if you want smth simple and  easy to DIY.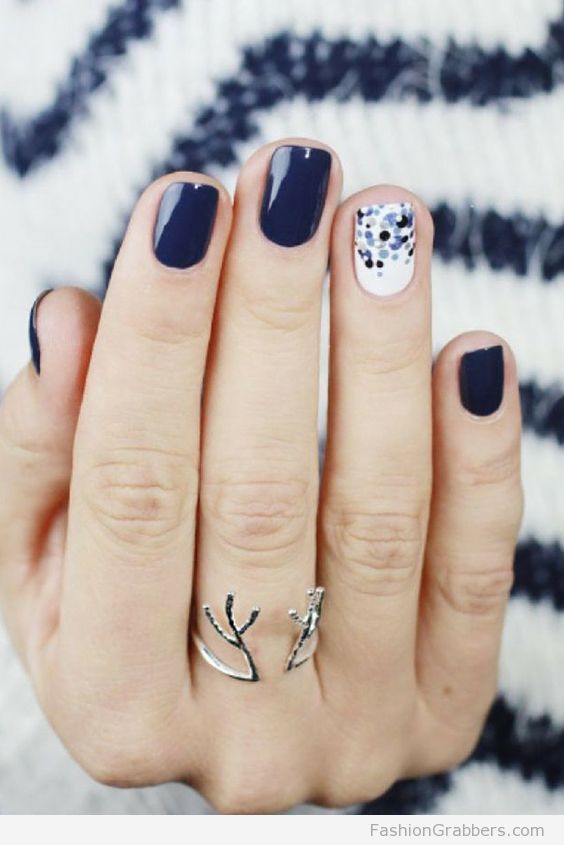 7. Sweater weather hygge nail art.
So cute… Wear such nail designs with cozy gray cardigans and knitted  sweaters. Ideal for your new hygge lifestyle.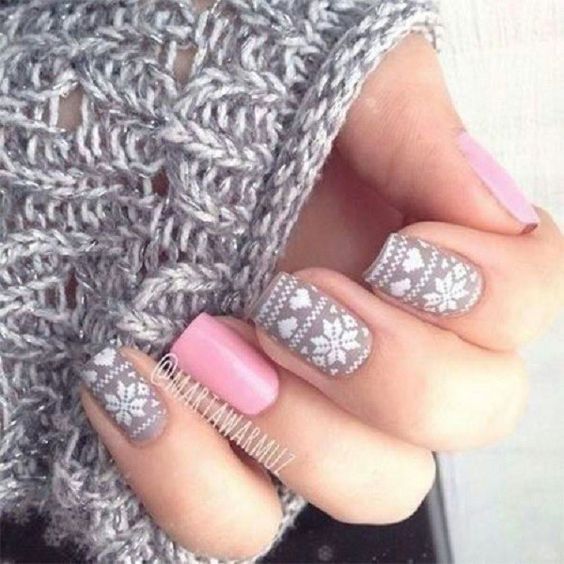 8. Gray and marsala nail design.
Gray, nude, marsala and black are top colors for fall and winter nails. If you like cozy nail designs, this mix will fit your cold season mood perfectly.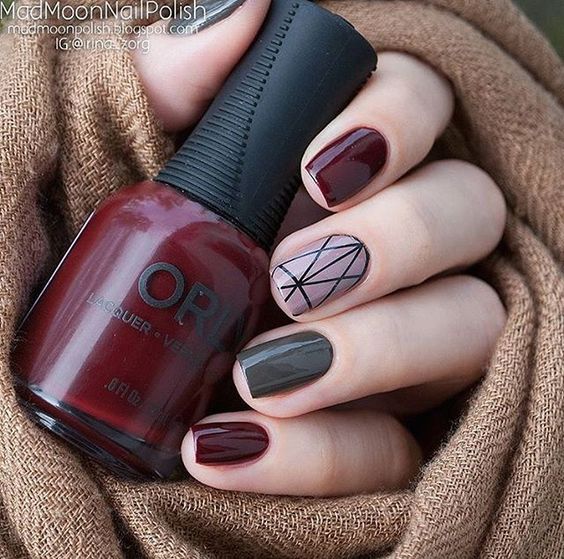 9. Hygge chocolate bar nail design.
What a great invention for those ladies who are on a diet! Chocolate nails are definitely among our top favorites!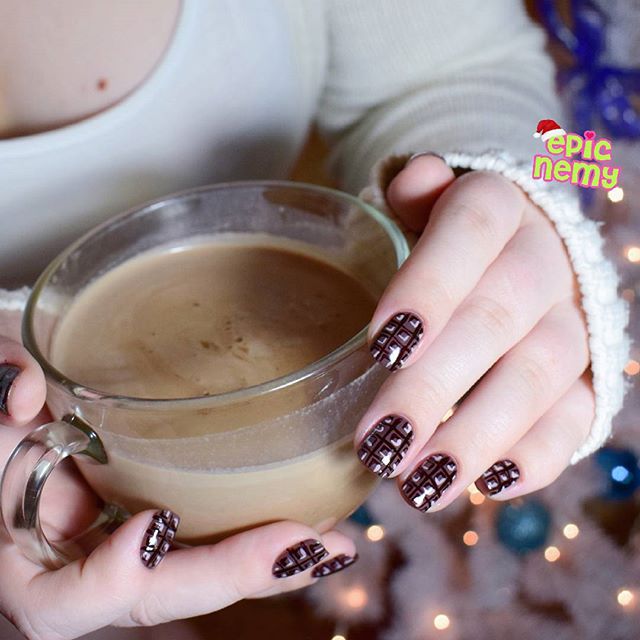 10. Nude and chocolate nail design for cold weather.
If you are tired of wearing solid-colored nail designs, learn how to do stamping. Buy several stamping plates with different patterns and enjoy various nail arts.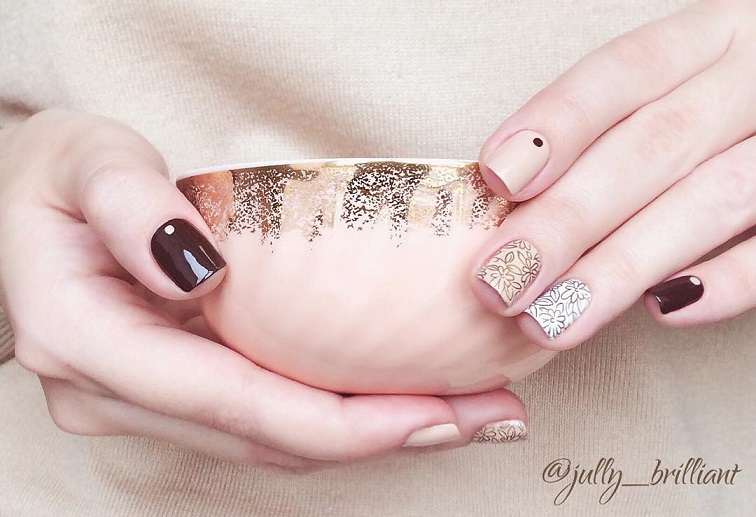 11. Knitwear nail design with a touch of hygge.
Yes, maybe you'll need sliders for this design, but it is worth every penny! Look how hygge it is! Adds coziness to your outfit, thoughts, life. Keep calm and be a minimalist.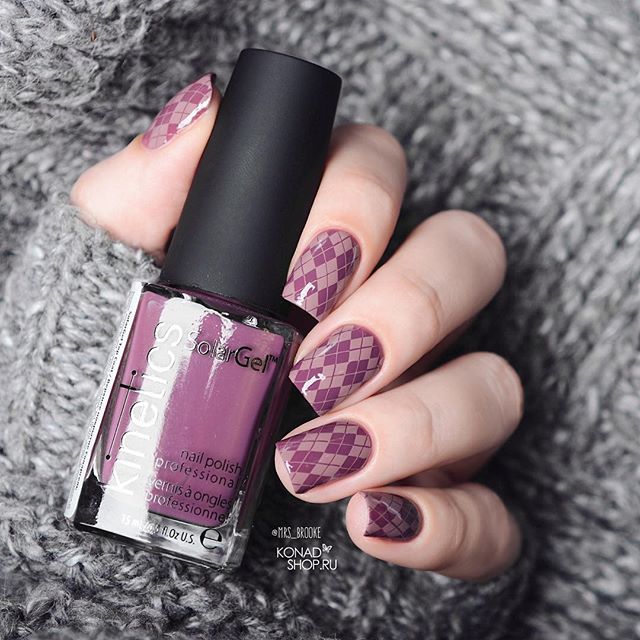 12. Pastel pink and white nail design with winter snowflakes.
Holidays are coming… Save this for your first winter nail design. Classic color and pattern combination for cold season.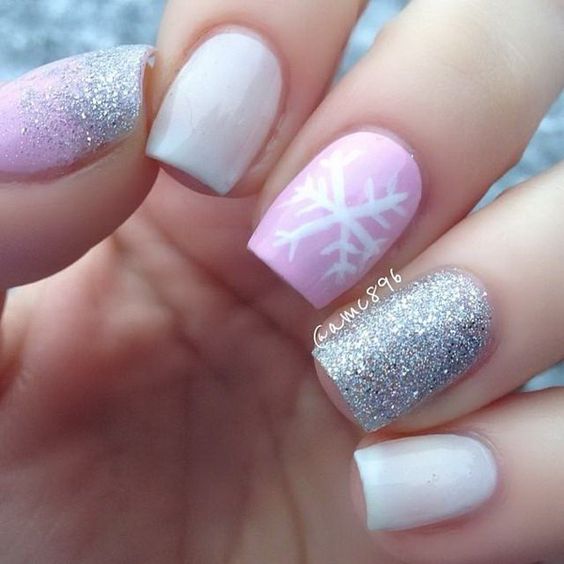 13. Hygge coffee-themed nude beige nails.
Non-banal and cute. Nude base, several black lines and your coffee-themed hygge nail design is ready. Instead of rain drop and umbrella you may add any symbol you like. Cookies… Chocolate bar… Sweets?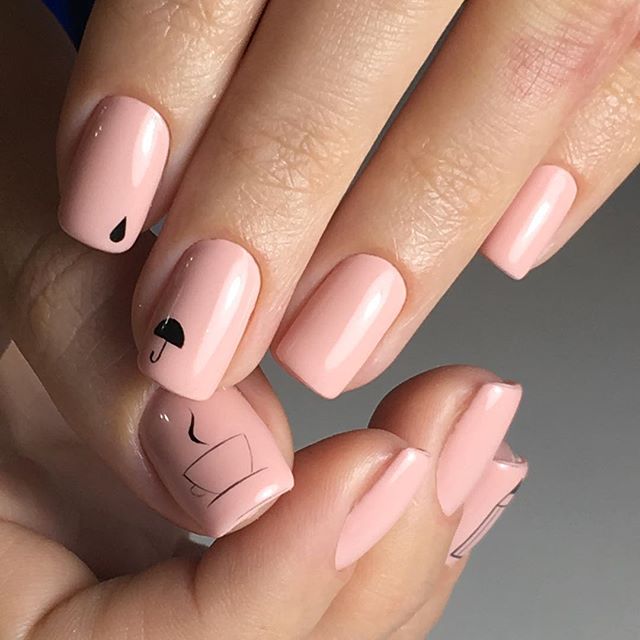 14. Pretty pastel pink hygge nails.
Seen so many times but still looks ultra-trendy and stylish. Believe us, this nail design will appear regularly on popular Instagrammers' pages in a month or two, really. A fool-proof shades and 100% right glitter decorations.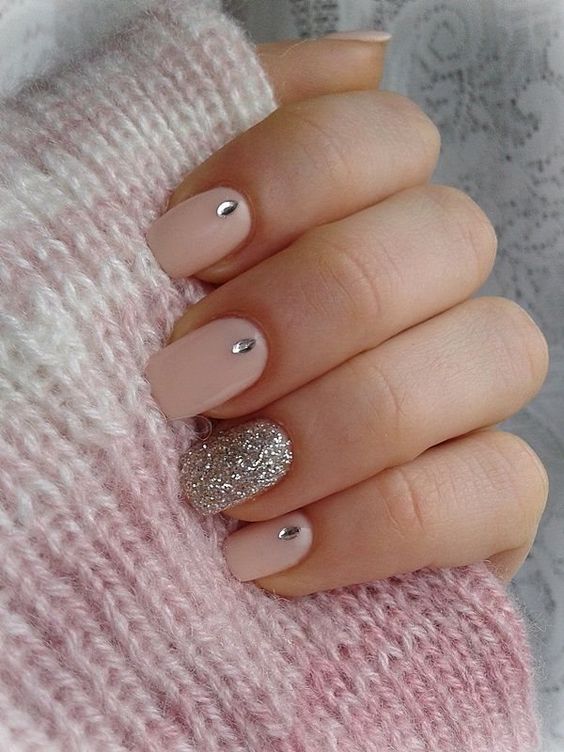 15. Cozy marble nail design.
We mentioned that matte finish adds to the hyginess of the nail design. The proof is in fron of your eyes.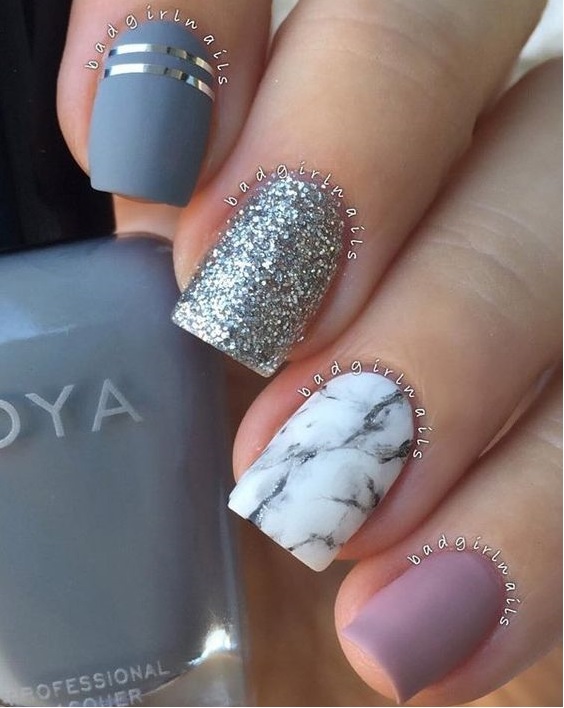 16. Shimmering hygge nail polish.
Nothing special need to be said about this design. Everything is simple. To make your nails more hygge buy a very cozy nail polish with slightly shimmering effect. Return to it every time you run out of manicure ideas.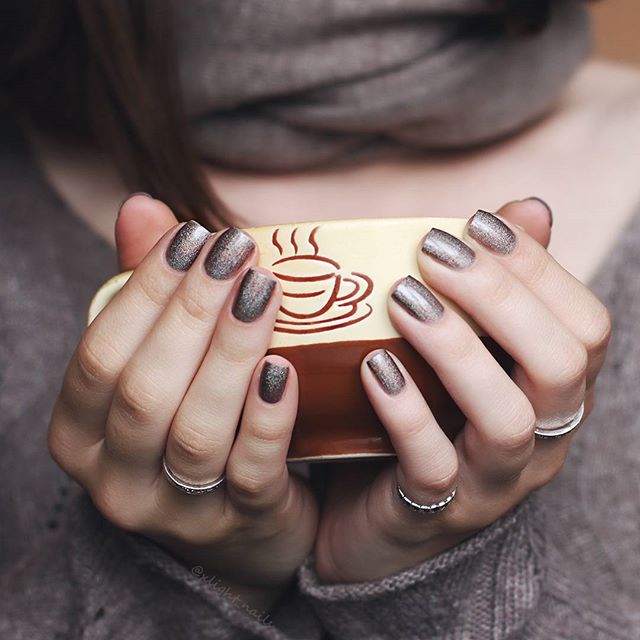 17. Cozy ombre nails for colder season.
Ombre is a very soft gradient from darker to lighter shade. You may copy this technique with several different methods. The most popular are with special ombre brush and with a sponge. One more tricky idea is to buy a thermal nail polish. It will create this ombre effect every time you go outside and every time you come in from cold. However, this effect will be just temporary.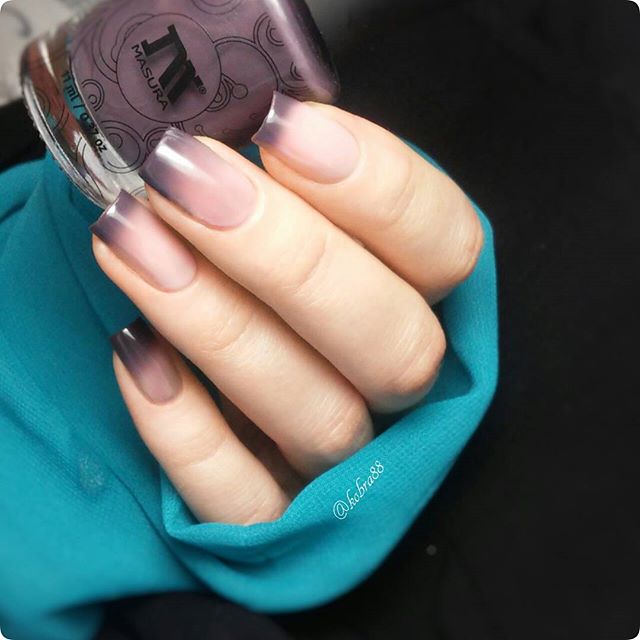 18. Hygge pastel blue nails with glitter accent nail.
Who said that hygge tones can be warm only? The colder shades of the nail polish palette are also very cozy. Try purplish blue with glossy finish, and cover one nail with glitter lacquer. Real tenderness!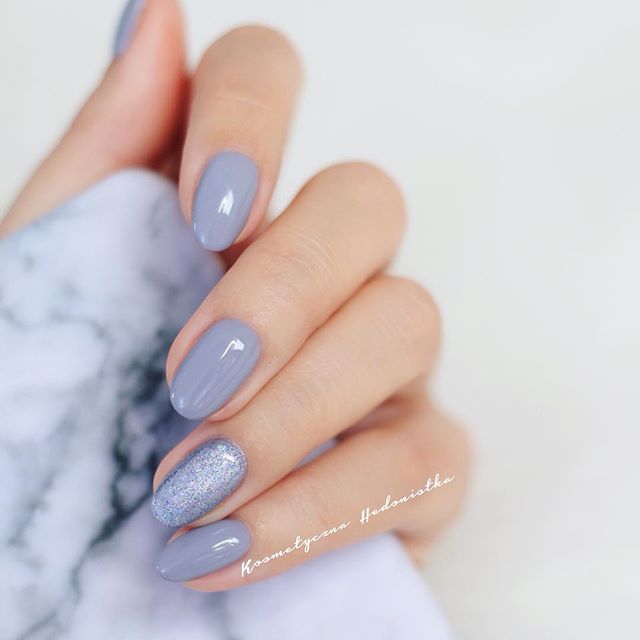 19. Hygge nude nails with a rhinestone on each finger.
To upgrade your nude manicure add rhinestones to it. But we don't mean covering nails fully with stones. One rhinestone on each nail will be enough for a gorgeous glamorous effect.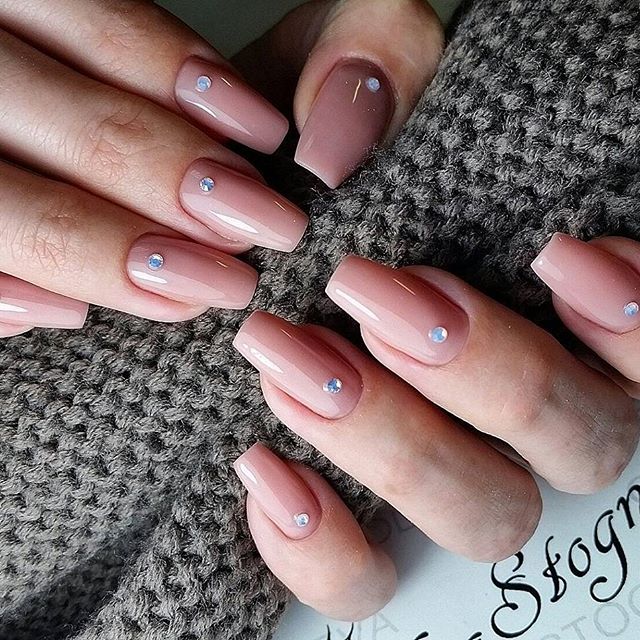 20. Rose gold cozy nail design with glitter.
Rose gold became trendy 3 seasons ago and will be in several more. So, continue using your favourite nail polish shade in manicure to create marvelous and very hygge nail designs.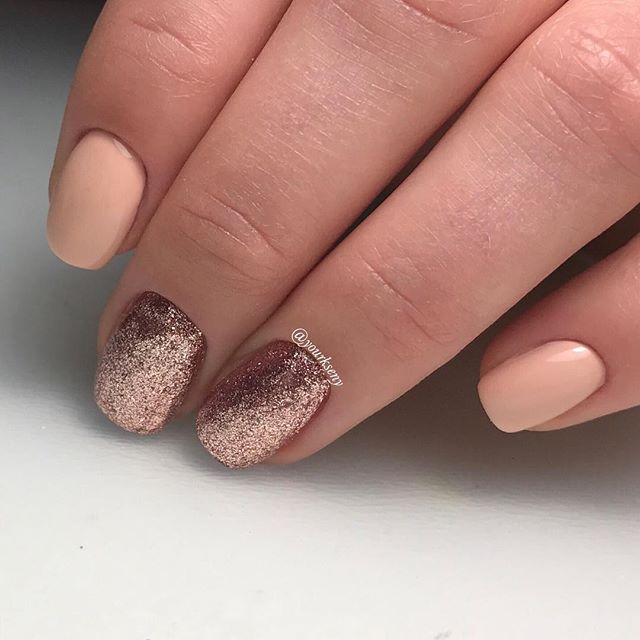 21. Light gray design with glitter accent nails and double rhinestones.
The idea is the same as shown in #14 design. However, see how different these two manis look! This one is colder, more rigorous, feminine and minimalistic, while pastel pink in #14 feels more girlish and coquettishly.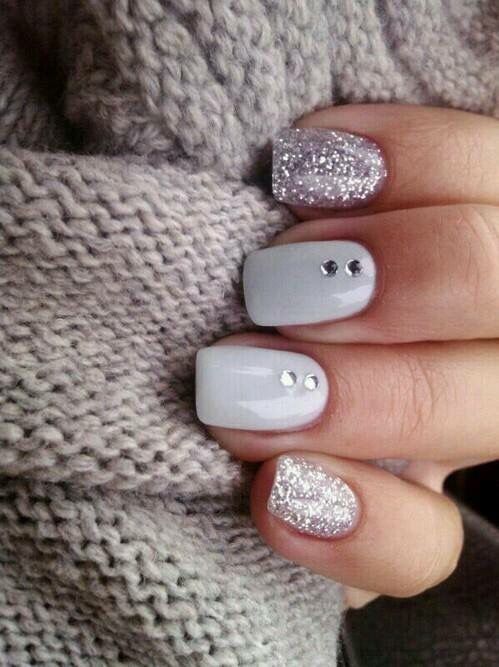 22. Gray and pink ombre with cozy sugar-effect.
See how you can hide the far-from-being-perfect ombre design 🙂 Just sprinkle some glitter, acrylic or any other powder with 'sugar-like' effect over wet nail polish and your gradient mani  will look much better. And more hygge, of course.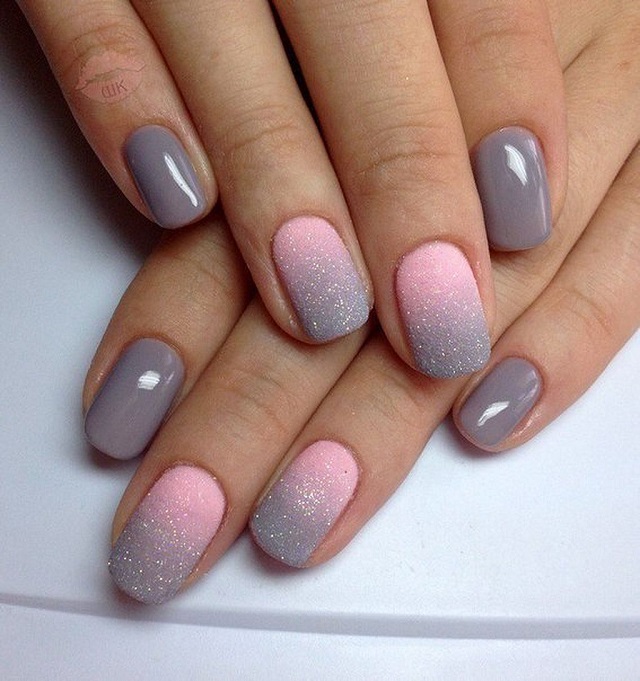 23. 50 shades of gray nail design.
All you need for this pastel hygge manicure is 5 different nail polishes, that complement each other. If you are bored with wearing solid nails, but don't have extra time to invent complicated designs, this will be a golden mean for you. Cover each nail with different nail polish and voila, you get smth very interesting. Gray palette is perfect for such experiments.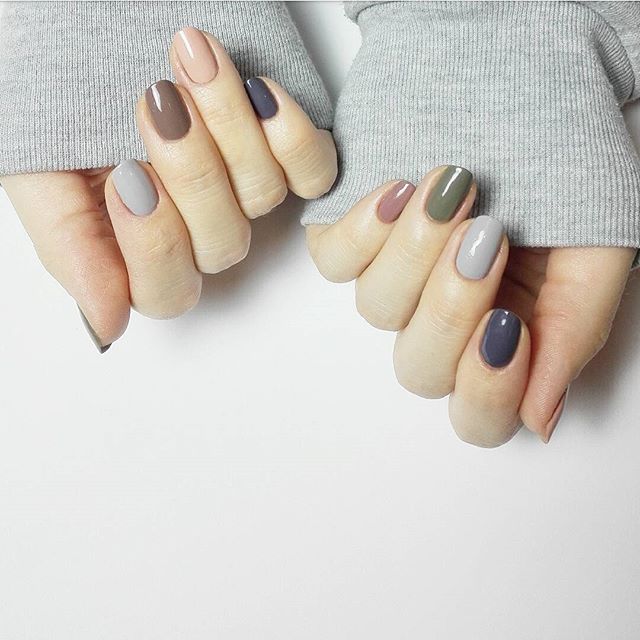 24. Cute hygge gray and white polar bear nail art.
Possibly the cutest mani in this selection. Of course, this hygge nail design is for colder season. In summer it will look strange. During New Year's parties and Christmas holidays – perfect.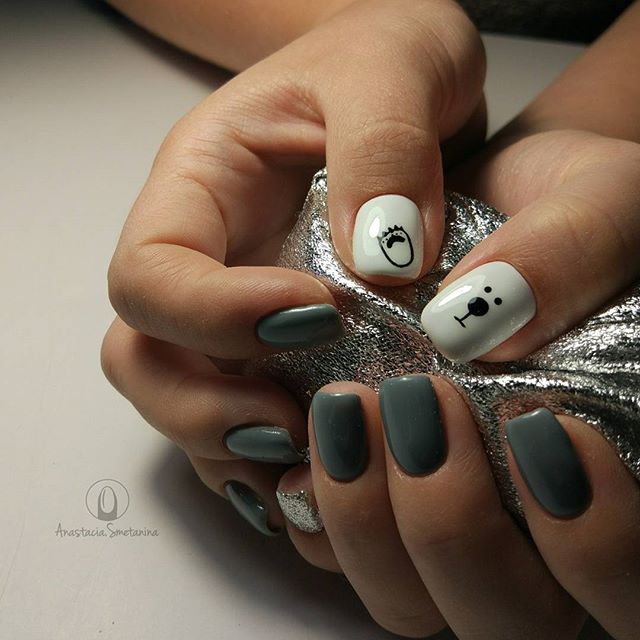 25. Matte black nails with glitter frame.
Unbelievably, but among all designs on our Facebook page, black manis are the most popular. What's the reason? Black matte nails with trendy frame-like silver design is a top choice for special events. Remember it for your next party.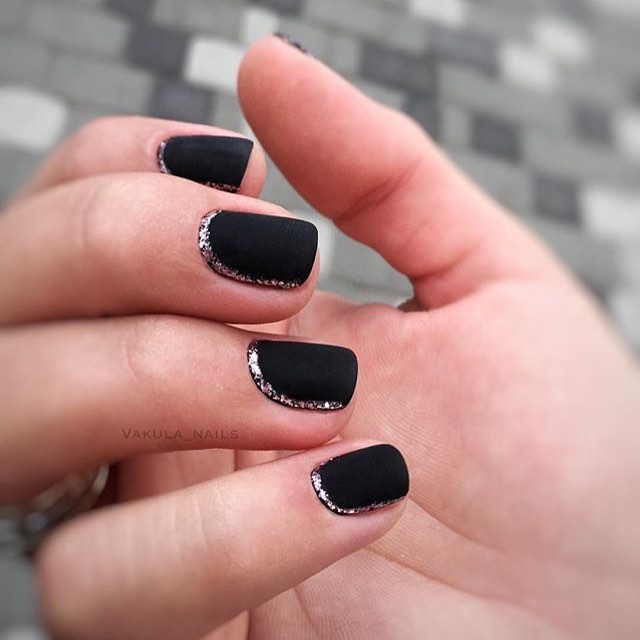 26. Long acrylic hygge stiletto nails.
Yes, stiletto nails can also be hygge. Especially with a metallic gold-dark plum and nude pink color combination. Looks very cozy with that light gray cardigan.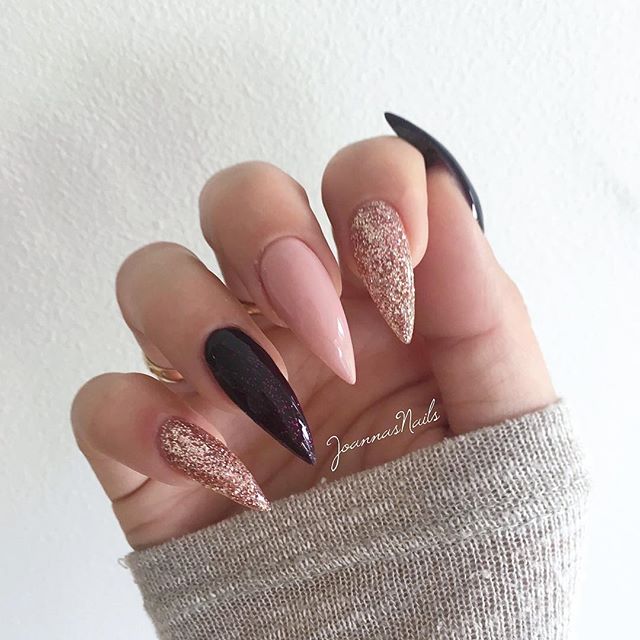 27. Multicolored sweater nail design for colder season.
Once again we burst the myth that hygge nail shades are just warm, gray or brown. Look at this mani. It is colorful but still very cozy! Nail stickers will be needed, mind.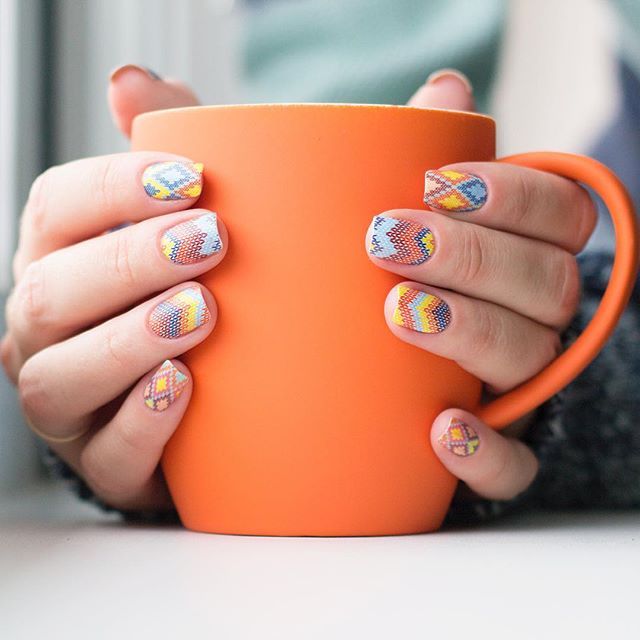 28. Winter 3D sweater nails in fuchsia shade.
We are all used to wearing those regular sweater nails, made with the help of gel and acrylic powder. However, his knitted pattern is even more voluminous and defined. Such nails will definitely create that desirable wow-effect!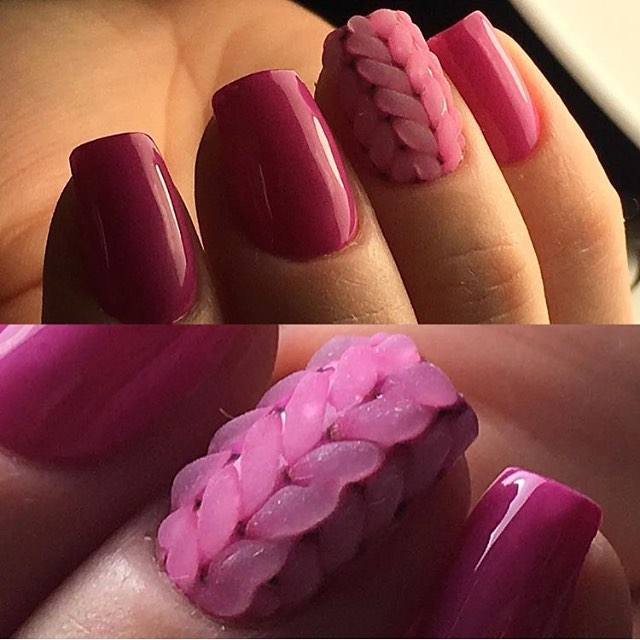 29. Chocolate brown and white polka-dot nail design.
Girlish, 'tasty', suitable for any cozy fall and winter outfit – these polka-dot nails are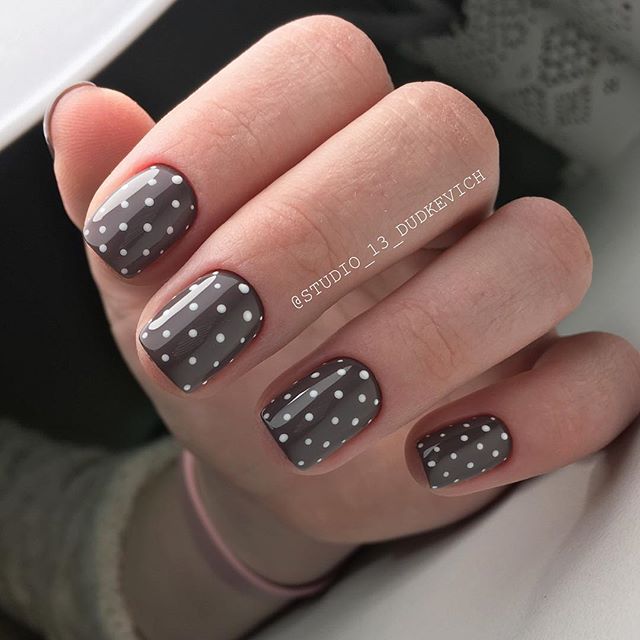 30. Glossy beige nails with round sequins.
Hygge means simple and cute. What is easier than nude shade plus several round sequins? You will be able to DIY it on first attempt.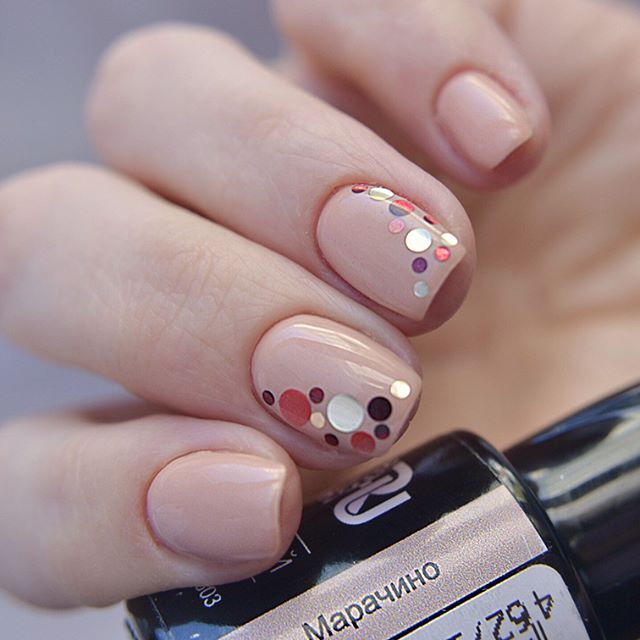 31. Hygge purple-silver and white nail design with hearts.
Ready for this year's Valentine's Day? Time to save ideas for this romantic holiday! This one is worth recreating, especially for those ladies who love everything minimalistic and stylish.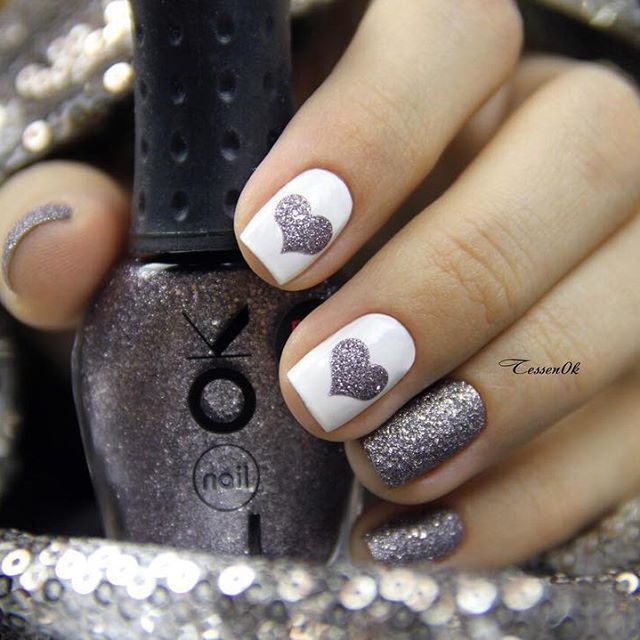 32. Winter holiday chocolate brown nail design with dears and snowflakes.
Winter is coming. And Christmas holidays too. So be ready for marvelous cozy designs. This one looks super-stylish.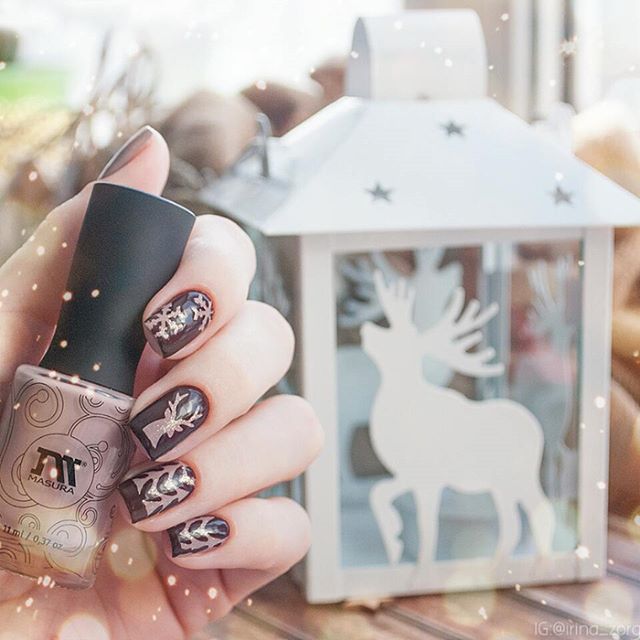 33. Dark red nails with several white dots.
Wine nails plus white accents are a classic fool-proof combination for nails. Opt for it in case you need to create smth modern, feminine and rigorous, but quick.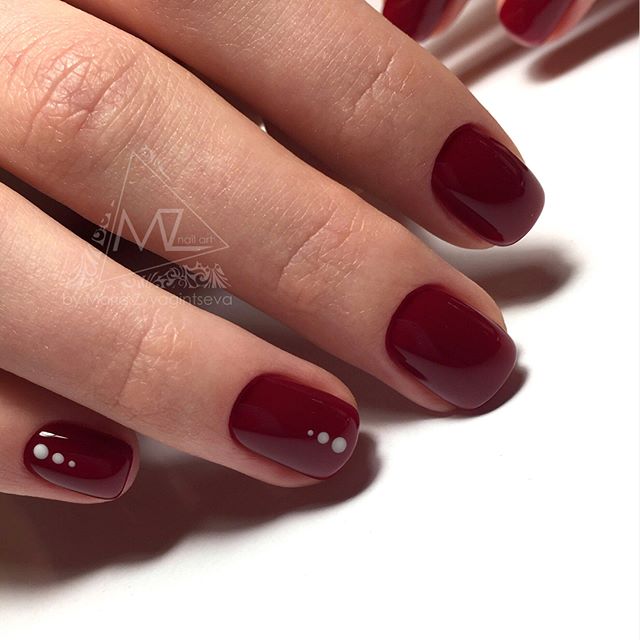 34. Pastel purple and white sweater nail design.
Sweater nails of our dream! So neat and tender. Sweater nail designs look much better in neutral, pastel shades.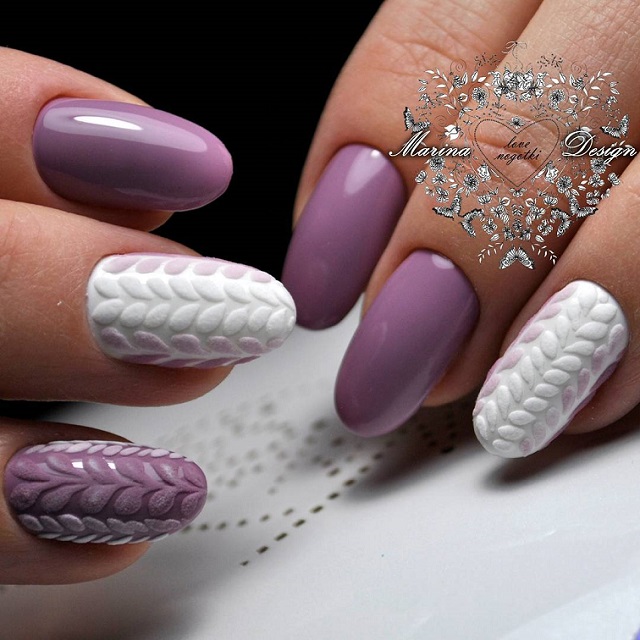 35. Black and white geometric hygge nail art.
Top-shared on Pinterest and frequently copied on Instagram – the design is really cute. Matte finish does wonders for sure.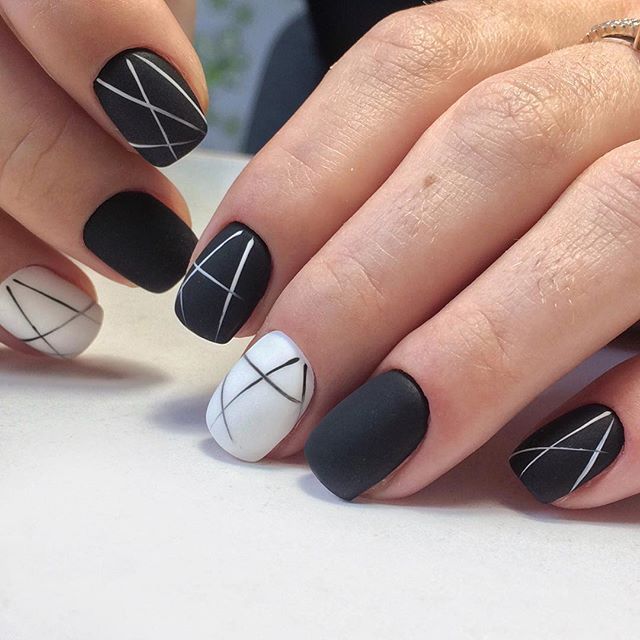 36. Gray hygge nail design.
One more gradient but with a slightly different effect. Long acrylic hygge nails appear the most stylish thing we have seen this year. How can they be so cute???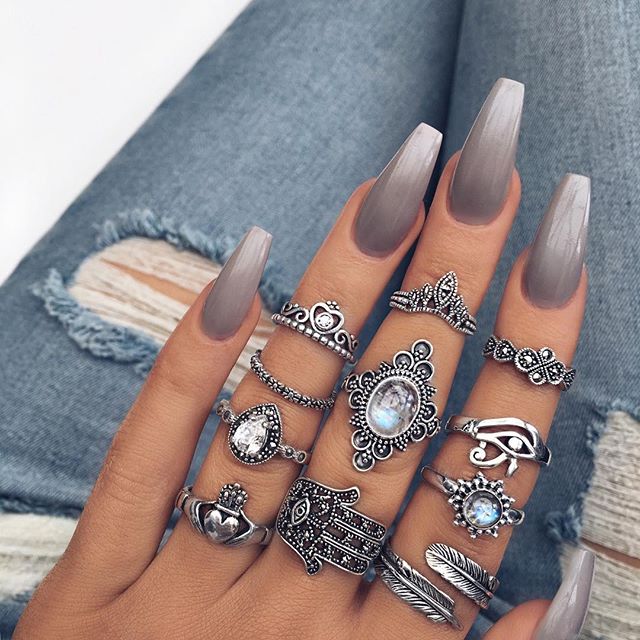 37. Checkered nail design for cold season.
Popular theme: doing nails copy your outfit details. Like this print on her collar and her nails. Total looks are still in. Other variants: do nails in one style with your bag, your special occasion dress or in one color with your hair.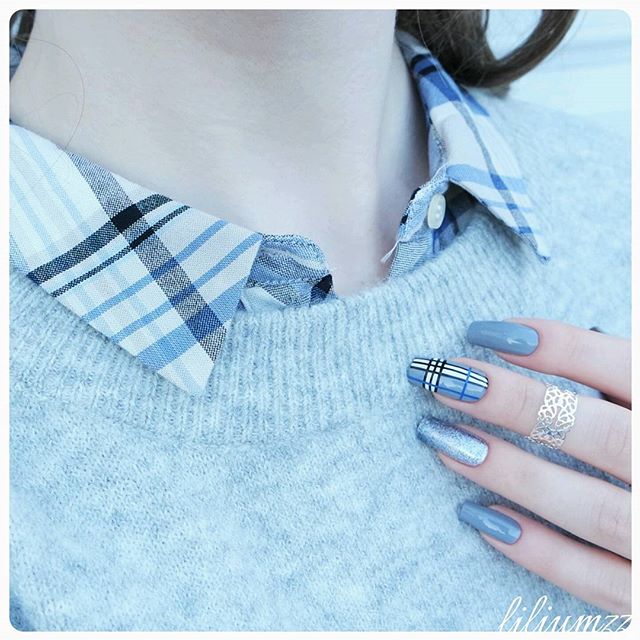 38. Black and pink nail design for hygge lovers.
Sparkle this season, you deserve this. Great idea for a New Year's eve celebrations.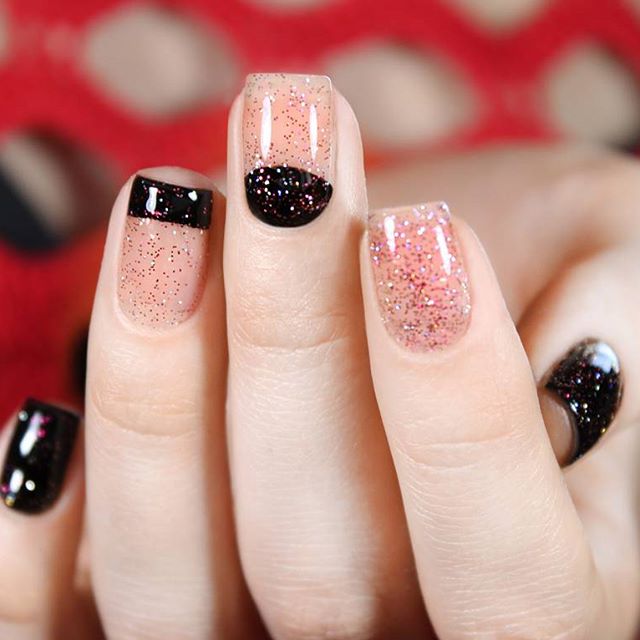 39. Gray hygge art-design for nails.
Creative nail designs like this one attract attention and gather compliments. Agree that it looks non-banal and fresh. And hygge, you are right.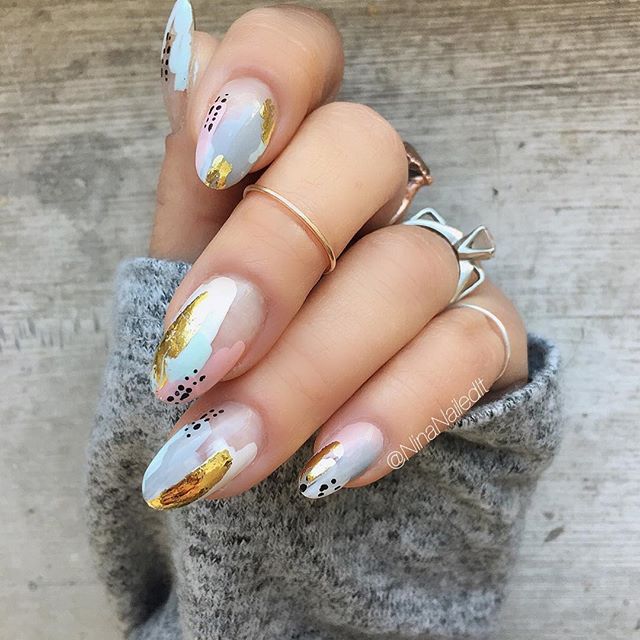 40. Interesting nail design with chevrons.
And the last but not least nail design – black'n'white, with chevrons. Geometry and tender colors pair well and are good with all outfits without exceptions.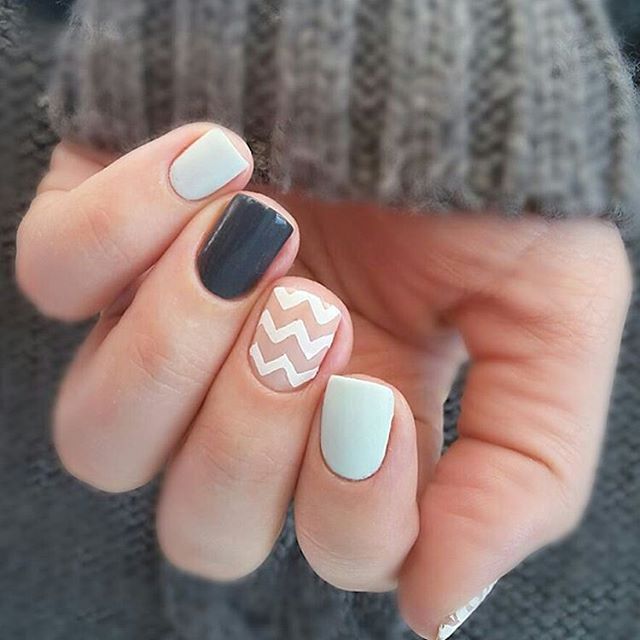 More nail designs you can find on our Pinterest boards and on IG account @thenewestnails. Follow us, save the ideas and be inspired by our content.
Photos on preview:
Brigitte Tohm on Unsplash, @lenareitz, @irina_zorg
And one more thing: don't forget to appreciate the small, hygge things in life, they are worth it!