Green Nails are trendy not only in sping, but during all seasons now. That's why we see greenery , olive, mint, lime, neon green and emerald nails in every fashion magazine, on Instagram accounts, and on numerous Pinterest boards all year round. How can we waste the chance to try this color too? Check out the trendiest green nail ideas of 2023!
Advertisement-Continue Reading Below
Green Nails Ideas 2023: Top 35 Pictures that Will Make You Green with Envy
First of all, let us introduce you the most popular designs among women. Most often they ask their nail artists for:
– olive green nail art;
– mint nails;
– green tea shade;
– lime green nails;
– neon green colors;
– emerald green tone;
– forest green design;
– matte green finish.
If you want to mix several shades in your nail art, you may always try these sure-fire schemes:
-blue and green combination;
-green and gold variant;
-green and yellow nail design;
– green and silver fusion;
-green and white masterpiece;
– pink and green (yes!) contrast;
– black and green blending;
– green and purple duet.
Green Nails Photos: Matte and Glossy Designs, Leaves, Dots and Stripes
As promised, below we demonstrate the best green nail designs in pictures:
1. Matte green nail design with leaves.
This year minimalistic designs are in trend, so be sure to try similar variants at least once. The idea above combine both matte and glossy finishes, but the main attention here grab those black leaves. We have already mentioned that black and green nail designs are among top desirable nowadays. Now you see why 🙂 Mega-stylish.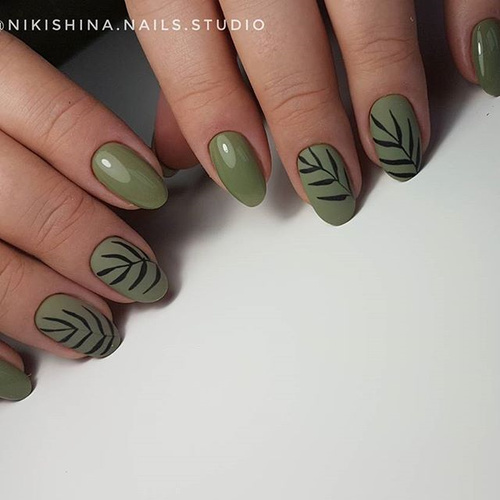 2. Easy kiwi nail design.
You may easily copy it at home. Make 4 solid green nails, and draw the cut kiwi fruit on one finger. White center, several lines, some black dots and you don't need to look for a nail artist this spring and summer.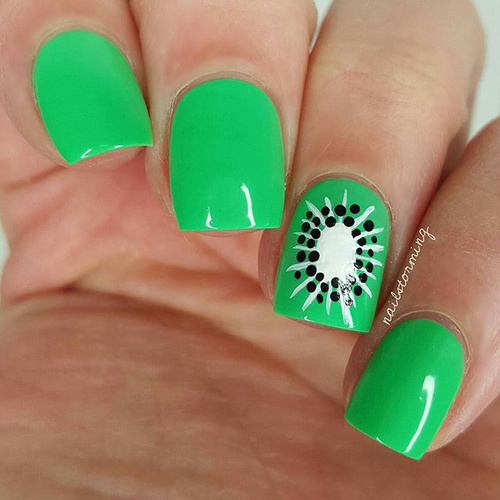 3. Light green nail design with leaves.
Light green Sophin nail polish (or similar of your favorite brand), combined with more bright, greenery leaves (better use stickers or at least stamping patterns), is one of the best choices for your cheerful spring and summer mood. Have fun this season!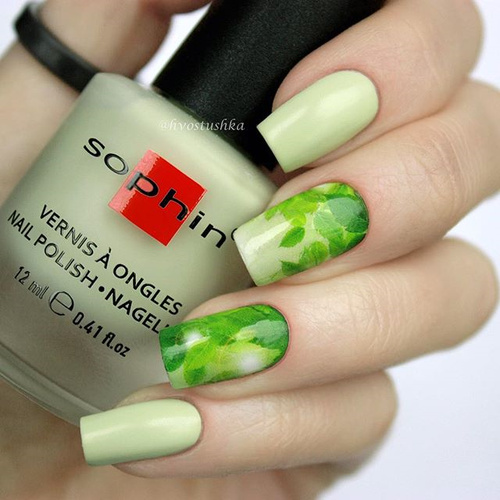 4. Emerald green nail polish with delicate lace.
Emerald green looks great solid, and even better when combined with white or silver. The picture above shows us a real masterpiece created by a very talented nail blogger. Dainty lace (or window frost?) design pairs well with both casual and festive outfits, e.g., with oversized sweaters and gorgeous evening gowns.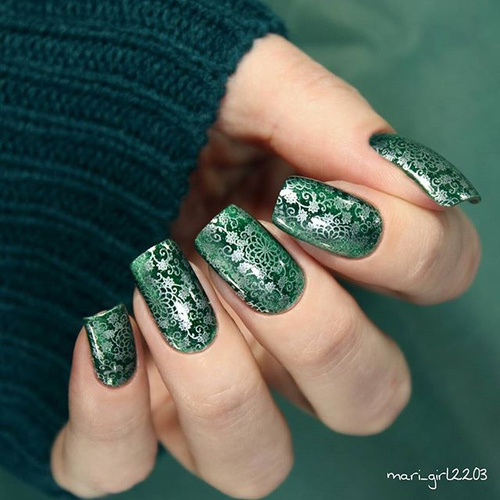 5. Pine green nail design with silver stripes.
Green nails mean you are not afraid of standing out from the crowd. Nude designs are also cool, but bright ones definitely catch more attention. If you want smth. minimalistic, but shiny, add several silver stripes (differently on each nail) to the pine green base. You may repeat this mani with a unique pattern every time.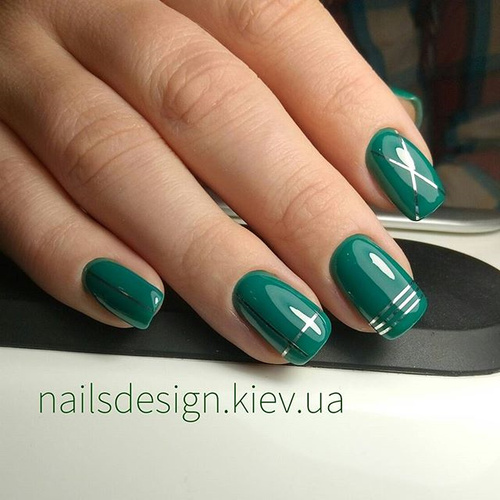 6. Avon Color Trend – Kiwi nail polish.
It looks so fun, that it doesn't need any additions. Smashed kiwis, yummy. Just like our morning kiwi smoothie! By the way, if you have any yellow green nail polish and separately black glitter, you may create your own super-trendy nail polish. The other fruity nail polishes from Avon – Pitaya, Maracuja, Melancia, Morango. We want to try them all right now!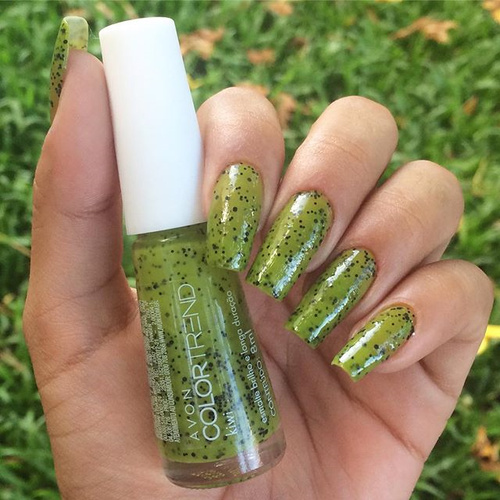 7. Smoke nail art on the dark green base.
There are a plenty of tutorials how you can do this nail design yourself. It's easy, but showy. Moreover, you can make this smoke colorful, blending pink, yellow and blue shades together. In the photo above we see not only glossy nails and one smokey nail, but also matte finish on the little finger. A good trick to make your design even more interesting.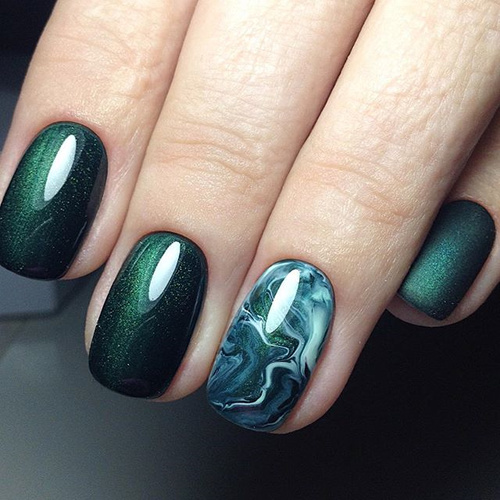 8. Green and gold nail art.
All the trendiest things are combined here: matte green nails, golden stripes, and negative space design. Today's nail artists are so creative! They like to experiment and make even the simplest nail designs stand out. Respect!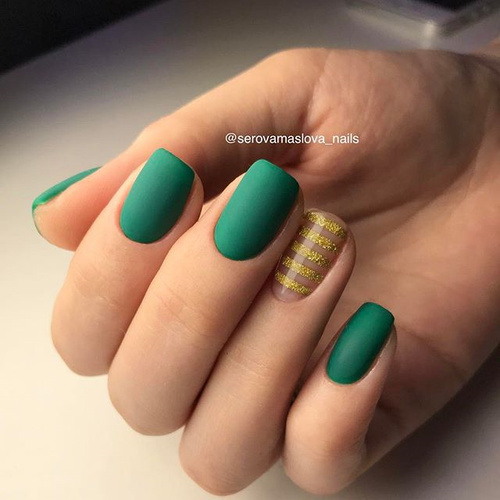 9.Lime green nails with a piercing.
Green nail designs can be quite versatile, depending on the shade choice and additional accessories. This one looks fabulous because of that contrasting stamping pattern, pearl accent and precious piercing on the little finger nail. Not an ordinary design, but worth to try.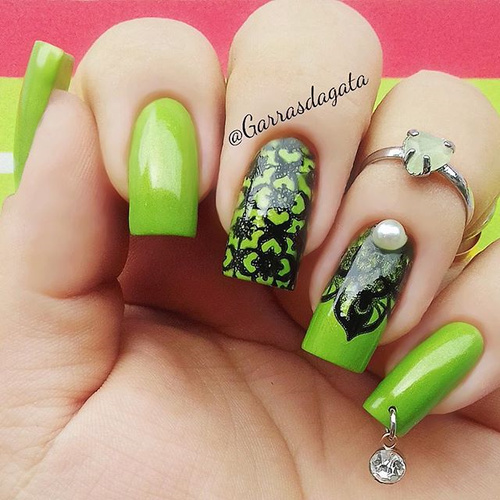 10. Striped nail design.
Use all your green nail polishes for this design. If you have just one shade, don't worry. For a lighter tone mix several drops of your nail polish with 1-2 drops of white nail polish, for darker color add black. And if you want to get the lime green color, mix your green shade with yellow. Simple!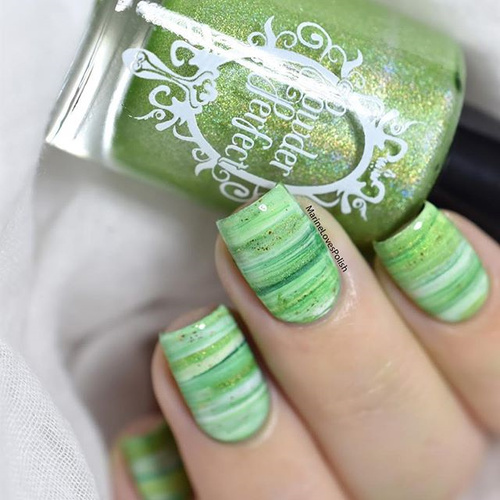 11. Army green nail polish with a matte finish.
Negative space once again, matte finish and several minimalistic gems. The combination, which will look more beautifully on acrylic nails, but you may try to adapt it to your natural nails as well. We will be happy to see your variations in the comments below or on our email)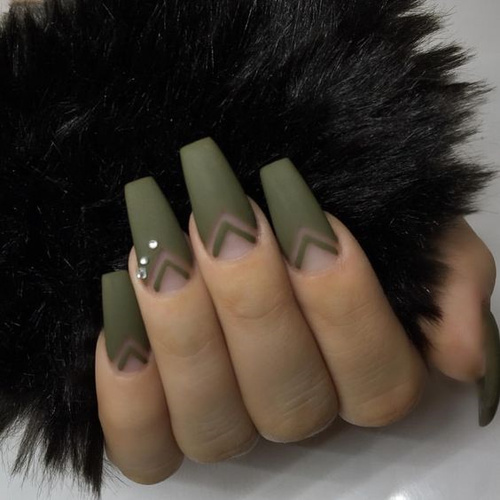 12. Lime green nails with a geometric design.
Life is too short to have boring nails. So, green nail design is a great way to try something new in your look. Choose some pastel shades and add more bright accents (geometric details, dots, flower patterns). Cute-cute-cute!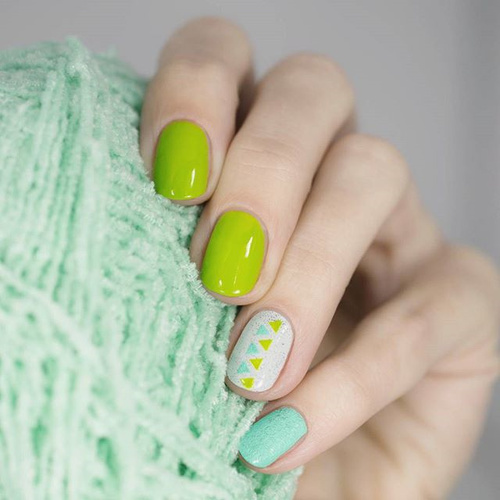 13. Green cat eye effect nails with golden reptile texture.
Cat eye gel-polishes are so popular because of their simple method of applying. But the end result is marvelous! Buy a special magnet stick or pen, and you will be able to create super-easy designs in several minutes. If you combine the solid cat eye polish with reptile texture and golden foil, you will create a real masterpiece. BTW, you may find both simple cat eye nail polishes, and UV gel polishes with the same effect.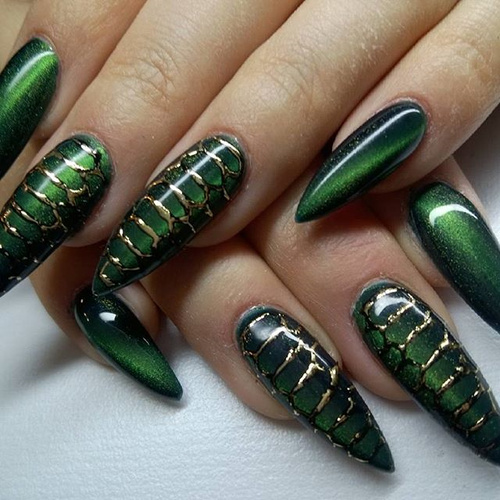 14. Forest green nail polish with a matte finish and a foil design.
Foil is as trendy as glitter nowadays. The reason is simple: easily applied, looking fabulous. You can create this mani for a casual outfit and for any evening gown, it can be paired with both classic and fashionable clothes.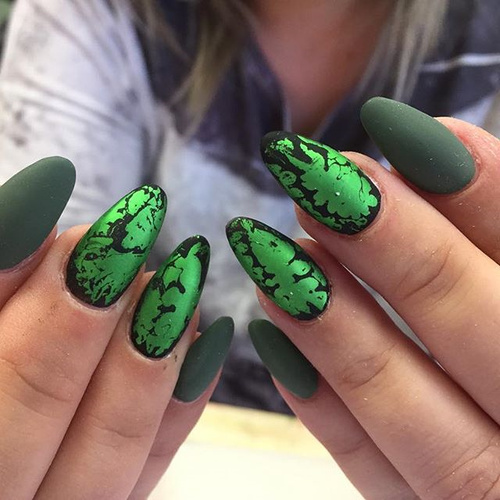 15. Green and purple nail design with a geometry and glitter.
Don't be afraid to pair colors, which look as different as day and night) This green and purple nail design proves, that such combinations may become your favorite afterwards) Our advice: try pink and green design like the one you see in this picture (although this one is made with stickers). You won't believe your eyes, how cute it looks!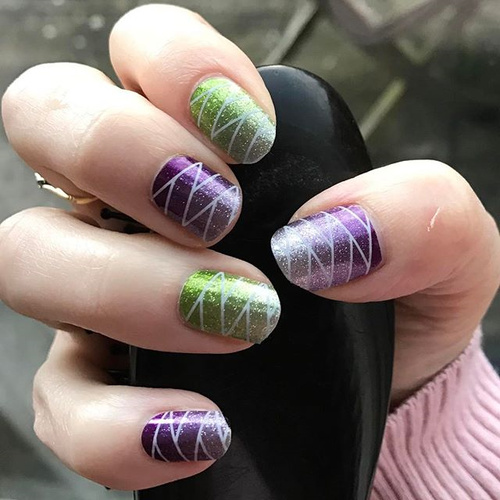 16. Emerald green nail polish with golden accents.
A very traditional combo seen here. Deep green hue, golden polish with glitter, and two rows of sequins near the cuticle line. Will look better paired with special occasions' outfits. We hope you all know why)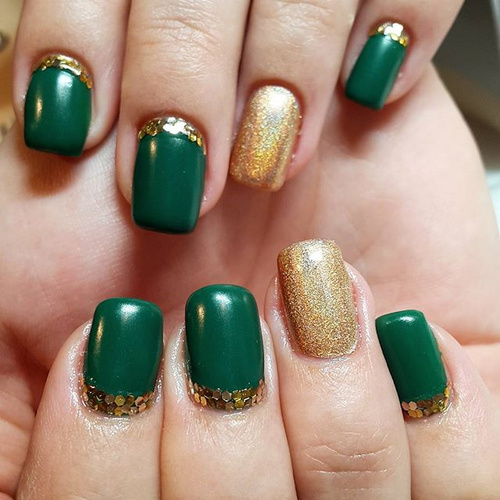 17. Green stiletto nails.
The color is the first thing that attracts out attention when we look at this picture. Secondly, we notice those tiny black gems. And the nail form is also very cute. Long, accurately shaped, neatly filed. Like!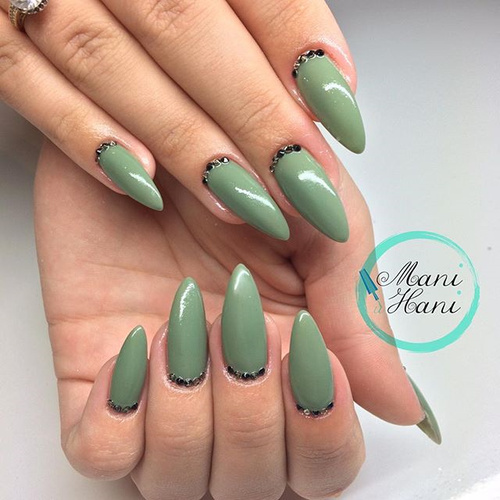 18. Matte camouflage nails.
Matte designs are everywhere, and it doesn't upset. On the contrary, matte finish gives a lot of opportunities for experiments in modern nail art. Being glossy these nails wouldn't be so bold. Just 3 shades and so much statement!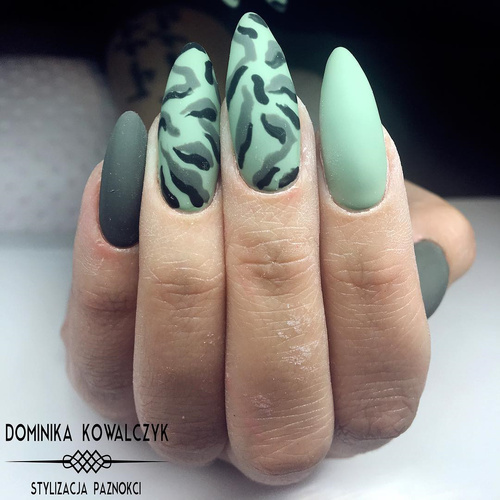 19. Geometric blue and green nail design.
These ombre-ed nails include several shades of green, starting from the very dark one and ending with almost white nail polish. Don't scroll to the next mani, if you are not the owner of all those 7 hues. You may mix your deep green shade with white polish and get lighter and lighter tints. Also, make ombre gradation on one nail, and create a reverse ombre on the another one. A simple trick, that will give your mani additional points.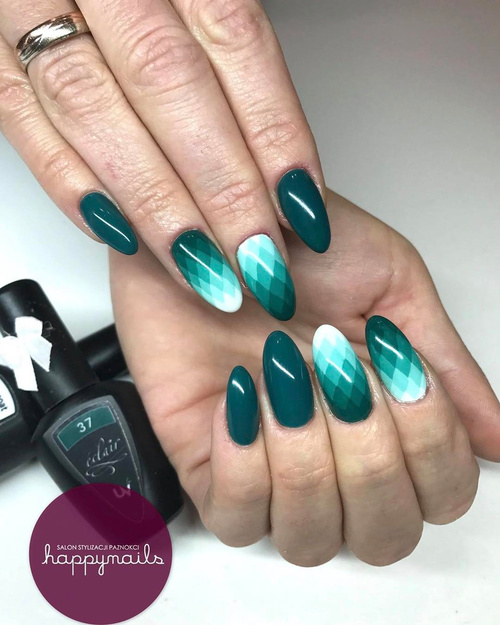 20. Green nails with colorful acrylic powder.
Oftentimes we may think that acrylic powder is unnecessary in our nail art arsenal. We buy it and forget about it. It's time to find and use it! It will really pop on the dark base, you just need to make any nail art with your fave finish (roses or monograms preferred) and sprinkle several shades of that powder onto your nails (all shades separately!). You may leave it without top coating, or make it glossy, you choose.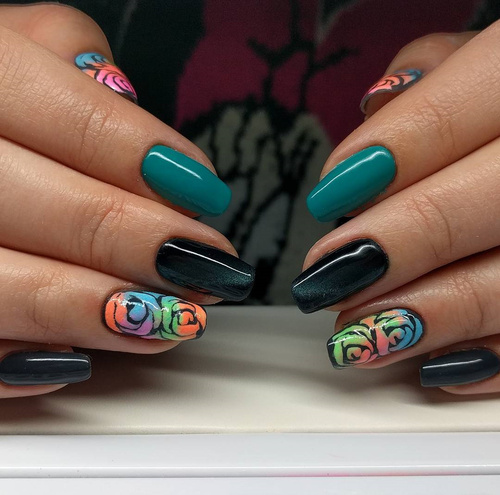 21. Green floral nails.
Floral designs, made with very thin lines have been in trend for several months already. The trend continues to win the hearts of nail art lovers all around the world. So, if haven't tried it yet, it's high time to rehabilitate)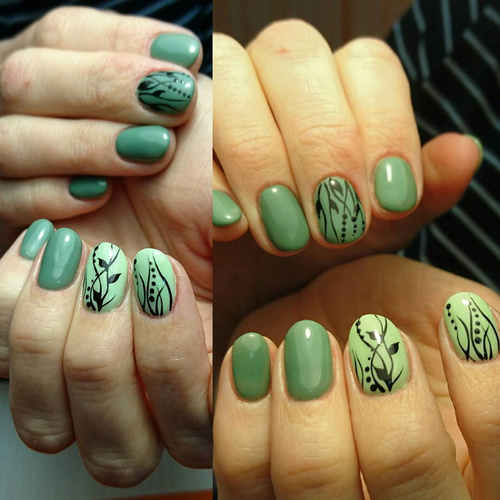 22. Olive green nail polish with a bamboo design.
Looks both fresh and stylish, the variant you need this season, right? Green usually mixes up with nude base perfectly, so you will not need to reinvent the wheel. Just take this picture to your nail artist and ask to copy it. Little changes can be made, of course, but not necessarily.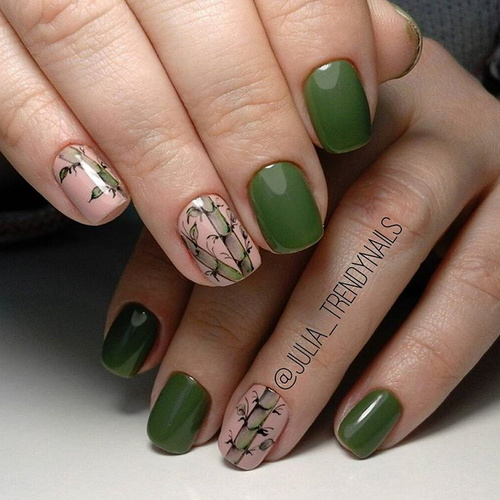 23. Mint green nails.
But paired with dots, flower stamping design and even plaid print. Not everybody's cup of tea, but personally we love it! Join our team of mint shade and extravagant designs lovers)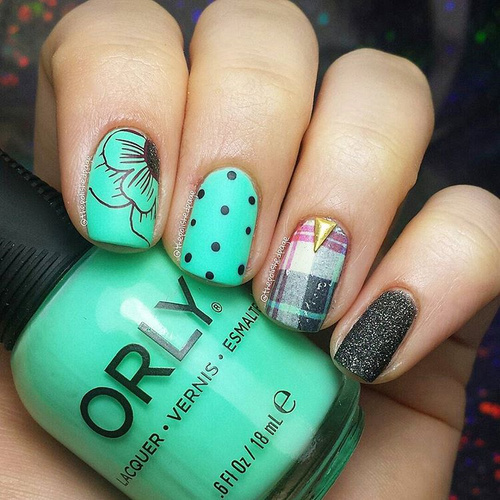 24. Black and green nail design with gems.
Choose this one if you like casual style, it will be a great fit for your everyday looks. Those stones are not a must here, but they add glamor and girlish vibe to the mani.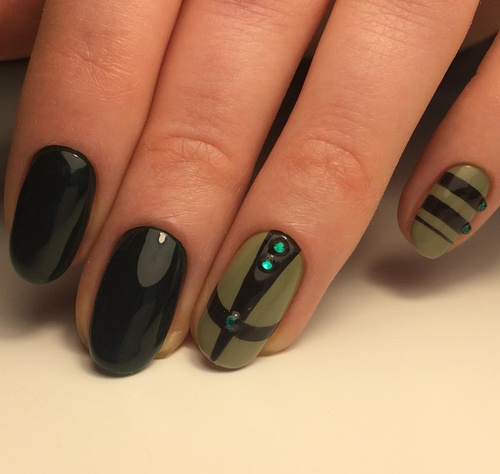 25. Olive green nail art.
Olive green nails deserve to be featured in our article. Especially these ones, with thin elegant leaves and feminine tiny stones. It looks like those glossy and matte nails are covered with completely different nail polishes, doesn't it? ) It happens so with different types of top coats, so take it as a rule to try matte and glossy textures for your newly bought nail polishes.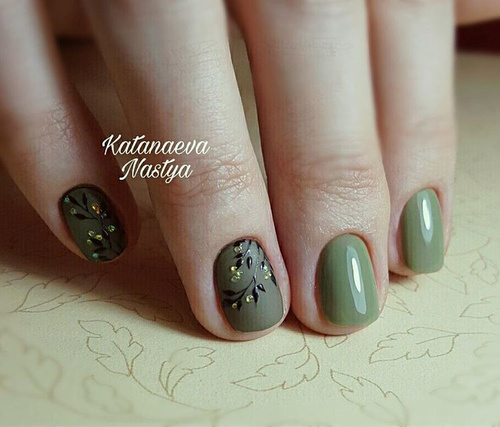 26. Matte green nails with French tips.
All in one design: several shades of green, black polish, sharp French tips, big gems, military and leo-prints. Looks creative. If you are bold enough, definitely try it.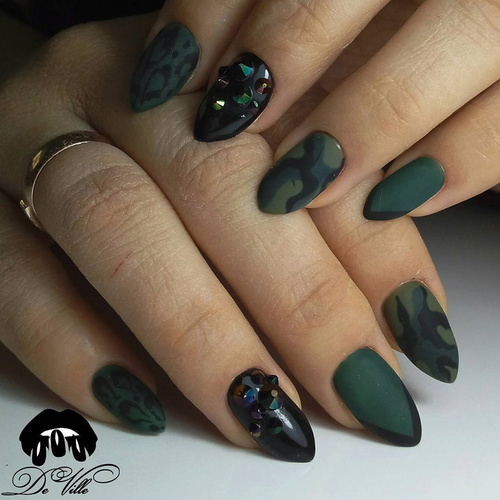 27. Cat eye green nail polish.
Why are we including a solid cat eye nails into our selection? Because even without designs and drawings it looks fabulous. Our advice: the blink can be situated in the center of the nail and diagonally as well, it depends on the chosen angle of the magnet stick (or pen).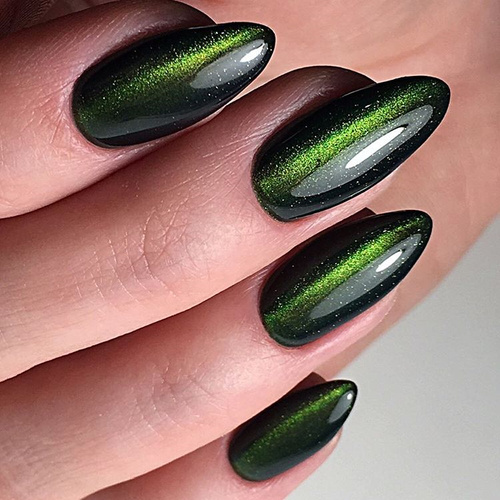 28. Minimalistic geometric design.
A great idea for everyone, who loves matte finish. After mattifying your nails just draw several thin lines to create the simple geometric design, put dots of different sizes, add stones if you wish. We can't even show you the simpler (and the cuter) nail design for this season.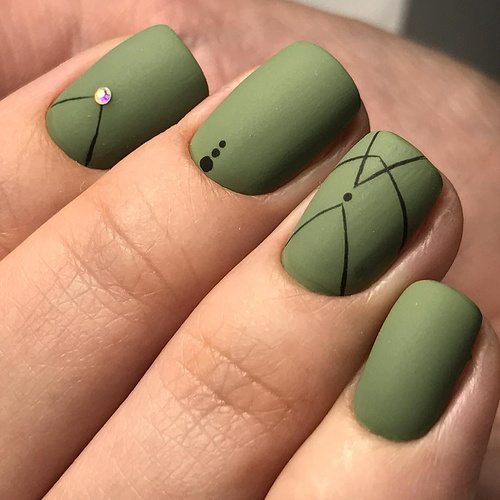 29. Blue and green nail design imitating water.
Mix matching green and blue shades and you will find a sure-fire combo for your beach nail designs. Stones will make this design more festive, glitter adds mermaid mood to the look, and that water-imitating pattern is a time-saving idea (you can make it with a toothpick or 'watermarble' it. The best in this design is that you can combine all its details in different sequences.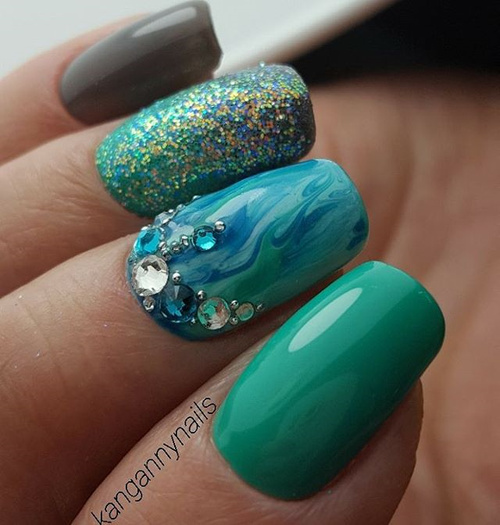 30. Graduated nail design in several shades of green.
One more geometric design for perfectionists. Matte finish, several shades of green (take one green nail polish, add white color and voila, you have a completely different tint – repeat several times to get 4-5 tints).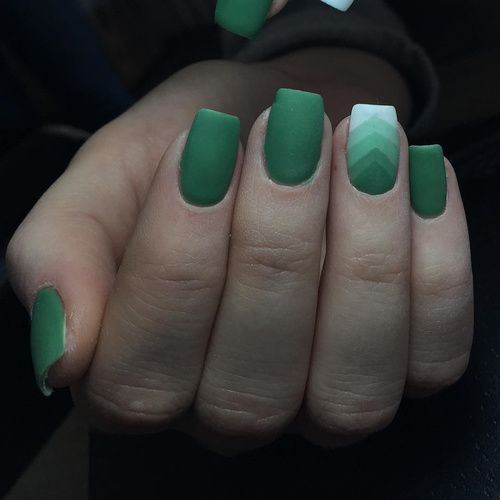 31. Lime green nails with dots.
Find in your nail art arsenal dotting tools. Choose a cute base color and place some fun dots of several different shades. So simple, and so cute! Well, and very quick also.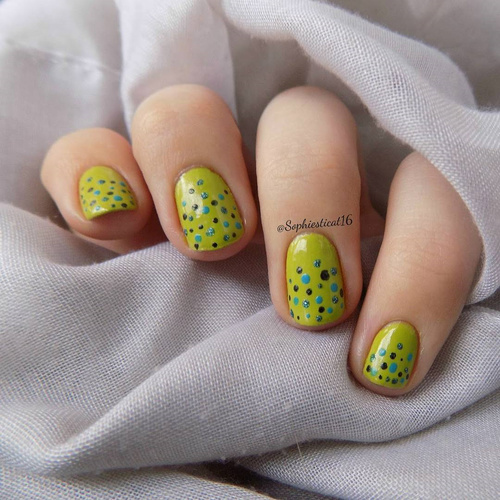 32. Strict green and silver nail art.
We bet you have those striping tapes, but use them rarely. If not never) Time to improve your skills in doing marvelous nail designs with striping tapes. Choose the most rarely used color (golden, silver and black striping tapes are usually in high demand), invent your own pattern, apply the base color, stick tape, apply the second color, remove the tape, dry the design and coat with a top. Ready!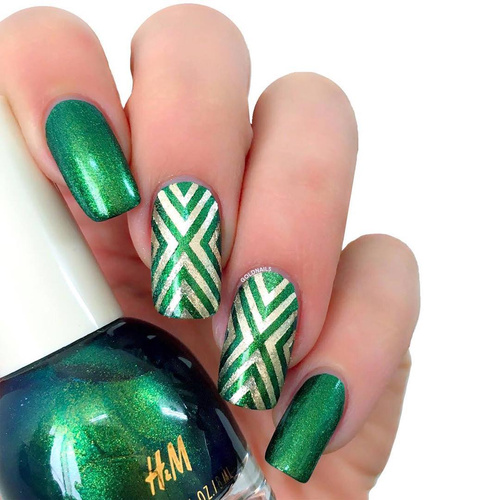 33. Mint green nails with a white moon design.
Half-moon design is considered as a classic one, along with French tips. But unexpected colors give it a new life every time. Mint green and white together create a tender, pastel mix, very pleasant for our eyes. Best worn in spring and summer, but not prohibited in winter either.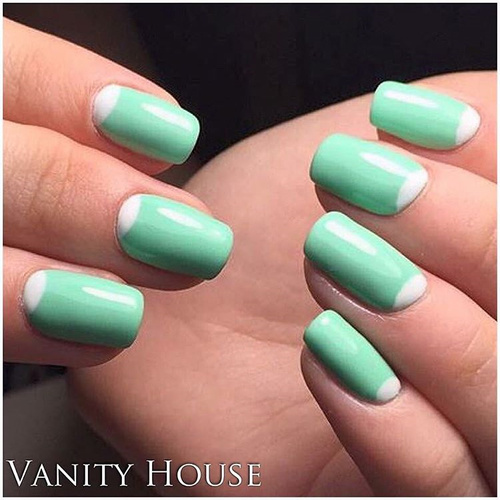 34. Cat eye nail polish complemented with a golden crown.
One more cat eye design in our collection of the newest nails arts, and this time with crowns))) You may use stickers or draw the crown and even cover it with a foil. Try several variants and find the one that works best for you.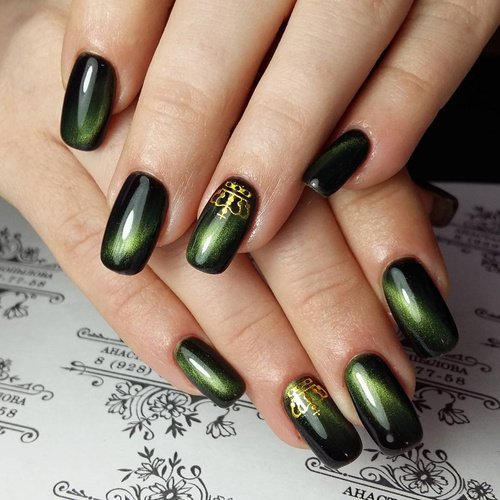 35. Green and white nail art with leaves.
There exist nail designs, which are suitable for definite seasons only. And the one you see in this picture doesn't belong to that group. Perfect for spring, it will be well worn during fall. All depends on the leaves color. Make them more 'greenery' for spring, and add some yellow and orange leaves in autumn.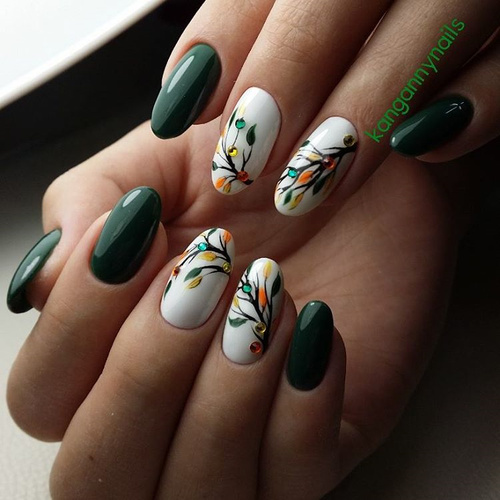 Green nails can sometimes look aggressively and non-traditional, but only if a person that wears the nail design wants such an effect. If you like cute and even fun designs, you can choose almost all shades of green for your mani, believe us. Just take more light and pleasant colors, create interesting textures, enrich the design with stones, gems, stickers. Rock that greenery trend proudly and your nails will look always unforgettable! Thanks to new shades and new accessories green nails in 2023 look very stylish and alt.