Brown nail designs come in all shapes and different shades. One day you can choose light brown nails, the other day you can opt for a dark chocolate or espresso nail design. Also, your brown nails can be long or short, square, round, or oval. It will be a great idea for any season and event, so your intent to search for the brown nails aesthetic is marvelous! Let's check out the examples.
Advertisement-Continue Reading Below
First things first. You must choose the shade, the shape, and the style of your nails. Think if you want them to stand out, or to be more on the classic side, if you will attend some important business meetings, or just cuddle most of the time or freelance the whole week. For times when you need something classic and universal, choose light brown nail designs with little to no additional details. Beige brown will be the best idea. The length can be short or medium. For parties, vacations or any other casual events, you may opt for something more badass, including long brown stiletto nails, brown nail designs with a lot of accents, etc.
Are Brown Nails In? Different Shades of Brown Nails
Are brown nails a trend this year? Brown nails are always trendy! Of course, every season we have the trendiest 1 or 2 shades of brown that are advisable. IN 2023 THIS IS BROWN WITH CARAMEL OR GRAY UNDERTONES. However, you can actually choose any color you wish.

Some of the most wanted by modern it-girls ideas are the following:
– light brown nails (brown beige, coffee with milk);
– dark brown nails (espresso, dark coffee);
– chocolate brown nails (dark chocolate, milk chocolate);
– warm-toned brown nails (caramel, toffee);
– ombre brown nails;
– matte brown nails.
Check out the brown nail colors palette below. Are these all shades of brown nails? Nope, but the most popular are included.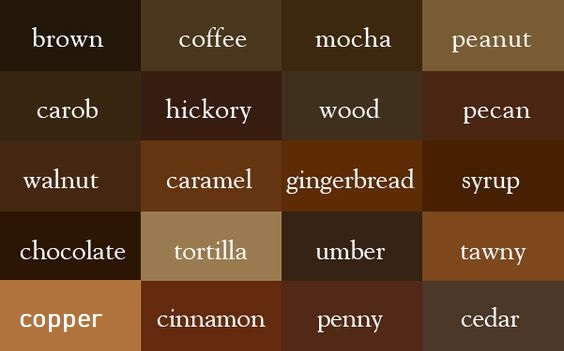 What other colors do brown nail polishes pair well with? Oh, we have seen nice orange and brown nail designs, yellow and brown, green and brown, gray and brown manicures, and even purple and brown nail arts. However, mixes of several tones of brown (light to dark), orangey brown designs and white / black and brown nail arts are the most popular. Also, brown and gold on nails is considered classics.
Brown Nails Inspo: Pictures of Brown Nails and Designs
Time to show you the cutest designs from top nail masters. Don't forget to save the article and favorite designs for later. You can share the post or pin it to your Pinterest board.
– Squoval beige nails with brown tips. A great idea if you like beige nail designs but want something a little different. Try a new color just on the tips of your nails.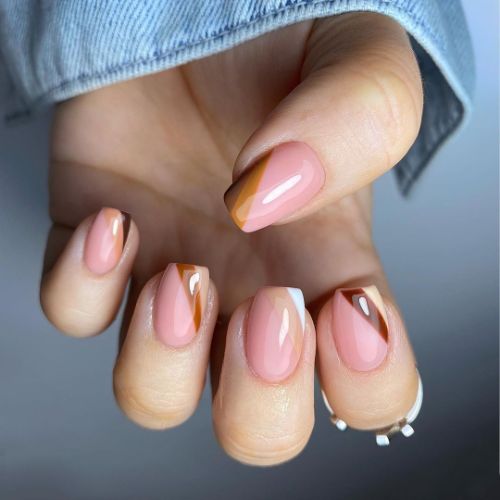 – Black, brown and white nail design. The simplest idea of how to try trendy brown nail art is to make one accent nail in a shade of brown. Other nails make white and black. Stylish!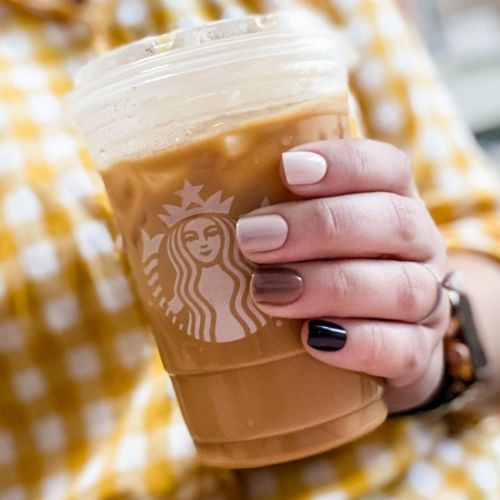 – Matte brown nail design. Matte brown nails – what can be better for the fans of chocolate nail shades? If you don't have several different shades of brown polishes, you can add a bit of white to your dark brown nail polish and repeat until you get the tone you want.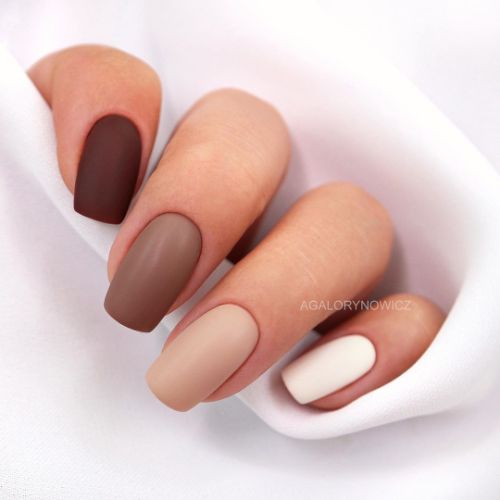 – Matte brown nails with shimmering French tips. How do you like this idea of the French nail design? Something new, isn't it?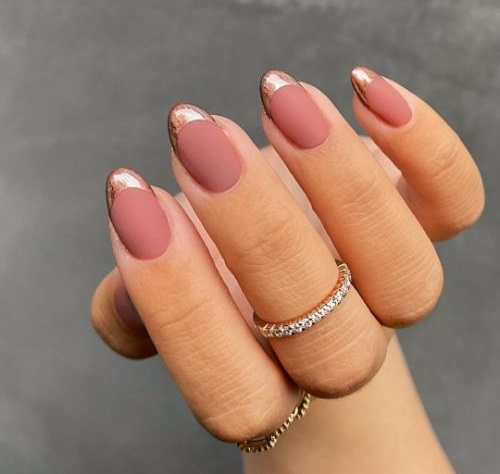 – Beige, gold and brown quail egg nail design. No, we are not tired of the quail egg nails. They are still in trend and just look how cute they look with a hint of gold and some brown accents!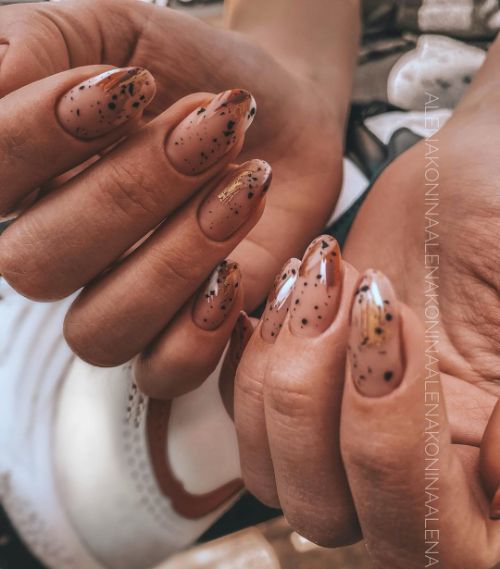 – Matte leopard brown nail design. The most popular during the fall-winter season, this design is very often spotted on Pinterest and Instagram. No wonder why. It is so feminine, cozy, and hygge…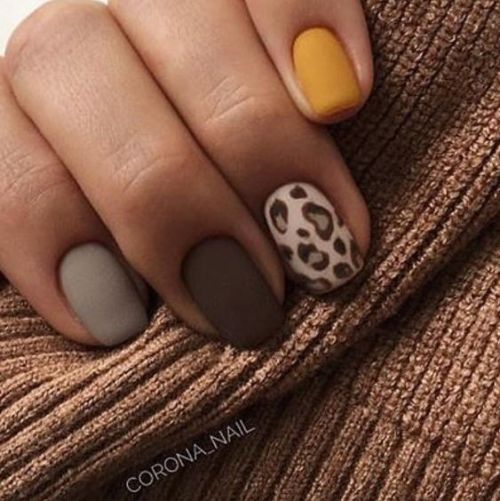 – Beige, white and chocolate brown nail art. Strawberries and chocolate is a duet made in heaven. Why not combine your favorite fruits with chocolate on your nails?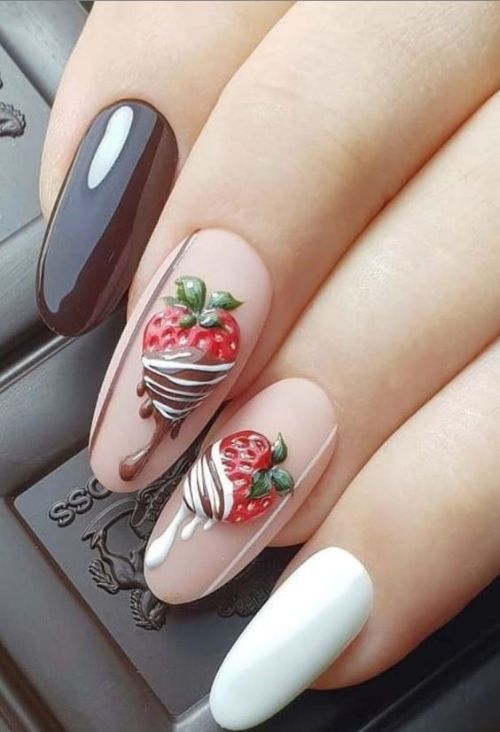 – Brown heart nail design. Two shades of brown, cute hearts, and a combination of glossy and matte finish are what make this nail design simple but very attractive.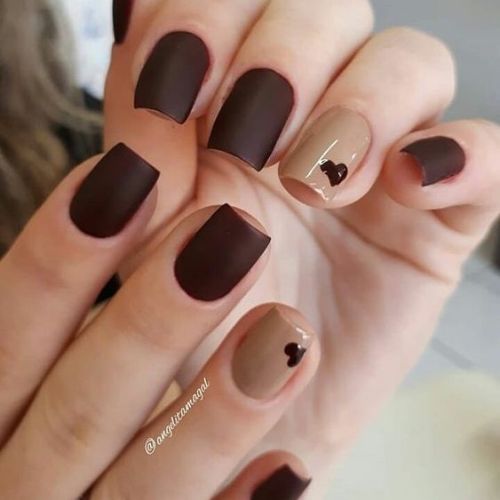 – Brown marble nail design. For all ladies who love marble nail arts, and want to try a bit of brown on their nails.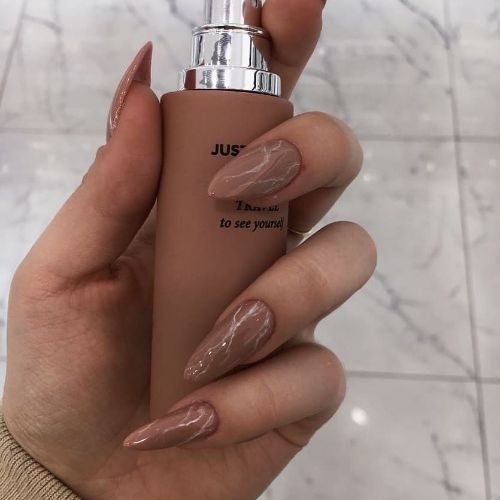 – Long acrylic LV nails in a brown shade. Coffin nail shape looks great in brown shades and with logos.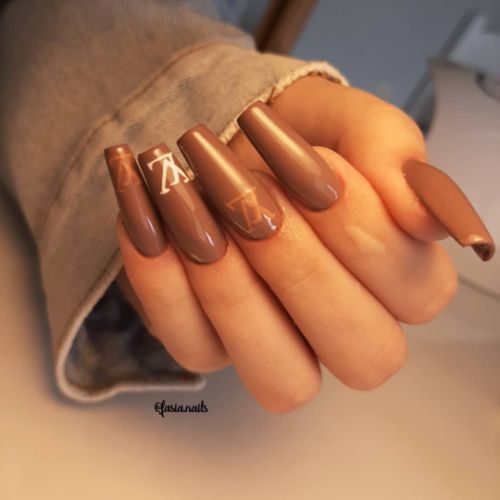 – White and brown nails. If you needed the best brown nail esthetics, here it is. How can nails be so instagrammable?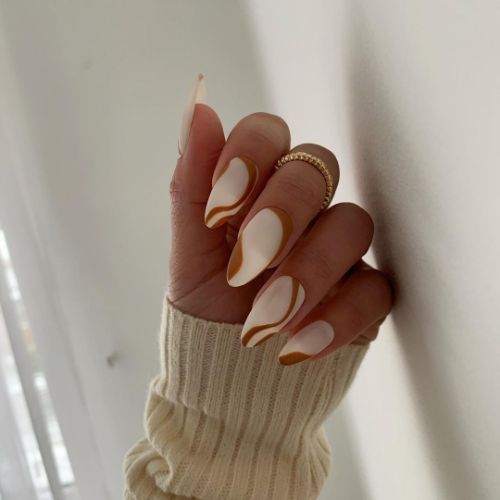 – Almond nails with brown French tips. French nail designs come in so many variations, that we aren't even surprised by this new interpretation. But we love it for sure!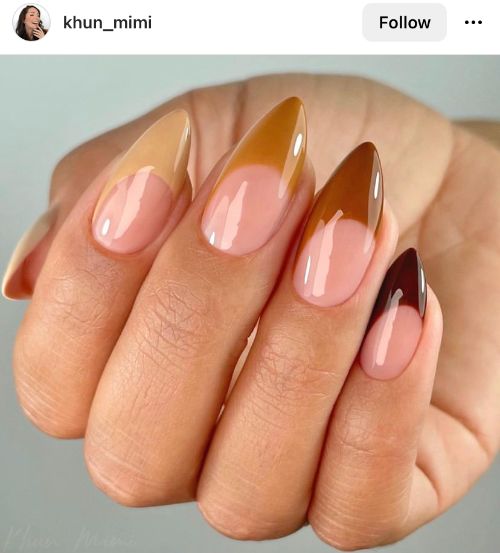 – Cute LV and Mouse brown nails. If you needed some glamour in your life, it is high time to try this nail design.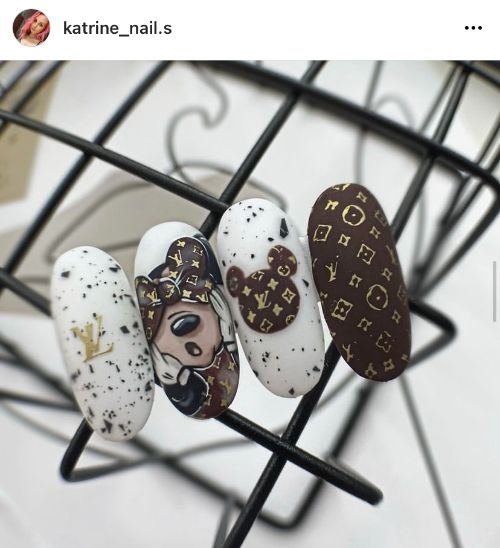 – Fall brown and gold glitter nails. Brown pairs perfectly with all kinds of glitters and metallic accents.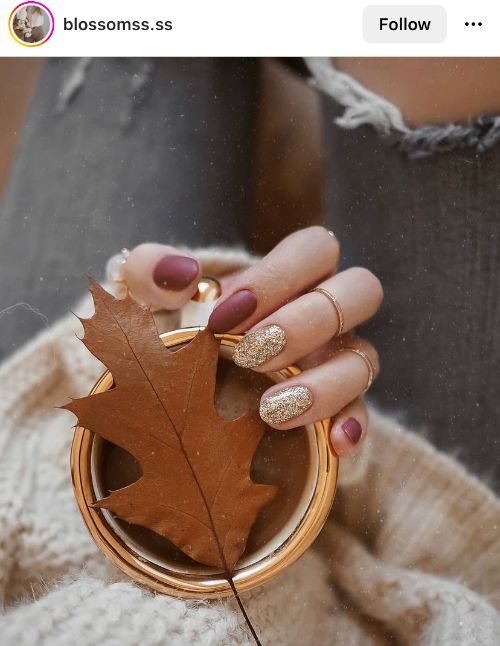 – Minnie Mouse, leopard print and brown nail polish. The level of cuteness of this manicure and nail design is the highest.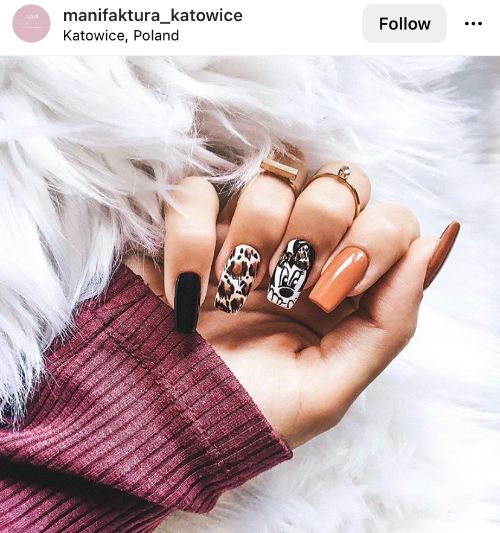 – Groot brown nail design. Aww. This looks cute. Dedicated to all fans of the 'Guardians of the Galaxy' films.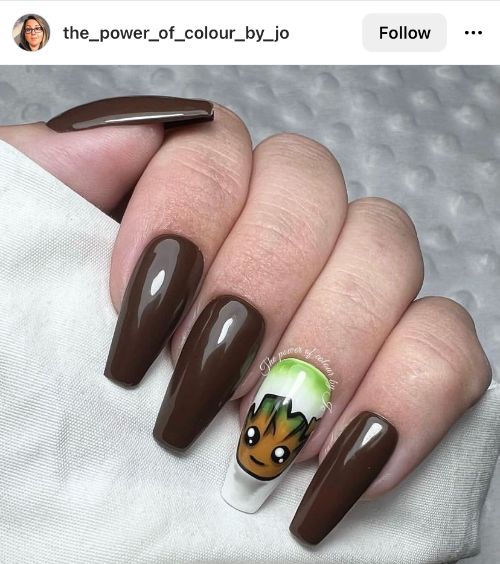 – White, gold and brown nail art. This one can be paired with any special event outfit.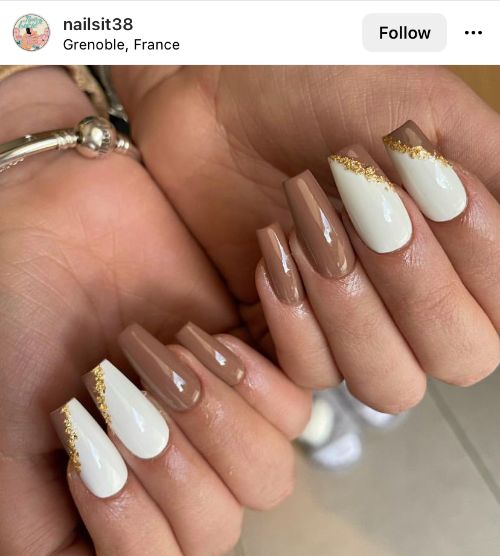 – Brown manicure with an accent nail. Actually, you can draw anything you want on that accent nail, be it something fun as in this photo, or something more grownup.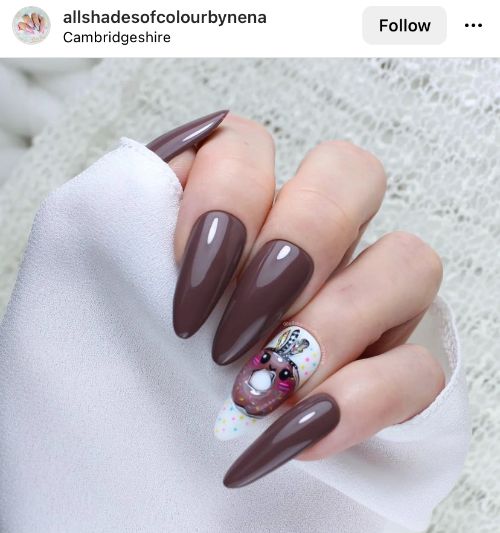 – Brown nail design with flowers. Like flower nail designs? Consider this idea.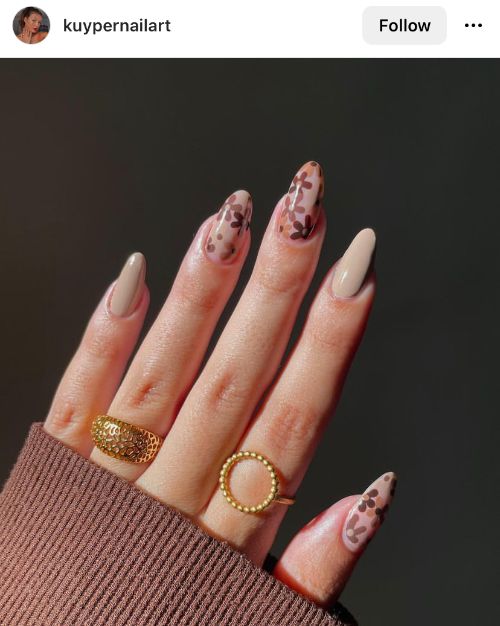 – Christmas brown nail art. Colder seasons are great for trying brown designs. How about making this nail art for the year's Christmas party?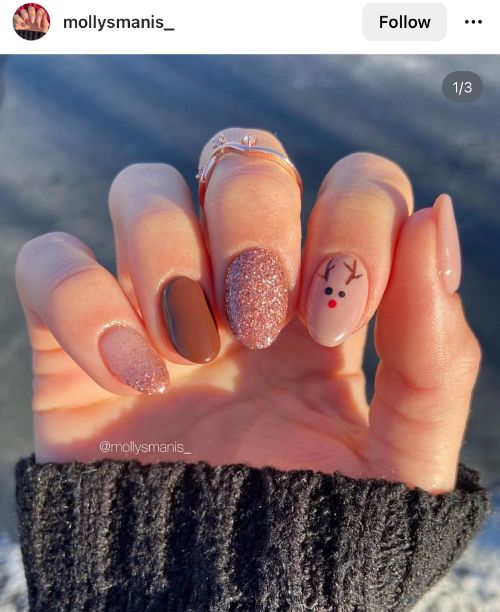 – Dark chocolate, cappuccino brown and coffee brown nails. Take three shades of brown and mix them on your nails creating your own design. Hearts will look super cute.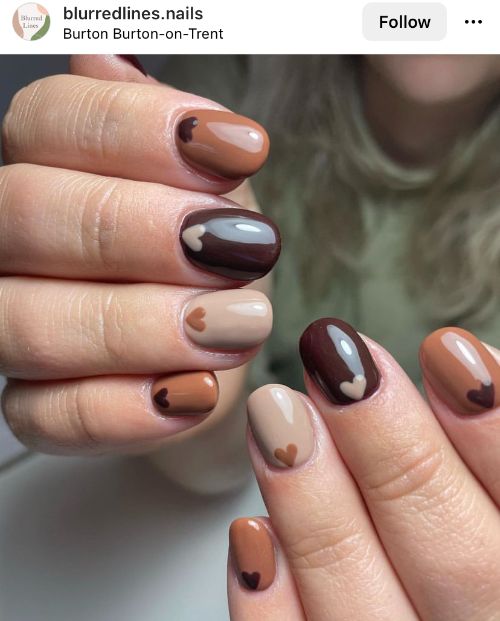 – Pastel brown nails with glitter. If you wondered what colors go well with brown nail polishes, you now know that gold is definitely among them.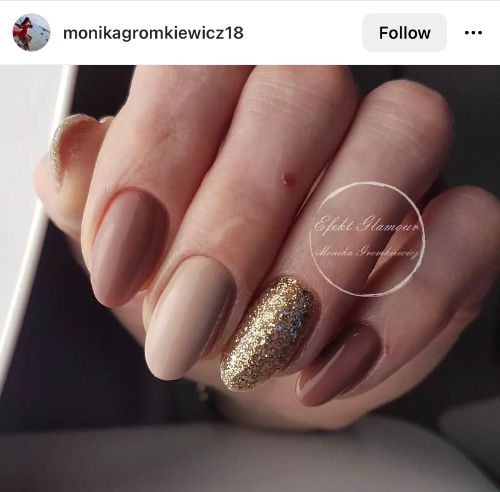 – Nutella brown nail design. For all lovers of Nutella. Find a skilled nail master who can recreate this design and sport your favorite coconut spread on your nails.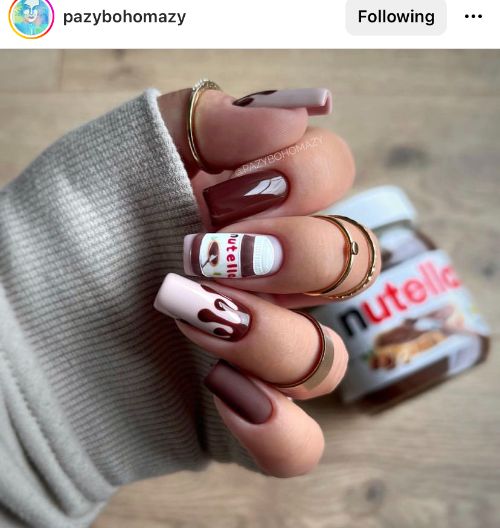 – The yin yang brown nail design. Did you think that the yin yang symbol can be only white and black? Brown shades flatter it as well.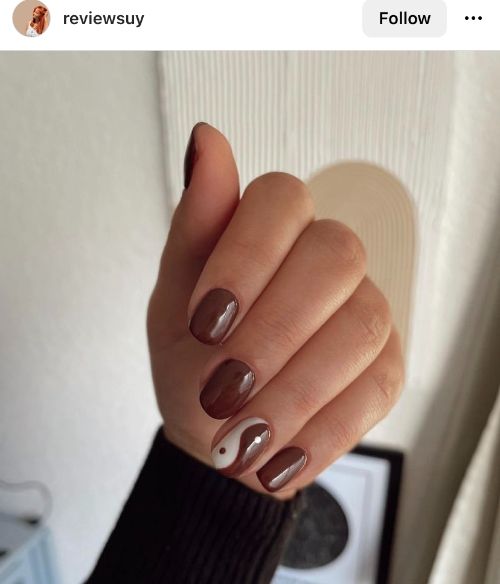 – Long coffin brown nails. These coffin nails look almost burgundy, such a deep shade of brown is used! Metallic gold glitter is never too much in brown manicure.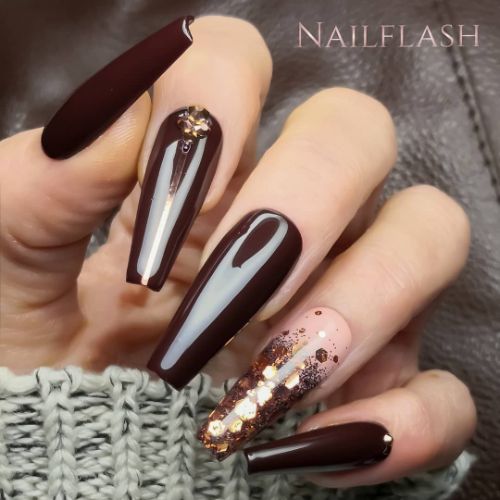 – Brown nails with an easy needle design. Make dots and then with the help of the needle create hearts out of them with just one move. At home nail designs are something every woman definitely needs to know as you never know if you will have time/money/possibility to go to your nail master.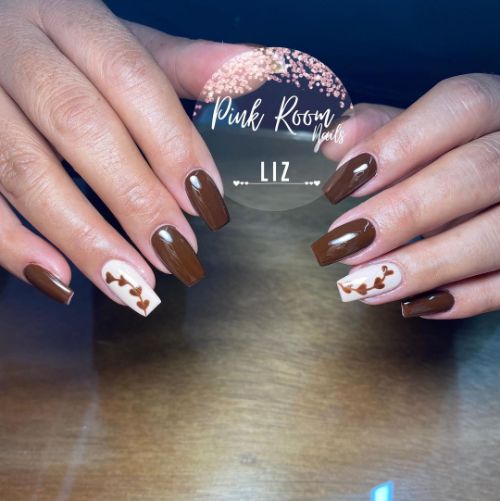 – Brown matte nails in three shades. Something every woman who likes matte nails will crave to try.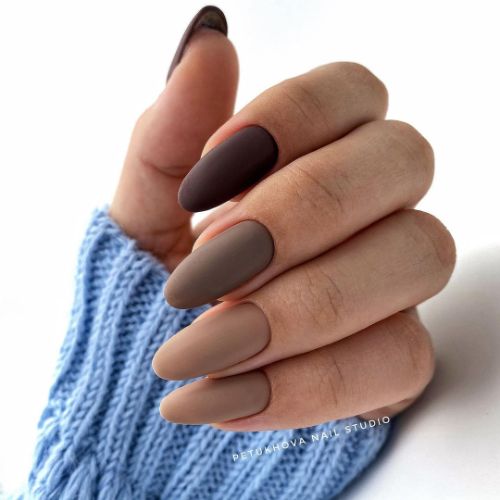 – Abstract brown nails design. Choose a trendy shade of brown, add gold stripes and you have a masterpiece on your nails.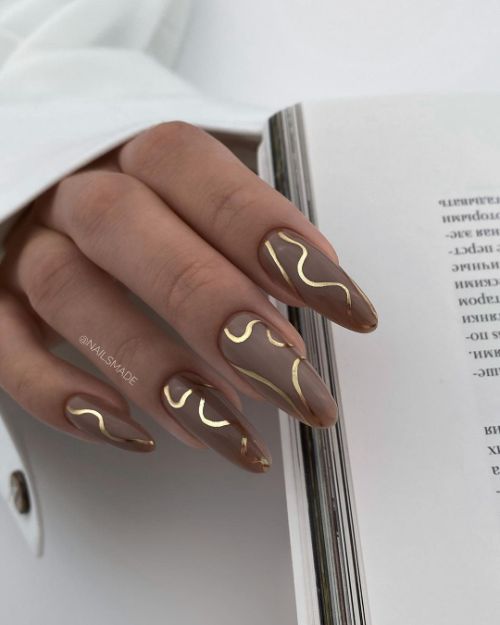 – Glossy brown nails. Not only matte designs are trendy, but also glossy finish is very in nowadays.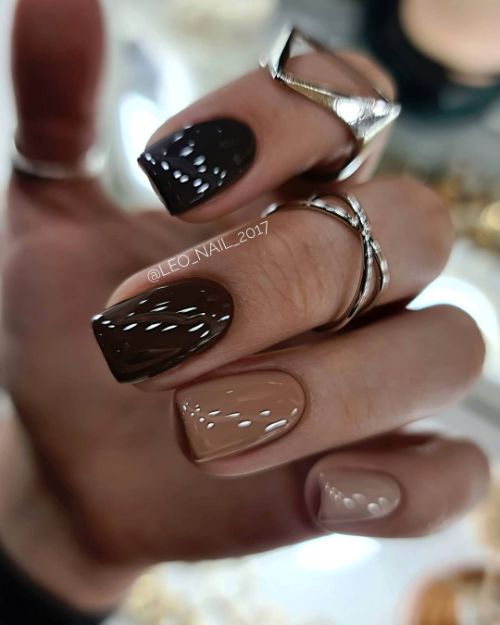 – Caramel brown nail design. A type of the French nail design we have never seen before. Worth trying!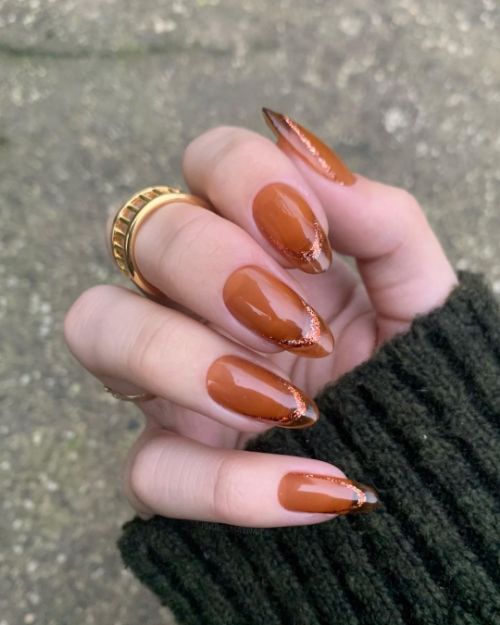 – Burgundy-brown nails with one accent beige nail and a heart design. Perfect for any season, but will look especially stunning on your nails during fall.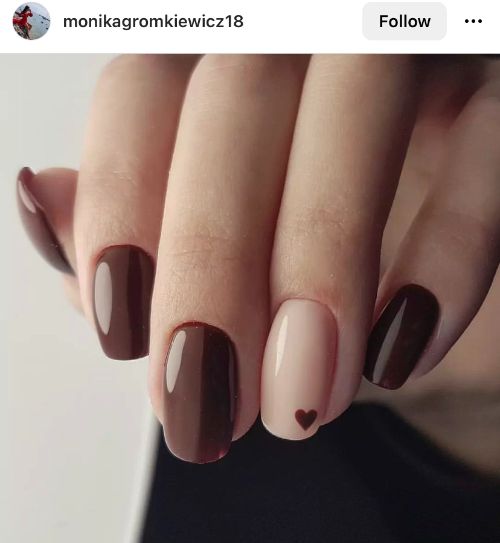 – A mix of browns, gold and marble texture. Instead of the French nail tips design try the 'moon nail design'. Beige, browns and gold pair perfectly in such designs!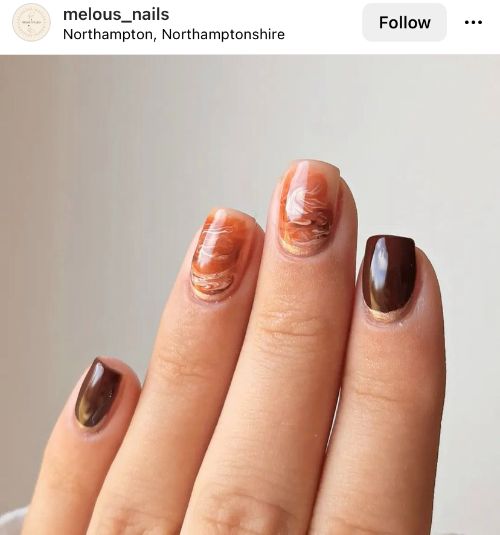 – Pink and brown nails. If you are not sure about brown shades on your nails, include them very carefully, as accent nails. All the rest cover with shades that are classic for you.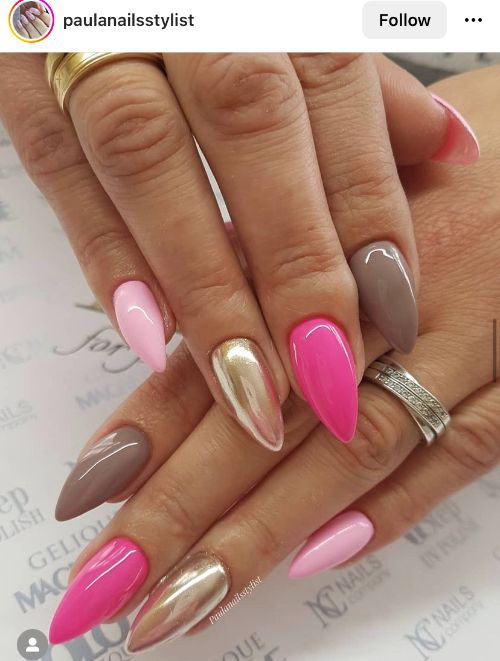 – Burnt orange and brown nails. What a 'tasty' combination! Caramel brown nails are always a good choice when your soul asks for something warm and cozy. And this glossy finish! Oh my.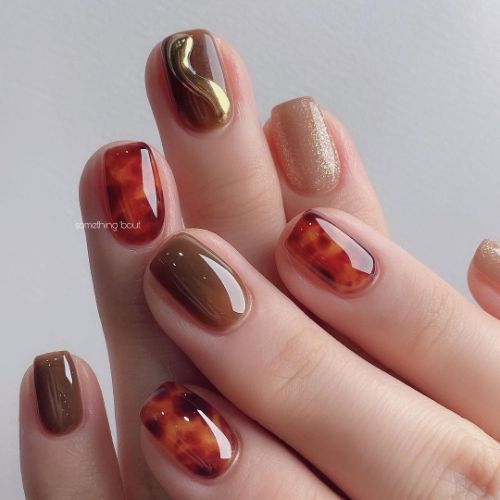 – Long gold and brown nails. The picture itself prompts you when you can sport this design. Of course, during fall, Thanksgiving, and Halloween celebrations! We have nothing to add.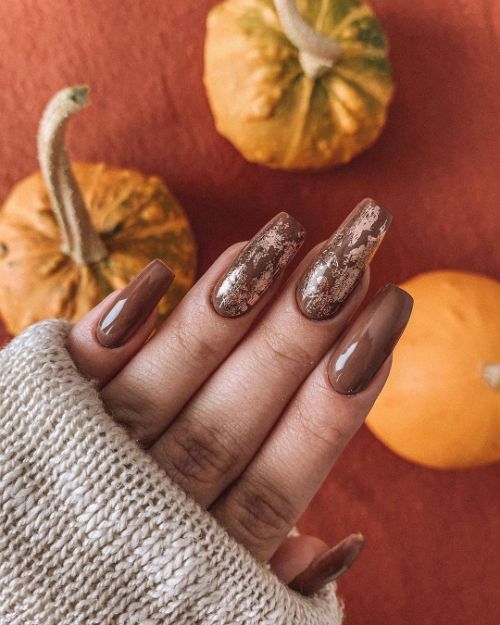 – Espresso brown nails. Would be boring if not enriched with some gold. Want the same insta-worthy pictures as this one? Opt for the same design.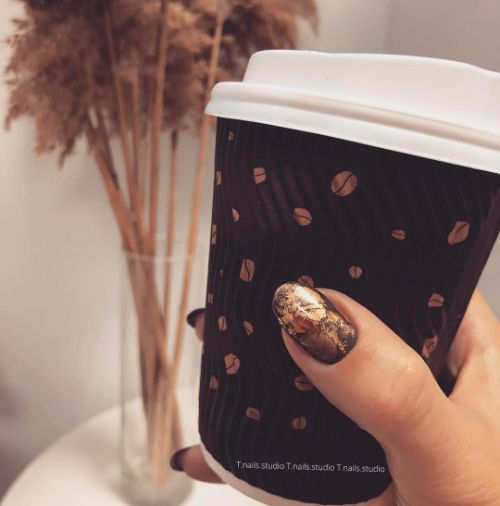 – Short brown nails with stars. Aww, these are cute. Not sure for what event or season they are best, but anyway such a design will make you a bit happier, as it will always look pretty on your nails. And even on the shorter ones.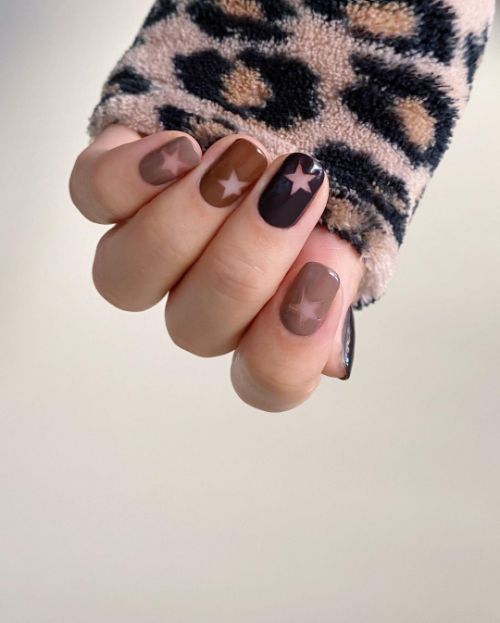 – Mocha brown nails with an interesting texture. Mmmm, so stylish! This reptile design is worth to be considered even for the red carpet look.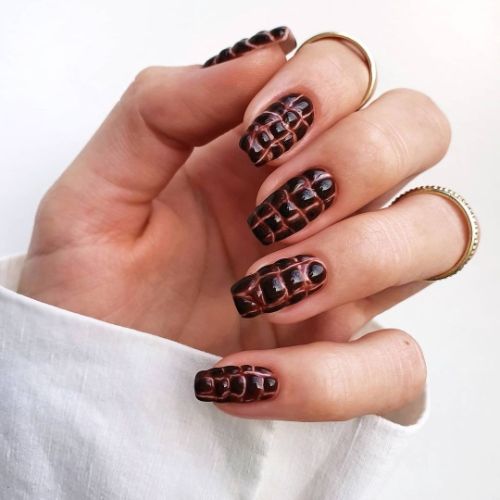 – Minimalistic brown beige nails. When you want two different designs at once. Why not?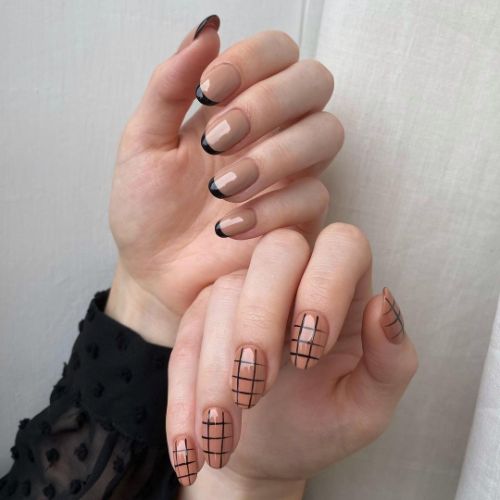 – Medium length brown nails. Brown square nails with rounded ends and matte finish, what can be more pleasant for the eyes? A hint of gold is added for more interest.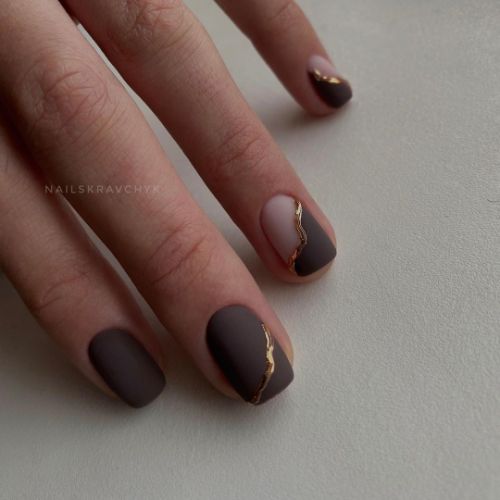 – Matte light brown nails. Looks like a swatch of several brown shades, but the one that deserves to be left on your nails for that several next weeks.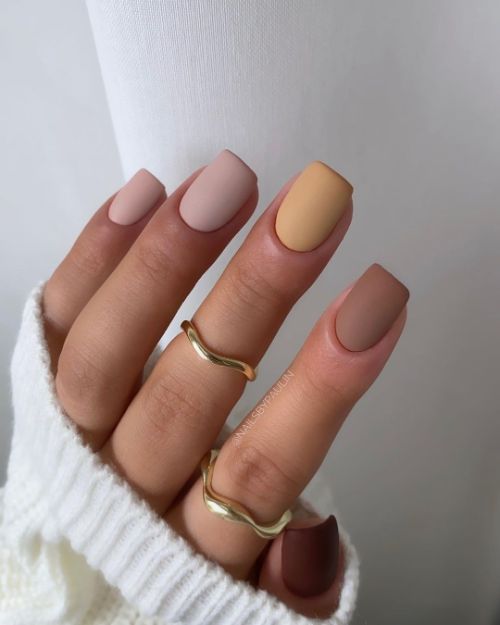 – Long brown oval nails with jewels. The one you can sport even to a wedding. The maximum level of tenderness!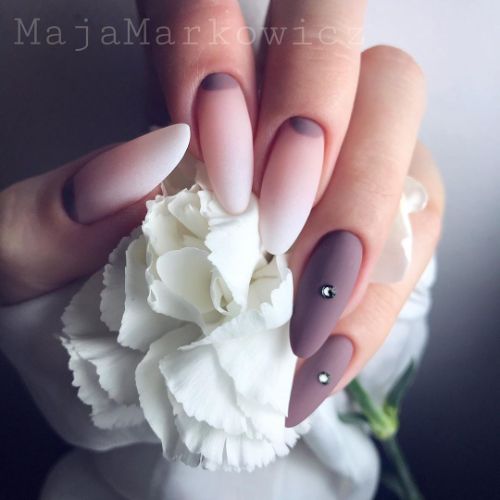 – Very long brown nails. As you see including logos in your nail designs is quite trendy. These extra long stilettos are really hot!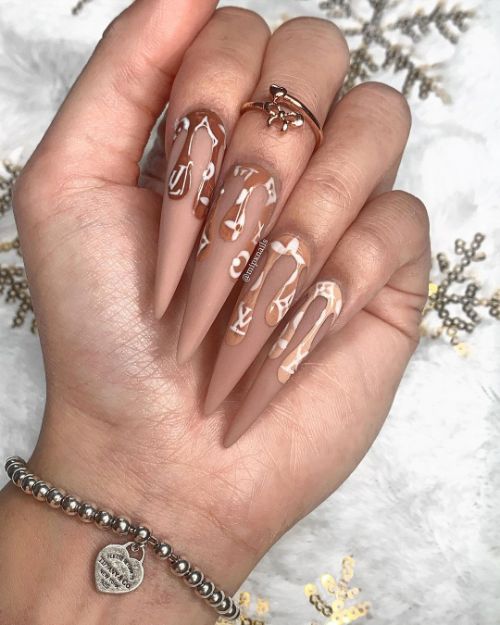 – Blue and brown nails. Blue green shade, brown and warm yellow pair well in this design.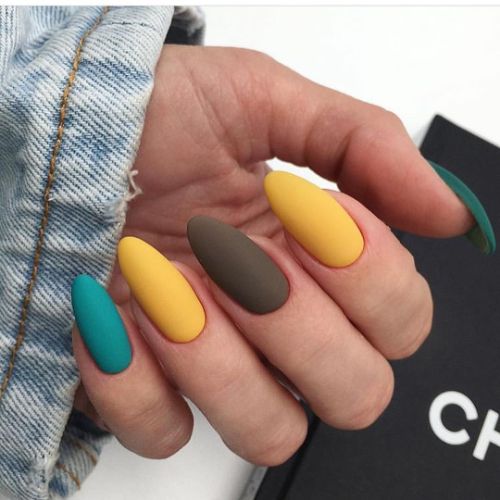 – Very short brown nails. You have very short nails and wonder if there is a brown nail design for you too? Of course yes, the simplest option will be to cover them with a rich in glitter nail polish. The shimmer is gorg!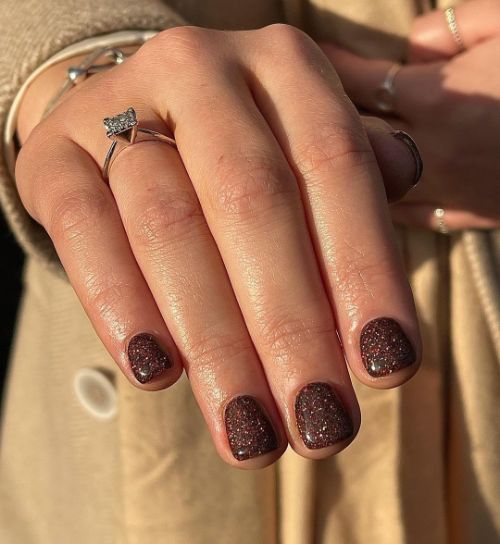 – Brown nail design with sweets, hearts and swirls. Sweets are bad for our health, but they are still OK for our nails. If you are wondering what autumn brown nails are the best, here is the answer.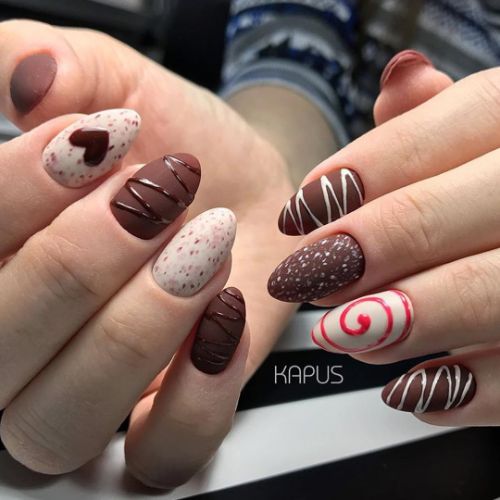 – Brown and light brown nails. As we see, brown nail designs with hearts come in different shapes and shades, but they are constantly fancy.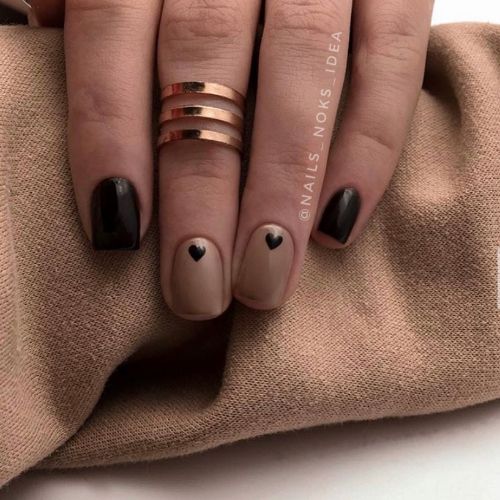 – The 'tiger eye' orange and brown nails. The beauty of this design is in the fact that it can be worn during any season and still look very trendy and elegant. So, if you need a summer nail design, a fall nail art or a winter manicure that is in warm shades and universally flattering for all outfits – here it is. Pin and save!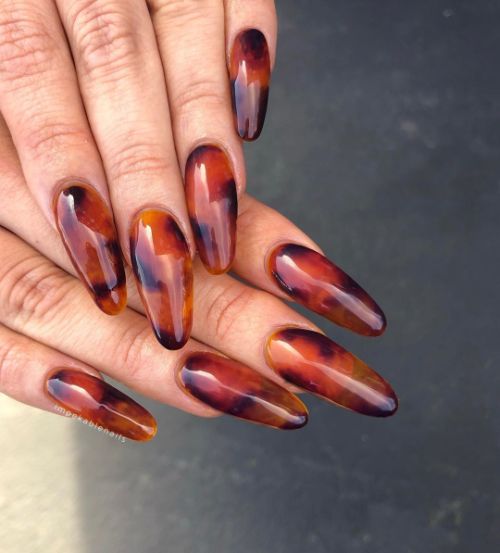 – Brown gel nails. Simplicity is key in this design. A pretty brown nail polish and a bit of gold, and you have a cute fit-for-all nail design.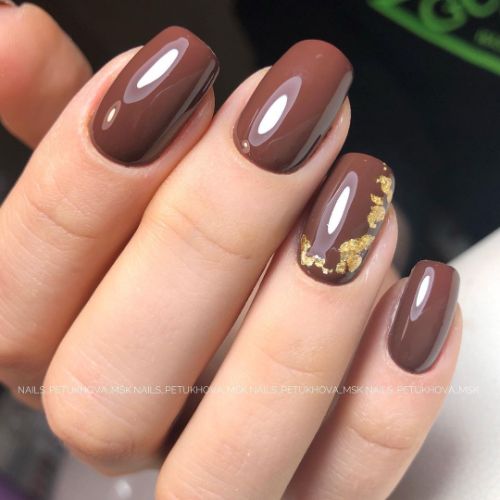 – Long classic marble brown nails. Nothing extraordinary, just neutral brown nails with one accent design. All you need for your calm casual looks.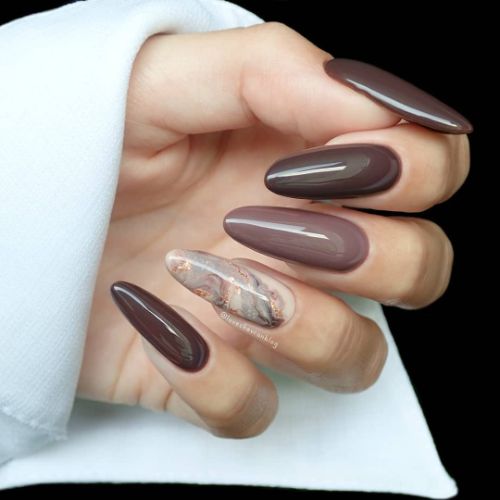 – Short, beige nails and brown French tips. brown French manicure with double 'smile' line.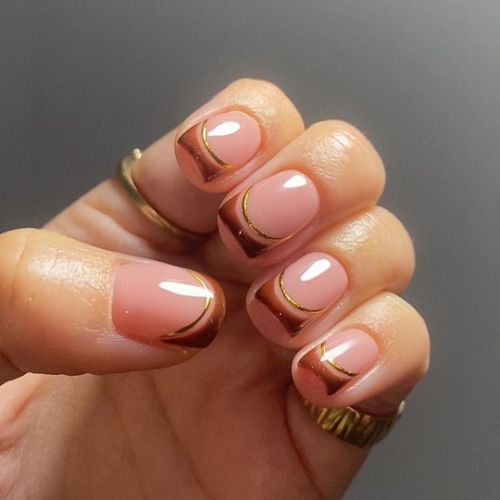 – Teddy bear brown nails. Fun teddies will make your nail design cute and non-banal.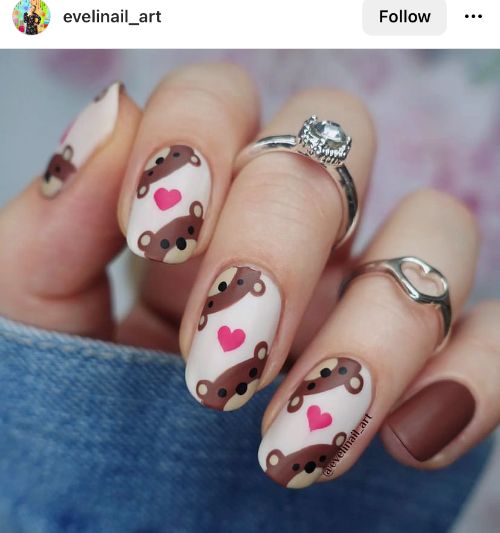 – Ballerina brown nails. Ballerina nails are one of the most beloved nail shapes for their comfy rounded edges. Some hearts will never spoil your nail design, believe us.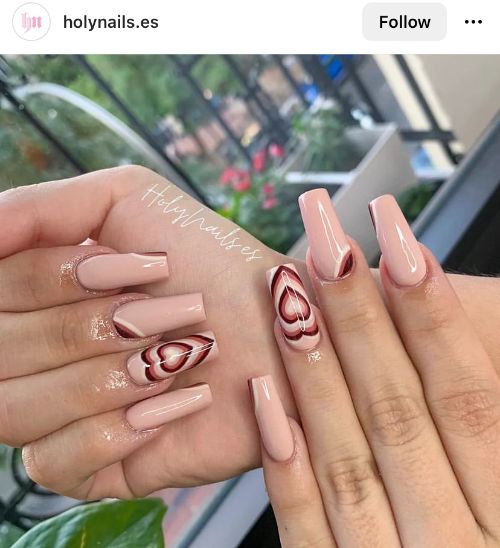 – Fun brown cat nail design. What can be more pleasant for all cat lovers out there?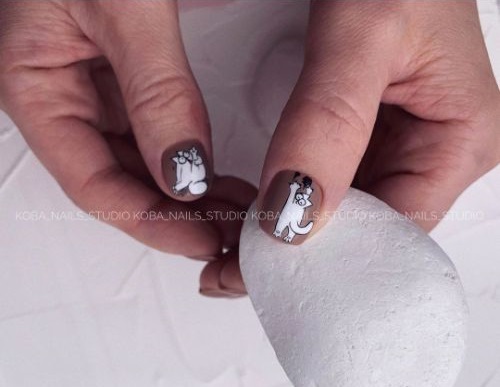 – Minimalist brown, gray and white nail art. With some Japanese vibes.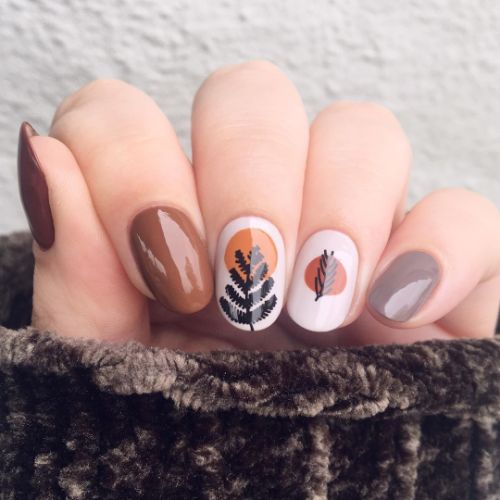 – Milk beige nails with brown French tips. The whole design looks very feminine and elegant.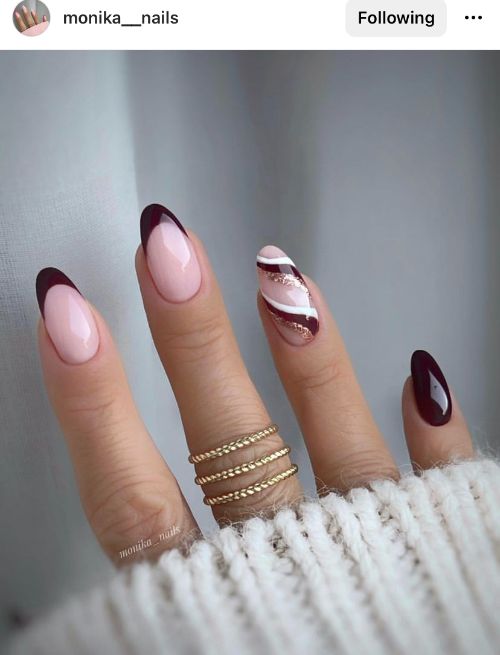 – Dark marsala-brown nails with black color and gold. Here we can't even say what makes the design so stunning – a deep wine-brown shade, a dark black accent nail or that gold shimmer from glitter and foil. All at once, we guess.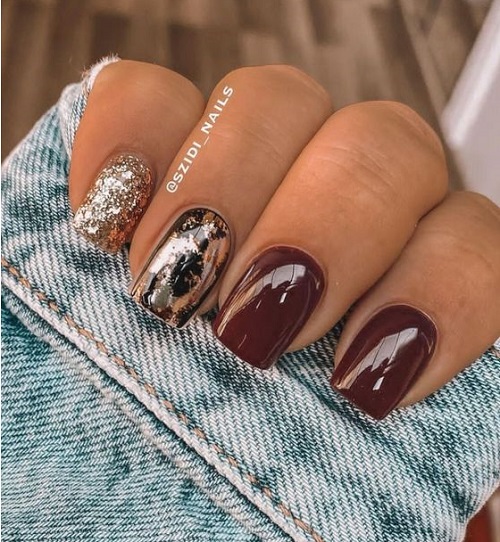 – Dusty orange, light beige brown and rose gold nail design. Oh my, this is definitely the ideal nail design for Thanksgiving or Halloween. The tenderness, the ideal shape, the combination of colors, all this makes it really worth your attention.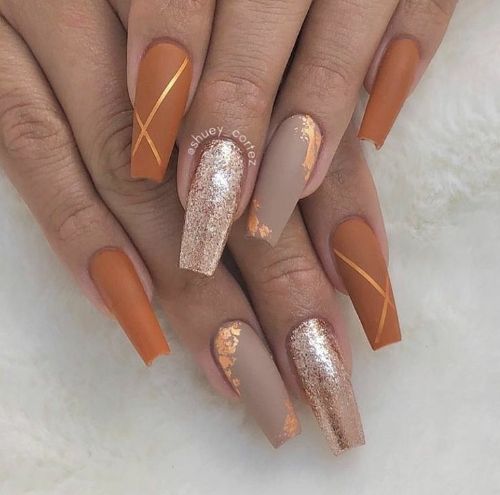 – Warm brown red nails with leopard design. And the shape! What a beautiful nail shape! The colors are also chosen perfectly.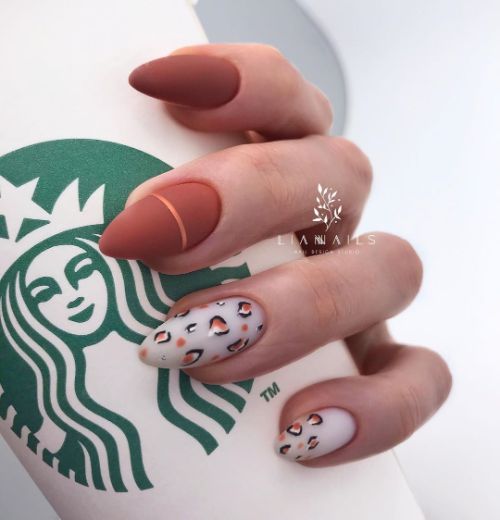 – Coffee nail art in a brown shade. What about some coffee on your nails, you, the coffee addict? Yes, please.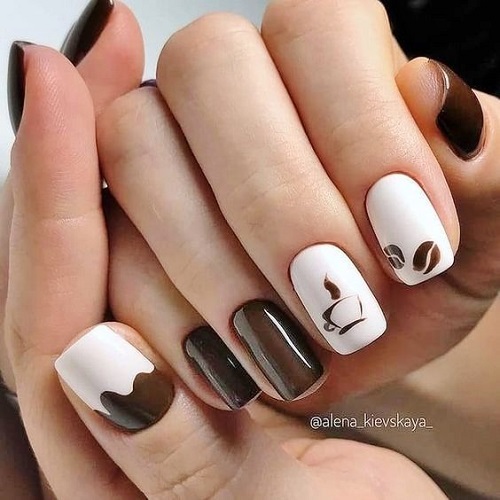 So, here they are, the trendiest and most popular brown nail designs you can recreate the next time you visit your nail salon and nail master. What will you choose? Darker shades of brown on your nails, or something lighter? Deep chocolate brown manicure or light cappuccino brown nail polish? Will you add some embellishments, use several shades or opt for just one favorite shade of brown? We can only imagine what your new brown nail design looks like, but we are sure it is perfect, are we right? That was the rhetorical question 🙂