The theme of Valentine's Day Nails is prominent this month. Why? New Year and Christmas designs need removal, and the upcoming Valentine's day prompt ladies what manicure to choose for the next visit to the salon. Don't waste your time surfing the net in search of heart nail designs, red and pink nails, ideas with the words 'love' and 'xoxo'. We have collected the best images in this post!
Advertisement-Continue Reading Below
Even if you used to say, that celebrating Valentine's day is for dweebs only, or for mega-romantic people, and you don't belong to this group of humans, somewhere deep in your mind you crave for a romantic date, for a champagne bath, love in the air, and a million of roses from your special someone) Heart nail designs or other cute Valentine's day nails will help you to get yourself in a romantic mood quicker and fly on the wings of love right now. Let's fly together?
The Most Popular Valentine's Day Nails in 2023
We're gonna show you here a lot of cute, easy and pretty ideas (on natural, acrylic and gel nails), which you may wear not only as February nail designs, but also compare with your everyday outfits. So, what's trendy right now?
The leading position belongs to HEART NAILS, marshmallow-PINK and fiery-RED SHADES, and to GLITTER! A lot of glitter. There is even a joke, that when all else fails, sprinkle glitter on it. Chrome nails are also very in today, they are made with special pigment powder. So, you may try such mirror nails this February, why not.
One more new and interesting trend is making nail art with the help of DIP POWDER instead of gel polish. It is said to last the same amount of time (2-3 weeks in average), is taken off with acetone polish removers, and is safer for your nails. Moreover, there are a lot of different shades you may try with this powder. See the video below (in #26). DIP POWDER POLISH can become your next beauty experiment, who knows.
Soooo, we begin to show you the best and the newest Valentine's nail designs. Hope you will find here what you are looking for – either a simple variant to DIY or more challenging one, which can be recreated by your beloved nail artist. Are you ready to be the most stylish and fashionable lady on the Valentine's Day? Then choose one of the trendiest nail arts for February the 14th:
Heart Nail Designs for Valentine's Day 2023
Heart nails are our favorite. It is the most symbolic nail art idea, always trendy and easily done. Hearts can be big or tiny, drawn on every nail or on just 1-2 fingers. Sometimes you may see creative French designs with hearts, which can be on tips, on just one or both nail sides, in the center of the nail, ombre-ed, solid or covered with a golden glitter. All hearts in our article are different, we swear you! Ready to find something new and creative? Let's go!
1. Nail art with pink ombre heart.
The first variant and we have a bonus for you – it is a video tutorial! From @nailsartclips. It is mega-cute! Ombre effect is a gradual change of color from lighter to darker shade. Is made with a sponge (you may buy special ones or take actually any sponge you have, it is also possible to make ombre nails with brushes). But you need a heart stencil in this particular case. Apply gradient on the white base, and your nail design is ready.
2. Nude design with one red nail and small hearts.
The simpler, the better. You can make your favorite nude nail design festive by adding glitter. Quite stylish, isn't it? Moreover, you may not only draw those small red hearts, you may use glamorous heart-shaped gems, tiny stickers, etc. Your Valentines nails need to be extraordinary this year.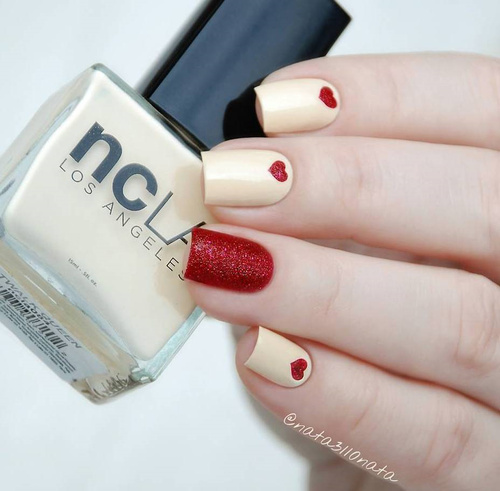 3. Knitted sweater nails with hearts.
Do you know that sweater nails (or cardigan nails, as they are also called) are still in trend? Here you have ones, but with some Valentine's day vibes. Generally speaking, this mani looks cute. And quite easy to make. Hearts can be drawn with a different color (for example, with a darker or contrasting shade) or even sprinkled with glitter, enriched with gems and other tiny accessories. You may experiment. But the simple nail art in this picture is also ok. Don't overdo.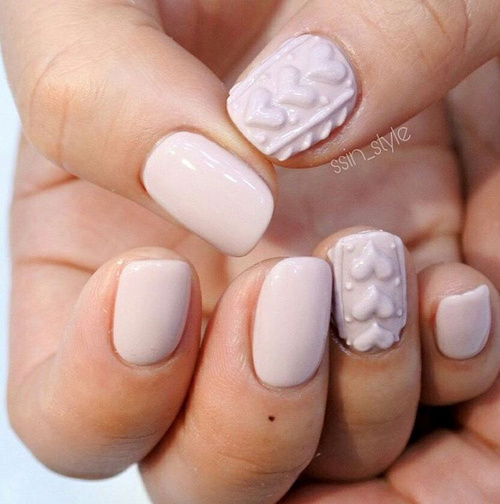 And one more fresh idea for sweater nails we found on Masha Create's Youtube channel (she is a Russian blogger). She shows how to do the cashmere nail design with the help of new TNL Plush polish. We think it's very cool! Follow her, she constantly has creative nail design ideas.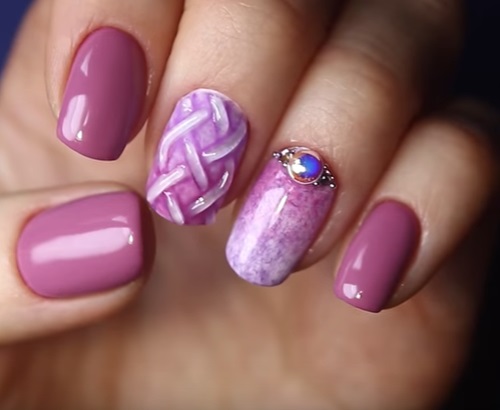 4. Nail art 'hearts on tips'.
They can be also called peek-a-boo hearts, at least our team liked this name the most. You can't even imagine how simply it is done. Probably Edward Scissorhands could also recreate it… A great idea in case you didn't make appointment with your nail artist…and need to invent smth. 10 minutes before you leave the house.
5. Tiny blue hearts nail art.
Need more hearts? Here you have the nails full of them. Additionally, they are in a non-traditional color for Valentine's day. These tiny blue hearts look girlish and romantic. A cute pastel dress, such mani, and you are ready for your perfect date. In this picture heart stencils are used. However, you may draw them yourself. Or, as a variant, make dots and transform them into hearts with a needle or a toothpick. Got inspired? Read on and find even more Valentines nail designs )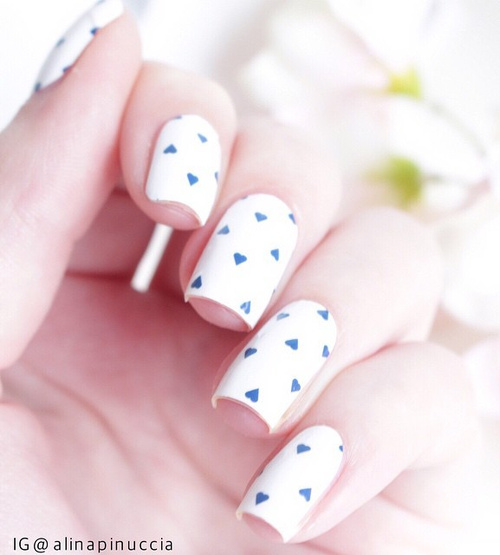 6. Nude nail design with black and red hearts.
Nude manicure itself looks great on correctly shaped and properly treated nails, and if you add some small but cute details to it, it is a 100% winning combination! These nails can be worn even to the office. They can be festive and casual, cute and romantic, contrasting and edgy. Everything depends on colors you will choose and the size of hearts. For Valentine's day opt for something coquettish and creative, of course. Don't be too shy )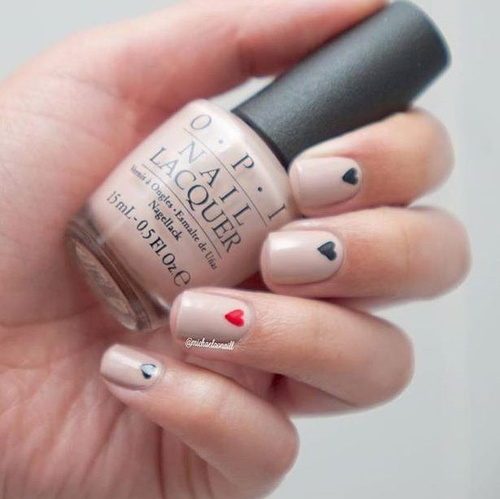 7. Bordo Valentine's French nails.
Found on @doobysnails' IG. This nail art is almost the same as shown above (remember peek-a-boo nails?) ), but looks more stylish and grown-up. Agree, that French manicure is one of the most traditional and classic designs. Adding hearts to it makes real magic. You get a non-trivial nail art, which all the girls will copy next year) BTW, these nails are fake. You can order them and fix in a few minutes with a help of special glue. A very cool and simple idea, which will save you a lot of time and your nerves also. One more hint: you may create similar French nail design with colorful tips (so cute!).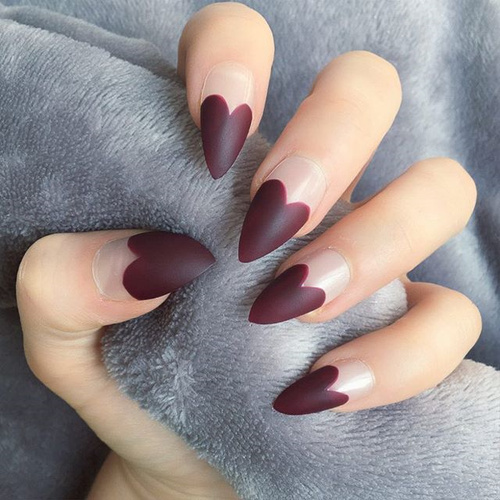 8. Beige Valentine nail art with hearts, bows and dots.
A very cool combination, which was saved by several thousands Pinterest users! This means it is viral, trendy, fashionable. A lot of women think it is the best idea for Valentine's day celebrations. Maybe it is because of its easiness: you can do it in 5 minutes or less. You know that female's bad habit to make mani right before leaving the house and heading to the party. This idea is perfect for such cases. Use 2 basic colors, add dots, several hearts and bows. You don't need any nail artist for this masterpiece.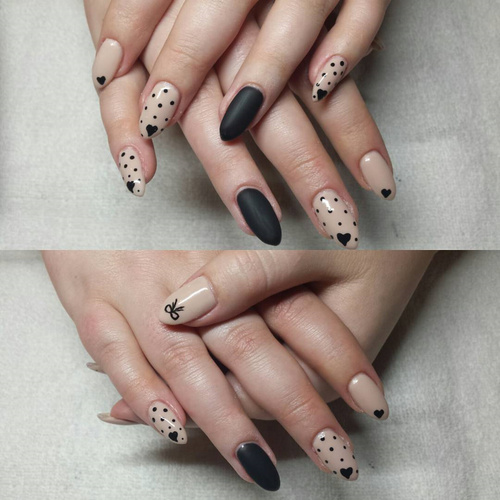 9. Red and white nails with hearts.
Simple and glamorous. This nail art, made a week or two before Valentine's day, will recall your husband/boyfriend that you like to exchange gifts on the 14th of February and want to have a romantic date) Will you choose a SPA-hotel or a dinner at the restaurant? These cute hearts on your nails are too noticeable to ignore the Valentine's day celebration. And you can choose any colors for this nail art, which is even more exciting.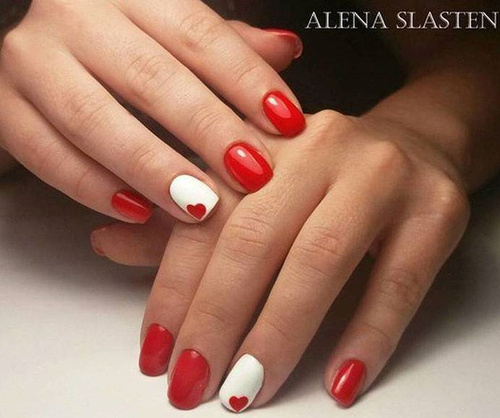 10. Pink and silver nail art with stripes and hearts.
It seems to us, that this nail design is one of the most viral on the web. We saw it in purple and blue shades, with silver and golden stripes, with glitter and strasses. Which one is version 1.0? It is hard to track now, but all of them are ideal for this year's 14th of February. The secret of being so popular is possibly hidden in its marine style. Sweet memories of the beach rest in the middle of cold season… what can be more pleasant?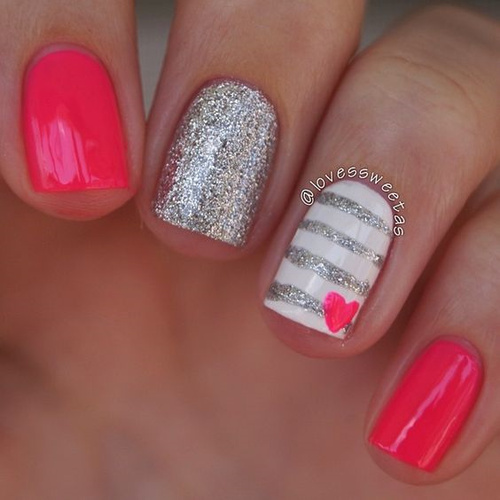 Valentine's Nail Art with LOVE, XOXO, and Kisses
Be my Valentine, Love, XOXO and other kind words on your nails will confirm once more that you have tender feelings to your special someone. Or, maybe, it is your attitude to everything that surrounds you!)
11. White LOVE nail design.
Simple, cute, but stylish Valentine nails design. And one more epithet comes to our mind when we see this matte miracle – minimalistic. Devoted to all real aesthetes and perfectionists. Write the word 'love' on your nails and you are ready for your Valentine's day evening! BTW, this mani looks equally good on short and long nails.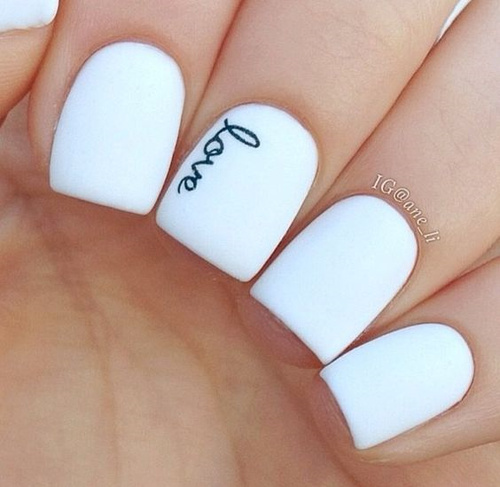 12. Nail design with LOVE in black, white and pink colors.
This one can't be called minimalistic. It is modern, cute and, despite its pastel shades, bright and bold. Here we see retro-stripes, hearts, pink color, LOVE. Everything exists in perfect harmony.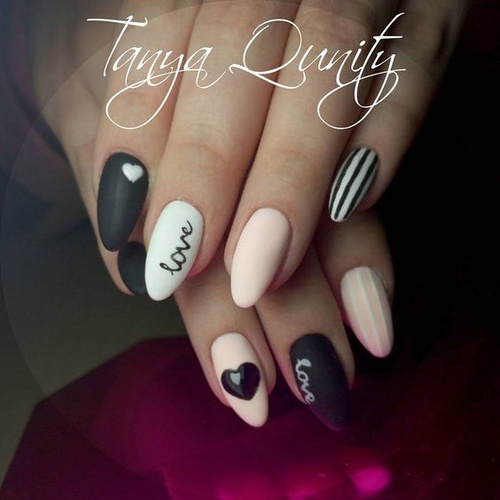 13. LOVE nails with flowers.
If a simple nail art with the word LOVE in #11 is too ordinary for you, go further. Add roses or any other flowers to your design and you will get a very individual variant. That is exactly what you want, isn't it?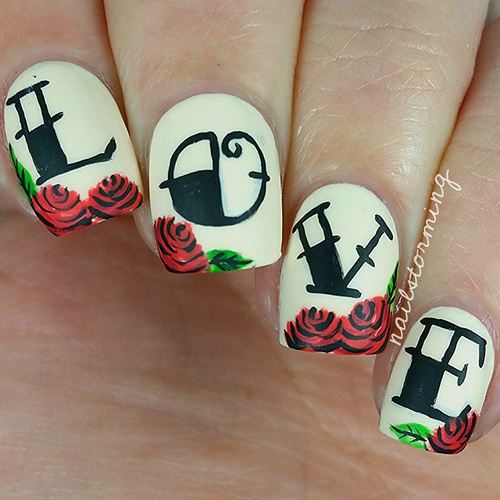 14. Funny nail art for V-day.
Valentine's day nail designs don't necessarily need to be serious. You may show your creativity as well and ask your nail artist to draw smth. funny and childish. The word game 'Bee my Valentine' is the cutest thing we have ever seen! Don't waste the possibility to feel yourself a small girl once more. You can afford this on Valentine's Day, really.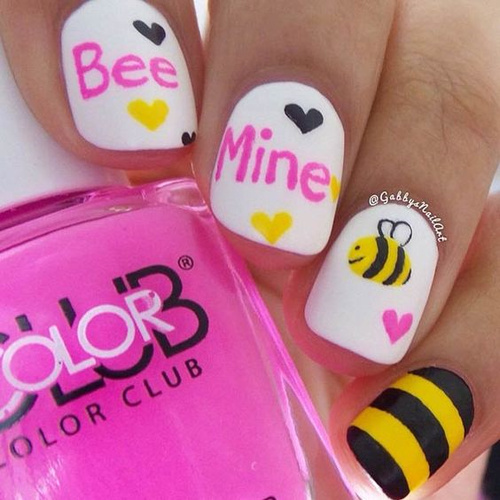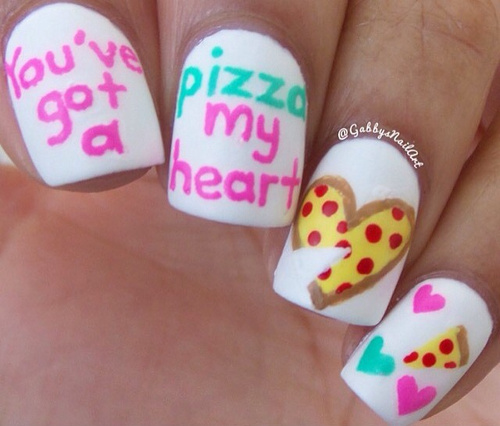 15. L.O.V.E. nude nail design.
This one is more classy. Nude base, black letters, ideally drawn heart… Nothing redundant. And this matte finish… It is perfectly appropriate here. Great for office workers, for business ladies, for school girls, and for stay-at-home moms… for everyone, as it can be worn with any outfit imaginable.Just perfect.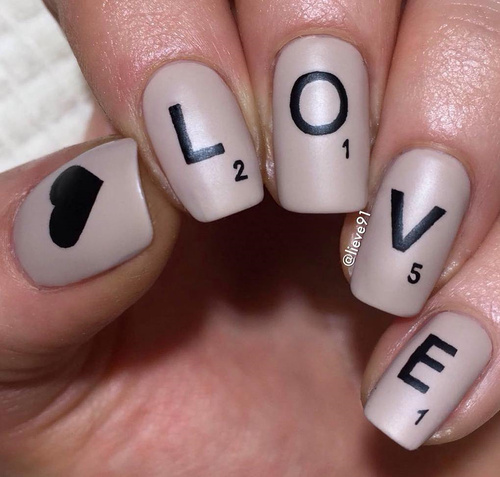 Valentine's Day Nails Designs with Kisses and Lips
Don't say it's boring, some of us like those variants very much (honestly, we too:)). On Valentine's Day you may draw a lot of kisses and lips on your nails, it is allowed. Proven by thousands of Instagram and Pinterest female users. We have chosen some ideas for you, let's see them and discuss together!
16. Nail art with lips and hearts.
We see a red nail design with hearts, a kiss and amour on one of the fingers. All symbols of Valentine's day included! But note, that only very carefully done design will look gorgeous. So use either stamping set or stickers. Call your nail artist and make an appointment. Or order all those things and try to diy this design. Stamping is quite simple.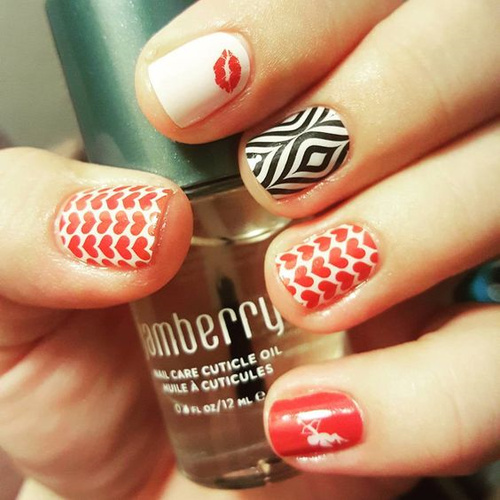 17. XOXO nail design.
In XOXO X is for hugs and O is for kisses. So the Valentine's nails design with this abbreviation will be also a great addition to your romantic outfit. Moreover, this white base and black letters mani will be very suitable in looks with a little black dress. Stylish!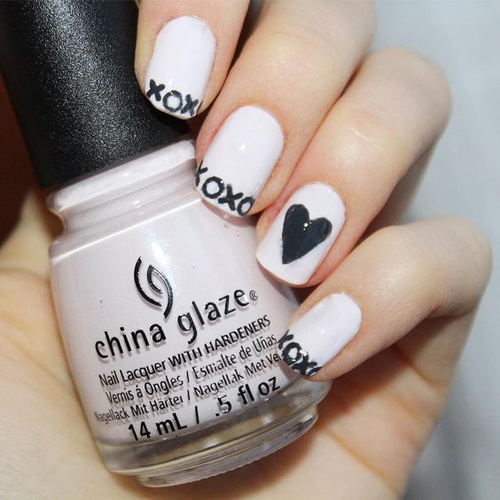 18. Catwalk-inspired white nail design with kisses.
I sing what I see, a well-known phrase. Nail-blogger @lieve91 draws what she sees. She is inspired by fashion trends and tries to implement them into real life. It is really cool. If you click one photo in her account, you definitely want to see more and more. Really interesting.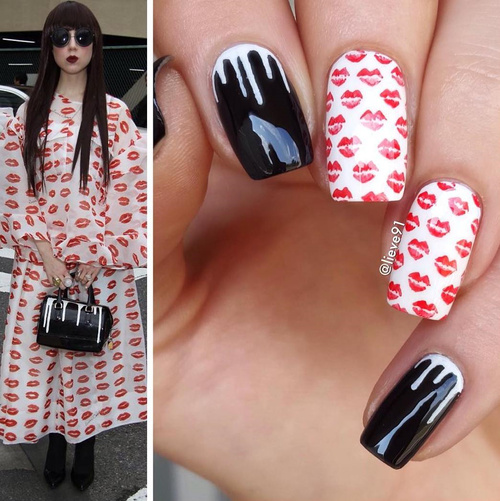 19. Leopard Valentine nail design.
Leo-print and kisses is the unconquerable combination. Such a bright and bold nail design can look good only in case your outfit is quite simple. Choose a dark or plain colored clothes, forget about sexy low-cut dresses, glitter, sequins, bright red lips. The simpler, the better. Don't say we didn't warn you! 🙂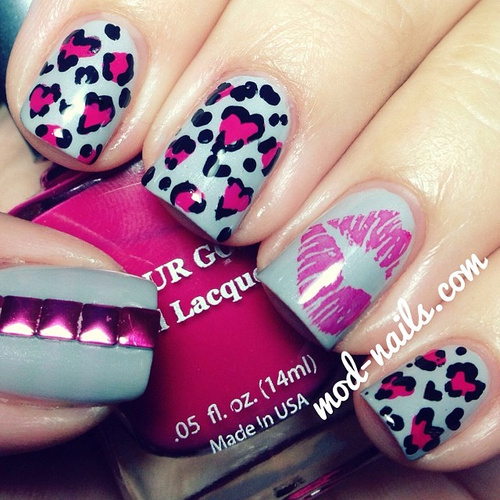 And one more bonus – a short tutorial how to create these leopard Valentine nails:
20. Envelope nail design with hearts.
So cute! Reminds us of days when we sent not just emails, but those paper hand-written letters also. Created specially for super-romantic women. Valentine's day appropriate mani! Want to get a love letter from your boyfriend? Say him this with such symbolic nail art.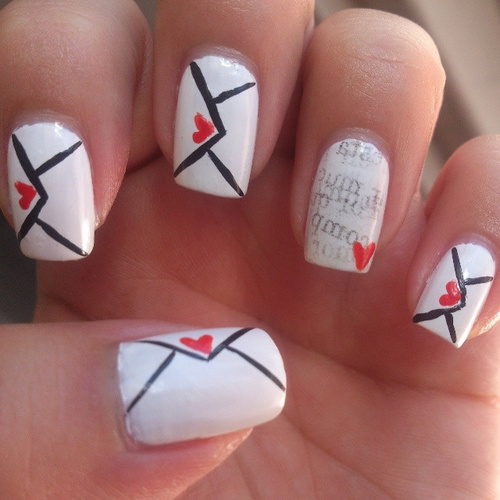 Red Valentine's Day Nails
In this part we want to show you red nails: matte and glossy, long and short, minimalistic and with glitter. Let's see the following Valentine nail designs pictures:
21. Red matte nails for February 14th.
Such nail arts are kings among other ideas before the Valentine's day, and this year is no exception.
If you want to add something special and out of ordinary, play with textures. Create contrasts. For example, cover all nails with matte finish, and leave one for a glitter design or glossy top. Playing with textures is mega-trendy right now.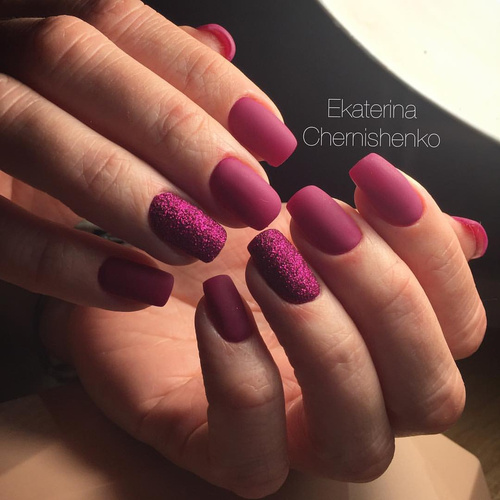 22. Negative space nail design: red and matte.
Matte nails are still trendy, heart nail designs – suitable for Valentine's day, and negative space makes this manicure modern and stylish. The unforgettable combination, we must say. Worth to be featured even in glossy printed magazines.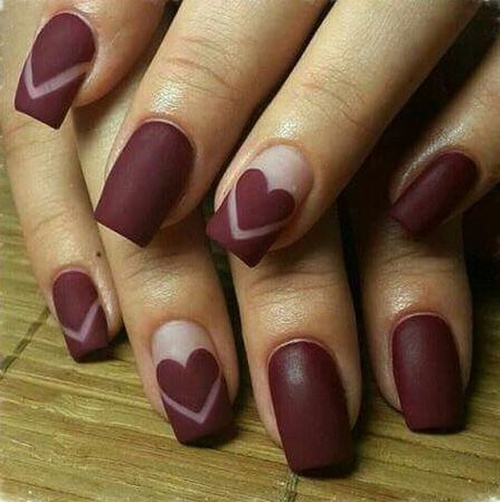 23. Red lace nail art for Valentine's day.
Do you think it is easy to be a nail artist? Nope. You have to know all the trends and techniques, all fashion tendencies and prominent nail art gurus. However, there such nail designs which are always up-to-date. Lace nail design is among them. It looks feminine and refined and pairs well with outfits for all occasions in your life. Red lace nail design is even more impressive.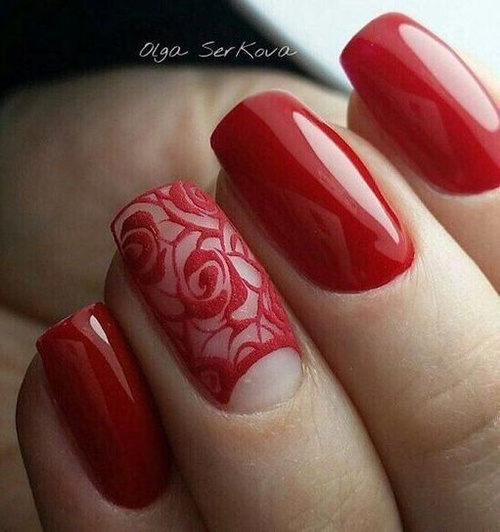 24. Red water marble nail art.
Among all February nail designs this one is the trickiest. You need some practice to recreate such beautiful compositions on your nails. If you want to try, you need water and nail polishes of several shades. Watch several youtube tutorials to diy them. The result is worth your attempts. Additionally, you can combine different shades, not only warm or cold, but also the contrasting ones.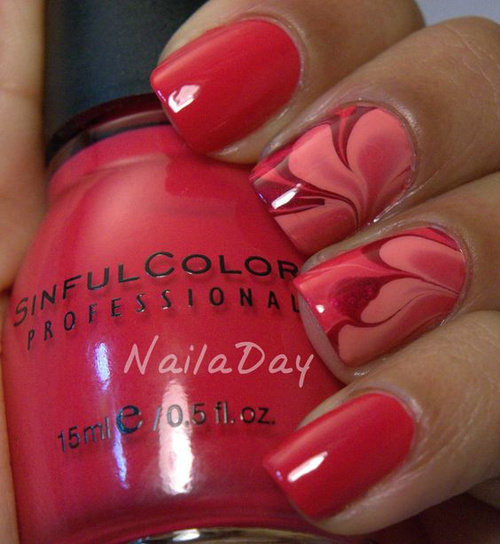 25. Red and black French nail art.
Red and black is a classic combination. And if we talk about French nail designs…. We don't change our mind!) It is a win-win combo, the gorgeous louboutins on your nails. Try it once and you will return to this design from time to time.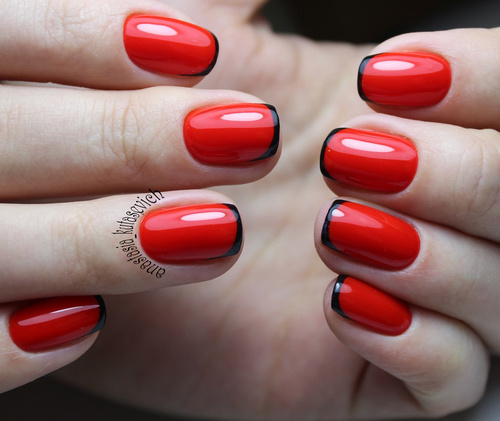 Pink Valentine's Day Nails
You may choose your favourite pastel pink tone or bright neon color – all shades of pink are super-popular before the Valentine's Day parties. Listen to your inner fashionista and make the choice right for you. We can help – with several cute Valentine nail art images:
26. Dip Powder polish from @kiaraskynails.
As promised, we show you the @kiaraskynails new dip powder polish. As they say on their IG page, it is super-easy to do mani with this revolutionary polish, and it can be very versatile. You can also create pretty ombre nail designs, French tips, different nail arts with glitter and bling. Lightweight, lasts up to 3 weeks, doesn't chip or lift. To see tutorials and learn more, visit their website www.kiarasky.com. We need to try this for our Valentine day nails, really!
27. Light pink nail art with golden elements.
The main idea of this Valentines day nail art was to create smth. simple, but aristocratic at the same time. Done! The simplest manicure in a dusty pink shade is complemented with gorgeous accessory with a small heart. We think it's great for your gorgeous look with an evening gown.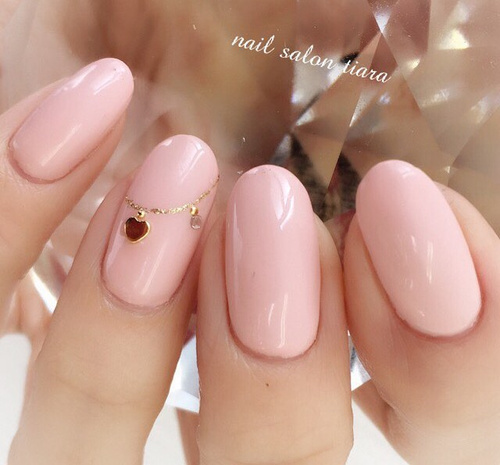 28. Long stiletto nails for Valentines.
Here two trends are combined: long stiletto nails and mirror (or chrome) texture. As for the gems: a lot of people think it's too much to add them to your nails, because such mani looks too glamorous. Others think they are marvelous and super-cool. Our advice is to do as you want: don't listen to haters if you adore such nails, and don't write negative comments if you don't like such art. Personally we love stiletto nails. Maybe just on others, but love 🙂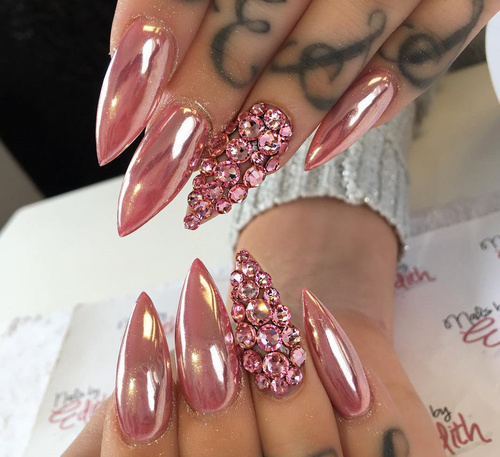 29. Marshmallow pink nail design for 14th February.
We can't stop staring at this photo. With the light pink and white base the golden glitter looks not just festive, but also very cute and girlish. Valentines nail design for the little girl in your soul) By the way, this pink base is a thermo effect polish. It changes its shade from light pink to darker tone.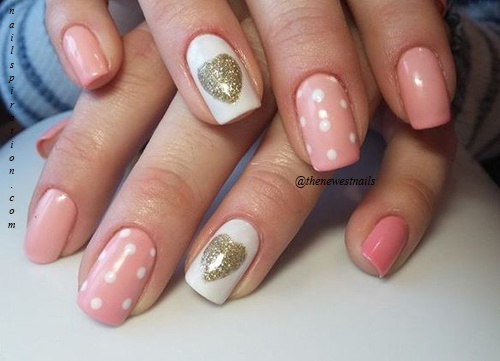 30. 3D pink nail art with a rose.
A lot of Valentine's day nail designs are already shown, give us more videos! Here you are! The author of this tutorial shows how to make a 3d gel flower composition. Tender roses blossom on your nails and you feel happy. Really, every girl would be happy with such nails. And if you are a nail artist – remember this technique, your clients will love the result.
Valentine's nails in different shades: black, dark blue, purple and other unexpected colors
Actually, Valentine's day nails can be made not only in shades of red and pink. You may choose any color that suits your outfit or mood. Add some thematic details or designs and voila. You have a great nail art, which will be one of the crucial elements of your look for the 14th of February. Just check the following Valentines nail ideas:
31. Camomile field and the sky.
Knocked you dead, didn't it? Maybe we are too sensitive… But maybe not, and this nail art is really impressive and will be your next choice for this month. Moreover, it is also great for summer. Worth to be saved: add it to your bookmarks or pin on your favourite pinterest beauty board.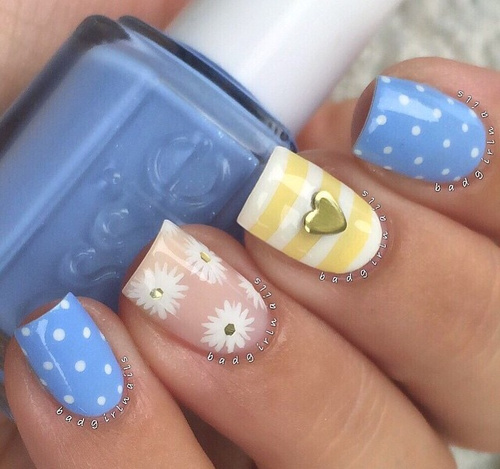 32. Black and gold nails with white hearts.
At first glance it may seem that here all the incompatible things are combined: hearts, gothic black color, glamorous golden glitter, and stripes, marine stripes. But. These things mixed in one nail design look really-really good. We think it can be paired well with the celebrity-like outfit. Classic black dress or dress with sequins, Hollywood curly locks, expensive accessories… Show off this Valentine's Day!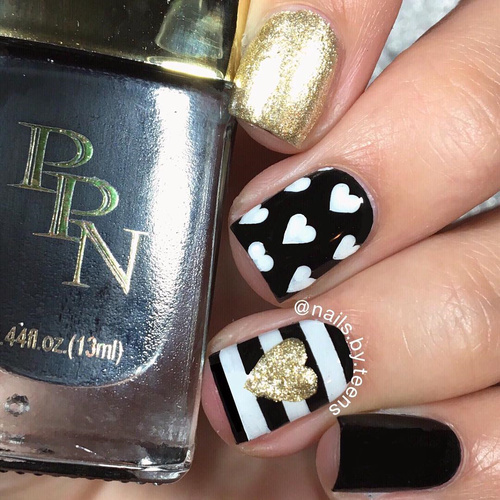 33. Blue nail design with white hearts.
The hearts are not too neat here, and that's ok. The sketch-like drawings always look cute and pretty. A tip: choose dark rich shade for your base, with some small amount of glitter. The effect will be marvelous – galactic and mysterious.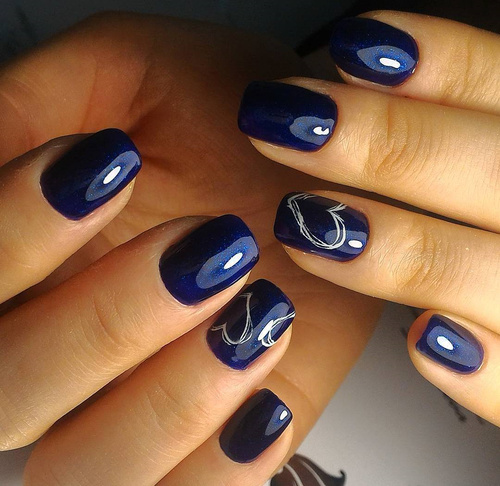 34. Heartbeat nail design.
Among the best Valentine's day nail designs on the Internet this one is mega-inspiring. The galaxy-colored heartbeat line looks enigmatic on the black base. And the good news is that you can wear this nail design with your casual outfits also, as its everyday versions in lighter shades we have seen on almost every fashion blogger.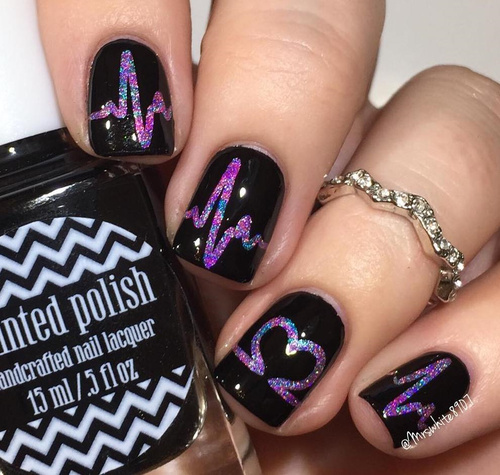 35. Blue and purple nail design.
Thermo effect polish will be a cute decision for this 14th of February. Especially if you choose the non-trivial shades, for example, the gradation from deep blue tone to the pinkish violet one (or fuchsia). A small cute bonus: embossed velvet hearts and girlish polka dot design on two nails. Cool!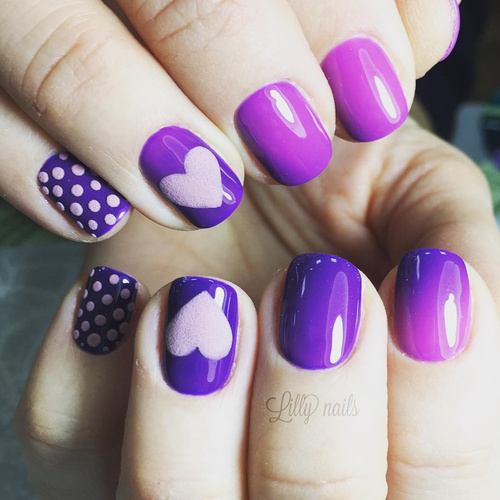 More Valentine's nail designs for your consideration:
36. White base nails with black grid and red kisses: the power of stamping.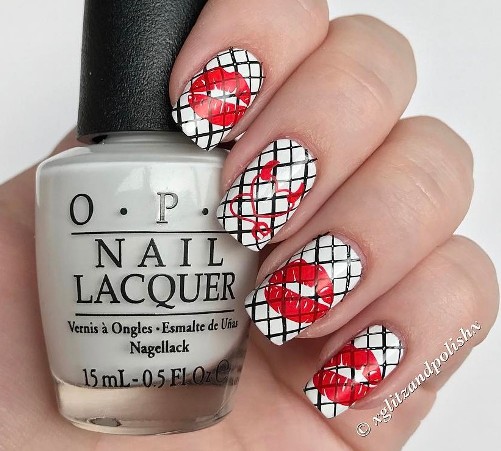 37. Black and white zigzag nails with matte finish and tiny pink hearts.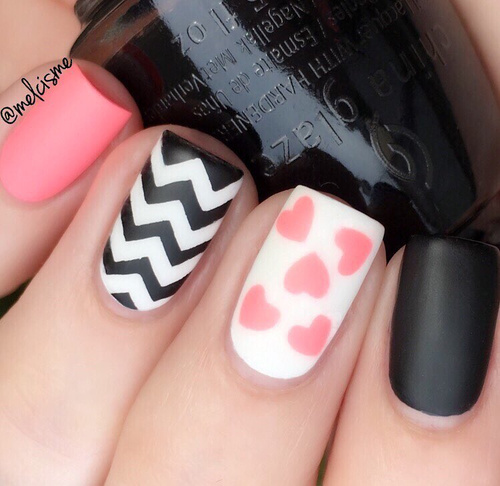 38. Butterfly nail design in pink and white colors.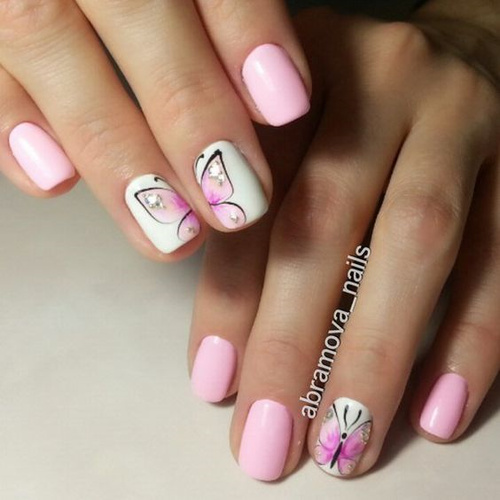 39.Peach pink Valentine nail art with a heart covered with glitter.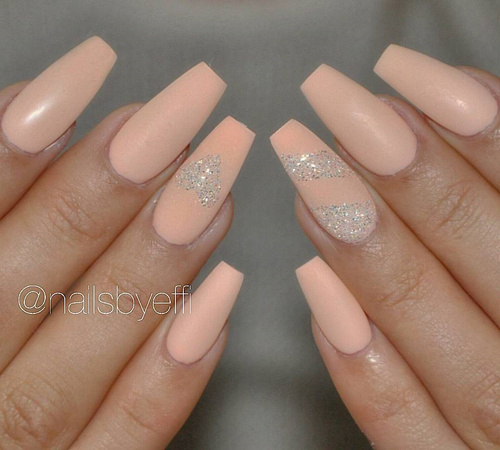 40. Dark chrome negative space nail design with hearts and gems.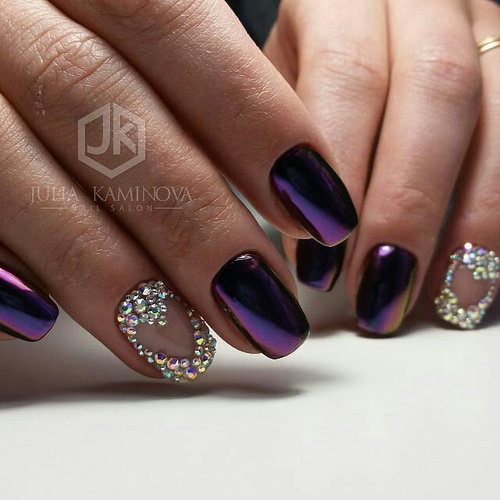 41. Creative nails with colorful tasty-looking doughnuts.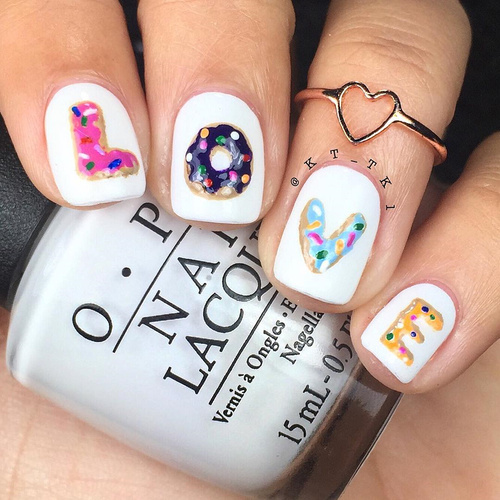 42.Pink and white Valentine nail art with dotted hearts.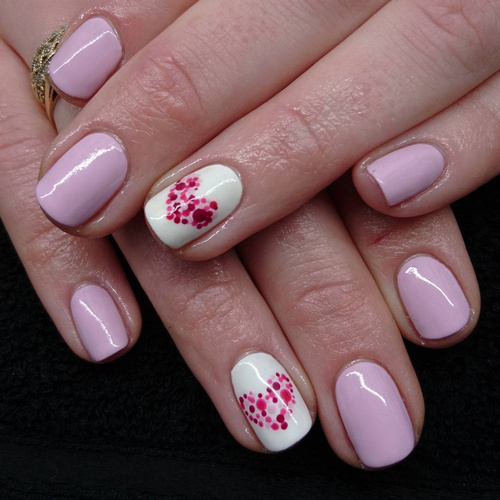 43. Colorful negative space mani with hearts.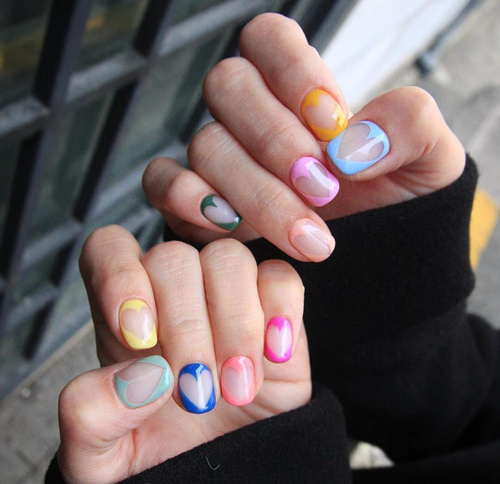 44. Classic February nail designs: white lace on your nails.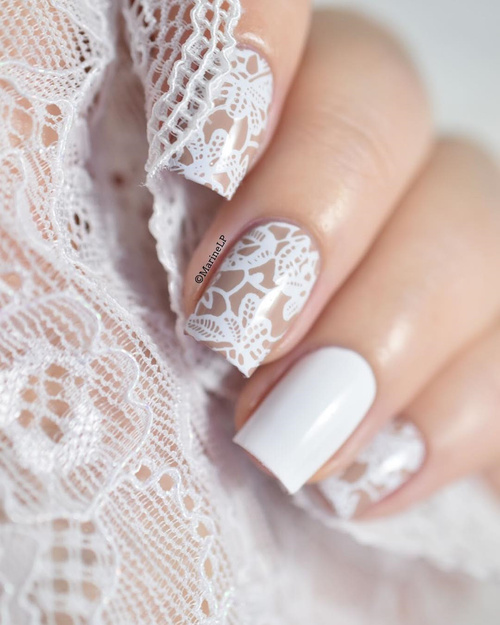 45. Dusty pink nails with a seashell and a touch of gold.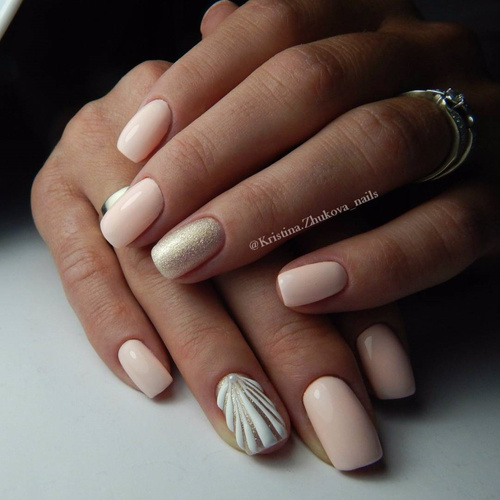 46. Easy valentine nail art with ombre effect and a dotted heart.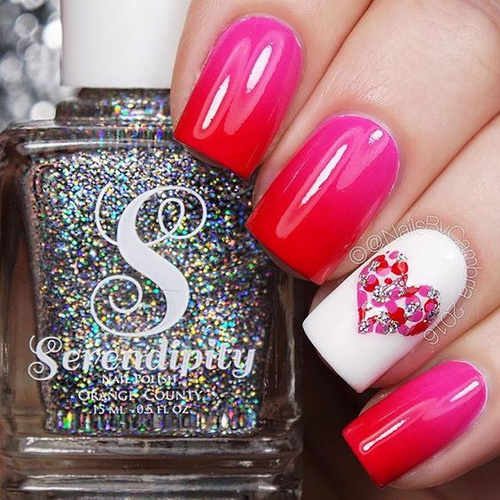 47. Nude and black nails with dots, hearts and bows.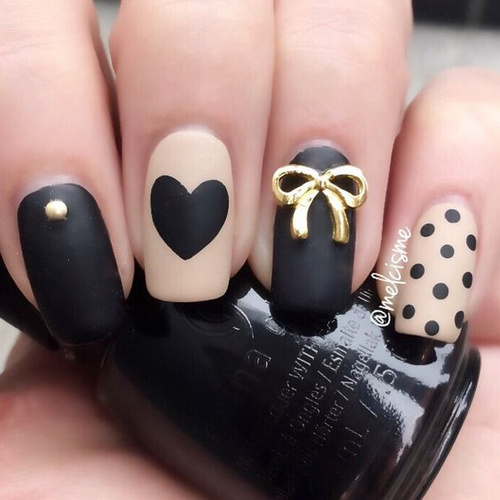 48. 3D Valentine's nails design with a sweater texture and hearts.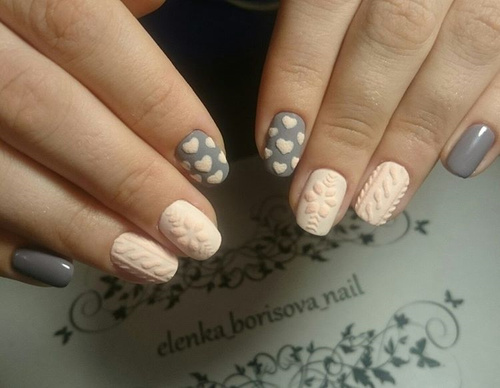 49. Light pink nails with negative space hearts.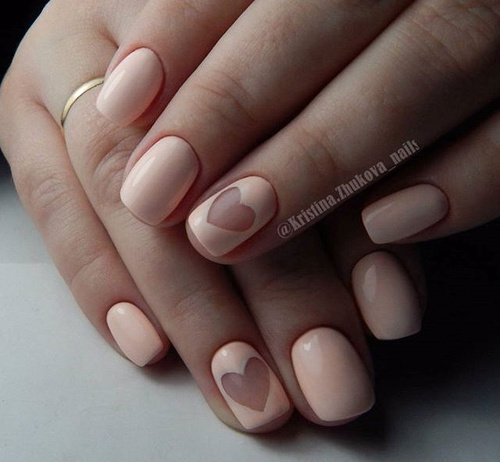 50. Cute valentine's day nails with a glitter heart.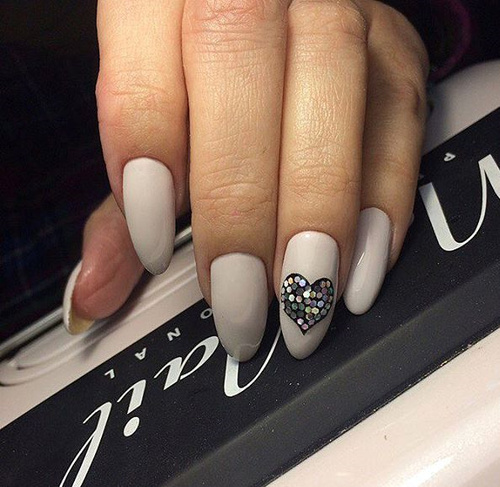 51.Golden mani with pink and white ombre zigzags and a heart.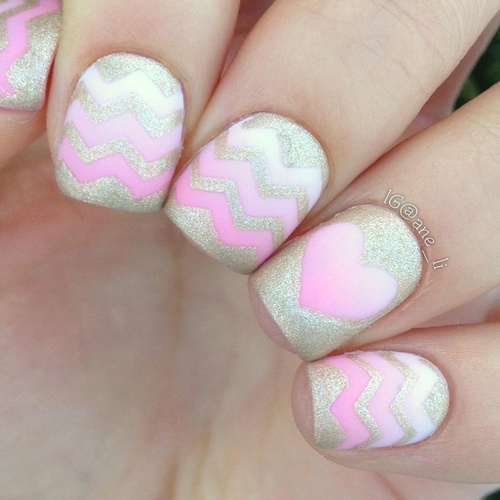 52. Perfect school nails for Valentine's day.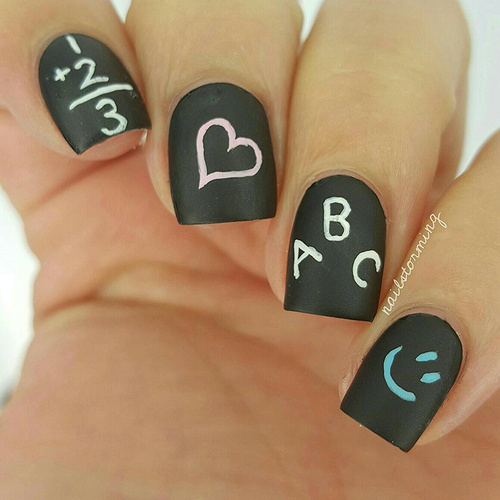 53. Turquoise blue nails with golden stripes.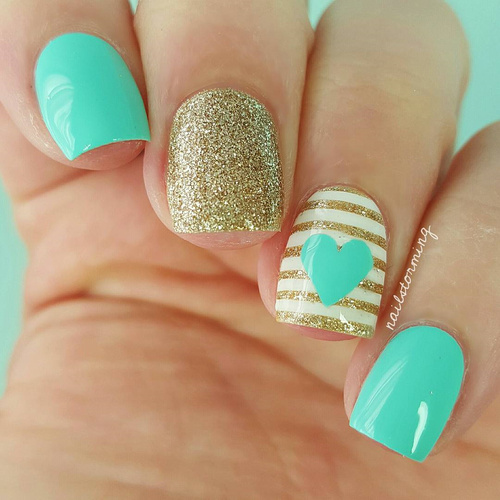 54. Nail art for Valentine's celebration inspired by the beach rest.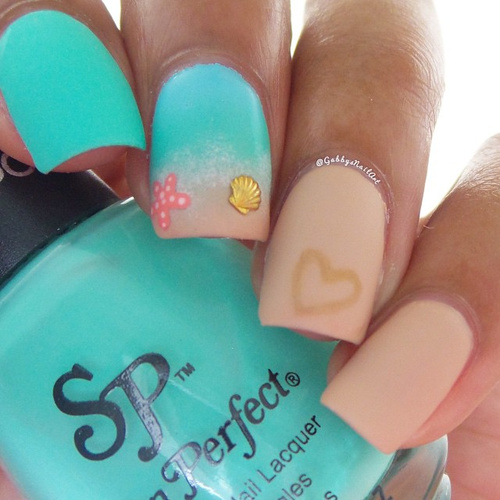 55. Golden and nude nails with black hearts and dots.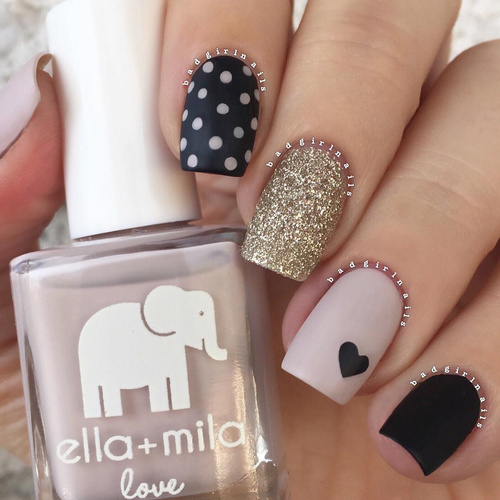 All rights to published pictures belong to their authors, that's why we provide credits. If you don't like sharing your content in such a way, contact us directly at thenewestnails@gmail.com. Thanks for understanding, you're amazing!
More Valentine's day nails you can find on our Pinterest board and on IG account @thenewestnails. Follow us, save the ideas and be inspired by our content.