Dyed bangs? Colored fringe hairstyle? Yes, please! The idea of coloring just bangs is genius! If you want to try some bright color for your hair, but are afraid of major changes, try this colored bangs trend and have fun!
Advertisement-Continue Reading Below
Colorful fringes and dyed bangs are spotted all over Instagram nowadays. No wonder why: It is a very easy way to add color to your mane and not to bleach all your hair. Moreover, it is a solution for those ladies whose hearts need changes urgently. Don't hurry to cut your long hair into a bob or a pixie (or to shave your head), or cut your bangs shorter, just dye them! They will look stunning and make you feel really unique.
Pictures of Dyed Bangs and Colored Fringe Photos
Check out these 50 hairstyles with dyed bangs and feel inspired! They look stunning on all hair textures and with all base hair colors.
– Black Hair with Colorful Bangs. Black hair is boring? No way! Especially now when you can add dyed colorful bangs to it. Make a rainbow on your fringe.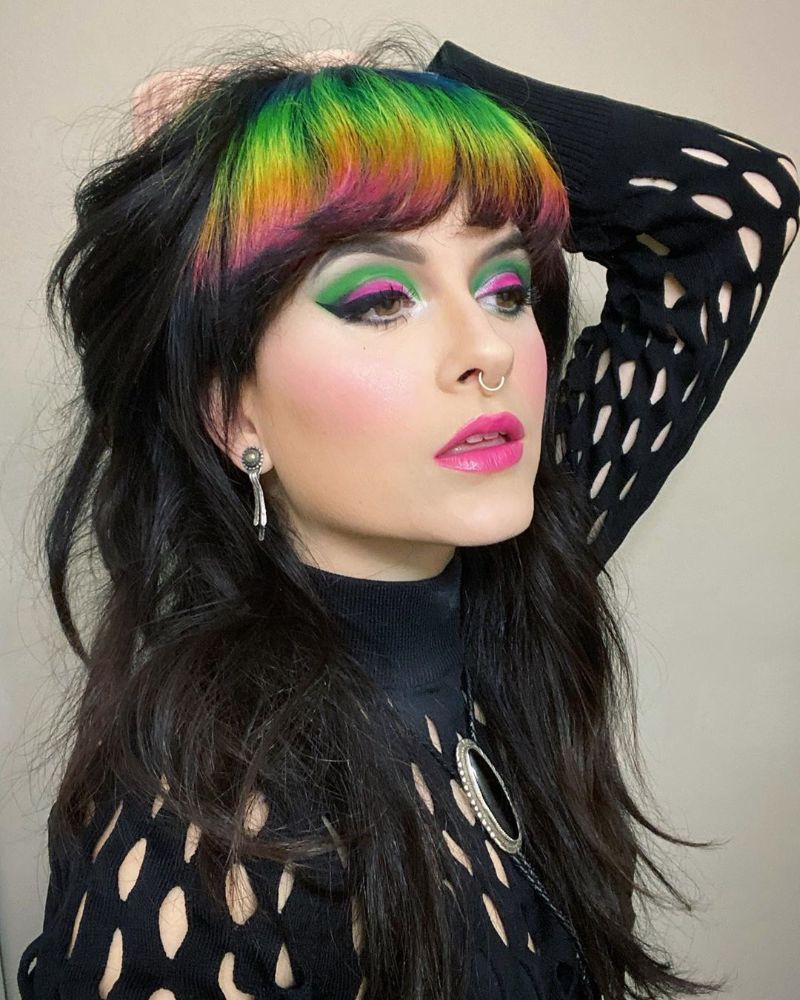 IG: @caitlinfordhair
– Watermelon Hairstyle: Pink Hair and Green Bangs. What a cool summer look! Dye all your hair in a cotton candy pink shade leaving two front strands untouched. Then dye those two strands neon green. Voila. You are ready for all parties and festivals!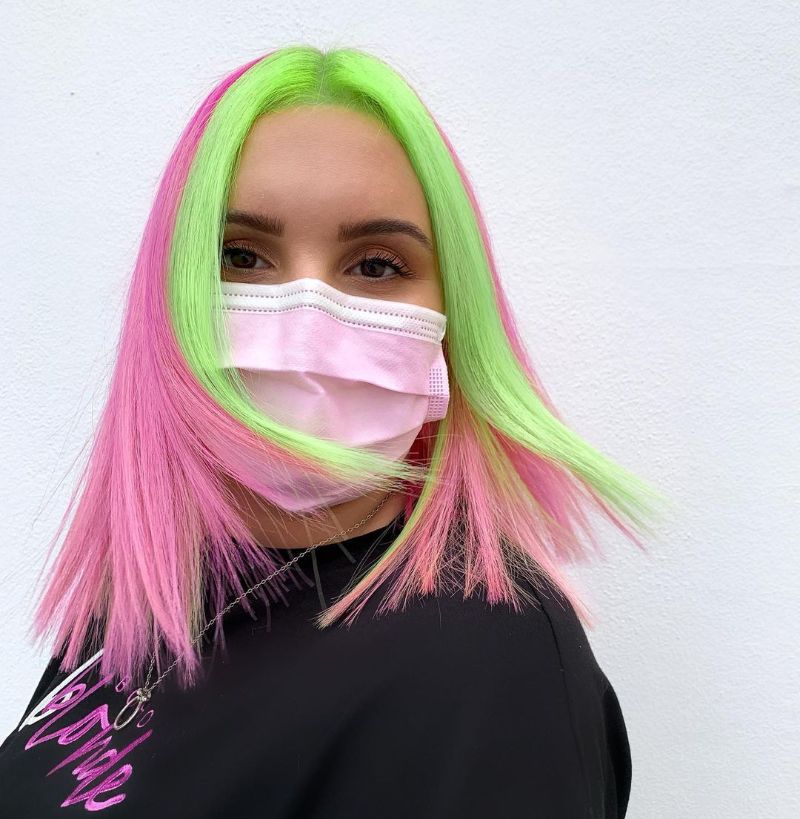 IG: @boho.blonde.perth
– Green Dyed Bangs. These bangs are colored not like face-framing money pieces, they are dyed with an ombre effect, and this looks unbelievably cool!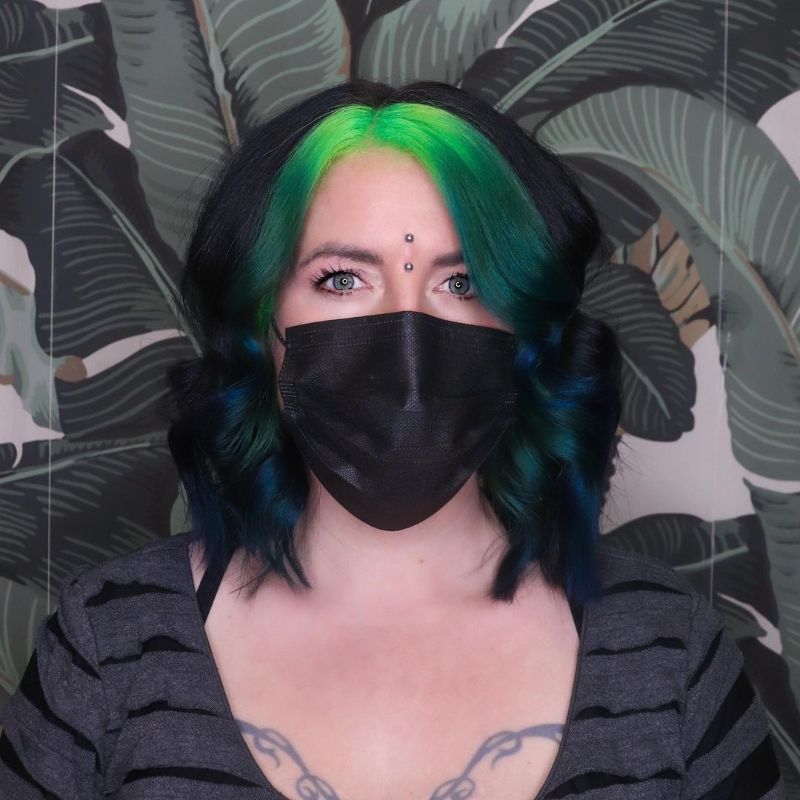 IG: @beautybydaphney
– Pink Pin-Up Bangs. Be sure to pair this lovely hairstyle with pink bangs with bright make-up. How about doing this combo for the next pin-up party or for the Halloween night?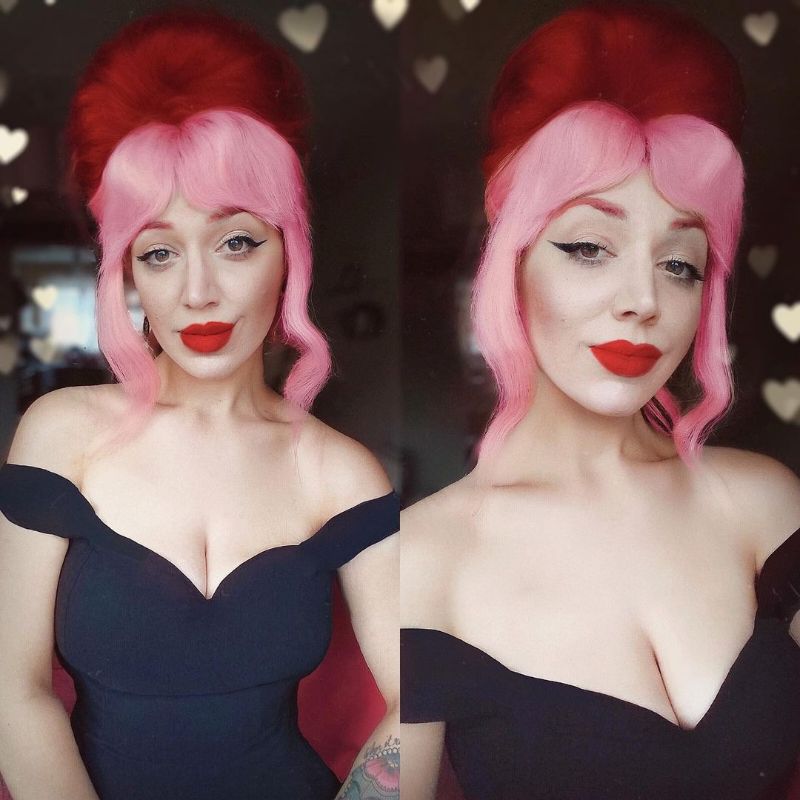 IG: @freyavintage
– Long Pink Colored Bangs. What if you don't have bangs at all? Fake them! Color several long strands in the front and feel the difference!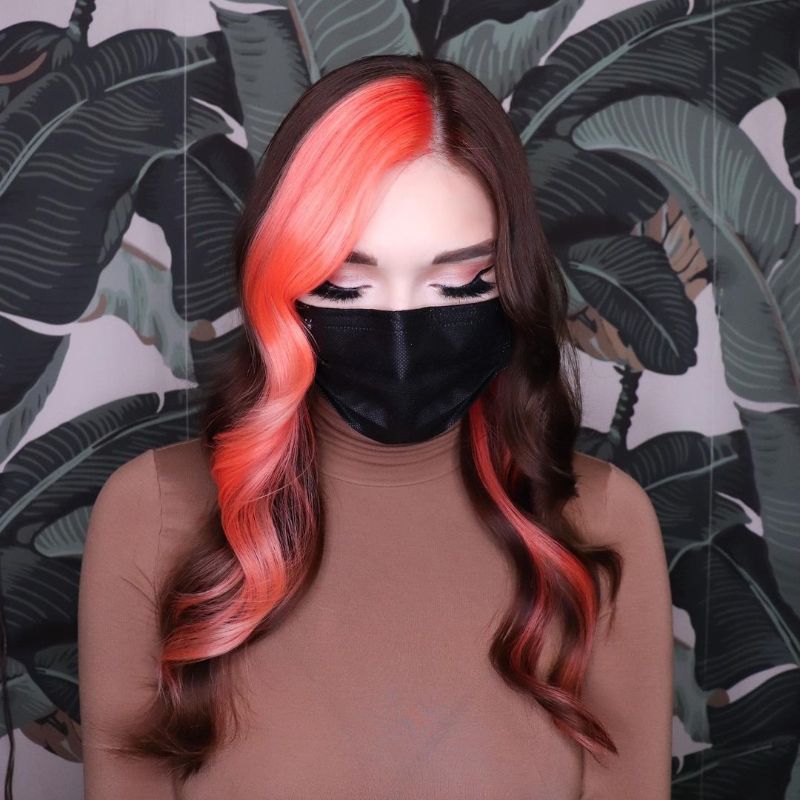 IG:@beautybydaphney
– Purple Bangs. All shades of purple hair color will complement your dark coffee brown hair. To make the transition almost unnoticeable, choose the darkest tones of violet.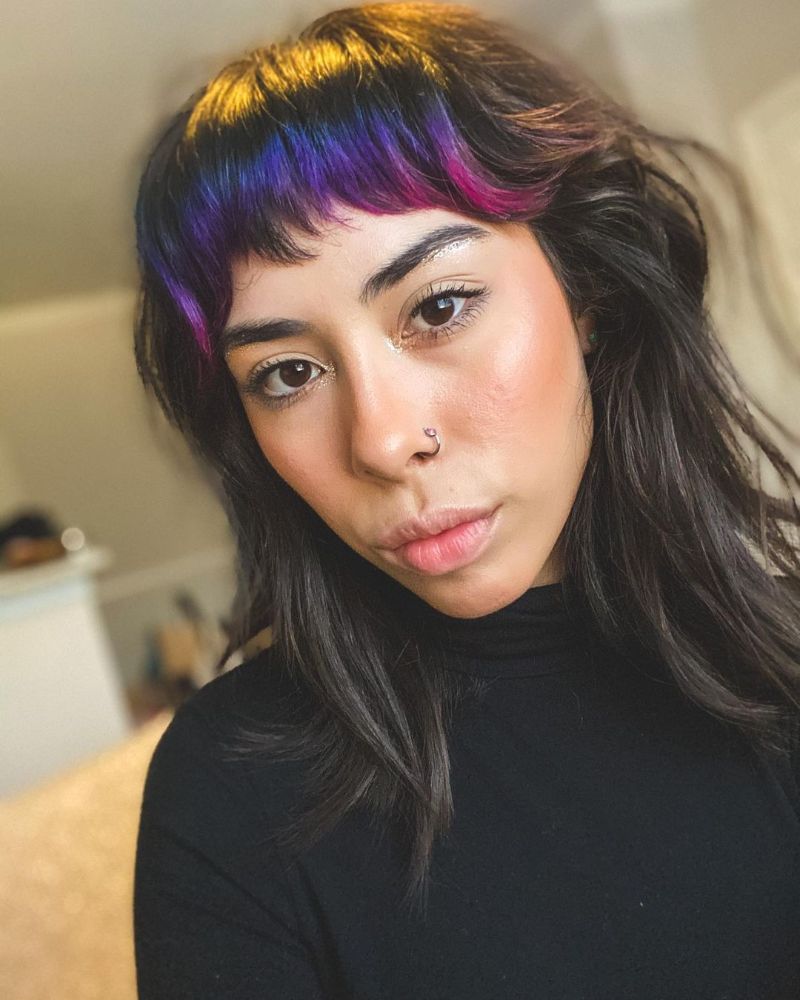 IG:@hannahv
– Thick Orange Dyed Bangs. Here we see a beautiful example of just bangs colored. The rest of the hair remains dark (in this case black), and only bangs are bright and cheerful. Life is too short to have boring hair, right?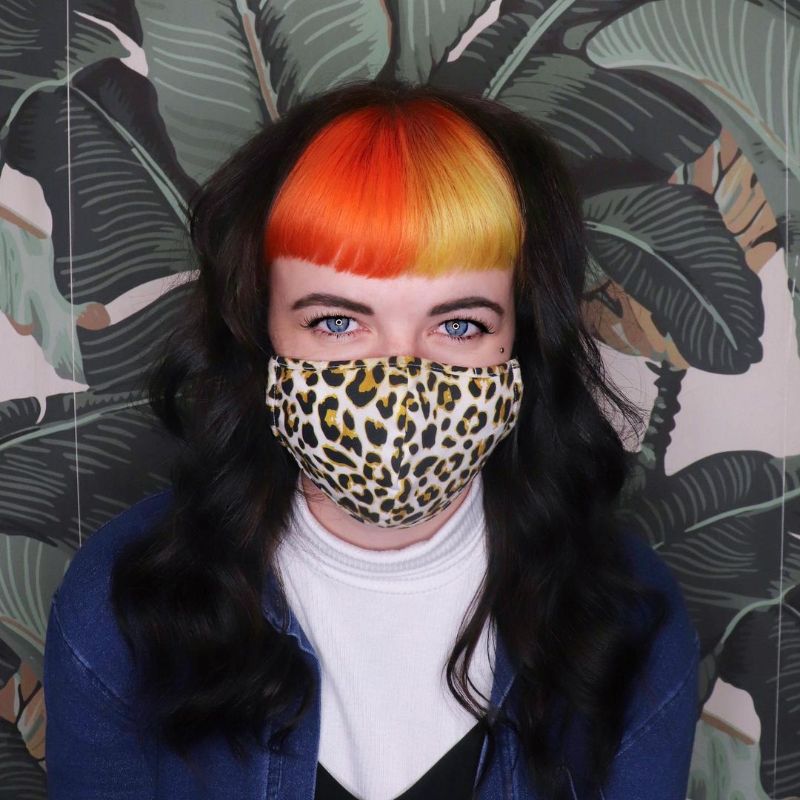 IG: @beautybydaphney
– Side-Swept Long Colored Fringe. Take just one thin strand of hair in the front and dye it blue-green. Add several colorful highlights (for example, purple), and you will look and feel badass this season!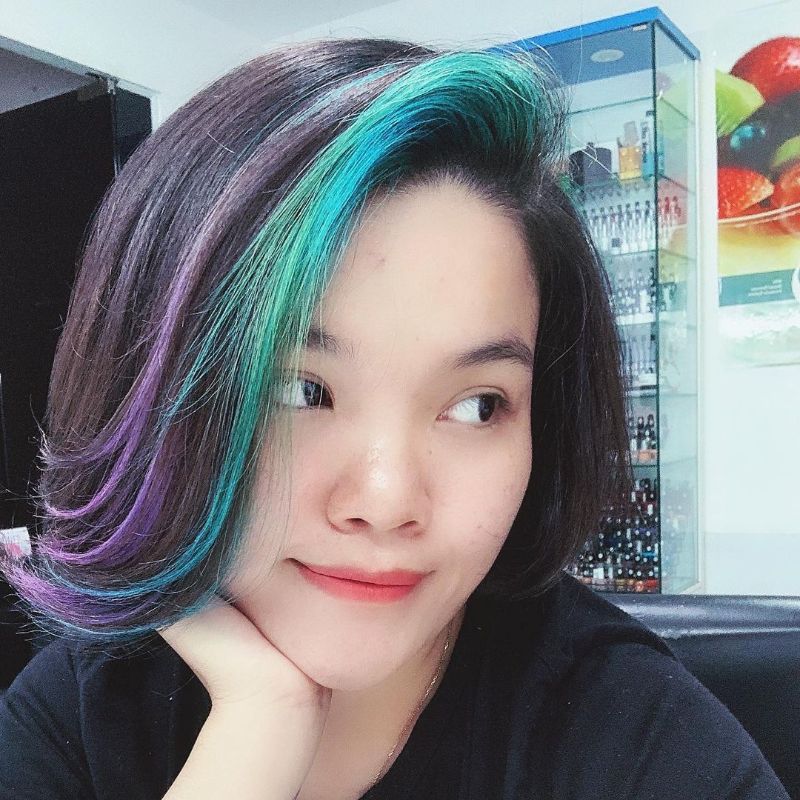 IG: @benho2108
-Brown Hair and Blonde Bangs. How to spice up your one-tone brown hair color? Add blonde bangs! Looks amazing, doesn't it?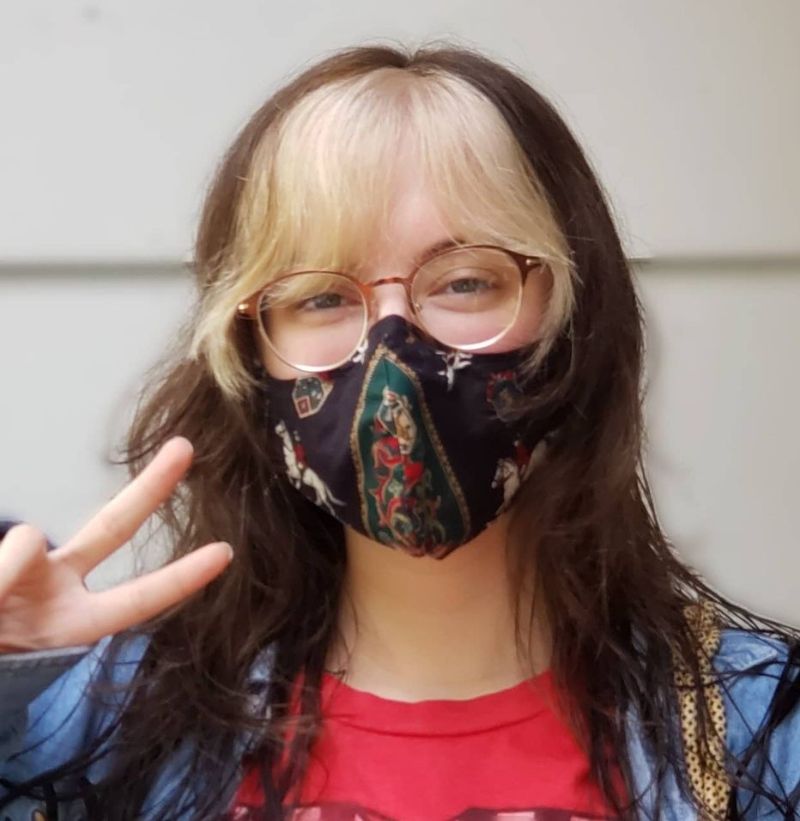 IG: @bighairsc
– Dark Brunette Hair and Rainbow Bangs. Make a rainbow on your fringe and add one more colorful strand on the side to match it.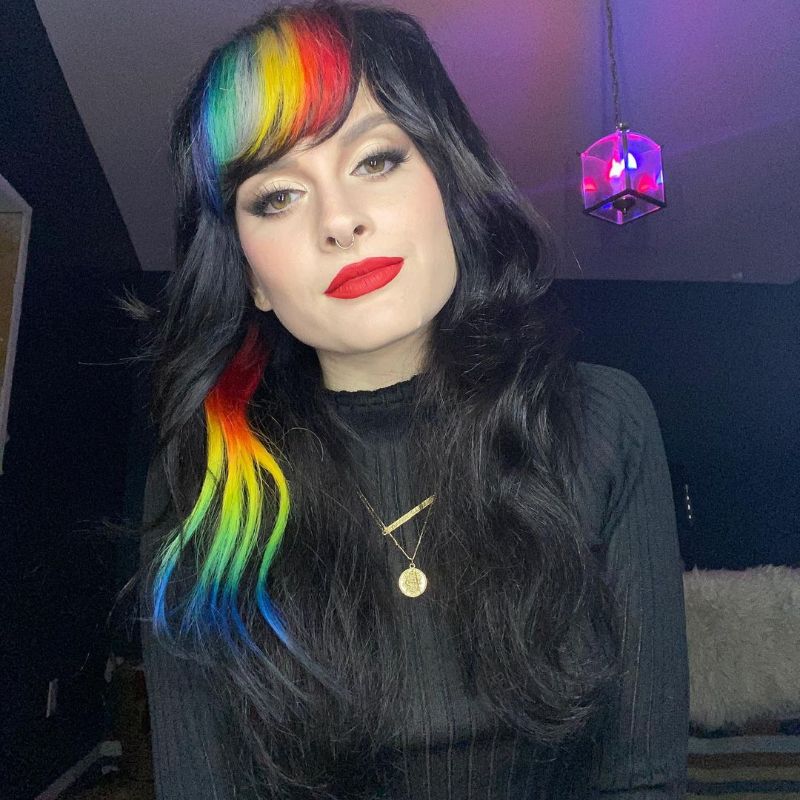 IG:@caitlinfordhair
– Brown Chocolate Hair and Dyed Blonde Bangs. Here a hair colorist dyed both the bangs and additional front strands blonde to make the hairstyle even more attractive. Creativity has no boundaries!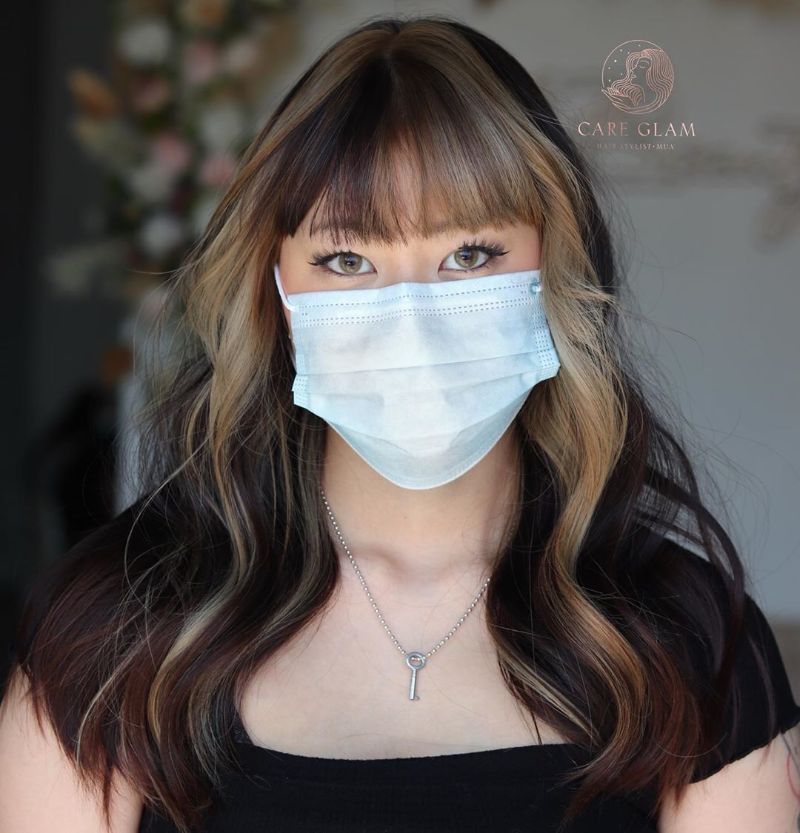 IG: @care.glam
– Mullet Hairstyle with Pink Bangs. If you think that mullet hairstyles for women are outdated – think again! If you add a non-banal detail, like these colored bangs, you will look super-stylish and trendy.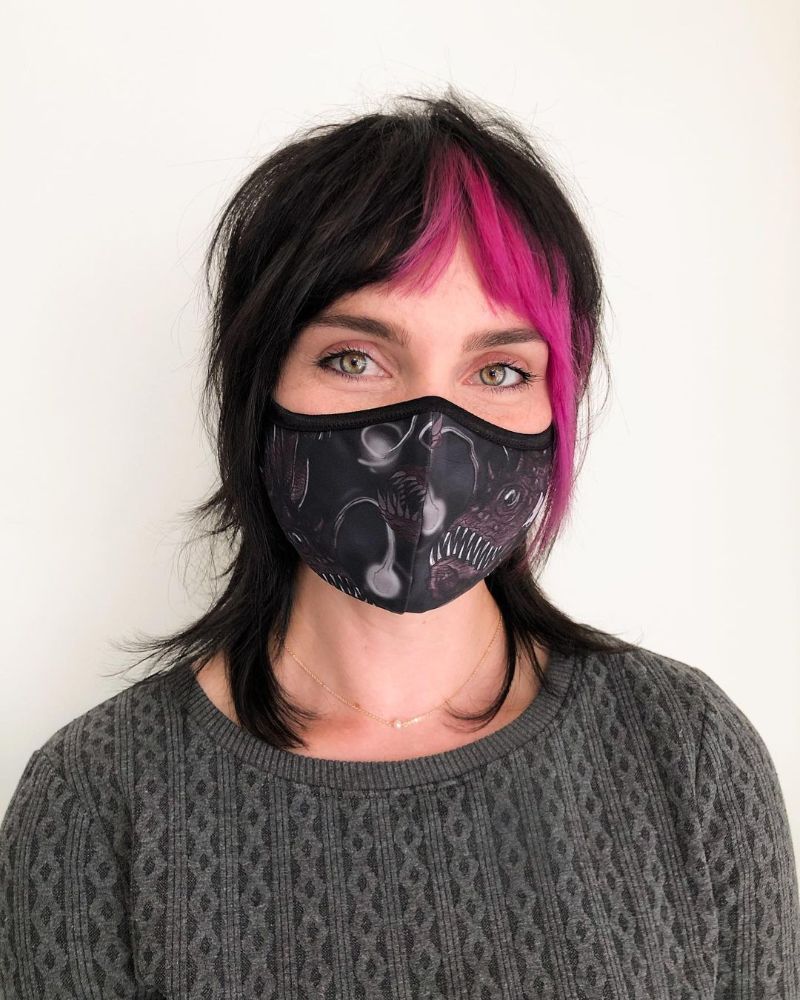 IG: @chellsiedanielle
– Dip-Dyed Bangs. One more idea how to color bangs not dyeing them fully. Just "dip" them in a new trendy blue hair dye. BTW, here we see one more trend: A cropped fringe that has several lengths.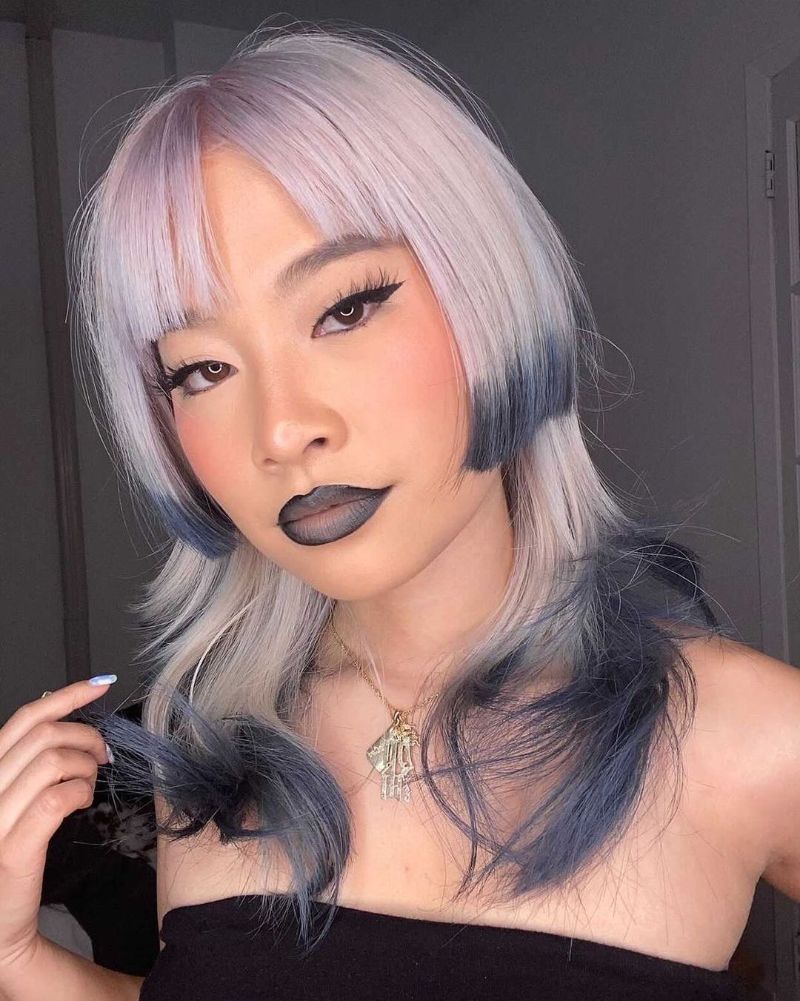 IG: @kingdivinefive
– Colorful Bangs. Say no to boring hairstyles with bangs! Color your fringe with several bright shades, and even don't hide the transition from your base color to your dyed bangs.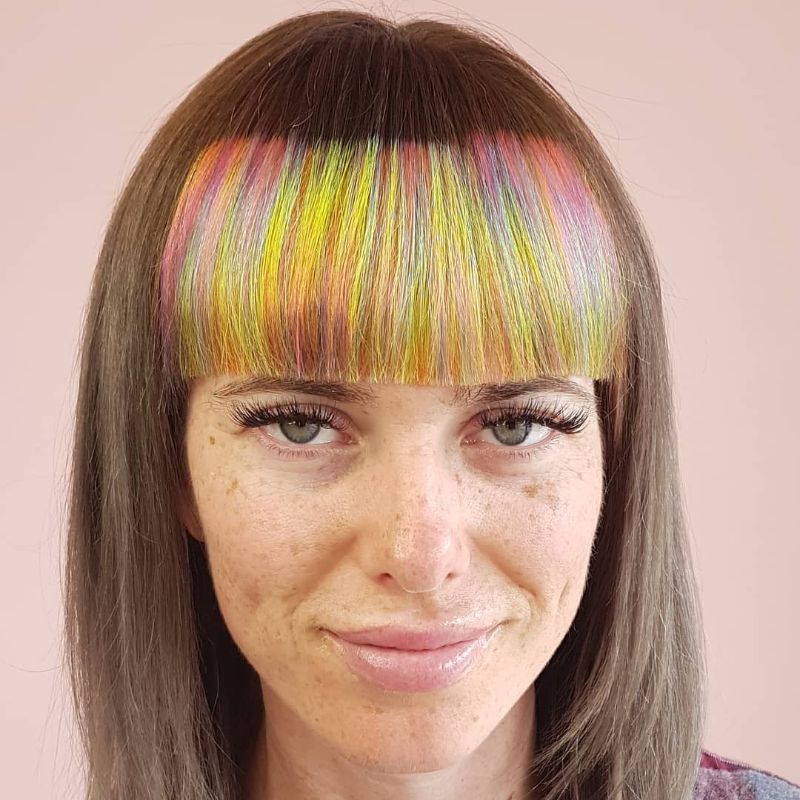 IG: @blondieshair
– Blue and Green Bangs. Left or right? Before or after? The good news is that sometimes you may try several different shades of bangs without bleaching it. For example, add blue bangs first, and then color them dark green, etc. And this can even be done at home! Perfect plan during quarantine times.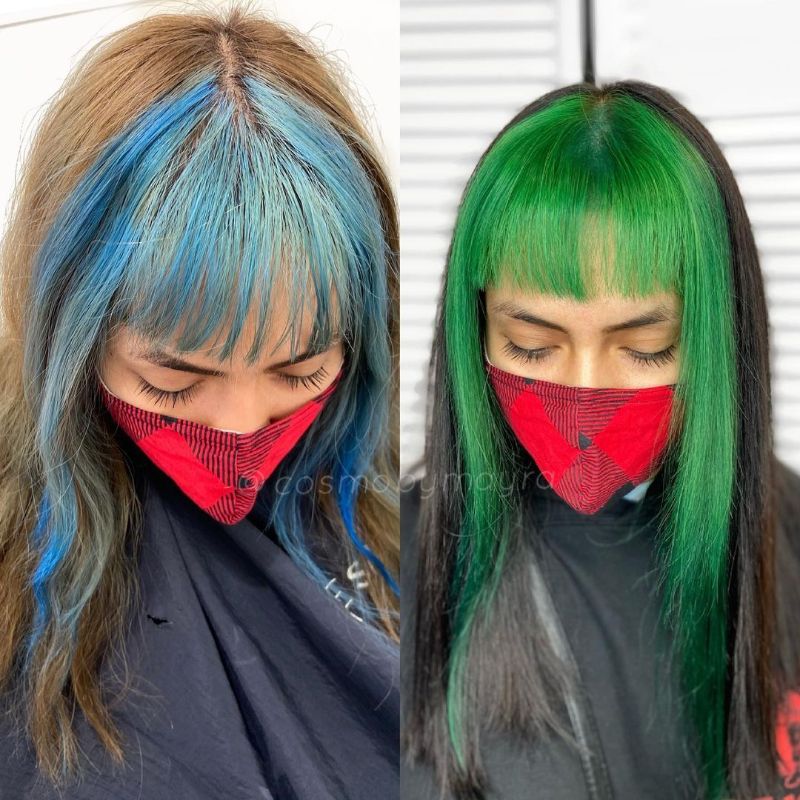 IG: @cosmobymayra
– Denim Blue Bangs. These denim blue bangs will look good with any base hair color, be it bright pink or brown-black-blonde.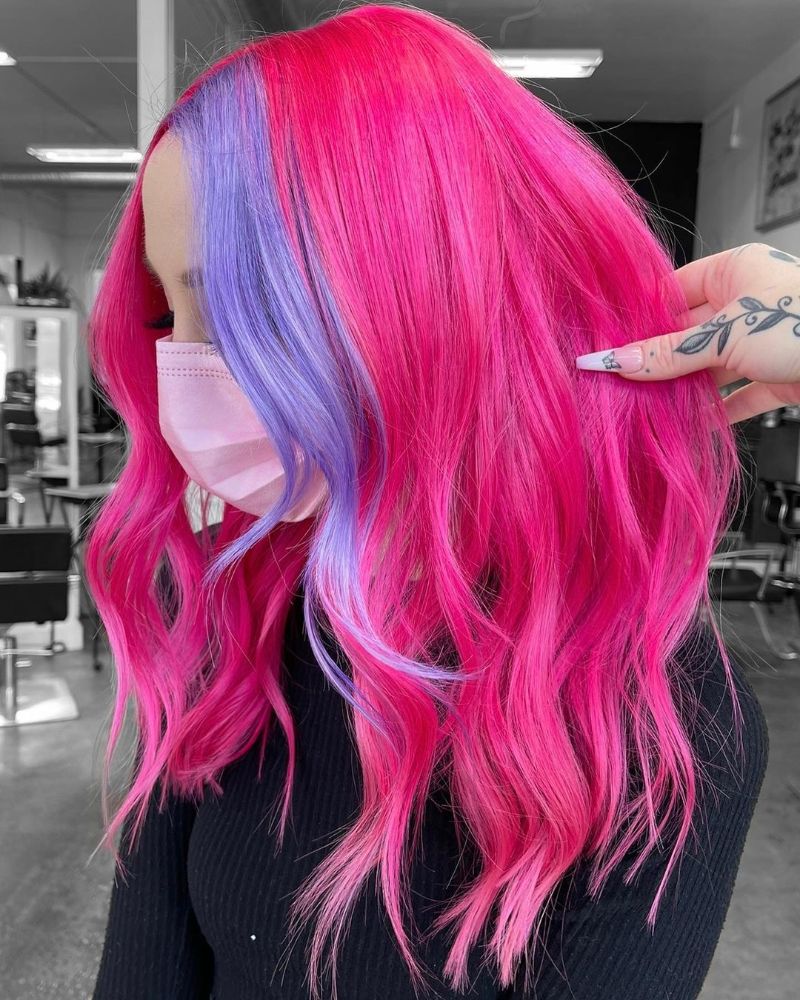 IG: @cristencolorshair
– Dark Brunette Hairstyle with Red Bangs. It's fire! You have no chances to be unnoticeable.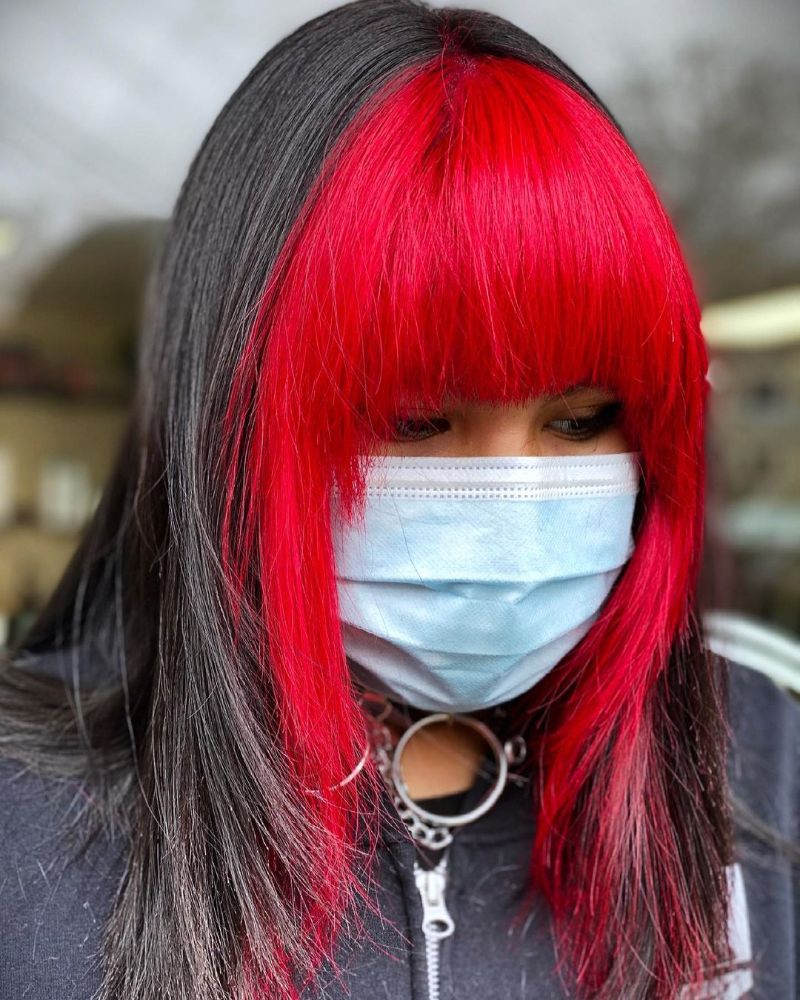 IG: @full.color_.alchemist
– Blue-Black Hair with Blue Bangs. What a fairytale! Black-blue hair shade looks perfect with many hair colors, but all kinds of blue shades are especially stunning in a duet with it!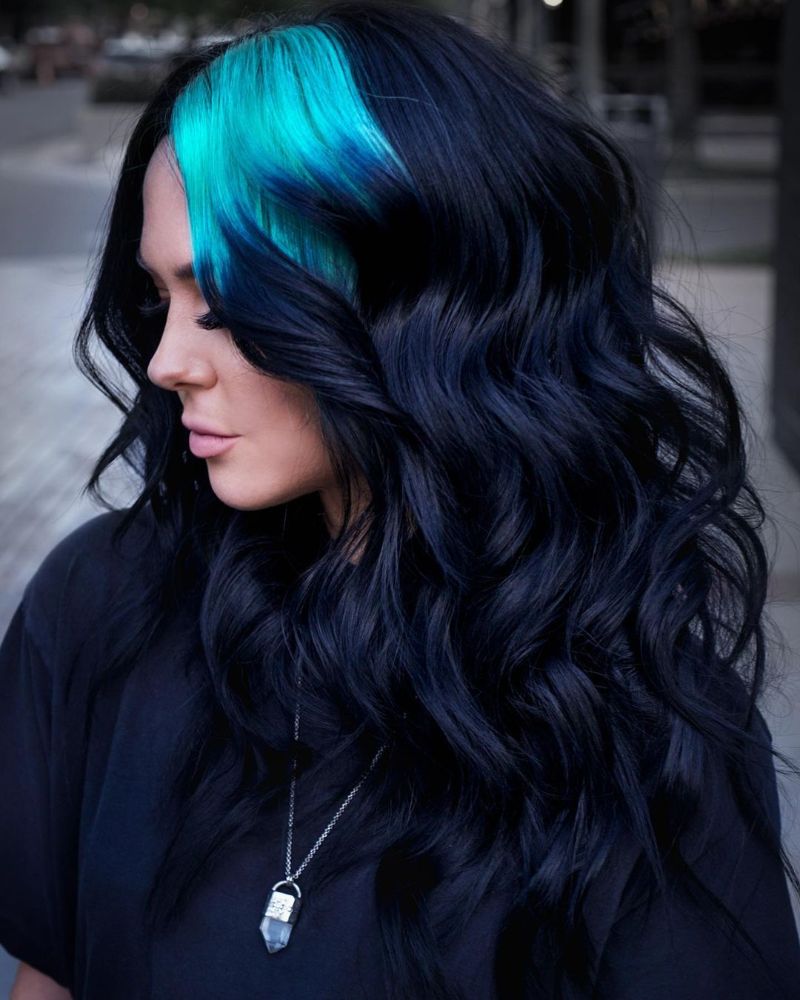 IG: @fullmetaljaxon
– Brown Pixie with Colored Bangs. Try pastel colors to complement your brown pixie. BTW, you will not necessarily need to use a permanent hair dye to color your bangs. Use hair chalks, or colored hair sprays, or temporary hair dyes. Several washes and you can try other colors.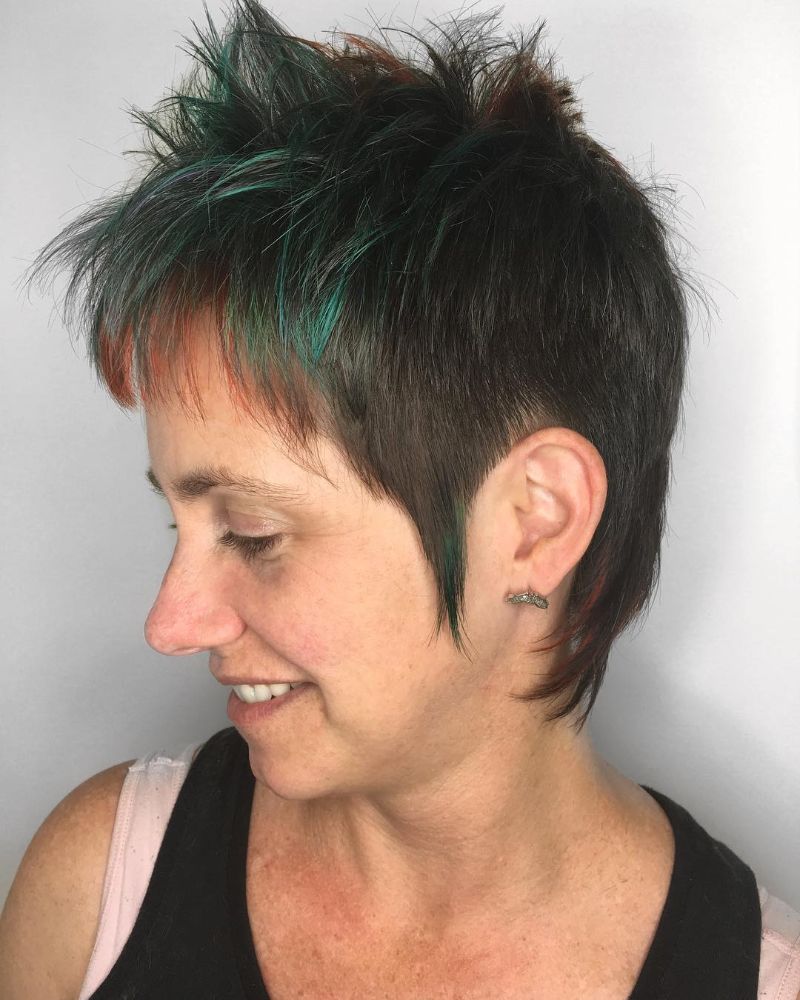 IG: @gen_stylist
– Blonde Bob with Dip-Dyed Bangs. Bobs are so in right now! Well, it seems that they will never go out of style, so every season some types of bobs are trendy again and again. Lucky you! If you like bob hairstyles, you will always be in trend! To add more spice to your bob dip-dye your bangs and your tips into beautiful blue hair dye.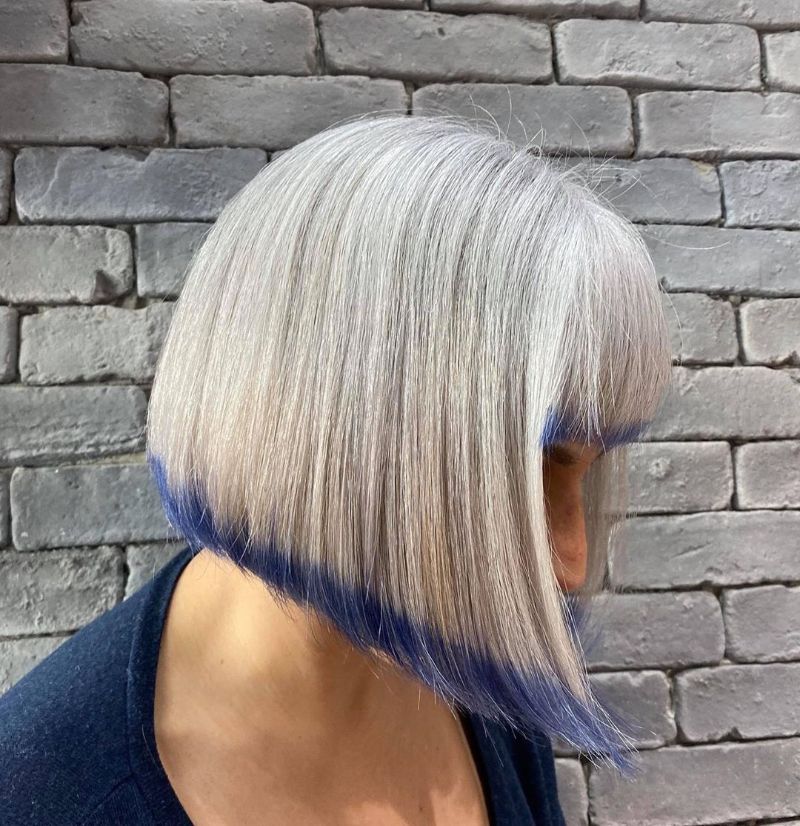 IG: @hair_and_style_bypetros
– Dark Brunette Haircut with Peach Pink Bangs. Pink curtain bangs – what can be more attractive on a girl of any age? give it a go!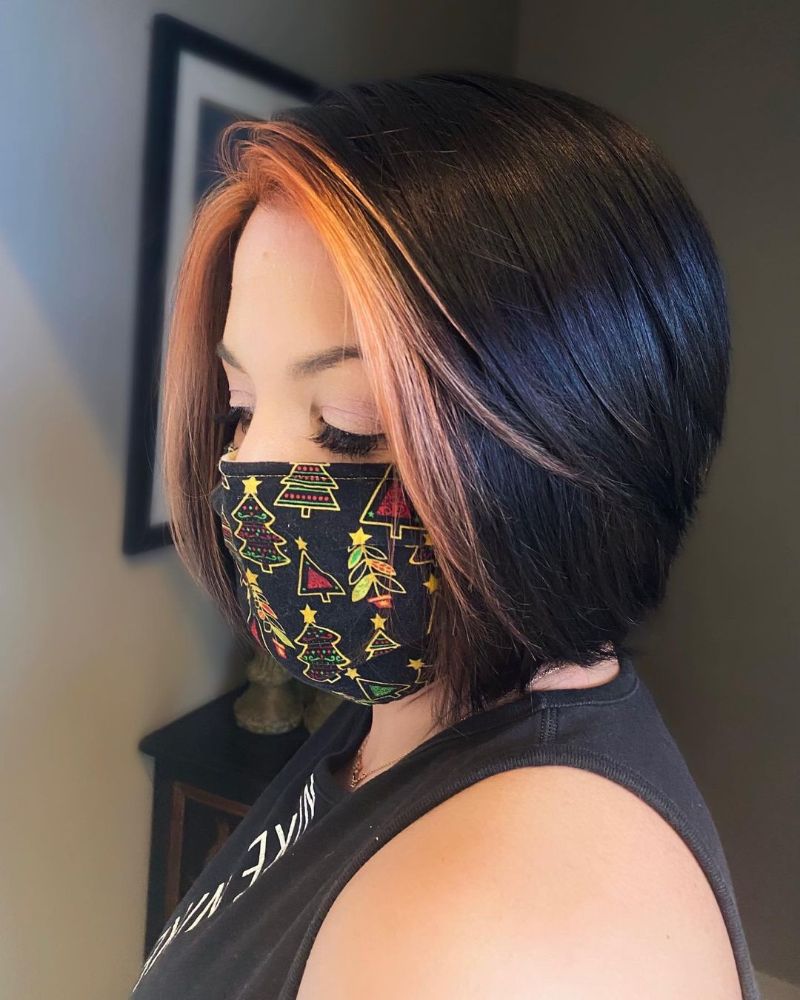 IG: @hairbylisamathews
– Brown Bangs and Blonde Underneath. Here we can't say exactly what has been colored. Brown bangs or blonde underneath? Anyway, the result looks cool and non-banal. Imagine it in other combinations of colors and choose the one that suits your wild nature!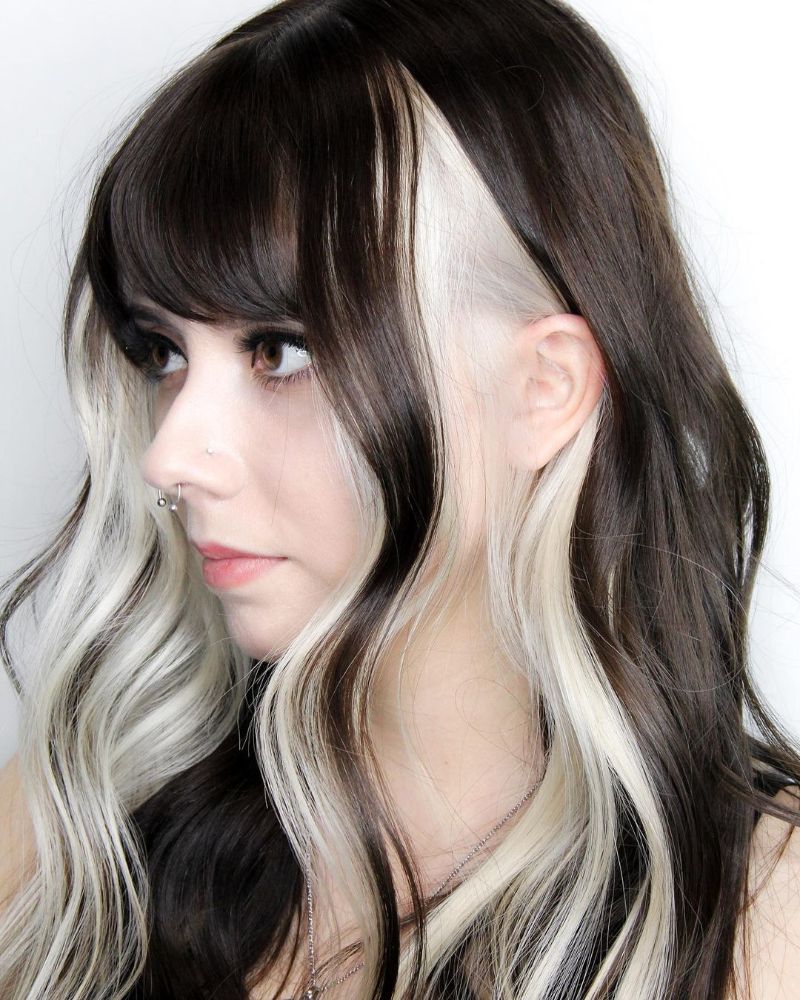 IG: @hairbysrothbrown
– Blonde Hair with Brown Bangs and Shadow Roots. Wow, what a hairstyle! It seems that coloring the roots darker and bangs with them too, and leaving tips blonde is a good idea, right? Anyway, if you see this picture, you wanna give it a go, and this means that the hair colorist is a real pro that knows his jobs pretty well!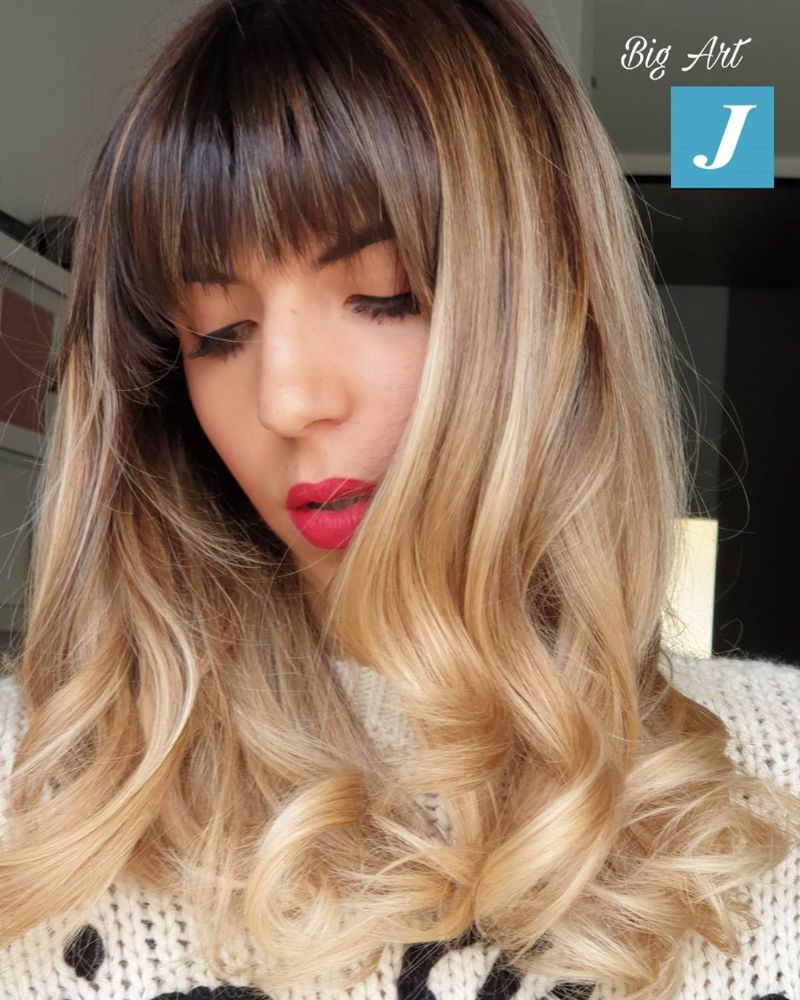 IG: @haircenterbigart
– Women's Shag Haircut with a Colorful Fringe. This feathered hairstyle looks youthful and fun. Try it if you want to spice up your cropped locks and look playful.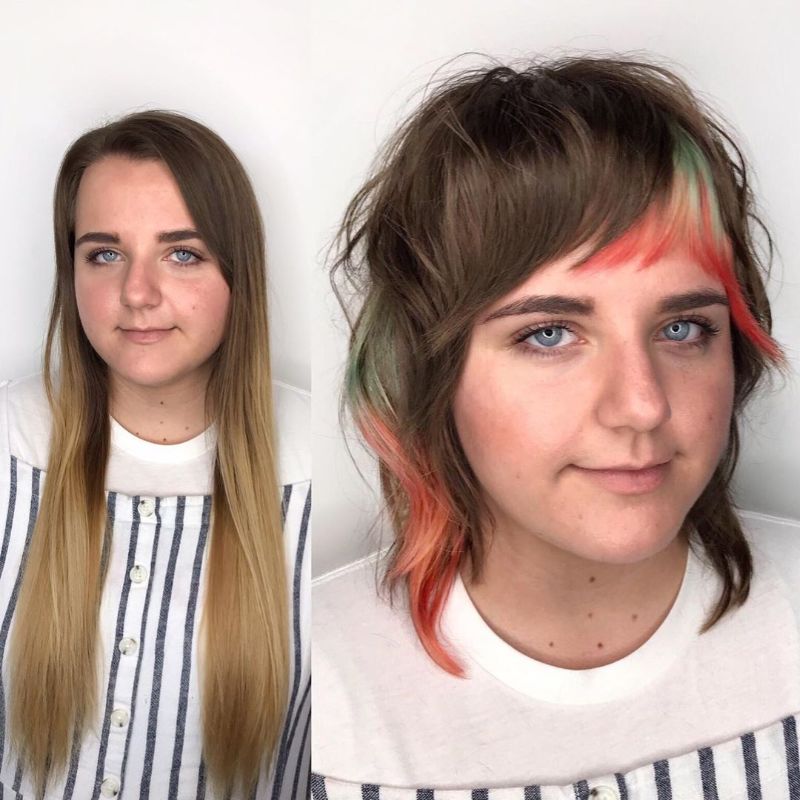 IG: @jordanaveryz
– Pastel Colored Bangs. Hell yes! This pastel hairstyle is soooooo good we can't stop staring at it! Pastel long bangs will be your calling card this season!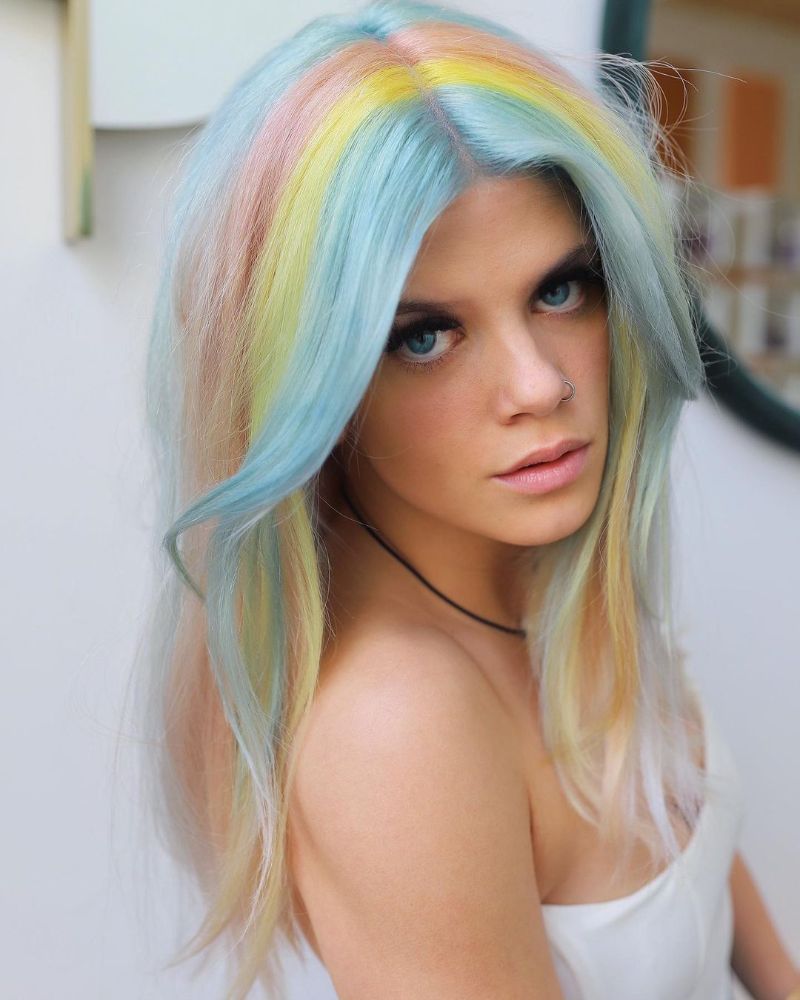 IG: @maggiemh
– Solid Brown Hairstyle with Ginger Red Bangs. bob with such details as colored bangs will become something that you will never forget in your life! Everyone will notice this non-banal hair dye trend on you and will want to copy it. But will they be bold enough to sport it?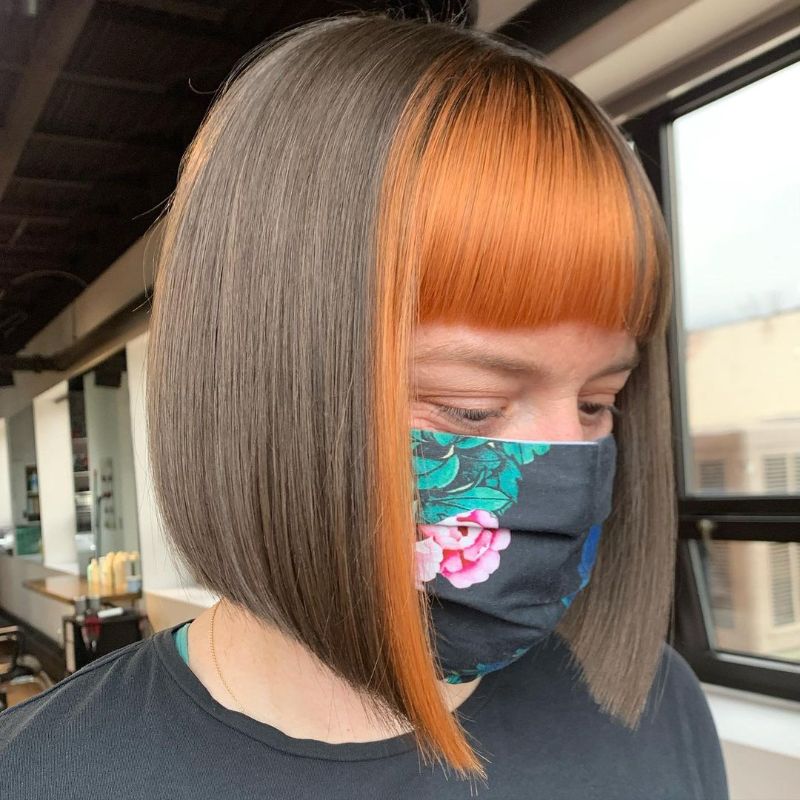 IG: @minhwaleehair
– Neon Lime Green Bangs. Not yellow and not green – the lime hair color looks good with the blonde base hair shade. Dip dyed bangs as we see is a hot hair trend rn. Why not try it, as it is soooo simple and low-maintenance?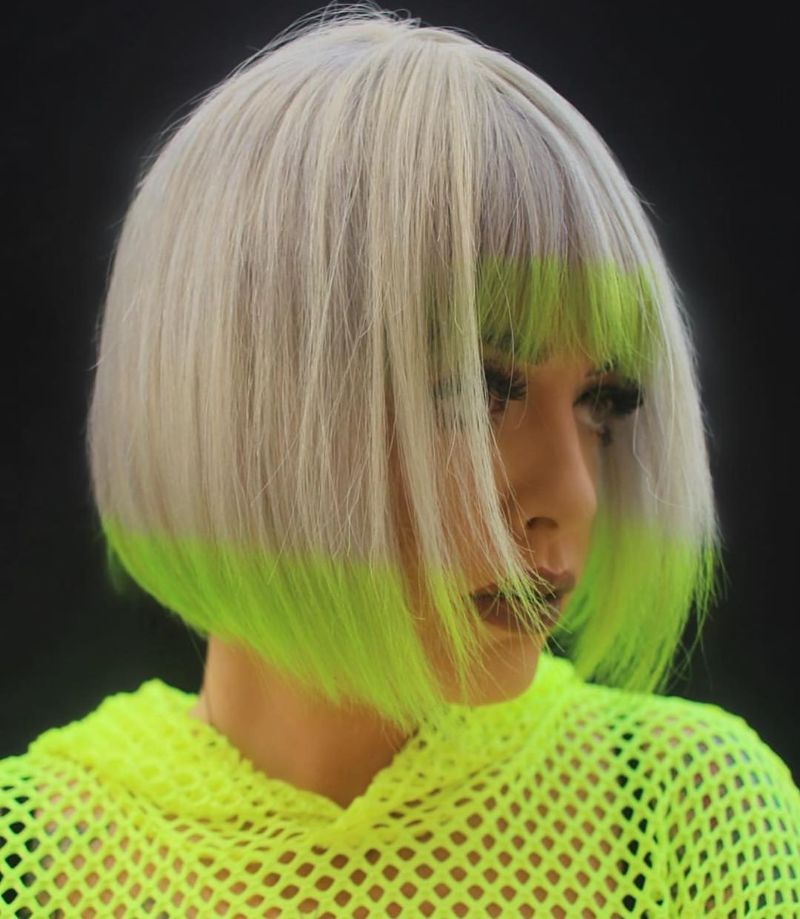 IG: @modernsalon
– Pale Green Bangs. Coloring just one side of your fringe is also OK. A good hair colorist will advise you how to incorporate the dyed bangs trend into your image and lifestyle.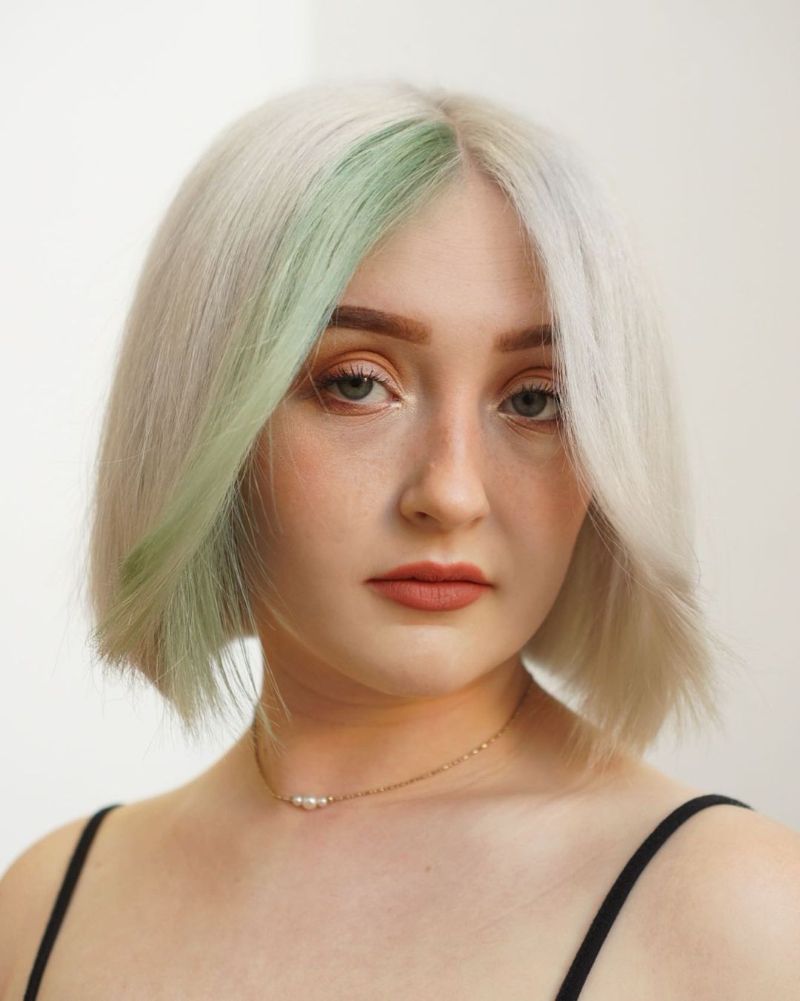 IG: @nat_doeshair
– Long Black Hair with Colored Bangs. Asymmetry in hairstyles is something a lot of women opt for. Just because you don't want your hairstyle to look too perfect and neat. A hint of rebel in a hairstyle never killed nobody.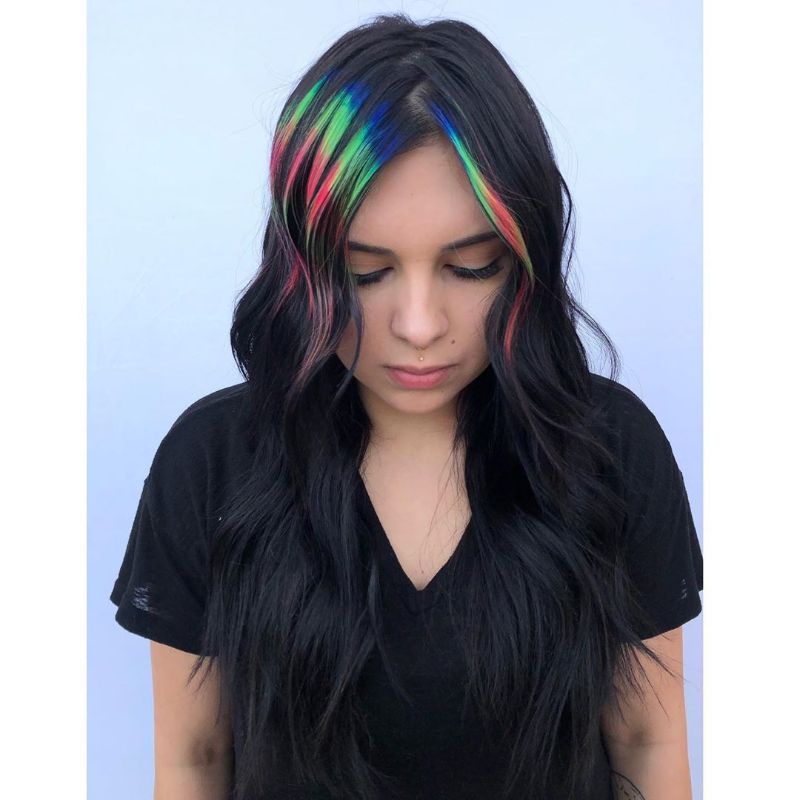 IG: @nayaanasarahy
– Blue Dyed Bangs with Red and Blonde Hair. We even don't know how to name this hairstyle properly… Ombre? The transition is too obvious and harsh… Balayage? Too bright for balayage! Money pieces? Yes, but with a twist! Anyway this combo of bright red tips, grayish blonde base and front bright blue strands aka bangs is marvelous, and something ethereal!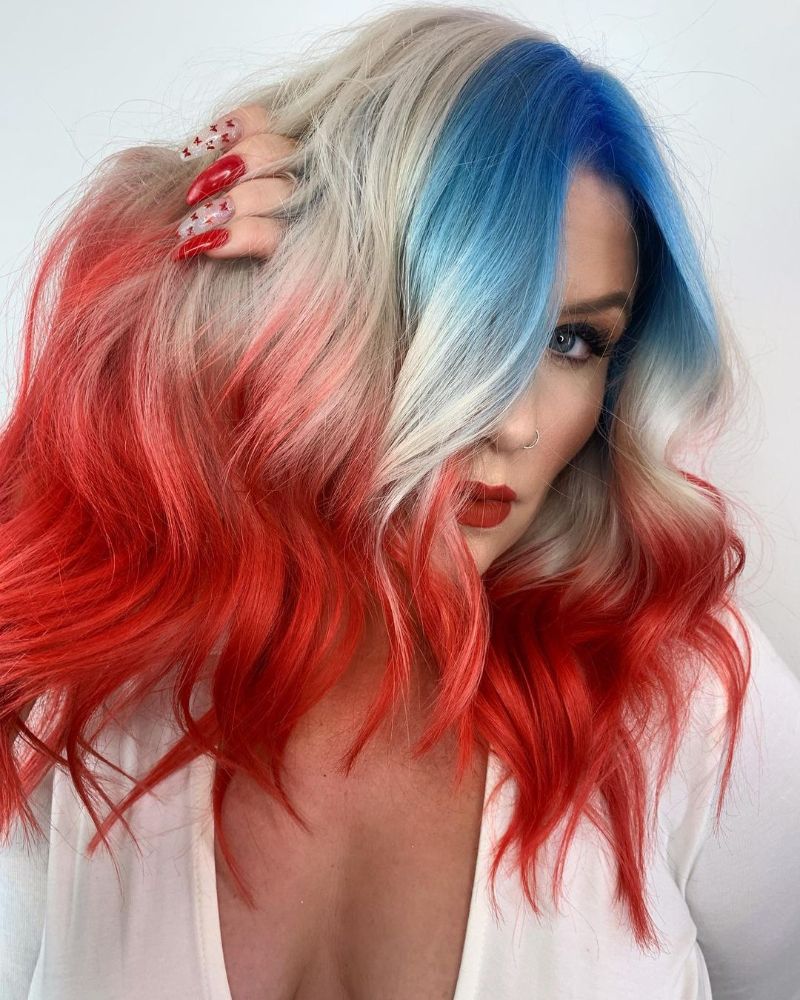 IG: @paintitblonde
– Brown Short Hair with Blonde Dyed Bangs. Some hairstyles are bold and extra noticeable, but it is hard to imagine them on a business lady or an office worker. If you need a hairstyle that can be both suitable for parties and work – opt for a solid base shade and blonde bangs. A golden mean that lets you try a trend but still look professional.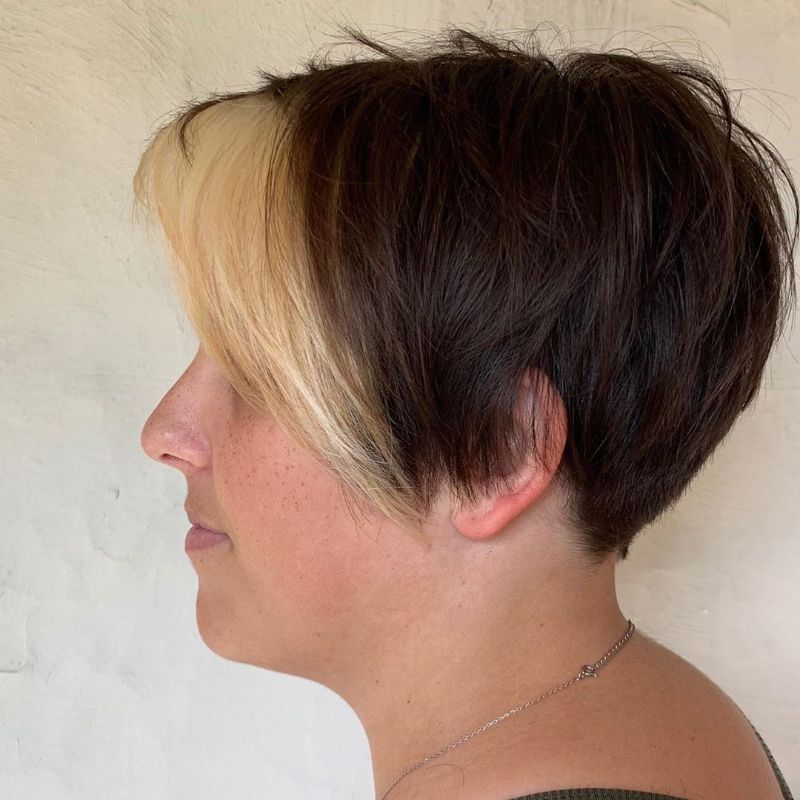 IG: @patricciuti
– Natural Curly Hair with Dyed Bangs. Isn't it stunning? Just look how a brown chocolate base mixes with several completely different colors from the color wheel on top and enhances the curls even more.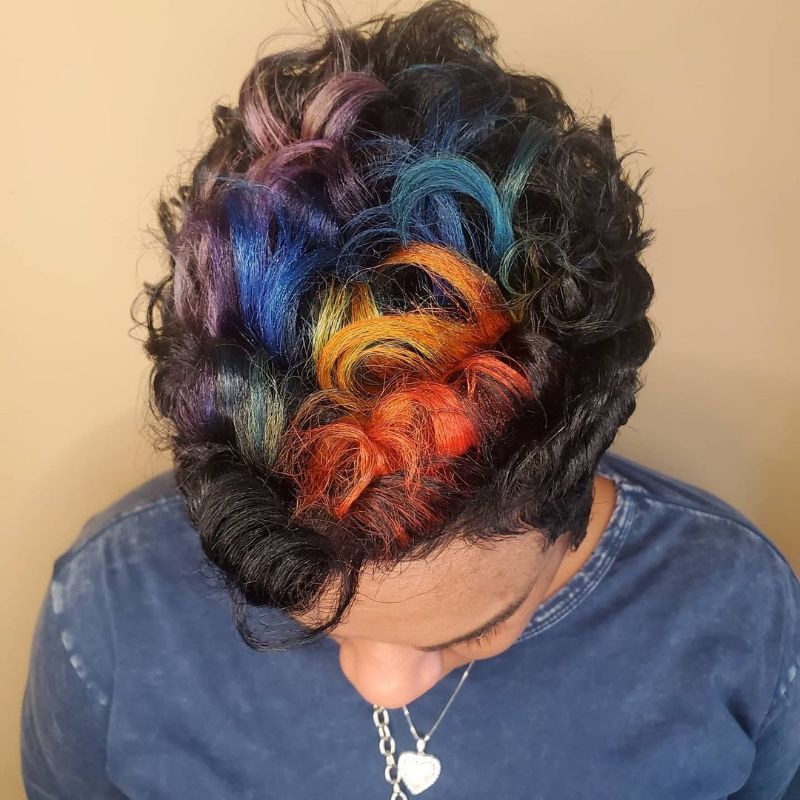 IG: @phenomenalcutzandstyles898
– Turquoise Green Bangs. Very dark hair and dark green bangs is a combo that works in any life situation. Imagine how well a bun with colored bangs will look in this case!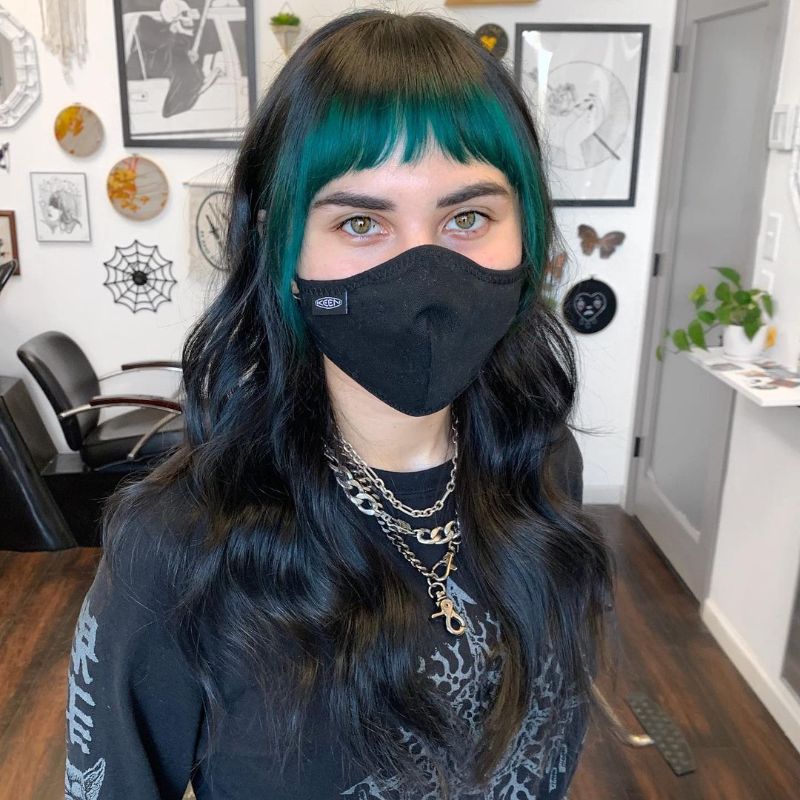 IG: @pinkdagger
– Colored Bangs with Short Hair. A very creative combo that will need pro skills. So don't even try to recreate it at home. Book a good haircolorist!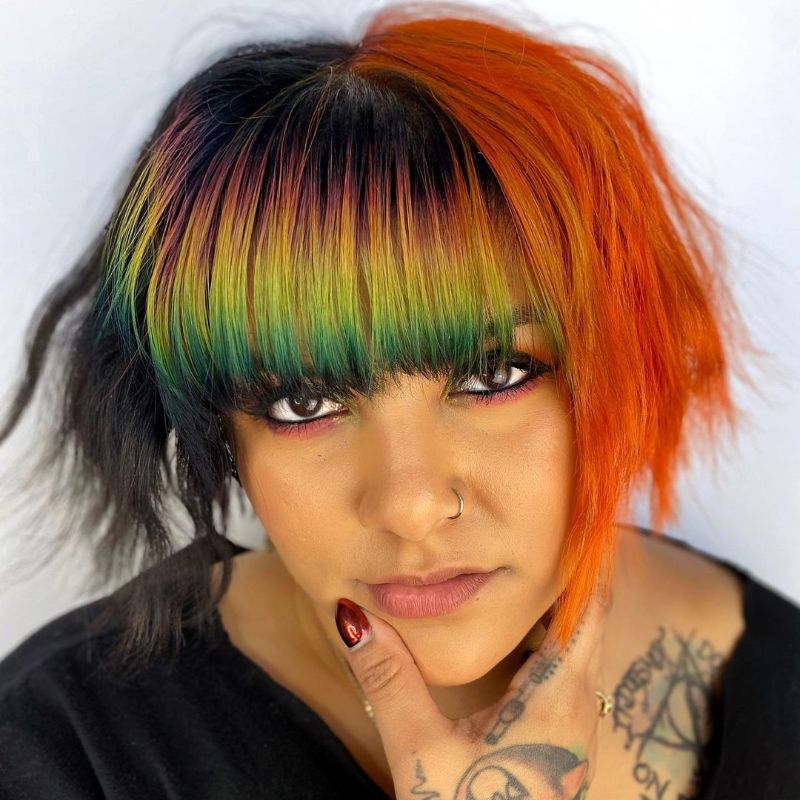 IG: @katemcbridehair
– Red Colored Underneath Bangs. Something new in our selection. Not the whole bangs are dyed, but only their lower, bottom part. Plus several strands all over the head. Chocolate and dark red mix in hairstyles is always super-hot.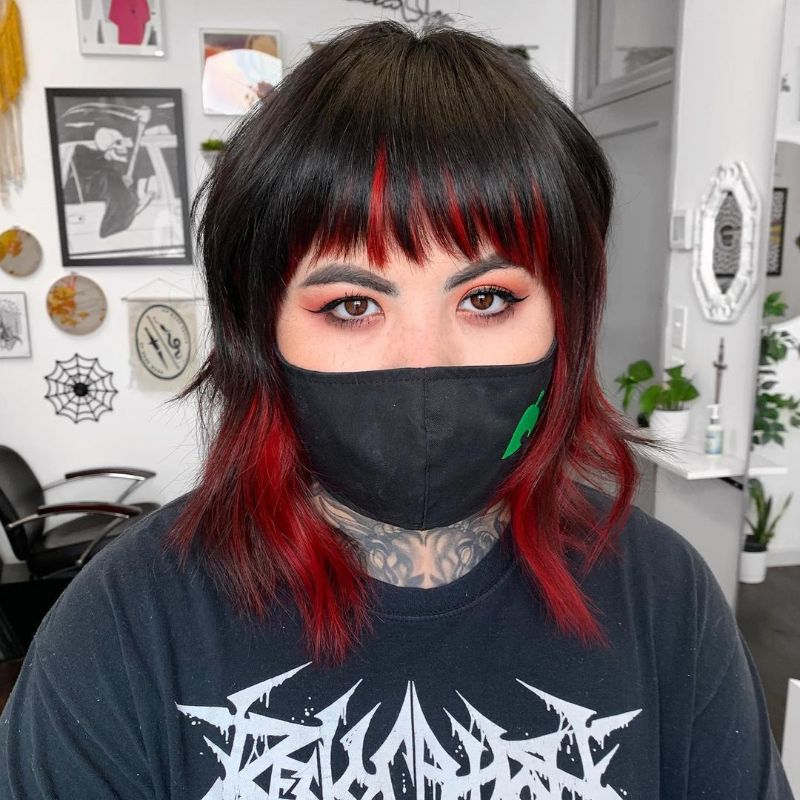 IG: @pinkdagger
– Natural Gray Bangs. Sometimes Mother Nature is even more creative than humans. So your natural grays can create a beautiful 'colored bangs' hairstyle without any effort. Embracing gray hair is a hot trend now, so if your bangs became gray, choose a good haircut and wear them with grace.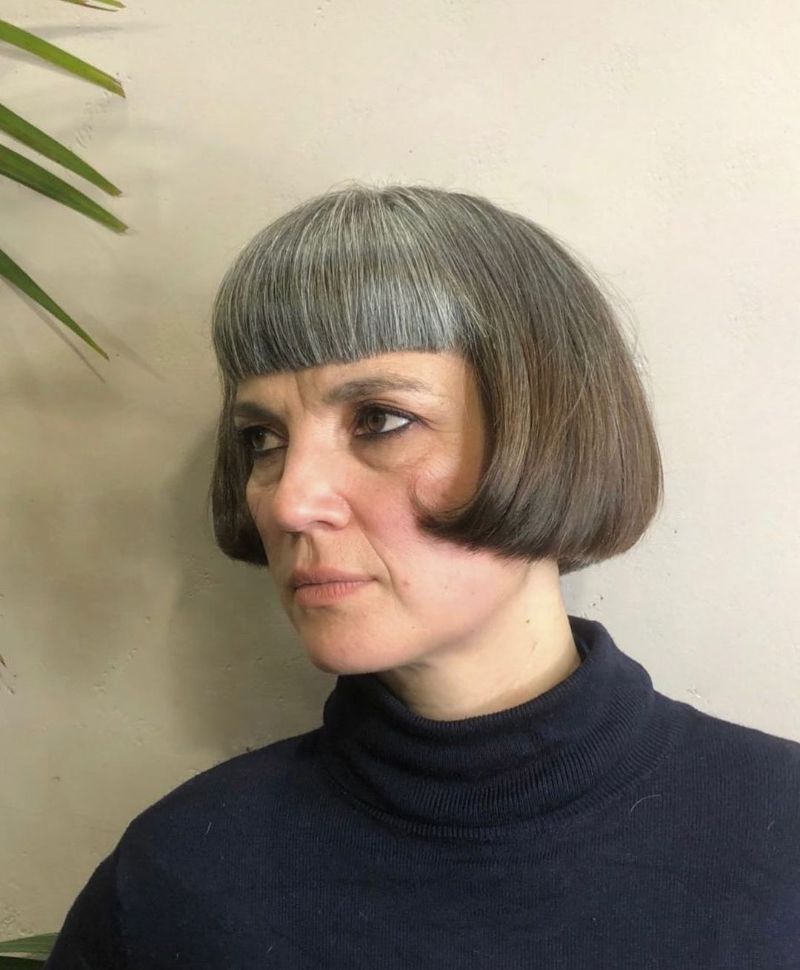 IG: @juiceheadesigner
– Mullet Hair with Dyed Bangs. A soft face-frame like in this photo will look cool with creative glasses.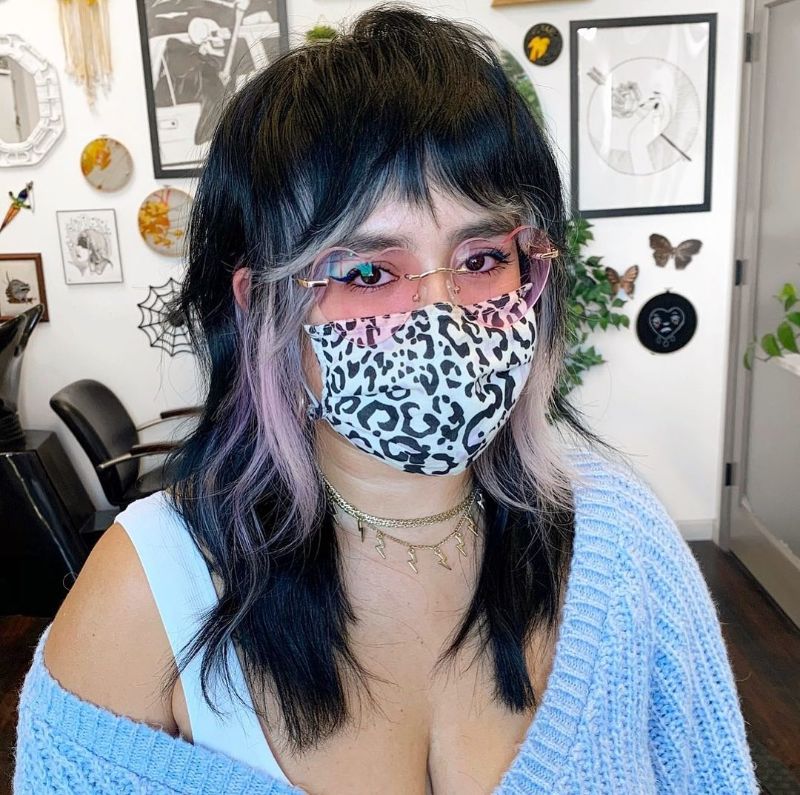 IG: @pinkdagger
– Short Natural Curls with Pink Bangs. Want a dyed bangs hairstyle for curly hair? Here it is. A fresh, trendy hair color idea for girls with naturally curly hair. Looks very natural and effortless, doesn't it?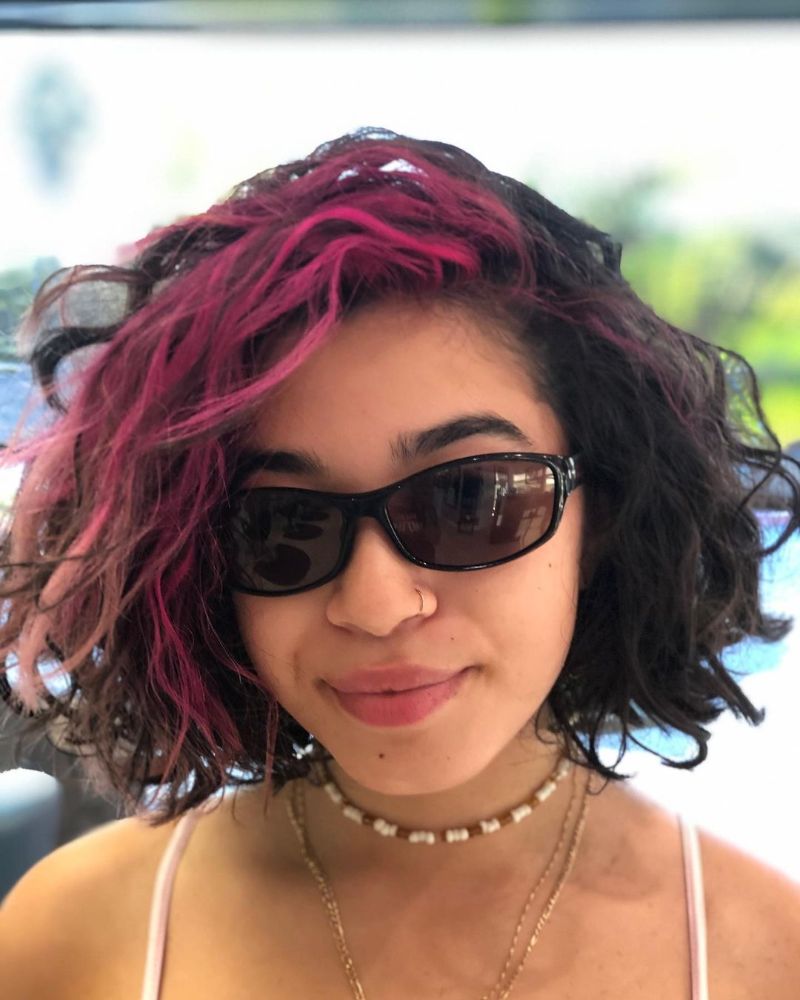 IG: @hairgoesvanessa_
– Full Green Bangs. What a delight for eyes! The fuller the bangs, the more WOW-effect your hairstyle will have!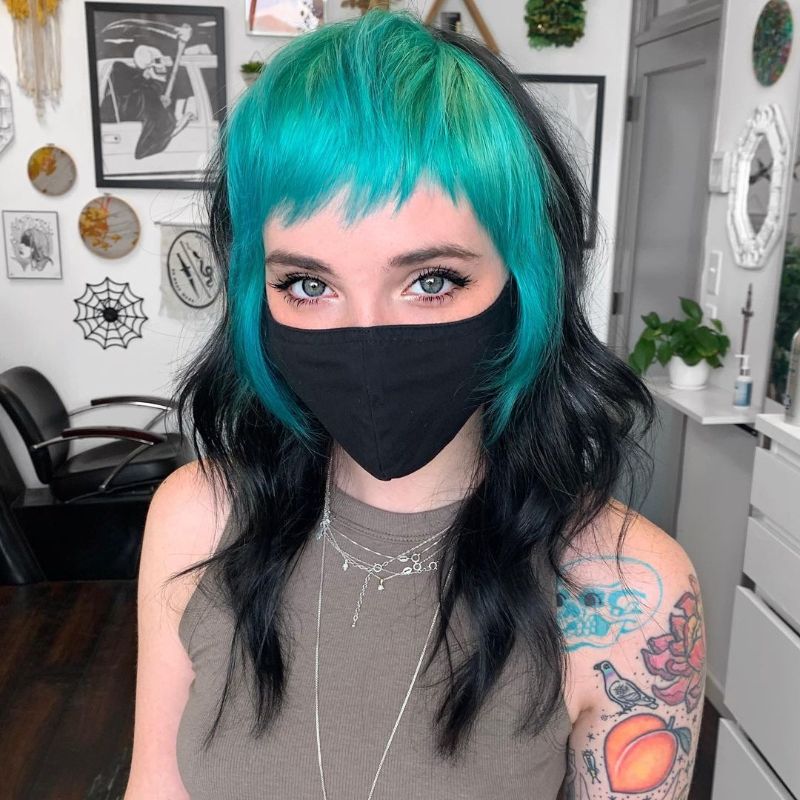 IG: @pinkdagger
– Tri-Color Bangs. Or four? How many bright colors do you see in this picture? Anyway, the transition is made pretty much in a trendy tie-dye technique, which will be a great idea for your teen daughter's summer hairstyle (or maybe mother-daughter hairstyles?).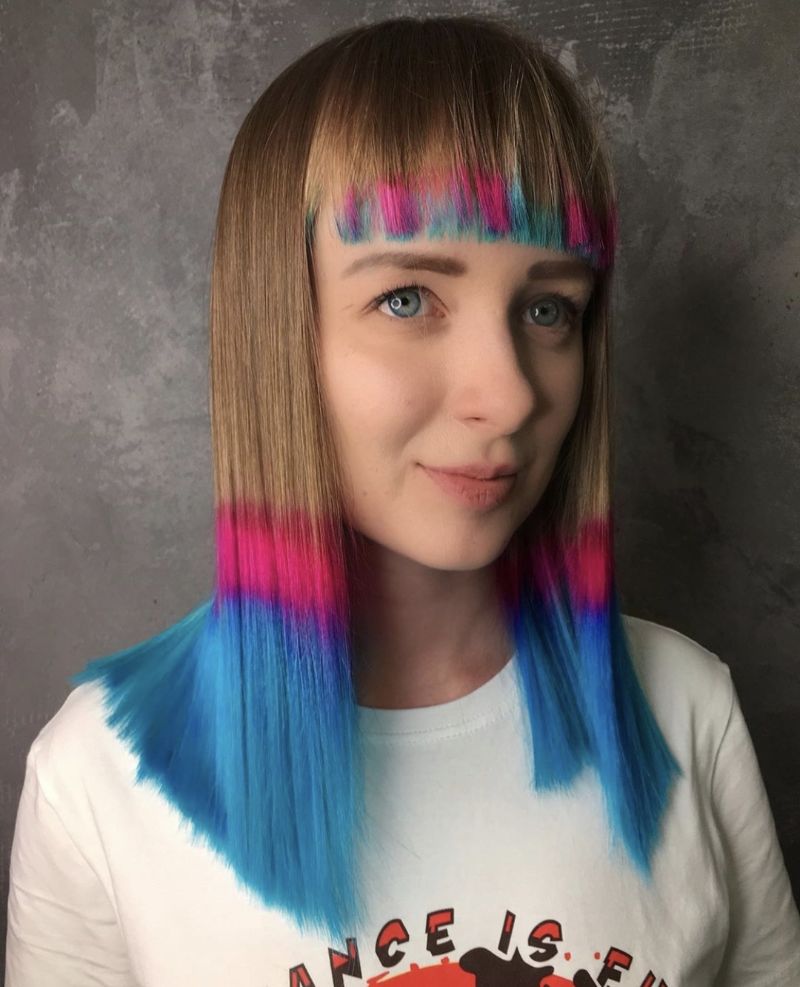 IG: @pulpriothairrussia
– Spiky Hair with Dyed Bangs. Straight short bangs and green dye is a mix that will match all your punk clothes.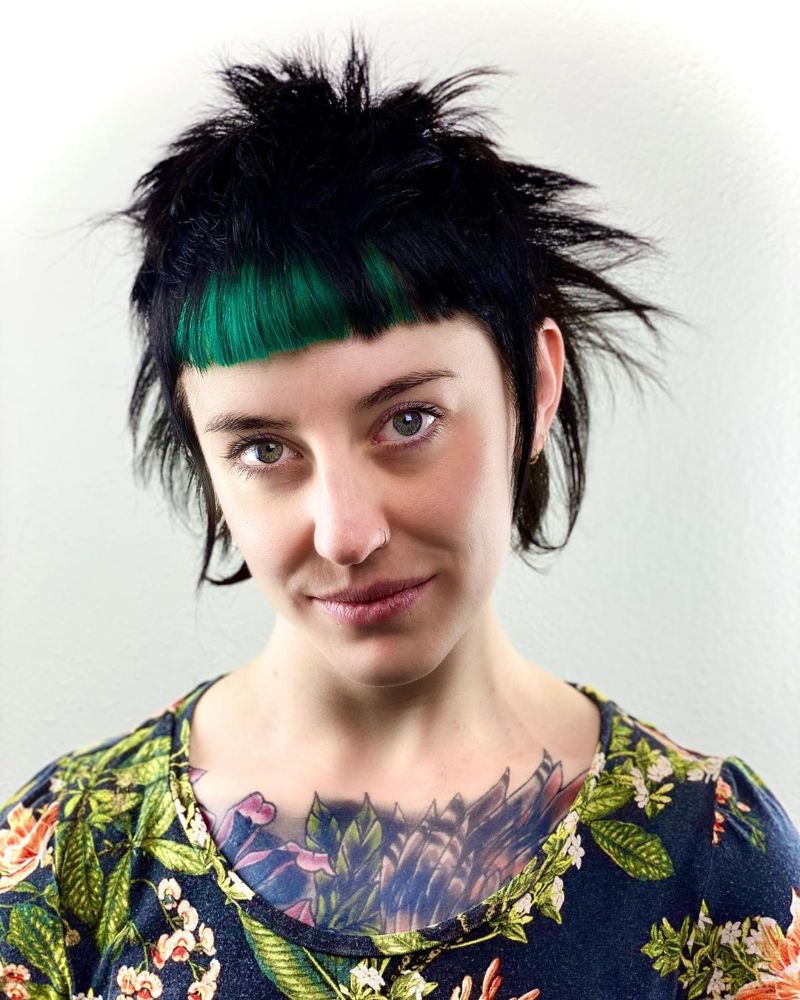 IG: @riahmai
– Two Tones of Blue Hair with a Fringe. OMG, this hairstyle is stunning! If you think about combining two tones of one hair color, go for it, it will look tasty and bold! Just don't forget to moisturize your locks well, as proper post-dyeing home hair care is a must!
IG: @adlydesign
– Rounded Bob with Pink Bangs. Wow, these bangs are colored just partly, and we definitely love this idea!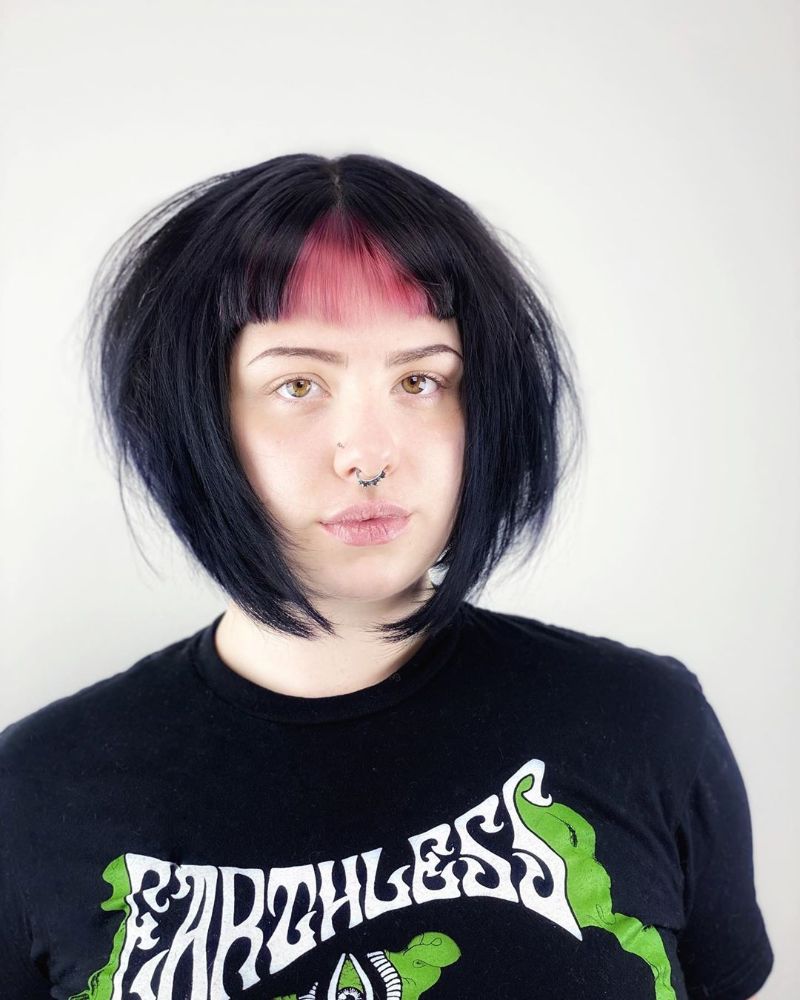 IG: @riahmai
– Blue Fringe. Looks like these bangs have been frozen… And this is a really cool effect for a badass girl! Also, these waves…. are so soft and feminine!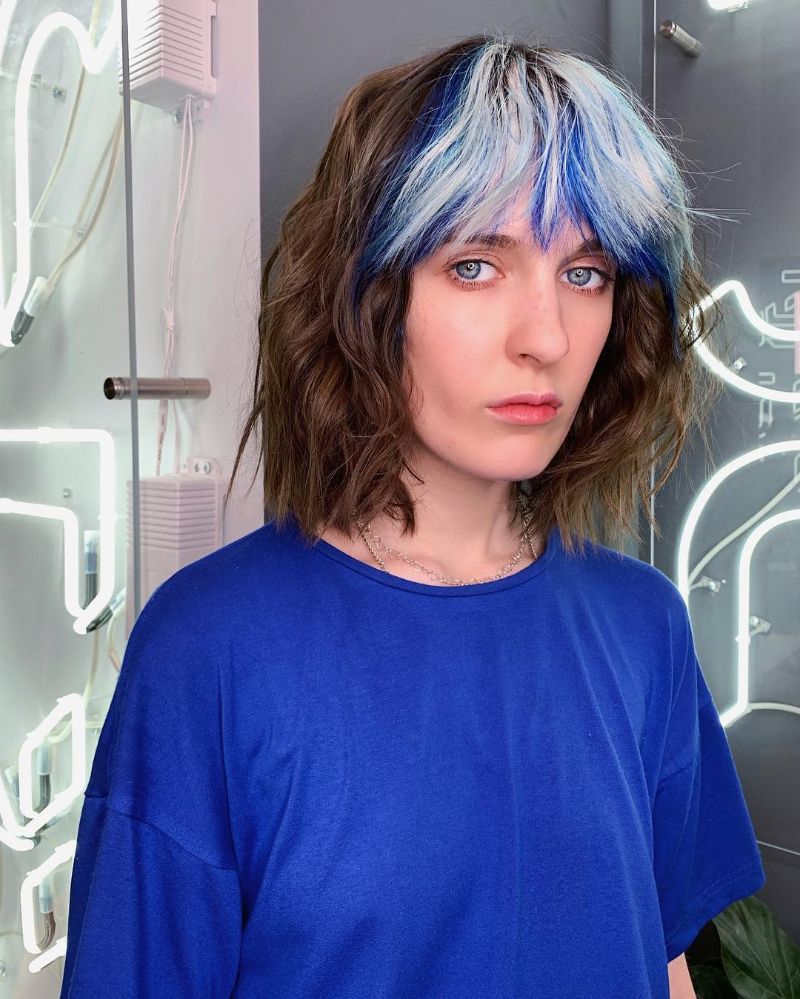 IG: @ryabchik.moscow
– Highlighted Bangs. Bangs don't necessarily need to be dyed a completely different shade. Just highlight them as you highlight the rest of your hair. Choose thick highlights. Your bangs will look much lighter, as well as the face-framing strands and several other streaks in your hair. Additional dimension achieved!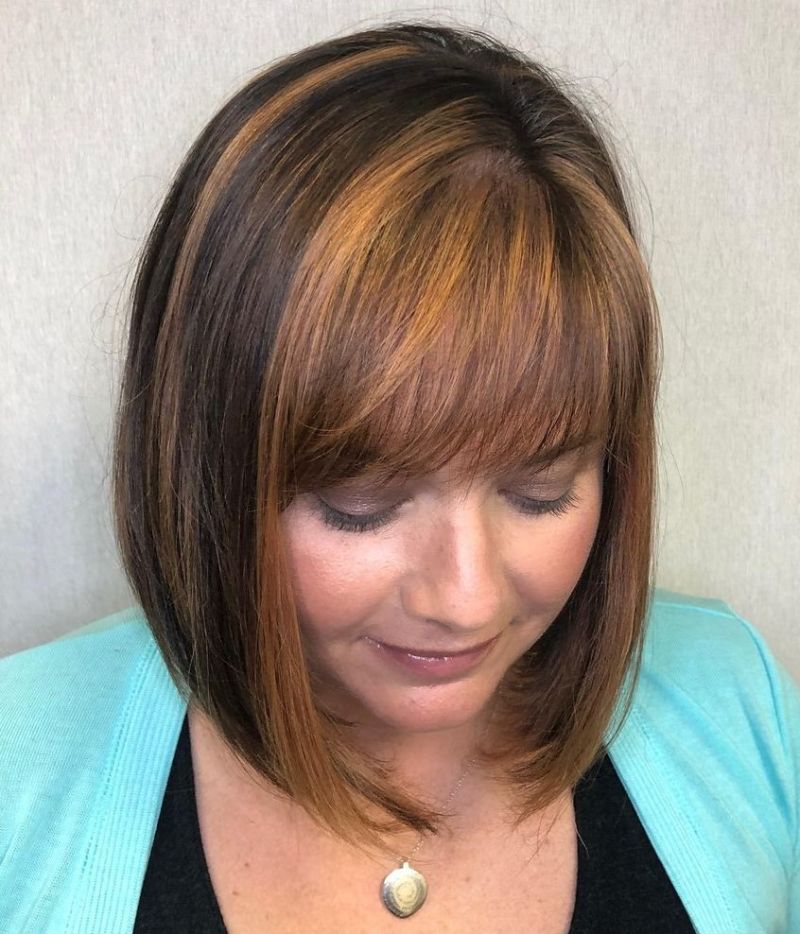 IG: @salonstrain
– Rainbow Bangs. Mix 5-7 bright colors on your bangs and be the brightest person in your class or office! A rainbow fringe is a hat trick if you need to stand out from the crowd.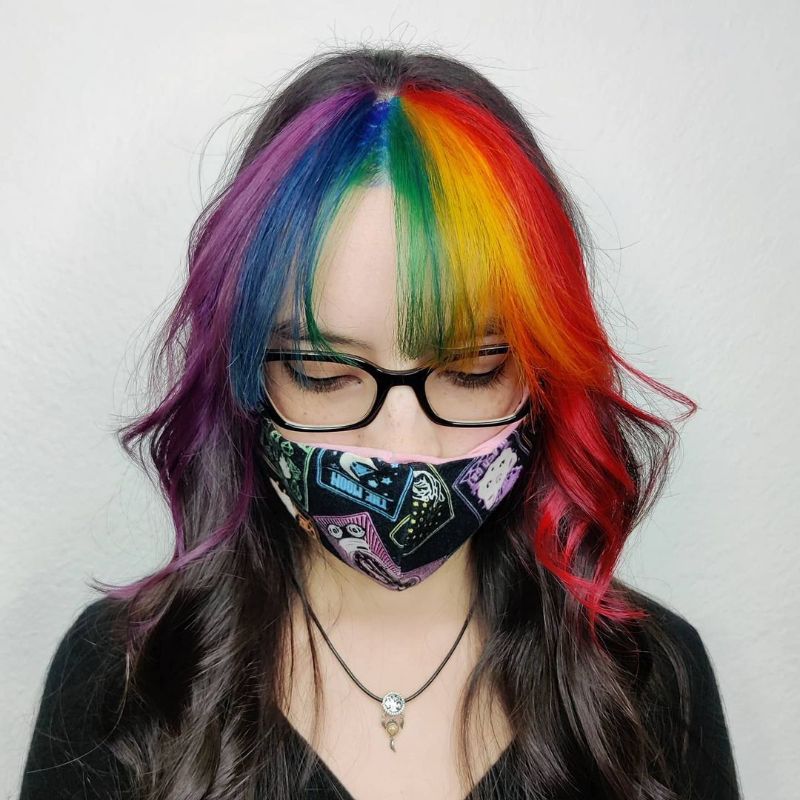 IG: @sarahhicks_doeshair
– Yellow Dyed Bangs. You may dye your bangs literally any color! Why not try yellow? A person with this hairstyle can't be in a bad mood. It's just impossible.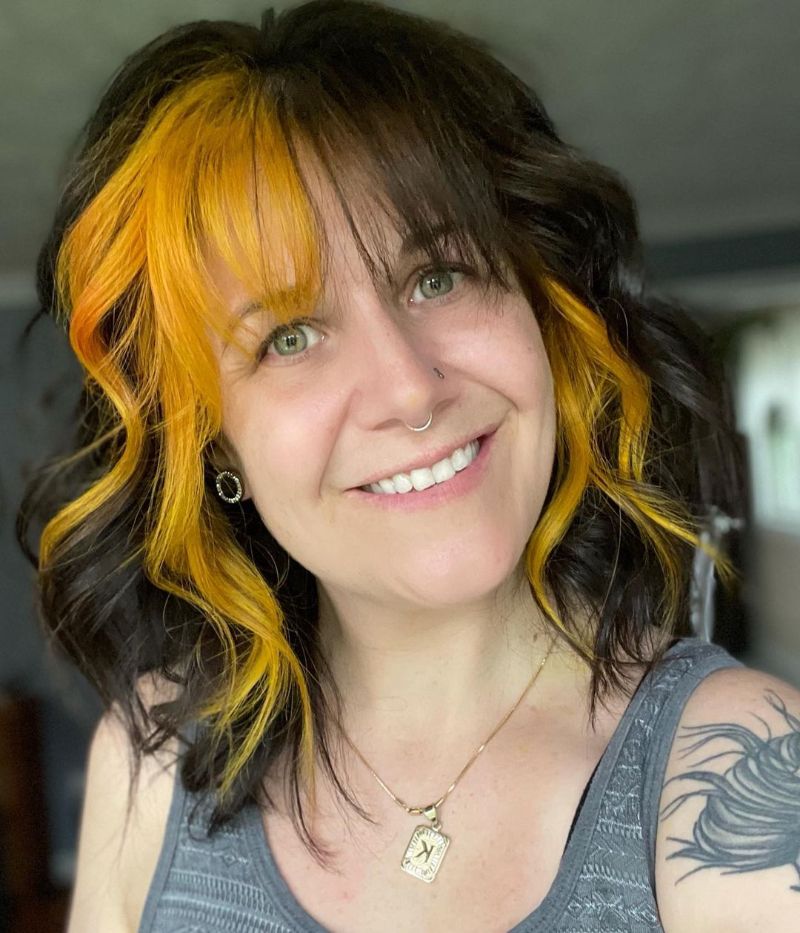 IG: @she_runs_withscissors
– Half Dyed Bangs. One more creative dyed bangs idea, great! Split hairstyles, have you heard about them? It is when half of your head is dyed one color, another half is bright. Here we see the updated trend. Only the front half of hair is dyed bright orange, plus bangs too.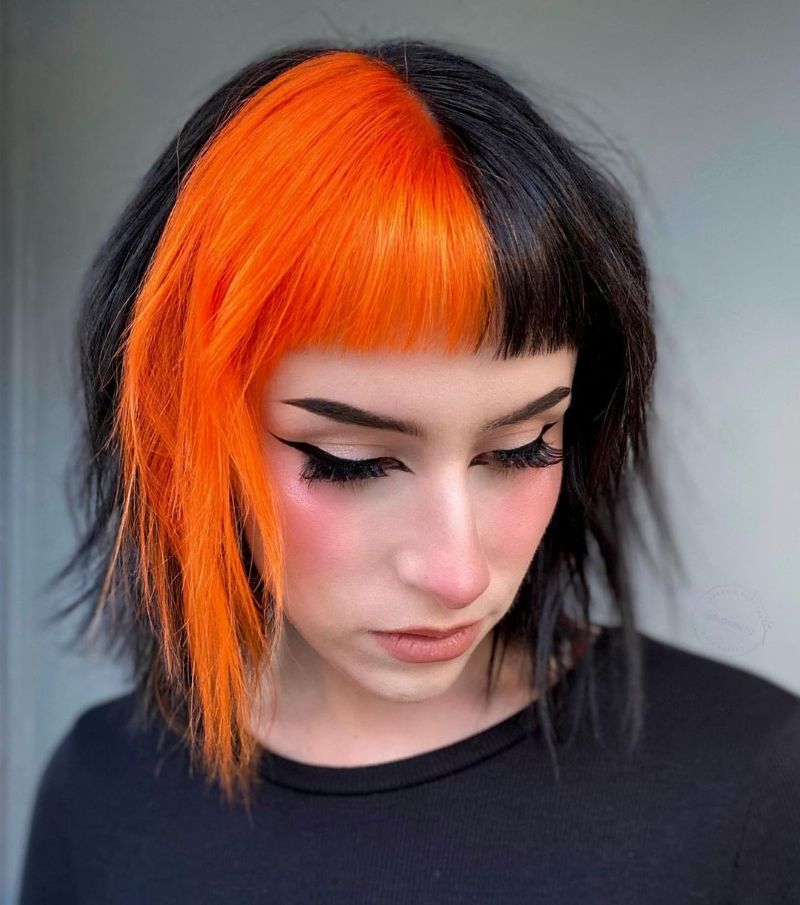 IG: @supvalerie
– Raven Black Dyed Bangs. Blonde hair and black bangs? Why not! Everything is possible with today's wide variety of hair dyes, hair bleaches, hair coloring techniques and hair treatments that your hair needs after dyeing!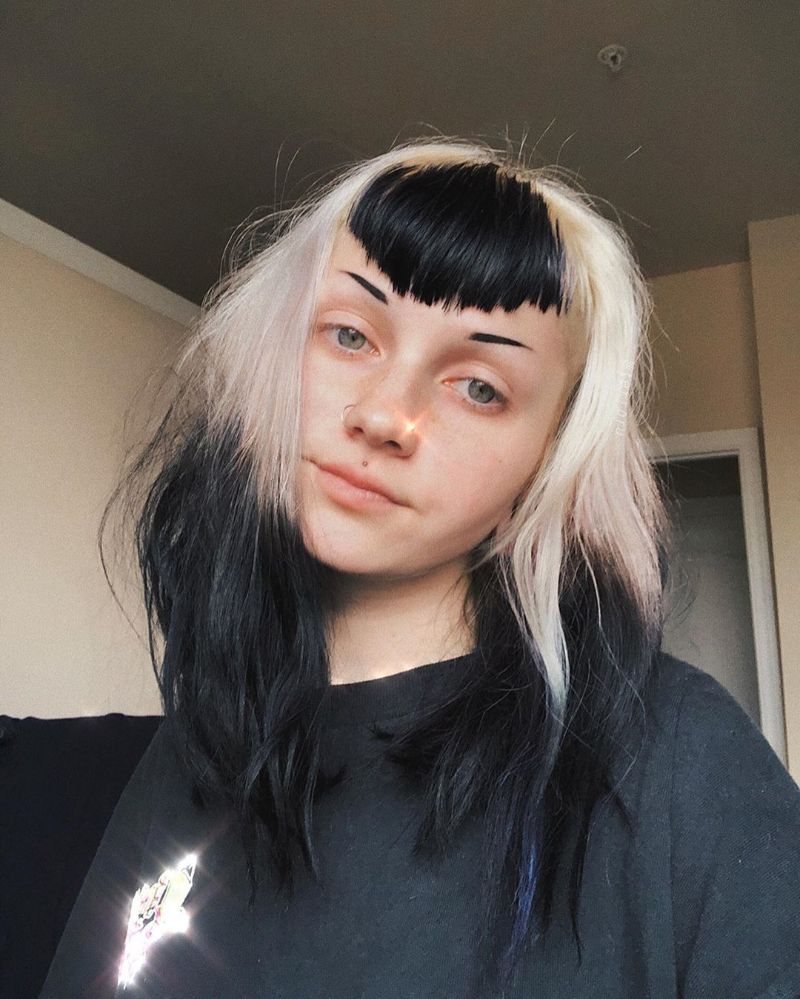 IG: @terroru
– Fuchsia Bangs. Light pink hair and bright fuchsia bangs is a combo that always reaches a lot of likes on social media. Such looks don't go unnoticeable.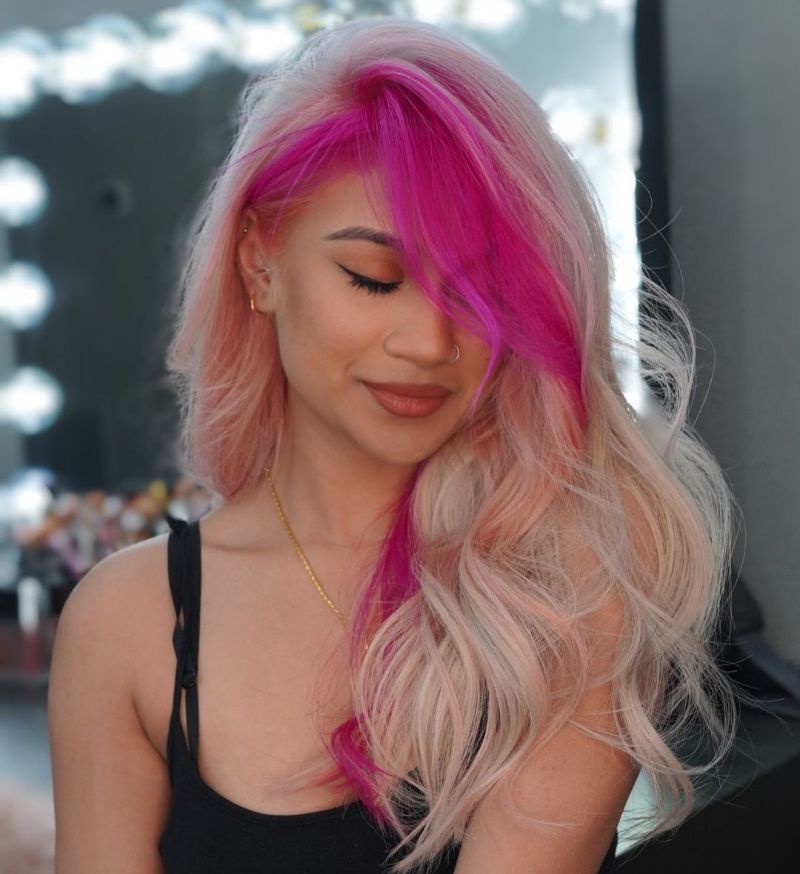 IG: @traceyhairstyles
– Orange and Yellow Colored Fringe. Enliven your blonde mane by coloring your hair from the midshaft and your bangs in bright shades. A mix of yellow and orange will be perfect for warmer seasons.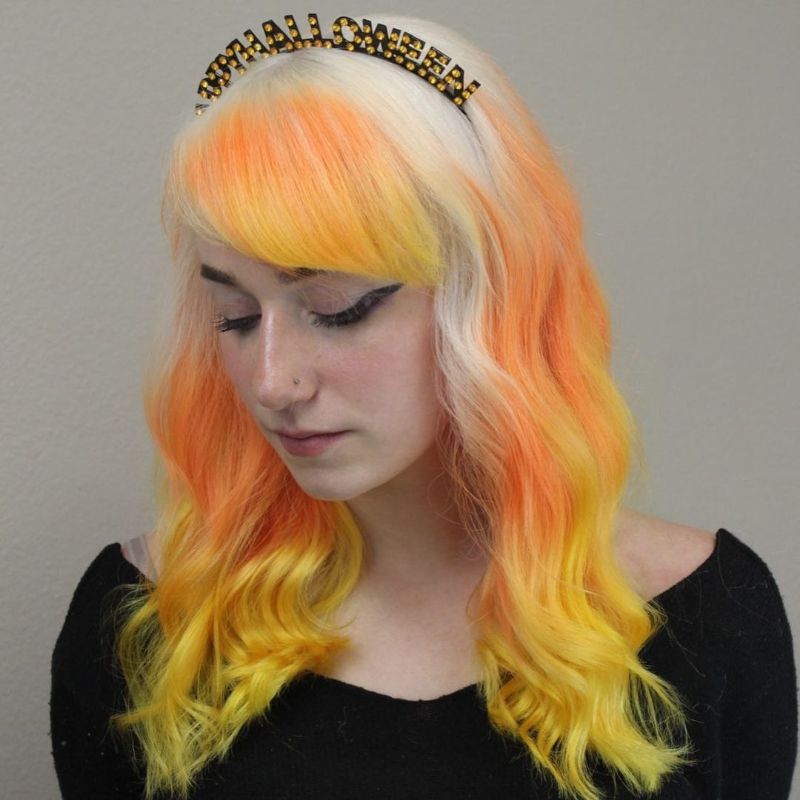 IG: @ziabyrd
– Warm Blonde Hair with Bright Bangs. Just one strand colored and so different the end result looks! right shades exist to give us room for experiments on our head. Don't miss a chance to wear bright colors in your hairstyle, this is worthy and can be canceled any time you become bored with bright shades.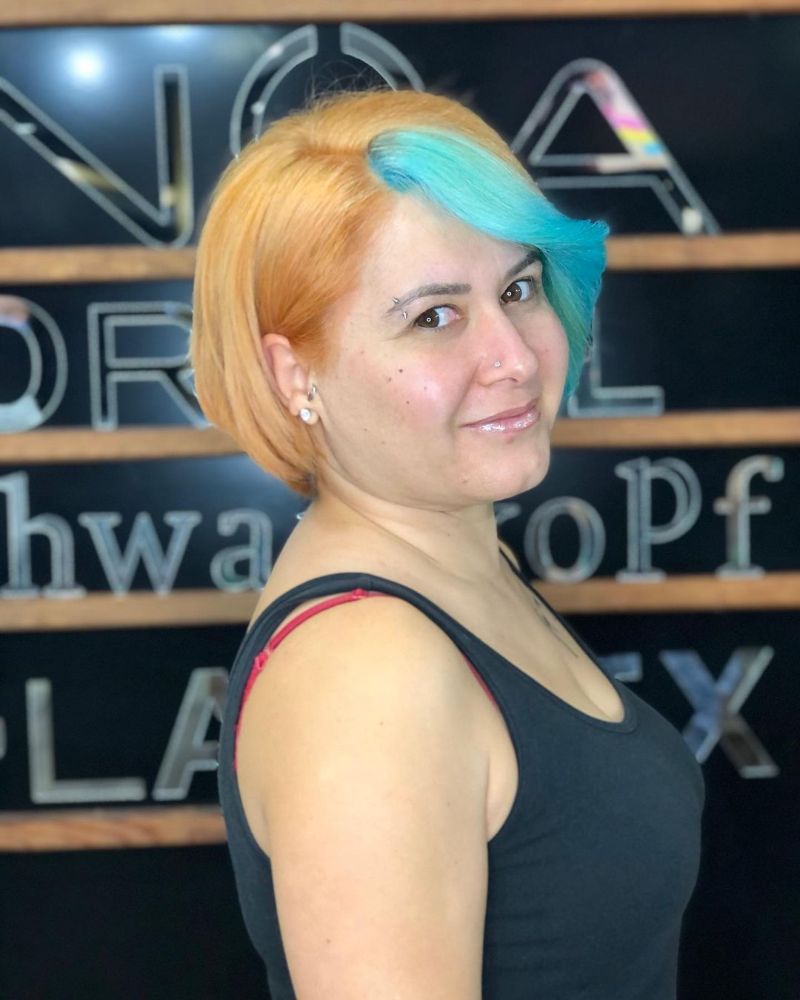 IG: @zzkuaforzerrin
– Short Black Spiky Hair with Colorful Bangs. As you see, green is one of the top colors for dyed bangs. Maybe because it is the most universal hair color, or the most pleasant for eyes, we don't know why exactly. Anyway, it looks rebellious and cool.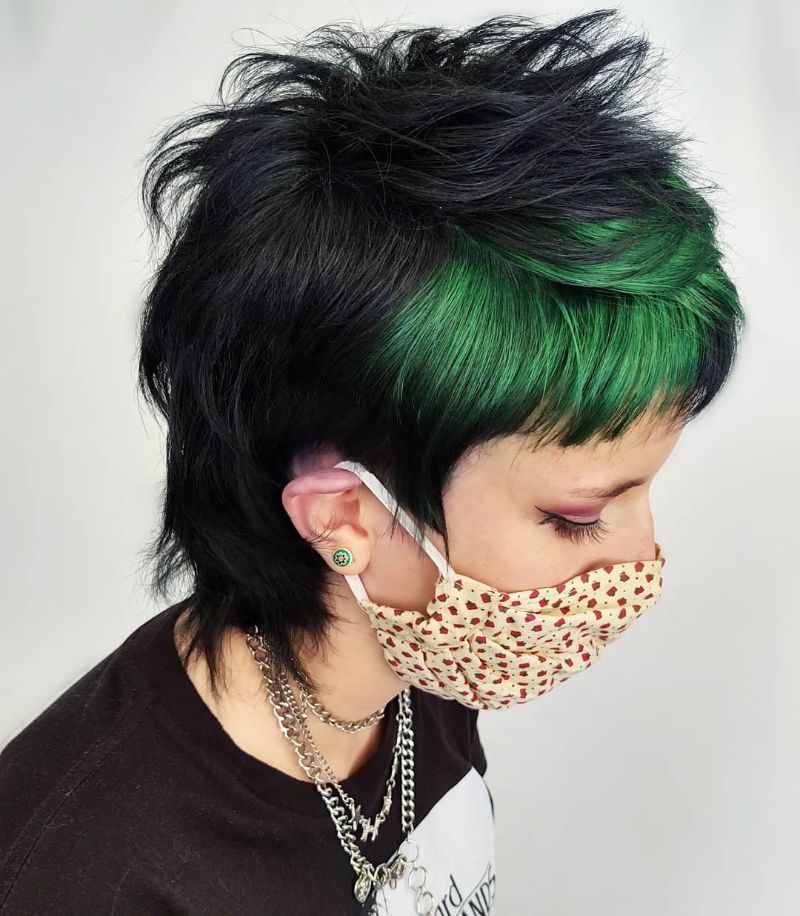 IG: @adlydesign
– Rose Gold Hairstyle with a Dyed Fringe. Pink and strawberry blonde are two shades that combine perfectly in hairstyles of all hair lengths.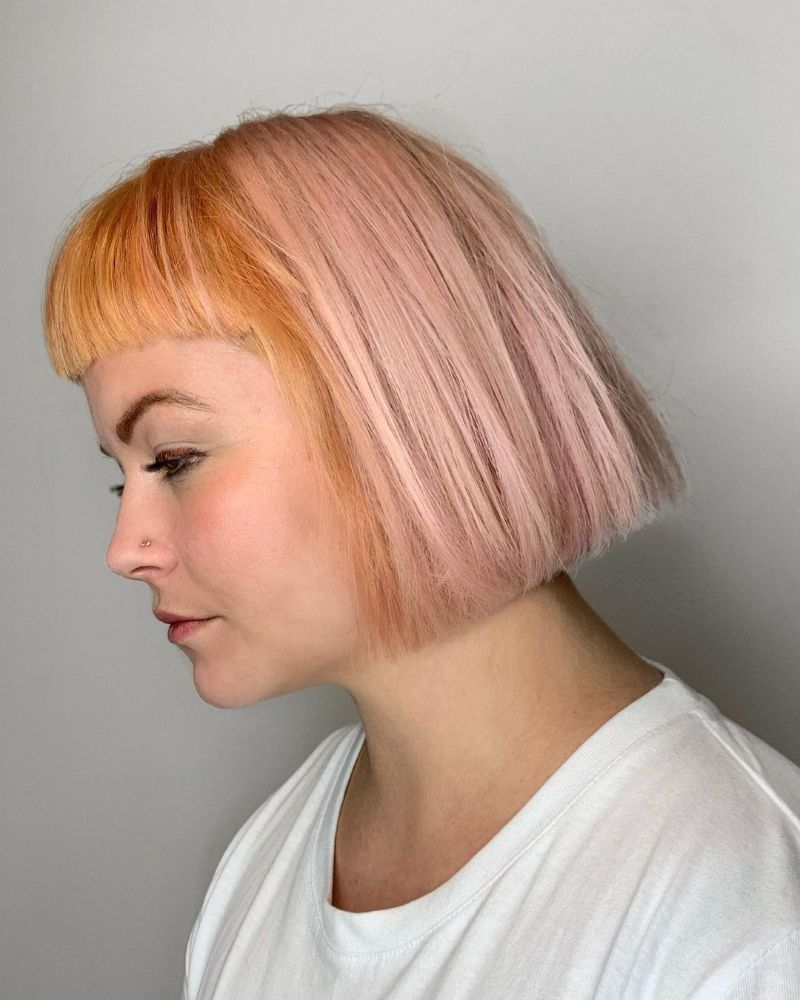 IG: @aslabreyt
– Rainbow Fringe with Brown Hair. Here the colorful stripes are placed horizontally, which gives us one more rainbow bangs idea that can be implemented with the help of a good hair colorist.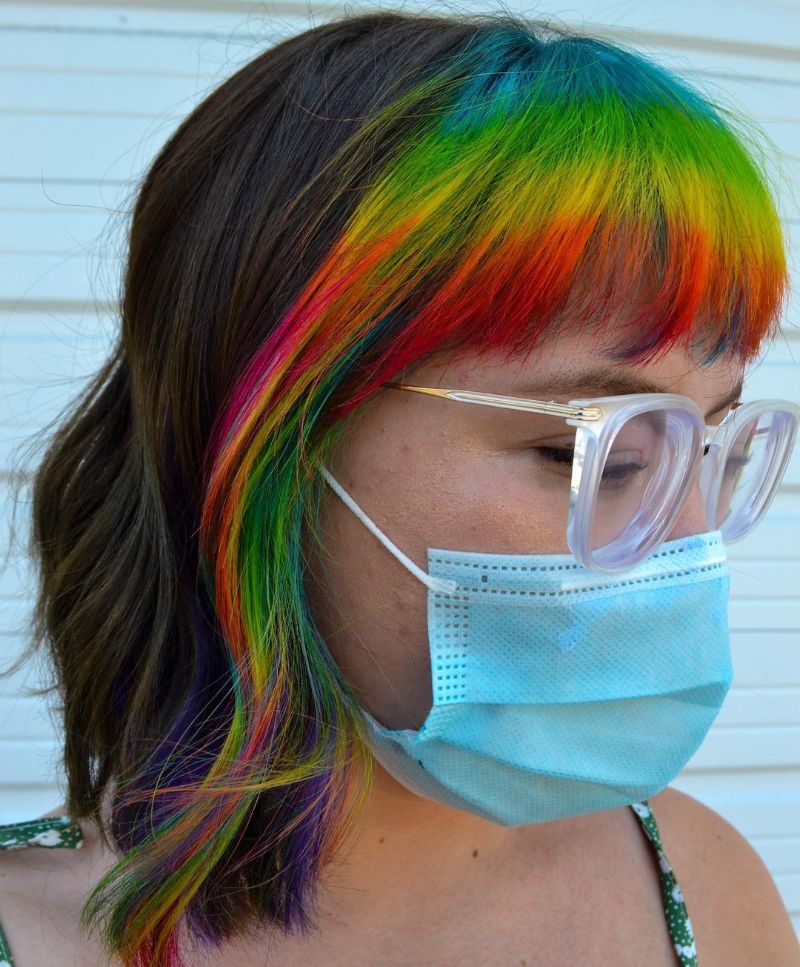 IG: @jacobhair
– Gray Hair with Front Pastel Colored Bangs. Two stripes of hair on both sides of your face colored pastel shades are a good idea if you are sporting the platinum gray hair color.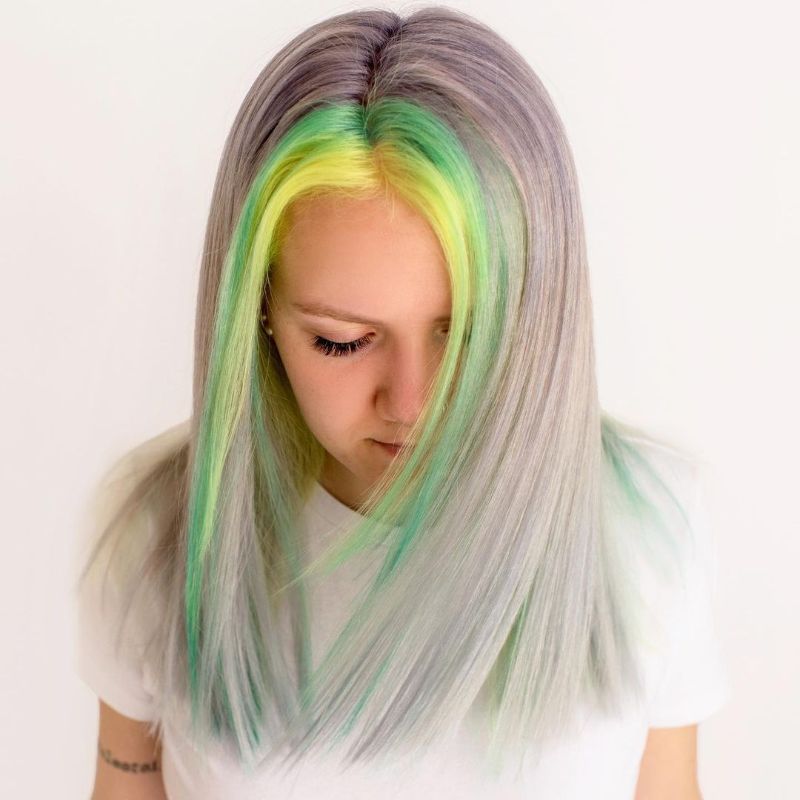 IG: @lzhouseofhair
– Auburn Hair with Blue Bangs. Contrasts in hairstyles are for very bold women that know what effect they want to have on all the surrounding people. Such type of hairstyles are always the most noticeable and talked about. Be ready for compliments (and haters' attacks too).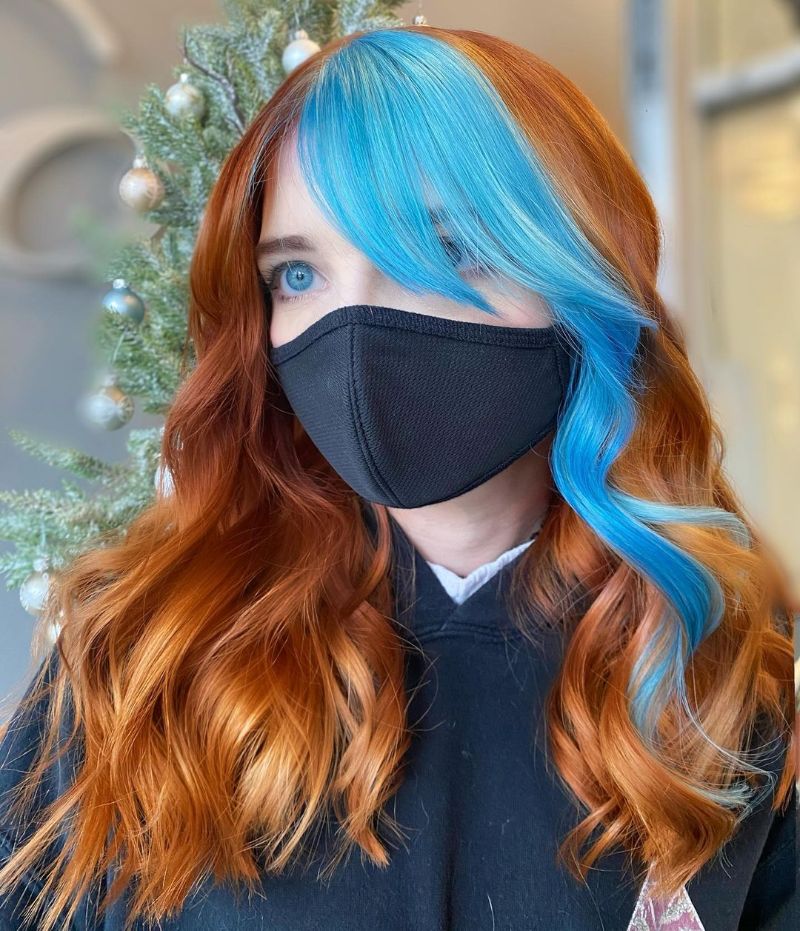 IG: @meaghanmastersonhair
– Money Piece Bangs. Is it possible to have bangs without cutting them? Yes, if you color them in a trendy 'money piece' technique.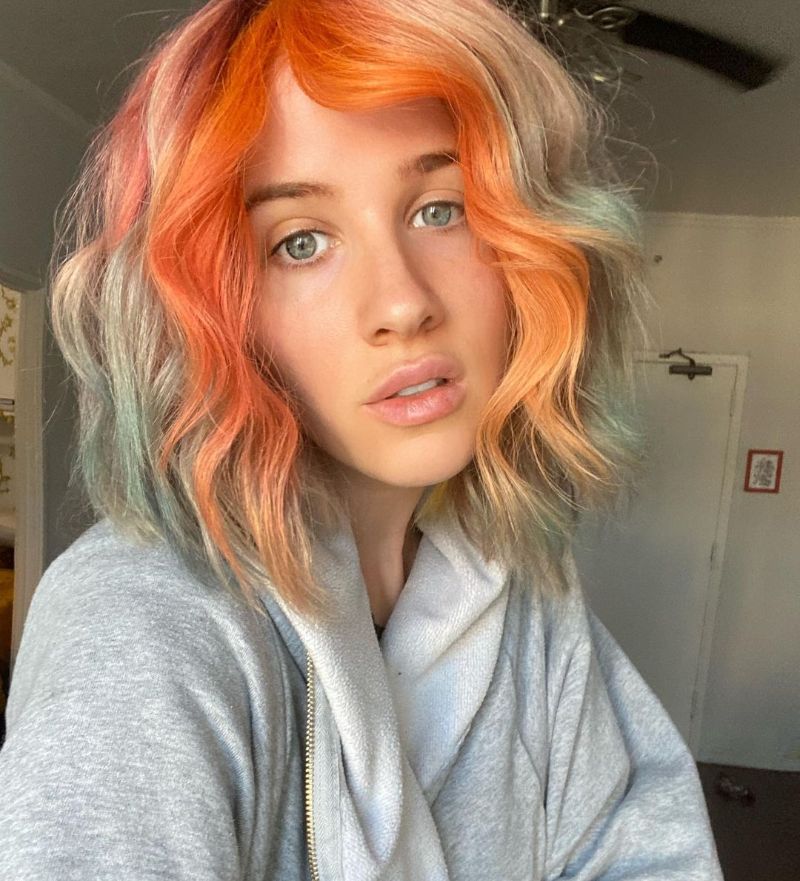 IG: @shmeggsandbaconn
– Blonde Bangs and Dark Brunette Hair. If you have dark hair, you know perfectly well, that dyeing black hair is super time-consuming and hard. Really, really hard. We have a solution: dye bangs only! Add several tiny strands of color afterwards. Voila, your new hairstyle is ready!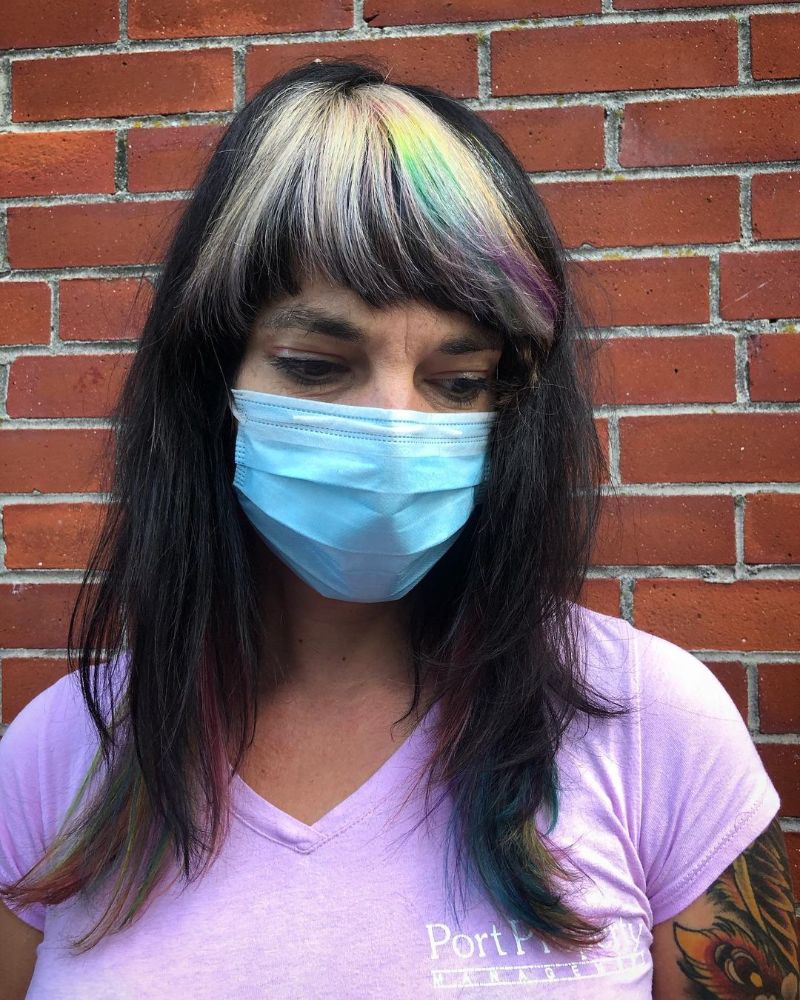 IG: @tashadoeshair
– Super Curly Hair with Blonde Bangs. Place several blonde highlights on bangs and underneath to add more interest to your curly mane.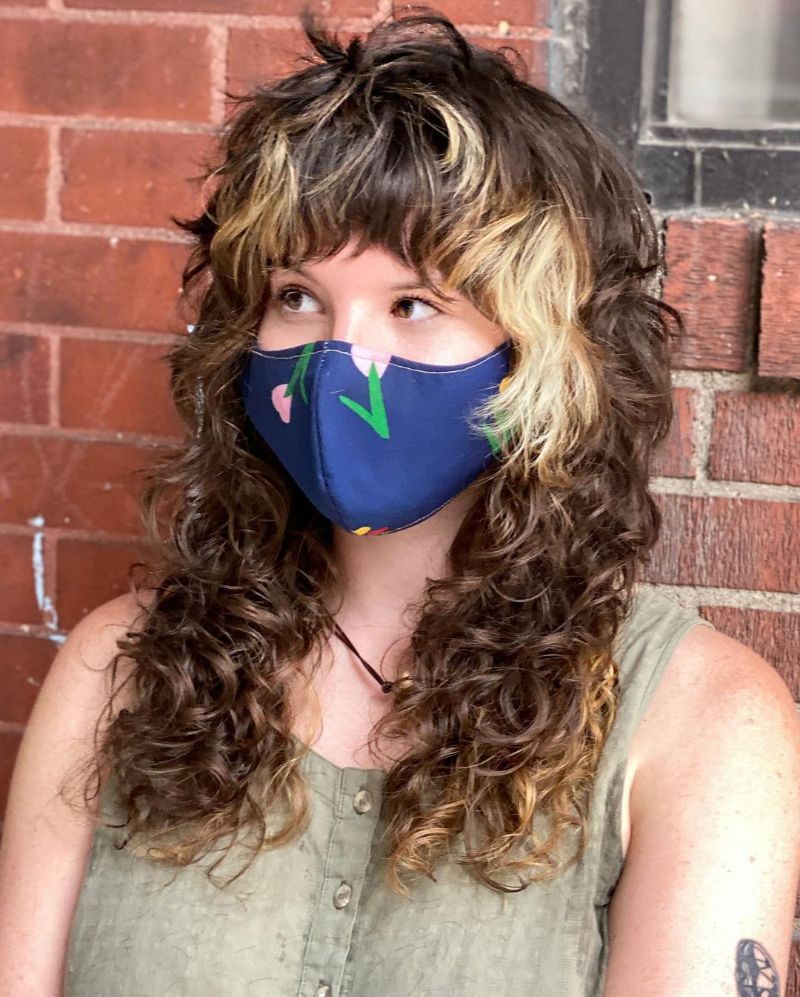 IG: @skipdoeshair
– Short Lavender Bangs. Here we see a combination of several very popular things – a short straight-across fringe, a lavender hair shade, face-framing colored strands, and an undercut (hidden). Experiment with forms and colors, and you will get your own unique hairstyle.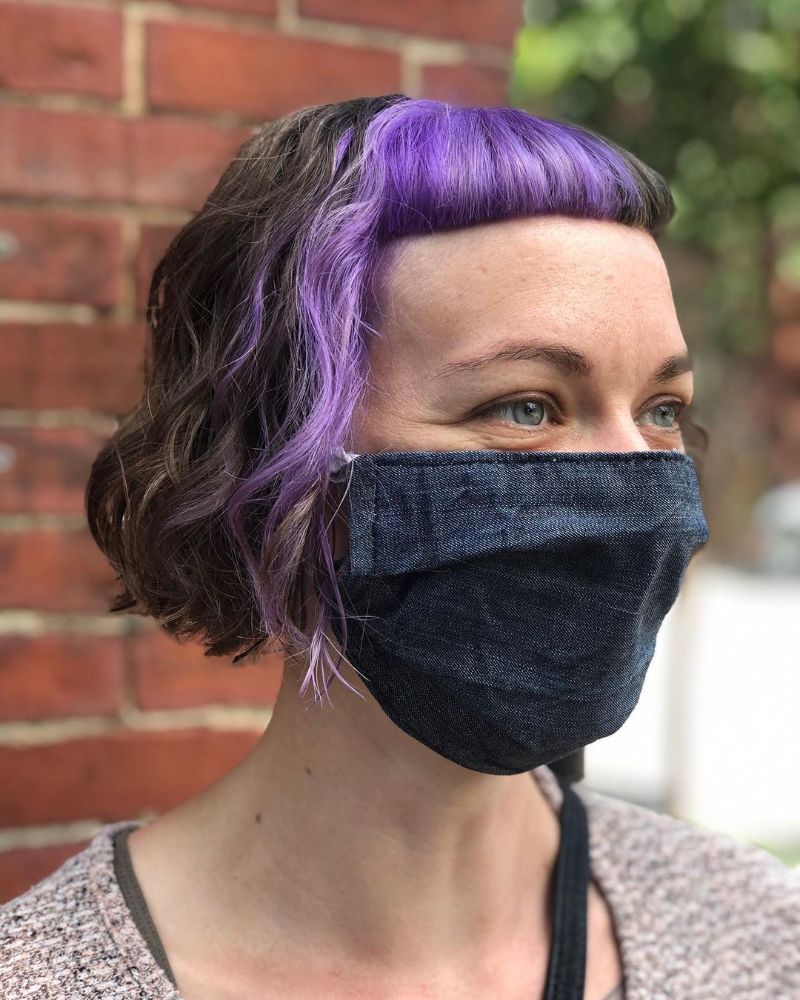 IG: @tashadoeshair
Do you like these pictures of dyed bangs and colored fringe styles? What hairstyle with colored bangs would you try? Leave a comment below and be ready for more interesting blog posts and stunning photos! Something very interesting is coming, stay tuned!
.
FEATURED IMAGE: LEFT – Instagram – @riahmai, RIGHT – Instagram – @paintitblonde
.
.
.
.
.
We use photos from open sources to illustrate our articles, and always give credits if known. All photos belong to their respective owners! Contact us via thenewestnails@gmail.com or DM here for any copyright issues, and we will delete your photo or make any other changes instantly.