Squid game nail designs are now very trendy in social media and at beauty salons. Nail masters create something very special every time a client asks for the squid game nail art. If you are looking for new manicure ideas and loved the Squid Game series, you will definitely like these designs too. Check out!
Advertisement-Continue Reading Below
Trendy Squid Game Nail Designs
So, what Squid Game nails are the most popular? The combinations of black and pink, red and blue colors are in. Of course, it will be cool if your nail master can draw the characters on your nails. If not, choose something simpler, like the three figures – a triangle, a square, and a circle. A doll from the 'Green Light, Red Light' game will also look super cool on your nails. You can even print the nail decals and attach them to your nails, why not?
Let's see what are the top ideas of the Squid Game nails from the best hail technicians around the world.
– Black and pink Squid Game nails with white geometric symbols – a circle, a square, and a triangle. Looks terrific!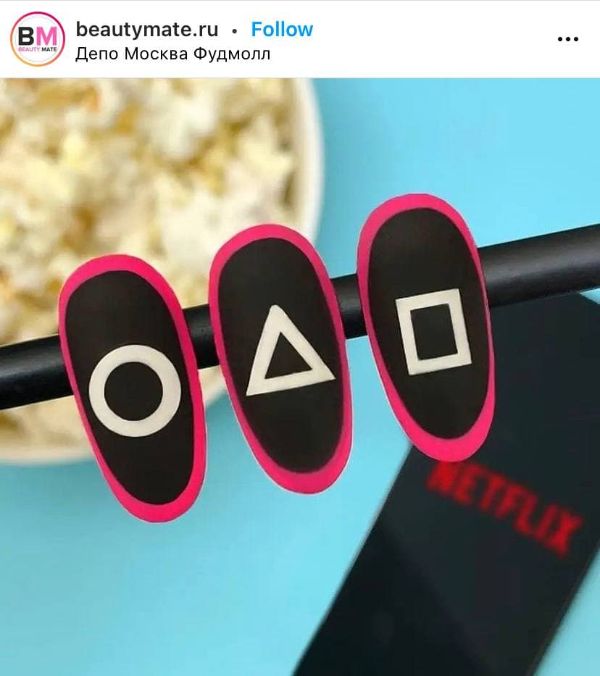 – Red and blue Squid Game nails with numbers and geometric figures. The matte finish here creates even more vibe.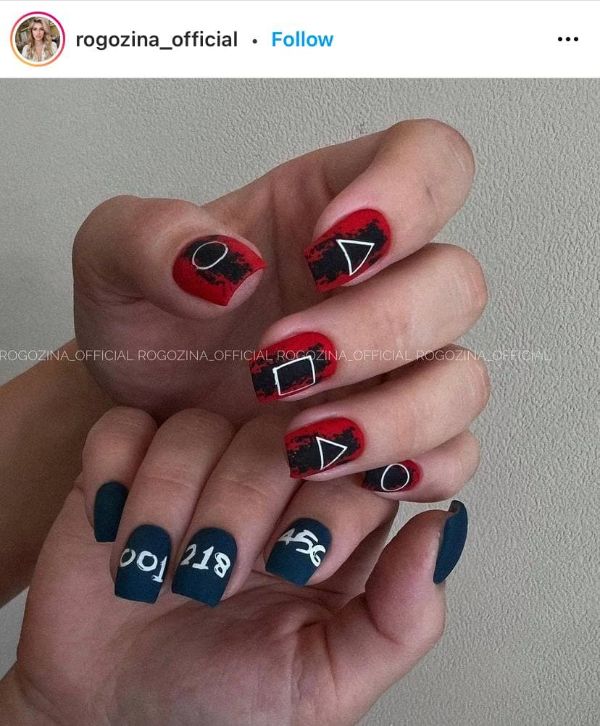 – Black nail art with Squid Game guards with black masks and in pink clothes. Below you will see how to draw these little cuties.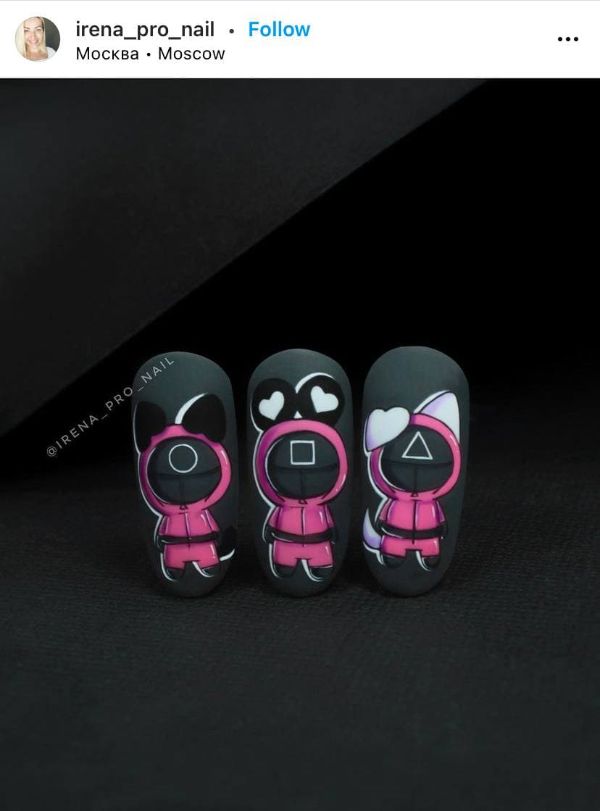 – Long stiletto Squid Game nails with a doll, one of the main characters, and other squid game symbols. Here we see all possible symbols that were present in this fall's most popular Netflix series.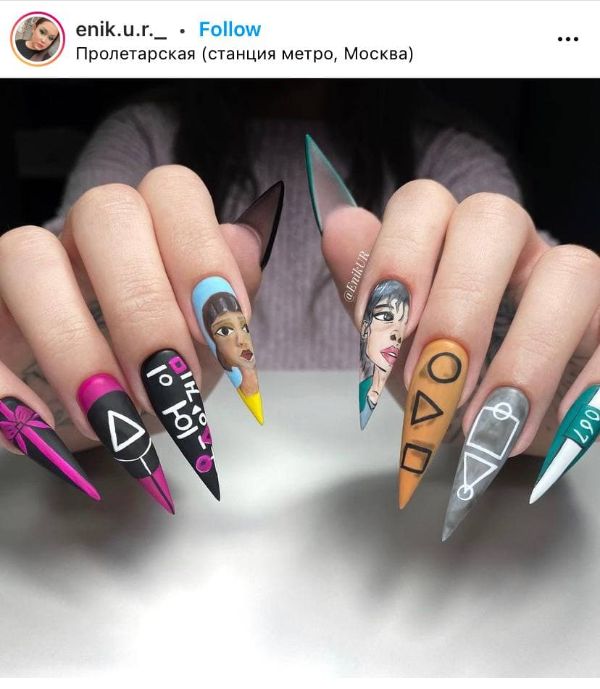 – Fake nails with Squid Game characters and a golden pig money box. Would you try it? Looks cute and non-banal. And this set is non-damaging for your nails as it can be easily taken off your nails.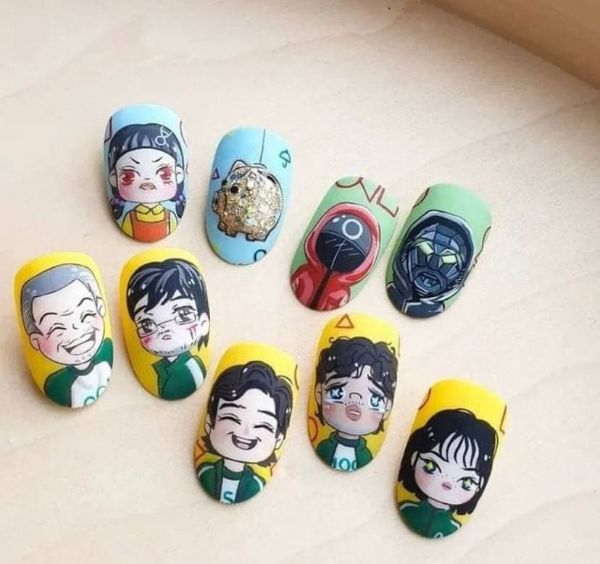 – Sponge Bob, Patrick and Squidward Squid Game cosplay. Have you ever seen something like this? Squidward is a doll, and Sponge Bob and Patrick are dressed in red as the guards. So inventive!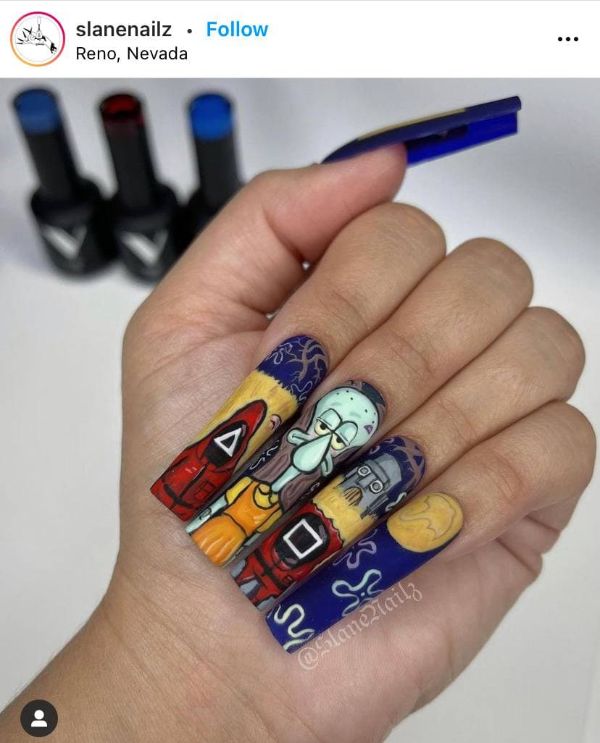 – Nail design with the VIPs animal masks. This nail set includes one of the most intriguing Squid Game attributes, the golden animal mask.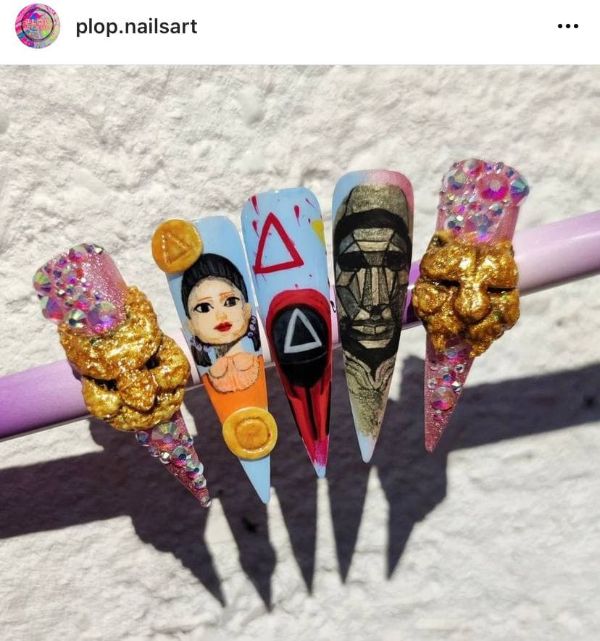 – Blue-green and pink guard nail art. Choose the symbols you liked the most and ask your nail technician to draw them on your nails.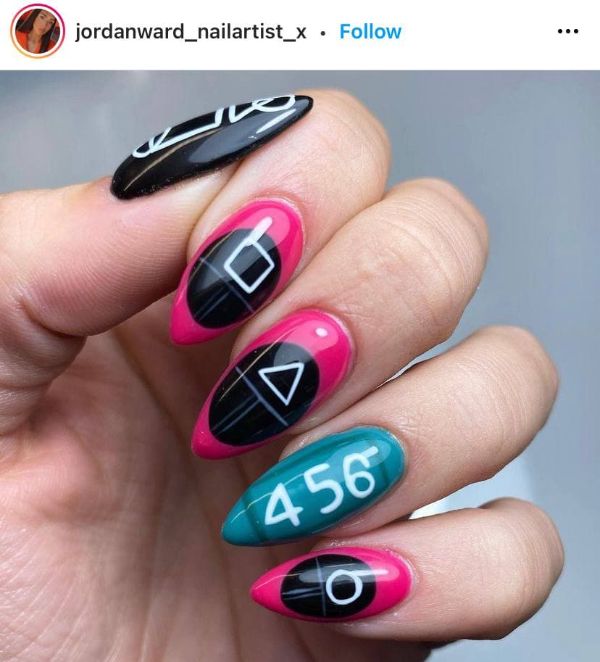 – Cool matte Squid Game nail design with Kang Sae-byeok. This girl named Kang Sae-byeok is one of the main characters in the series.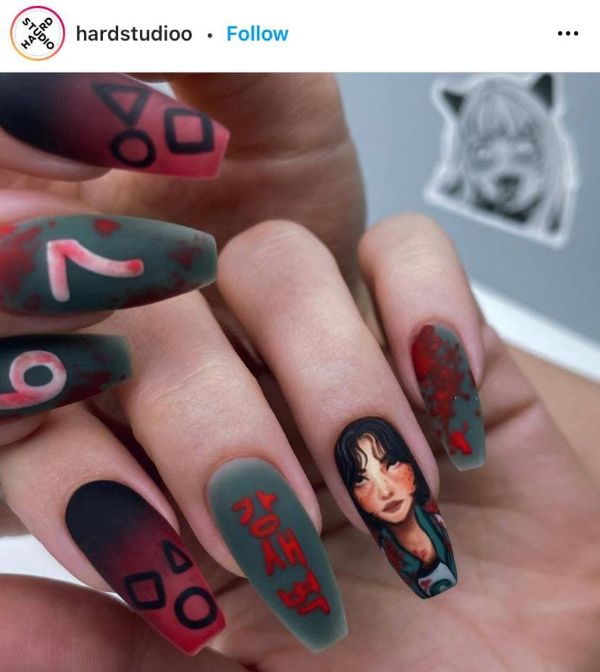 – Nail art with Cho Sang-Woo. Possibly the most clever among all the characters of this Korean drama. Agree?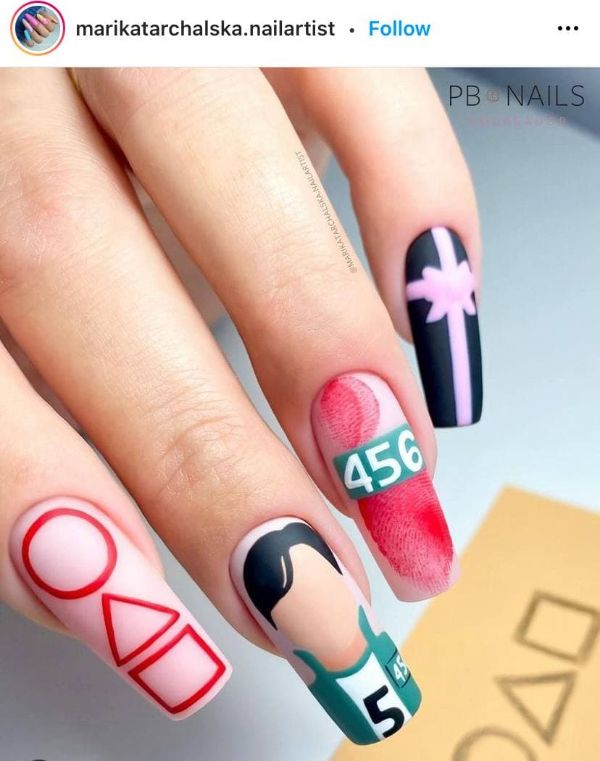 – Pink and beige nail design with a guard and a mask from the Squid Game. The Squid Nail art may look not just scary, but also super-stylish. Here is the perfect example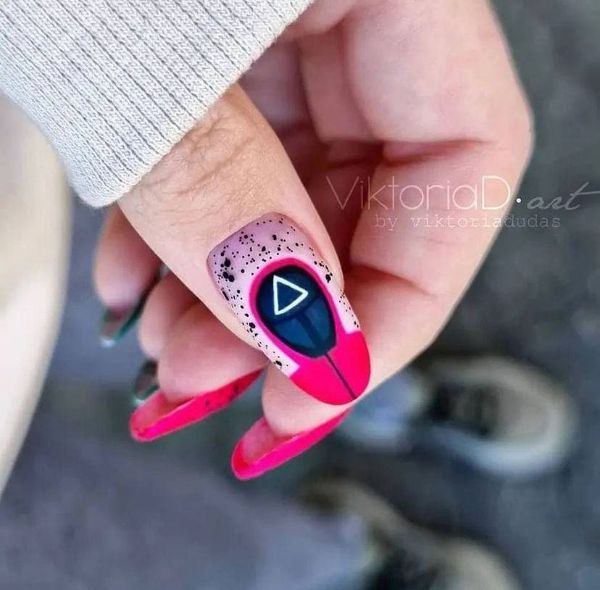 – The Squid Game doll nail design. The 'red light, green light' game is possibly the most well-known from the series now.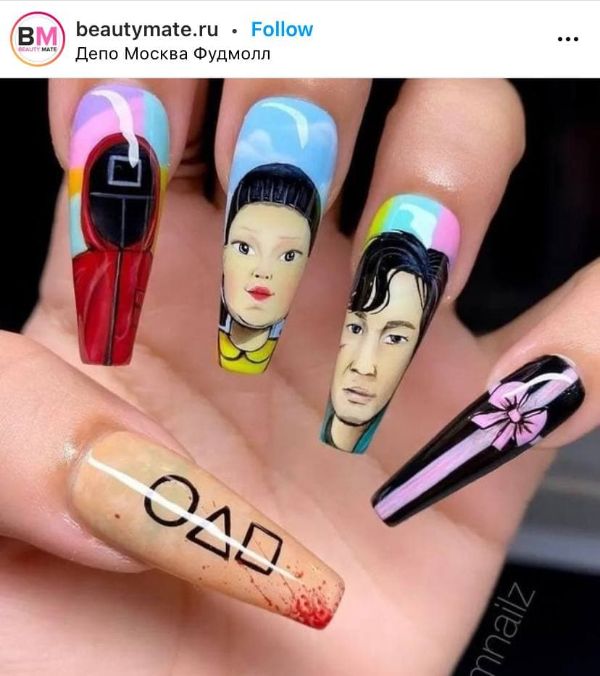 – The Squid Game honeycomb nail design. Here there is also an umbrella from the honeycomb game.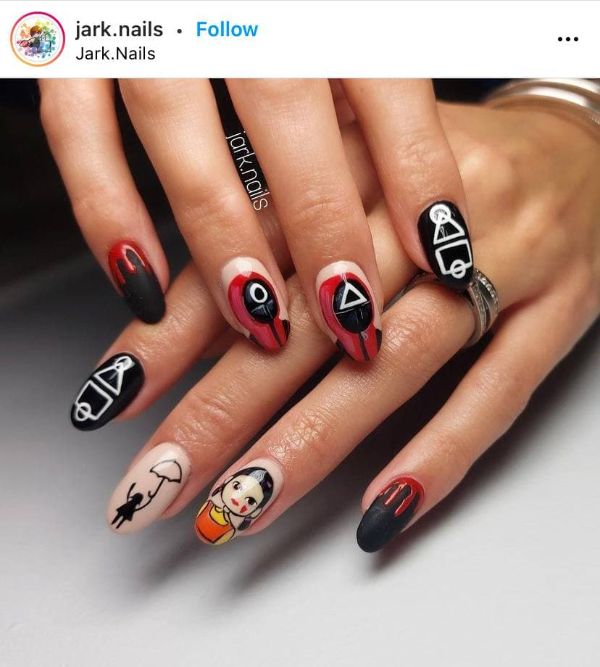 – Green and pink long nails with Squid Game elements. Can you guess who are these two characters? Of course, you can, as there are their numbers below. A circle, a triangle, and a square are also a must in the Squid Game nail arts.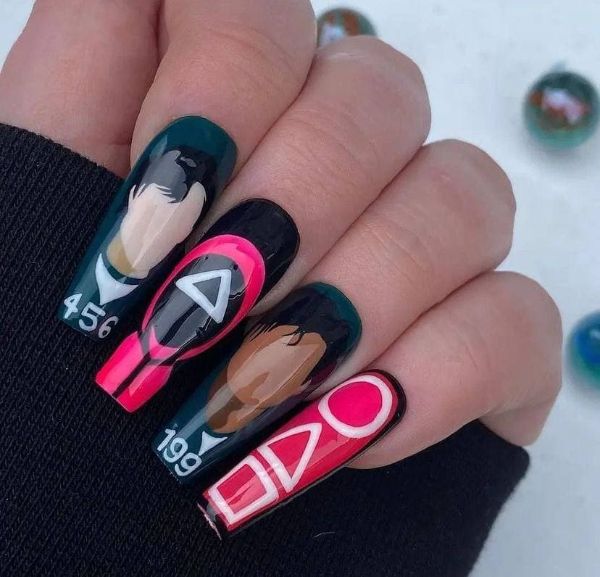 – Black, blue and red Squid Game nails. Almond-shaped nails will look great in these three colors and with all these trendy symbols.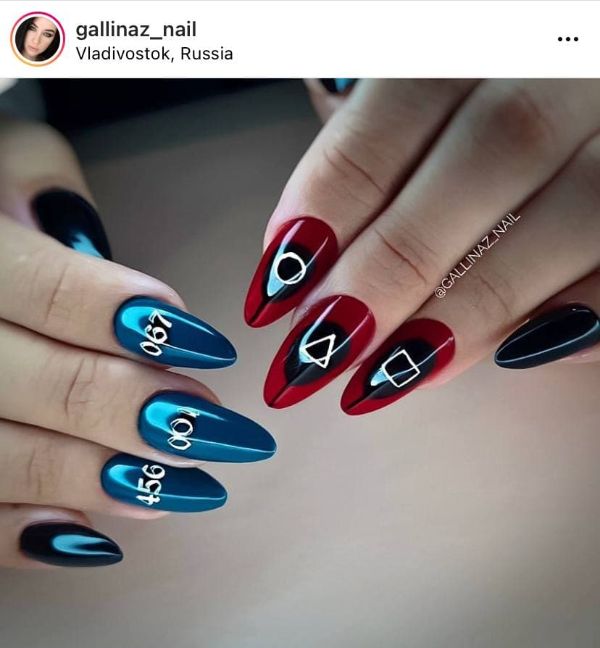 – Long Squid Game nails. We can see a Squid Game invite on one of the nails.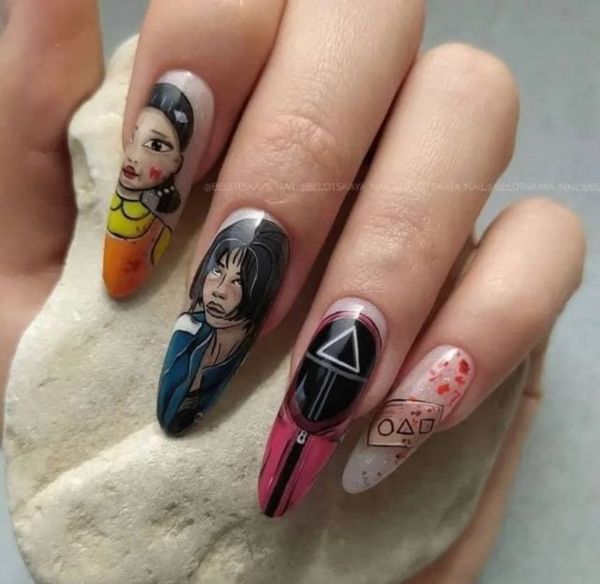 – Squid Game nails with matte finish. The matte finish adds more drama to the nail art, stats.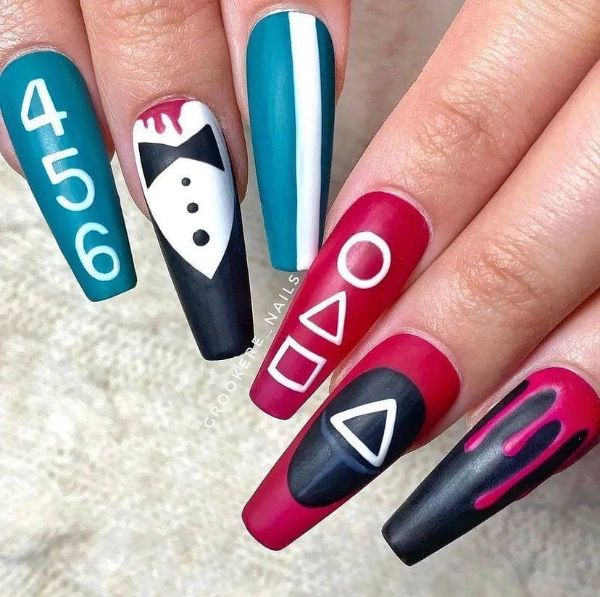 – Light beige nails with the Squid Game symbols. The most elegant nail art out here.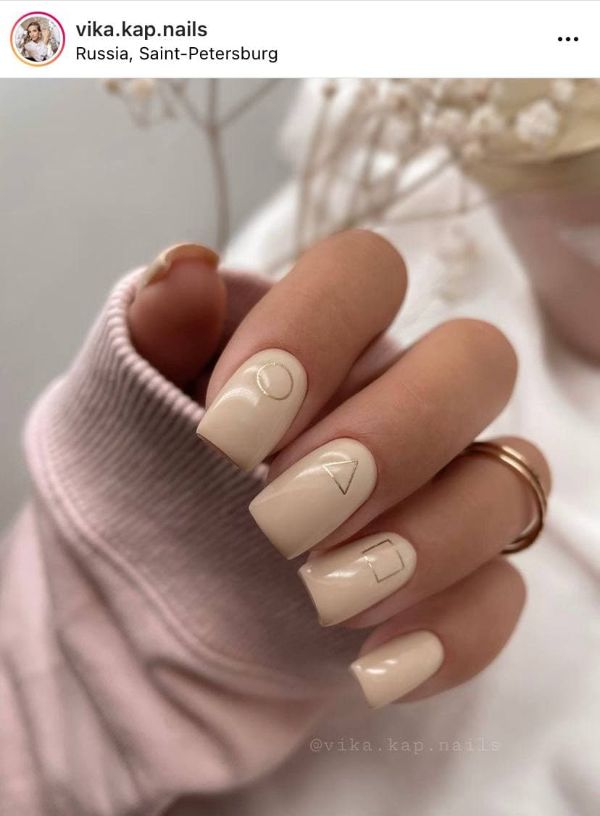 – Extra long nails. Mix black, pink, and white colors, ass some symbols, and you have the trendiest nail design of this year.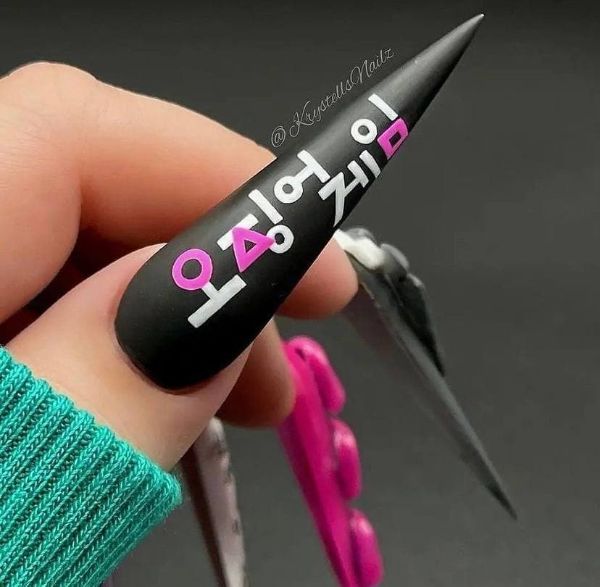 – Very realistic Squid Game nails. Only a very skilled nail technician will manage to copy this nail art, but it is worth it.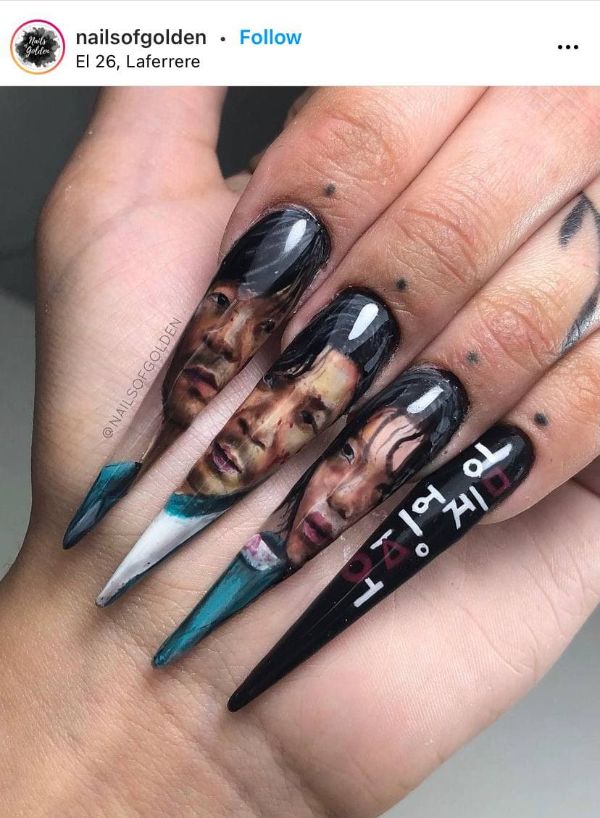 – Square shaped matte red and dark blue Squid Game nail design. This nail design looks very neat and put together. It will gather tons of compliments.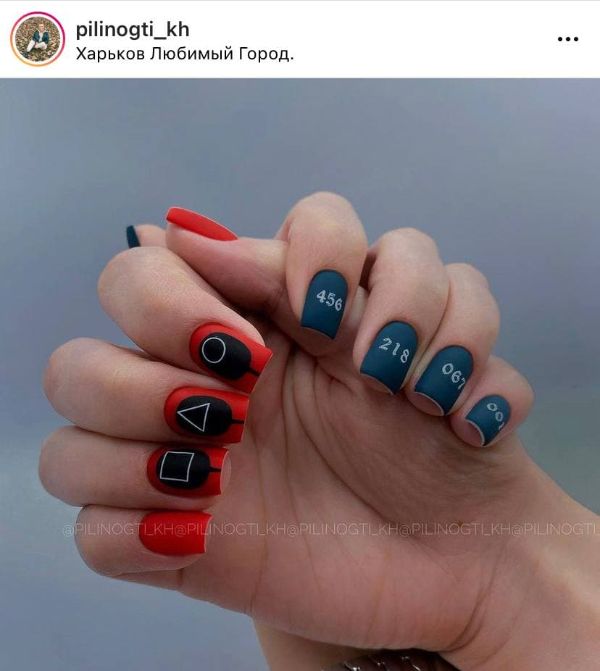 Squid Game Nail Designs Tutorials
Do you want to know how to create some of the above designs? Check out these simple Squid Game DIY how-tos.
– Here is how to draw the Squid Game guard in the uniform on your nails step-by-step.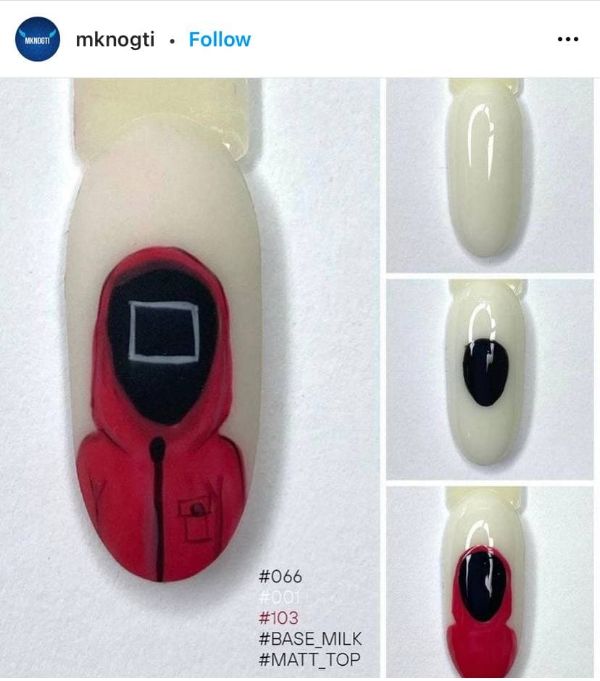 – Guards can be cute! If you will decide to make them cute. Here is an idea of how to make a girlish Squid Game nail art with guards in the black masks.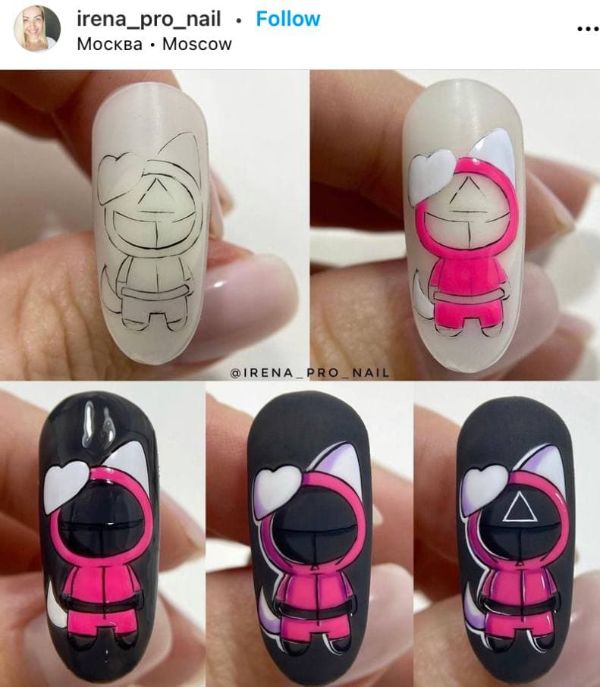 – One more black and pink Squid Game nail design idea with a guard for your nails.
– This Squid Game guard has a circle on the mask. Learn how to draw it below.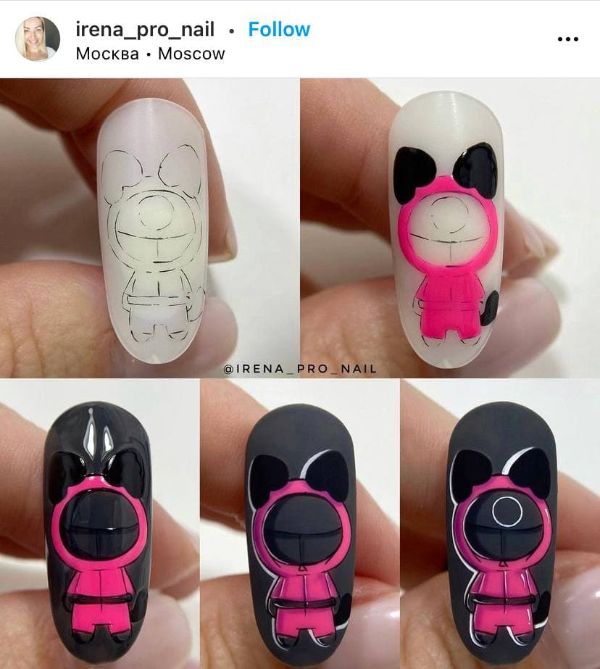 Now when you have seen a lot of ideas of the Squid Game nails, we hope you will not hesitate what nail art to choose during your next visit to the salon.