Today we are talking about prom nails 2023. What's new on the market, what nail polish colors are trendy for the graduation party and what bloggers show us as the example of the perfect nail designs for prom. All this and even more – in our article, the latest ideas of graduation nails 2023 just for you!
Advertisement-Continue Reading Below
Prom nails for the best girl in the world – images of the latest designs from nail bloggers all around the world
First of all, we are going to start from describing the freshest trends, that will help you to become the belle of the ball.
Pretty graduation nails have to complement the general outfit. You may choose a design in the same shade as your prom dress or pair them with accessories – hair pieces, shoes, clutch.
If you want to wear those nails several weeks past the celebrations, choose neutral shades, classic French or moon design, nude manicure. Such designs are universal and flattering almost all looks.
However, if you are looking for non-traditional, creative ideas – colorful, bright, dark or neon-shade designs – you will possibly love the red prom nails, blue, white and black manicure, and also steampunk, rhinestones, and other decorative things. Choose your own variant right now!
Below you will find a selection of top nail ideas for prom, found on Instagram!
1. Colorful gradient manicure.
We will start not from nude manicure, but from the colorful and attractive one. Will pair well both with classy evening gowns and more modern short prom dresses.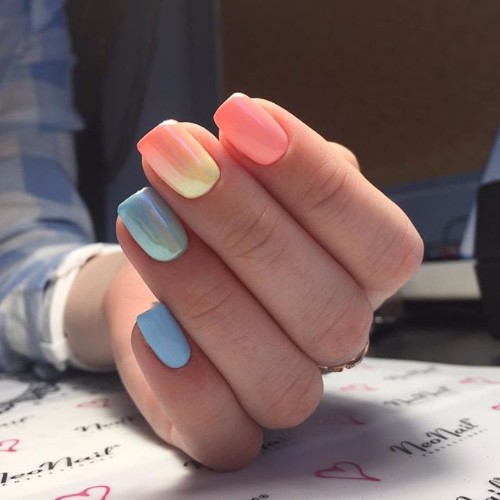 2. Nail Design with chains.
Classy prom nails in terms of shade, but looks not ordinary because of a modern addition – trendy chains. Well, super-stylish we think!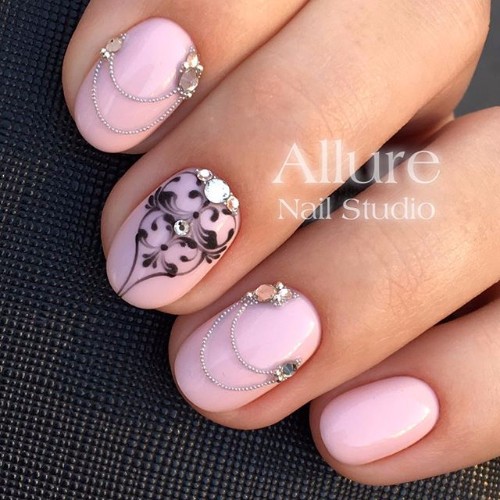 3. Purple and white manicure with feathers.
This beautiful manicure will fit any dress in purple, violet and lily shades. Feathers make the design more showy. Absolutely perfect!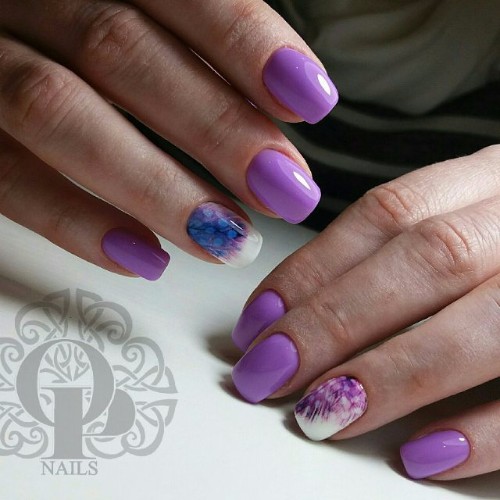 4. Nude nails with Swarovski crystal pixies.
Great not only for the prom-graduation party but also for the after-party celebrations. Nude nails are minimalistic, but at the same time they look very impressive. Prom party is one of the most special occasions of all your life, so you will feel the need to breathe some life into youe mani. Glam design with crystal gemstones will give your nails that zest they are lacking when being simply nude.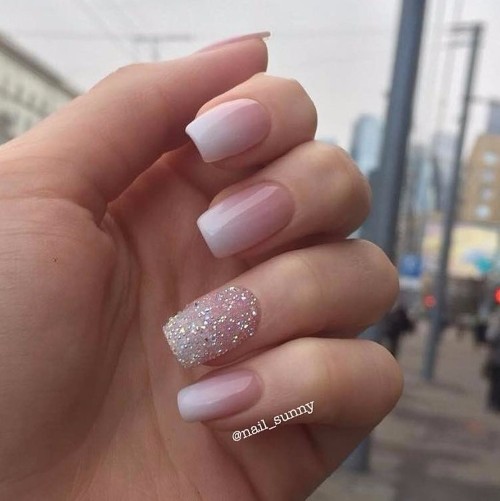 5. Geometric blue and pink ombre nails.
Add a pop of color to your white graduation nails by recreating this prom idea. Your nails will become the ultimate accessory.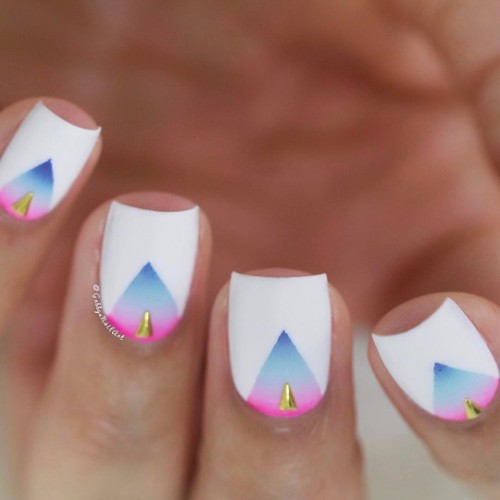 6. Simple pink dots on the white base.
An easy way to make your prom mani pop is to add to the solid base color simple dots. Choose the shade that will complement your all prom look and make every next dot lighter, creating that trendy ombre effect.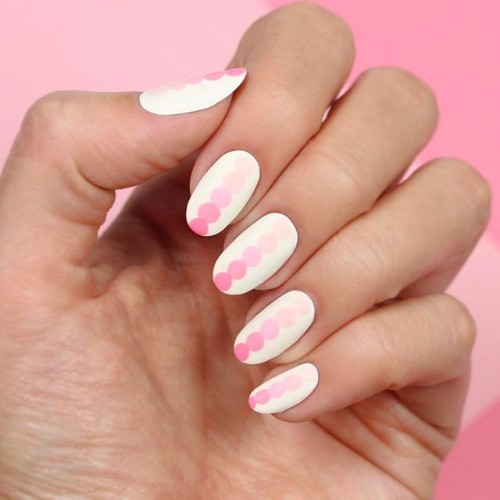 7. Cute prom nails with pearl shine.
Your prom look will be on point with this romantic nail design! However, you will not be able to do it yourself, so be sure to make an appointment with your nail master. Choose this variant if you really care about looking super flawless!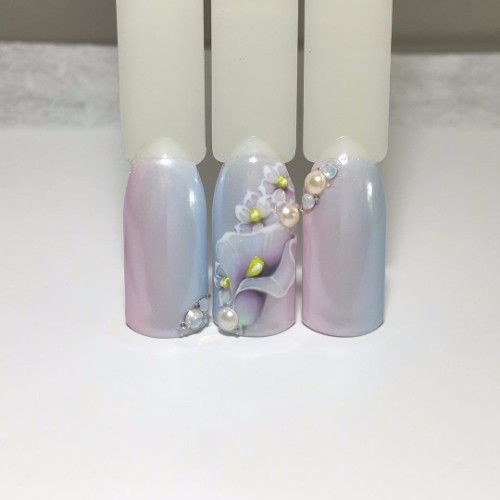 8. Acrylic nail design for graduation.
Time to show acrylic nails for prom – they are also mega-popular before prom parties. If you have short nails, but want to change this even just for a while – go for it! Time to make the craziest things, start from the smallest ones. Long acrylic nails will look fabulous no matter what design you'll choose, be it a glitter or a simple solid color.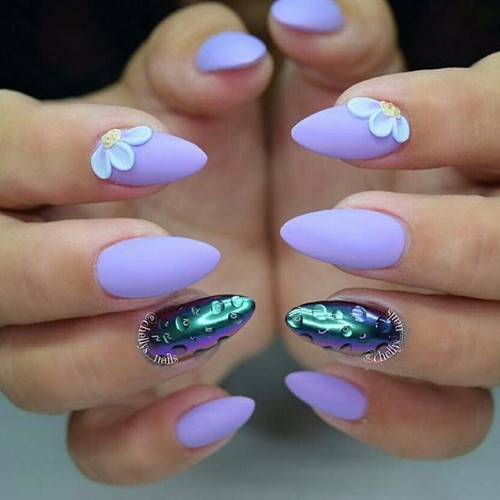 9. Punk-rock nail design for special day.
You momma asked you to make nude nails at least for the prom celebrations? Agree. Because even nude nails can be diversified. Add some punk-rock details and feel the happiest graduate in the world!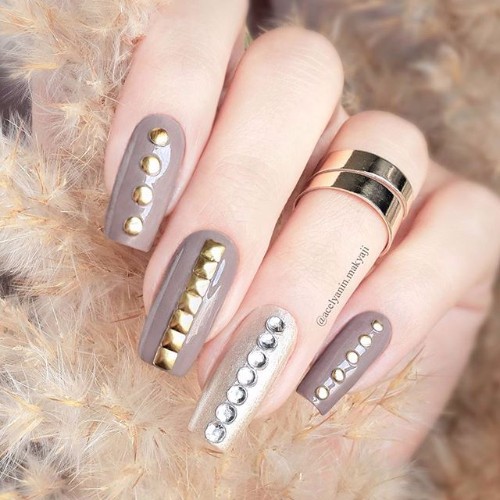 10. Steampunk prom manicure.
A fresh Instagram trend is here – to stand out from the crowd try the steampunk nails with small golden details. Are you bold enough to try this design? We are!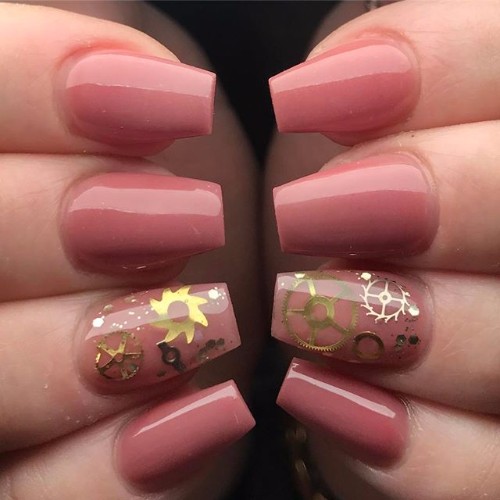 11. White and black prom nails.
The most nail ideas for prom include nude designs, pink, light, blue manicures, white nails. But, as statistics shows, the black nails are also mega-popular. So, we are ready to show you smth dark in this selection too! Make just several nails black. add some foil design, and all the rest nails paint white. Mmmmm, this design is so perfect we can't stop staring at it. Now we understand why you, our dear readers, are in search of black designs for prom too. They can be formal and gorgeous!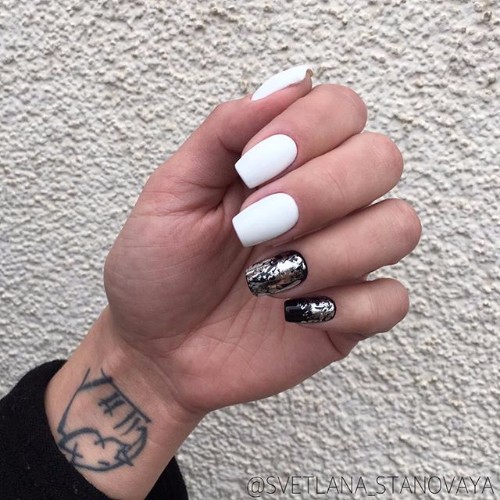 12. Black prom nails with optical illusion design.
To make the nails look fantastic for this special day try something unusual, interesting and . As these black-and-white nails with optical illusion design. Wow, we are proud we show you this, really! Perfect choice for a dress of any hair color!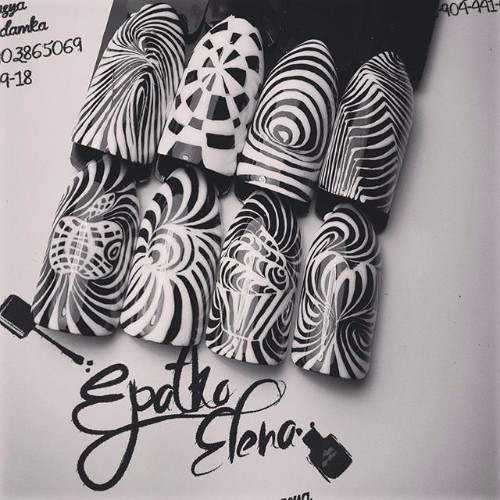 13. Easy white nails for prom party.
The nail design from the category of the easiest ideas. The base is solid, simply white. The next step is to make pinkish dots. You may chaotically place them or create any flower design, it's up to you.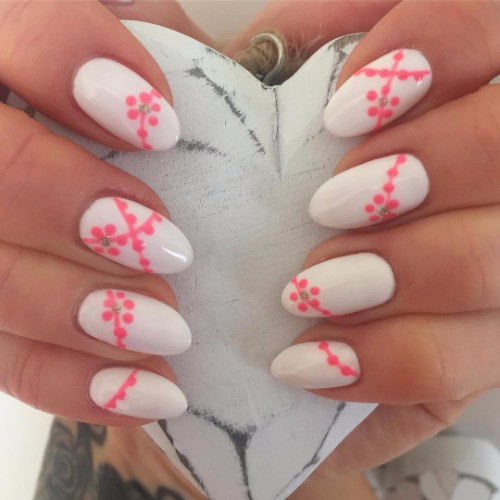 14. Unicorn pastel graduation nails.
Best prom nail designs are those which are on trend right now. Are we talking about all those unicorn nail ideas? Definitely yes! Have you seen 3D acrylic unicorn horns, glitter nails and pastel shades? This idea is the simplest version of the trend. It combines several pastel shades, and the best of it is that you can make it at home!!! We promised to give you different ideas – from the easiest ones to more complicated.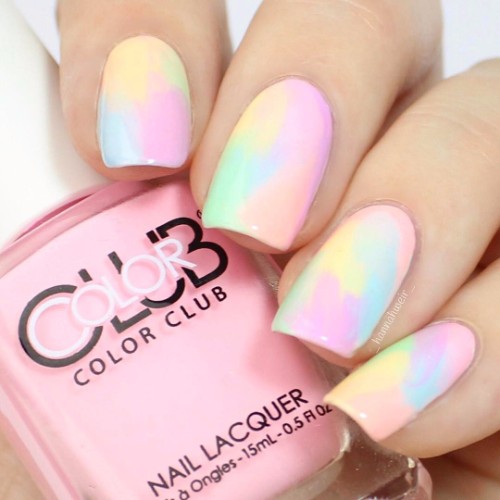 15. All nails pink and one colorful accent nail.
You can never go wrong with nude nails. However, if you want to give them a festive look, add one accent nail (desirably colorful). If you want to go even further, consider adding some golden accents, as you see in this picture. They are hardly visible in the photo, but really make difference when seen in reality.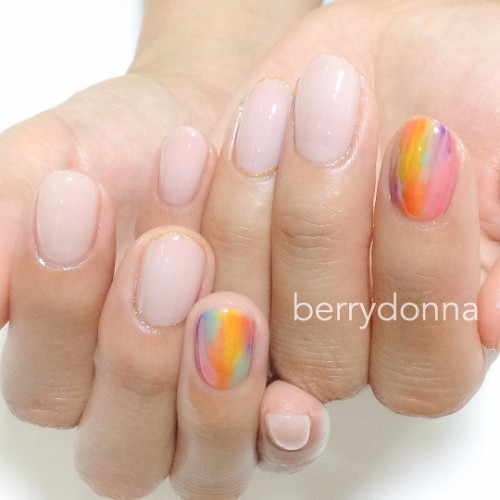 16. Colorful pastel nail design.
You had a chance to notice that pastel shades and nude designs are among winners this year. Romantic and tender nail designs are the most universal, so choose this mani with geometric figures if you want to rock your mani proudly as addition to any outfit during the next several weeks.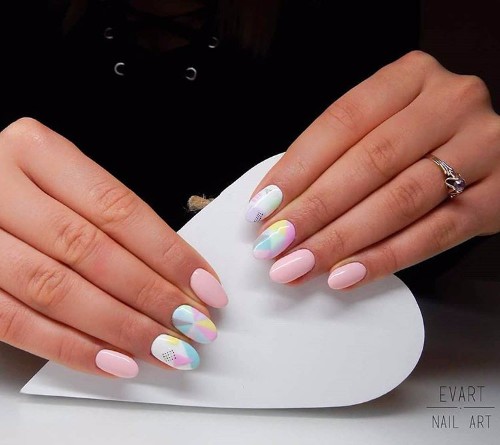 17. Feminine pink French with 3D gel roses.
You can't go wrong with French nail designs for prom. Add a little twist to your nails by choosing light pink polish instead of white one for tips. And make one accent nail on each hand. 3D gel rose flower will be perfect for the graduation party.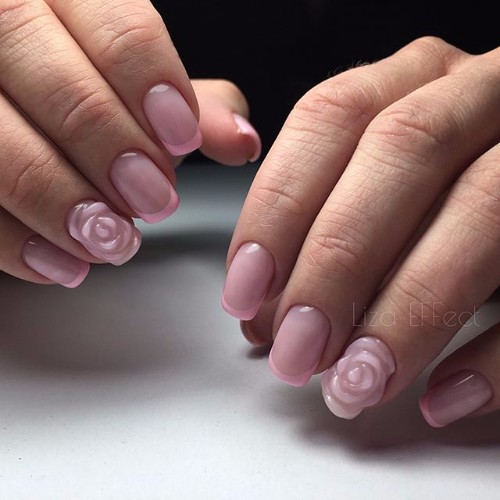 18. Blue ombre nails for graduation.
Blue dresses are chosen very often for prom parties. The perfect addition to such outfits will be nails in shades of blue. This ombre is festive thanks to the ombre design and one accent nail, fully decorated with precious gems of different sizes. Such nails will look really impressive.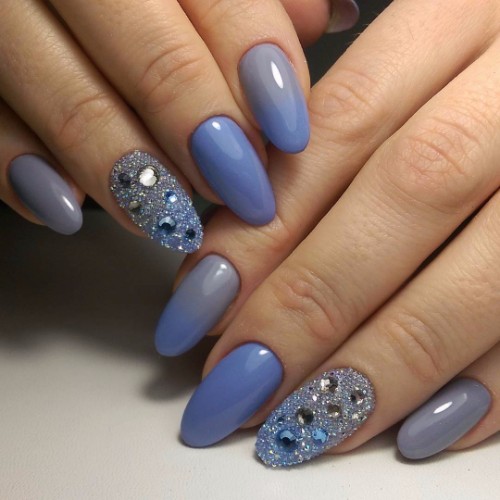 19. Simple nude nails with hexagons.
Can be made at home. Take the camouflage base and any geometric decorations you wish. Add more glitter to the tips, and use less in the center. Matching to any outfit and accessories, so choose it without doubts.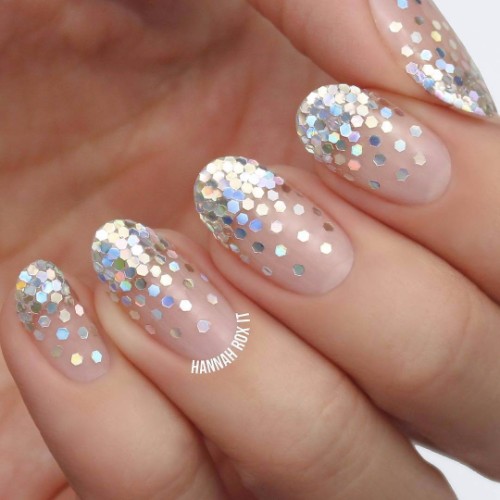 20. Grey and pink manicure for prom.
A lot of graduation nail designs include two-shade variants. These two basic tones are one of the most tasty combination. Grey and pink mix perfectly, and decorations make these nails shine, what can be more suitable for such a special day?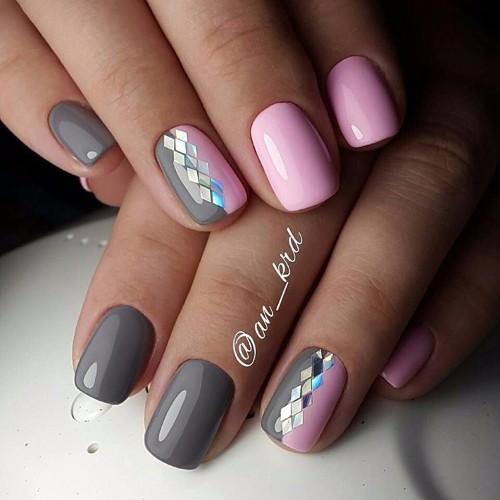 Several more ideas of prom nails:
21. Geometric prom nail art.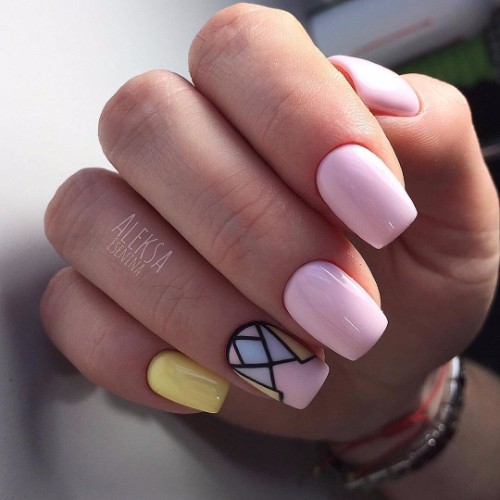 22. Pink marble nail design.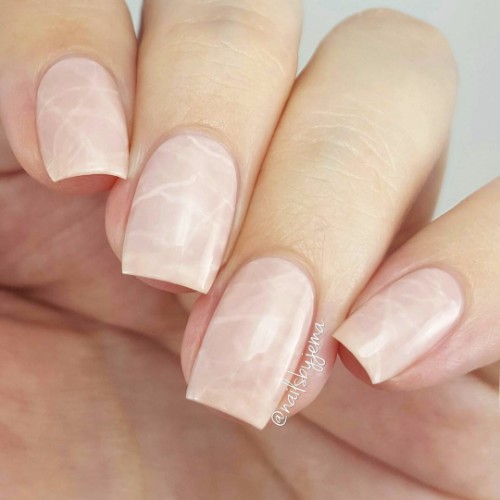 23. Pastel pink nails with accent golden nail.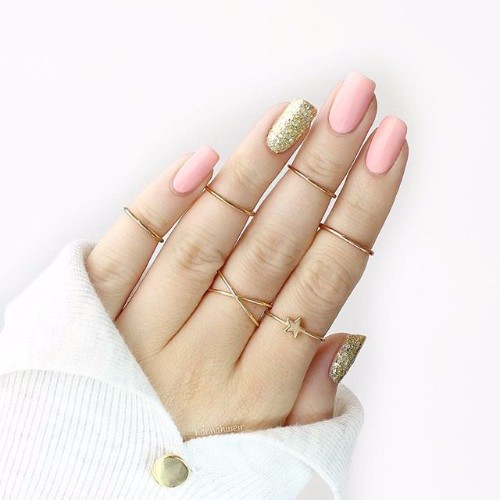 24. Golden and white short prom nails.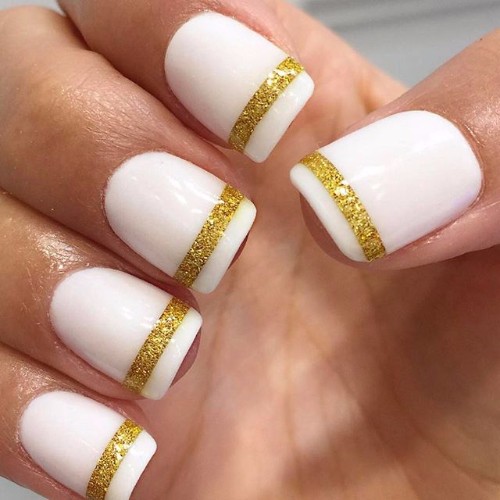 25. Simple nail art with flower design.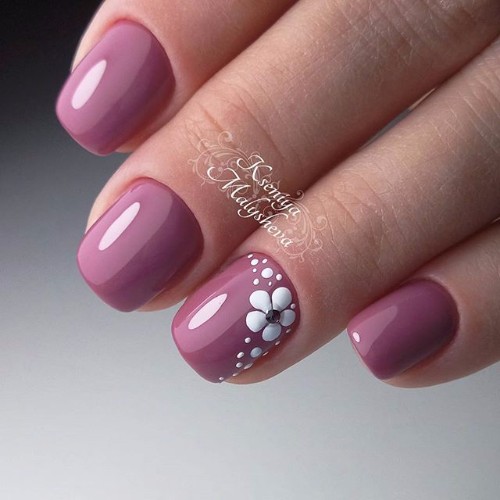 26. Lily and white graduation nail art with glitter.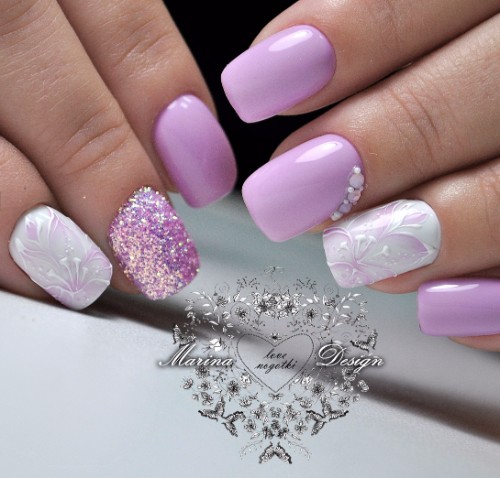 27. Matte prom manicure – coffee and chocolate.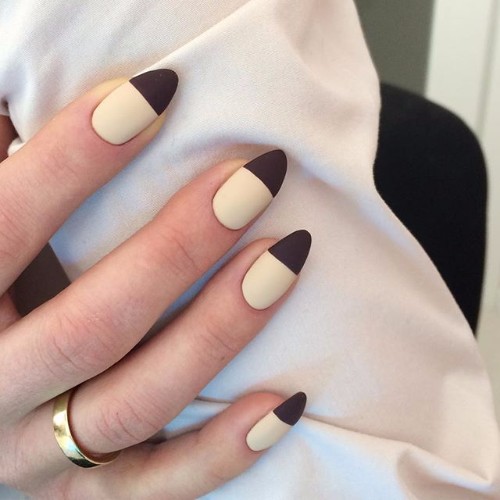 28. Pink and silver prom nails with glitter.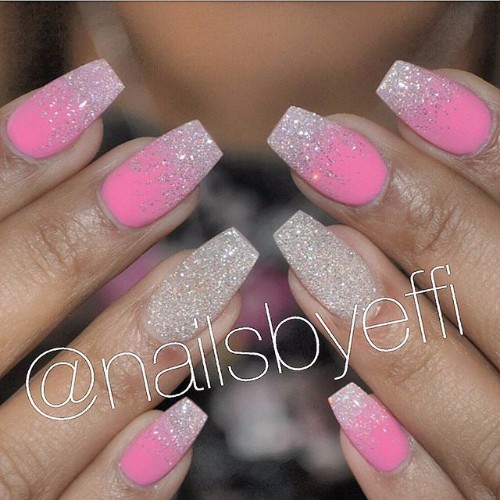 29. Trendy nails with unicorn horn.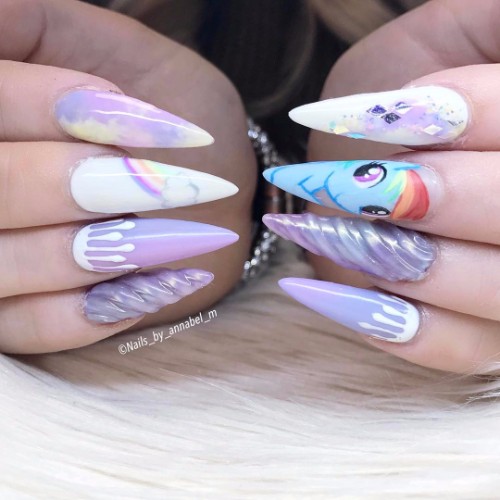 30. Classy prom French nails with silver leaves.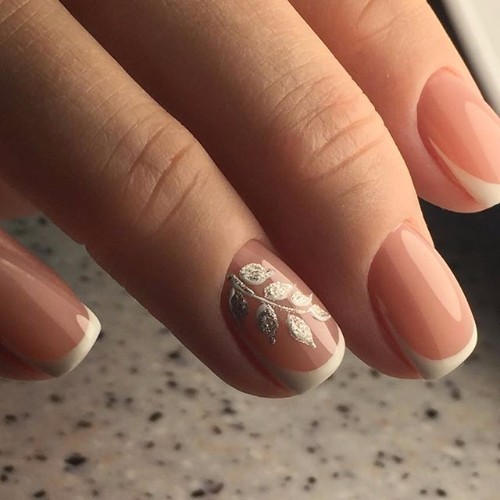 31. Negative space and pink triangles.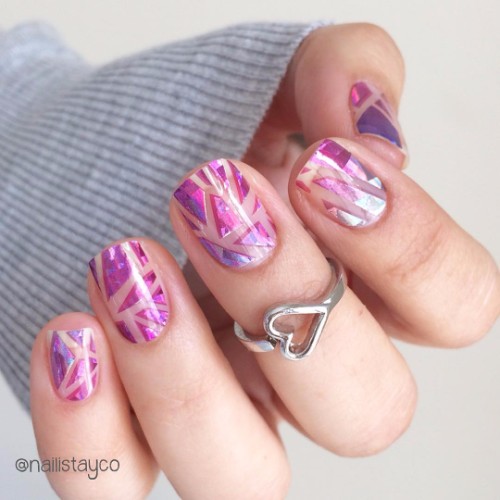 32. Matte dusty-rose nail art design for graduation with 3D drops.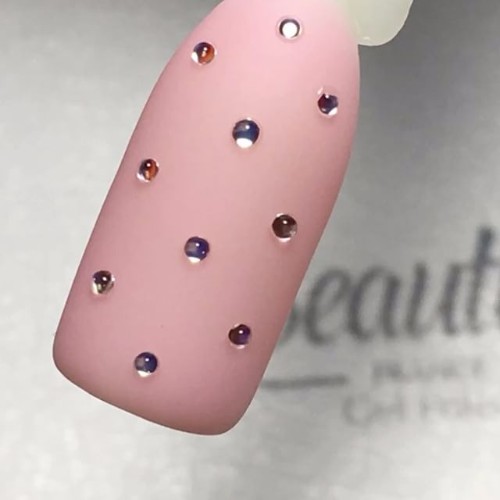 33. Holo nails for prom party.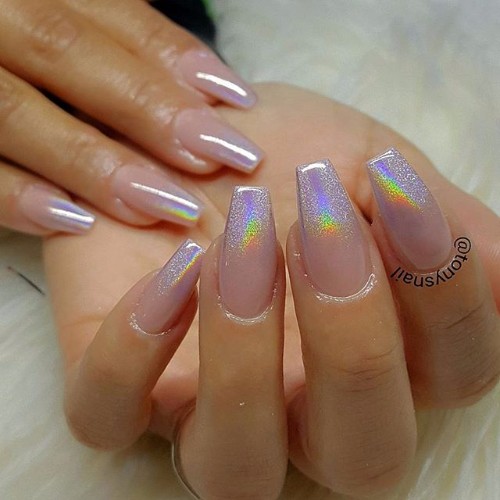 34. Blue moon nail design.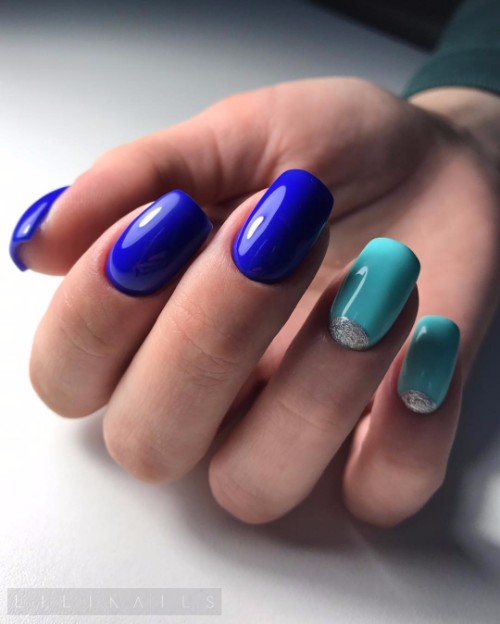 35. Red prom nails.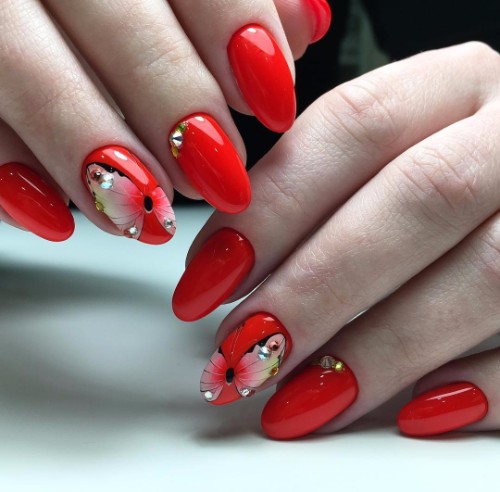 Best graduation nails of 2023: when words are not needed! Just photos: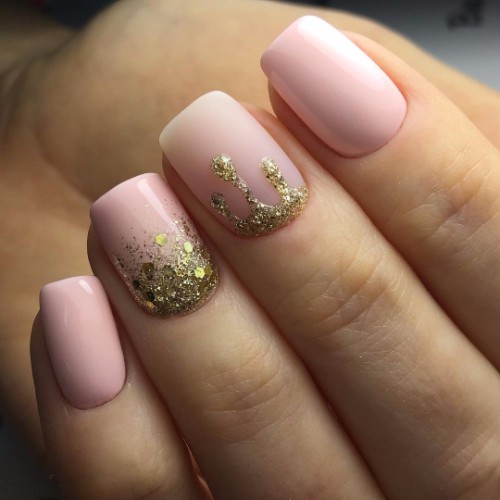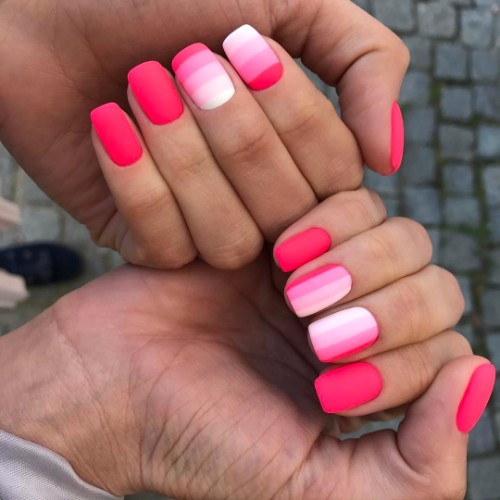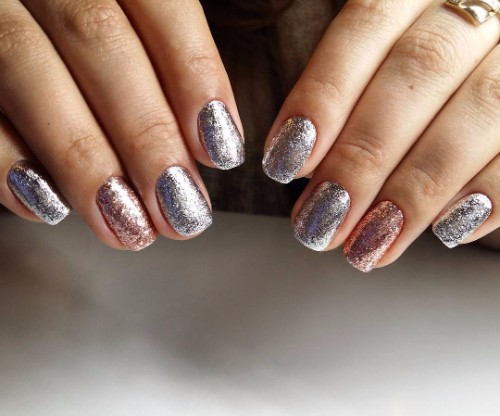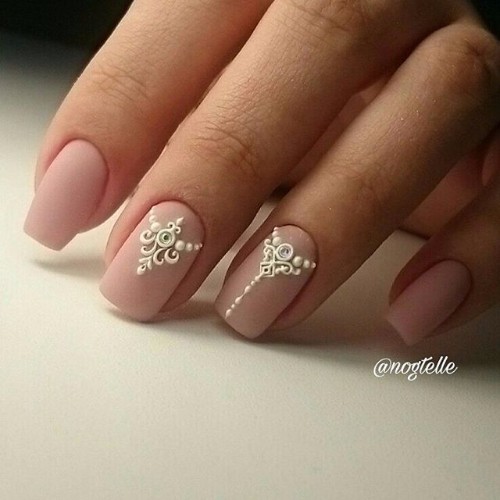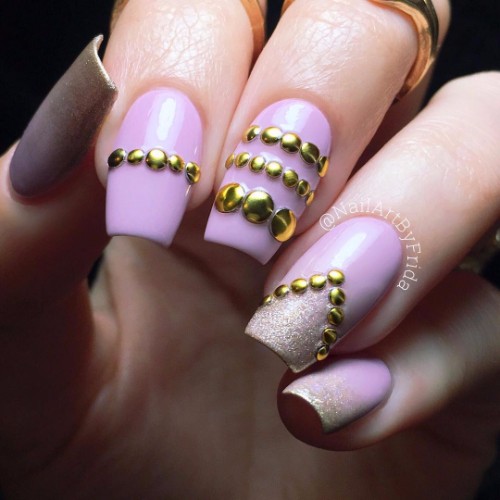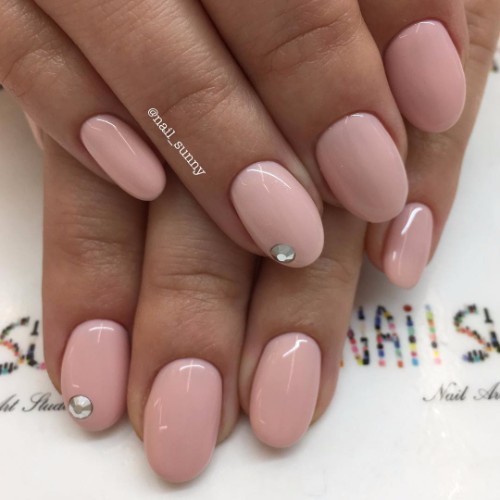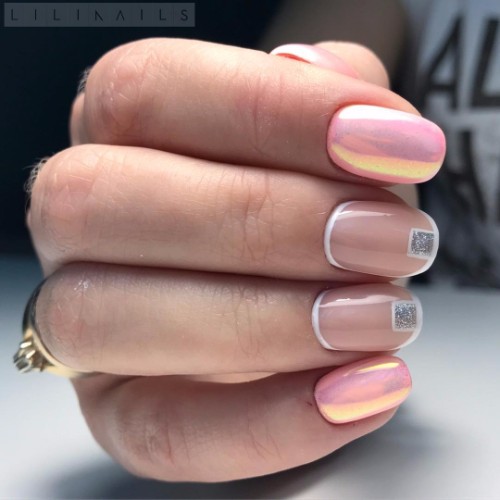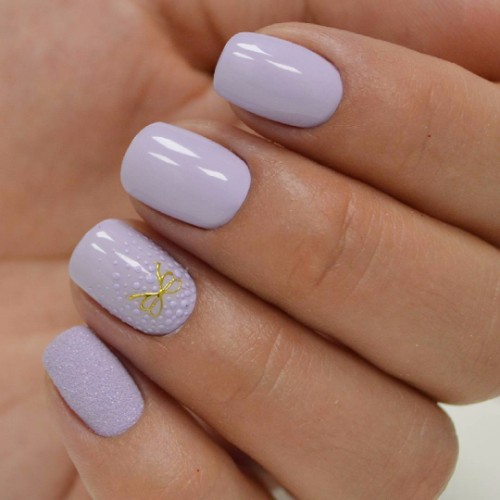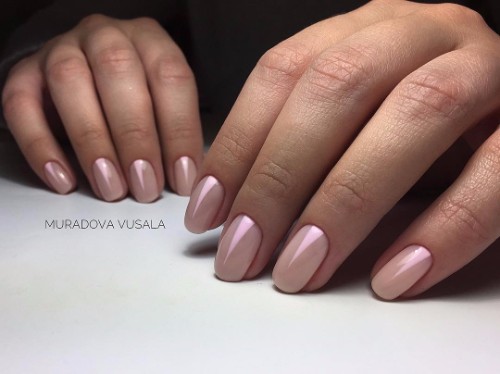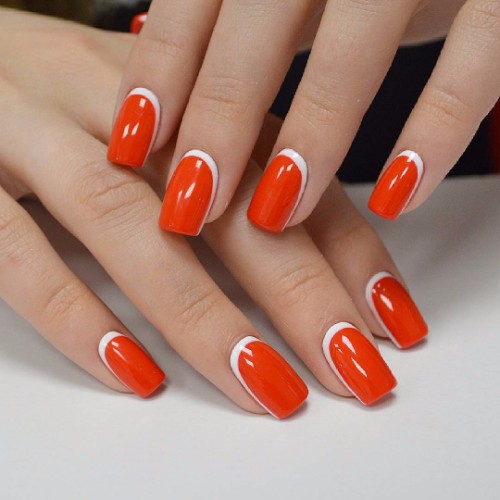 Simple nails for prom and graduation – DIY tutorials: popular videos
We hope you reached the end of the article and have found the perfect nail design for your Graduation party! Check if it complements your prom look and make an appointment in your favourite salon. Or plan to make something very creative on your nails yourself. Shine bright during your special day!!!
More Prom and Graduation Nails Ideas 2023 you can find on our Pinterest board and on our Instagram @thenewestnails. Follow us, save the ideas and be inspired by our content!