If you are looking for the newest pink nail designs, you are in the right place! We have recently gathered the latest pink nail arts from the top Instagram and Pinterest accounts. All you have to do is to scroll through them and choose the one you like the most. The next step will be calling your nail master and booking a salon visit.
Advertisement-Continue Reading Below
Are Pink Nail Arts In Style? What Are the Trendiest Pink Nail Designs in 2023?
Usually, we start the article with a list of the shades. This time is no exception. Just look how many different shades of pink do exist! Starting with the lightest beige pink tints and ending with the darkest pink nail shades, the list of all shades of pink is enormous. Plus, there exist cool pink shades and some warmer versions. We show, you choose, the scheme is simple. And if you are still hesitating if pink nails are in trend this season, the answer is YES, they are trendy. You just need to choose the nail polish color which is FOR YOU the most appropriate for the season.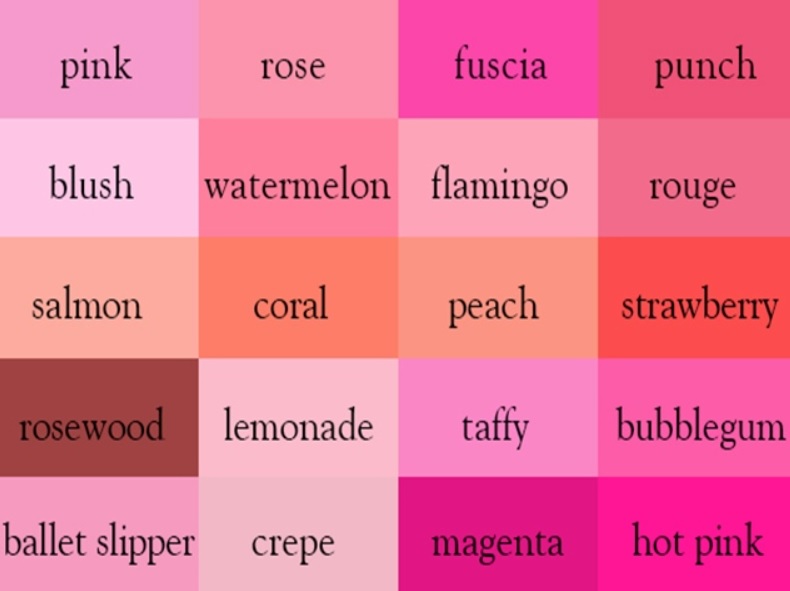 Ideas of Pink Nail Designs for 2023
Check out the images of different pink nail arts below.
– Dusty Pink Nails. Glossy and very elegant, such pink nails can be easily sported for all possible events, be it a wedding, a prom, a homecoming, a baby shower or somebody's birthday party.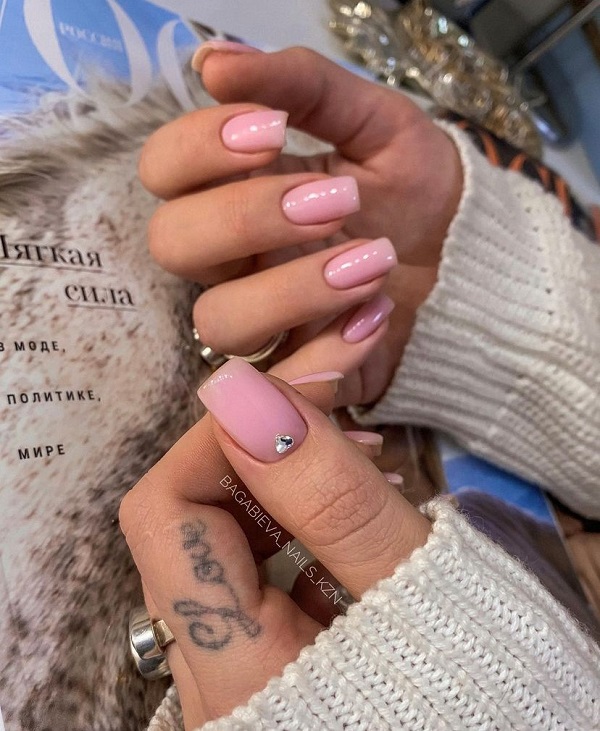 – Pink Nails with Glitter. Here we see a combination of matte and glossy top coats. And this looks fantastic!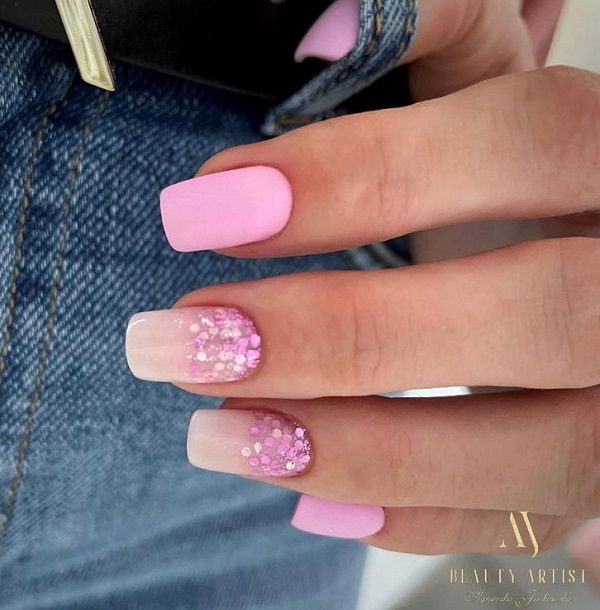 – Chrome Pink Nails. The metallic shine of this pink nail polish is what makes the design so unique.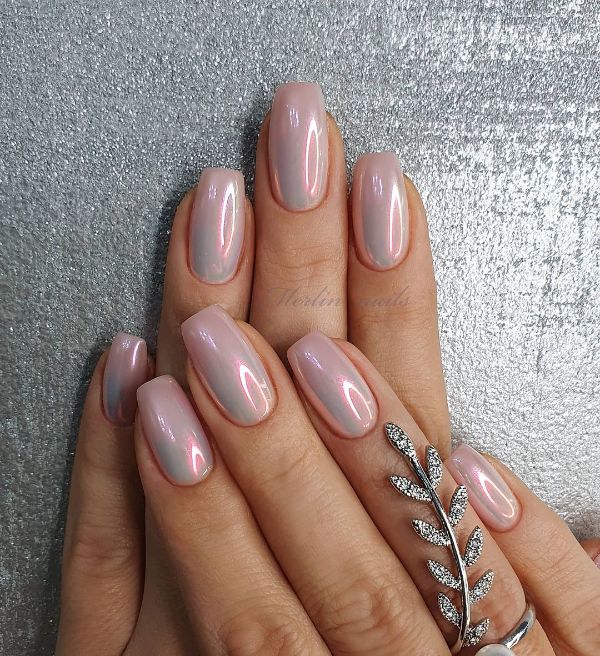 – Coral Pink Nails. If you have no ideas, what pink nail design to choose, opt for the simplest but one of the cutest ideas – the gradation from white to light pink and then more intense pink colors. Coral pink is one of the most pleasant shades among the pinks.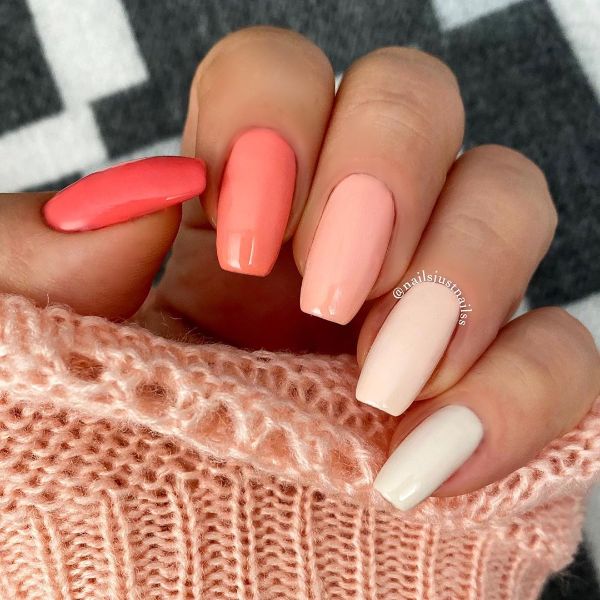 – Pink Nail Art with Hearts and Dots. A no fail combination for nails is a pink and white duo with a 'hearts and dots' design.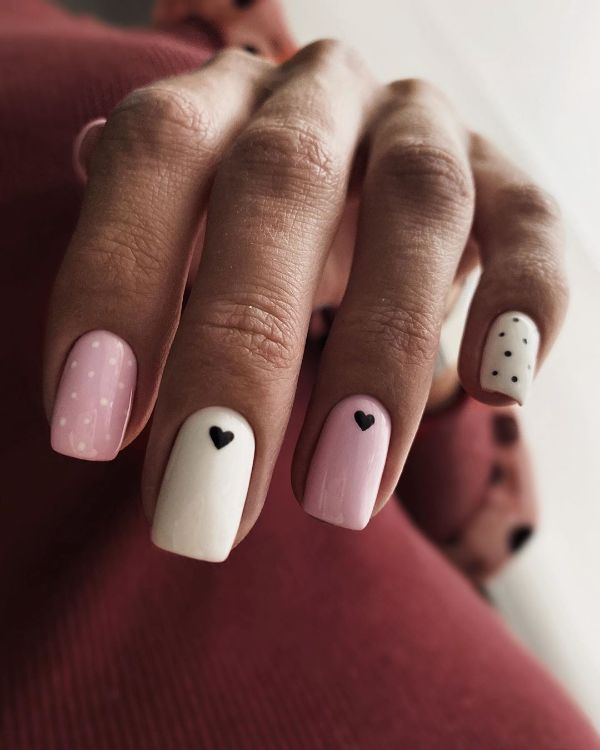 – Bright Fuchsia Pink Nails. Not every pink nail design is pale and romantic. Bright pink nails are also very hot and trendy. For some occasions you may even choose the fluorescent pink shade.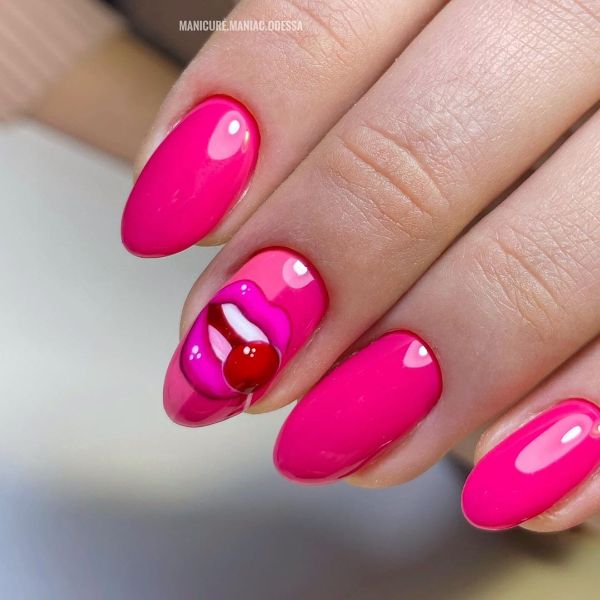 – Pale Pink Nails with Bright Accents. If you want to balance between the light and bright shades, choose the golden mean – a nail design like this with several accents in bright shades. They may be glossy, or covered with a matte top coat.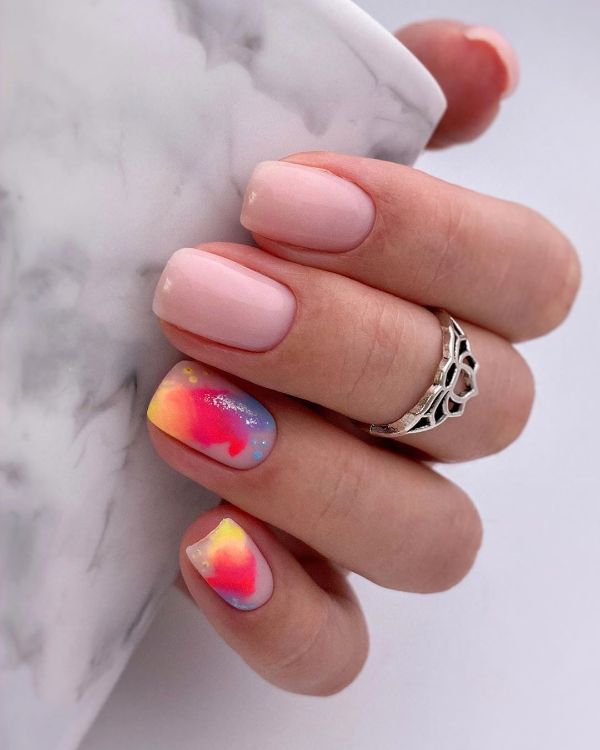 – Acrylic Pink Nails. This picture with long almond nails features a mix of pink, brown and golden chrome shades. Perfect!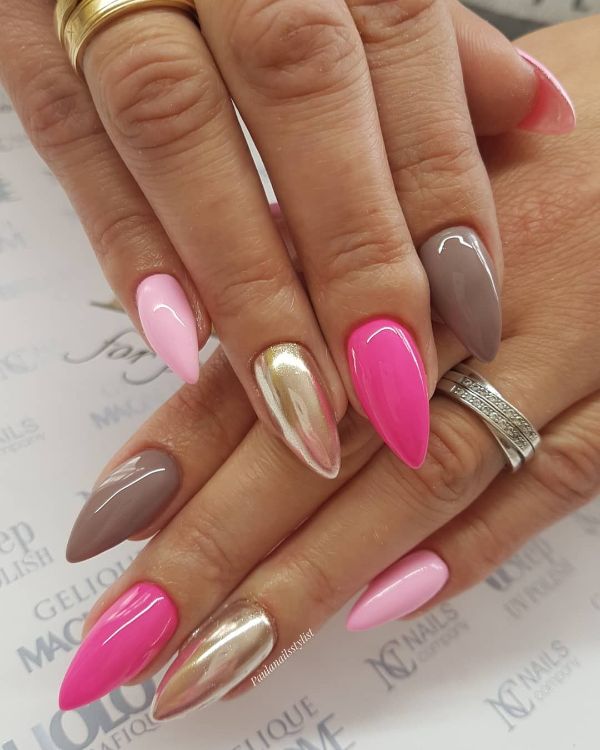 – Pink Nails with Butterflies. Choose the lightest shades of pink beige, pastel pink and blue for this design.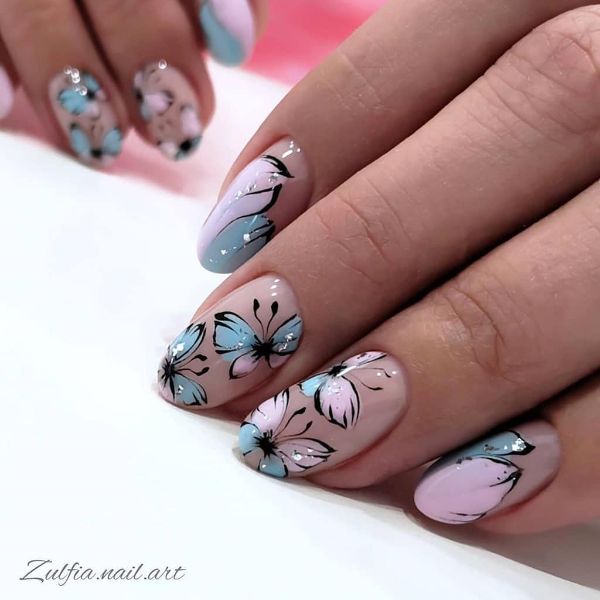 – Coffin Pink Nails with a Glitter Heart. This nail art is suitable for every day and for any special event, for weddings, prom parties, and homecoming.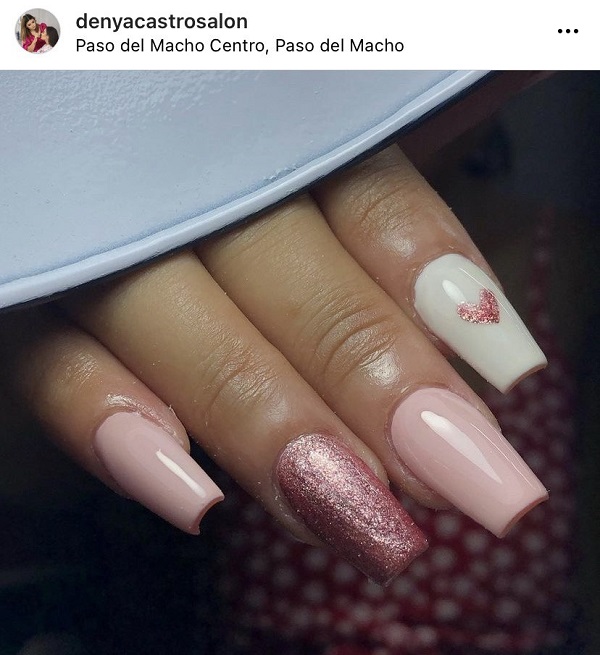 – Pink Nails with Soft Lines and French Tips. The squoval nail shape pairs perfectly with the elegant pink design.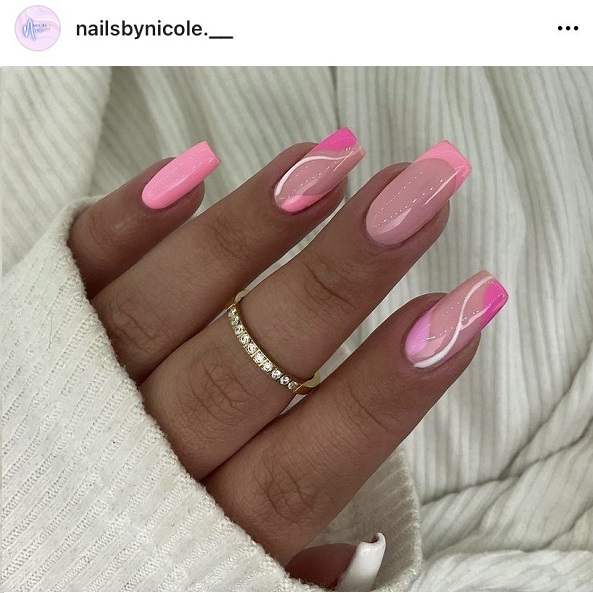 – Pink Nails with Brown Skin. What pink nail shades flatter brown skin tones? Every single tone will look perfect on darker skin! Here we see a gradient transition from the light pink tone to fuchsia pink color, and all 3 tones look ideal!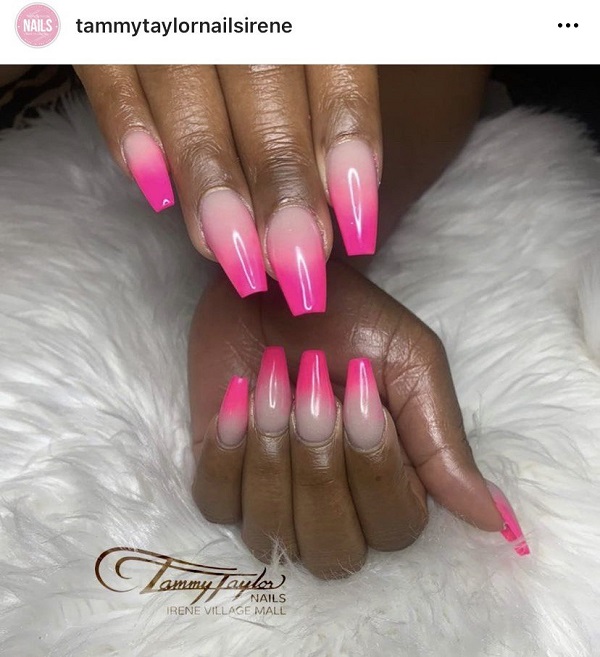 – Pink Sweater Nails for Winter Season and Christmas. Sweater nails for the colder season are one of the favorite designs among women. What can be cuter and more thematic than pink sweater designs on your nails for Christmas?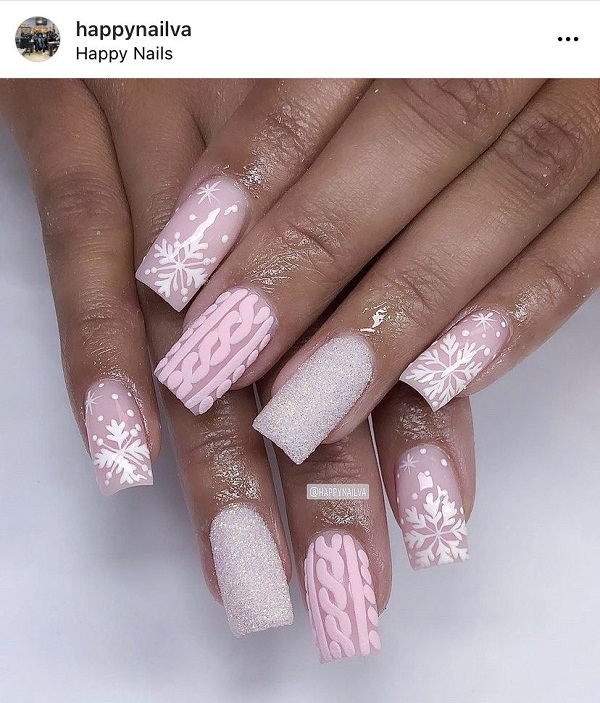 – Long Ballerina Pink Nails with a Simple Design. Lines, dots, small pearls, some glitter and matte accents – this is a formula for a cute simple nail art flattering for casual looks and for any big event.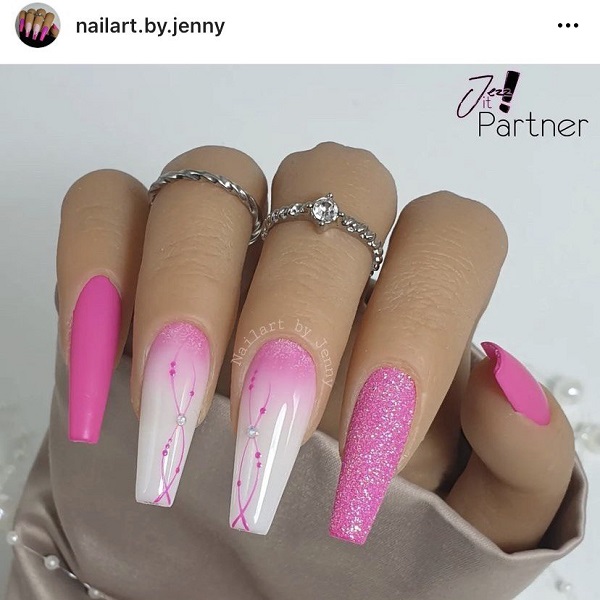 – Cute Pink Guail Egg Nails. So cute and so simple! You can leave the design with a glossy finish, but the matte top coat will look even better.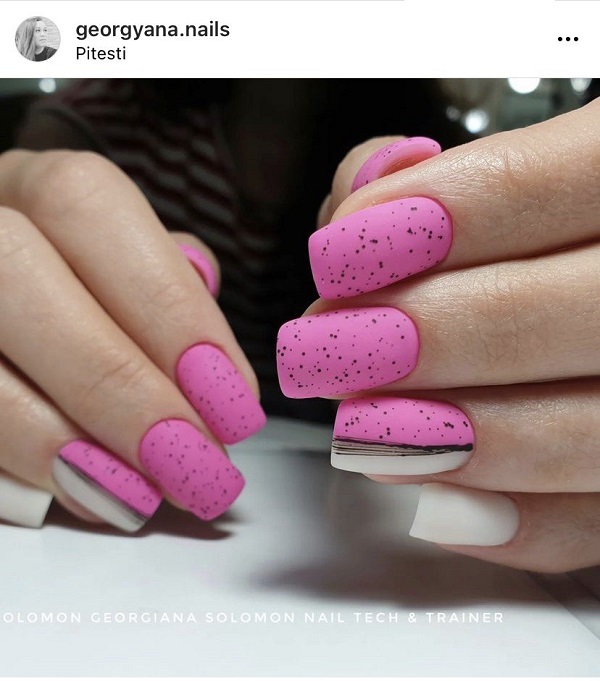 – Pink Nails for Prom. There are different types of nail glitter, from the tiniest shimmering parts, to bigger and more visible chunky hexagons and big round glitter sequins. Choose the option you like the most, and add that glitter to one of the nails. White color, pink shade, and glitter accent nails covered with the matte top coating will be your dream-come-true mani for the prom party!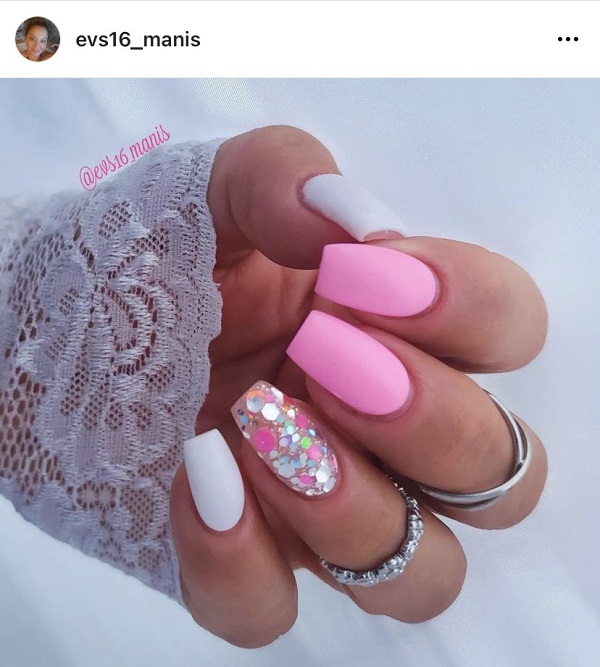 – Dusky Pink Nails. You may elevate your long pink nails with a combo of glossy and matte finishes, and a cute heart design.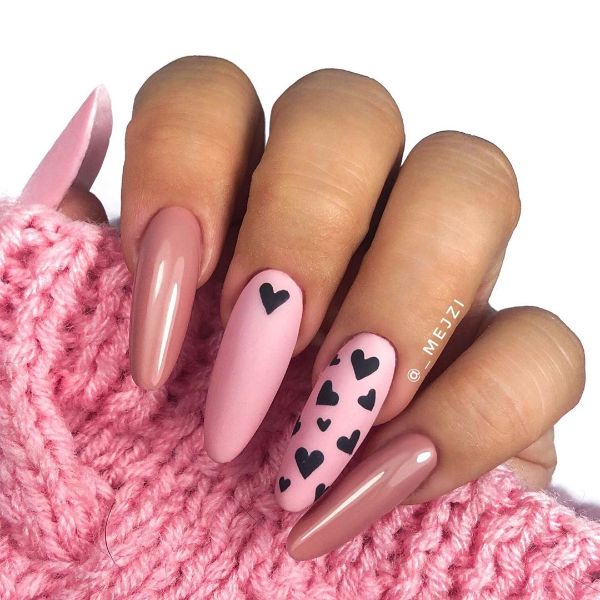 – Short Pink Nails. Though now all short nails enable enough space for a real design, you can always at least pint your nails with several shades. The situation is saved!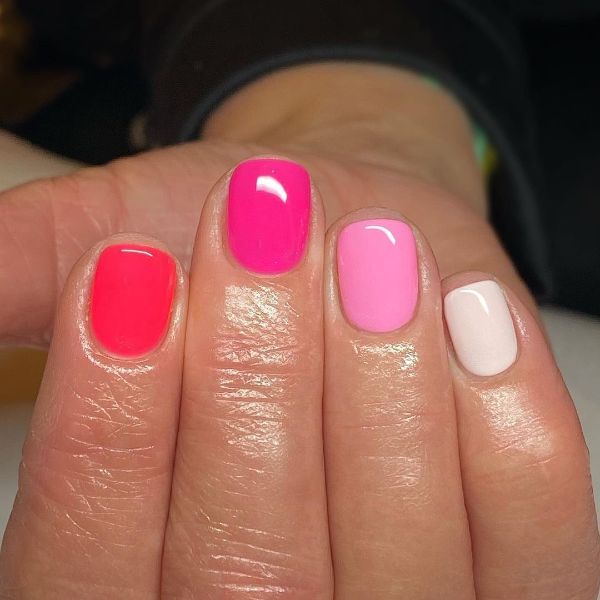 – Long Stiletto Pink Nails with Butterflies. Light pink nails with dark pink butterflies, what can be cuter?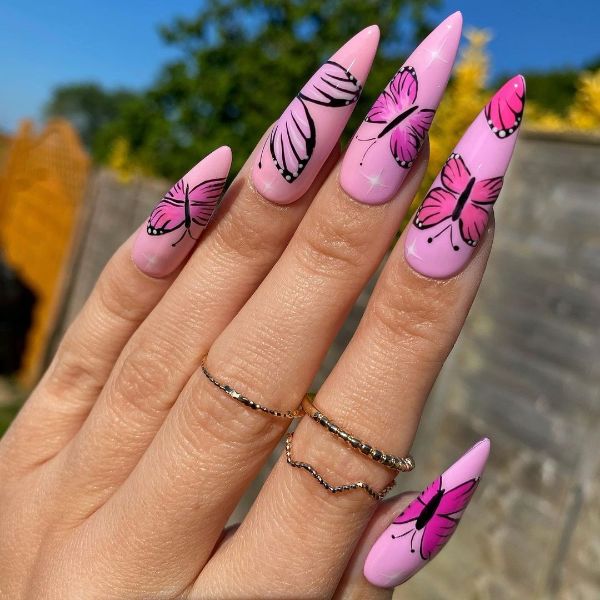 – Cold Pink Shimmering Nails with a Cherry Design. Even without a cherry these nails would look perfect because of the ideal shimmering nail polish.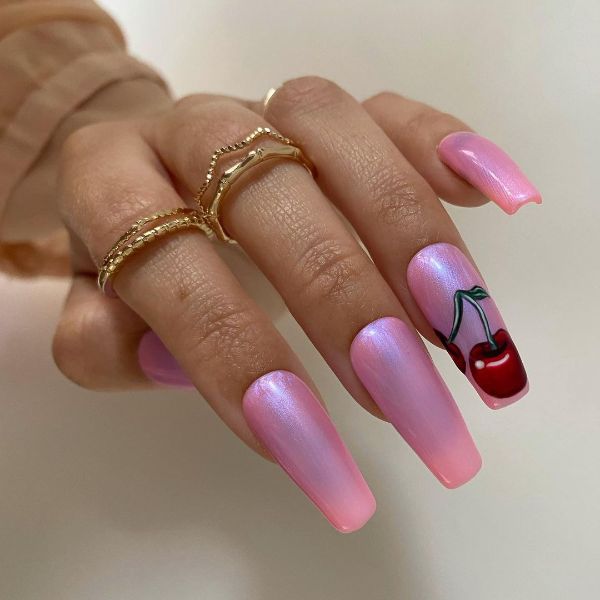 – Pastel Pink Marble Nails. Pink marble on nails looks fantastic! Add a hint of silver to it to make it even trendier.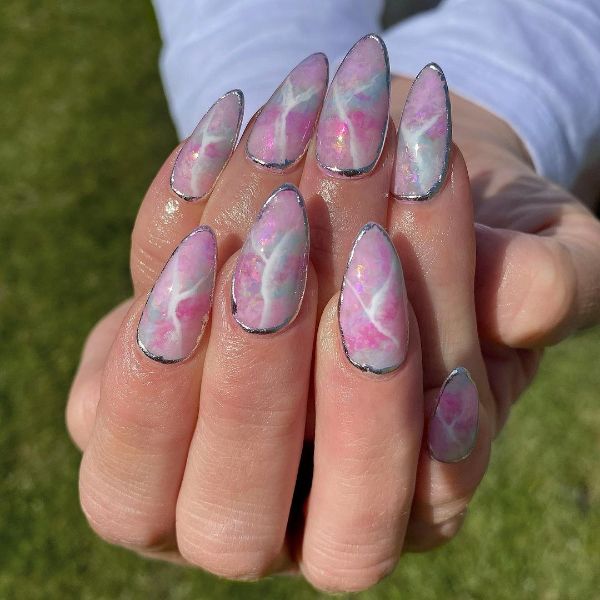 – Blue and Pink Nails Design. Pink ombre nails will be more interesting if you add one more color to them. Also, no need to use the classic horizontal ombre placement. Make a vertical or even diagonal ombre.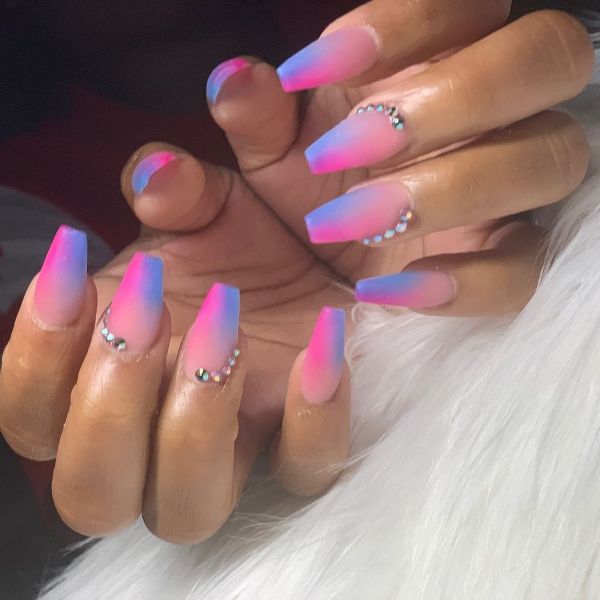 – Cotton Candy Pink Nails. Actually, this pink color is hard to define. It reminds a strawberry milkshake, right? Anyway, call it a cotton candy pink or a strawberry pink, it looks so tender and cute that you want to try it instantly. And that matte finish!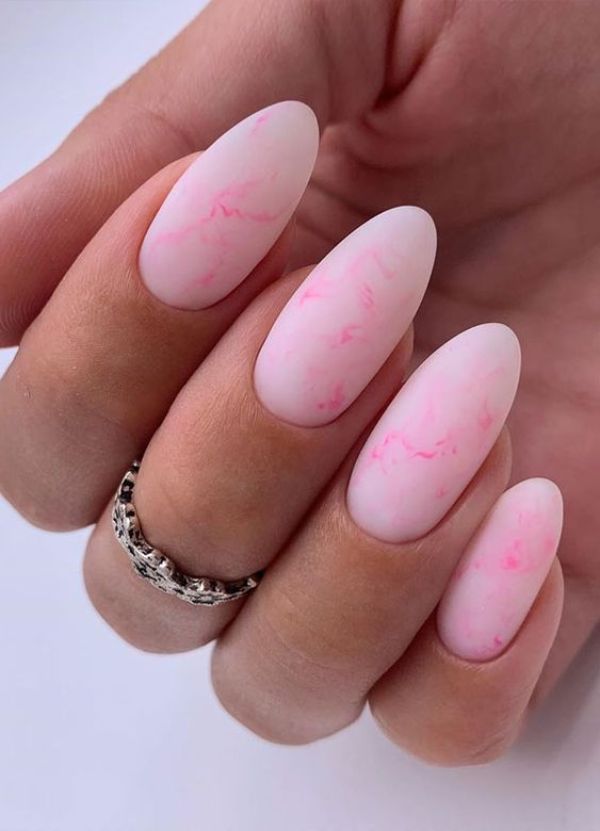 – Baby Pink Nils with Bananas. The things that attract the eye in this design are the perfect baby pink shade, the ideal matte top coat, and the cute yellow accent bananas. Fun!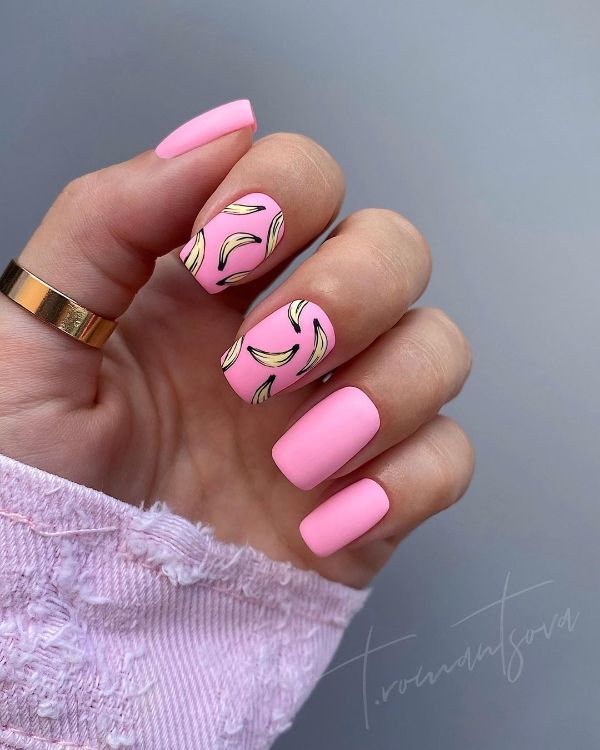 – Pink Matte Nail Art with Leaves. One more matte nail design, and one more time we gasp with amazement. Perfect rounded angles, the ideal tone, a well-balanced design – what else do we, perfectionists need?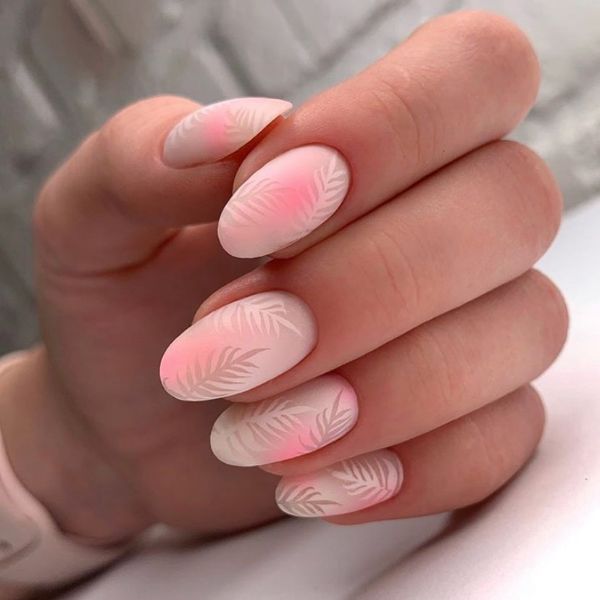 – Abstract Pink and Black Nail Art. Abstract nail designs are very in rn, so don't hesitate to try one of the abstract minimalistic nail art like this one.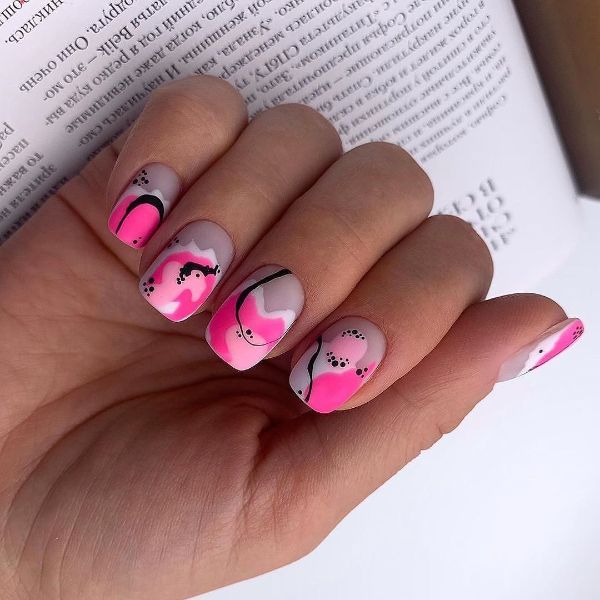 – Simmering Pink Nails with Heart Tips. Oval pink nails can be elevated to the next level if you draw big hearts on their ends.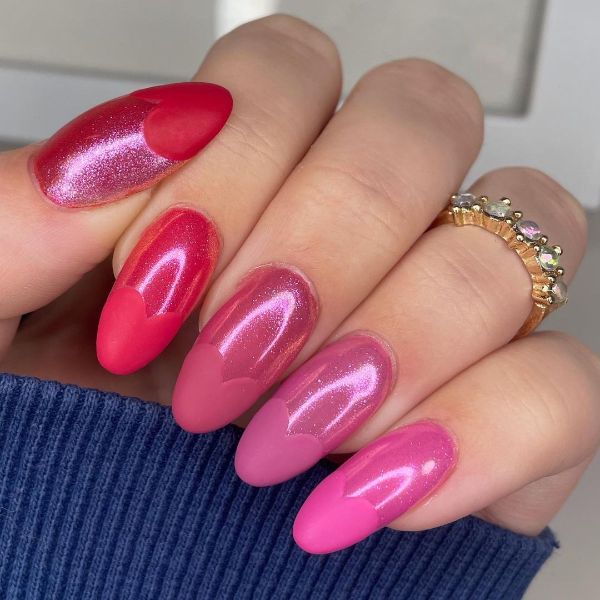 – Pink Nail Design with Black Dots. Pink and black pair well too, especiallyif you add black color in a form of different dots.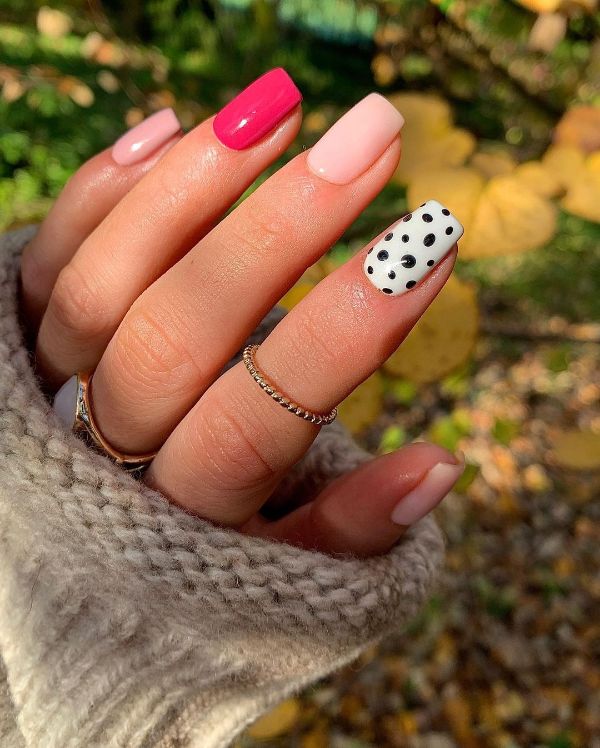 – Pastel Pink and Blue Nail Design. The flower pattern and beige pink base match really well.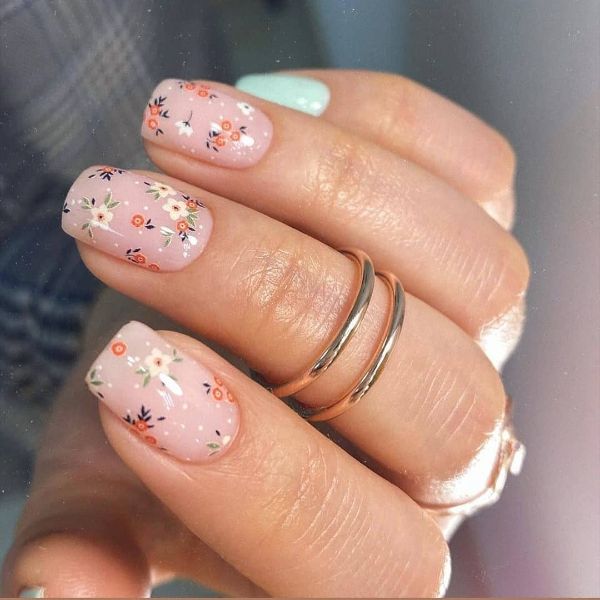 – Fluorescent Pink Nail Art with Colorful Butterflies. As we see, butterflies are depicted on pink nails more than often. That's pretty cool, as you can add different butterflies each time, darker pink, blue, or completely colorful.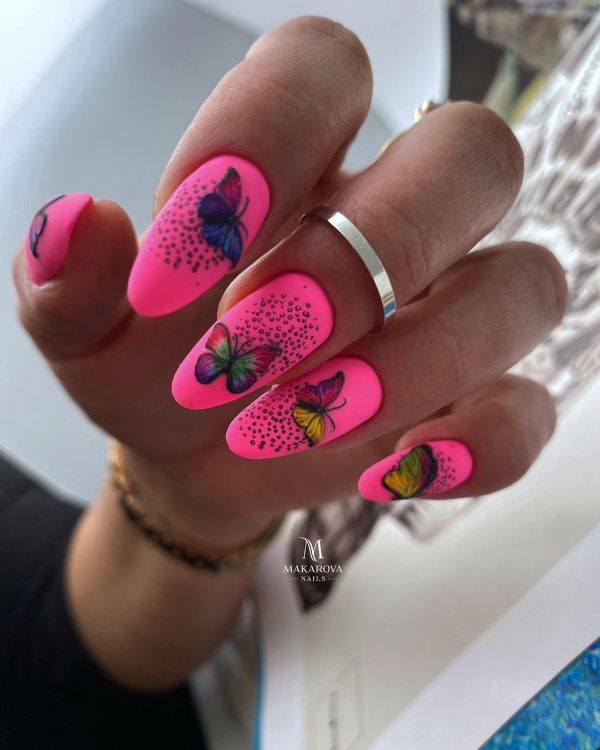 – Deep Pink Nails with a Fruit Design. What fruits does pink nail shade pairs best with? Strawberries, right. Cherries, yes. And Pears! So summery!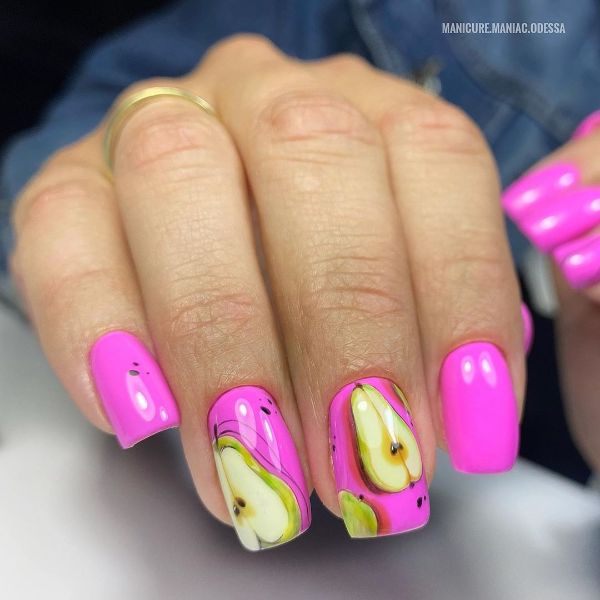 – Pink Stripes on Nails. One more white and pink nail design, and this time even more creative.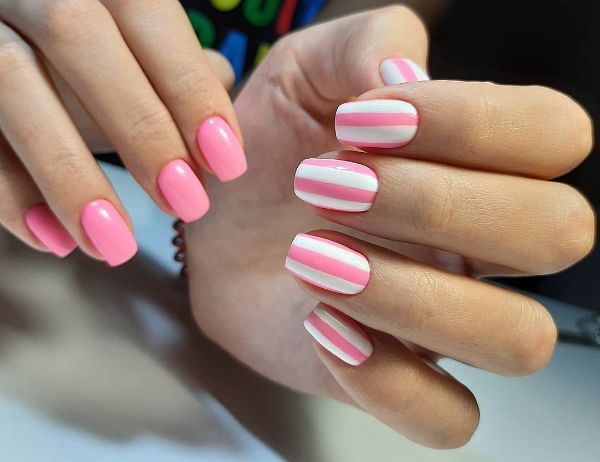 – Pink Glitter Nail Polish. A perfect idea of the pink New Year's Eve nail design, how do you think?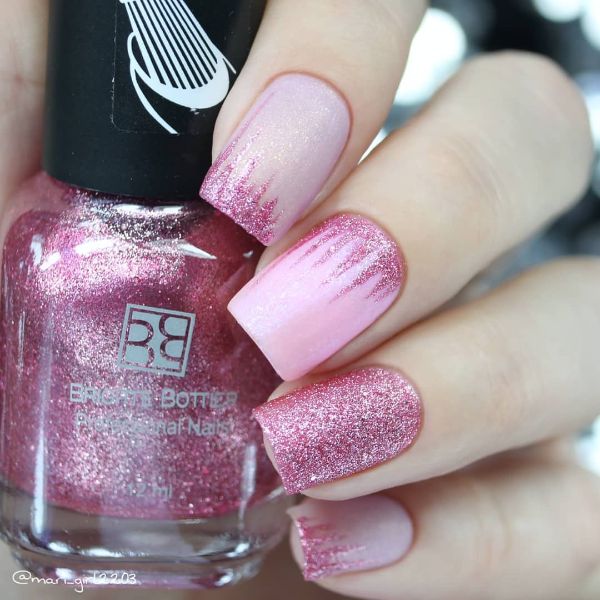 – Neon Pink Nails. Milk white nail shade pairs perfectly with the neon pink nail shade.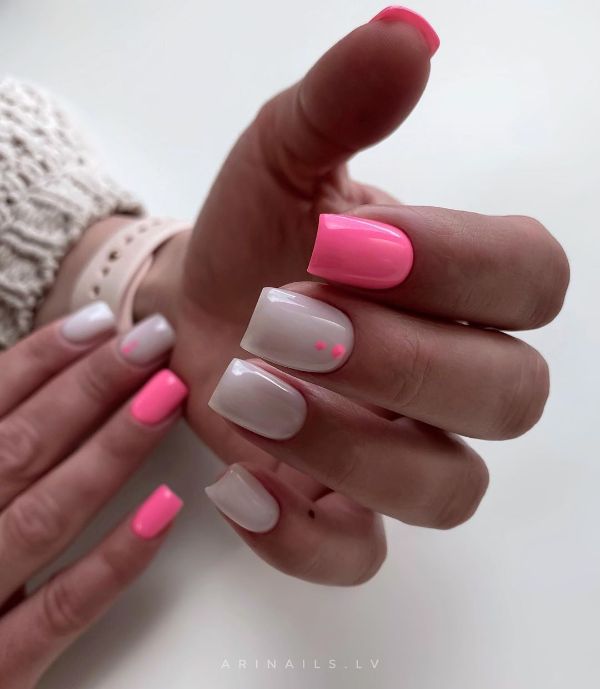 – Pink Nails with a Lot of Glitter. A litter glitter never killed nobody. And a lot of glitter too.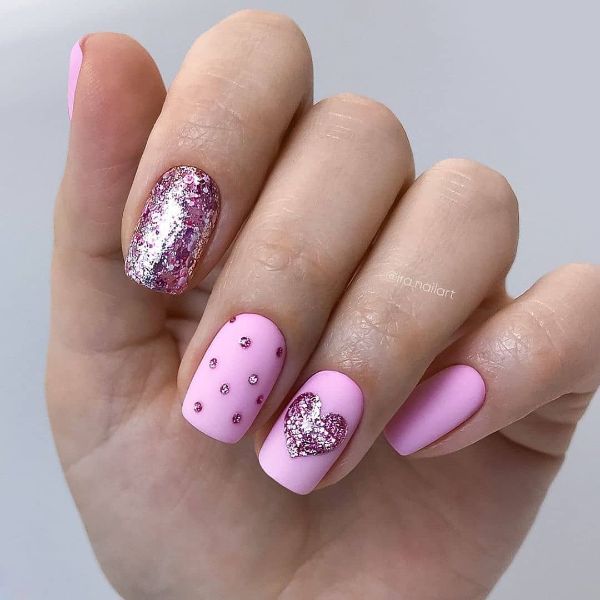 – Pink Flame Nail Art. Are you looking for hot pink nail designs? The hottest one is right in front of you.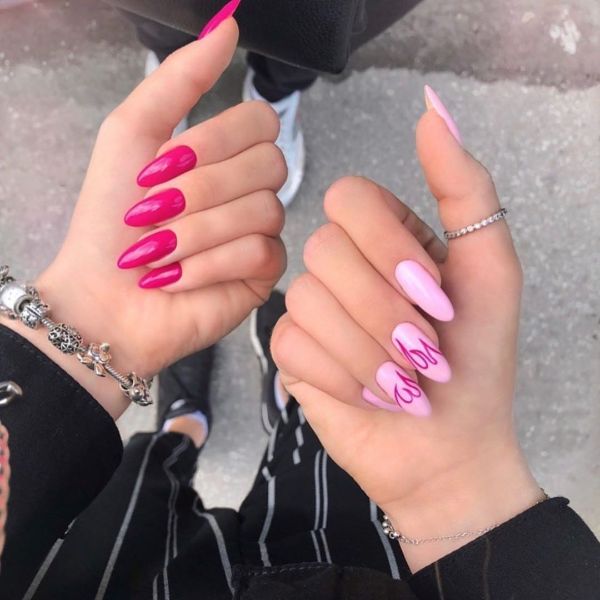 – Cute Pink Nails with Flowers and Leaves. Why choose only flowers or only leaves? Add both to your pink nail design.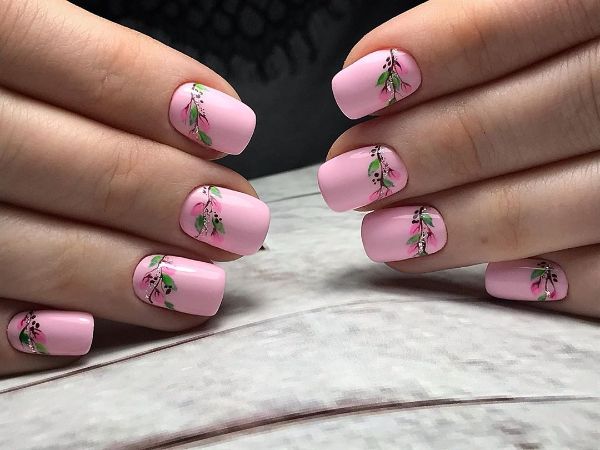 – Pink and White Nail Design. Pair your main pink nail color with white nail polish and leaves, and you get the most beautiful pink nail design for spring.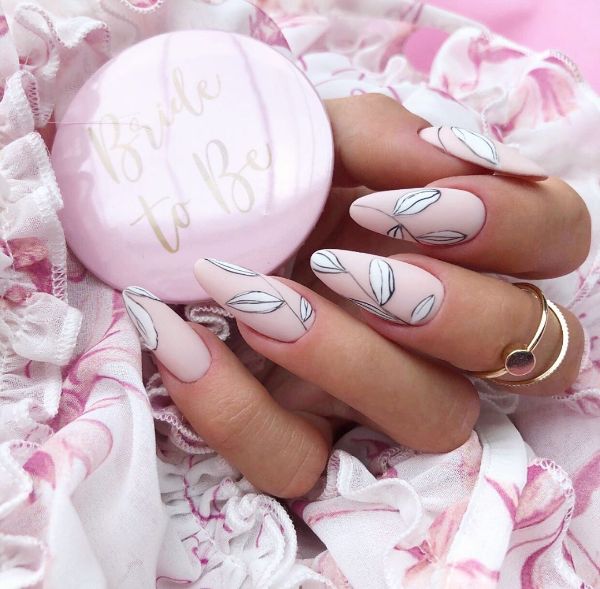 – Graduated ombre nail design. The most universal version of the pink nail design that is flattering for both work and special events.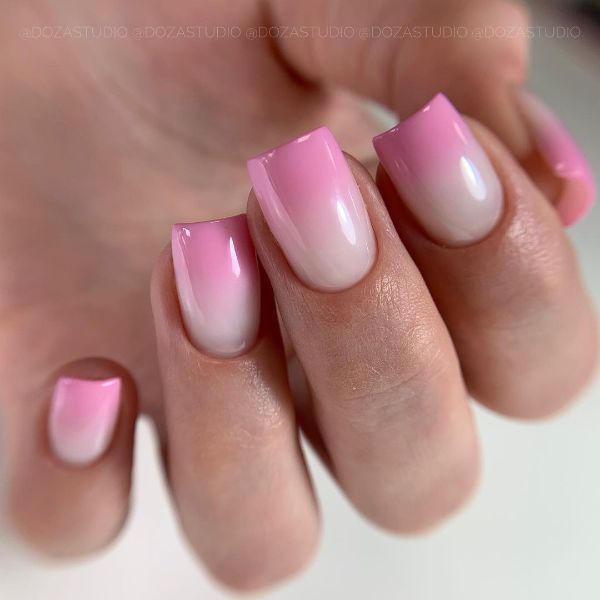 – Dark Pink Nails with Glitter. Wow, these nails are seriously statement-making. The perfect oval form, a very dark pink shade and accent glitter nails are the main details you need to remember if you want something as beautiful as this design on your nails.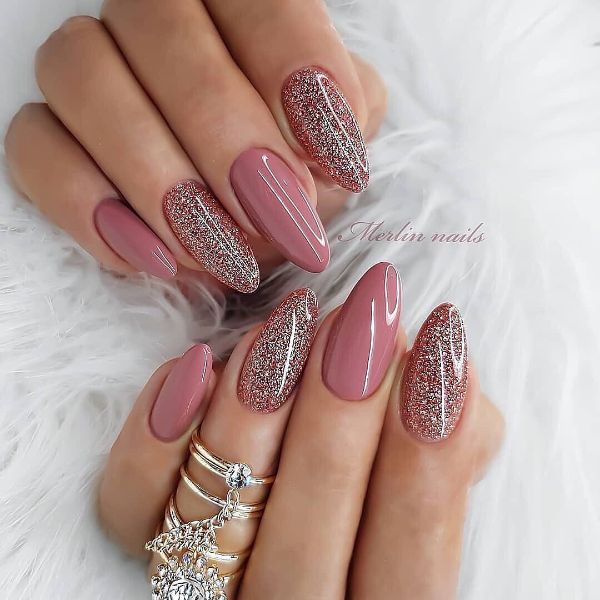 – Pink Flower Nail Design. This design definitely has a romantic flair. Moreover, it will pair well with all types of clothes, and will be flattering during all seasons. Wear it with warm sweaters or pink girlish dresses, it will look stunning.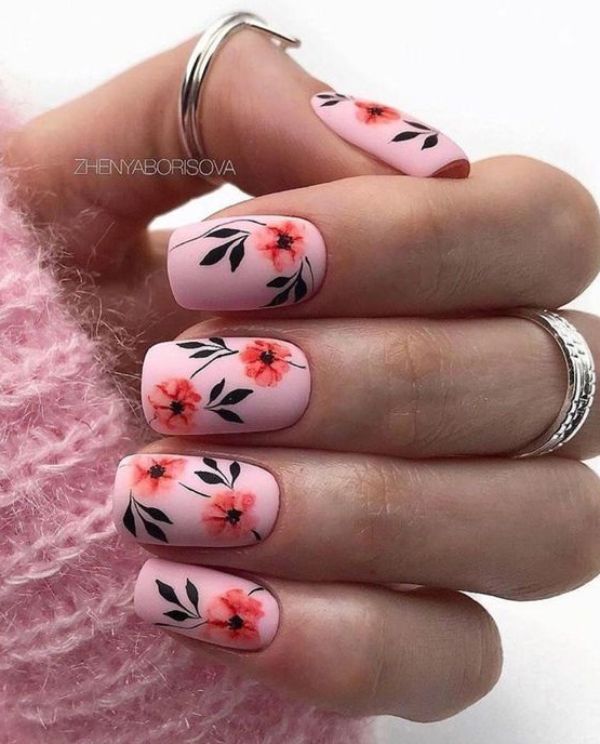 – Pink Geode Nail Design. Elevate your light pink nails with some marble and geode accents and hints of gold.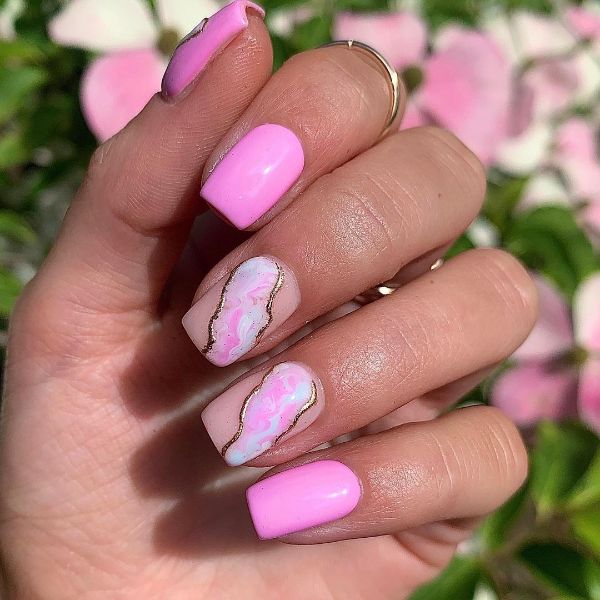 – Bubblegum Pink Nails. Gradient pink nails are one of the most favourite women's nail designs because of their simplicity and cool look. From white, to bubblegum pink and flamingo pink shades, this design includes 4 different colors but can be done with only 2 nail polishes. Mix white nail polish with the bright pink in different proportions, and that's it.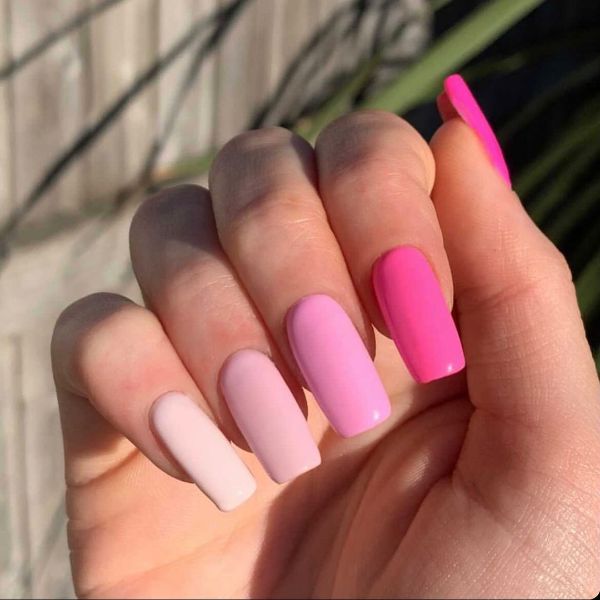 – Barbie Pink Nail Design. The color you see in this picture is called the 'barbie pink' shade. So, if you are a fan of bright shades and girlish nail arts, you are more than welcome to try something similar.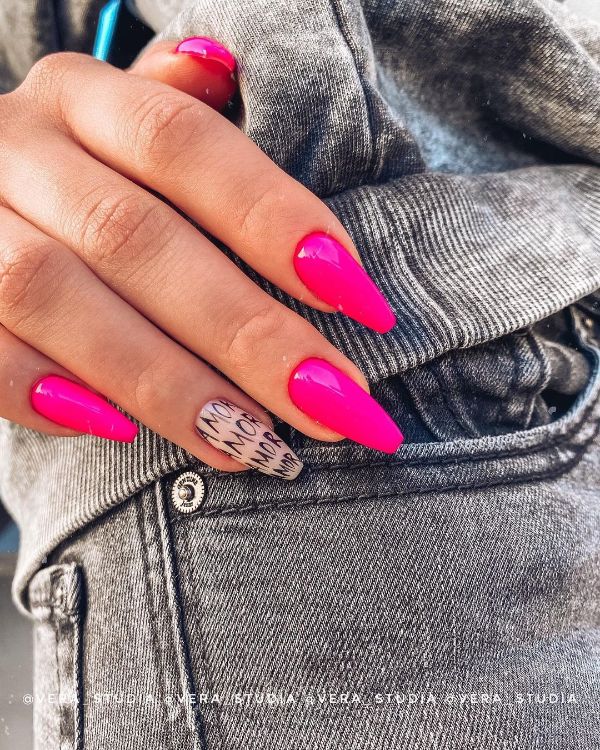 – Pink French nails. French nails are classic. If you want to add some barbie-ness to them, use pink shades and add cute pink French tips.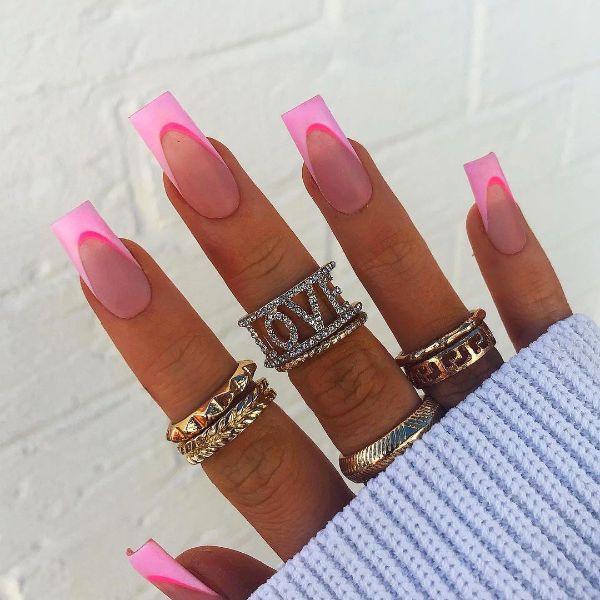 – Warm Strawberry Pink Nails with Gold. The golden parts remind the 'dragon egg design' that was popular several years ago. Anyway, pink and gold look perfect together.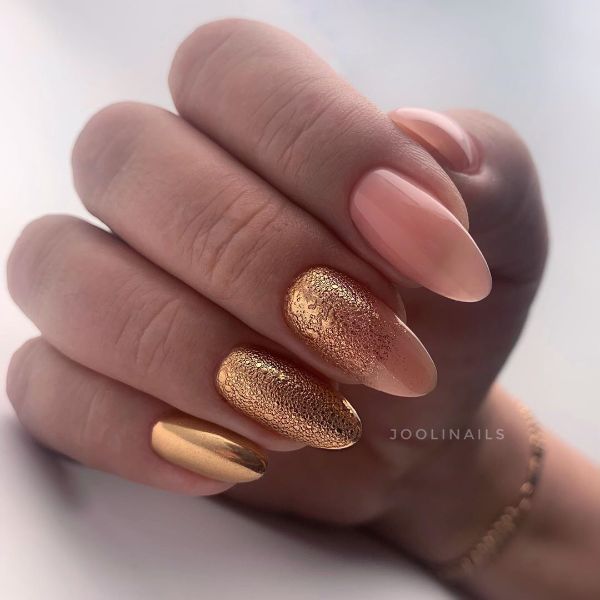 Actually, there are of course much more pink nails ideas. You can always look on Pinterest or follow cool nail designs accounts on Instagram for more pink nails inspo. However, this post will be also updated in some time, so you can add it to your Pinterest board by pinning one of the images, or save the link for later. More ideas of pink nails with designs are coming! Stay tuned!