Pineapple nail designs become trendy every summer. They are a bit boho, playful, and very fun to wear. Want to step up your nail game this season? Then read on and get the best nail arts we could get on Instagram, plus several very easy tutorials.
Advertisement-Continue Reading Below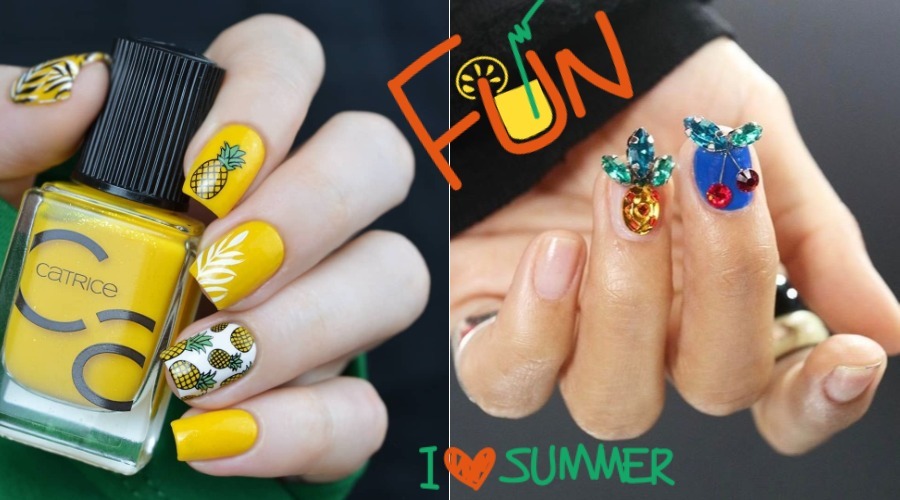 To save the article pin it and check next summer for updates!
The Trendiest Pineapple Designs from IG ащк 2023
The hashtag #pineapplenails has more than 9000 publications! We've chosen the best out of them. Look through and comment below if our efforts were not in vain!
1. Orange pineapple nail design.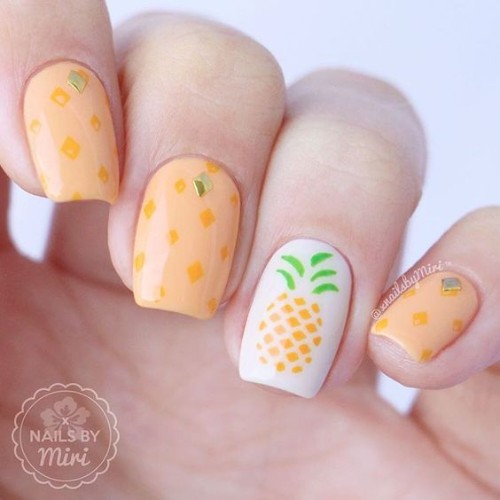 2. Orange & yellow ombre nails with pineapples.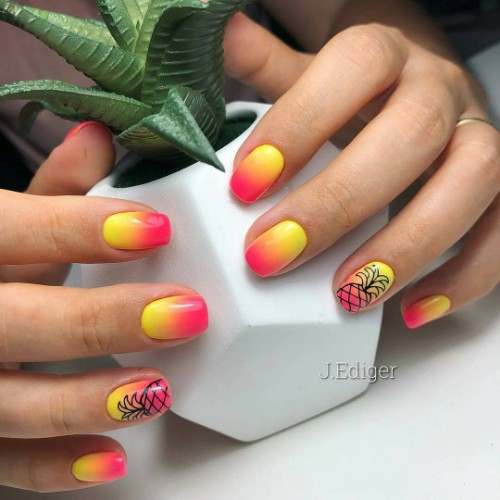 3. Nude matte nails with gold pineapples.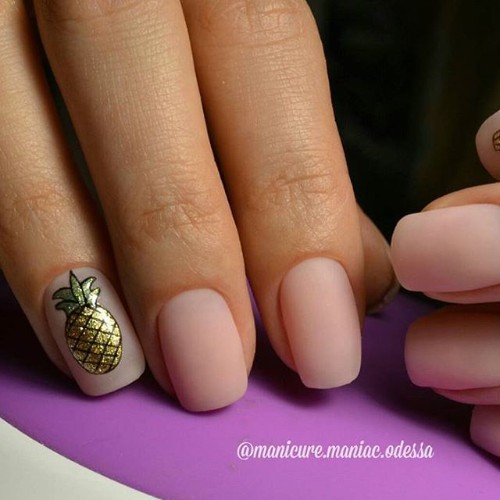 4. Nude beige nails with a pineapple.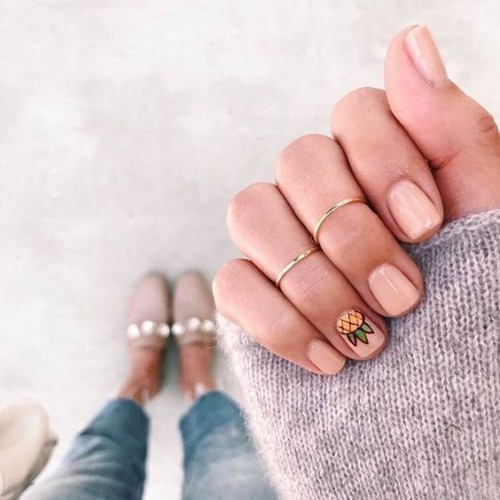 5. Nude pink pineapple nail design with mint green leaves.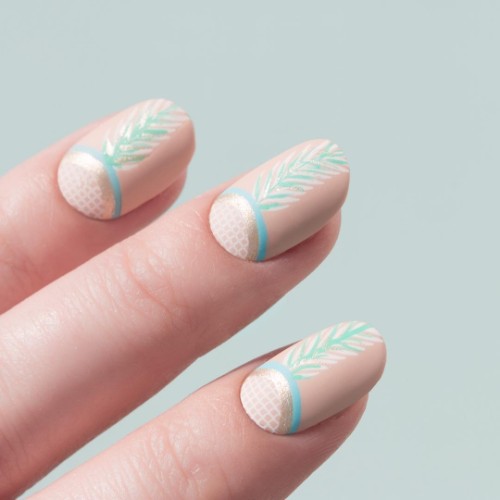 6. Black manicure with a pineapple and bright flowers.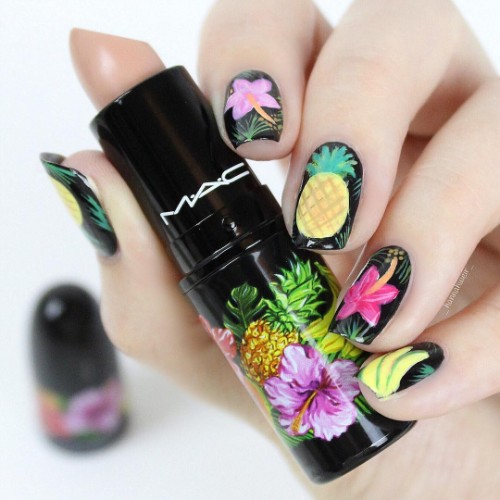 7. Pineapple nails, perfect for the office.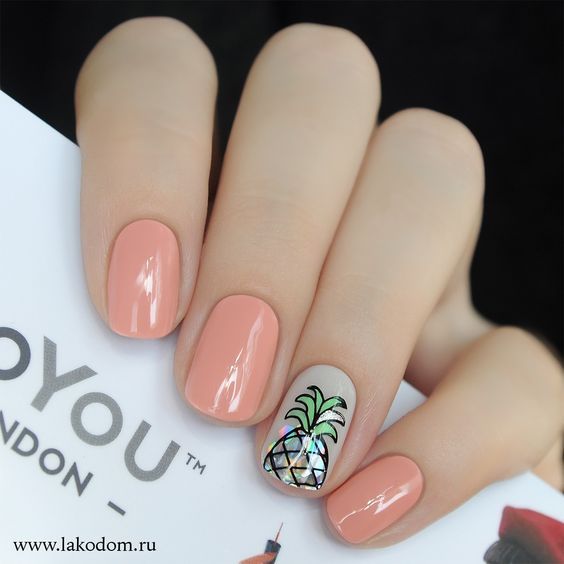 8. White nails with negative space and a lot of pineapples.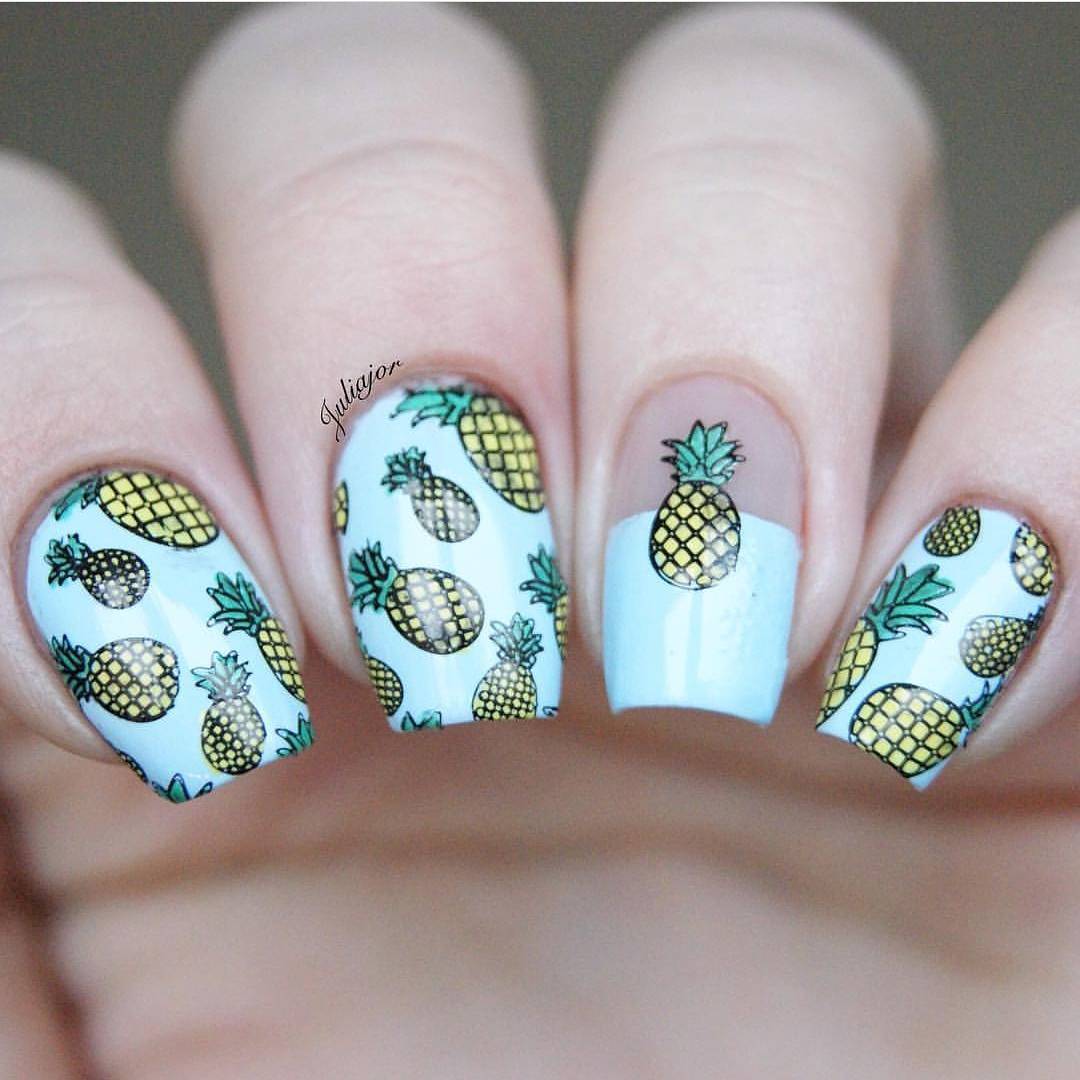 9. White nail design with black stripes, a gold pineapple and orange flowers.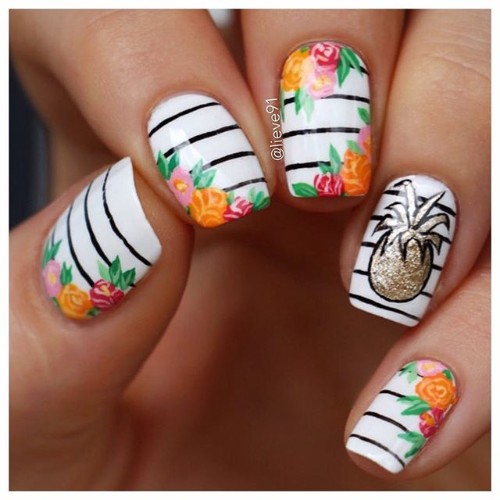 10. Beach-ready white pineapple nail design with black stripes.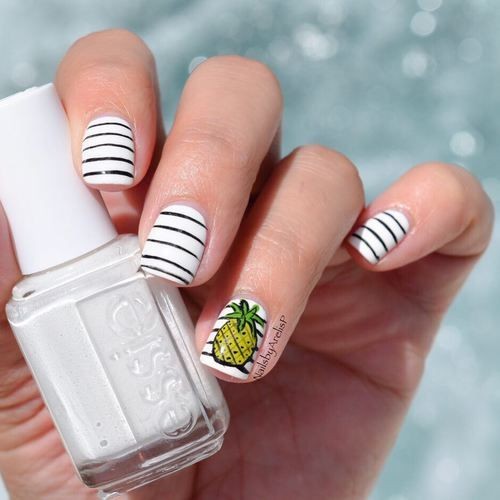 11. Pink nails with a pineapple and a gold glitter accent nail.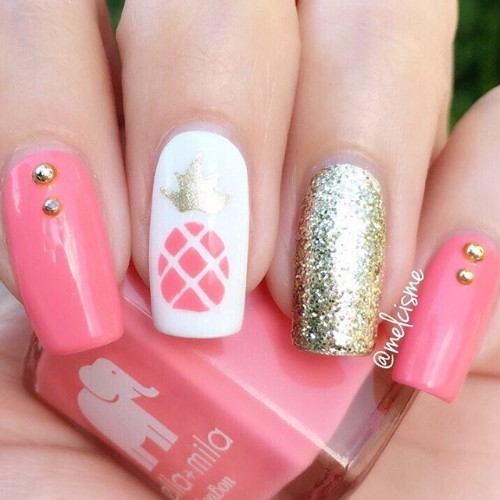 12. Summery nail design with a flamingo, a pineapple and tropic leaves.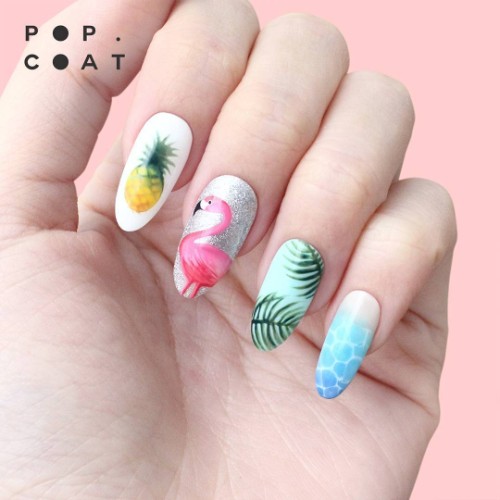 13. Green-to-pink ombre nails with a pineapple on the white base.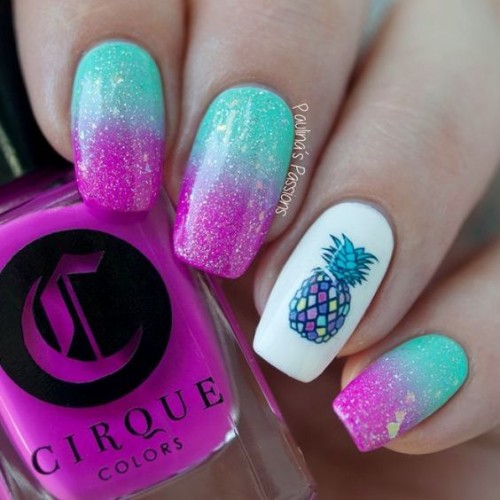 14. Nude manicure with a colorful pineapple and bananas.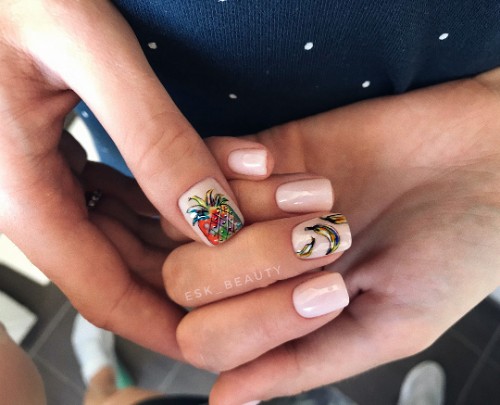 15. Denim nails with colorful pineapples on two nails.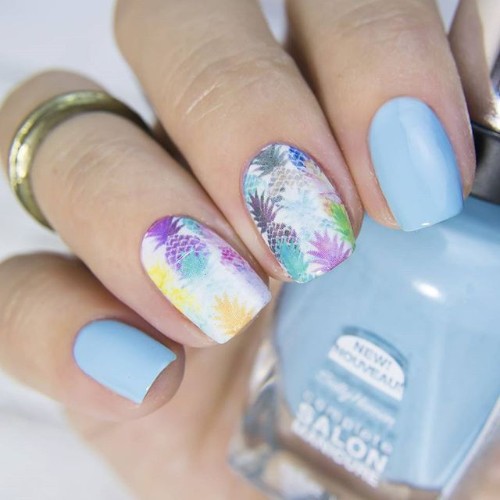 16. Pineapple design on bright yellow short nails.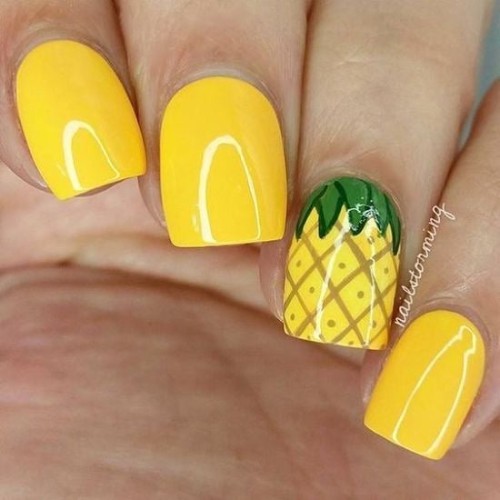 17. Classic French nails with a pineapple.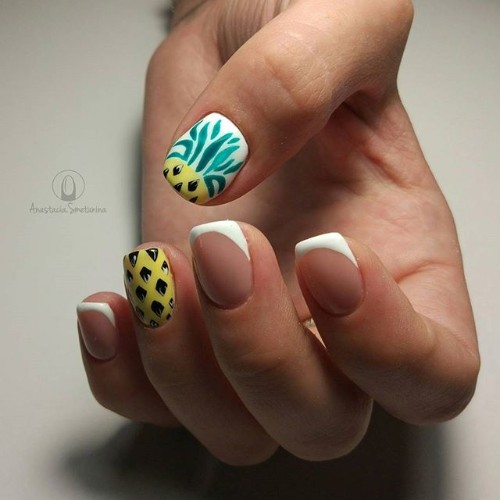 18. Mustard-yellow nails with pineapples.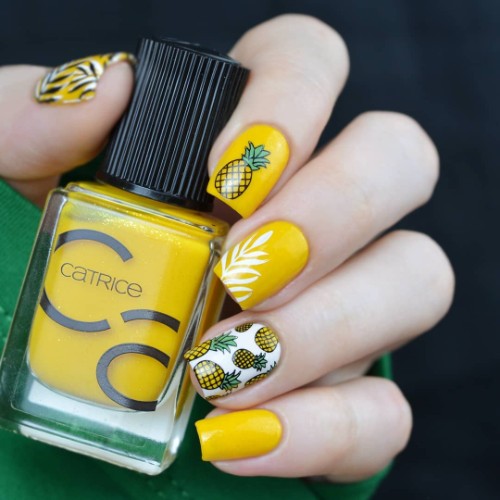 19. White manicure with colorful pineapples and dots.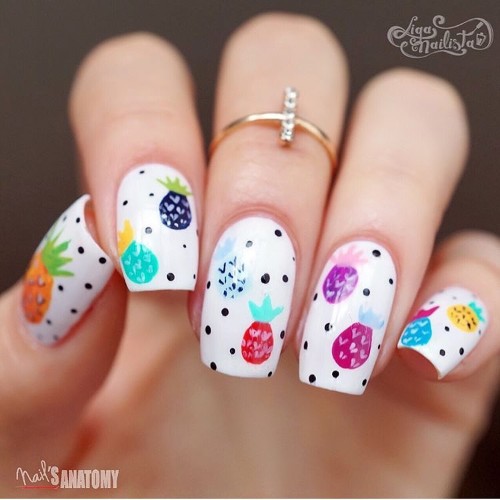 20. Light yellow nails with a pineapple on the black base.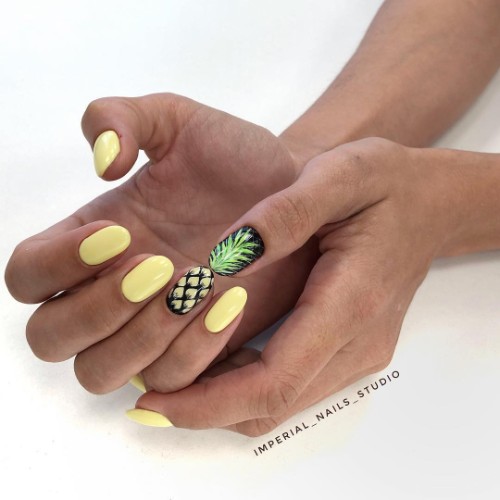 21. Perfectly white nails with gold rhinestone pineapples.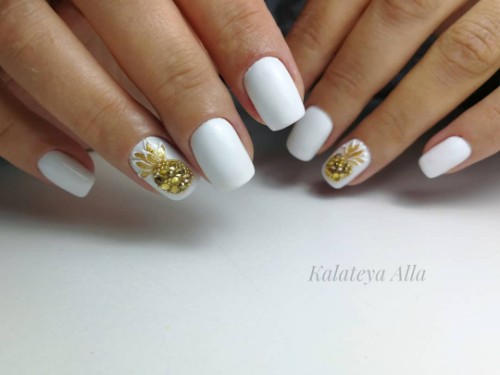 22. Turquoise pineapple nails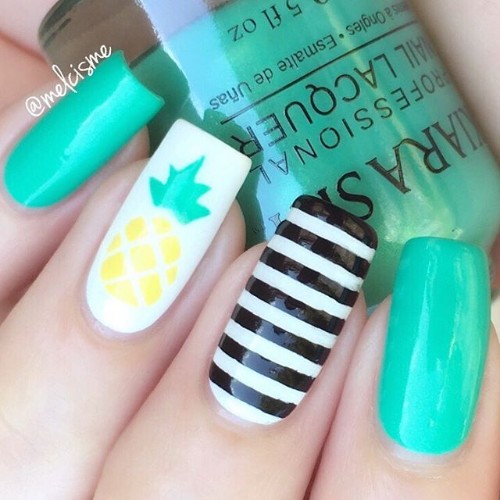 23. Sky blue nails with a pineapple fruit.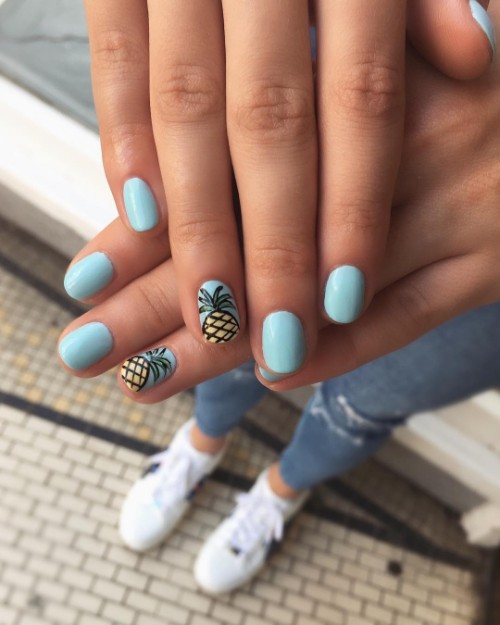 24. Colorful pastel nails with a summer tropical design.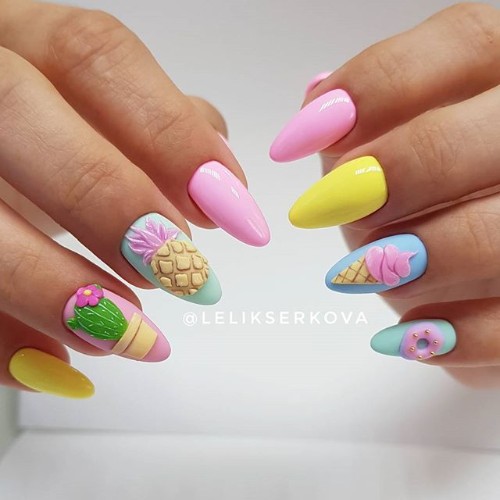 25. Red'n'white nails with a pineapple pattern.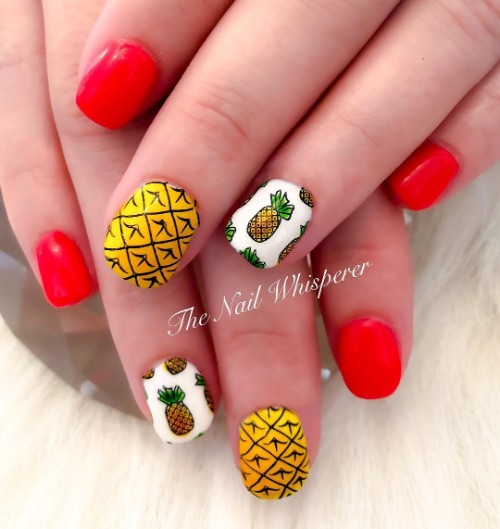 26. Pineapple tops and bottoms, drawn separately on different hands.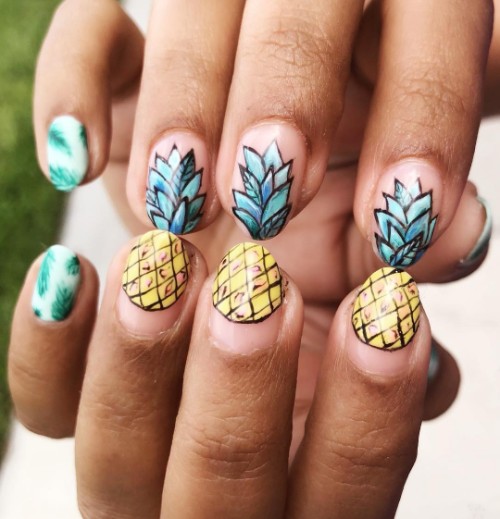 27. Light blue nails with yellow pineapples.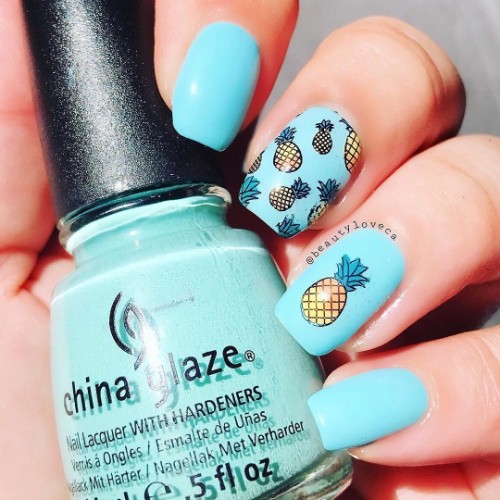 28. White nail art with yellow pineapples.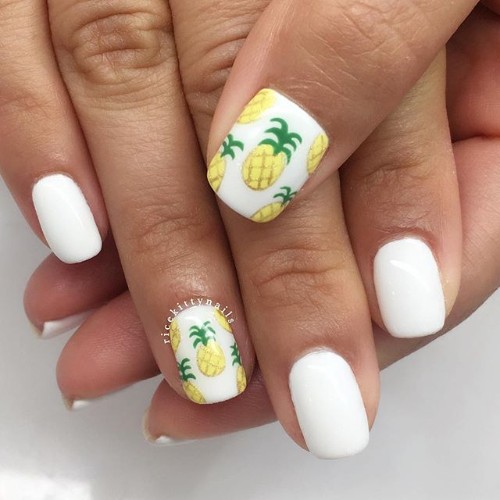 29. Pineapple design on a thumb nail.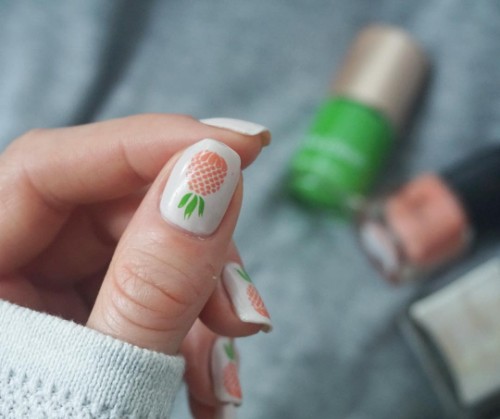 30. The same pineapple design on all nails.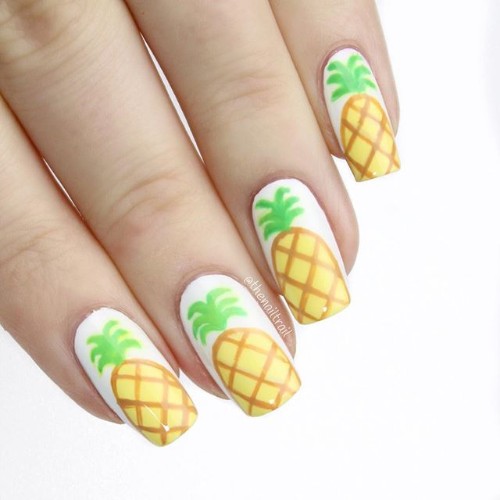 31. Banana yellow nail polish shade with a pineapple art.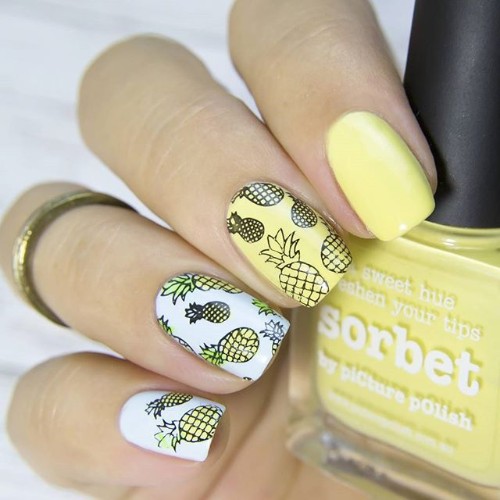 32. Festive white manicure with gold pineapples.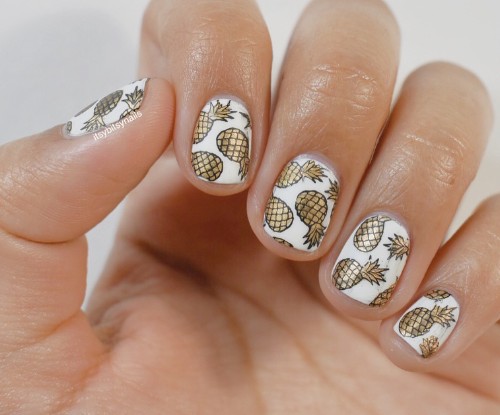 33. Minimalistic mani with two bright accent ombre nails.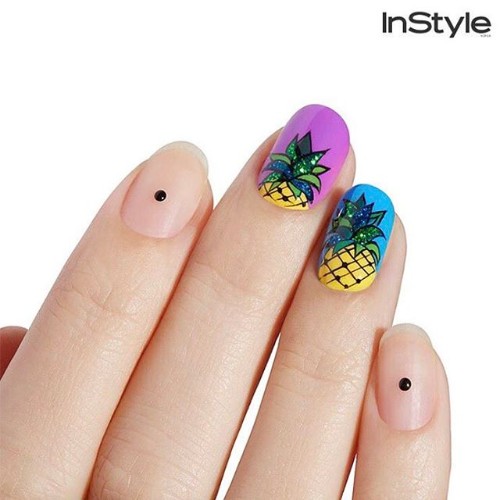 34. White nails with a pineapple design on a thumb.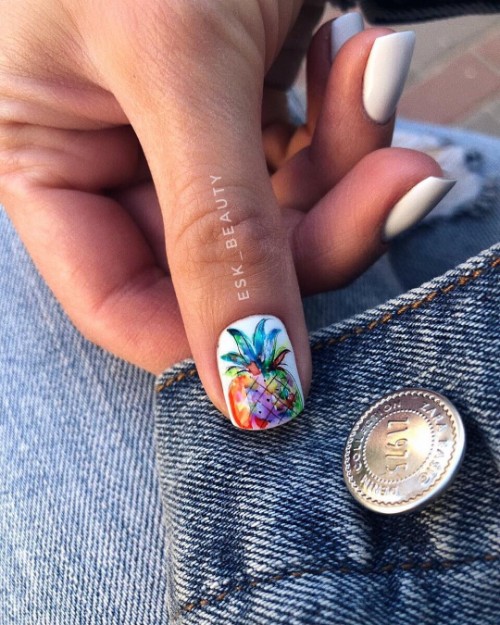 35. Glitter mauve nail polish with a gold pineapple design.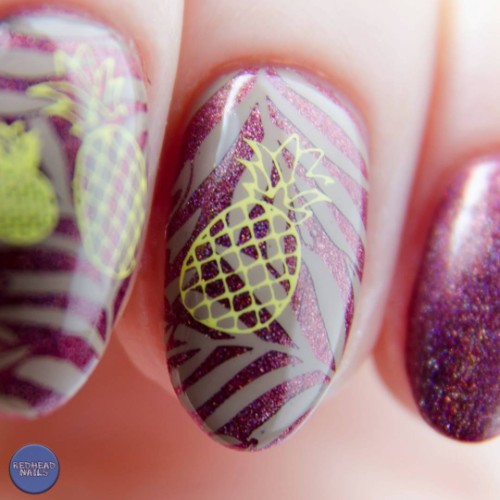 36. Vacation pineapple nails with green tropical leaves.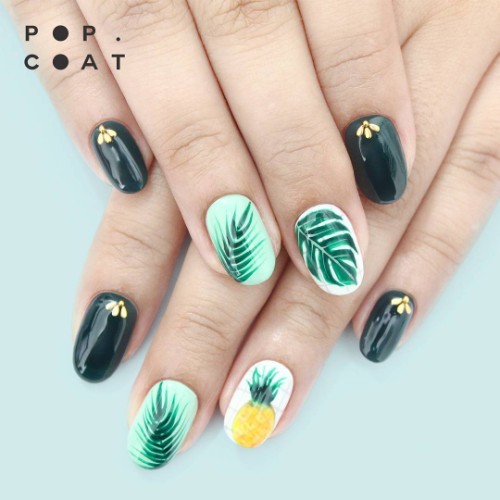 37. White pineapple drawn on a stiletto nail.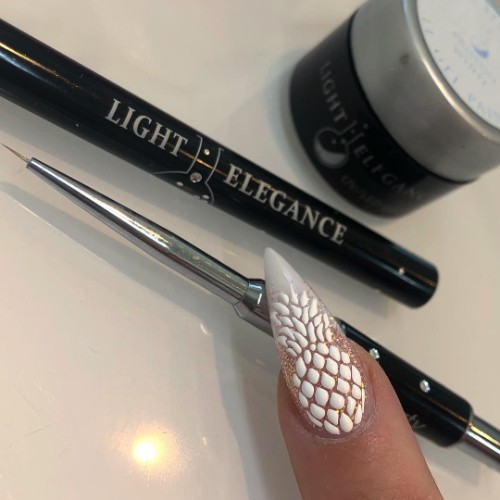 38. Corn-yellow and brown pineapple nails.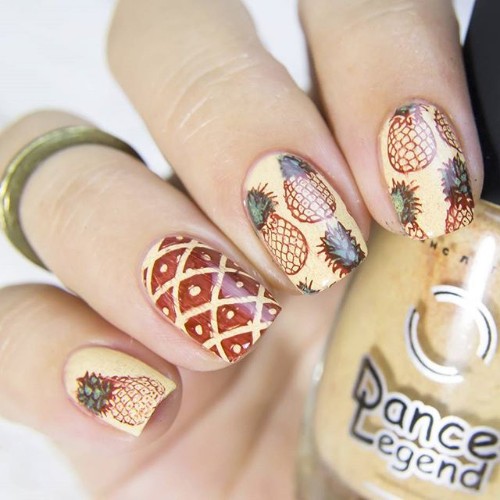 39. Nail art with a pineapple on short oval nails.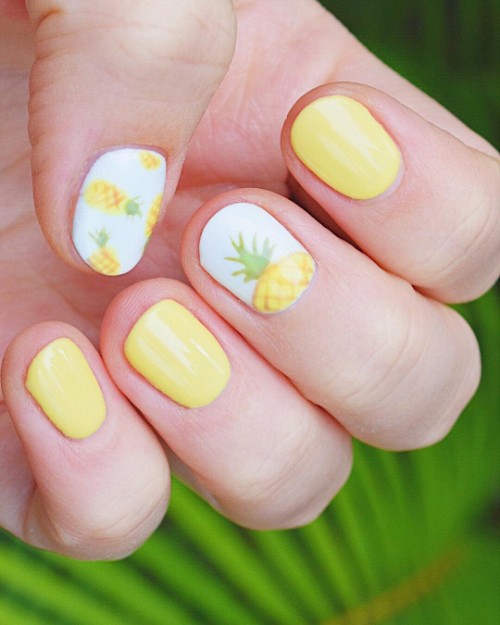 40. Purple manicure with pineapples.
41. A pineapple out of rhinestones.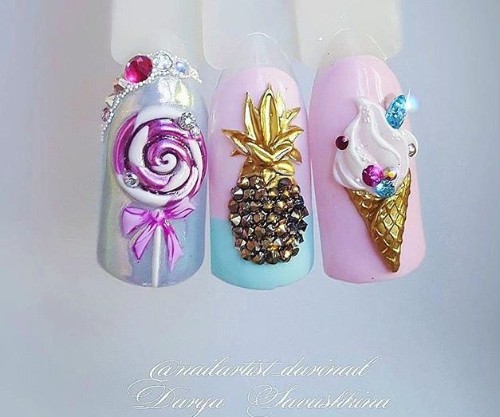 42. Pink and white pineapple nails.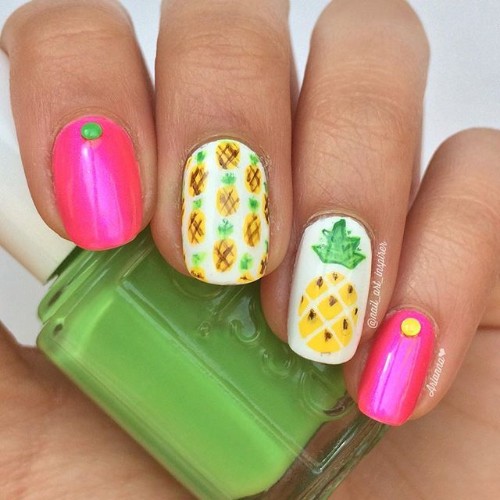 43. A cute variant of the pineapple design.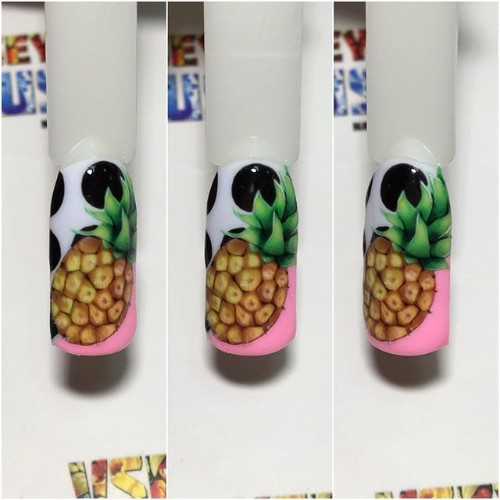 44. Pineapple half on nails.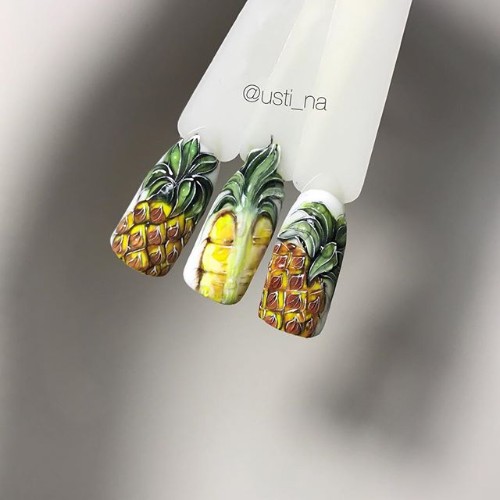 45. 3D pineapple variation.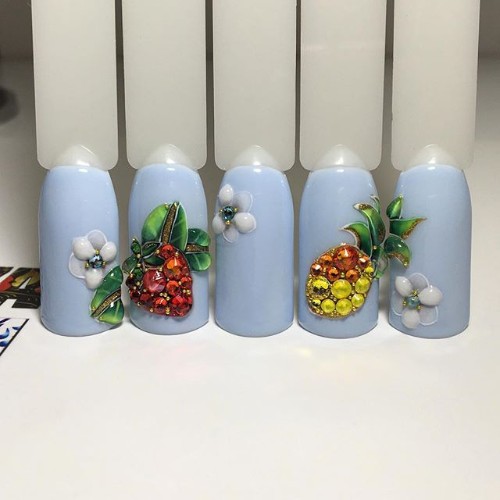 46. Pineapple nail art with triangle sequins.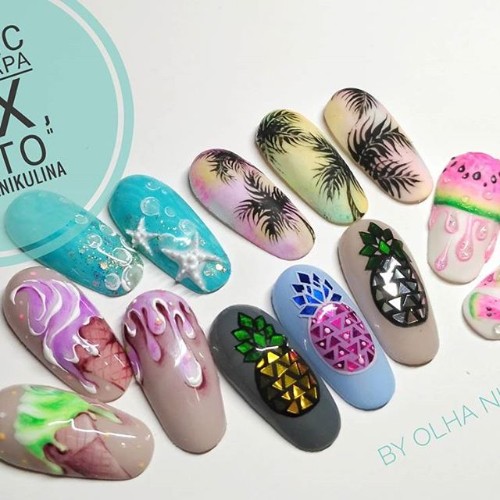 48. Powder blue nails with one striped accent nail.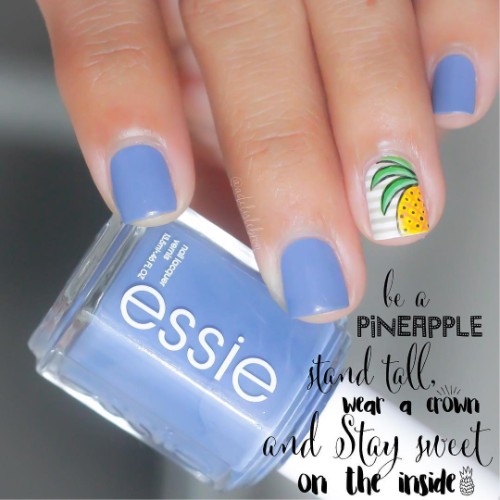 49. A bunch of thematic summer nail designs.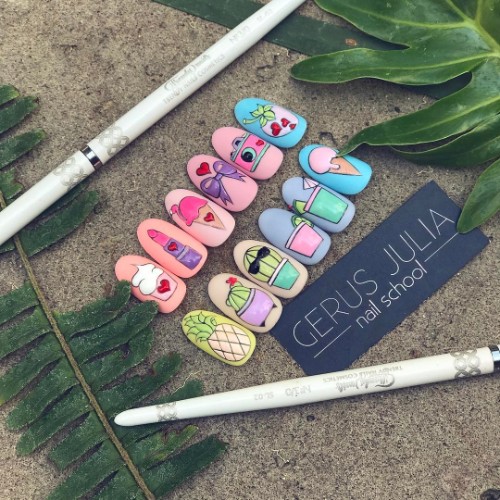 50. Beach pineapple nails with a sea star.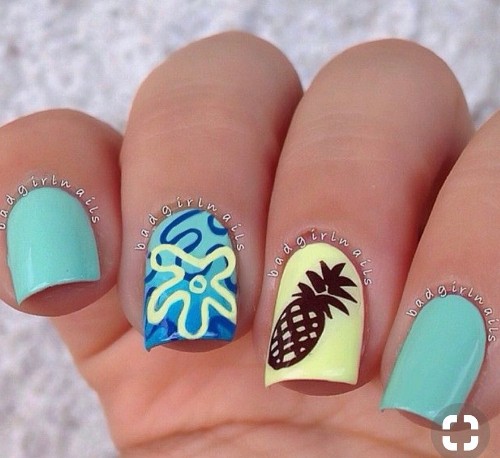 51. Nude pink tropical nail design with stripes.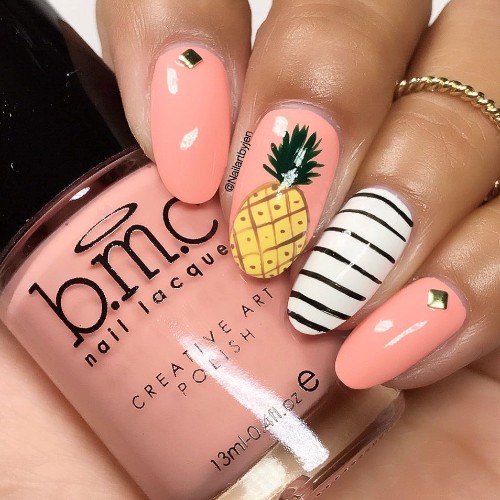 52. Thumb nail designs – a pineapple and strawberries.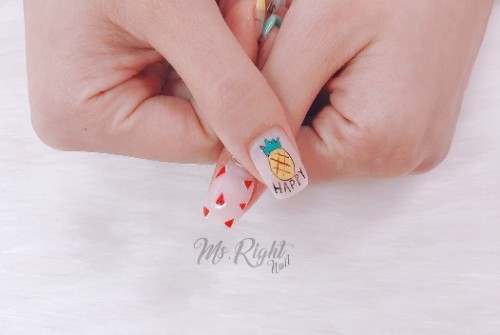 53. Nude nails with three different pineapples and a phrase.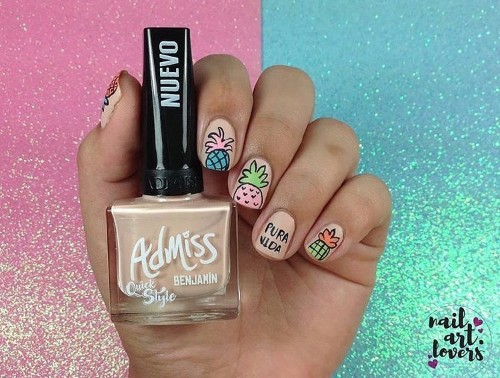 54. Neon yellow pineapple nail design.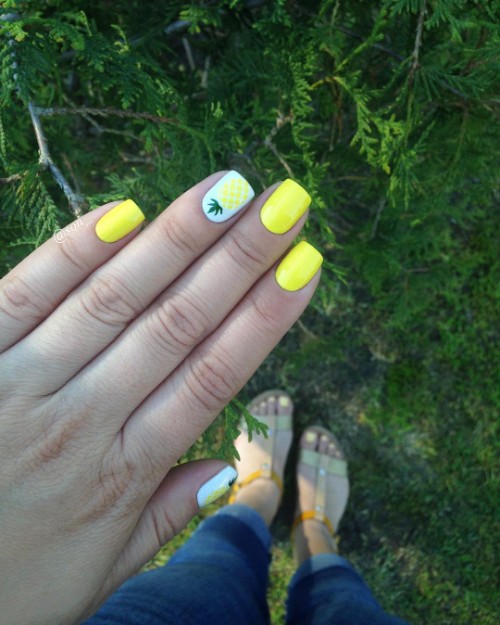 55. Neon peach pineapple mani.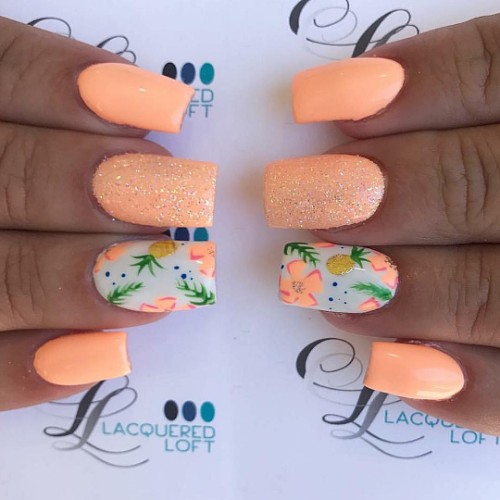 56. Black manicure with different fruits.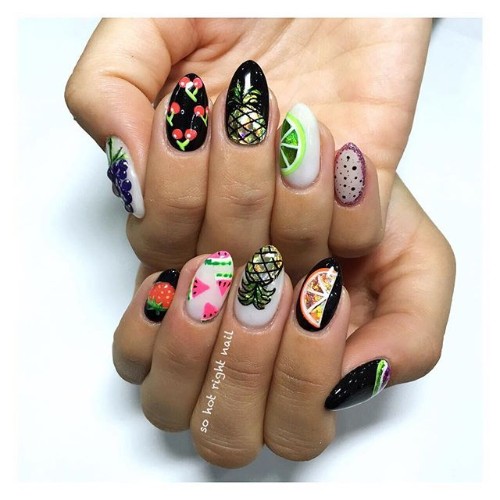 57. Stamping nail art with a pineapple.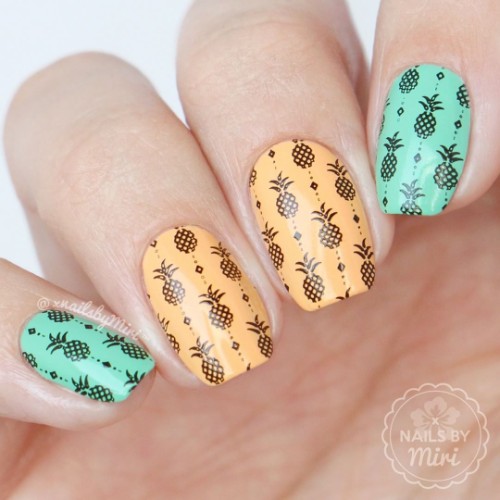 58. Pineapple nail design with huge rhinestones.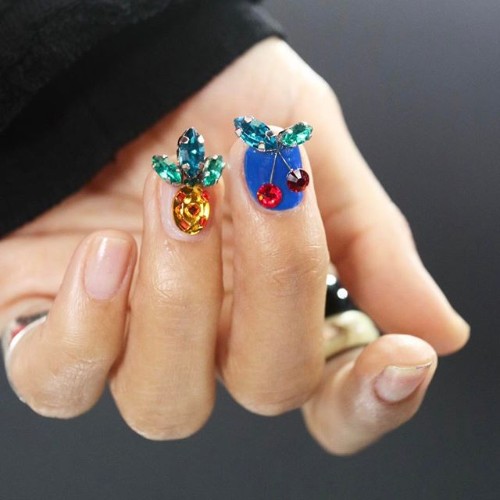 59. Fully golden pineapples.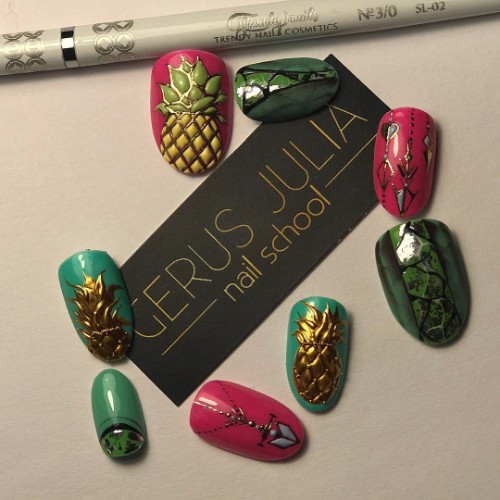 60. Nail design with a palm-tree.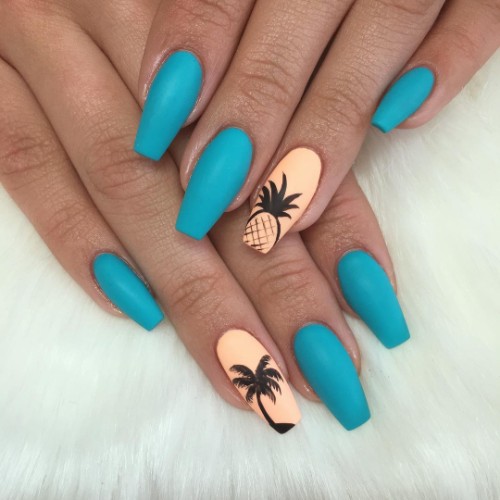 61. Minnie and Mickey Mouse pineapple nail design.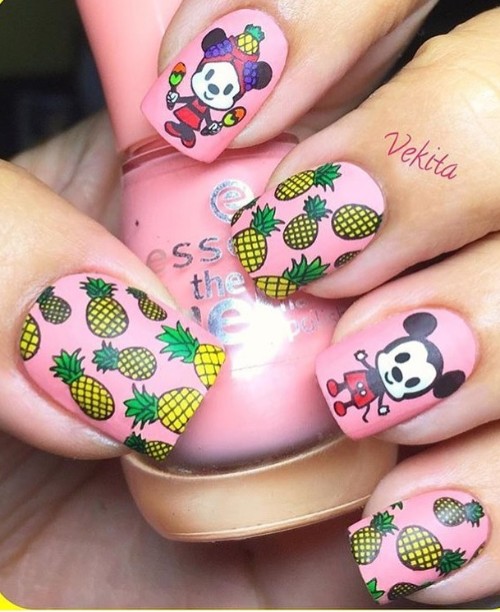 62. Very easy pineapple nail art with a word 'PINEAPPLE'.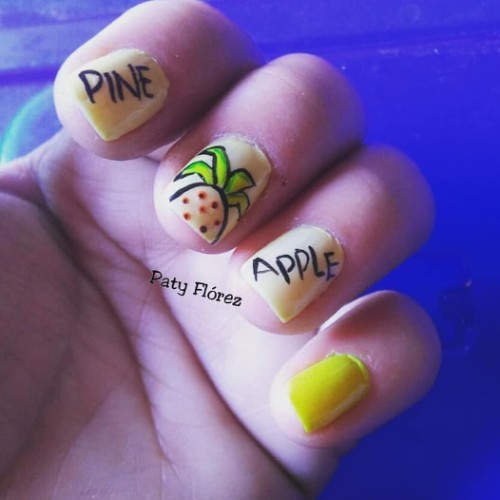 63. Pale green nails with rhinestones and pineapples.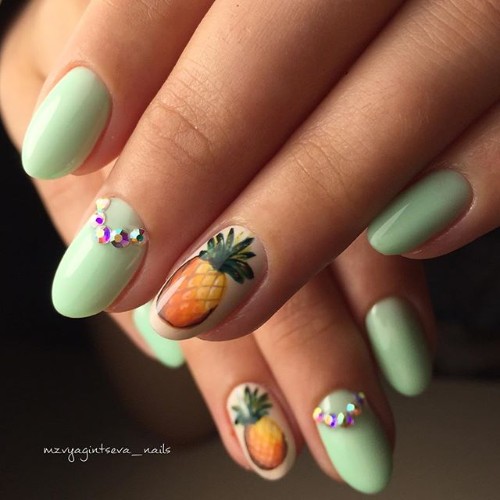 64. Orange and white polka dot nail design with a pineapple.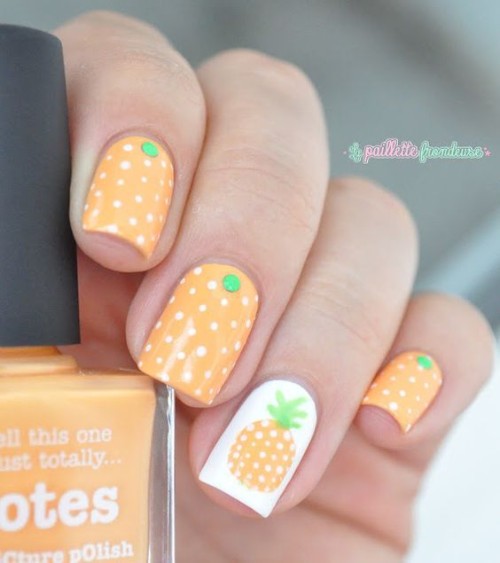 65. Light ocean blue nail design with fruits.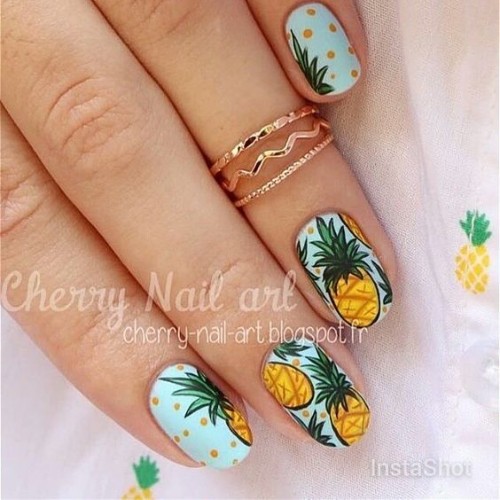 66. Blue manicure with a lot of tiny pineapples.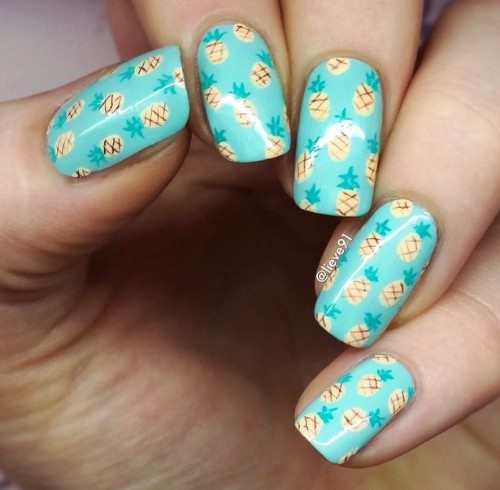 67. Green to white nail art with a pink pineapple.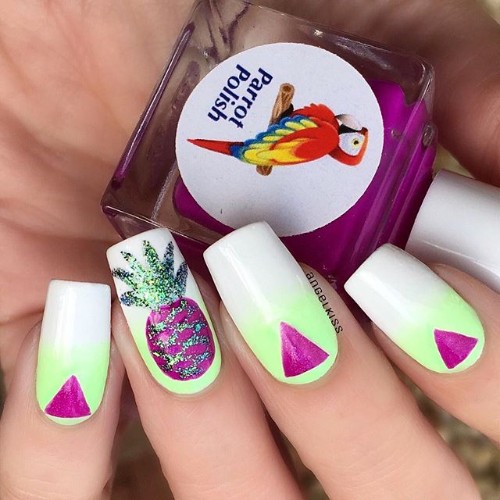 68. Completely tropical nail design with a lot of leaves and fruits.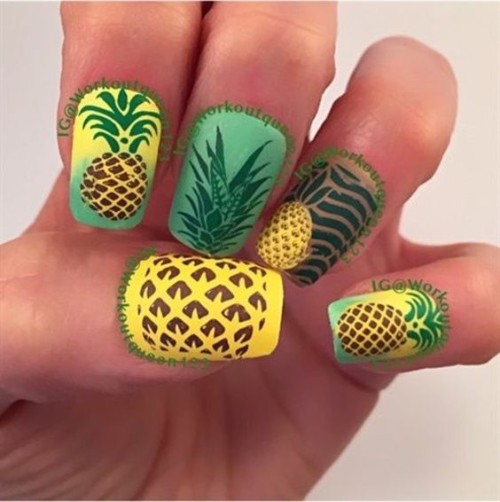 69. White thumb nail design with a glitter pineapple.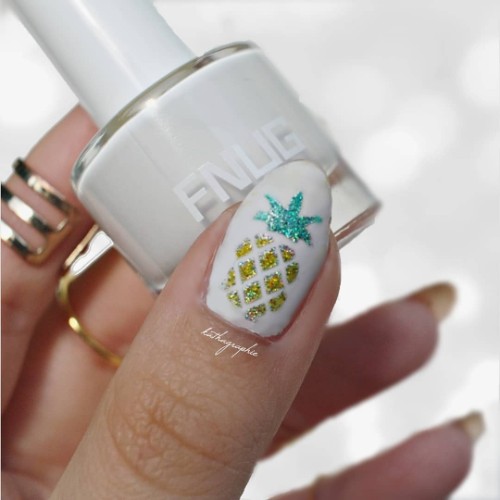 70. Funny cartoonish pineapple nail design.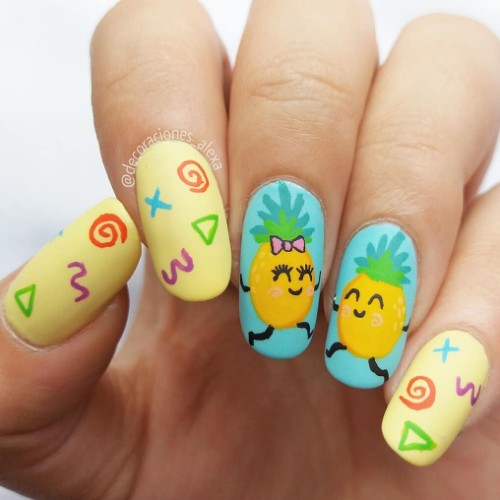 71. Several more pineapple mani ideas.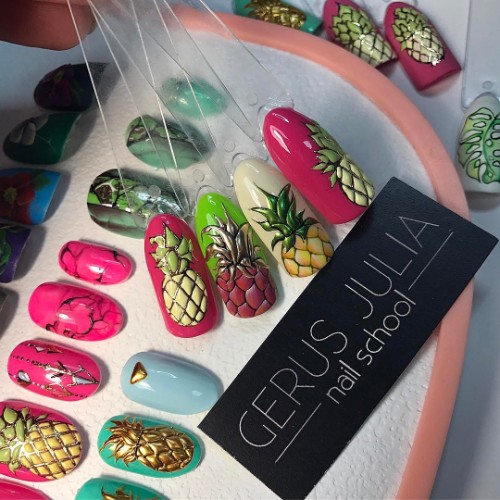 72. Pine-green manicure with pineapples.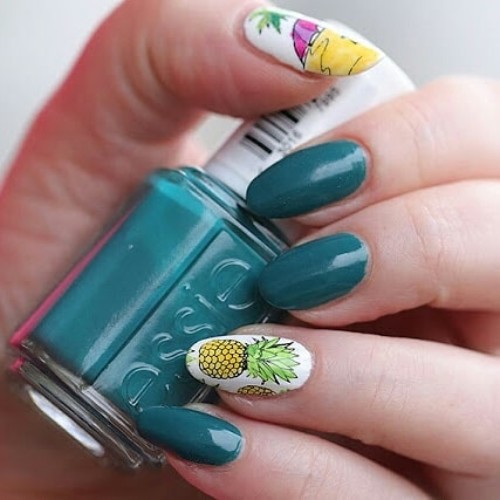 73. Dark green nail art with a glitter nail, a plaid nail, and a pineapple.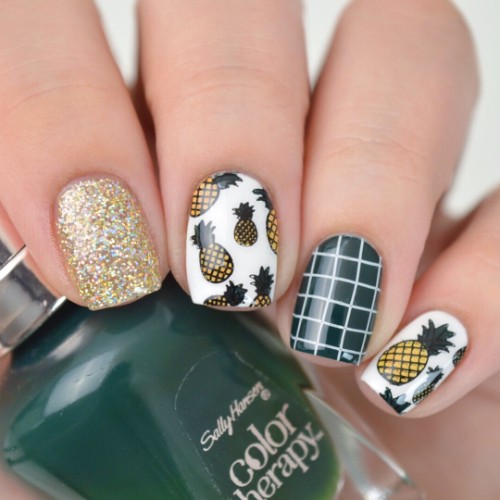 74. Beige nails with glitter and colorful pineapples.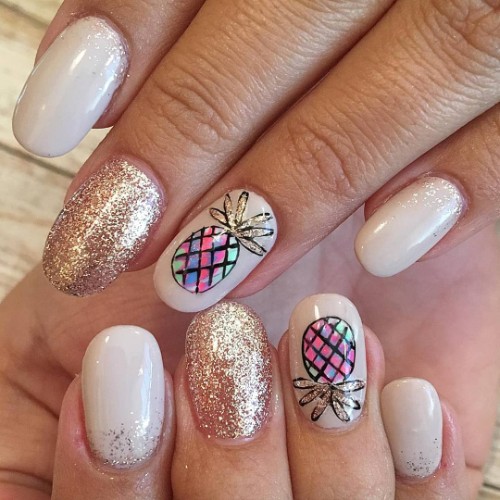 75. Every-nail-painted-different-color nail design.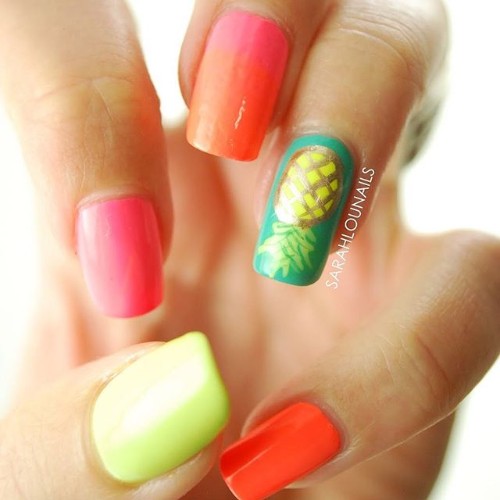 76. Nail design "chocolate+pineapple".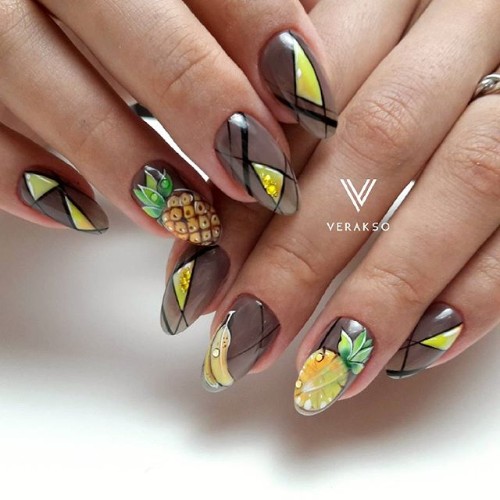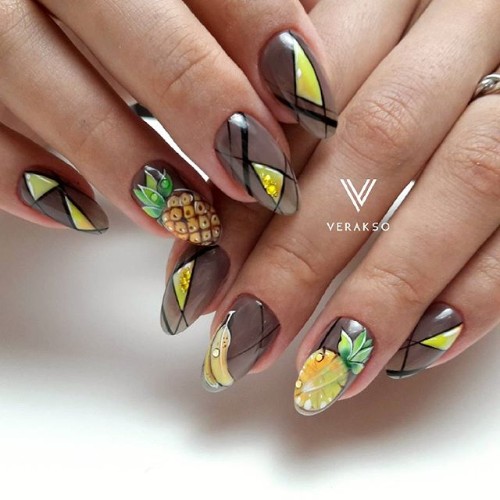 77. Pink and black pineapple nails.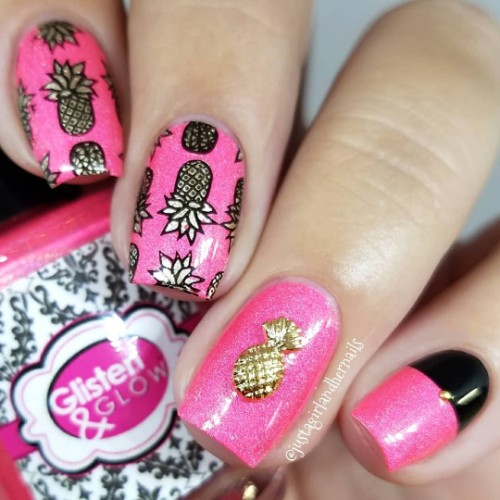 78. Bright blue nails with pink pineapples.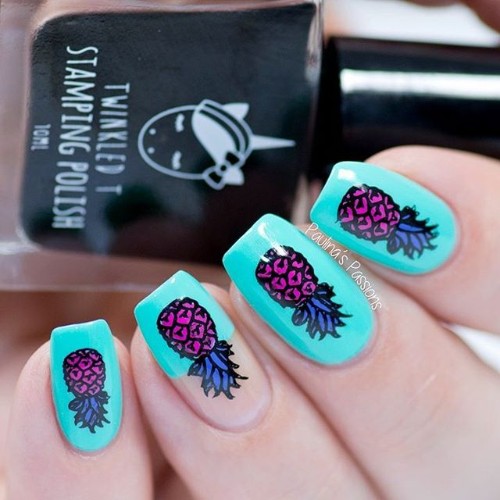 79. Shevron pineapple nails with different shades of blue.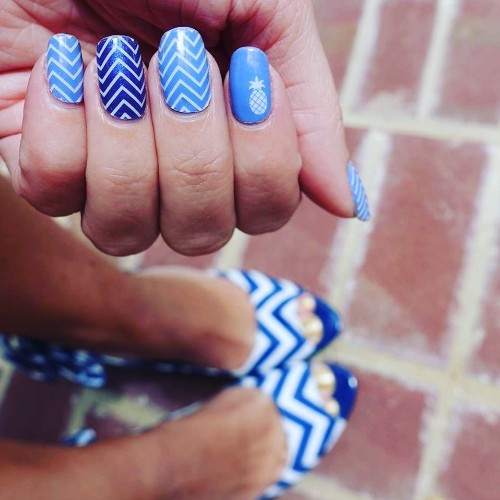 80. Blue-green nails with pineapple imprints.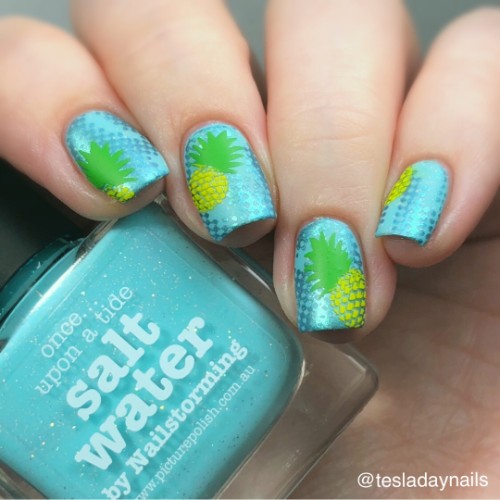 81. Blue and yellow ombre nails and a pineapple.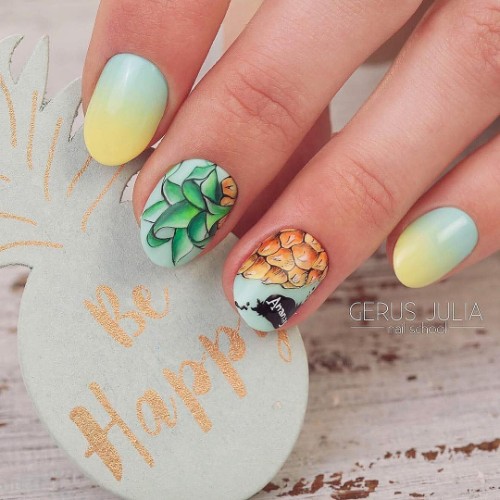 82. Light banana nails with a pretty pink pineapple.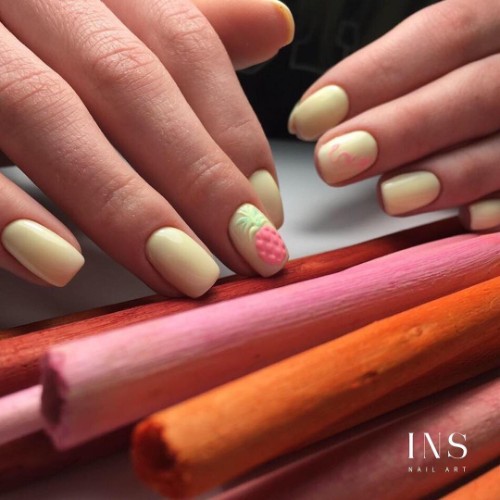 83. Neutral nude nail art with a realistic pineapple example.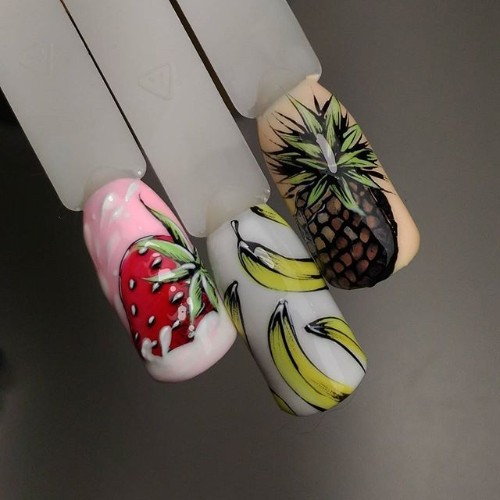 84. Pineapple halves.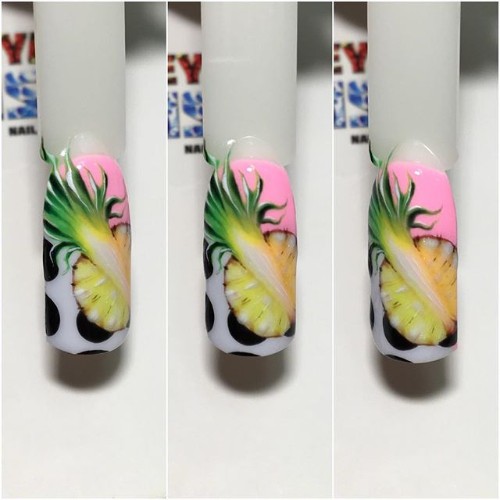 85. Canary yellow pineapple nails.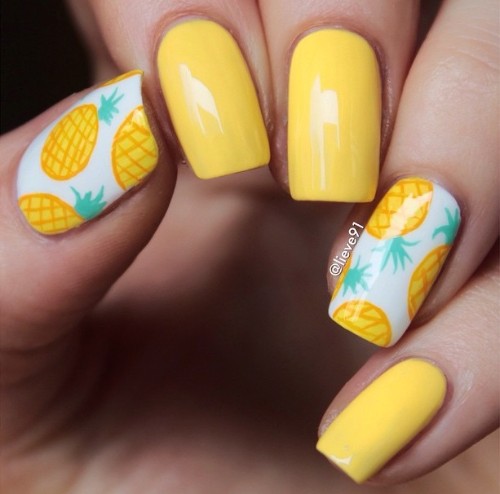 Pineapple Pedicure / Toe Nail Designs
And what about pineapple pedicure? Check 5 ideas below!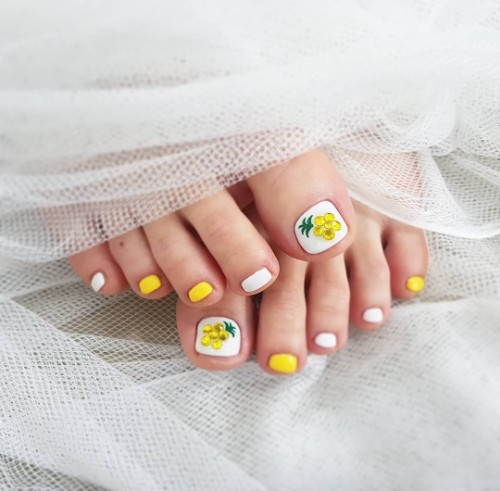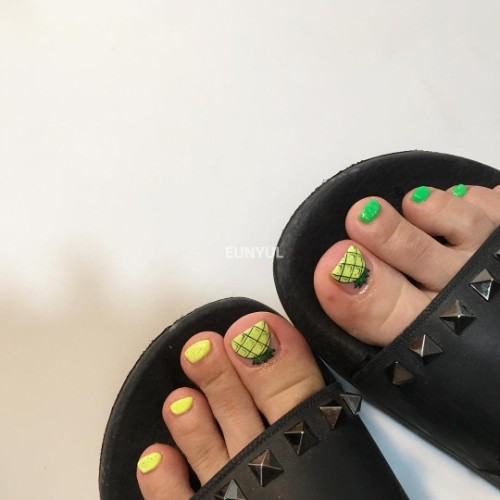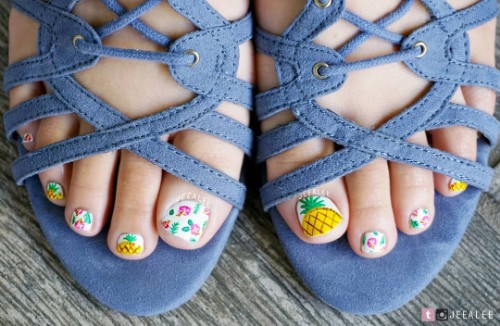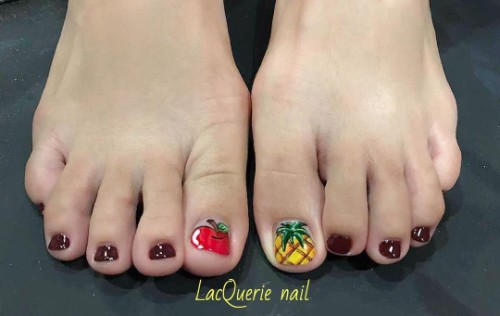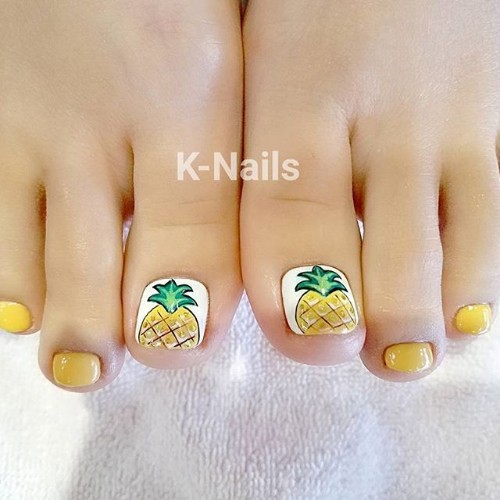 3 Pineapple Nail Design Tutorials and DIYs
Just several ideas to try on your or your client's nails.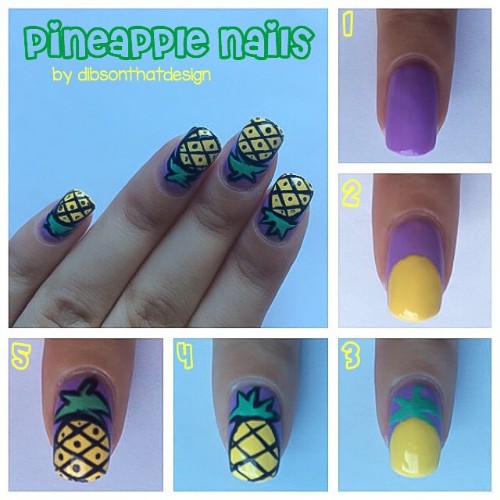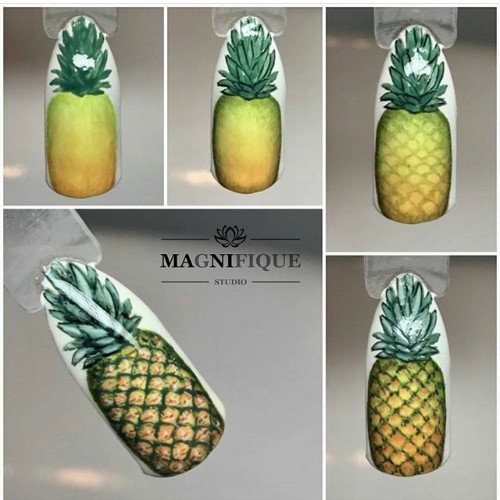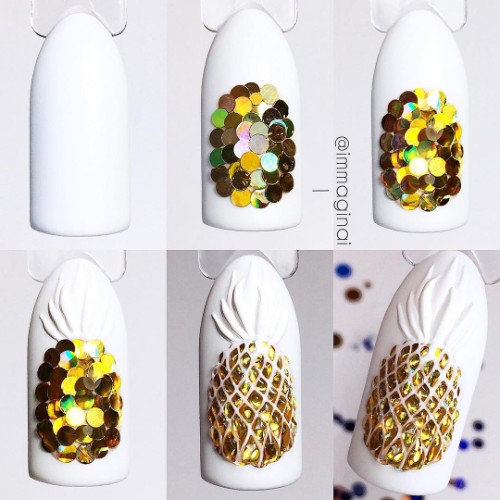 Do you agree that these pineapple nail designs are marvelous? We liked them so much! Which one would you try this summer? For what occasion? Do you think it is OK for festivals or beach vacations only, or for the office too? Share your thoughts with us!