Meet a new trend – JUNGLE BRAIDS! Today we are talking about this new type of knotless braids that suddenly became very popular among women. Find out below how to make jungle braids and what colors to choose for your new hairstyle.
Advertisement-Continue Reading Below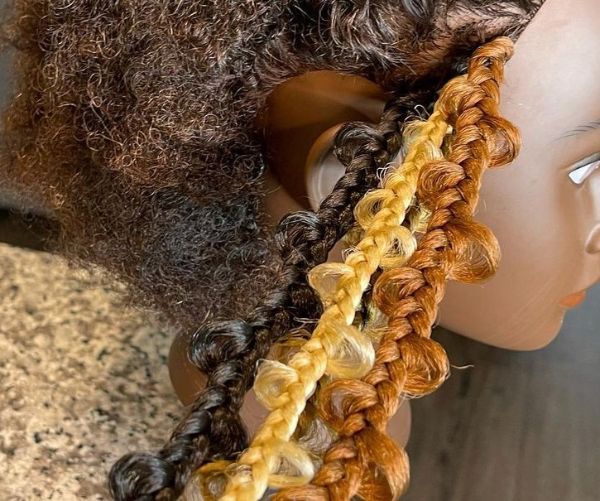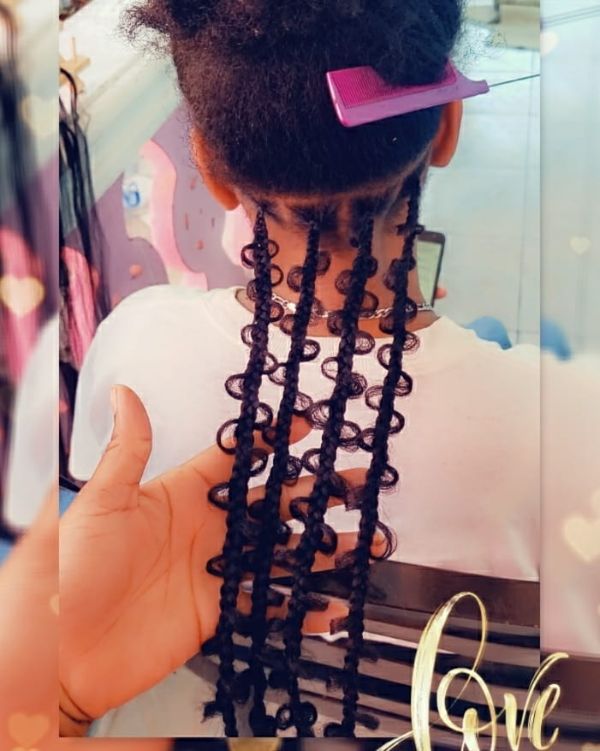 Knotless jungle box braids are braids with small pulled-out parts of the hair. At the end of this article, you will find a link to the tutorial – a thorough guide on how to make jungle braids on yourself (yes, it is possible)! Now let's see the examples. We tried to collect the most interesting and non-banal ideas, for all hair lengths, hair types, and colors. Hope this selection will give you the hairspiration you are looking for.
– Jungle Braids with a Slight Ombre Effect on the Tips. This style looks super trendy and non-banal.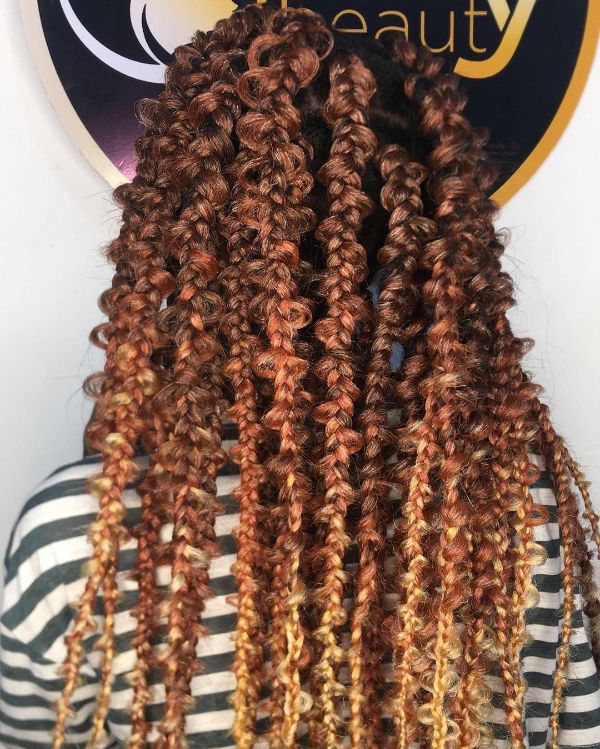 – Long Bob Jungle Braids. Here you can compare a dark and a light braided hairstyle with jungle braids. Which one will you choose, brunette braids or blonde plaits?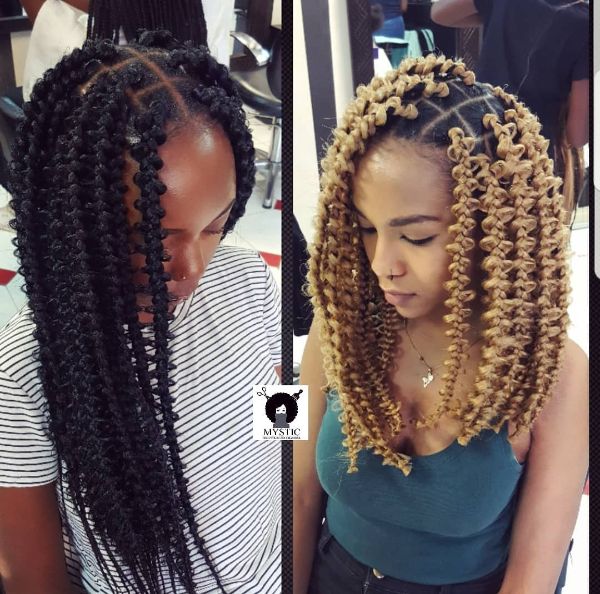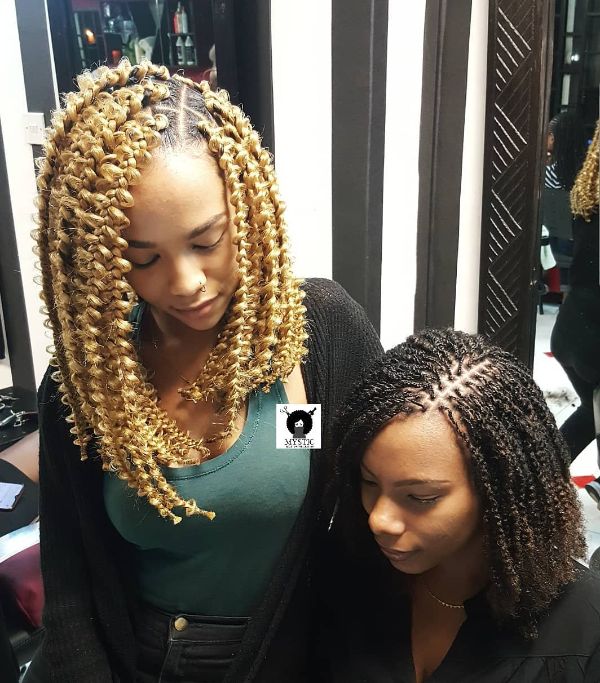 – Cool Green Jungle Braids. Colorful jungle braids will really make a statement. They are bold and beautiful. What else do you need for a warmer season?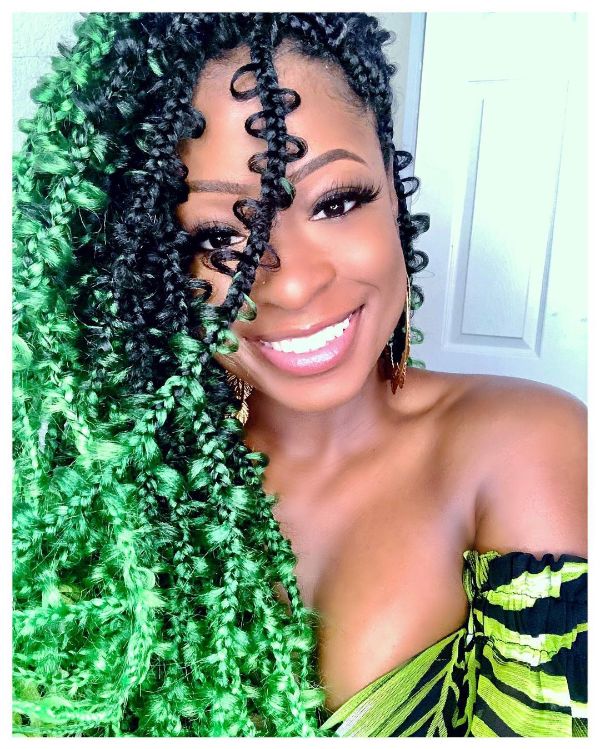 – Dark Jungle Braids. Classic but with a trendy vibe. A good idea for your next hairstyle, isn't it?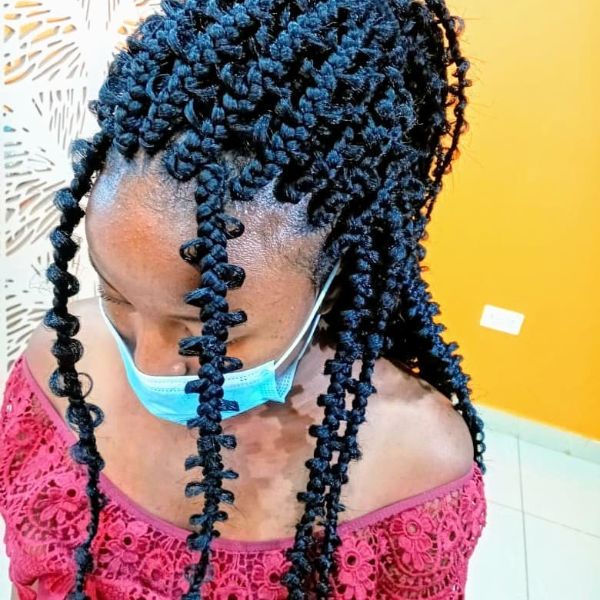 – Short Blue Bob with Jungle Braids. This hairstyle is created for women who like to attract attention.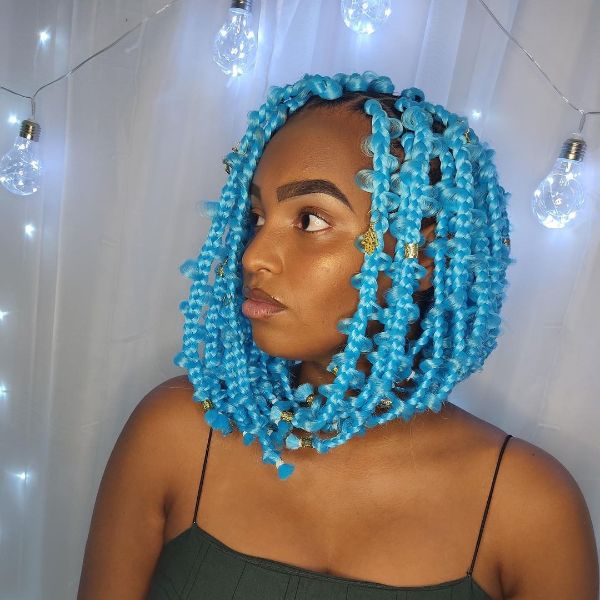 – Short Bob with Thick Jungle Braids. One more bob hairstyle, but in a more classic black hair color now. Moreover, it is enriched with hair jewelry.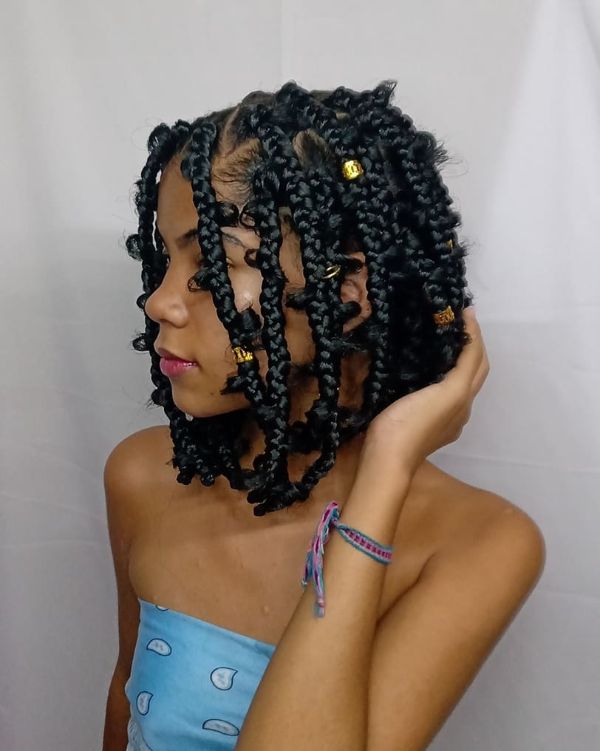 – Blonde Jungle Braids. Braided hairstyles are great for those times when you want to radically change your image but don't want to dye your hair. You can become blonde having dark locks, and become a brunette with your light hair with the help of trendy braiding techniques.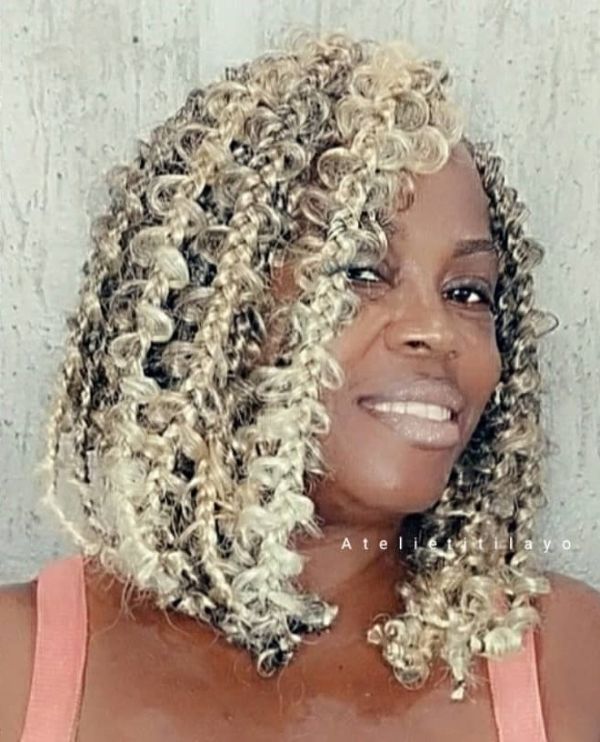 – Pink Jungle Braids. Bobs are a sure-fire option for all women, you just need to find your own bob style that will suit your features and personality. This pink masterpiece deserves our attention.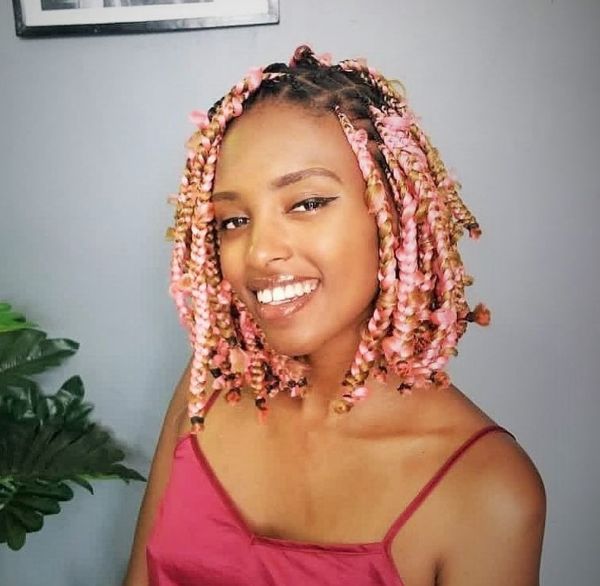 – Yellow Jungle Braids. Yellow braids are rarer than other colored plaits, but they deserve your likes too. Don't they look as attractive as blue or pink? Comment below!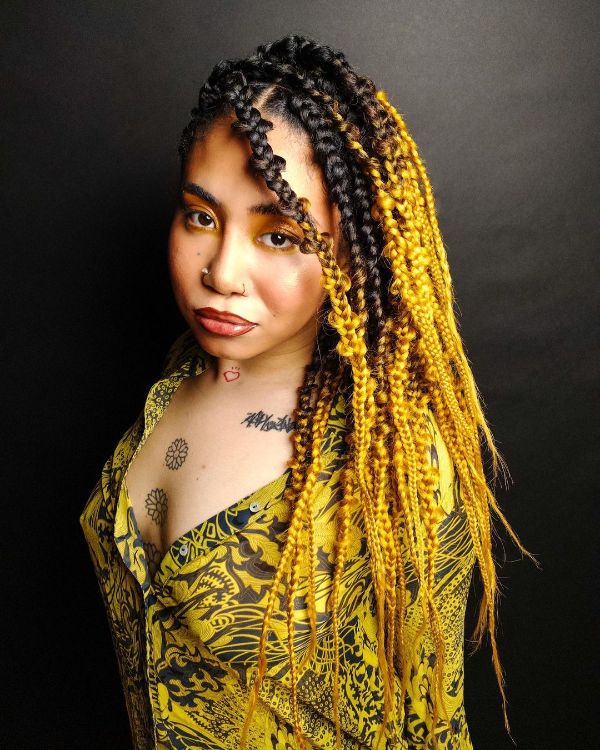 – Jungle Braids with Undercut Sides. Wow, this is something new and creative. Shaved designs are a trend, and jungle braids are a popular solution for women's hair before summer. When combined, these trends create a killer look.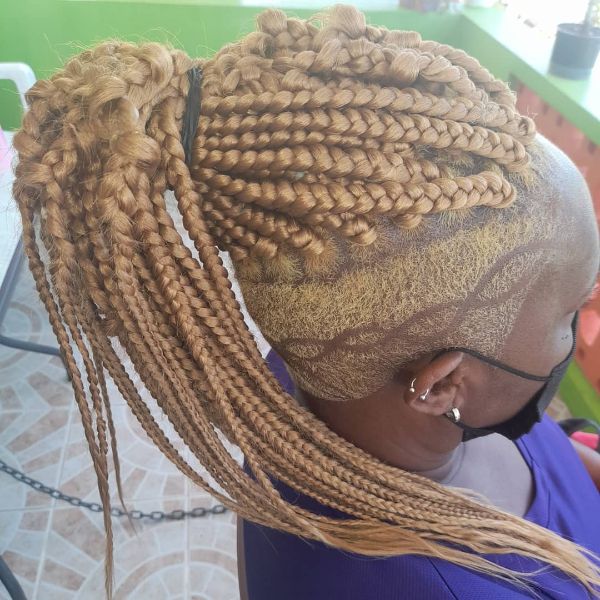 – Knotless Jungle Box Braids. They are very neat and feminine.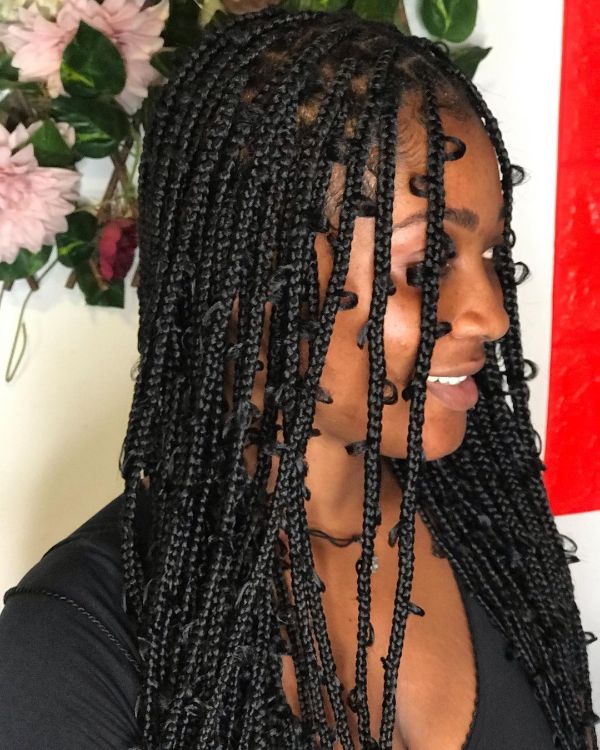 – Red Jungle Braids. What about red braided hairstyles? Are you bold enough to wear braids in ginger, auburn, burgundy, maroon or fire-red colors? Worthy!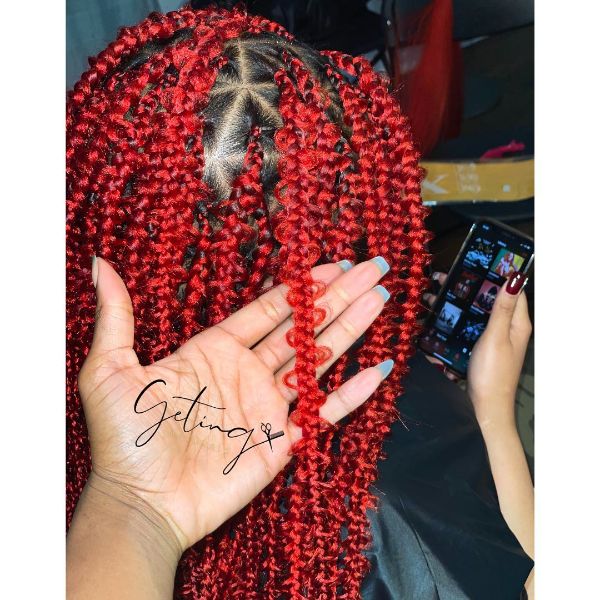 – Auburn Red Knotless Braids. Jungle braids are not so hard to do and to maintain. So, if you are still afraid of trying them, fear not.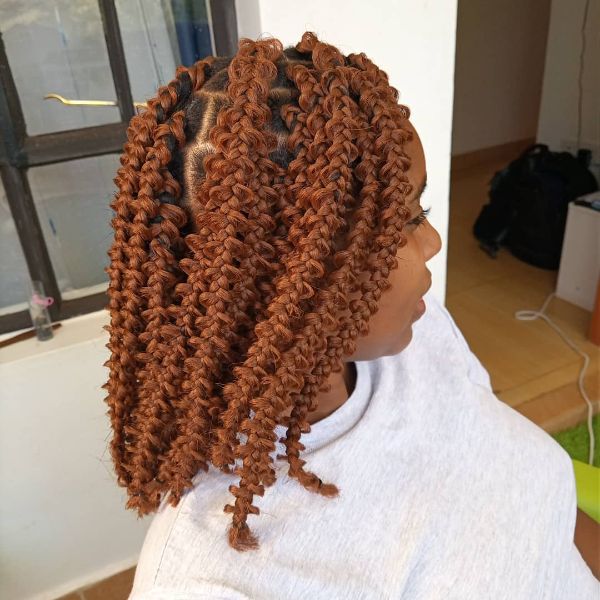 – Jungle Braids in a Bun. Yes, wearing jungle braids in a bun is the cutest thing we have seen lately!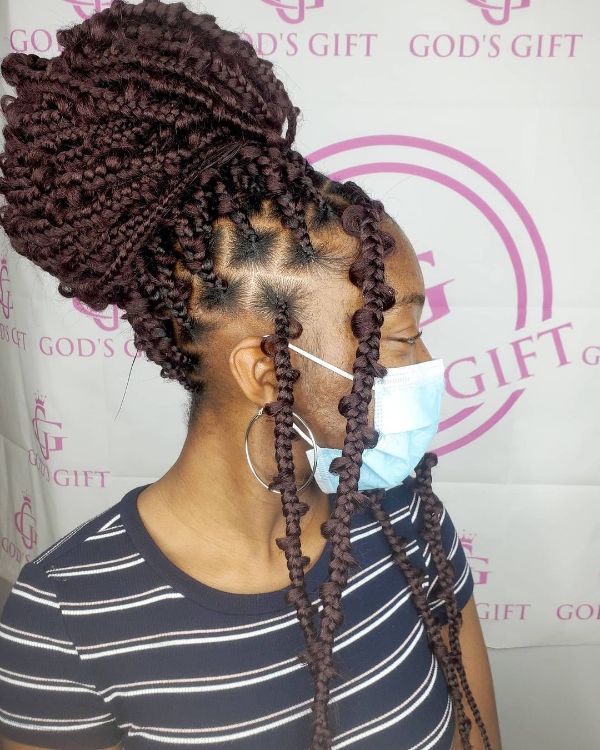 – Blonde Jungle Braids with Pops of Color. Add some colorful accents to your braided hairstyle to become a queen of epatage.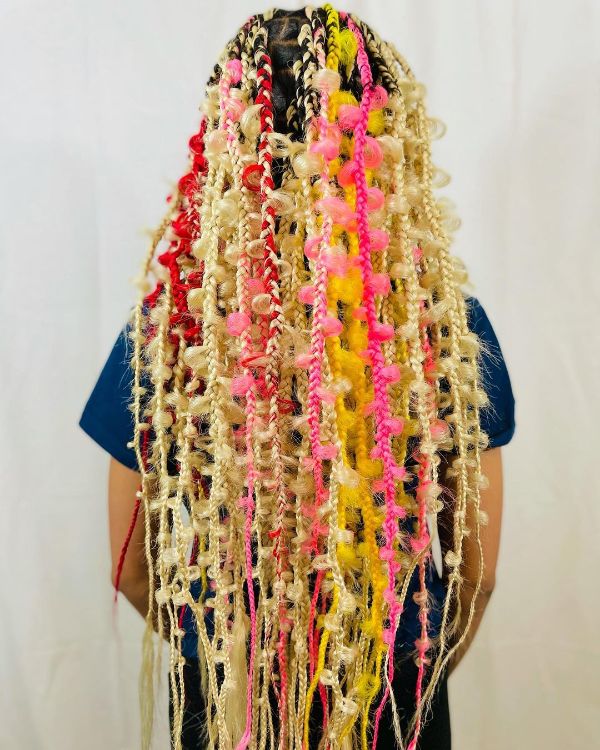 – Jungle Plaits in Several Colors. Try to combine several colors in your braided hairstyle to make it more intriguing and fun.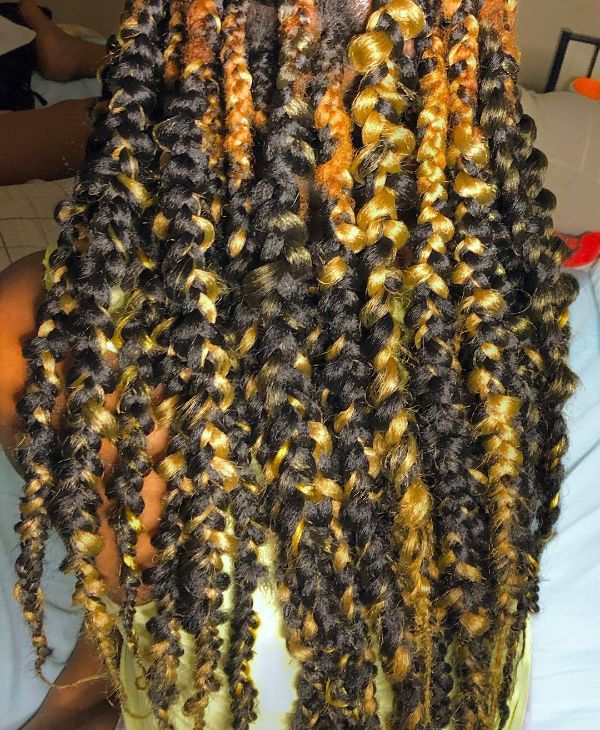 – Bright Blue Jungle Braids. Shine bright like a diamond, what we can say more…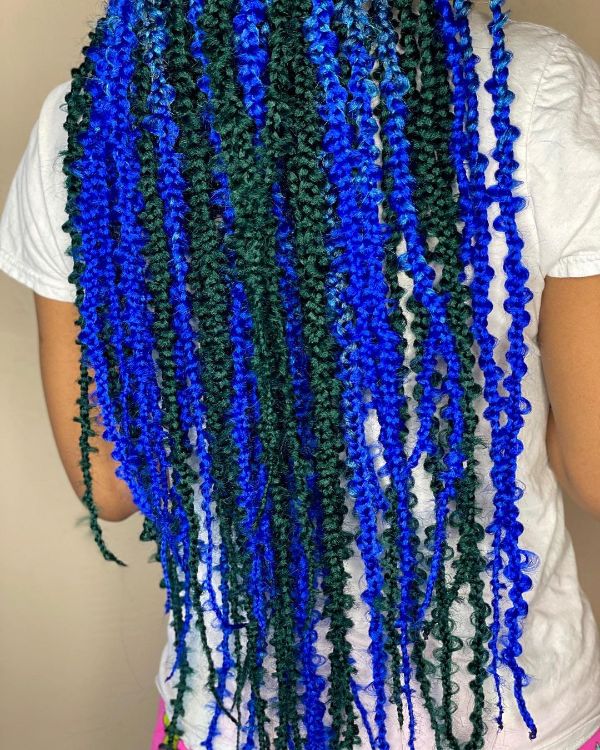 – Knotless Gray Jungle Braids. What if you make GRAY braids instead of colorful plaits? You will be even more trendy! The gray hair trend becomes louder, and it is really inspiring!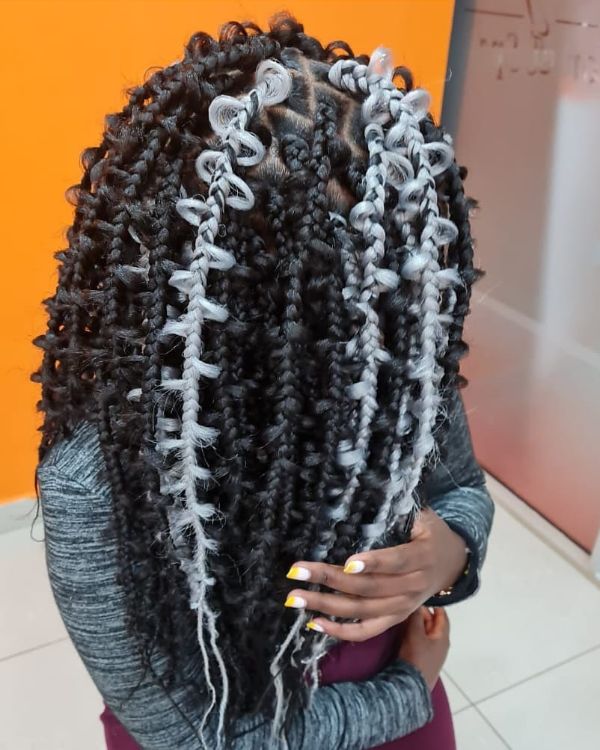 – Beautiful Ombre on Jungle Braids. The transition between colors can be noticeable and contrasting, or the slightest and almost invisible. You choose.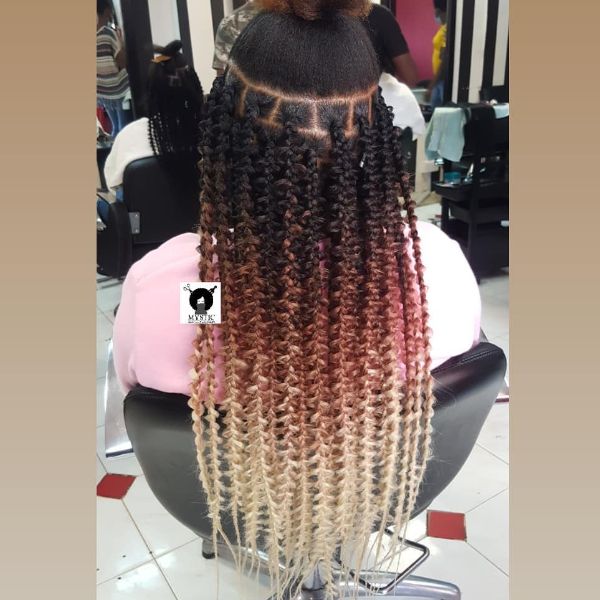 – Jungle Braids Updo. These two photos show how differently braids look in a simple hairstyle and in an updo with two space buns, but how equally gorgeous they are!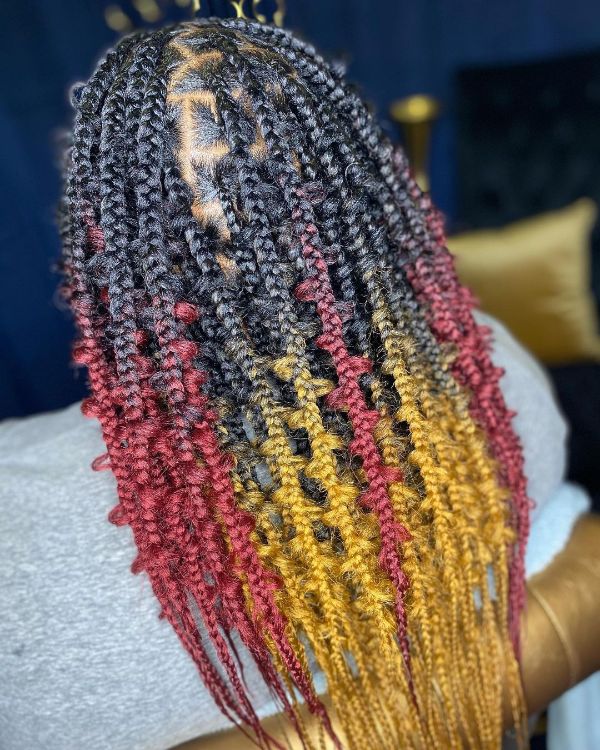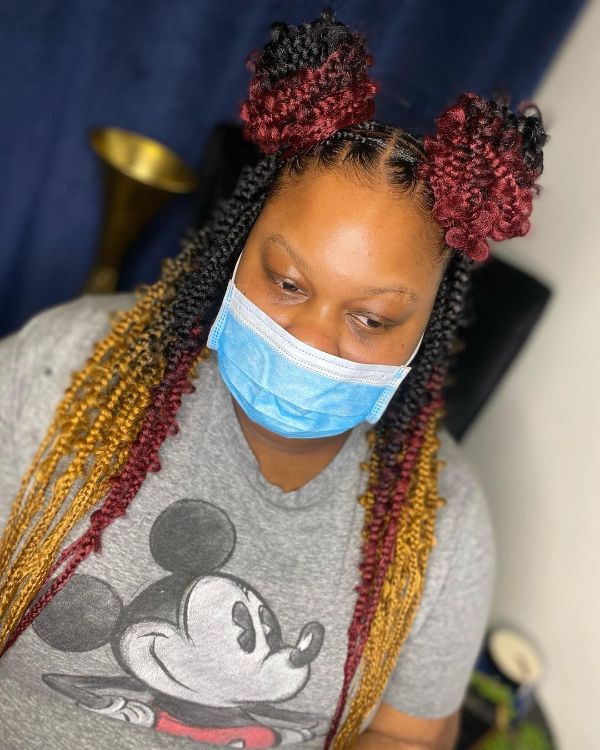 – Lilac Jungle Braids. Braids in shades of purple are for ladies who like to run the world. The most popular hair colors among violet ones are the lilac hair color, magenta, plum color, mauve, eggplant, wine, grape and lavender. What is your fav purple hair color?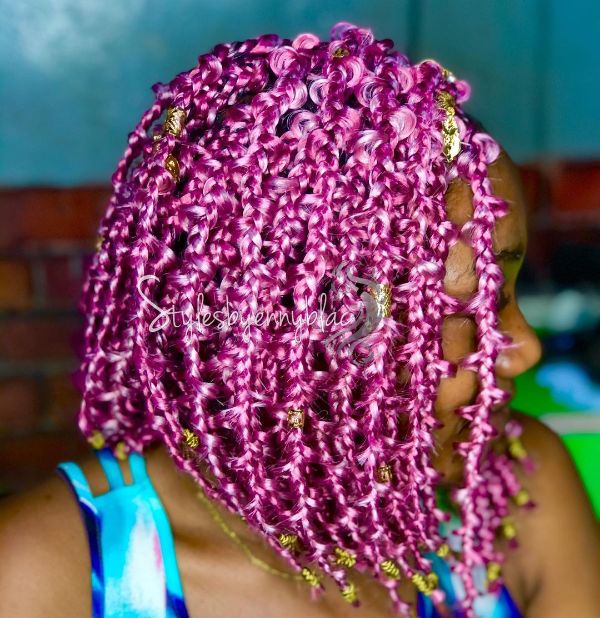 – Very Long Jungle Braided Hairstyle. Simple and classy, it will keep your mood on the right level!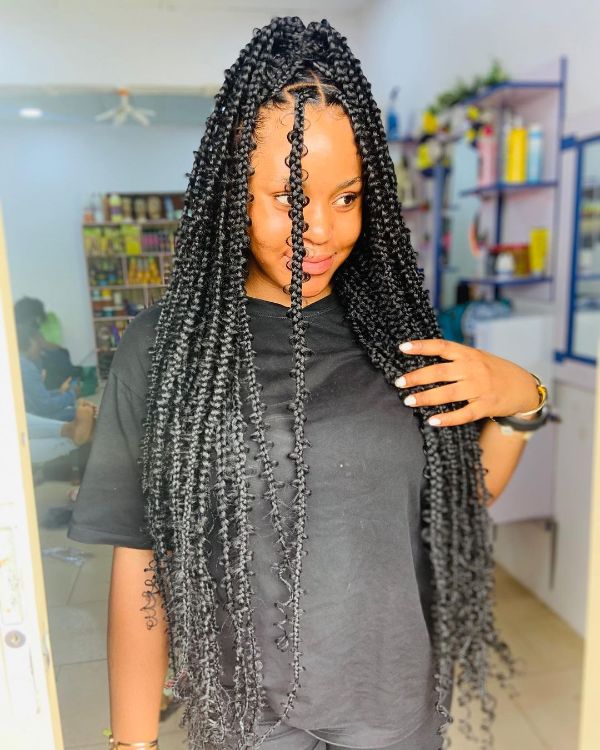 – Huge Braided Buns. Top buns are a very popular choice among women with braids of different thickness and techniques. Sure, with such a wide variety of bun types, this hairstyle becomes a great canvas for your hair experiments! Jungle braids look super-cool in high buns!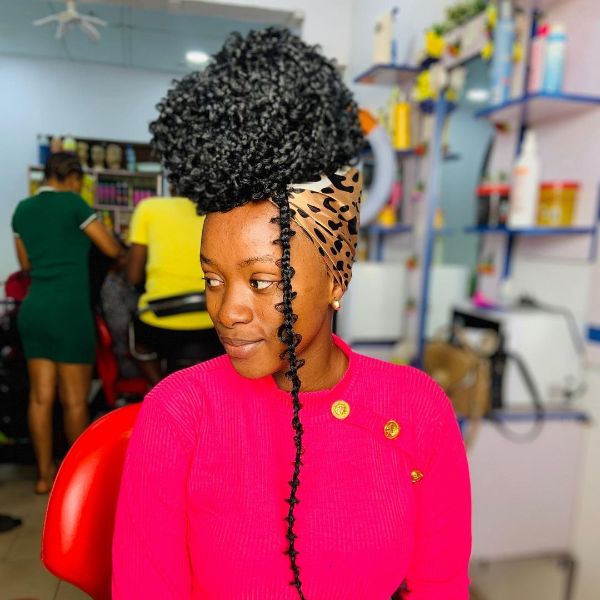 – Jungle Braids for Young Ladies. Did we mention that jungle braids are OK for all ages? You may recreate them if you are a teenage girl, or if you are a woman over 50. These braids are universal.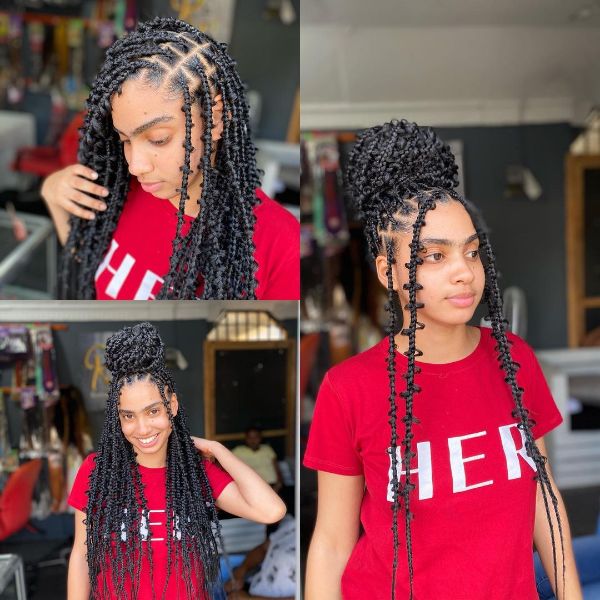 – Thick blonde knotless braids. These are messier and more looking as butterfly braids. A hot trend rn too!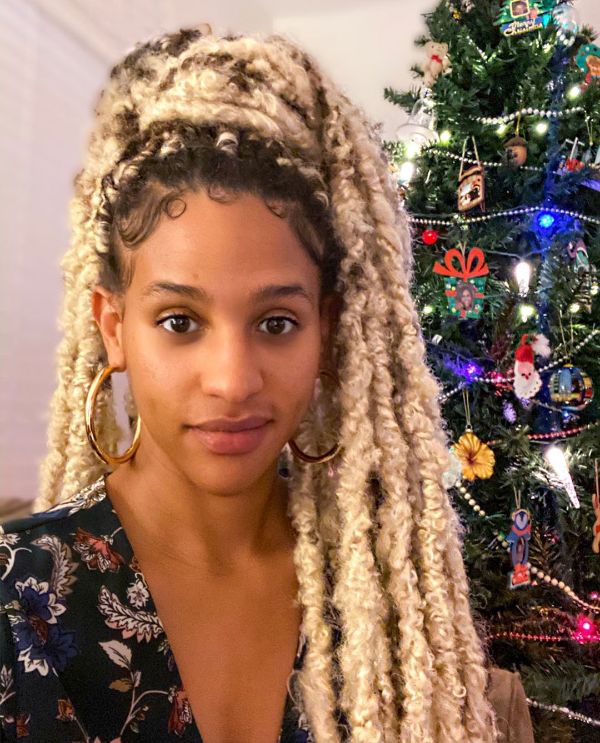 – Wheat Blonde Braids. There are dozens of blonde hair shades. The most beloved are the following: honey blonde, wheat blonde, dirty blonde, strawberry blonde, bleached blonde, caramel blonde and platinum blonde shades. Choose your shade of blonde and book a braiding pro. Want to make jungle braids yourself? No problem, scroll to the tutorial!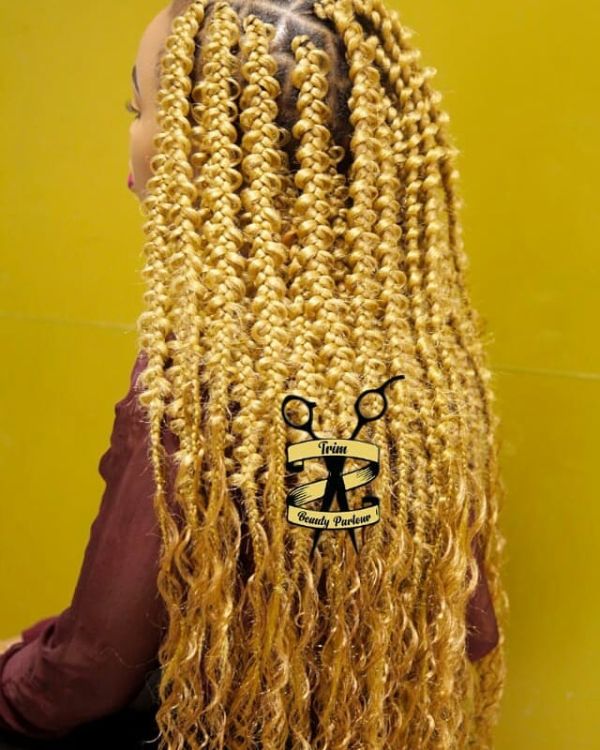 – Very Thin Jungle Braids. These small thin jungle braids look cute and flirty!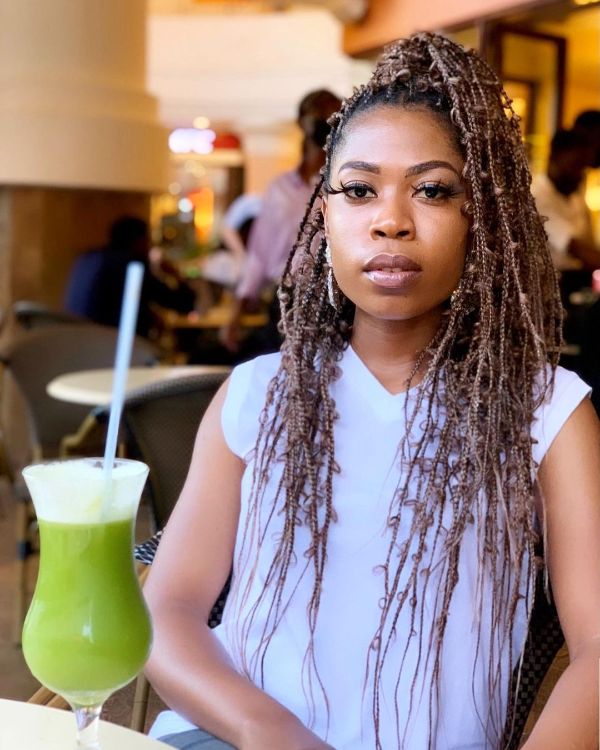 – Brown Braids with Blonde Tips. These single braids are like a frame for a cute braided hairstyle.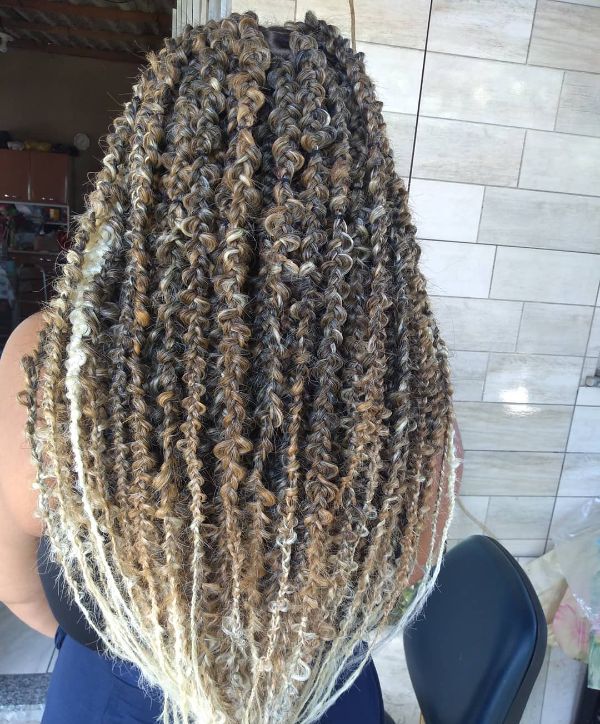 – Black and Red Bob with Jungle Braids. Braided bobs are truly a unique category of hairstyles. The hair is shorter, but this doesn't mean that you can't afford really cool styles on it. Stylists love to work with short hair, as it can show their top skills. Everybody can work with long tresses, and not all hairstylists will know how to style short braids!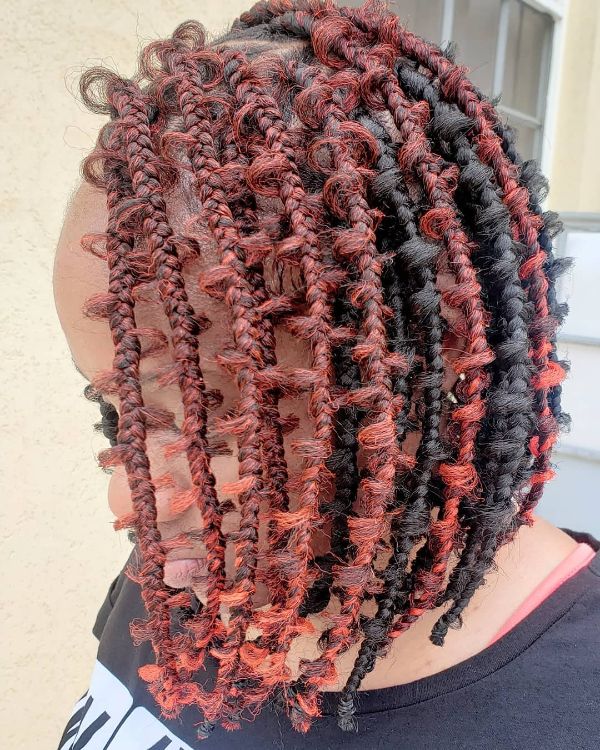 – Eggplant Jungle Braids. Purple-red hair colors are among the top choices for braids, as salon owners say. So, you are not alone in your desire to opt for such statement-making hair colors! Go for it and enjoy!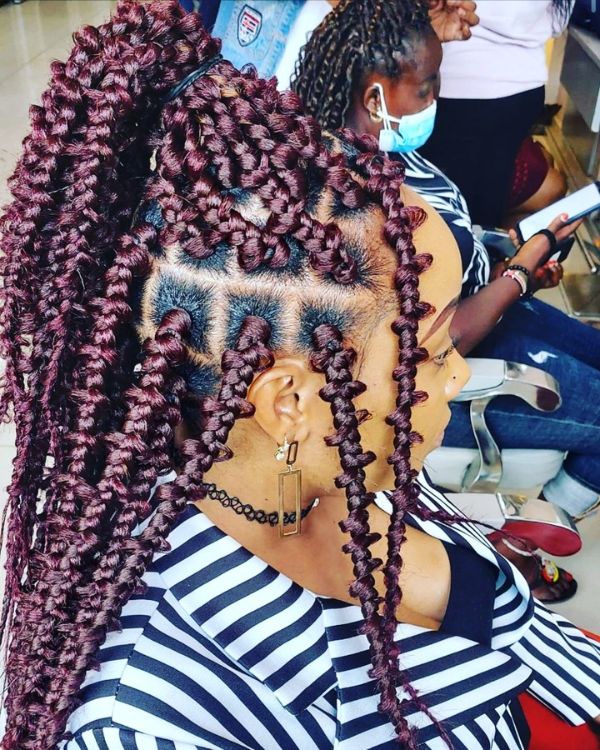 – Dirty Blonde Braids. These braids look stylish with darker roots, stat.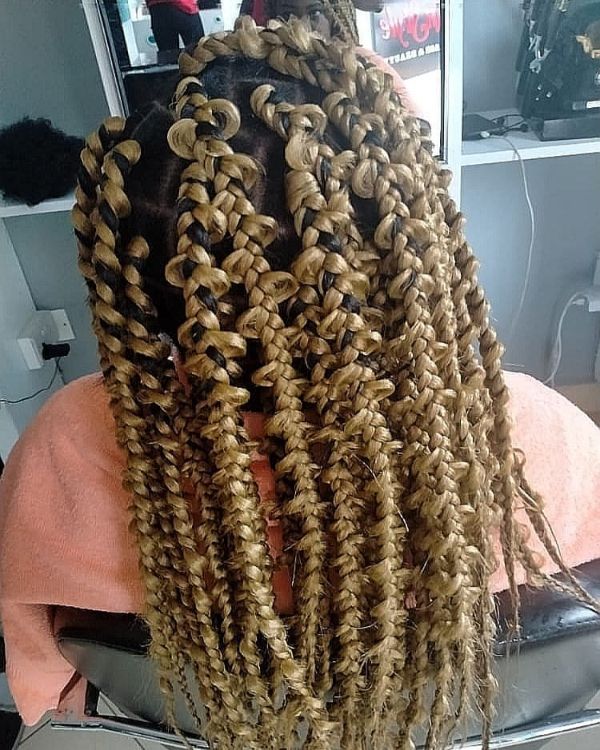 – Yellow and Orange Braids. Add bright colors to your boring brown hair shade and you will notice the boost of your confidence instantly!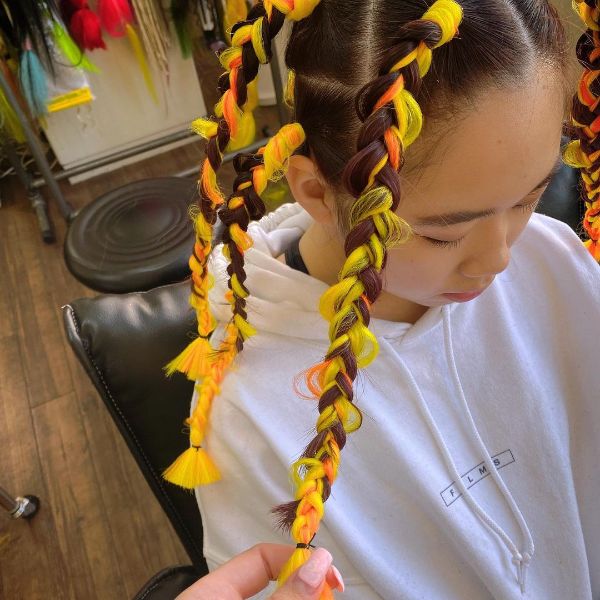 – Medium Size Jungle Braids. A beautiful red braided hairstyle will look marvelous with your black turtlenecks.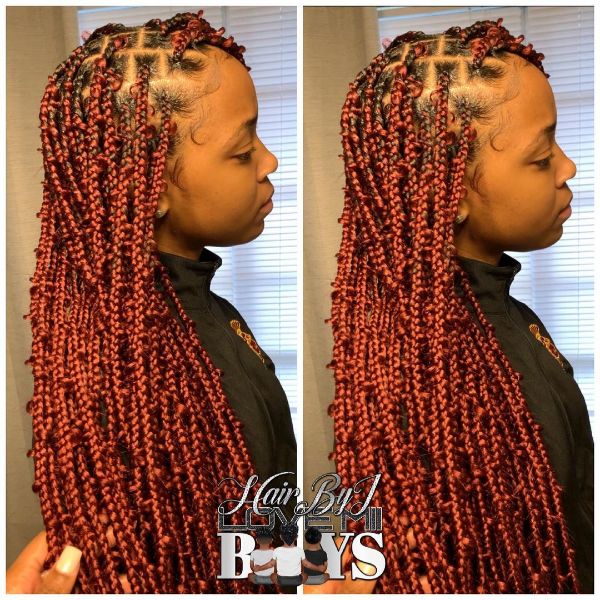 As promised, a GUIDE how to braid knotless jungle braids. One more good tutorial is HERE, click and try.
.
.
.
.
.
We use photos from open sources to illustrate our articles, and always give credits if known. All photos belong to their respective owners! Contact us via thenewestnails@gmail.com or DM here for all copyright issues, and we will delete your photo or make any other changes instantly.