Are you packing for Coachella? Then you must have already done your Coachella nails! What, still bare nails? Luckily, we have a lot of nail art ideas for Coachella, check! From simple and quick ideas to upgraded and super-attractive. Be ready to get seriously inspired.
Advertisement-Continue Reading Below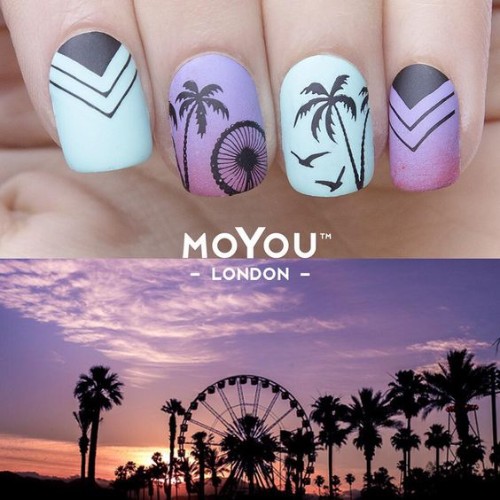 1. 5 Coachella nail designs with a Ferris Wheel, palm-trees and a sunset (possibly).
The most traditional and always on trend variant. Will work in any case, copy this year or save for later (for 2023's Musical Festival).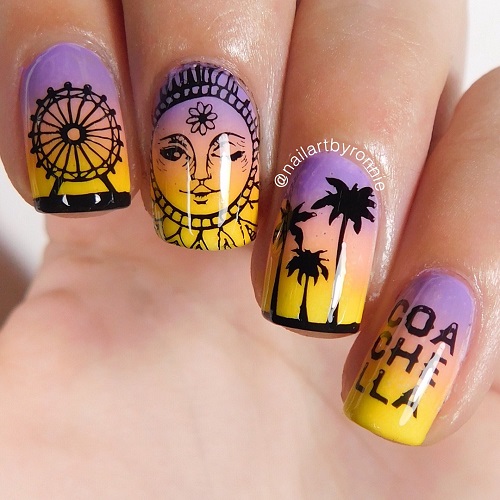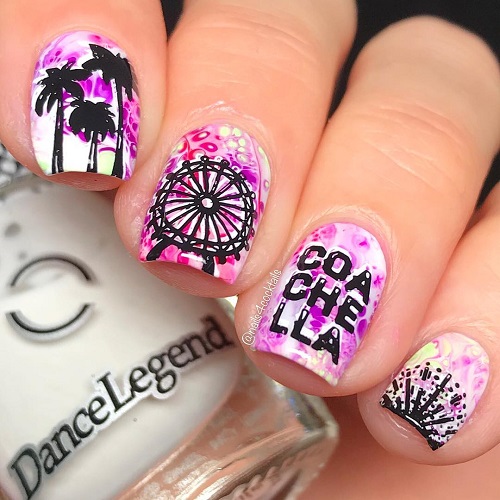 2. Coachella nail design with palm trees and birds.
A simpler variant of the previous musical festival manicure.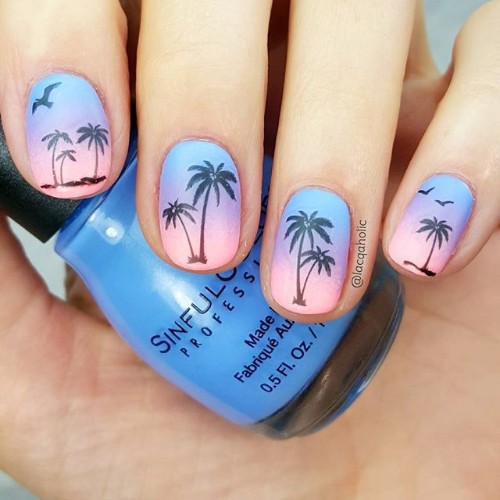 3. Tribal colorful manicure for music festivals (and not only).
So bright and eye-catching!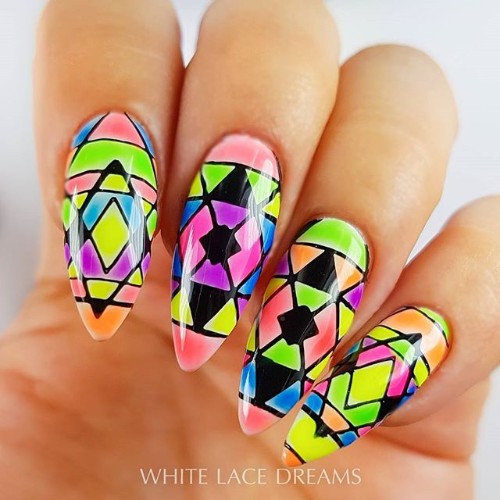 4. White and gold Coachella nail design with stripes.
Both simple and very-very cute. And you don't need to be a nail tech to recreate this.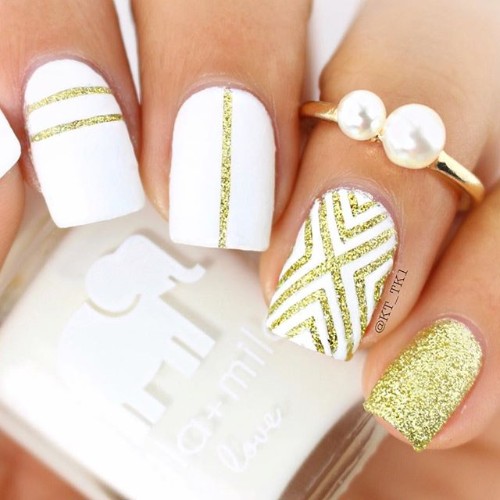 5. Gorgeous blue and white mermaid nails for festivals with matte finish.
This one left us speechless…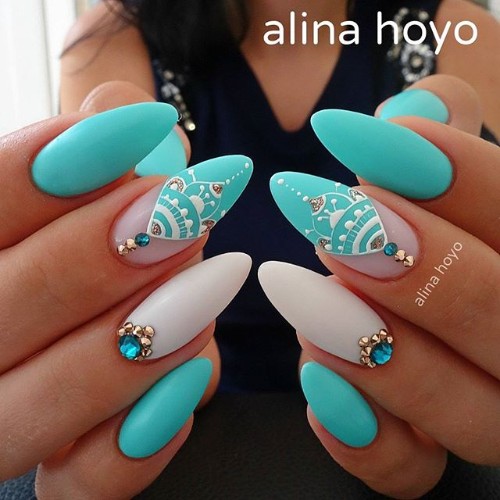 6. Festival dreamcatchers on your Chella nails.
Neutral base and colorful stickers are a sure-fire combination for musical festivals.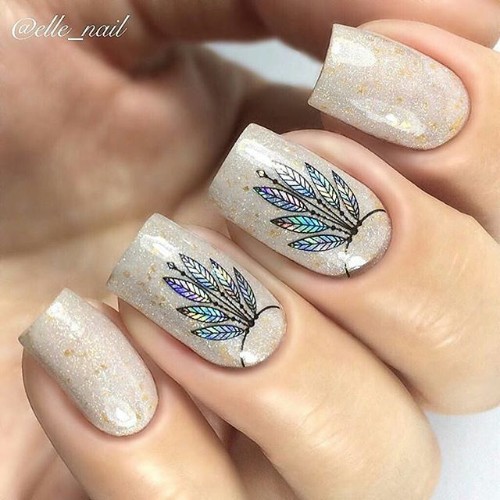 7. How about musical notes?
Yes, please!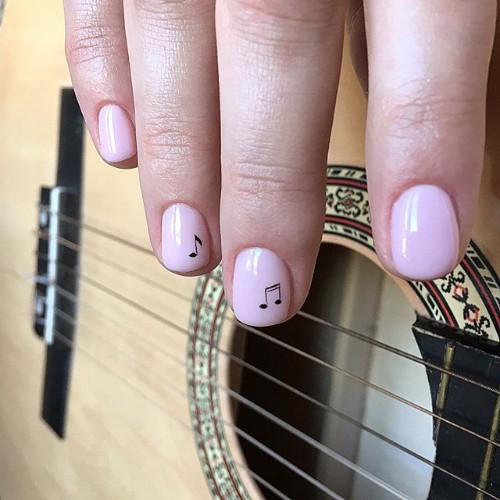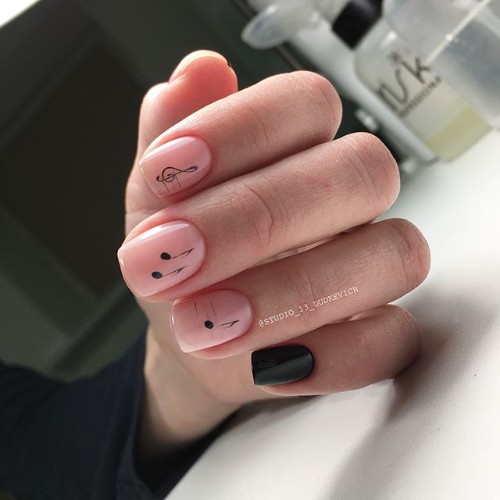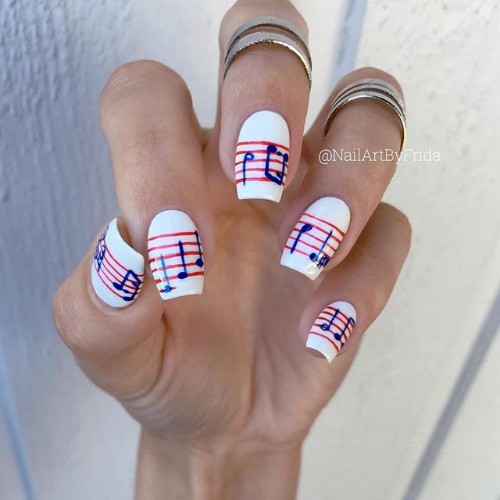 8. The tie-dye nails for Coachella.
Real #festivalvibes on your nails! No matter are you heading to Coachella this year, or no.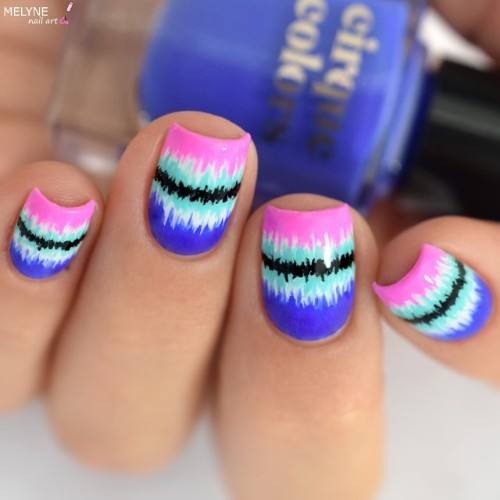 9. Different nail designs on your hands.
Can't choose between two cute Coachella-themed designs? Make both! Nowadays it's even trendy.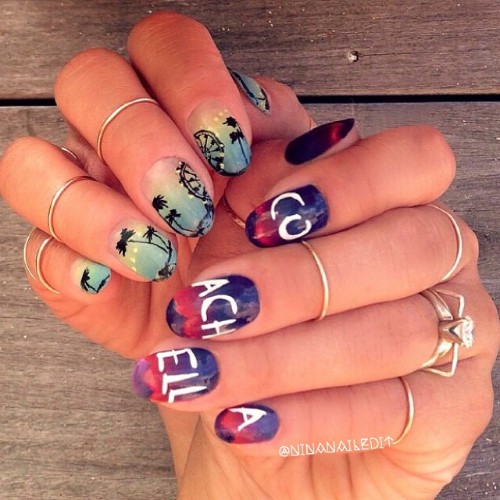 10. Glow-in-the-dark festival nail designs.
They made our hearts stop beating for a moment… What a great idea, isn't it?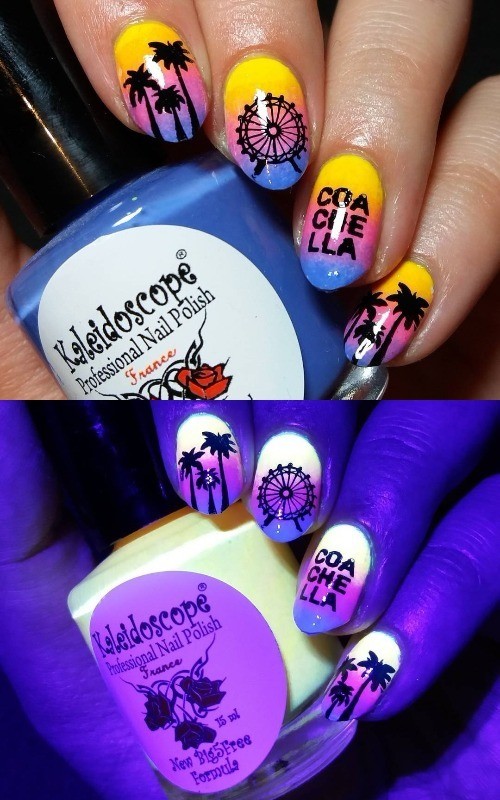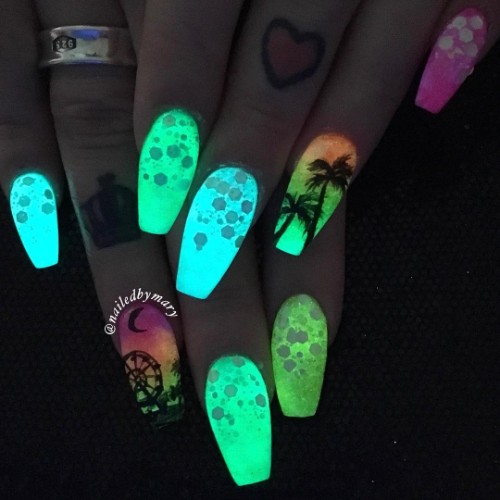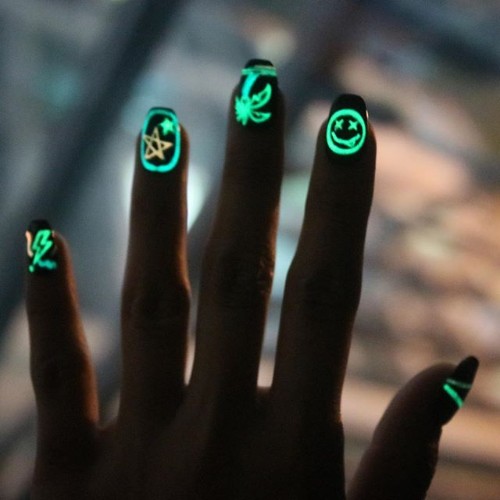 11. Simple nail designs for Coachella with dots.
Look especially great if made in pastel tones.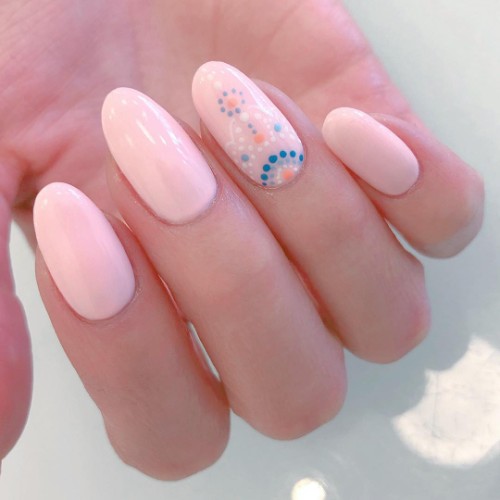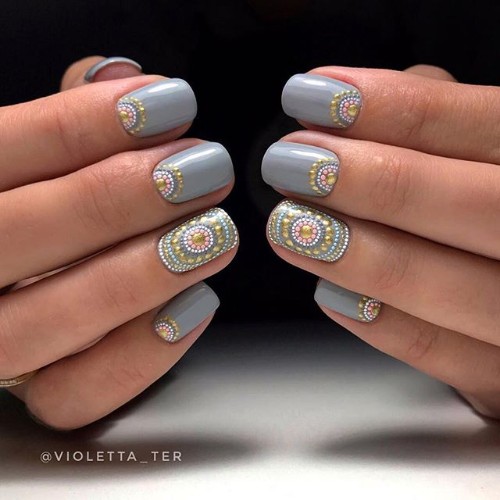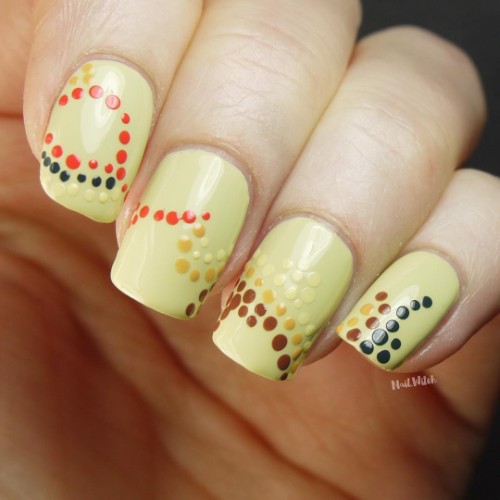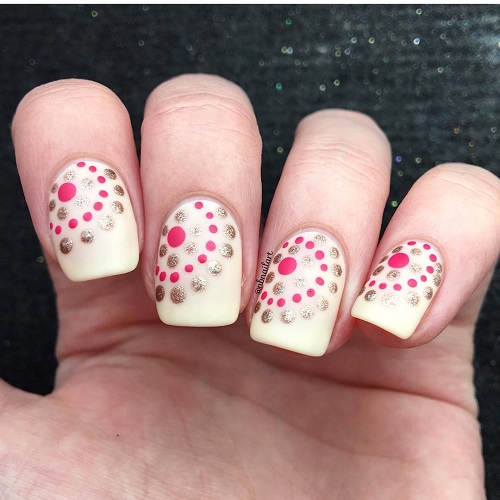 12. Pineapple nail designs for open-air music festivals.
Because pen-pineapple-apple-pen 🙂 Pineapple nail designs always look fresh, summery and girlish.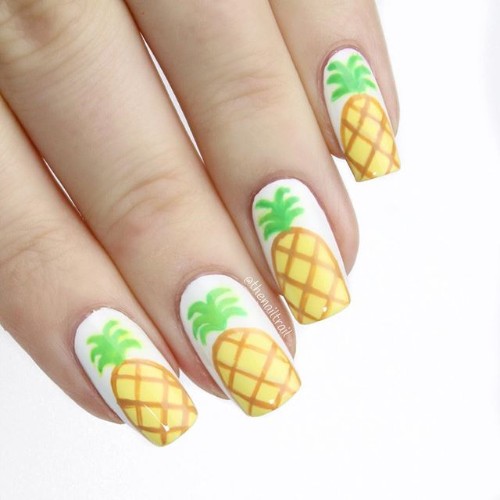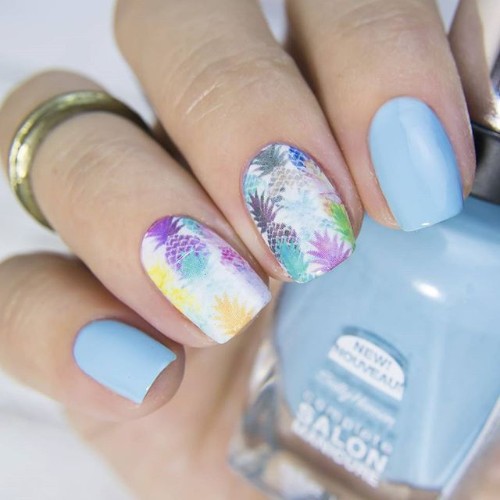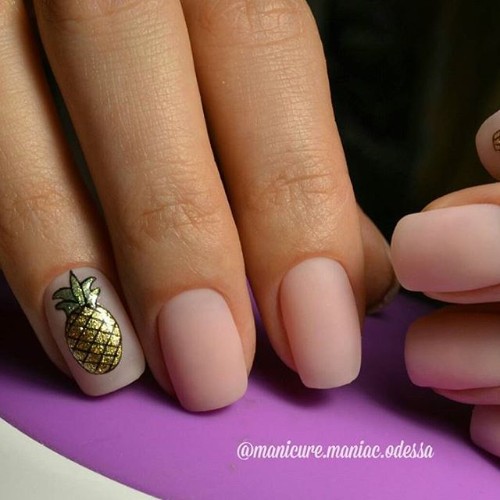 13. Cactus nail designs for Coachella.
OMG, these are seriously stunning. Cacti will make your festival nails unboring and unbelievably cute.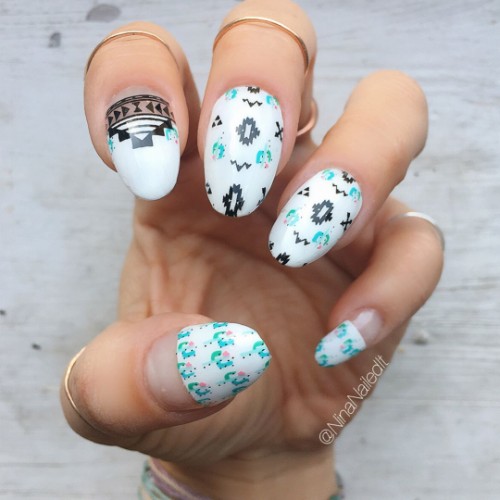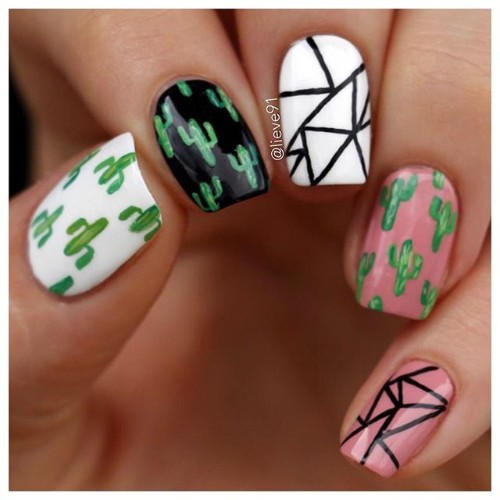 14. Pink matte nails with palm-trees, sunset and the sea foam.
Where are you, summer?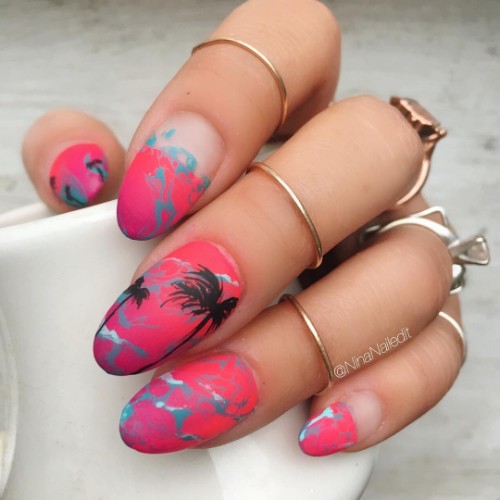 15. Nude Coachella nails with golden stars.
If you've run out of ideas and want smth. very simple, cute and feminine.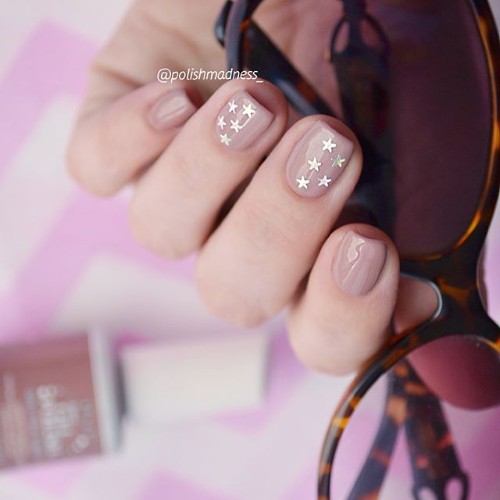 16. Combining a simple nail art with a golden tattoo.
Why not? If you have no time for creating something super-elevated, paint your nails one-shade and add tattoos to your fingers. A genius idea we think.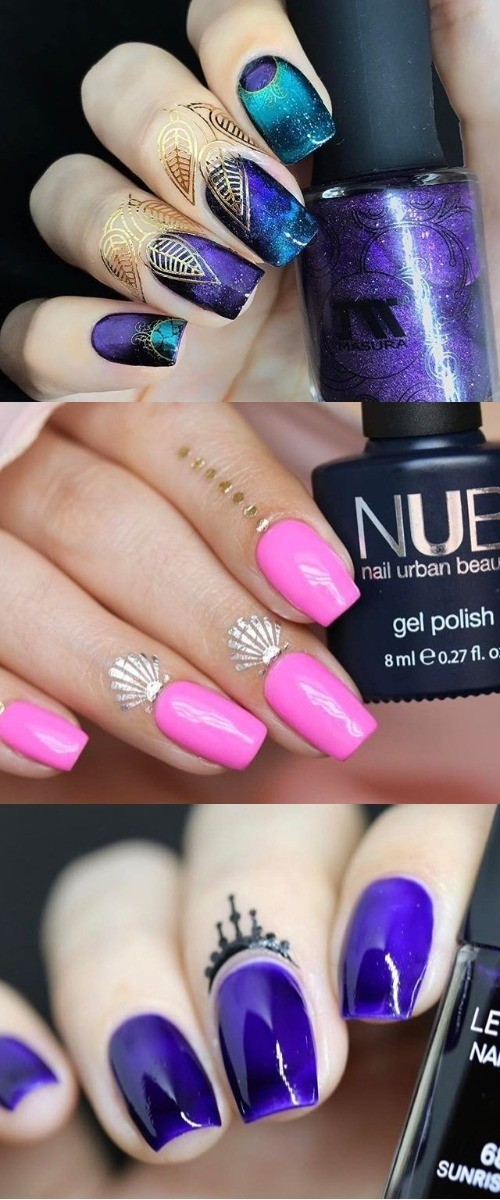 17. Colorful fruit nails for a Coachella festival.
Add any fruits you love and have fun!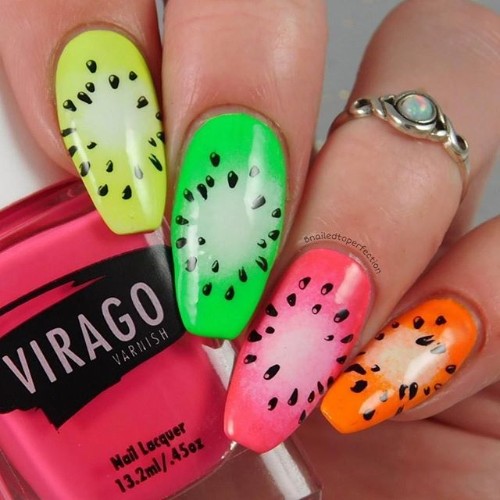 18. Contrasting nail art for Chella.
Catches the eye, right? This is true for all manicures with contrasting shades, not only blue and orange. But wait. Blue and orange is the best…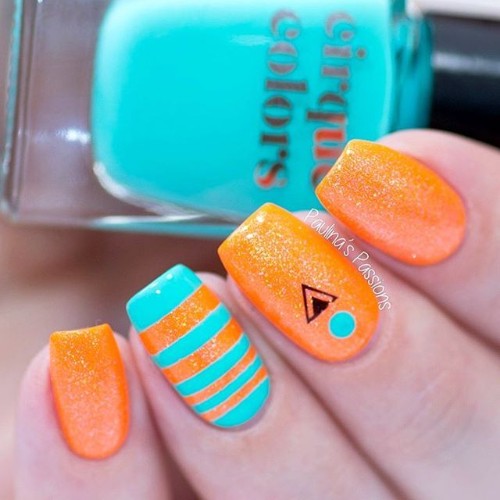 19. Yellow and light blue nails for festivals.
The clear blue sky+a bright sun=perfect Coachella mood!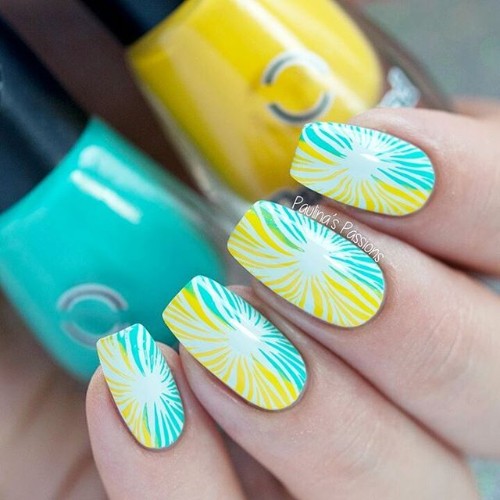 20. Metallic golden nails+negative space+tattoos.
Shine bright during this year's music festival, shine bright! This mani looks especially cool when the weather is fine and the sun shines brightly.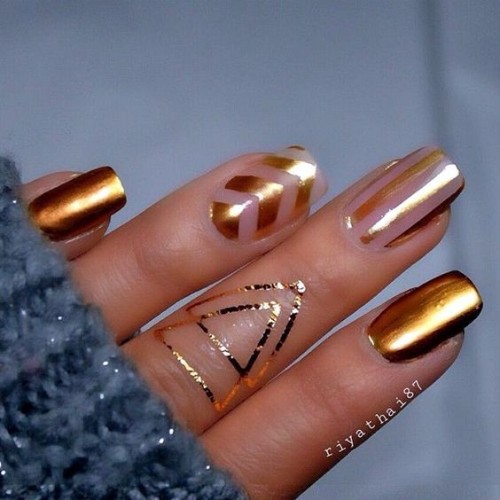 21. Art nail design with brush strokes and dots.
Who said you can't paint on your nails? This variant is quite easy to copy. Be creative.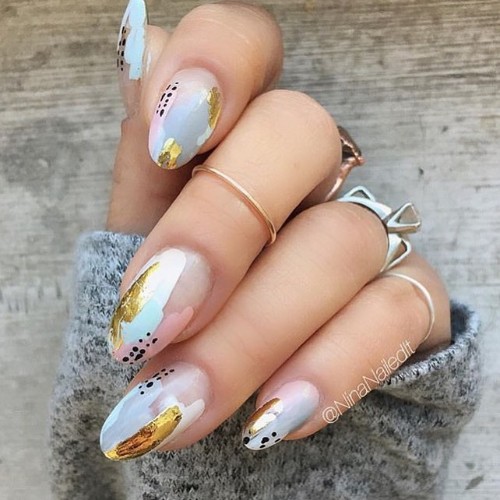 22. Weed nails and marijuana manicures.
Are they even legal??? Joking 🙂 Looks cute.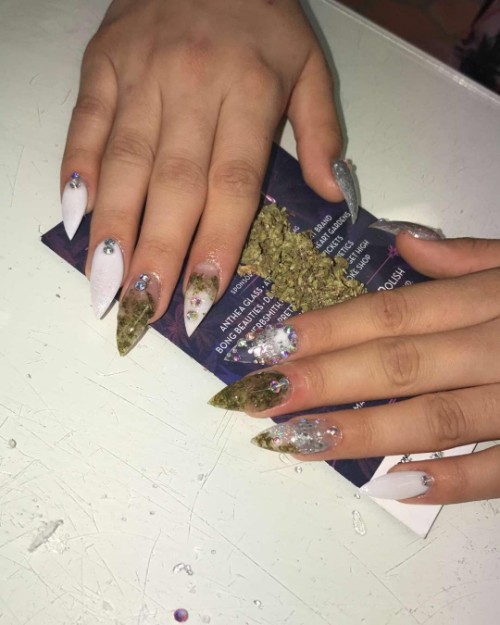 23. Not-so-devil-eye-nail-art.
Maximum level of cuteness.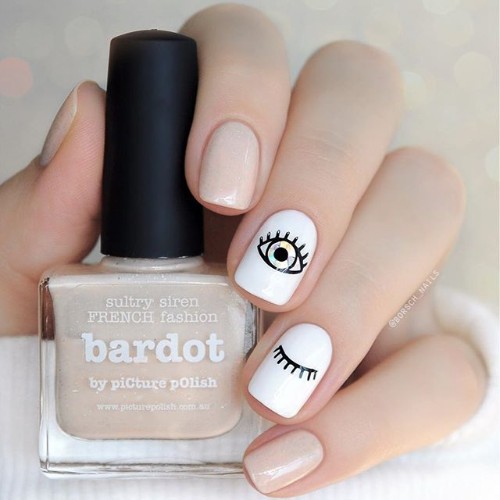 24. Poetic nail design for Coachella or any other music festival.
So boho! 🙂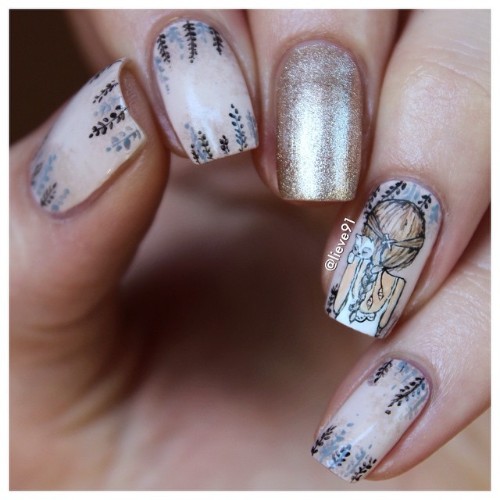 25. Sky-blue nails for spring and summer open-air events.
Or a day by the pool/beach vacation/trip…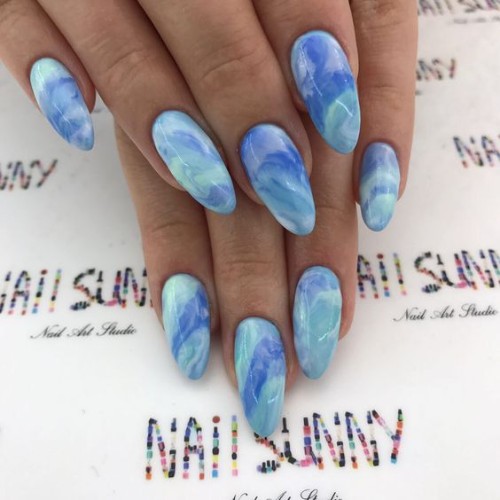 26. Simple nails for Coachella.
Just paint them blue. But choose a nail lacquer with a pearly finish. Done!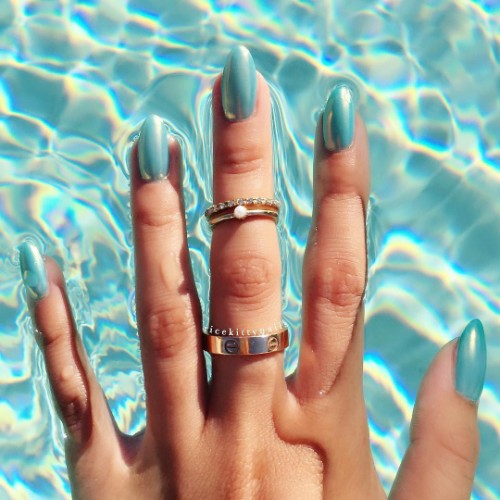 27. White and golden glitter nails for Chella.
As quick as the previous design: your fave nail shape, a white base, and a touch of glitter where you want.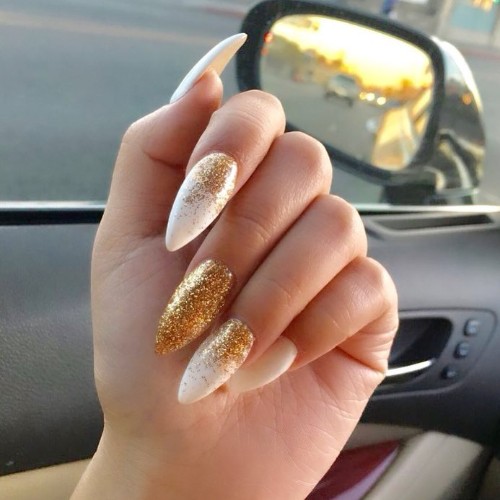 28. Coachella rainbow nails.
Haven't seen anything like this before. Inspiring!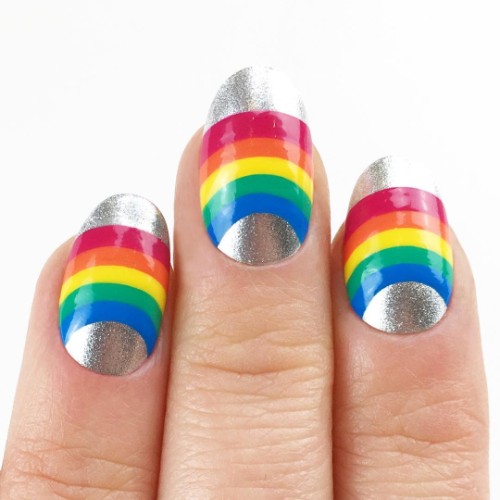 29. Jeans nails for Chella festival.
Denim nails for music festivals are a perfect match to outfits of different styles, be it a short casual skirt, or a long boho dress.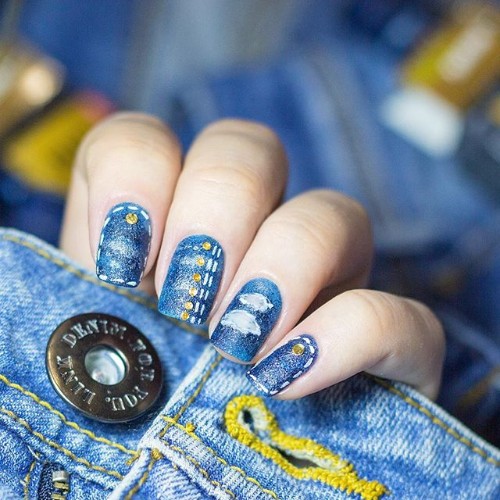 30. Coachella ethnic nail design.
Has that attractiveness factor.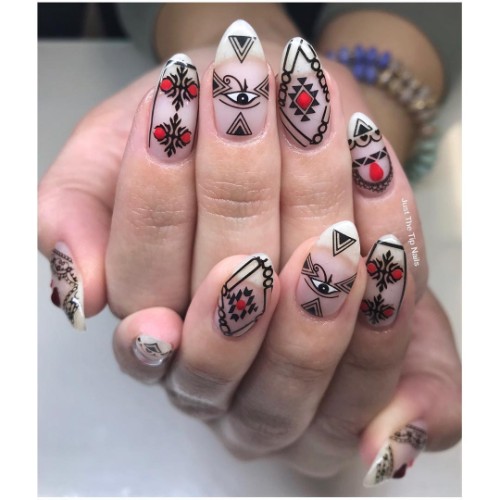 31. Nails with rhinestones.
At last – the so beloved nail design with rhinestones. The nude matte base looks so tender…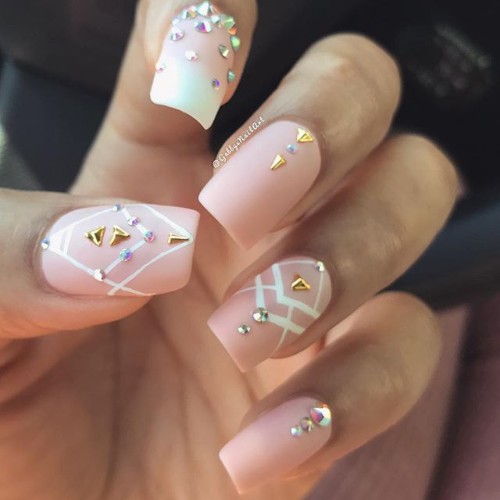 32. Neon bright nail art for a Chella festival.
Just fabulous. Matte finish was a right choice for this mani.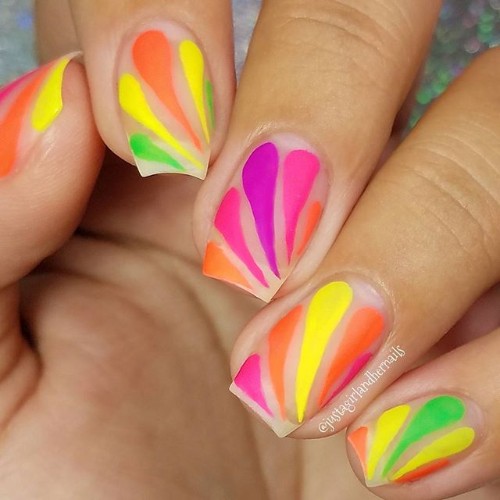 33. Flower nail design for Coachella.
With real dry flowers.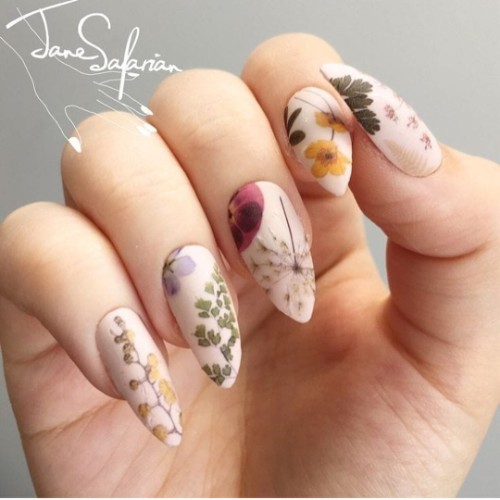 34. Creative Coachella French nails.
Choose a dark base and make bright colorful tips.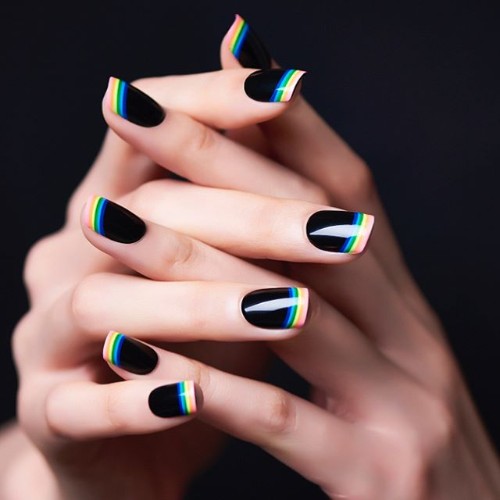 35. Clear nails for festivals and any summer events.
Coolest #festivalnails inspo.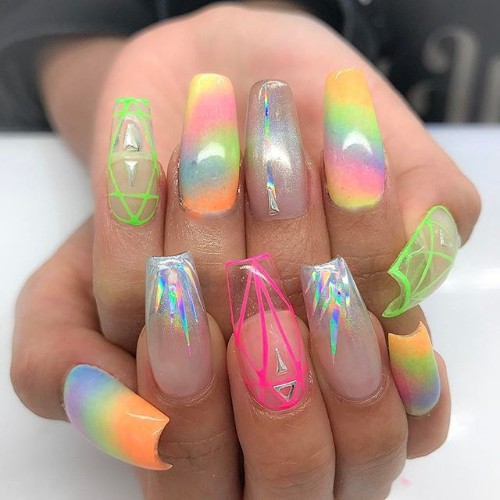 36. Minimalist white nails with golden rain drops on one finger.
Make just one accent nail, all others paint white. Sometimes the simpler is the better.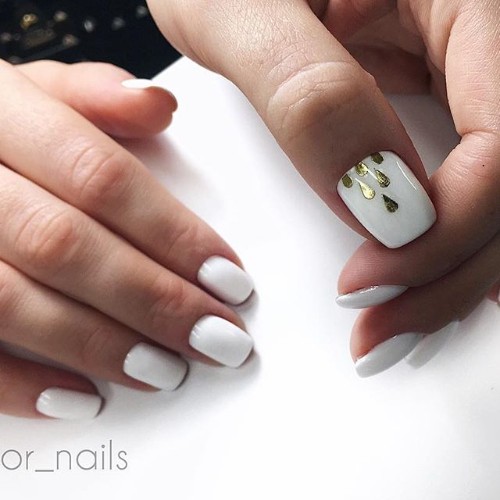 37. Nude'n'glitter nails, perfect from both sides.
🌴🌤🎶 One side casual, the other side party-ready. Unreal combination!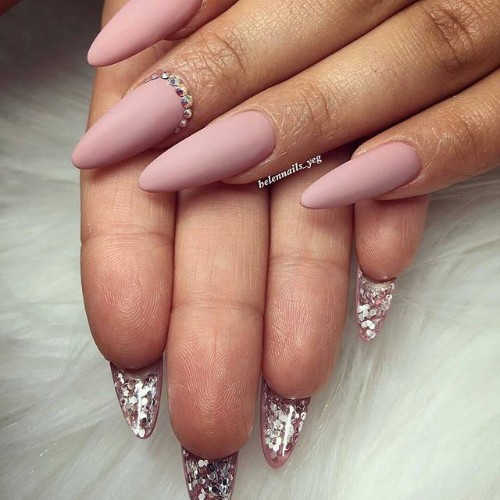 38. Colorful stripes on nails.
Choose any rainbow colors you like the most and combine them with white, black and gray. A bomb!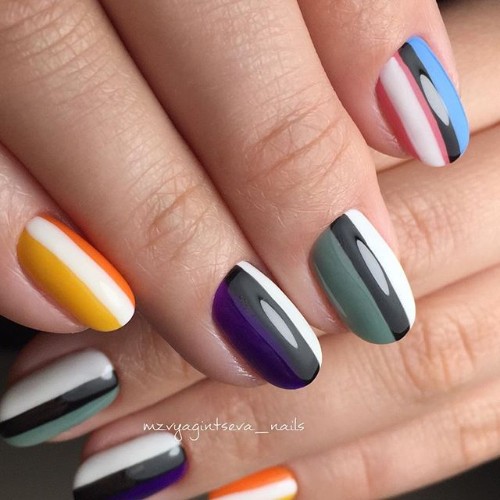 39. Simple constellation nail art for Chella nights.
Matte pink base and white stars, what can be cuter?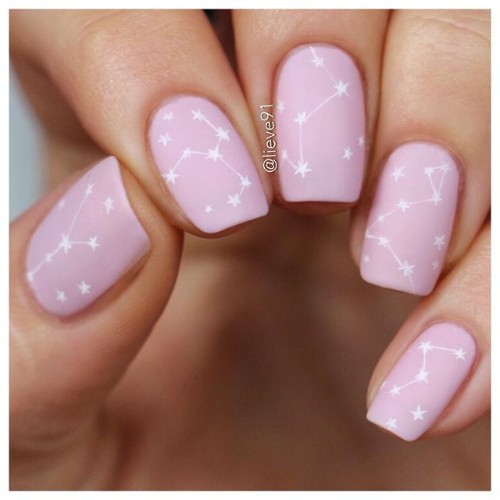 40. Geometric nails for Coachella fest.
Noticed how metallic nail polish suits here?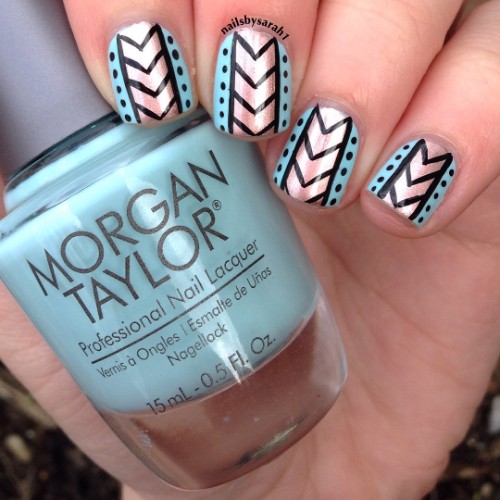 41. Beach nails for music parties.
That dark sandy color… Where to buy the same shade???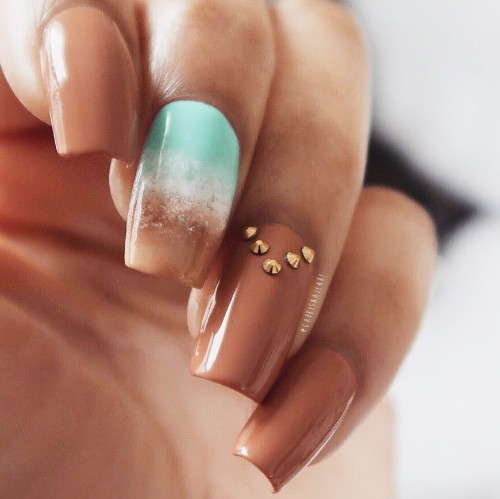 42. Pink and marble long nails.
Pastel pink suits darker skin tones as well. The proof is below.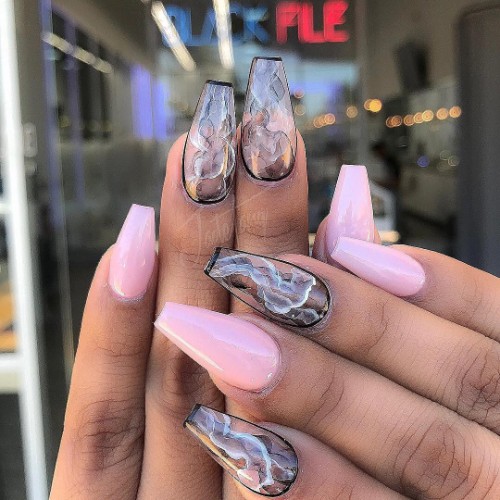 43. Holo nails for Coachella.
To make gray not so boring a nail tech added some holo powder to the nails tips.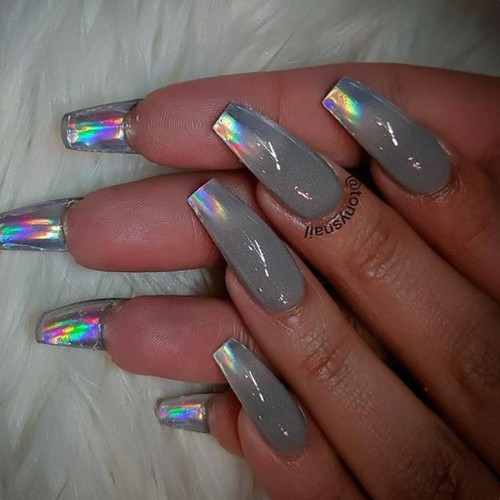 44. Airbrush nail art for Chella fest.
To pretty to be real 🙂 These nails are made with the help of nail air-brushing.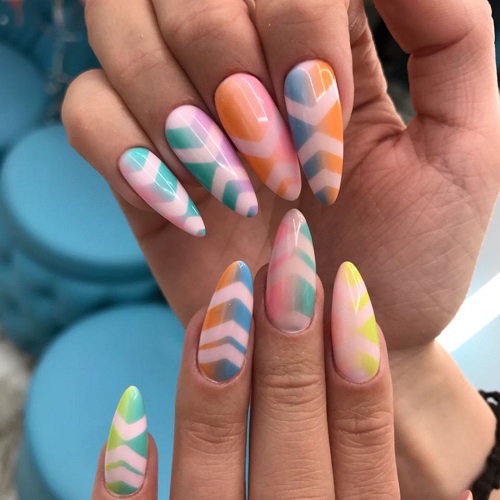 45. One accent Coachella nail – simple and cute.
If you have minimum time but still want to have perfect Coachella nails. One accent nail is enough for a pretty nail design.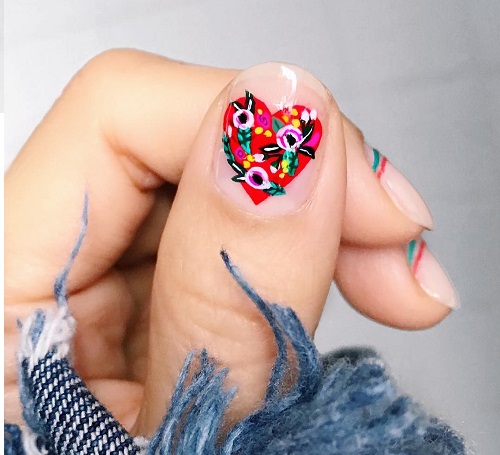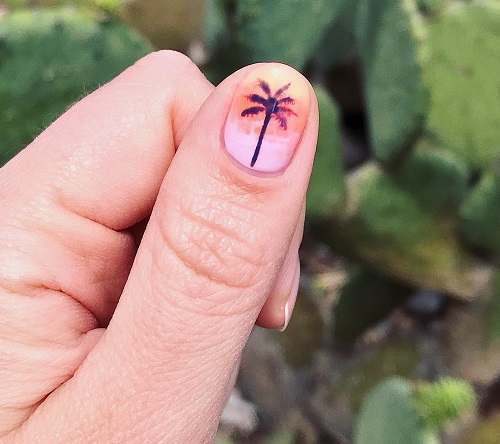 46. Gold foil on nails for music fests.
Add gold foil to your nails and a wow-effect is ensured.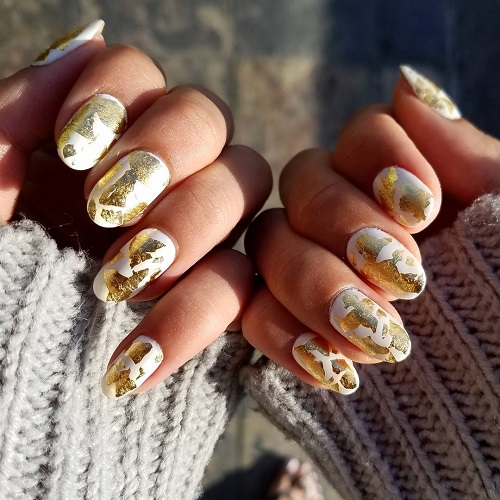 47. Coachella stiletto nails with a Ferris wheel and palm trees.
The sharpest in our collection.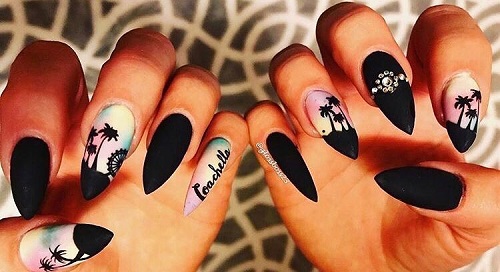 48. Pastels plus flowers.
When you don't have time to schedule appointment with your nail tech but also want to have cute festival nails with flowers. Find any dotting tool and voila!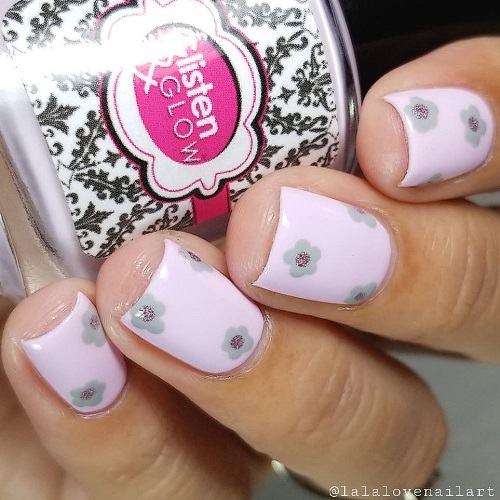 49. White and gold nails for Chella weeks.
A right fit for all nail shapes.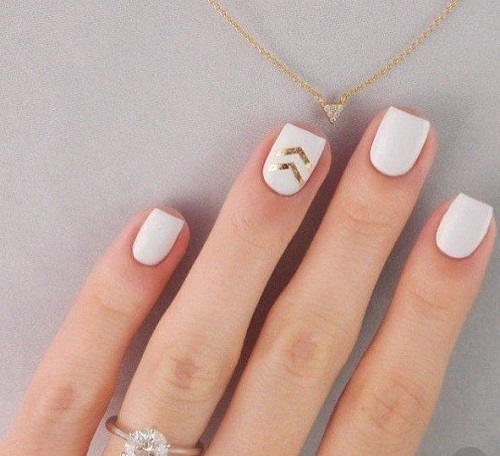 50. Pink and green nail design.
Contrasting colors can be matching in reality. Especially dust pink and dark green shades.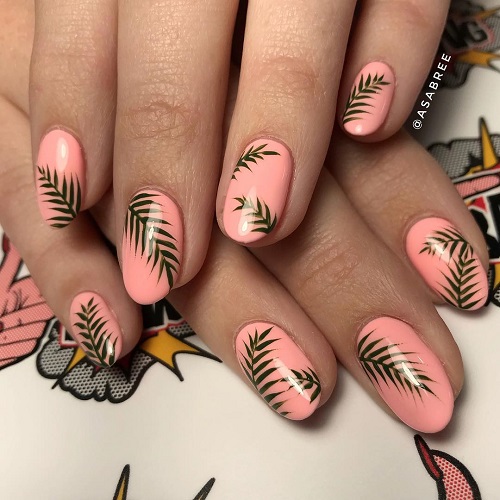 More nail designs you can find on our Pinterest boards and on IG account @thenewestnails. Follow us, save the ideas and be inspired by our content.
Are you ready for Coachella now? With so many Coachella nail designs from top bloggers – we are definitely ready!