Do you hesitate while thinking about trying the blue and pink hair combination? Will these two hair colors mix beautifully? Will pink and blue hair color be easy to maintain? Let's check out together!
Advertisement-Continue Reading Below
So, as far as there are dozens of pink shades and dozens of blue hair tones, there exist plenty of pink'n'blue hairstyles worth trying. Don't forget to screenshot or pin photos for later, to bring them to your hair colorist. Also, there are some "share" buttons below the post for your convenience.
– Blue to Pink Hair Ombre. This picture proves that mixing shades of blue and shades of pink is a great idea for a bold girl! Be ready for some additional 'transitioning colors', in this case, it is almost unnoticeable purple.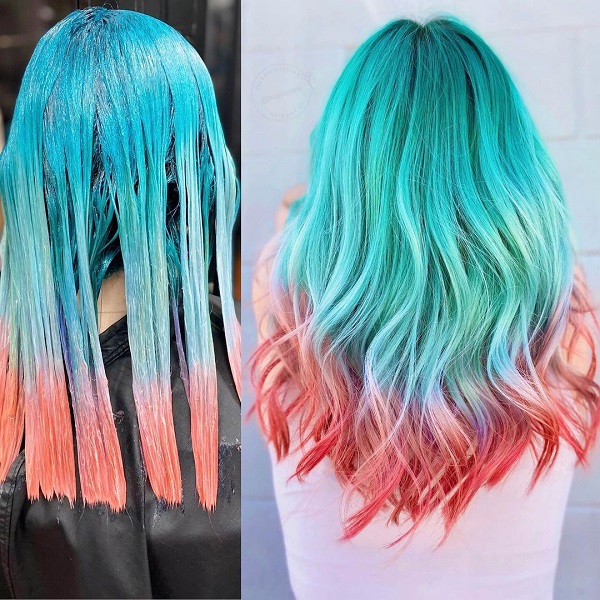 – Pink and Blue Split Dye Hair Color. Life is toooo short to have one-tone boring hair. Choose two colors and mix them creatively. This color combination is called the 'split dye' hairstyle. However, it is even more creative than we used to see everywhere on Instagram. As blue and pink are not dyed according to the half and half scheme. We see pink and blue on both sides, they are beautifully switched.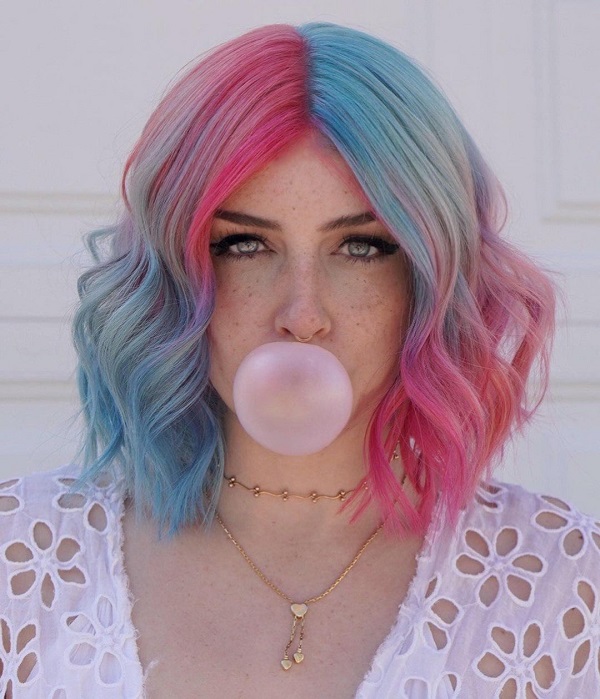 – Women's Colored Pink and Blue Mohawk. This is a real pleasure for our eyes! Modern women's mohawks don't look aggressive anymore. They look cute and feminine. Especially if paired with such colors as blue and pink.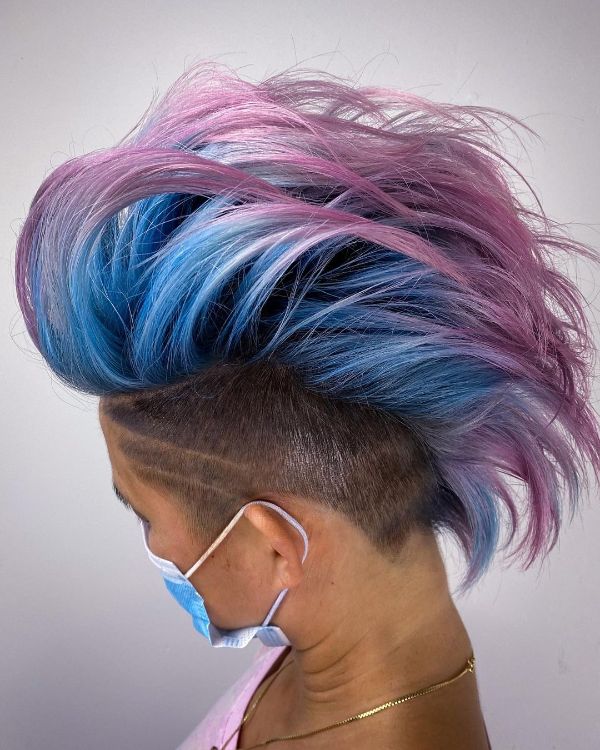 – Pink Money Pieces and Blue Hair Tips. This hairstyle will have the most effect if paired with bright make-up.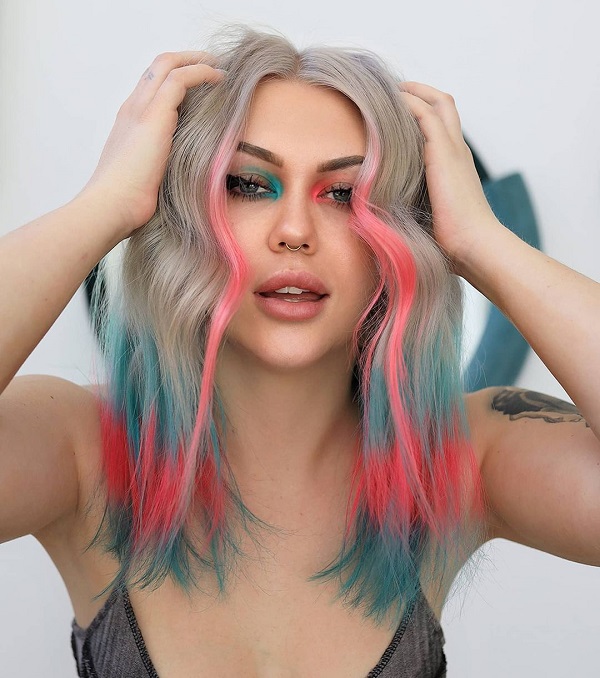 – Pastel Blue and Pink Hair Colors Mix. This mess looks so feminine and soft! Dark blue, turquoise and pale pink blend seamlessly and create a look worth trying at least once in your life.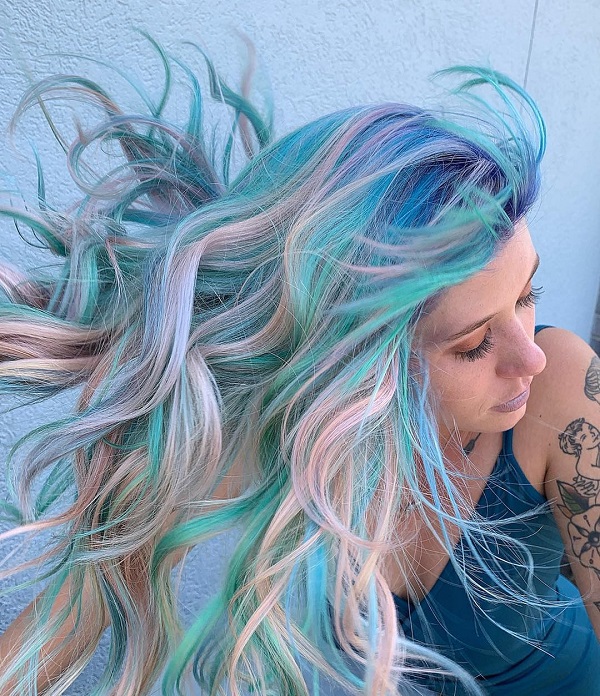 – Blue and Pink Underneath Hair. Colored hair underneath is a hot trend now, especially if dark brunette (and even black) and bright colors are mixed. You get two hairstyles in one! A one-color top layer for a serious version of you, and bright underneath for fun. Just gather your hair in a high ponytail and have fun!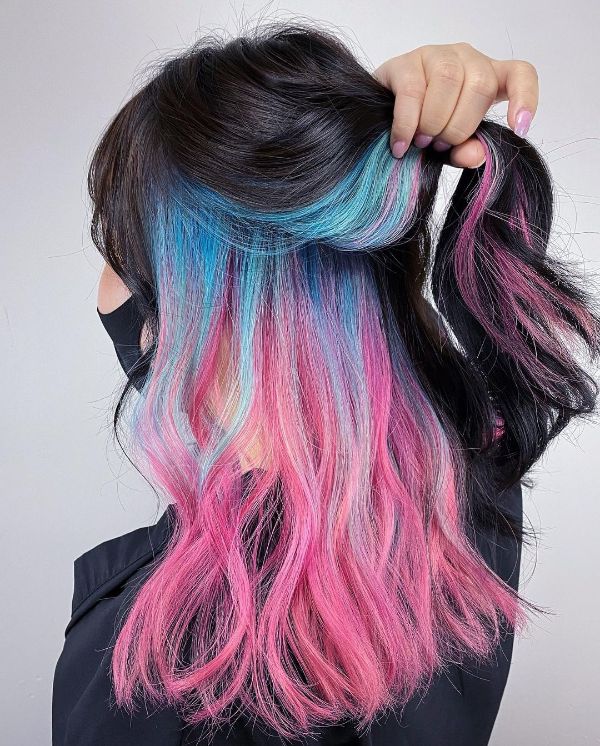 – Indigo Blue and Fuchsia Pink Hair. The indigo shade of blue and fuchsia are pretty together. Waves in your hair will make the hairstyle even more attractive.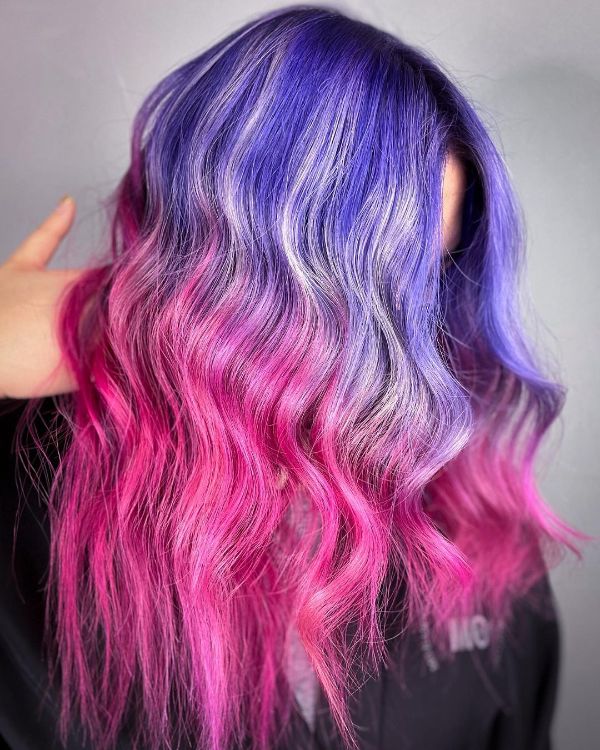 – Spiky Blue and Pink Pixie. If you have very short hair, it is much easier for you to try non-banal bright hair colors! Less bleach, less damage.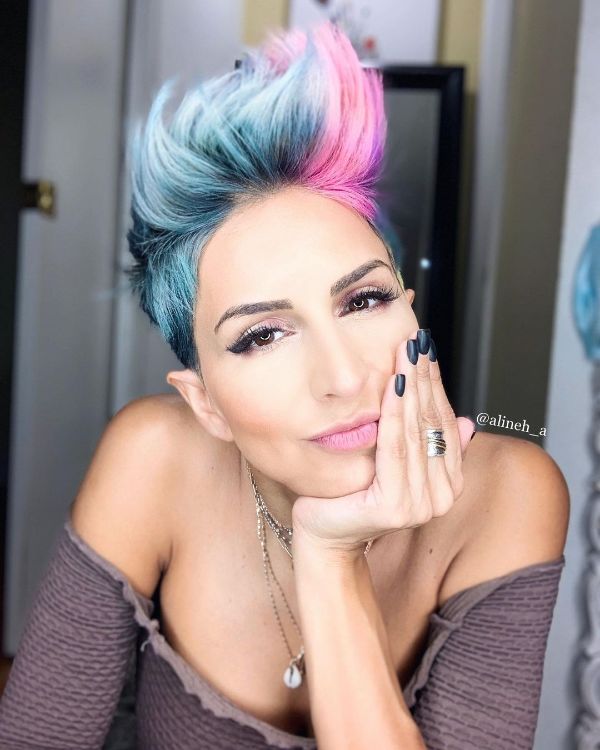 – Bob Haircut in Blue and Pink Shades. Bob haircuts are a good canvas for hair color experiments too. The shorter the hair, the less bleach will be processed on your locks. And, of course, you will be able to restore the health of your locks easier.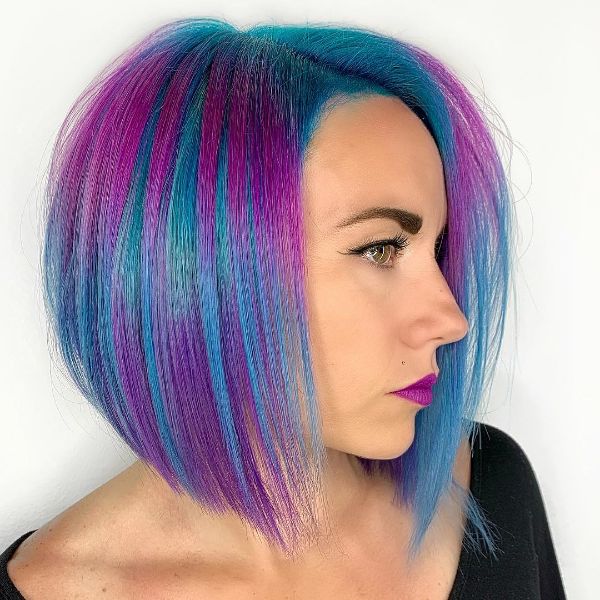 – Blue and Pink Undercut. A cute example how blue and pink hair colors can be used on your hair if you have a nape undercut.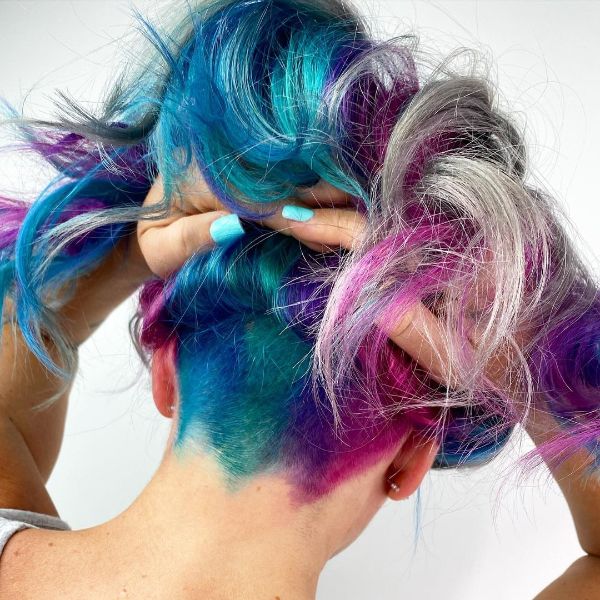 – Bright Blue and Dirty Pink Braids. How about such long braids in blue and pink colors? No need to color your hair with any hair dye, just choose extensions and find a good hair braider near you!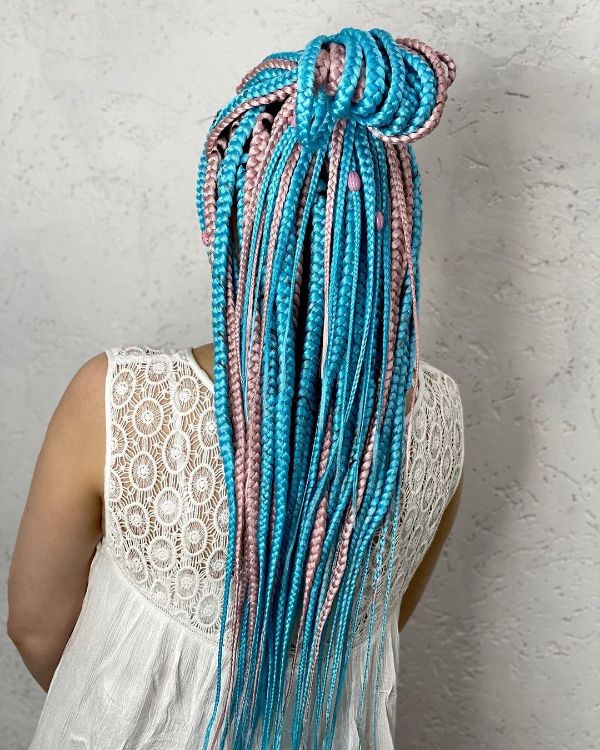 – Marvelous Pale Pink and Blue Inverted Bob. Dye your hair in your favorite blue shade, shadow the roots and add pink feathered highlights.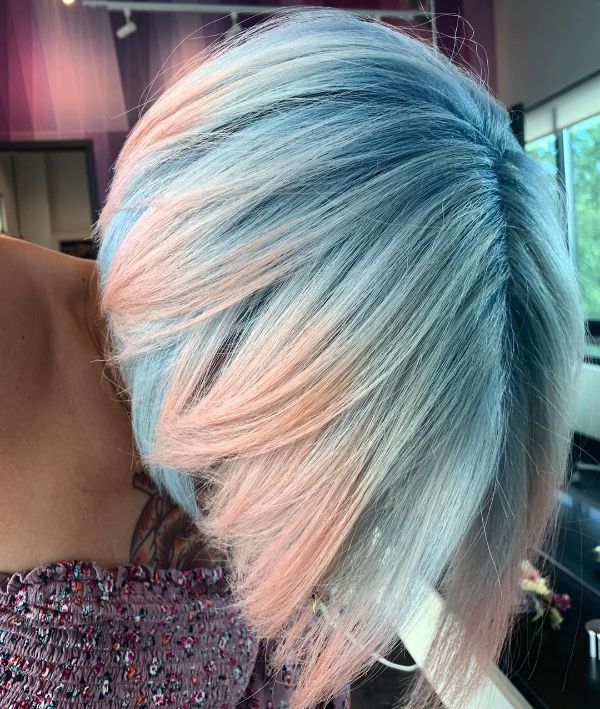 – Ear-Length Curled Hairstyle. As we see, the third hair color that fits almost all pink'n'blue hairstyles is purple. Here it is added to the roots.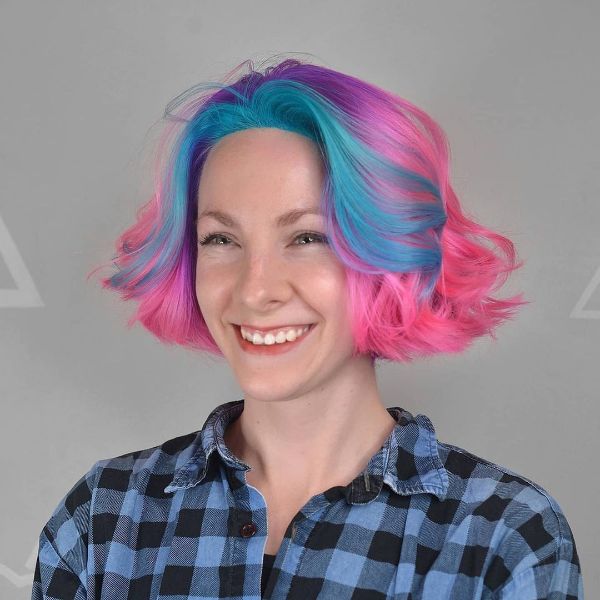 – Pink Bangs. Pink and blue shades can mix in dozens of combinations. One of the prettiest is dyed pink bangs, face-framing pink strands and chunky blue streaks. Stunning!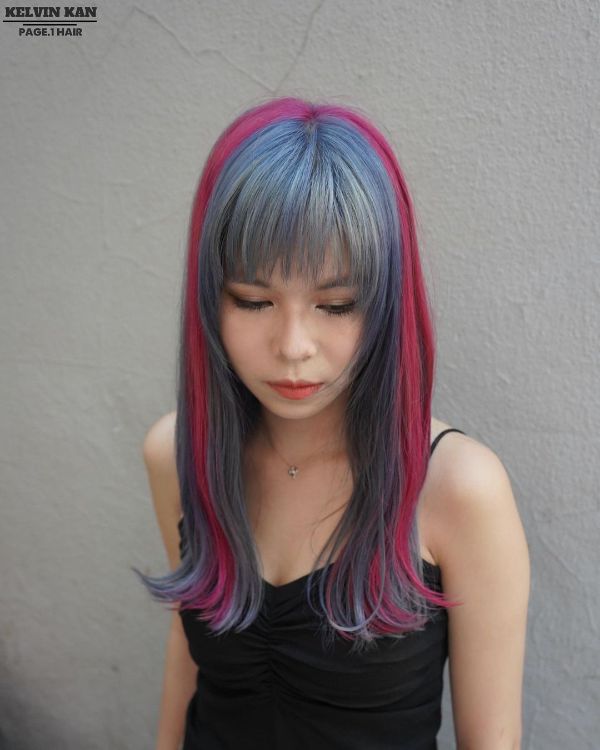 – Pink and Blue Before-After Transformation Photo. Compare the original and the result of the color job. Purplish blue shade, some splashes of yellow and green colors, and lavender-pink ends are a masterpiece worth admiration.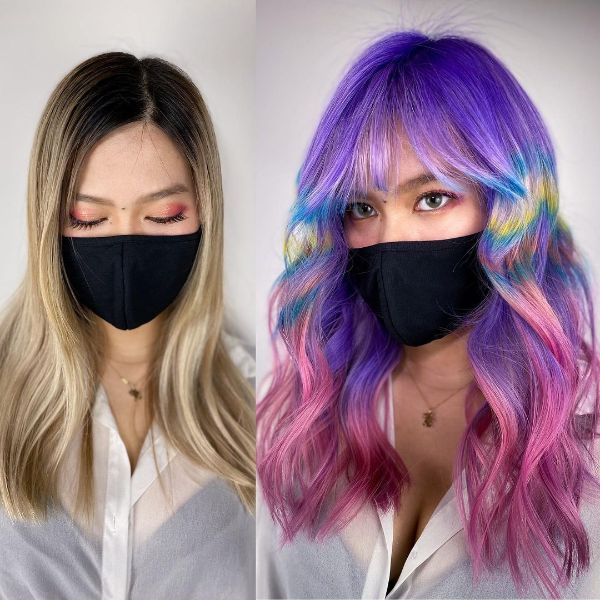 – Blue and Pink Pixie Bob Haircut. Two hair colors in one hairstyle create dimension. That is why hair colorists like to combine several shades, sometimes completely different, in their masterpieces.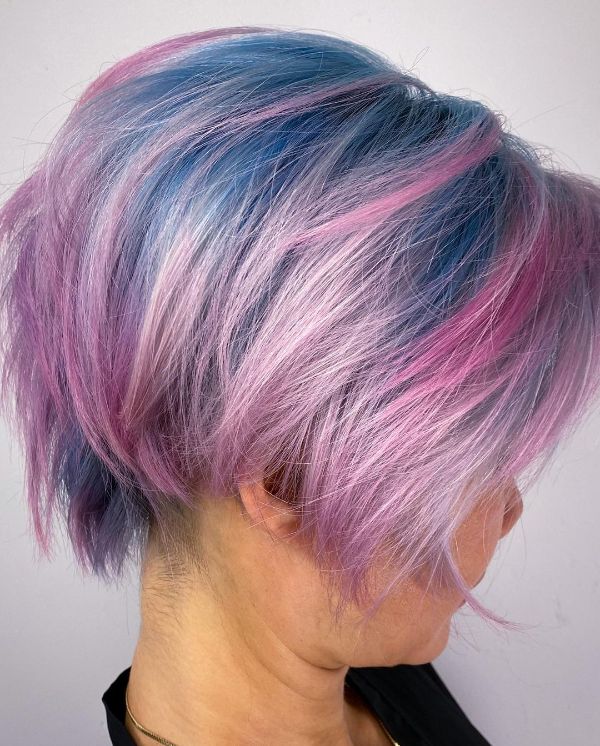 – Neck-Length Pink-Blue Hairstyle. This hairstyle looks feminine and flirty. And you can even copy this look at home. Follow the link below the picture, and check out the page of the beautiful girl on this picture. She gives really important information and creates genius hair vids.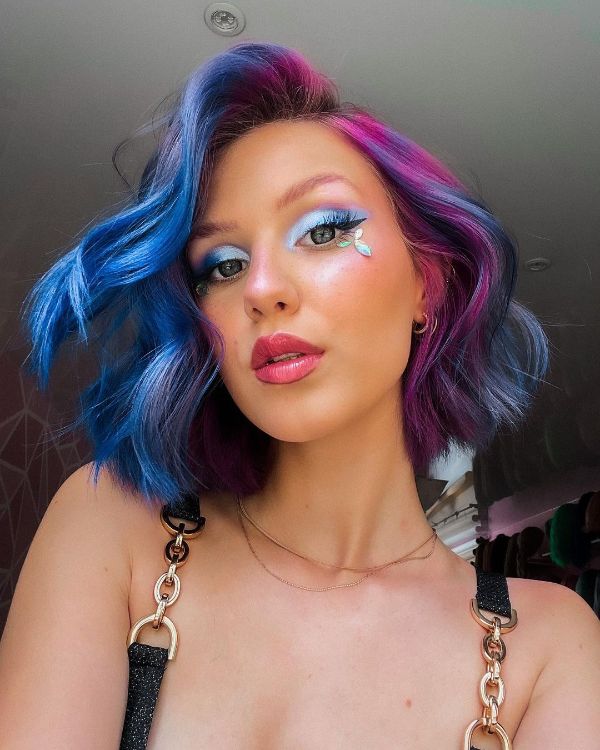 – Twisted Ponytail in Blue and Pink. You can steal this look for any event in your life.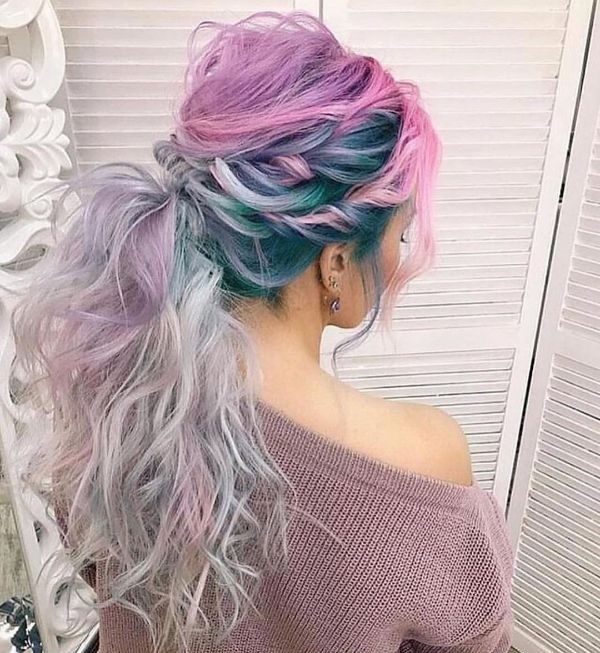 – Denim Blue + Peach Pink Hair Colors. Just look how stunning braids with two hair colors are!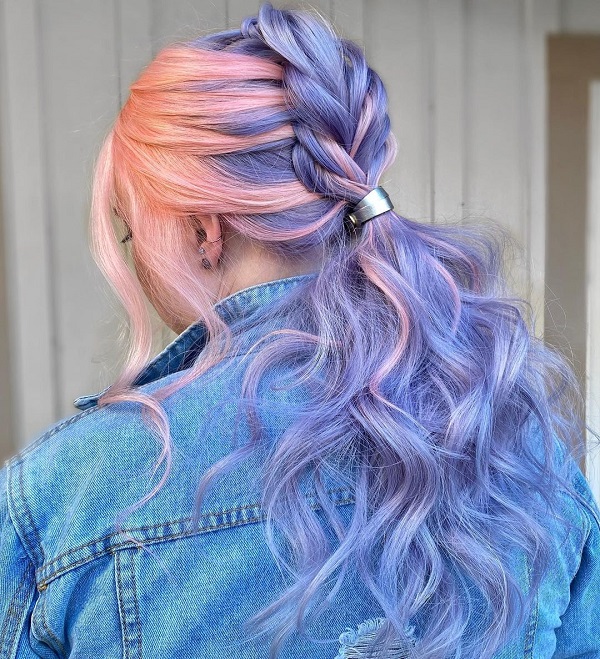 – Pink to Purple to Blue Ombre. The hair colorist didn't want to make the transition between colors smooth or uneven. Such contrasts look perfect when hair is curled.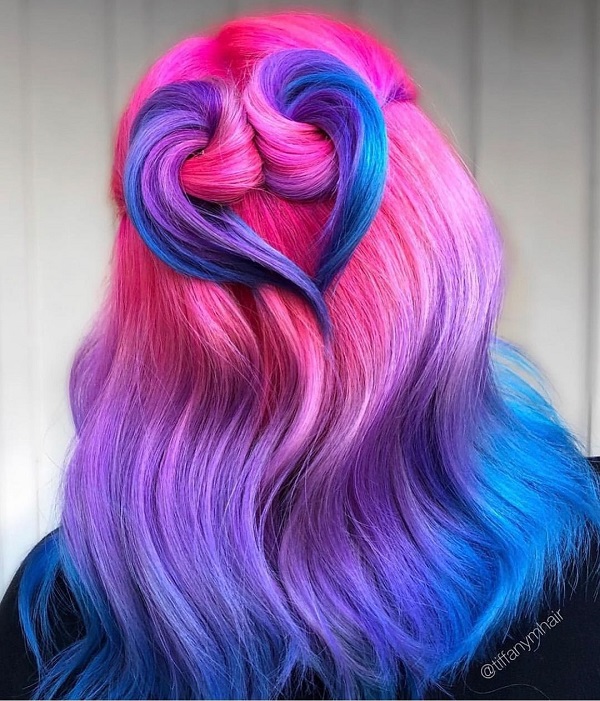 – Neon Blue Hair with Pink Face-Framing Money Pieces. Say no to boring hair shades, say no to sleek straight hairstyles. If you have wild nature, create some mess in your hair and opt for shagginess.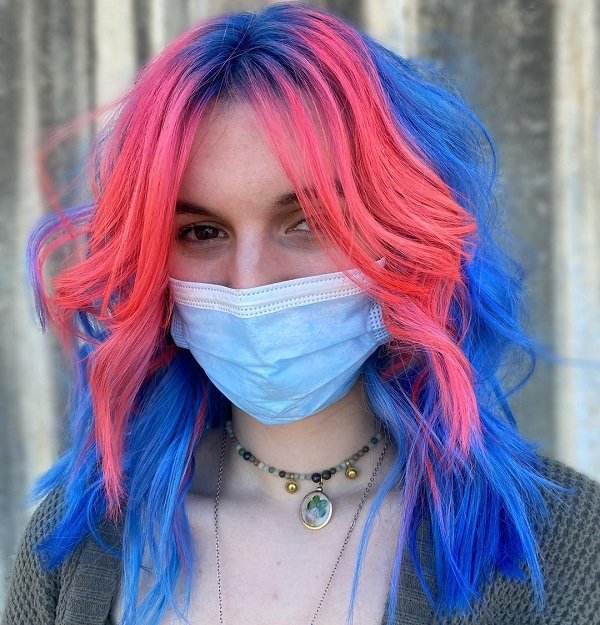 – Dark Hair with Pink and Blue Braids. Pink and blue thin braids will be one of your best memories of this year's summer. Especially if they are pulled up in a high bun.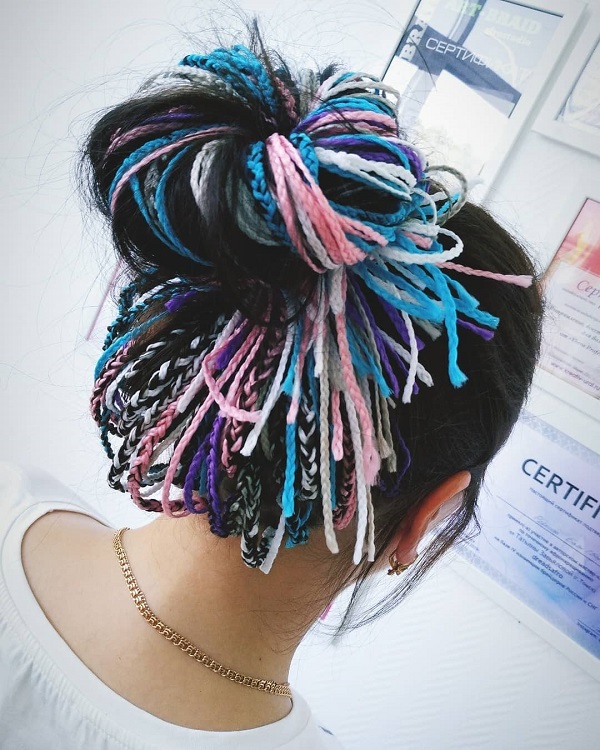 – Raven Black Hair with Pink, Purple and Blue Highlights. Highlights, highlights and more highlights. Black hair never looked more intriguing than in this hairstyle.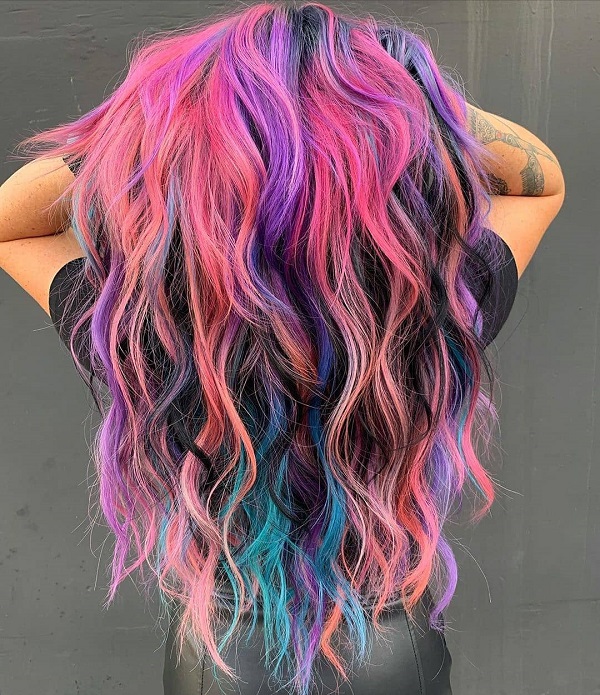 – Pink and Mint Blue Hair. Yes, bright colors fade. Use sulfate-free shampoos and wash your hair not so often to postpone this process a bit.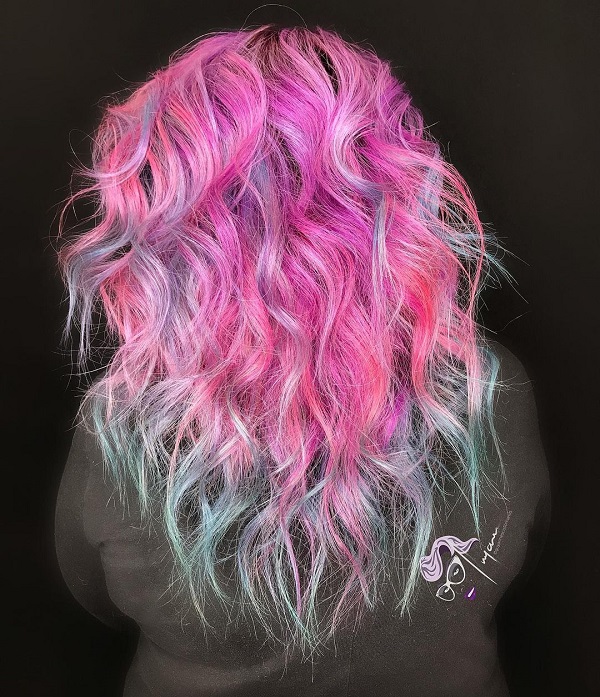 – Dark Roots and Pink&Blue Midshaft. Bubblegum hair will flatter all ages and all personalities. Leave roots darker, this will enable you to visit the hair salon not so often.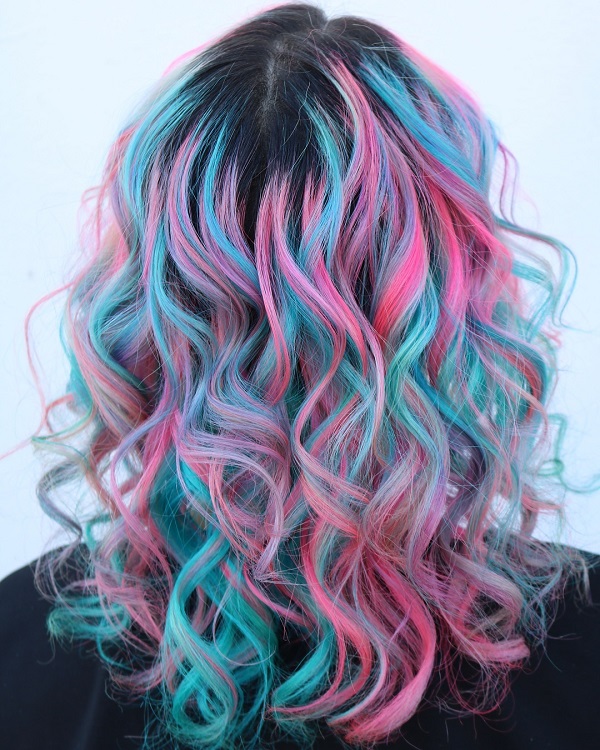 – Blonde Extensions with Pink and Blue Highlights. Yes! This option is for all ladies who don't want to color their hair. Install blonde extensions and add some color. Simple!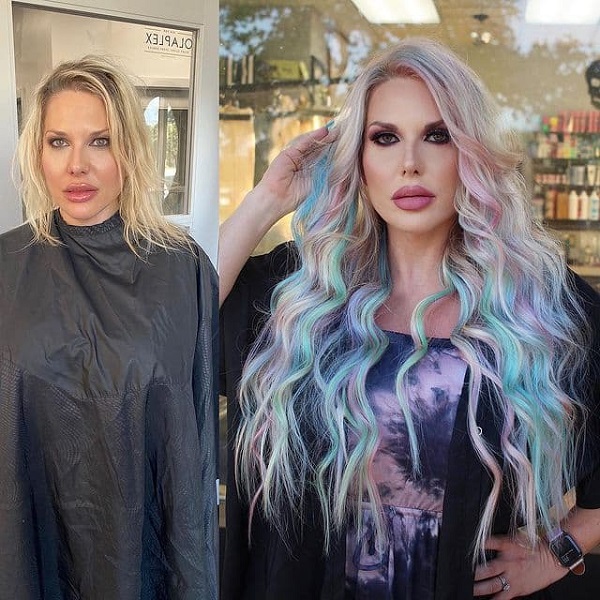 – Blue, Green and Neon Pink Hair. Don't even try to copy this look at home. Only a pro hair colorist will color hair streaks so neatly. Sometimes we can color hair at home, but in most cases, it is a bad idea.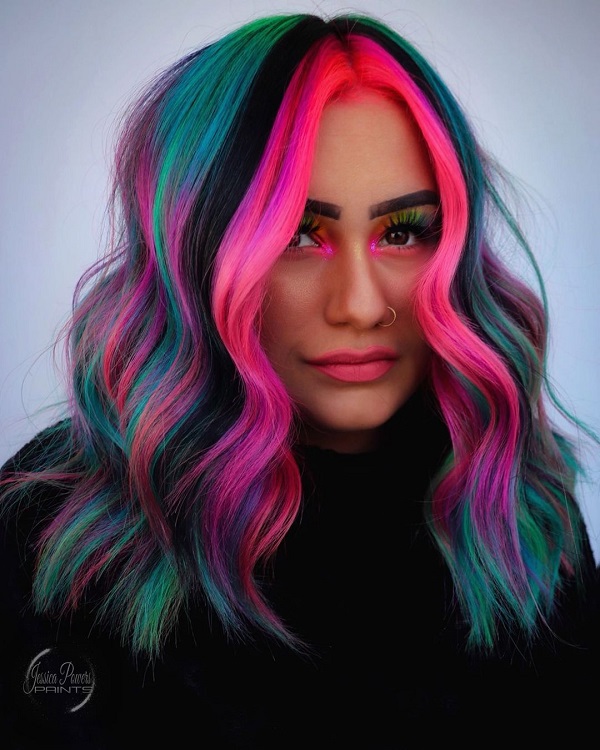 – Pink and Blue Hair with a Shiny Pearl Finish. Choosing between two colors may be so tiresome.. Choose both and be happy!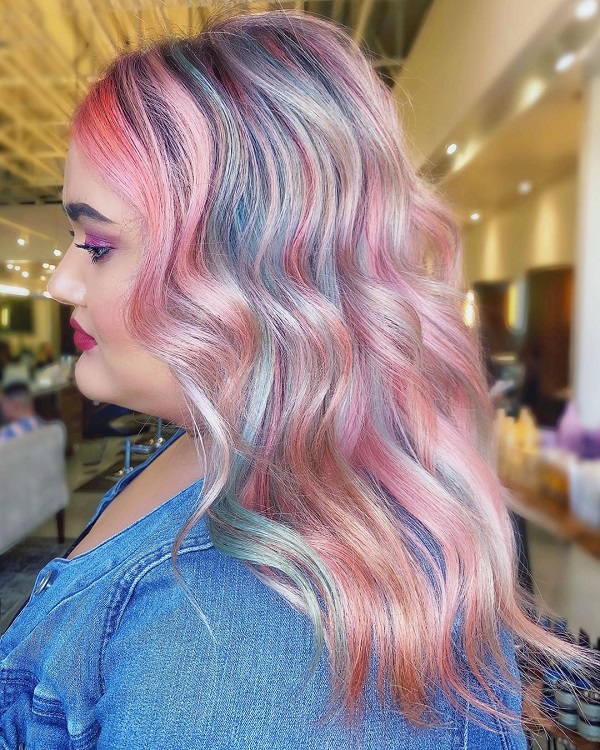 – Short Curly Blue and Pink Hairstyle. Playful and girlish, this hairstyle is a dream come true for all girls craving to add a bit of romance to their look.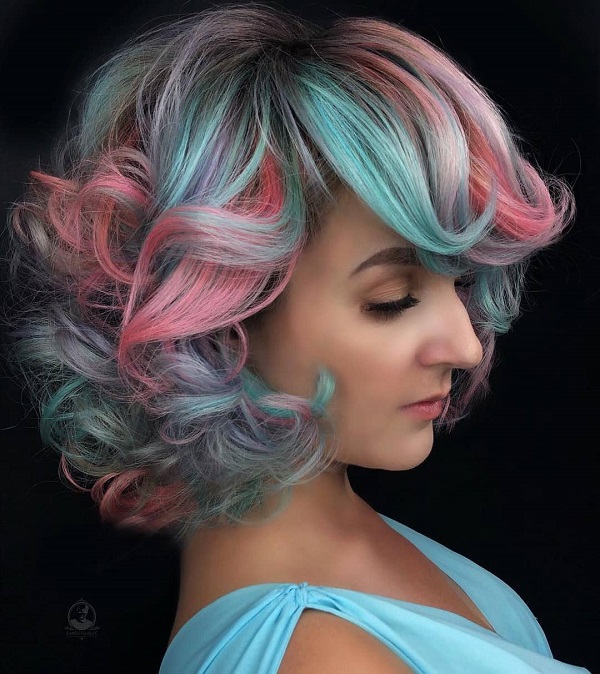 – Blue-Green Bob Haircut with Pink Underneath. Save this hair idea for those times when you are our of ideas but are ready to create something extraordinary and mermaid-style on your head.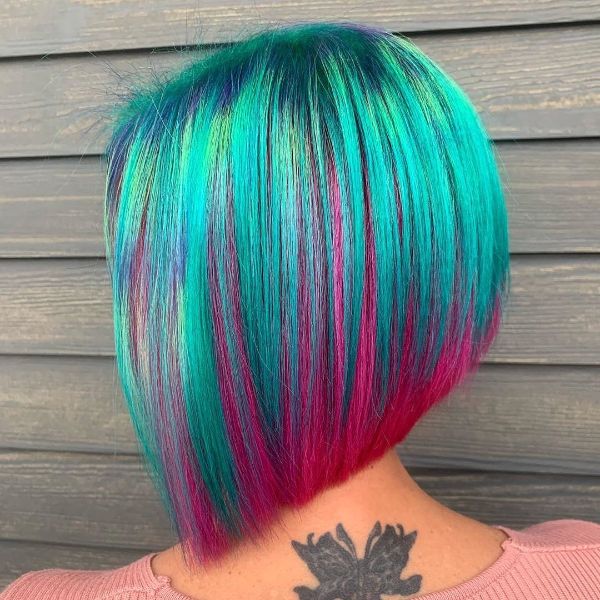 – Shoulder-Length Pink-Blue Hairstyle. Pink base color and several feathered thick highlights in a shade of blue are a hair color mix to die for!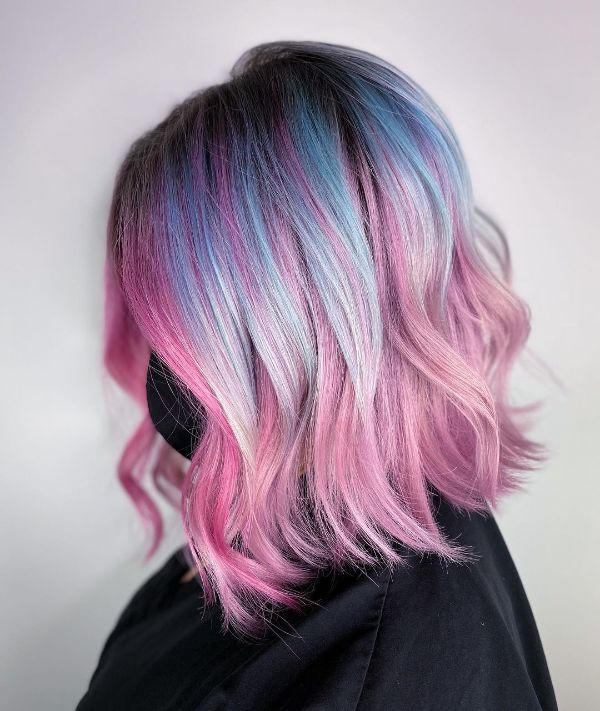 Pink and blue hair styles are always a thing when you are bored with your current look and want to spice up your hair a bit. Add colors, add highlights, change the shape of your haircut, learn how to create curls/waves in your hair, experiment, as practice makes perfect!
.
.
.
.
.
We use photos from open sources to illustrate our articles, and always give credits if known. All photos belong to their respective owners! Contact us via thenewestnails@gmail.com or DM here for all copyright issues, and we will delete your photo or make any other changes instantly.