Purple nails – yes or no in 2023? We say yes to everything beautiful and stylish! And these 70 purple and violet nail arts are definitely a big YES if you can't live without purple shades in your looks!
Advertisement-Continue Reading Below
Purple nail designs are quite trendy nowadays, as there are so many shades of purple nail polishes, that you will definitely find the one that will suit your needs and flatter your mood. Do you want to try violet nails? Or maybe a lavender manicure? We tried to include all possible tones of purple into this article, starting from dark plum and ending with the most pastel purple nail shade imaginable. Check out below!
Purple Nails Shades
Let's start from defining all that shades of purple. For example, do you really know the difference between purple and violet nail shades? Yes, they are not the same! Or what is a periwinkle nail polish shade? First of all, there are two types of purple nail polish shades, dark (dark plum, eggplant, wine, raisin) and light (pastel, lavender). Also, there are warmer shades of purple (have a bit of a reddish tint), and cooler ones (more close to blue colors). In general, there exist more than 50(!) different purple shades. Still think that you will not be able to find the one that you will fall in love with? Here are the most popular purple nail colors.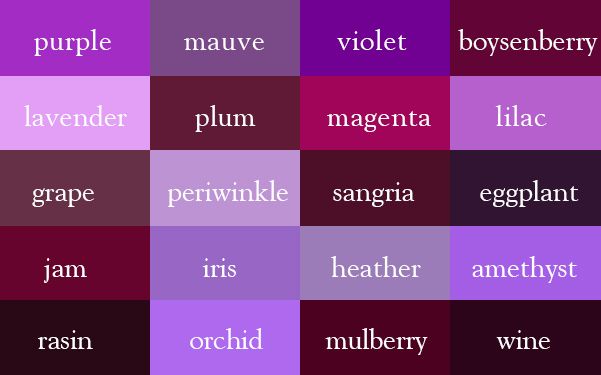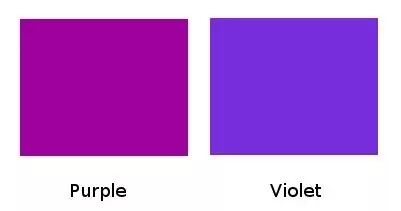 50 ideas of Purple Nail Designs in Different Shades and Tones
Let'ts move on to the purple nail designs that are trendy now.
– Watercolor Purple and White Nail Design. Beautiful feminine white and purple nail design in a watercolor technique, what can be ore feminine and pleasant for your eyes? The design is made with the help of the ombre effect.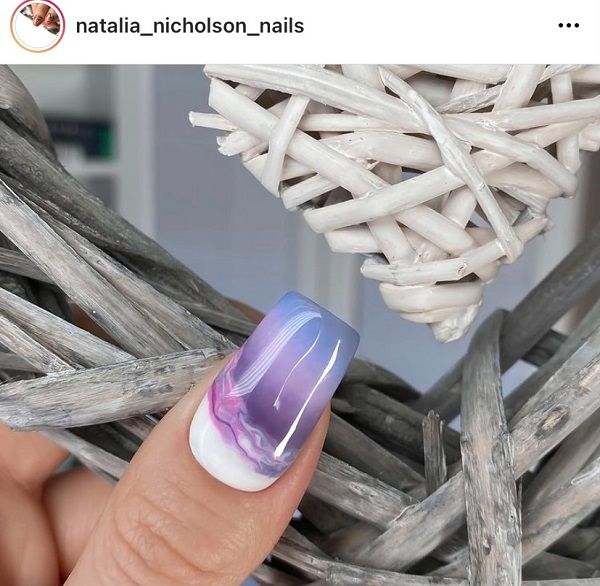 – Almond White and Purple Geode Nails. These white and purple nails with geode stone design and a touch of gold here and there are simply stunning! Try this design using your favourite purple shade.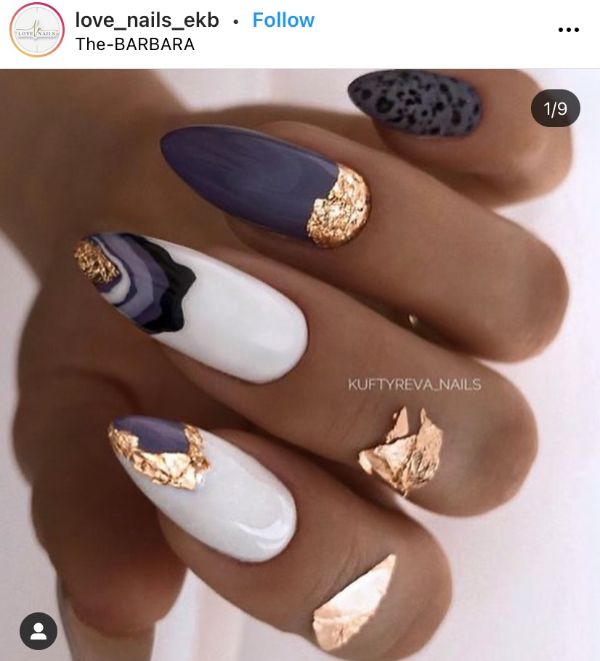 – Purple Nail Design with Palm Leaves. These matte beige nails with purplish palm leaves have such a pleasant seaside vibe! Vacation mood on!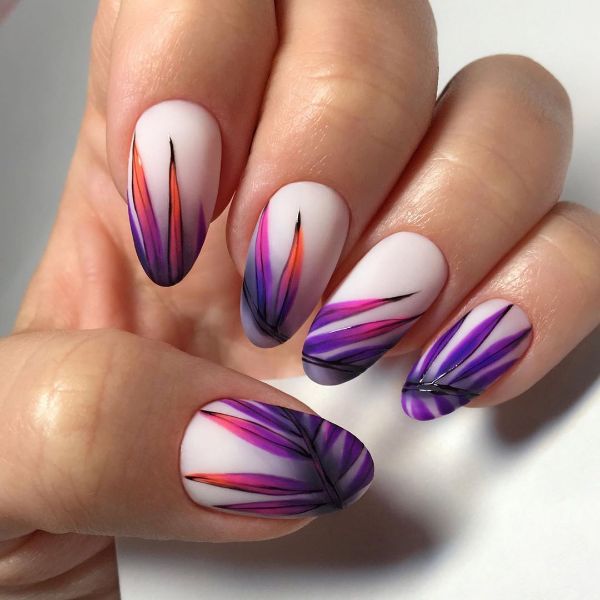 – Violet Purple Nails with a "Moon" Design. The perfect round nail shape, the slightest ombre effect towards the ends, and the white half-moons are the X-factors of this nail design.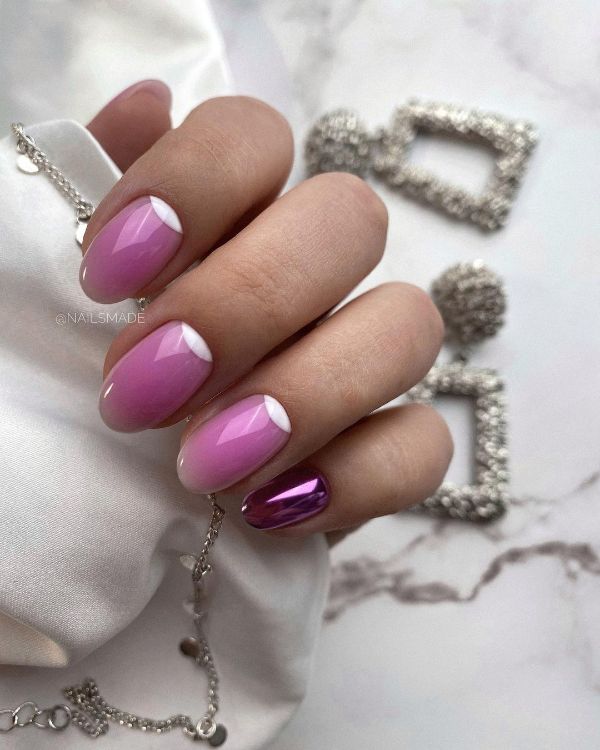 – Long Matte Stiletto Nails with Violet Tips. The ombre effect is classic for matte nails too. It looks good even as it is, without any additions, but those chocolate drops make it even more stylish.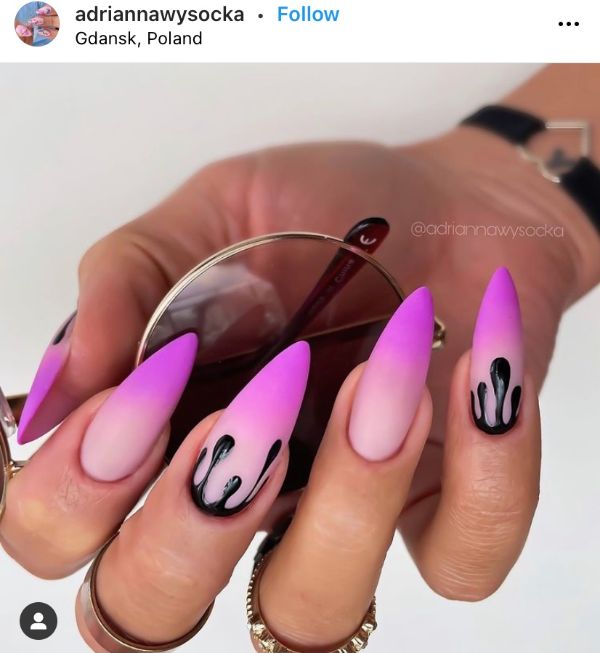 – Purple Nail Design with Lavender. Lavender nail shade with lavender buds on squoval shape – this nail design idea is perfect for the warmer season!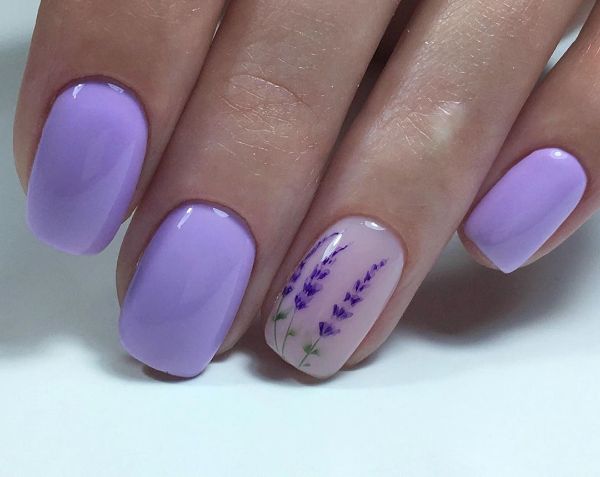 – Matte Dark Burgundy Purple Nail Art. If you don't want to make all your nails purple, add something lighter to them. For example, one of the beige shades, or white. Even the darkest purple will look not so gloomy.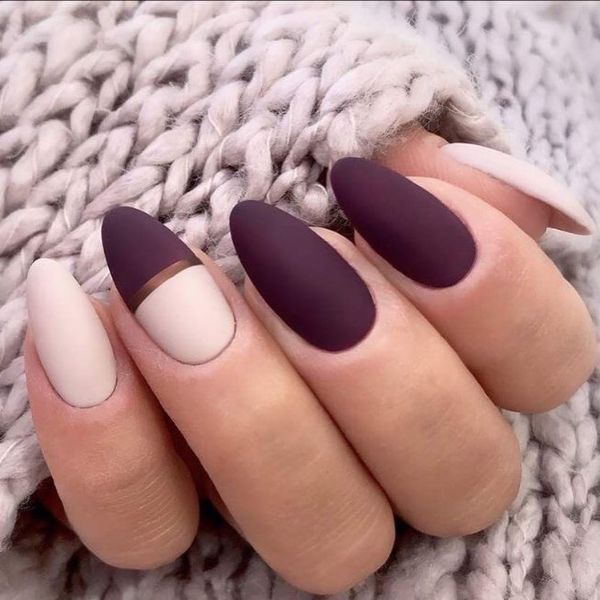 – Very Cute Purple Nail Design for Boho Looks. Despite the season and occasion these purple nails will add a cute boho vibe to your look.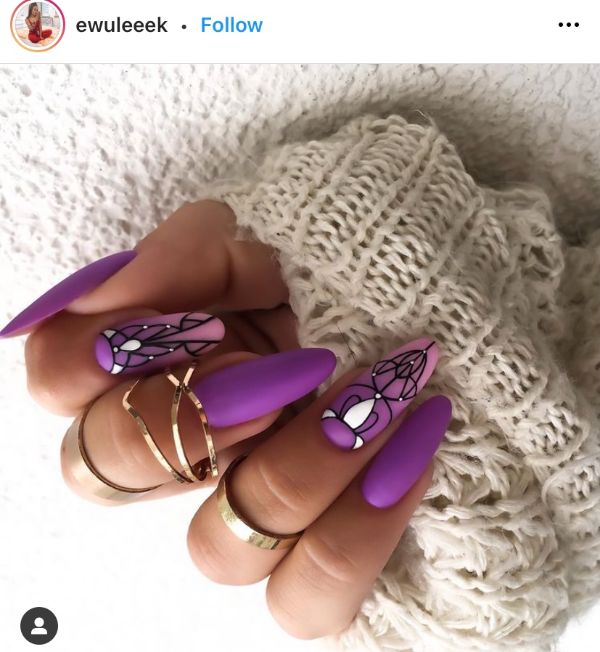 – Silver Glitter, Pink and Purple Nail Design. You can DIY it at home! The easiest way to upgrade your manicure is to combine several colors of nail polishea and, of course, make one accent glitter nail. Always a time-saviour!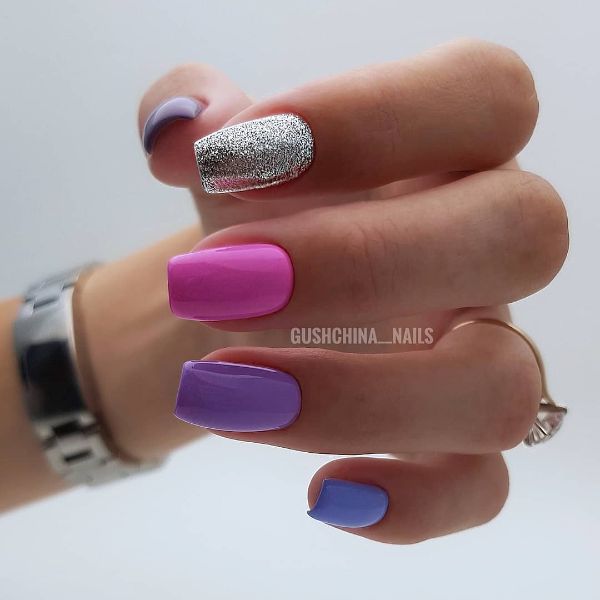 – Dark Purple Nail Art on Short Nails. Plum purple nail shade looks great on shorter nails. To make your design more fun, add a bit of foil and make one light accent nail.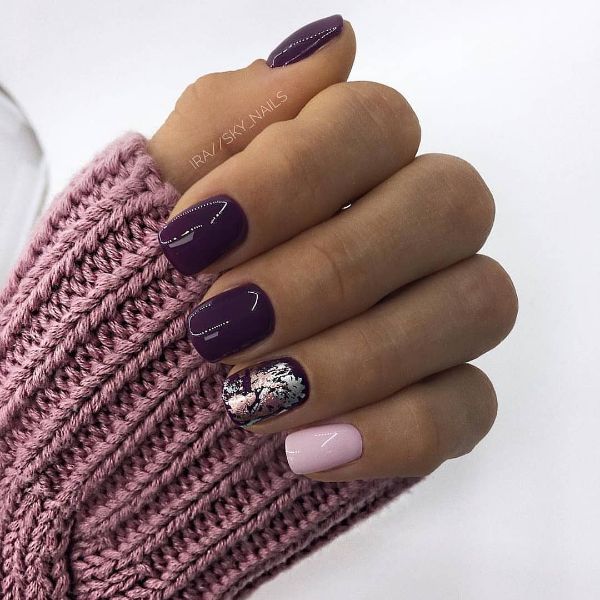 – Purple French Nails. Purple French tips will look good on nails of all shapes and lengths. Lovely!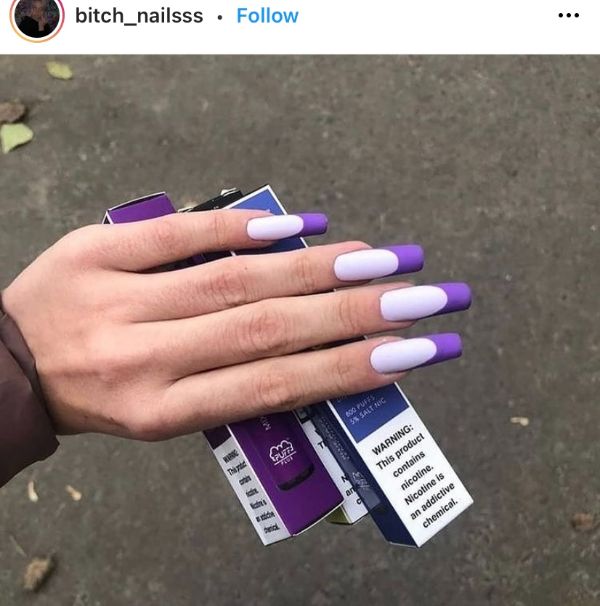 – Chrome Purple Nails. What a stylish option! The glossy metallic shine seems to reflect the depths of an entire galaxy.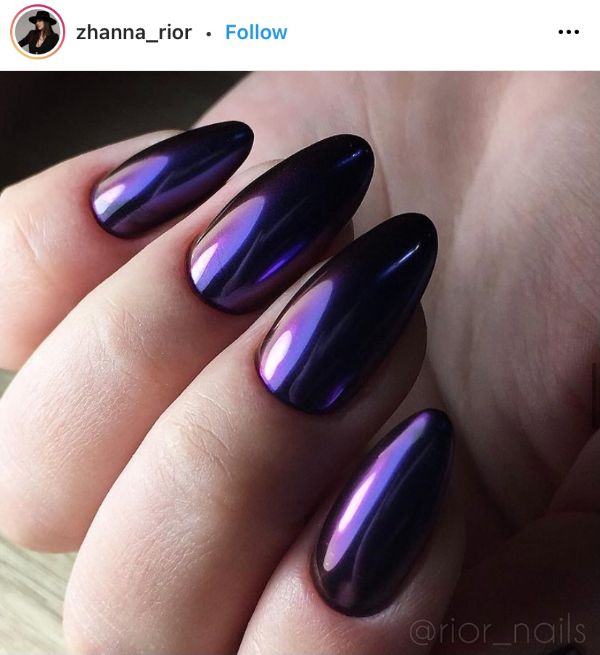 – Purple Swirls Nail Design. Here we see how beautiful the result of mixing a purple nail polish, a pink shade and some white can look on your nails. Copy without hesitation!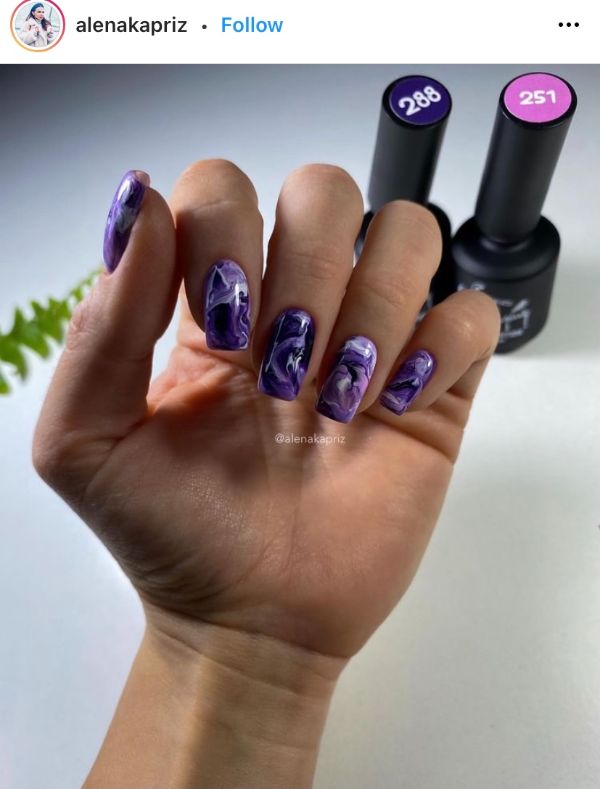 – Purple Flower Nail Design. White, pastel purple and flowers – three main components of this stunning nail art. Copy if you need a really romantic nail design this spring.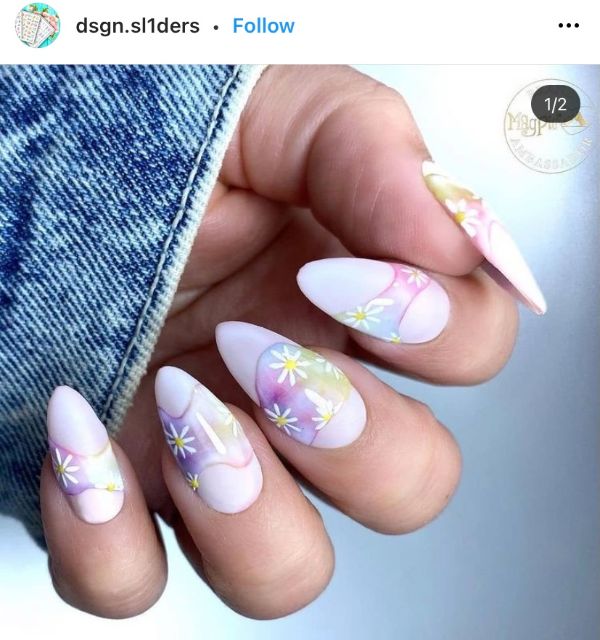 – Pastel Purple French Tips. Your French nail design cannot look boring if you activate the power of your imagination. Double the lines, experiment with shades, and every time you will get the exclusive result!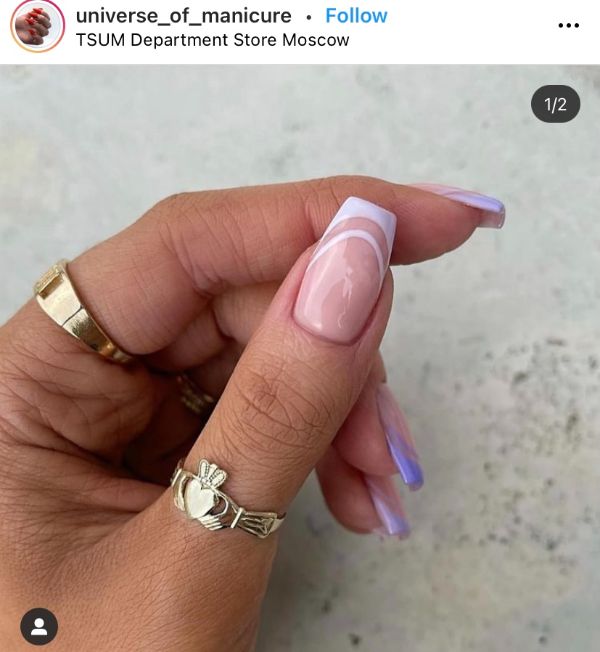 – Peach to Purple Ombre Nails. So simple, but so stunning! Reminds of the sunset somewhere in the middle of the ocean!.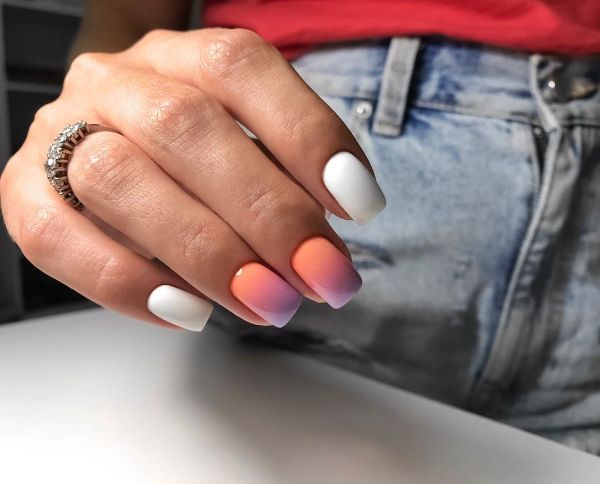 – Long Square Violet Purple Nails. This nail art looks like a French design, but actually is far from the traditional French tips. This is what we mean when we encourage to experiment with traditional designs! Add 'tattoos' to your nails, some symbols, words or/and stickers.
– Shimmering Purple Nail Design. Here we see a cosmic nail art with shimmering blue and purple transitions and some other additions. Looks perfect for the stiletto nail shape!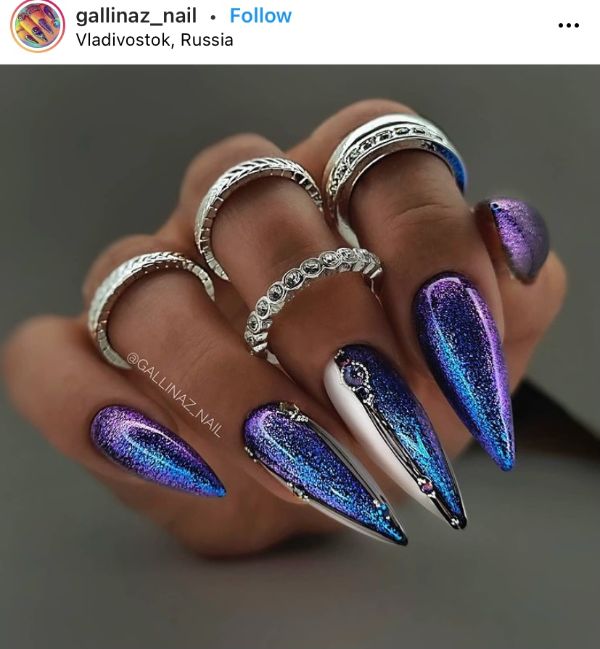 – Long Oval Pastel Purple Nails. The combination of colors and those 3D effect hearts look so cute! A cool idea for a romantic date or a Valentine's Day dinner.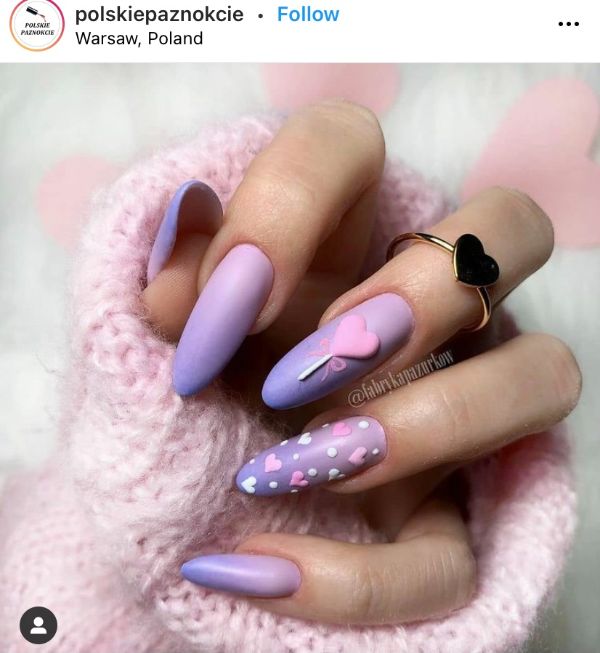 – Purple and White Squoval Nail Design with leaves. This squoval nail design in purple and white, with leaves, is a chic and elegant option for those who want a unique twist on classic nail art. The combination of the dark purple and white shades, along with the intricate leaf design, makes for a stunning and sophisticated look that is perfect for any occasion..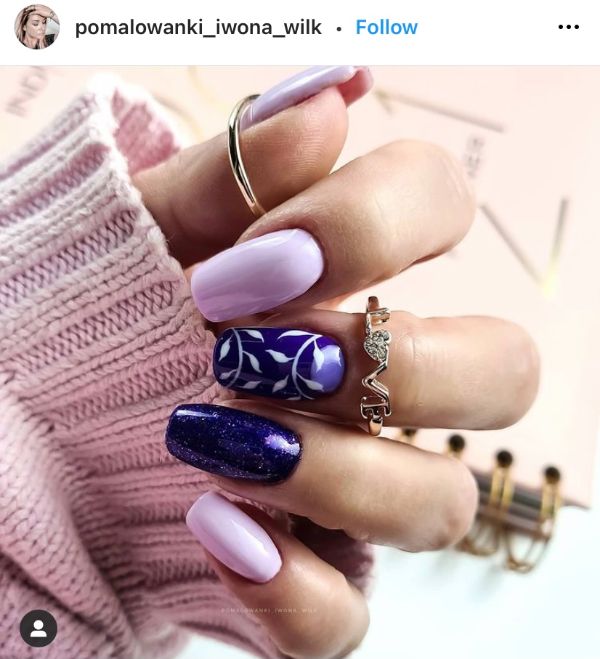 – Purple Oval Nails with Marble Design and Hearts. The swirling marble pattern in shades of purple and white, accented by the adorable heart designs, make for a fun and unique nail art that is sure to make a statement.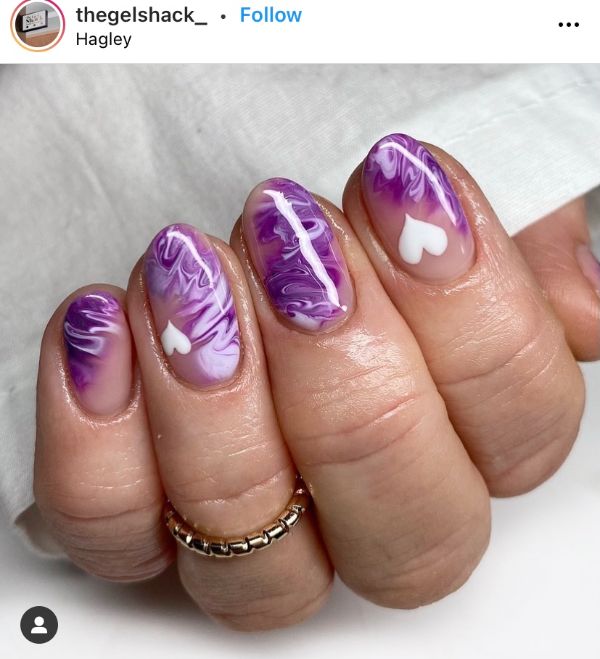 – Purple-to-Pink Ombre Nails. Want a gradient look that is both chic and subtle? Choose this ombre transition from pastel purple to soft pink that is seamlessly blended.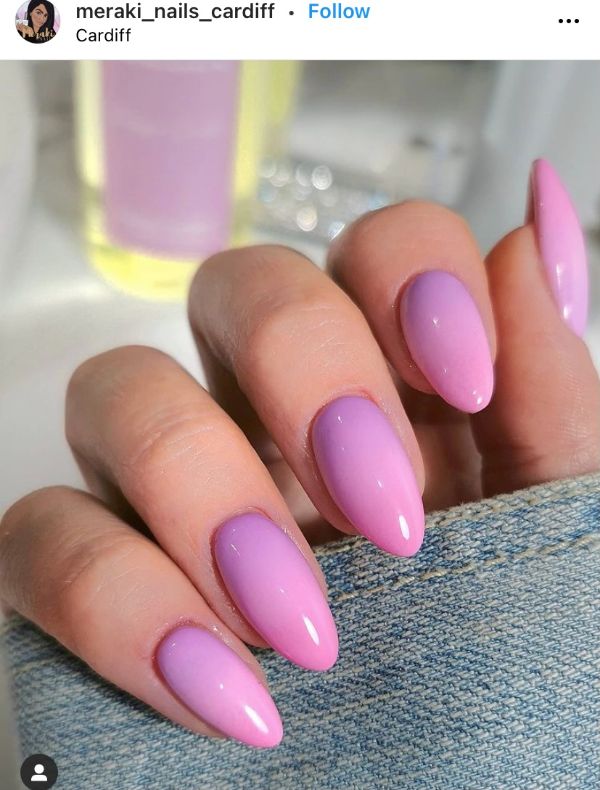 – White and Pastel Purple Nail Design with Roses. Featuring soft shades of white and purple with a beautiful rose pattern, this pastel nail design exudes elegance and femininity.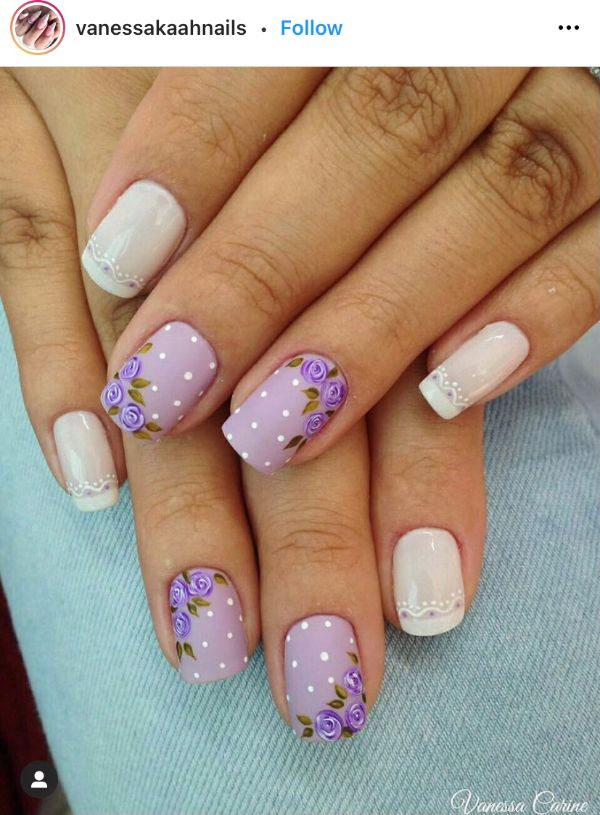 – Very Light Purple Nails with White Flowers. The understated elegance of the pale purple hue and the intricacy of the white floral design make for a beautiful and timeless nail art.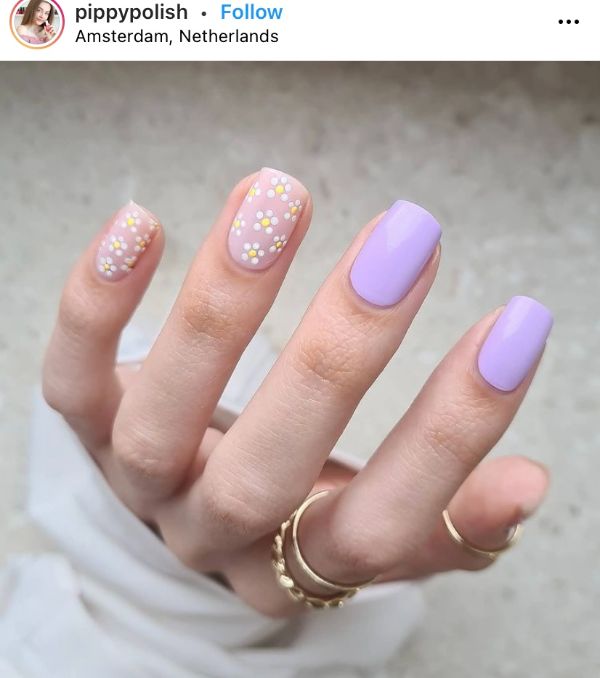 – Acrylic Matte Nails with Purple FLowers. Matte nails adorned with purple flowers make for a tasteful and contemporary design choice, combining the muted finish with bright floral accents for a unique and stylish contrast. .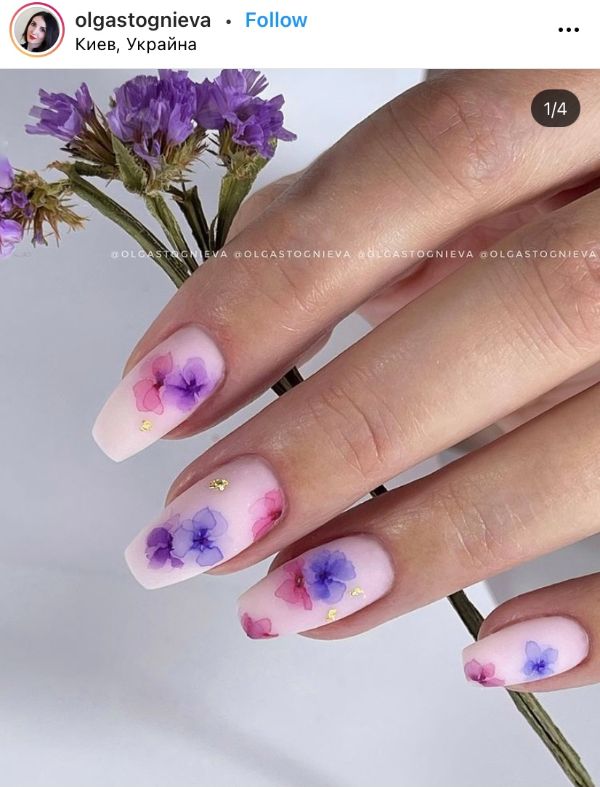 – White Nail Design with Elegant Lavender Flowers and Rhinestones. This intricate nail design featuring delicate lavender floral patterns and glistening rhinestones is a refined and elegant choice for a tasteful and detailed manicure.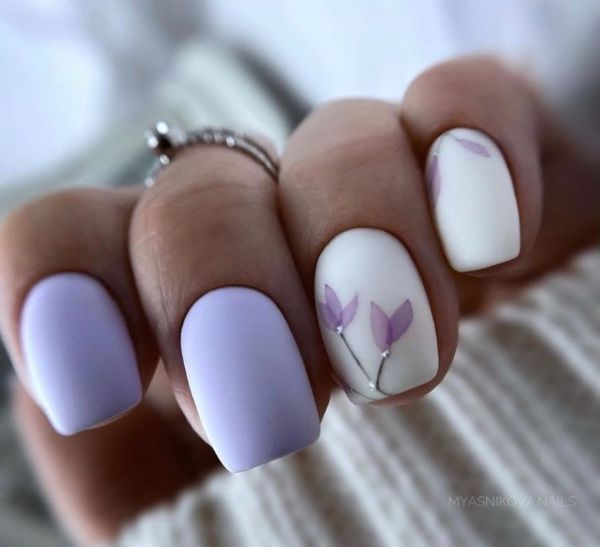 – Almond Beige Nails with Purple Tips. These delicate purple tips add a subtle pop of color to a classic and understated beige manicure.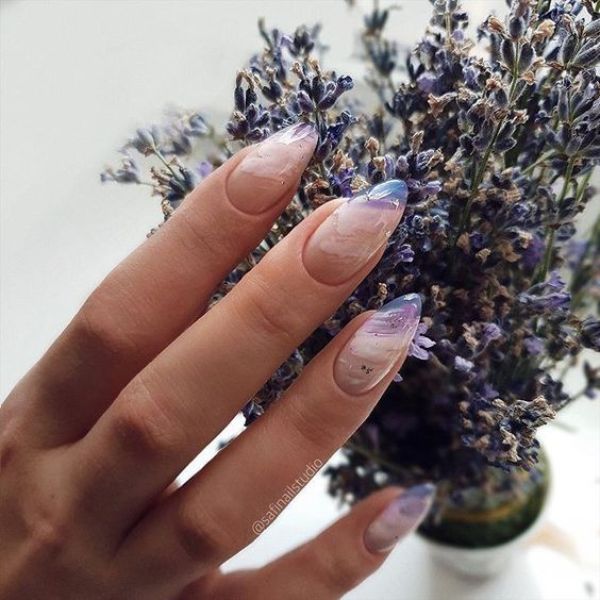 – Two-Tone Purple French Nails. Purple French nails offer a stylish twist on the classic French manicure, featuring bold and vibrant hues. So eye-catching!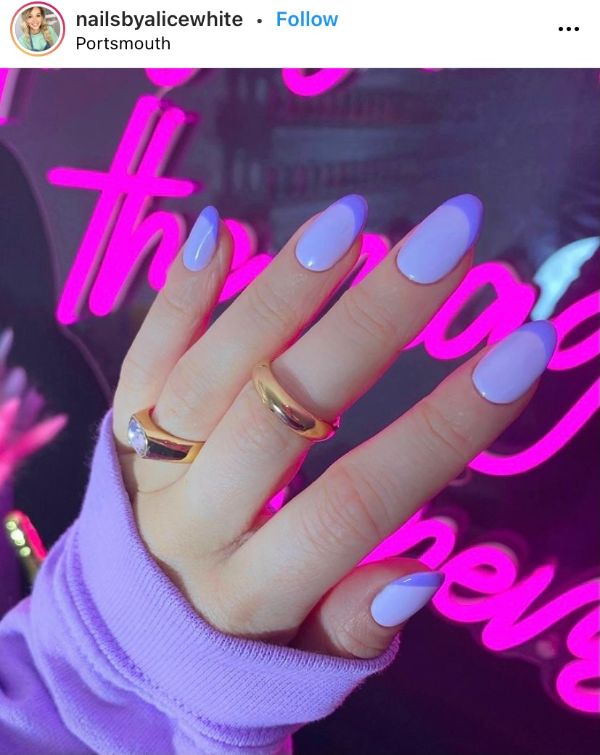 – Dark Purple Nails with Glitter. These dark purple nails are sure to make a statement with the added touch of glitter, making them perfect for a night out or any occasion where you want to add a bit of sparkle to your look..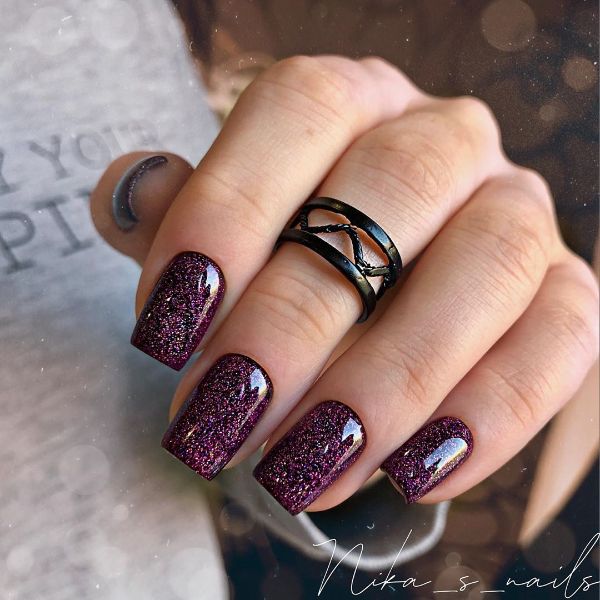 – Matte Purple Square Nails. The light matte nails in a square shape exude a chic and modern vibe that is both understated and sophisticated. The subdued finish of the nails complements any outfit and occasion, making it a versatile and timeless choice.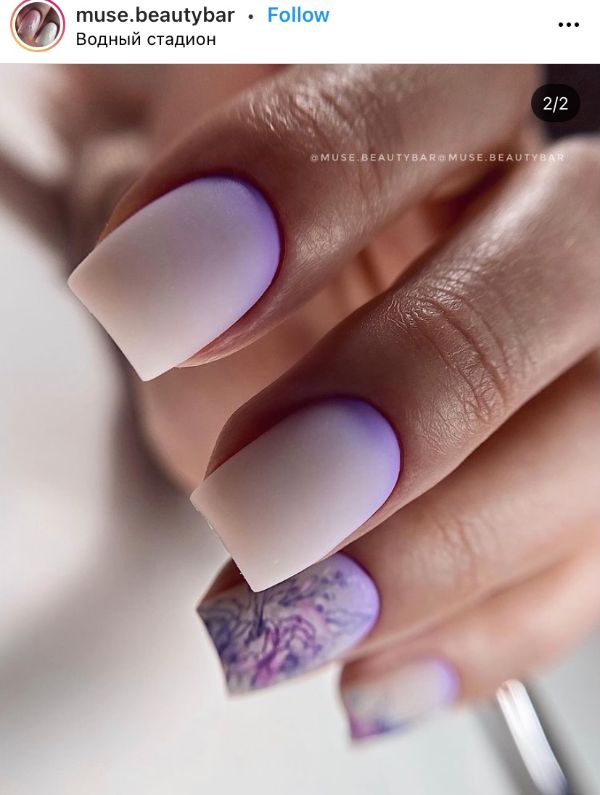 – Pink and Purple Leaf Square Nails. This pink manicure with delicate blue and purple leaf accents on long square nails is perfect for the spring season. The design is a fresh and feminine choice that adds a touch of whimsy to any outfit.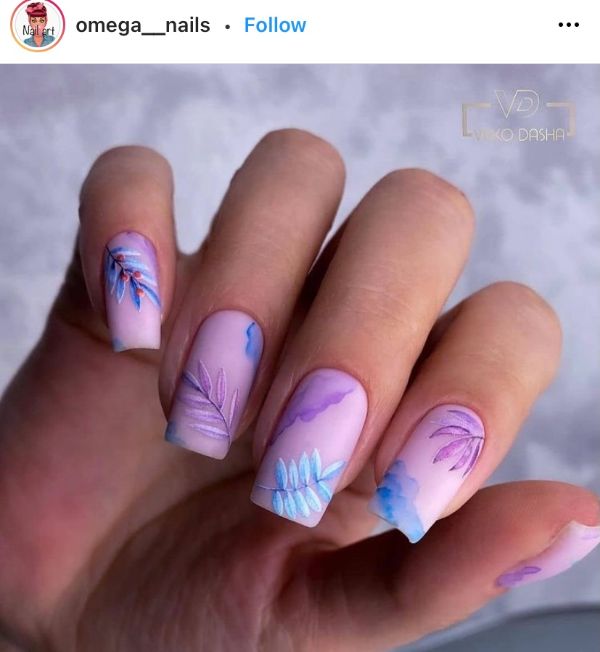 – Long Almond Matte Nails in Purple and Beige Colors. The long almond matte nails in purple and beige colors evoke a chic and elegant vibe, perfect for both casual and formal events.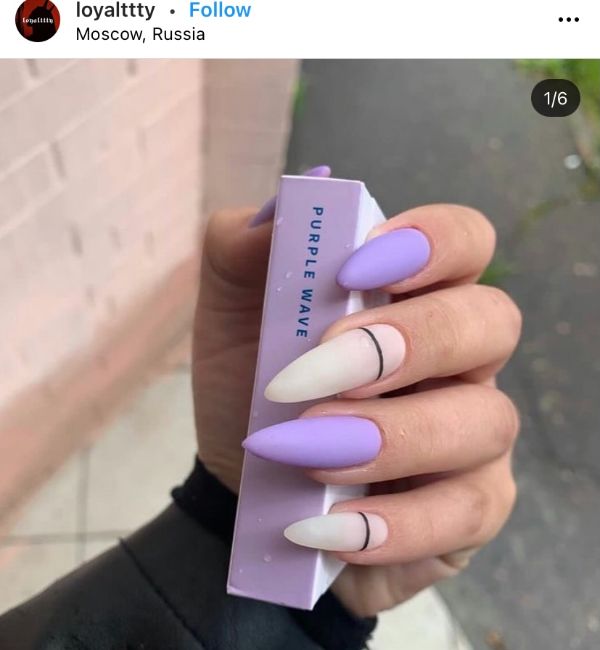 – Square Blue to Purple Vertical Ombre Nails. Such nails make a bold and eye-catching statement with their gradient of blue and purple hues. The trendy in 2023 squared shape adds a modern edge to the timeless ombre style.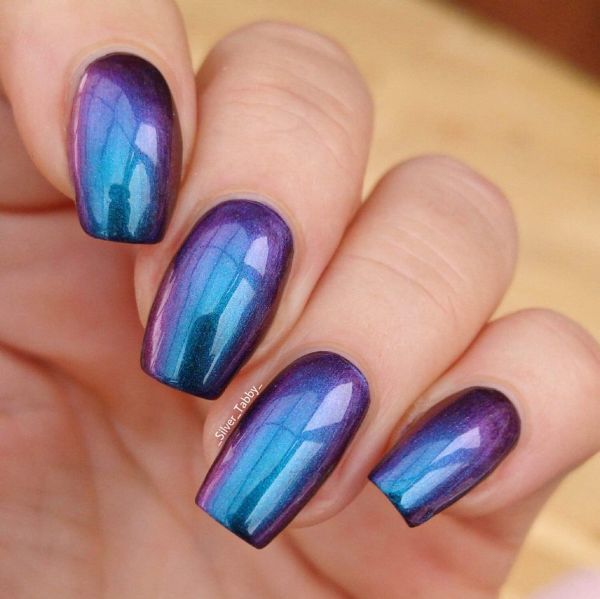 – Long Acrylic Stiletto Nails with Purple Marble Design. Purple marble and gold foil accent stiletto nails. Perfect for an edgy, glamorous look.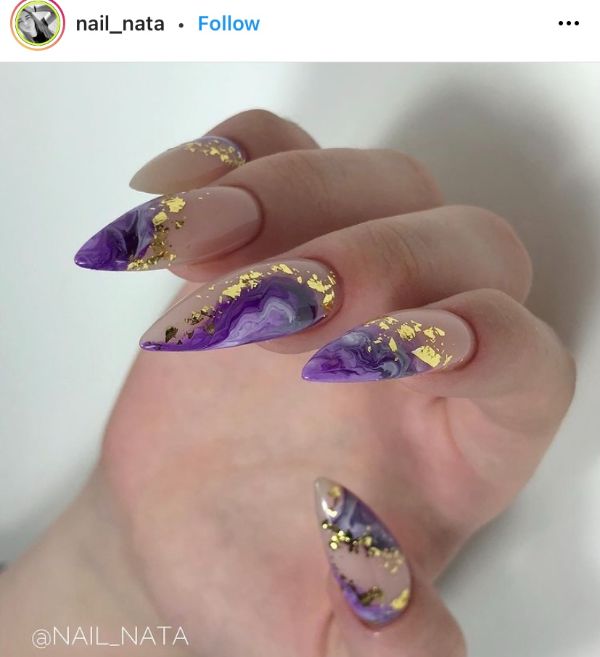 – Dark Beige Nails with Pink Purple Tips. These nails feature a soft and gentle color combination. Such a simple and chic design is easy to maintain and goes well with any outfit, be it an office suit, denim jeans for a date, or a summer dress.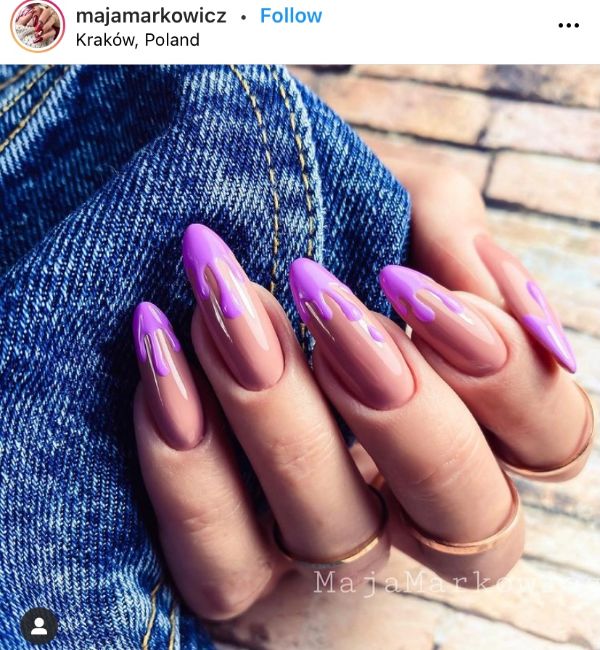 – Purple to Light Pink Ombre Nails with Matte Finish. The purple to light pink ombre with matte finish blend seamlessly, creating a soft feminine manicure. This nail design is a trendy and elegant choice that adds a touch of whimsy to your fingertips.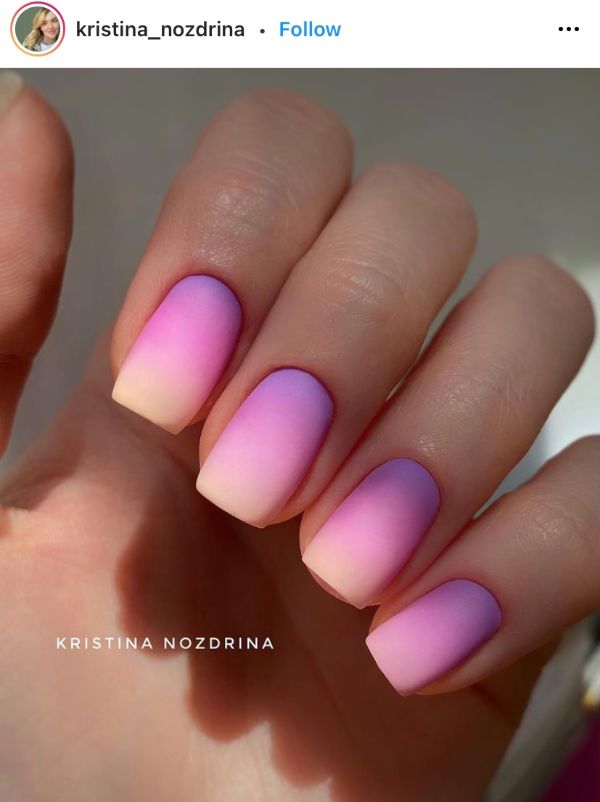 – Super Long Stiletto Nails in a Violet-Purple Shade. Want to add a touch of drama to your look? Try long stiletto nails! Cover them with a warm purple-violet shade. Glamorous and high-fashion!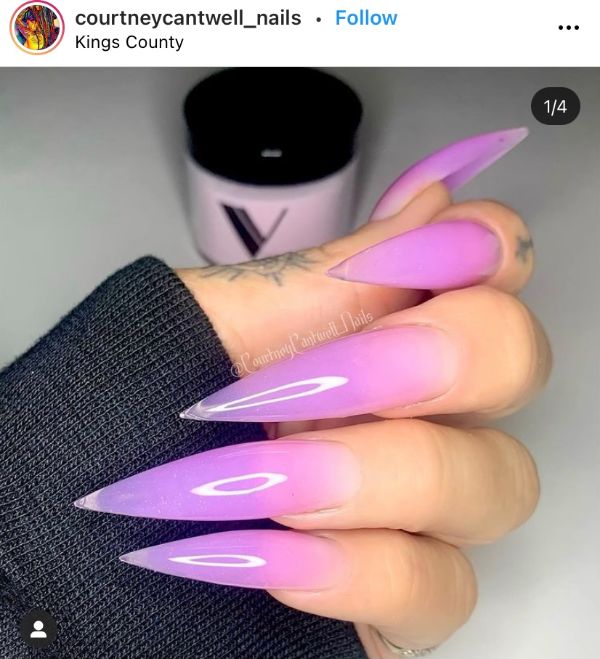 – Beige Nude Nails with White, Purple and Black Spots. The playful pattern of white, purple, and black spots on beige nude nails is fun. Make a statement without going over the top!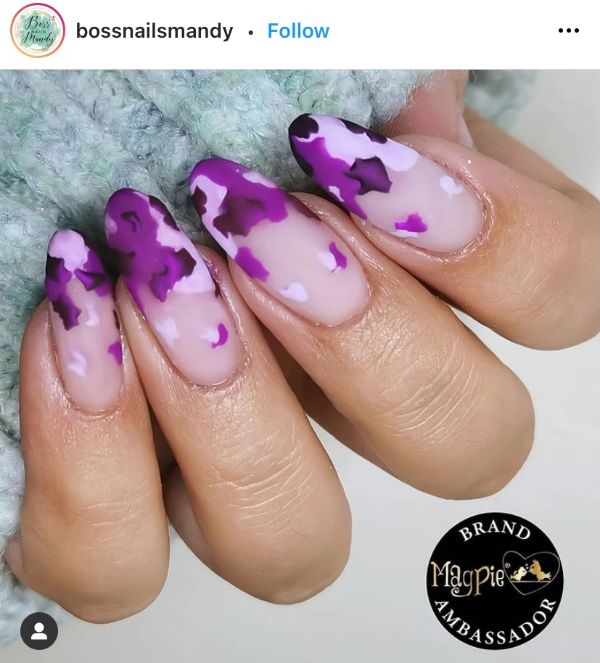 – Light Violet and Dark Plum Violet Nails. The light-to-dark ombre effect on three of the nails is a lovely touch, while the dark plum violet on the other two nails adds a sophisticated edge to the manicure. A perfect balance between playful and refined!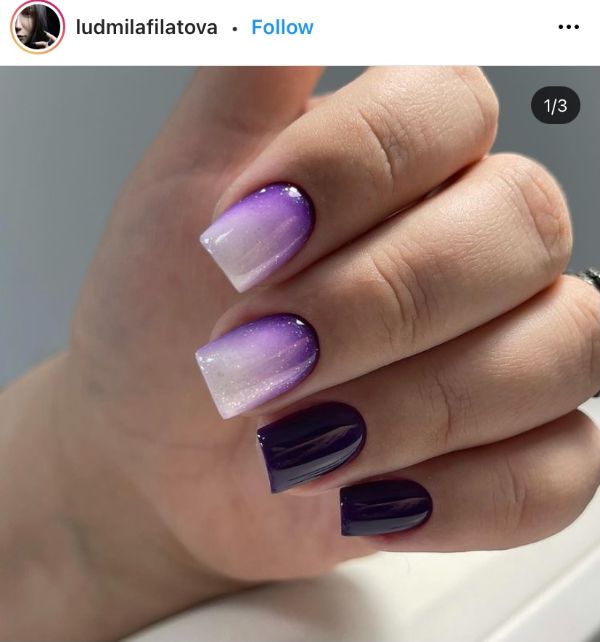 – Matte Nails with the Slightest Touch of Purple and Black Spots. Purple nail designs exist in very different variants. You don't necessarily need to cover the whole nail with one shade of purple. You can add just a slight touch of it at the ends or, on the contrary, near the cuticle.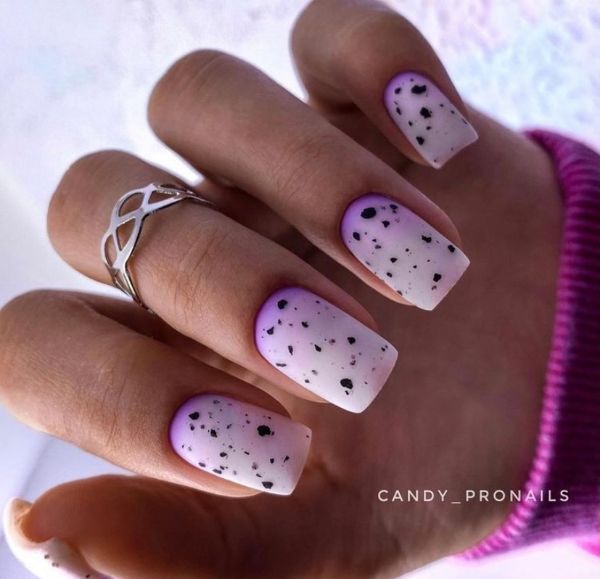 – Grape Purple Nail Shade. Grape purple is a rich and luxurious nail shade. Perfect for making a statement and expressing your individuality! And the coffin nail shape always catches the eye.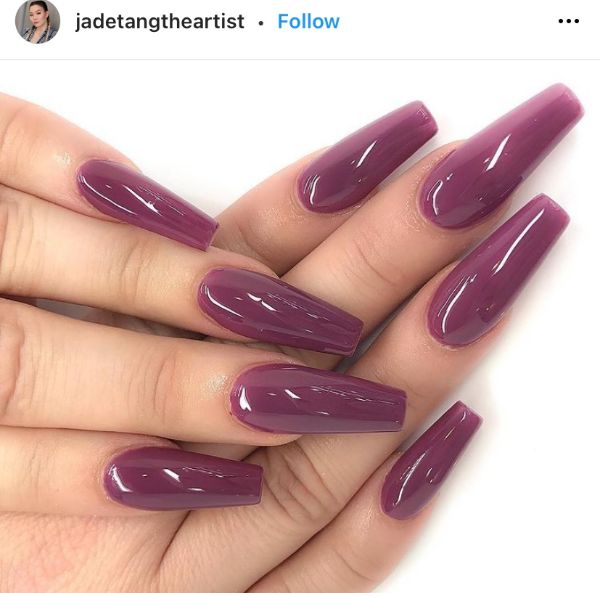 – Nude Nails with Purple Marble Tips and Gold Lines. This chic manicure features a subtle nude base with eye-catching purple marble tips and elegant gold lines. Such French manicure has a modern and edgy twist.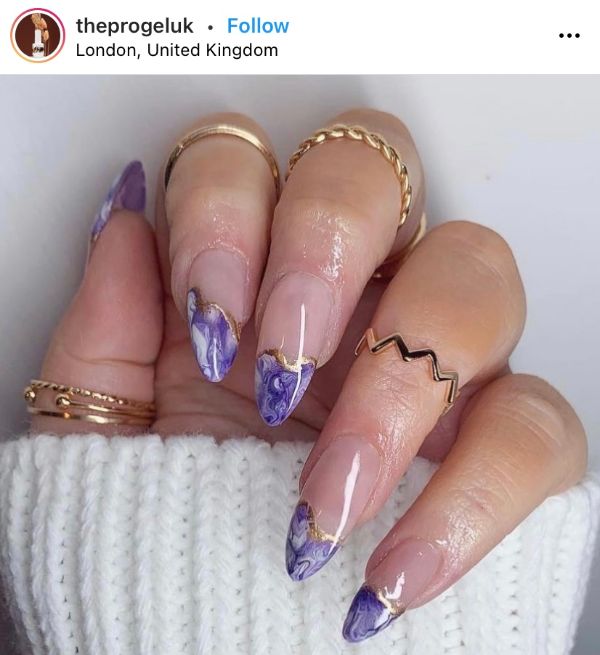 – Long Oval Lavender Nails with the Foil Design. Here we see long oval lavender nails with foil design that can be a perfect addition even to the wedding outfit for a wedding guest, or even for a bride! The metallic accents add a touch of luxe.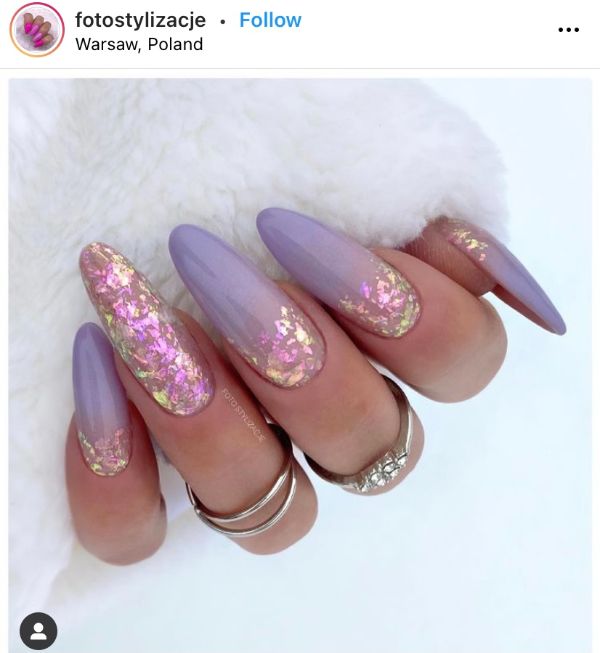 – Periwinkle Purple Nails with a Butterfly Design. Looking for a fresh spring nail design? Or maybe want something new without neons for summer? This design is OK for any season, as the periwinkle color is universal. Butterflies are also a very versatile design that has no limits in usage.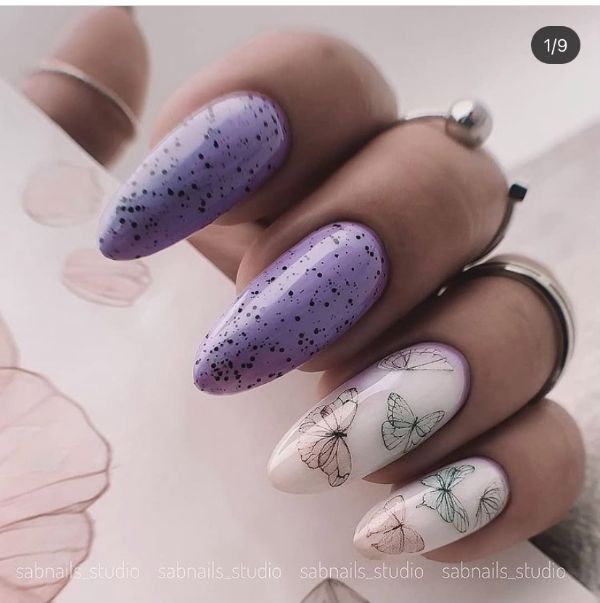 – Long Stiletto Bright Purple Nails. Yellow and purple shades are contrasting. However, this is very OK for such designs as we see here. The nail artist wanted to create this contrast, as the model for sure wants to stun with this nail art.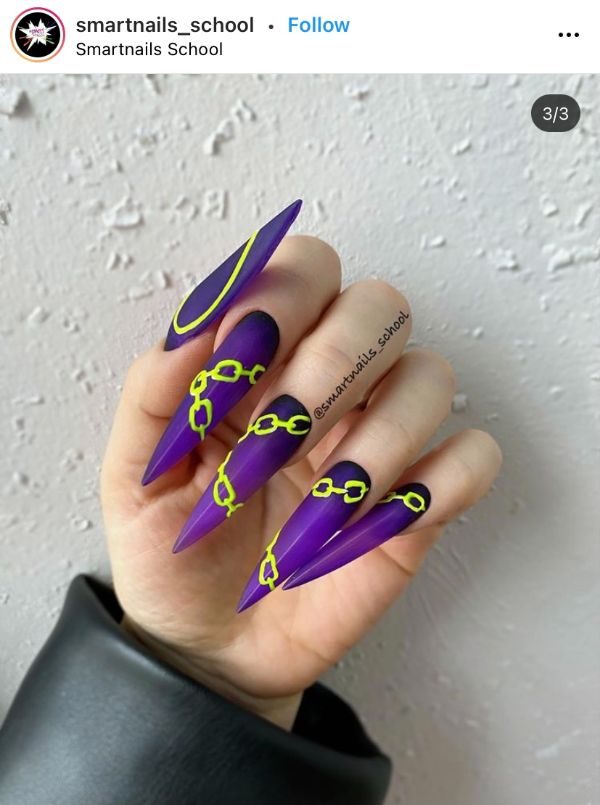 – Light Purple French Tips. One more non-banal purple French Manicure variation. This time with a brand logo that has a very pleasant velvet finish.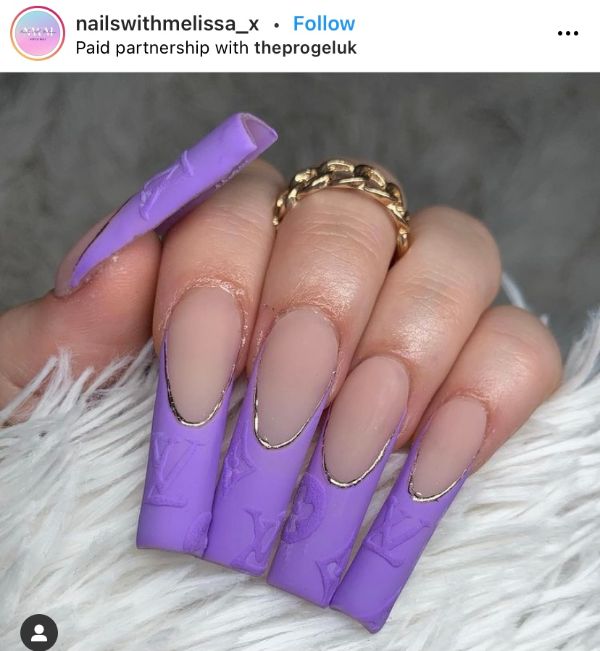 – Pink-Purple Nails of Medium Length. Not long and not too short, not quite purple, but not pink either, this nail design is a golden mean for those women who like cute trendy designs but without too much boldness.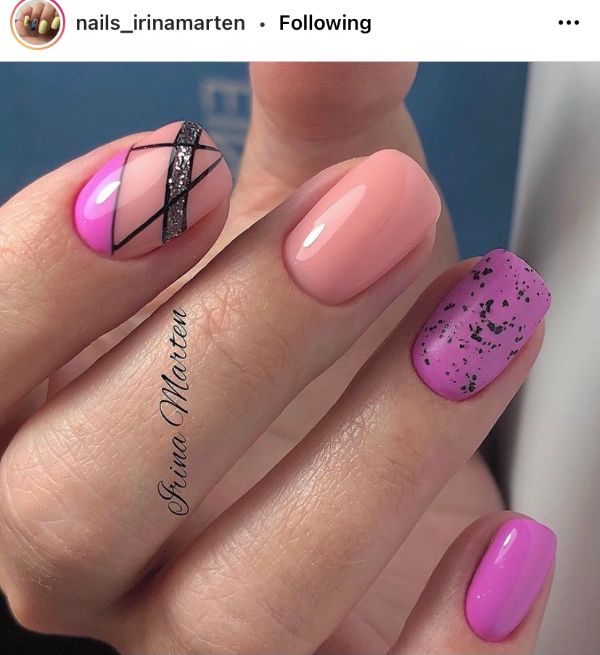 – Cold Violet Nails with a Phrase. Nail designs with phrases are very popular, because the majority of them are made with stickers. Choose a sticker, add it to your nails and voila, you have a completely different nail art. Easy and cheap!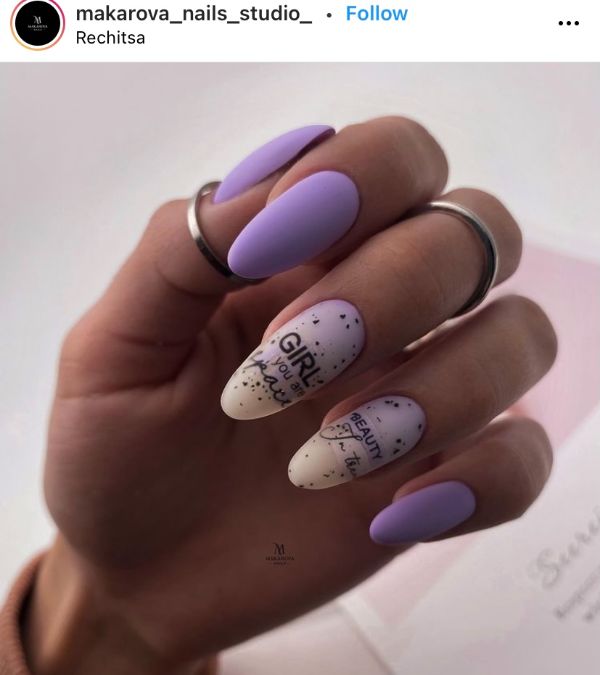 – Milk White Nails with Purple Glitter Tips. Being something in-between the French nail design and the trendy Baby Boomer design, this nail art really deserves our attention. The colors, the shine and the shape are perfect for any girl who likes feminine and fit-for-any-situation manicures.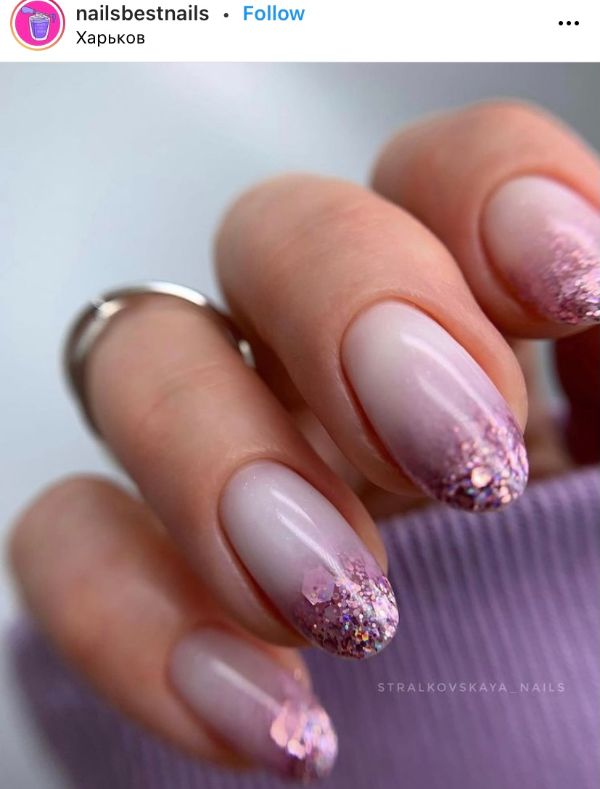 – Purple 'Confetti' Nails. Use the so-called "Kamifubuki" if you are tired of traditional glitter. These confetti look very unusual and cute on nails. Try!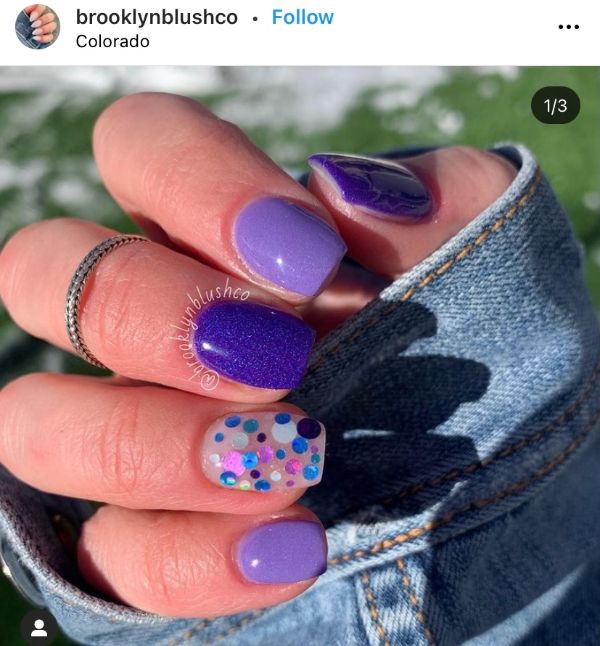 – Long Stiletto Purple Ombre Nails. This burgundy to purple to pink and to white ombre on long stiletto nails looks enchanting! We are not sure that it is a fit-for-all-situations option, but if you are nor an office worker or need a stunning nail design for one special occasion, why not try something so glamorous?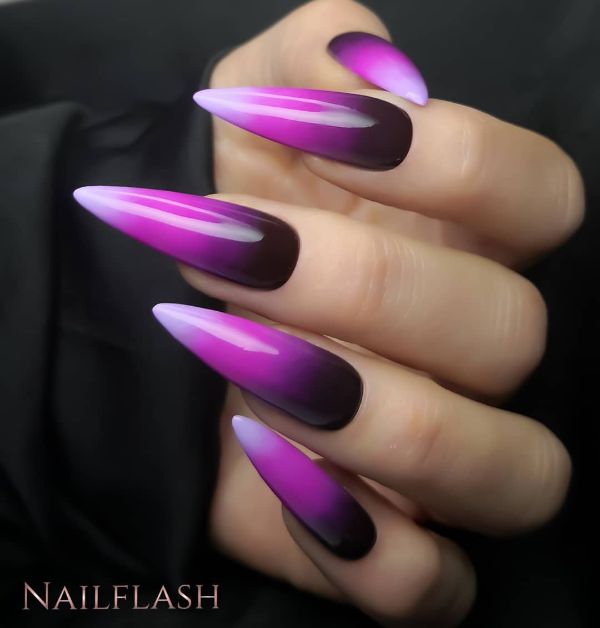 – Short Purple Nails with the Accent Tie-Dye Design. This nail design idea is great for summer, but if you need to improve your mood during colder months, it can also be a saviour.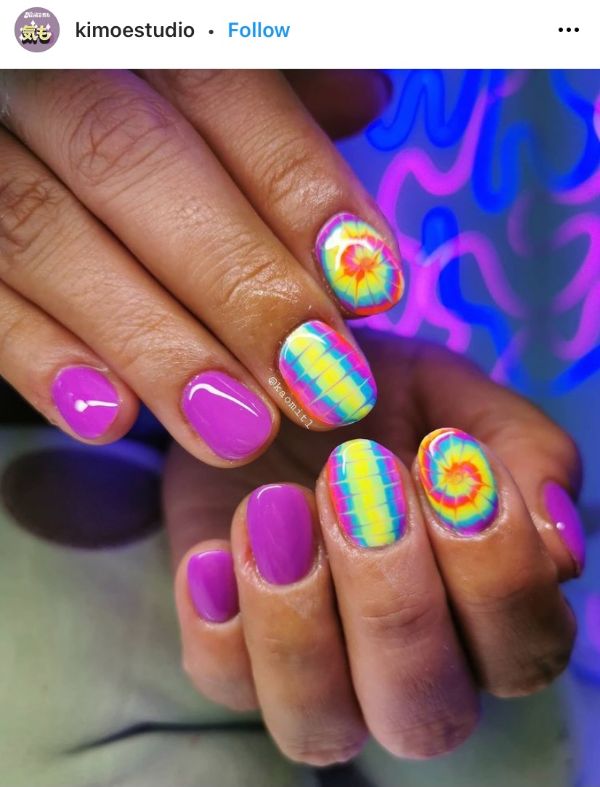 – Warm Pinkish Purple Nail Shade with Big Glitter. What a pleasant purple color! What a stunning idea to add big glitter particles to this design! Even shorter nails can be gorg if you choose the right shade and right materials.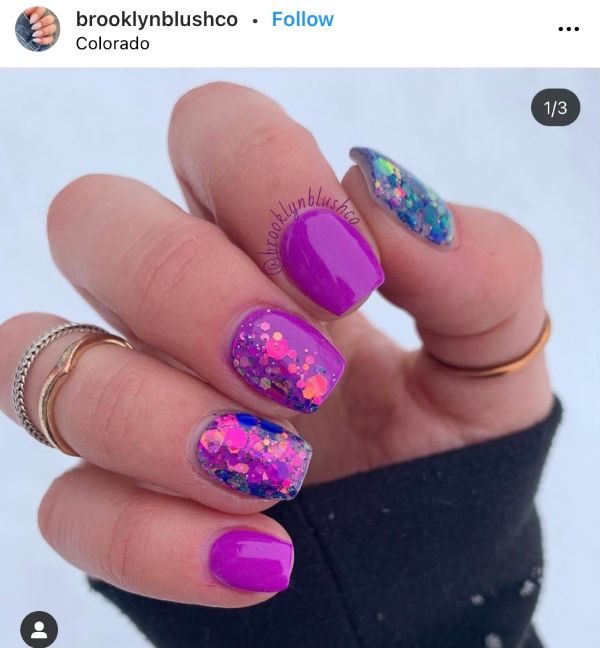 – Pointed Stiletto Matte Purple Nails with Pink. Purple and pink, stiletto nail shape with pointed ends – all this matches perfectly, and as a result we have a stunning eye-catching nail art.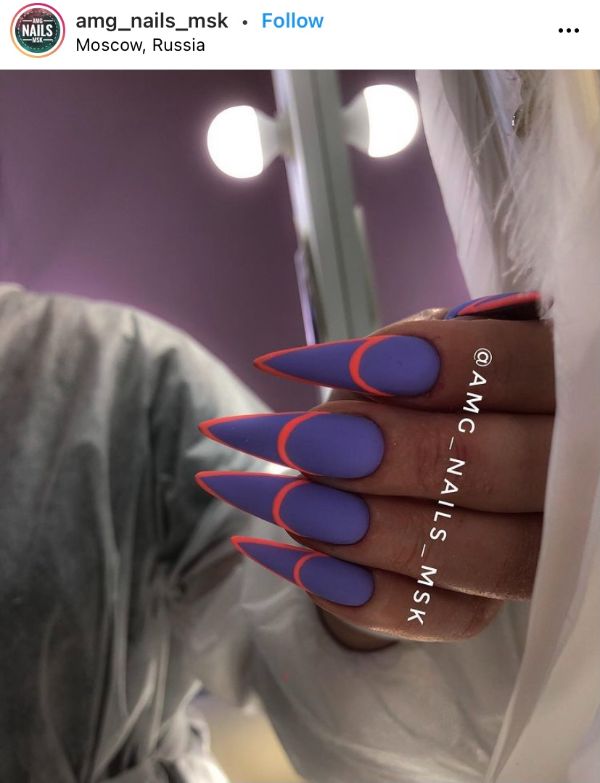 – Beige and Pastel Purple Nails. Need something classic that will flatter any look and clothes? Choose two matching pastel nail colors (like pink-beige and purple) and recreate the manicure you see in the photo.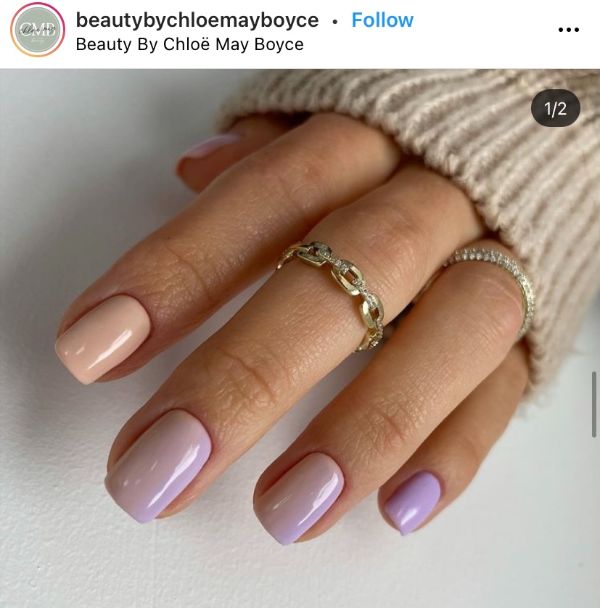 – Long Purple 'Ice' Nail Design. Long coffin nails in a purple shade? Yes, please! Need something even more attention-grabbing? Recreate this glistering 'water-under-the-ice" design.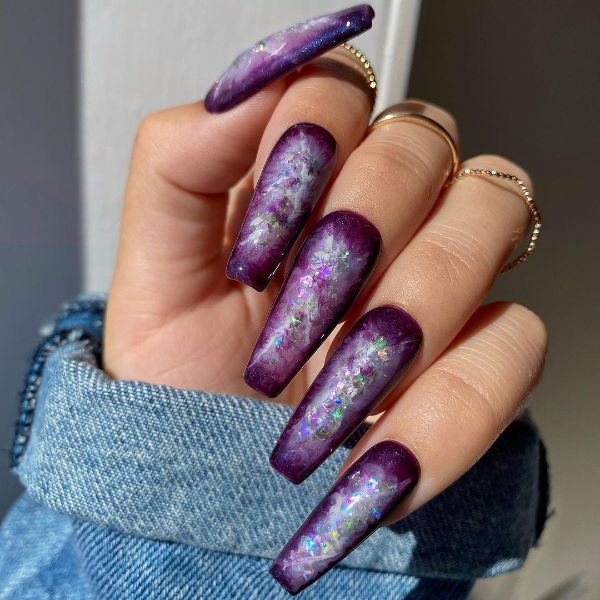 – Dark Purple Geode Nails. For those girls that like attention! All eyes on you!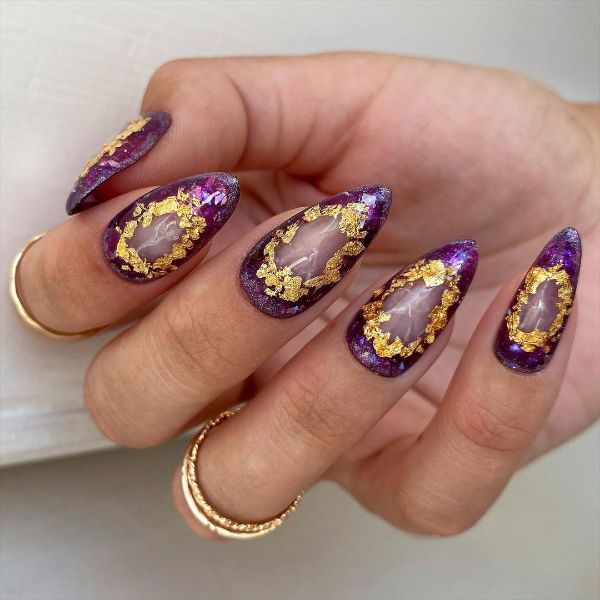 – Purple to White Ombre with Silver Accents. Silver foil is a saviour when you want to make a cool design but need to do this super-quickly. Glue it in several places to your nails and the nail art will become richer. A cool idea even for your wedding!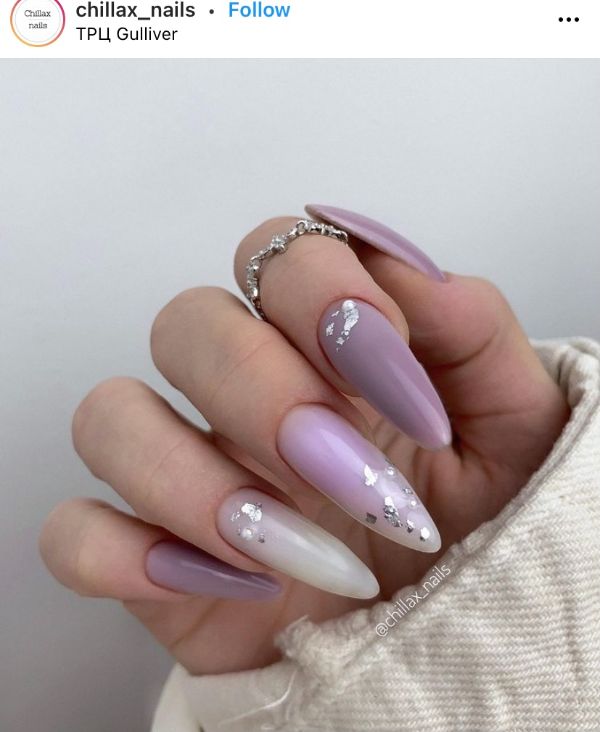 – White-Lilac Nails with Flowers. Almost white, this shade with matte finish looks feminine and classy with flowers and some golden accents.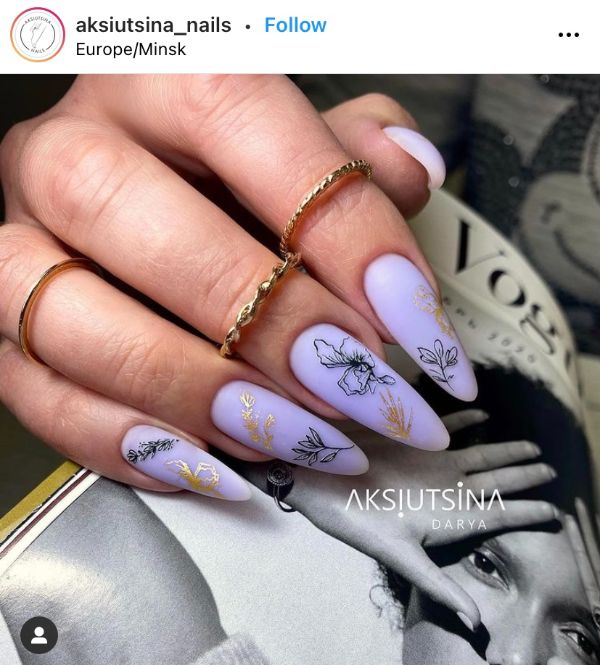 – Yellow and Purple Nails Design. Yellow and purple nail colors are quite contrasting , but if you take their most pastel versions, they will not argue.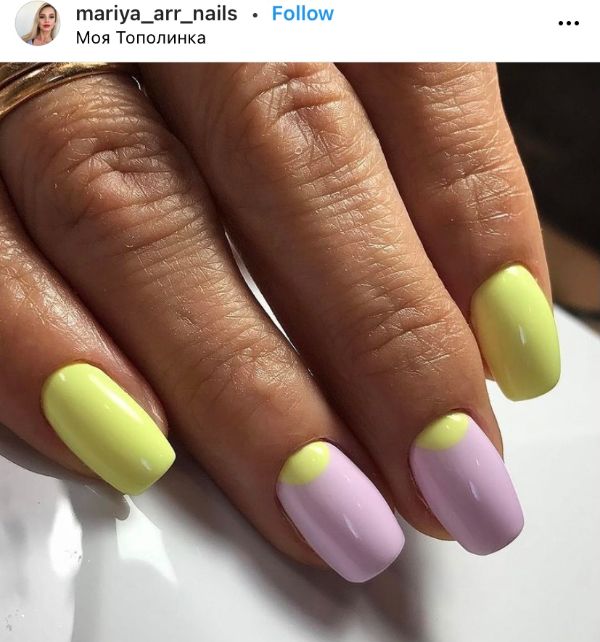 – The Purple Quail Egg Nail Art. Oh, this one is also pretty easy. No need to reinvent a wheel. Choose one or two base shades, sprinkle some black, clean those drops that you don't need and voila, a trendy design is ready! Also, you can buy a nail polish with these black particles already added.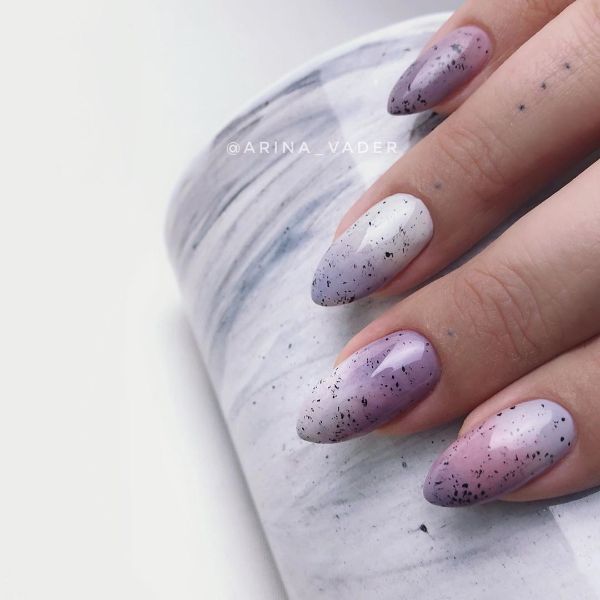 – Water Marble Pink and Purple Nail Design. Black, pink and purple colors are a trio that always look good in fashion looks. Mix them as you like, the result will be cool in any combination.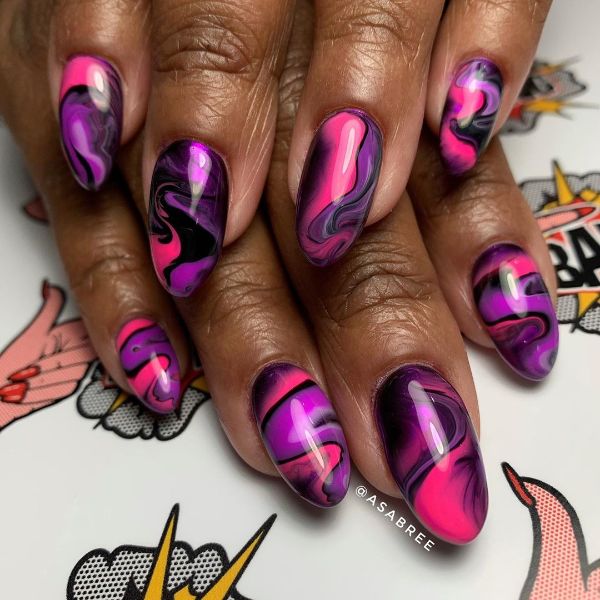 – Long Acrylic Matte Purple Nails. Of course, the purple shade looks stunning with white and pink neon signs. BTW, you can even use one of the modern glow-in-the-dark nail polishes to ake your nails glow for real in the night.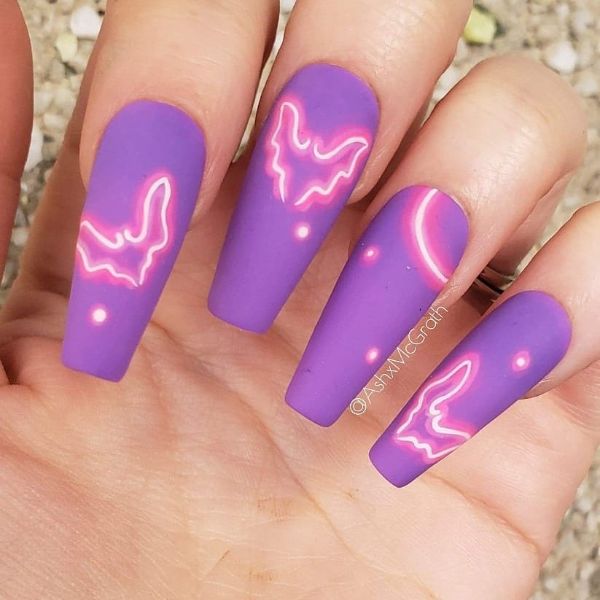 – A Mix of Purple, Pink, Beige and Blue. We can't stop looking into this sky on her nails. Like a picture, created by one of the skillful artists.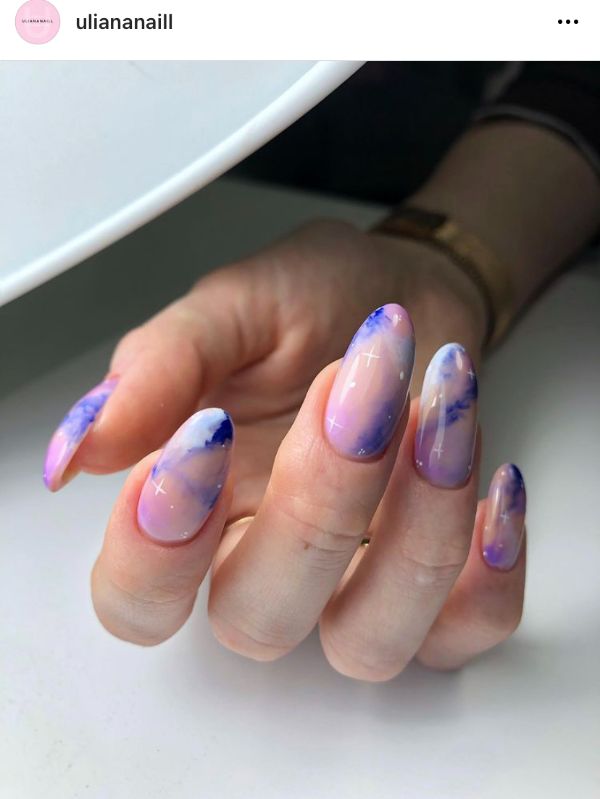 – Pastel Purple and Blue Nails. Here we see such a tender pastel purple nail shade that we even sometimes can't tell if it is really purple, not blue. However, with more bright blue shade this pink-purple tint looks so pleasant!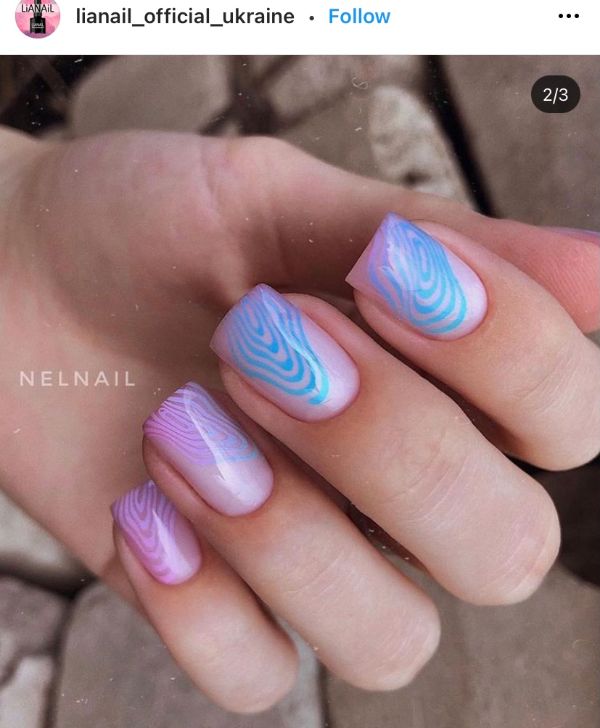 It is very difficult to choose a nail polish shade after seeing all that purple nail designs, lavender manicures, lilac nail arts, and violet nails, right? We advise you to listen to your heart and sense of fashion and to think what clothes you are going to wear with your new nail design. Your nails have to be the perfect addition to your look, the so-called final touch. Pair them with accessories in a similar shade of purple, shoes, or, maybe even hair! Purple hair shades are also very in today. Experiment! And we in our turn will continue to show you new trendy nail designs and inspire you with the latest fashion trends. Don't miss!