Have you heard that braids with a heart (or many hearts) are a trend right now? We looked through the Internet and found out a few interesting things. First of all, we now know what types of braids with hearts are the most popular. Secondly, we checked out how to make braids with hearts. So, if you wanna know this all too, check out the guide on heart braids below!
Advertisement-Continue Reading Below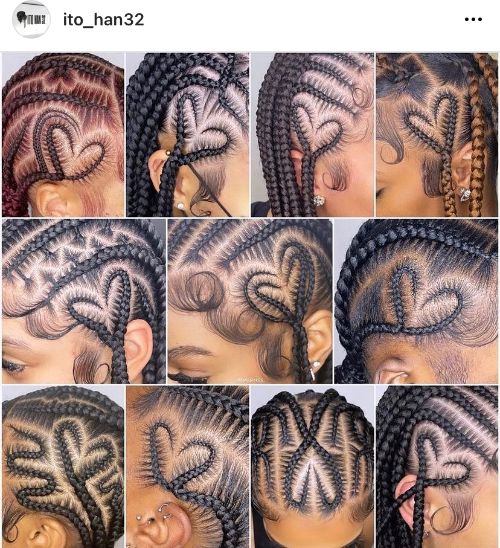 First things first. The trendiest ideas of braids with hearts include cornrows (yes, those that are plaited close to the scalp), box braids of medium size (also called the 'single braids') and lemonade braids (braided to one side). Hearts can be made out of braids, i.e. cornrowed, or you can part your hair in the form of a heart. Then you may form a high or a low bun out of your braids, or leave them as they are, just adding some jewelry.
50 Pictures of Braids with Hearts
In this 1st section of the article we are going to show you the photos of cornrows, lemonade, and box braids with a heart, as well as other types of plaits with this cute accent. Section 2 will be with videos.
– The most reshared braided hairstyle with a heart. The author of this picture is a really high-skilled braider with a lot of viral photos on her Instagram account. Users like her works very much, and we are stunned too. Just look what a masterpiece!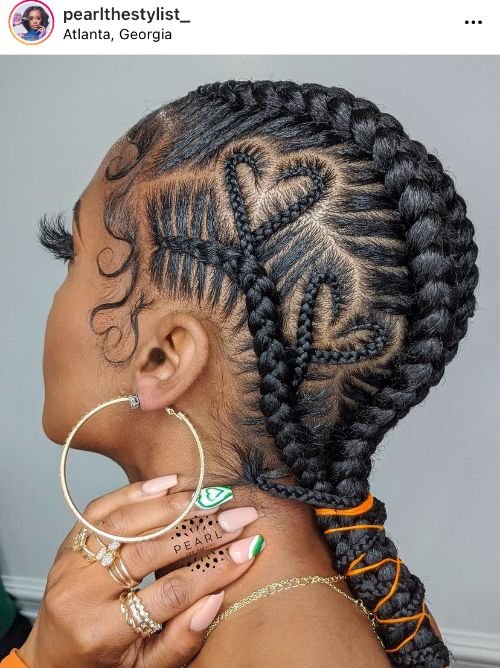 – Low bun with braids and hearts. Pretty similar but completely different, right? Here is one more idea how to implement hearts in your braid designs. And have you noticed the baby hairs? Cool!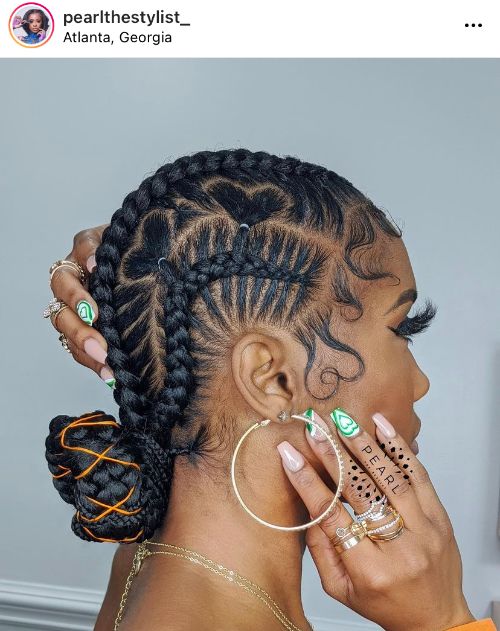 – Heart cornrows with two braids in the front. Cornrows and two tribal braids in the front will create a very non-banal effect and make your braided hairstyle a real show-stopper.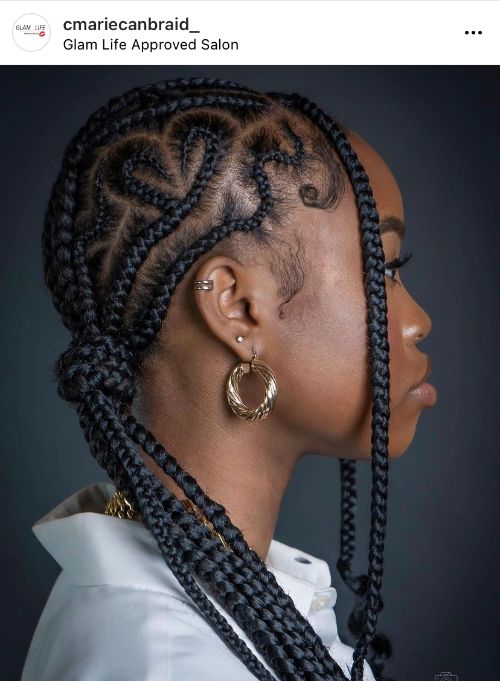 – Lemonade braids with hearts. One heart inside another one is a cute and fresh option among others. Beads and cuffs are also the top-trendy braid accessories this year. We advise you to come and see this account with your own eyes…the works are gorgeous!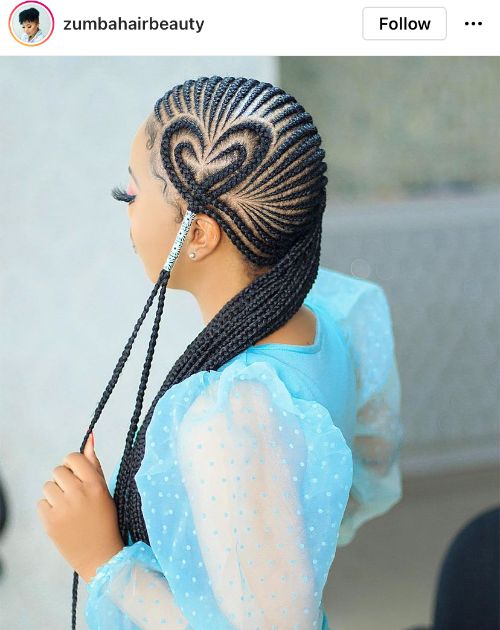 – Box braids with hearts. If you like box brais, you know that most often they are made with "box" (square) parts. Sometimes the parts are triangle. Here we see a brand new option. Braided part in the form of a heart and adding purple hair to the braids made this style worth pinning to your Pinterest boars on screenshotting.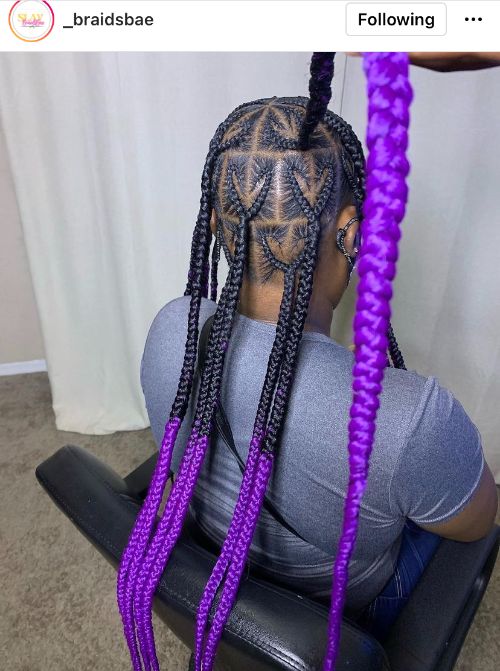 – Two low buns and a braided heart. Stitch cornrows in a shape of a heart, blonde extensions, and two cute low buns are a recipe of a trendy braided hairstyle this year. Don't thank us. We're just doing our job 🙂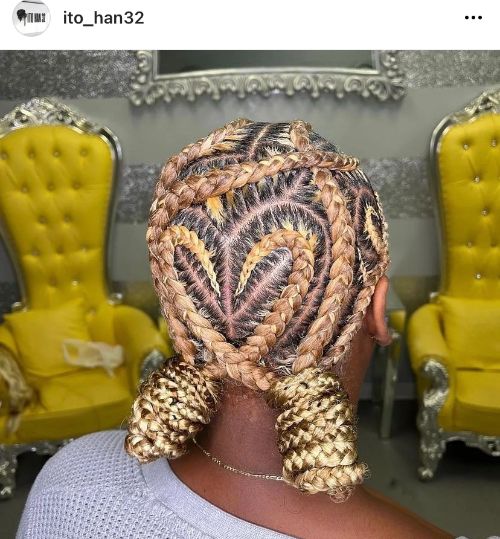 – Extra long braided ponytail with a heart at the nape. Such a small cute detail makes such a big impact! Recreate it if you want to stun.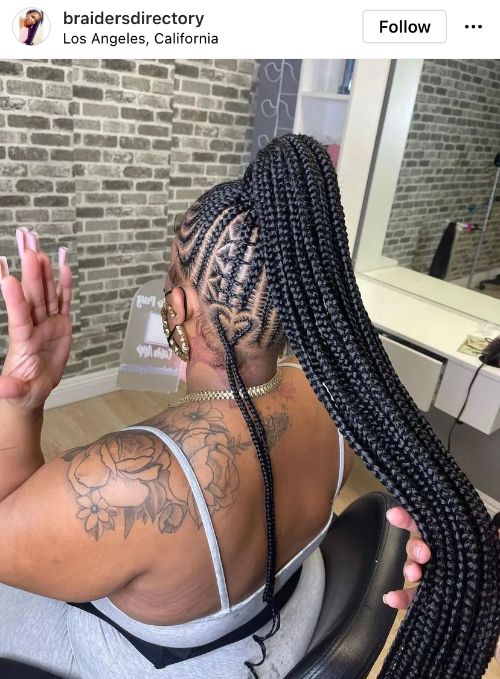 – Short box braids with heart. Bob with braids and hearts is also an option, especially if you are more on medium-length hairstyles. No need for a lot of long extensions and added weight. As we see, the "heart braid trend" can be spotted on any length and hair texture.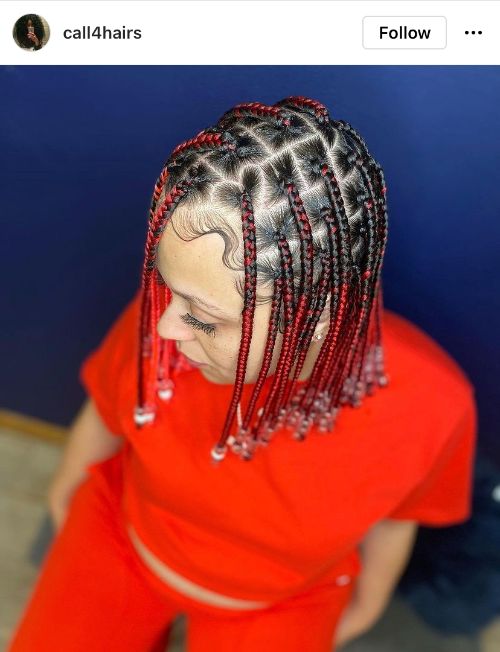 – Two-tone braids with heart design. One more trendy detail added: the concept of the 'half and half' hair. One half of the hairstyle is blonde, the other one is pink. Cool for days when you can't chose between several options and opt for both. It's finally legal now, calm down.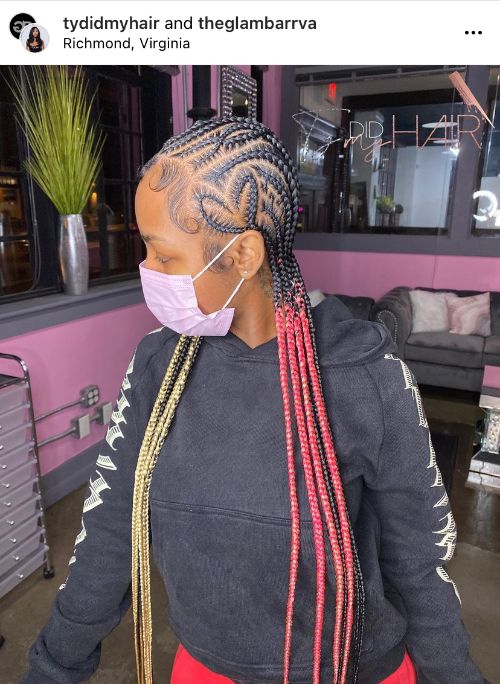 – Box braids with heart parts and curly ends. Even the same hairstyle can be different if you add one or more accent details. Here we see pretty curly ends that are left unbraided. Experiment with your braids, it's worth it!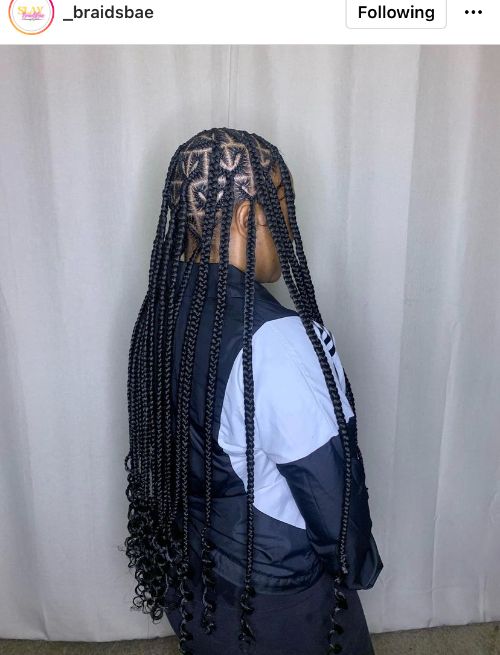 – Bright pink cornrow braids with a heart on the temple. What a cute Barbie-pink hair color! Cornrows are criss-crossed in the front, neatly braided to the back, and one heart braid is made on the temple. Hairstyles become cuter and cuter in this gallery, don't they?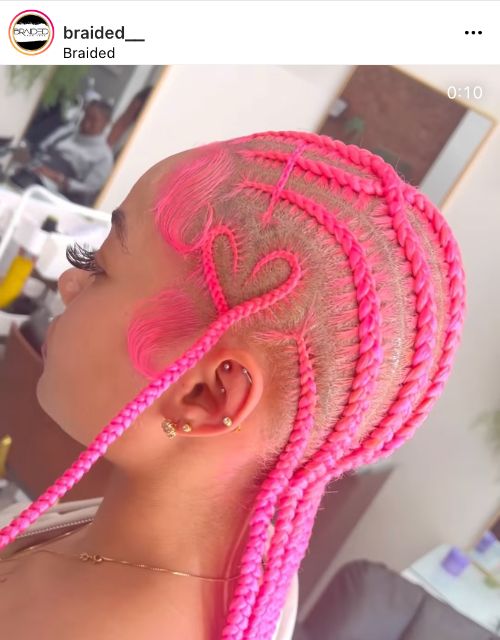 – Natural hair Mohawk and a heart braid. Heart braided design can be realized together with almost all types of braids. The Mohawk braid is no exception.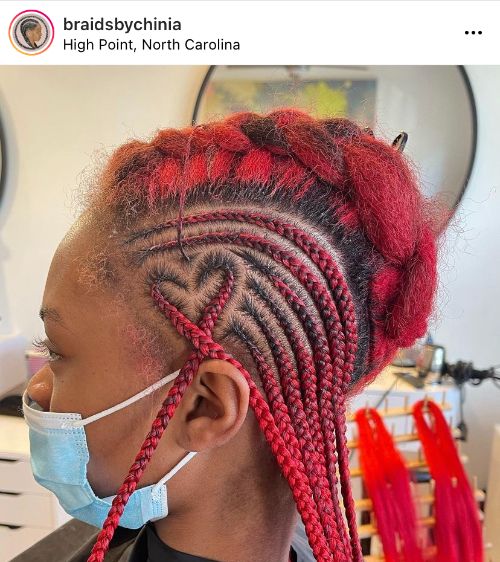 – Boxer braids with cornrow braided hearts. Two braids going from the front to the back and heart-braided temples are a BOMB combo for your looks despite the season. Summer? Fall? Winter? It doesn't really matter.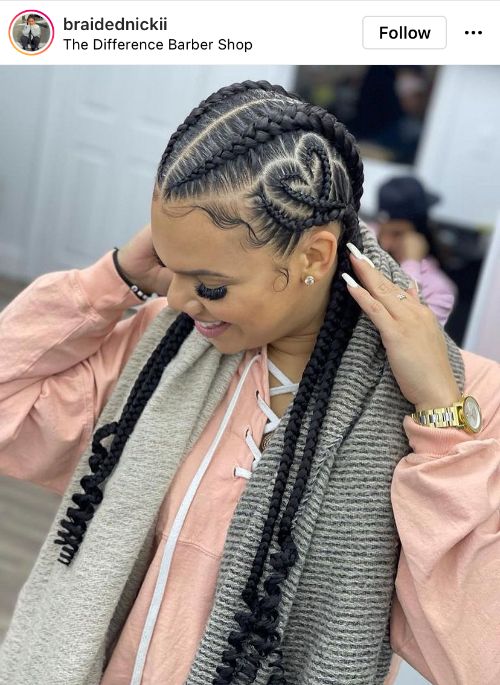 – Kanekalon braids with a heart design. Did we mention that heart braided designs are for all hair types? Wavy, curly and straight hair types are equally good to become a base for heart braid plaiting. Here white blonde extensions are used, and the heart design is beyond measure. Stunning. Simply stunning.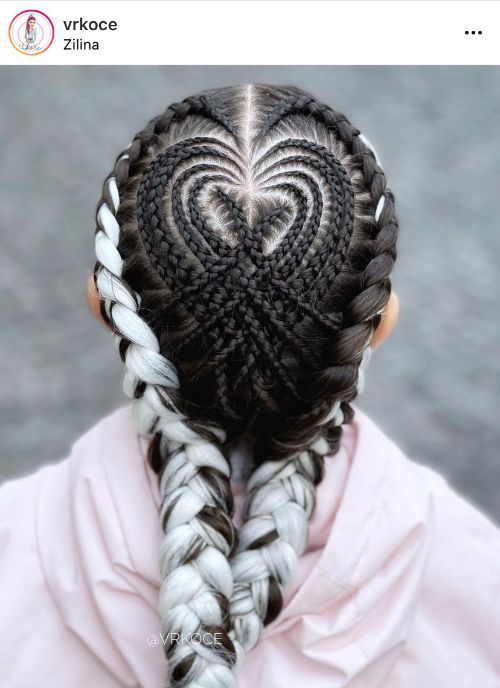 – Three-strand braid with a heart part. Omg, here we see just one thick three-strand braid, but it is definitely far from non-banal! This big heart-shaped hair part is something that can really make you stand out from the crowd.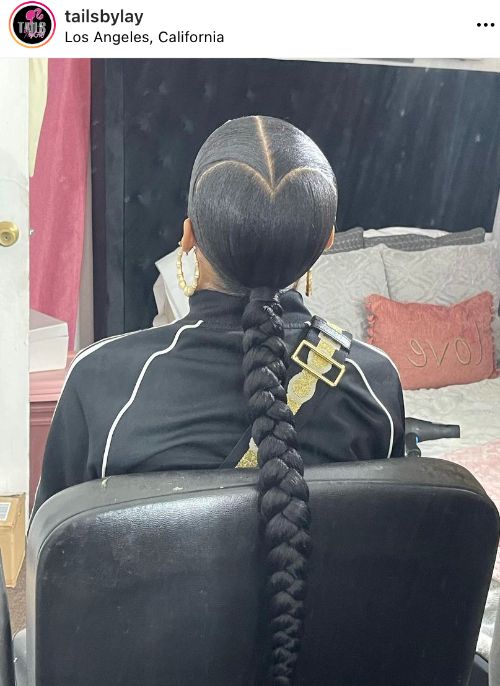 – Red criss-cross cornrow braids with a heart design and beads. If you are already tired of the same standard colors, go even far in your braid experiments and dye your locks. Choose bright colors: greens, red shades, violet tints, etc.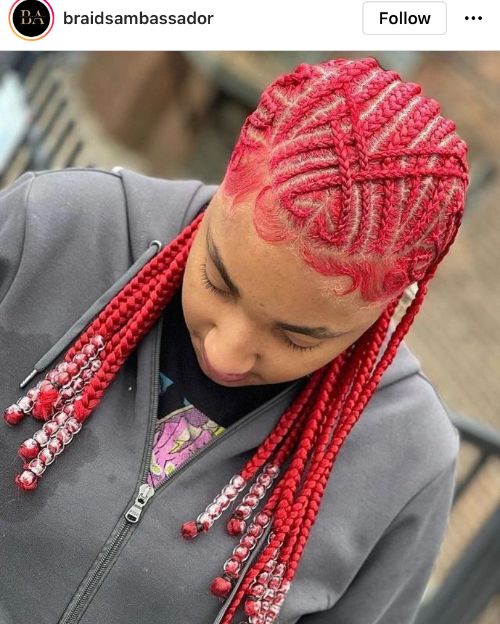 – Low braided ponytail with a heart design. Wavy cornrows, front Fulani braids, a braided heart design and beads – all this is mixed here, and very successfully we must say.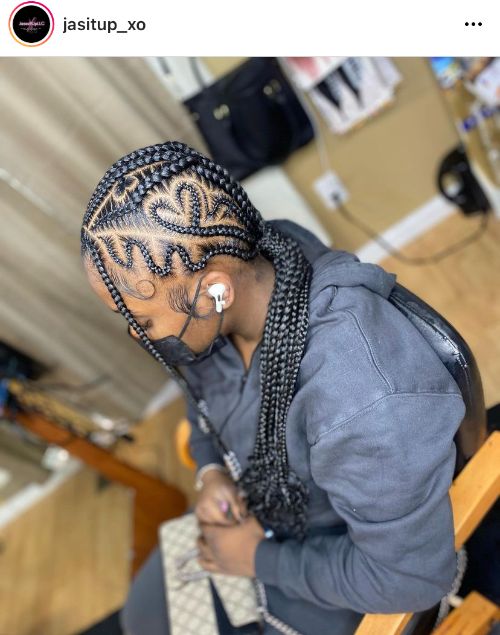 – Braided heart in the front of the hairstyle. Dozens of ideas how to style heart braids, dozens! For example, braid hearts in the front, in the back and on two temples, create box braids, put them into a huge high bun, and leave some long curly strands. Ce magnifique!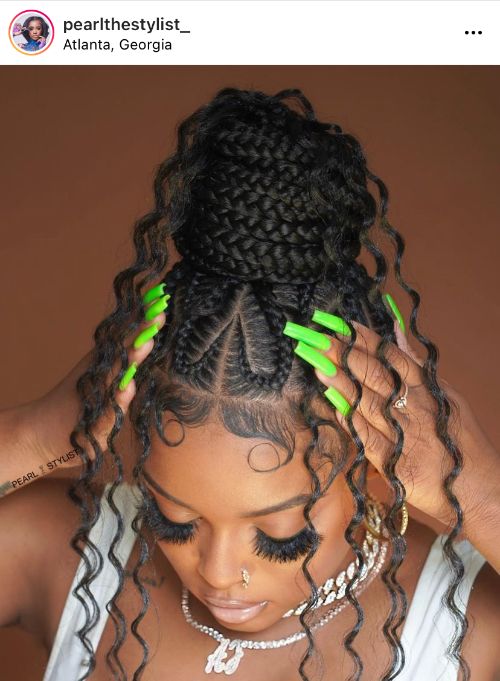 – Voluminous ponytail with scalp braids and a braided heart. What a cute small braided heart! And a combo of naturally brown hair and purple extensions also catches the eye.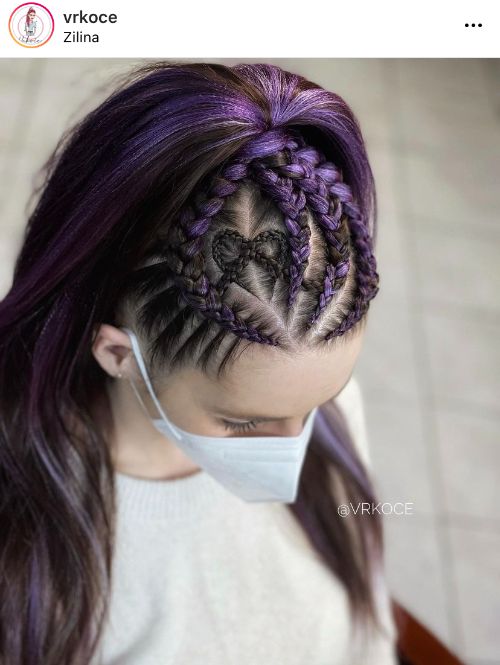 – Small low bun with scalp braids. Not all women like big oversized buns. A lot of girls choose pretty tiny low buns for their comfort.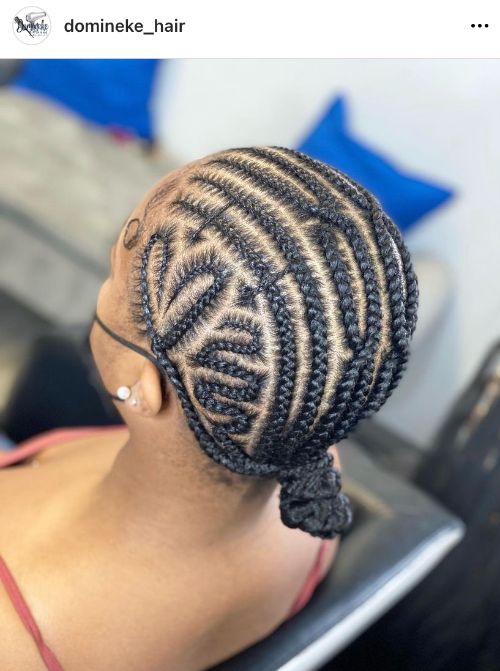 – Long heart box braids with curly strands. Leave some thin curly strands here and there for a more WOW-effect.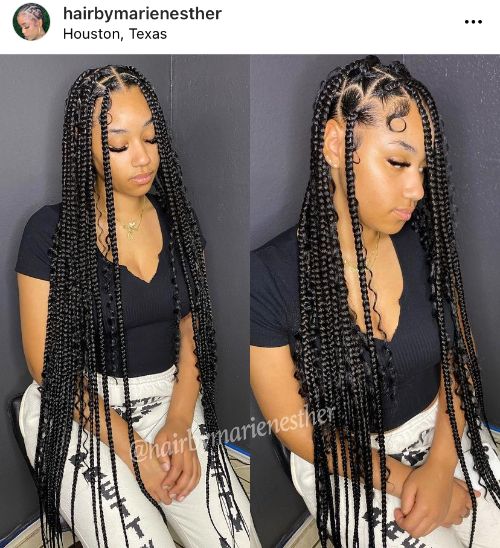 – Two-color braids. Good old lemonade braids never hurt nobody. Especially if they are plaited with pretty girlish colors and a neat heart on the temple.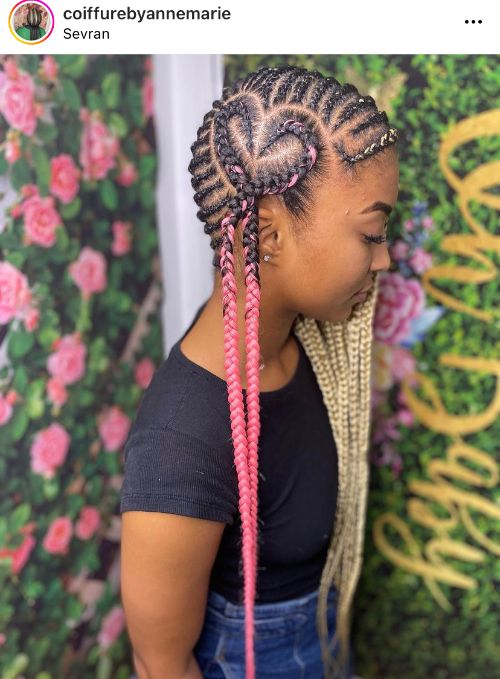 – Criss-cross braids and blonde ends. What about a combination of three different braiding techniques? Box braids, stitch braids, and criss-cross plaiting? Yes, please.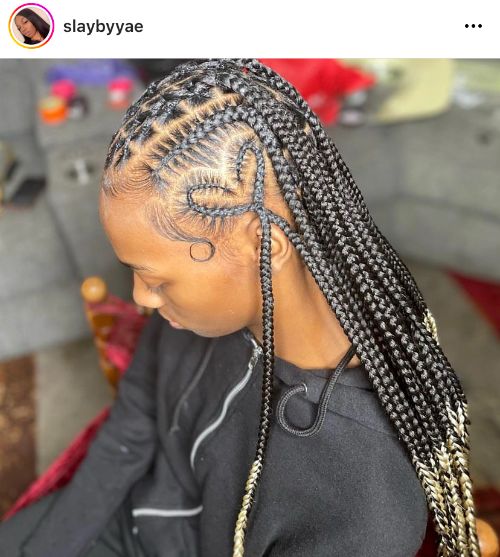 – Long blonde braids with curls and braided hearts. Just imagine this hairstyle on yourself and no words are needed.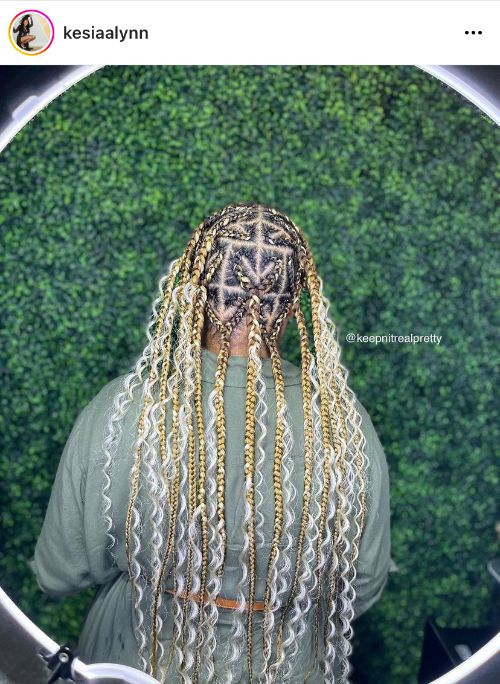 – Heart braids with hair rings and a cuff. Incorporate different hair jewelry in your hair routine to make your hairstyle even more impressive.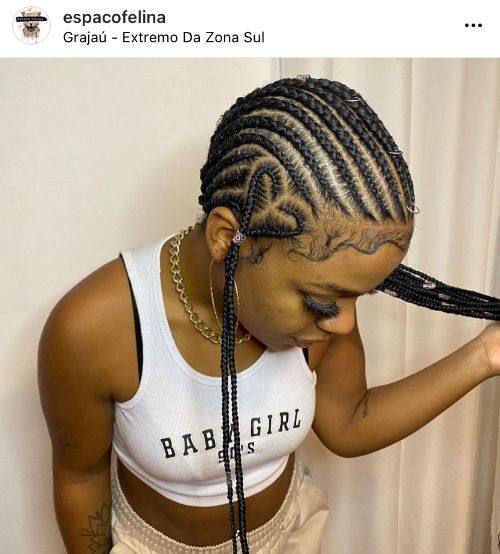 – Blonde braids with dark roots. A lot of women are trying to conceal their grow out roots. With braids everything is different. Dark roots look even more magnific.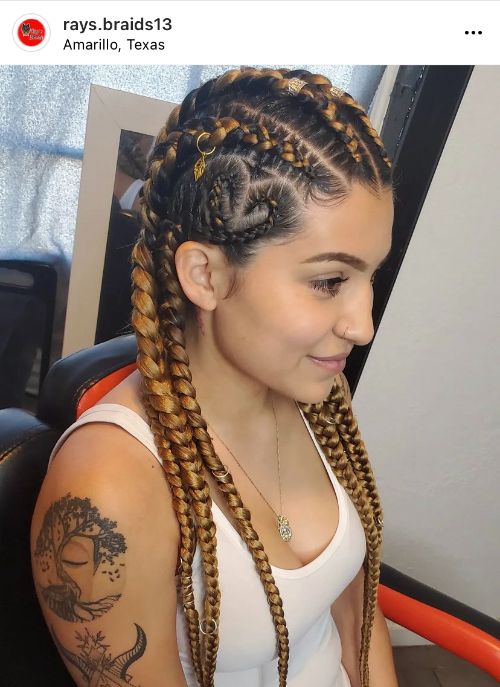 – Braided ponytail with a heart on the nape. As far as you see, there are no limits when we are talking about heart braids, as you can always add one or more detail, change their placement, dye your hair, and you ill have a completely new non-banal hairstyle. Great, this is exactly what we need!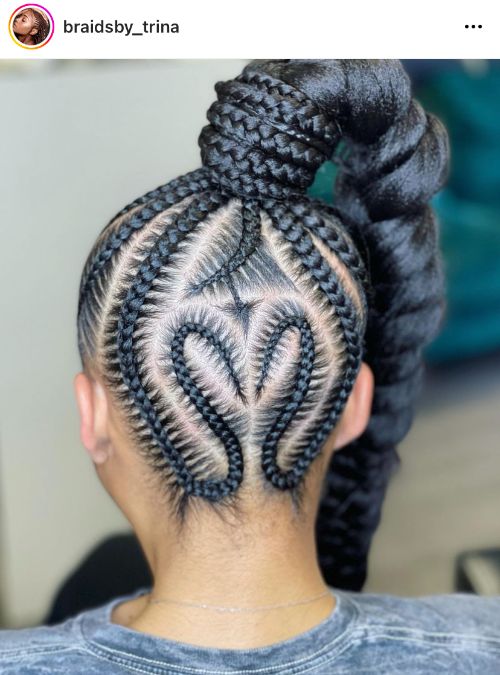 – Spiral curls with braided front of the head and a heart. No need to plait all your curls. If you want to sport curls and braids at the same time, everything is possible in the hands of a good braider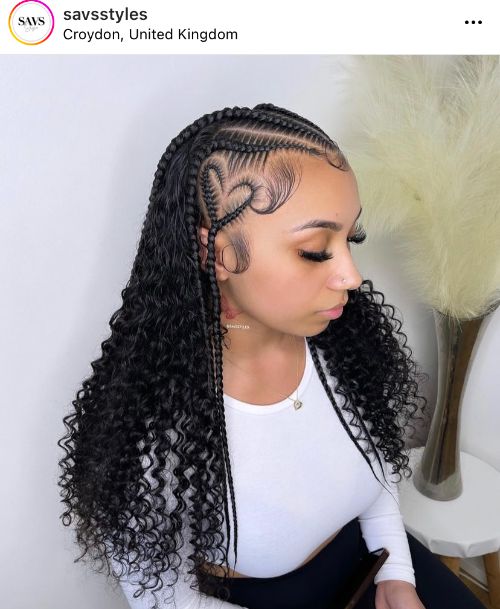 – Curly nape bun with braids. Want to leave some of your curls unbraided? Leave them near your low nape bun.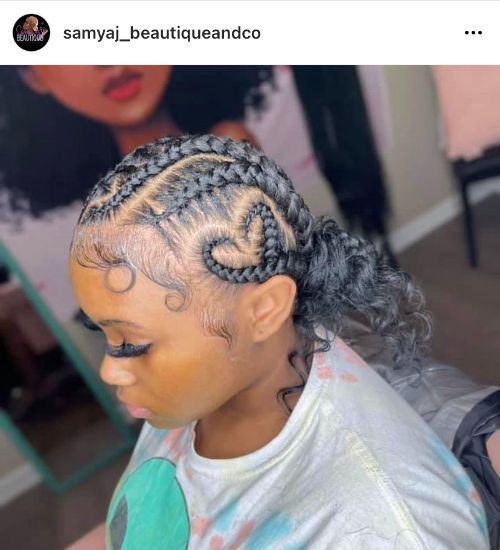 – Dark mahogany red braids. Time to try something new and attractive! With such a bright hair color you have no chances .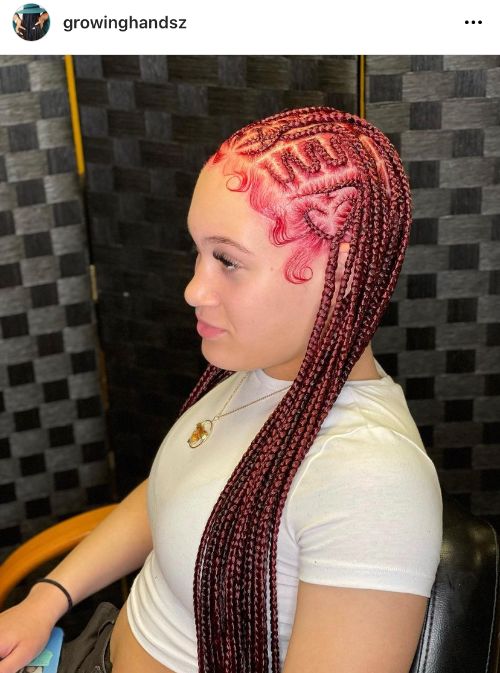 – Tailbone-length box braids with hearts. Long braids are cool, but coccyx-length ones are even cooler! Moreover, you can always tie them into a bun or a low pony.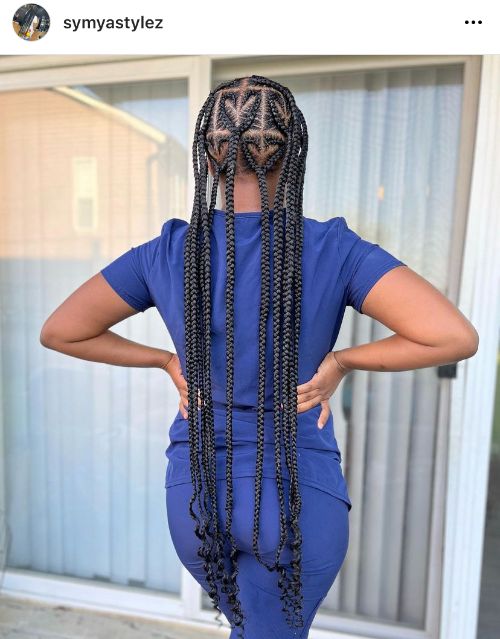 – Snake cornrow braids, heart plaits and a low braided ponytail. We can only add front braids here. Voila! You are ready to conquer the world.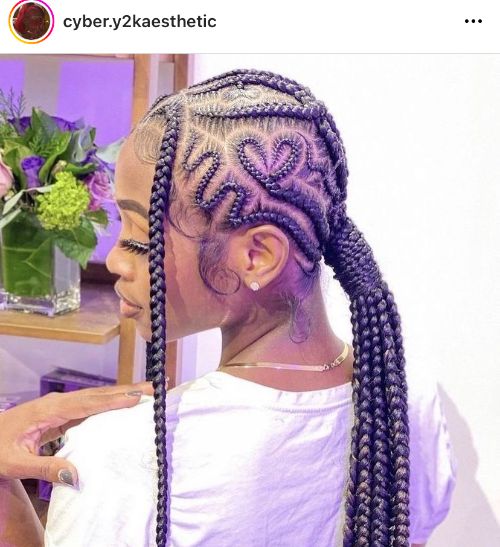 – Golden blonde braids with dark roots. Warm hair shades flatter darker skin tones pretty well. And these babyhairs! Don't forget to style them too, as they are a very important part of your hairstyle that can make it or ruin it completely.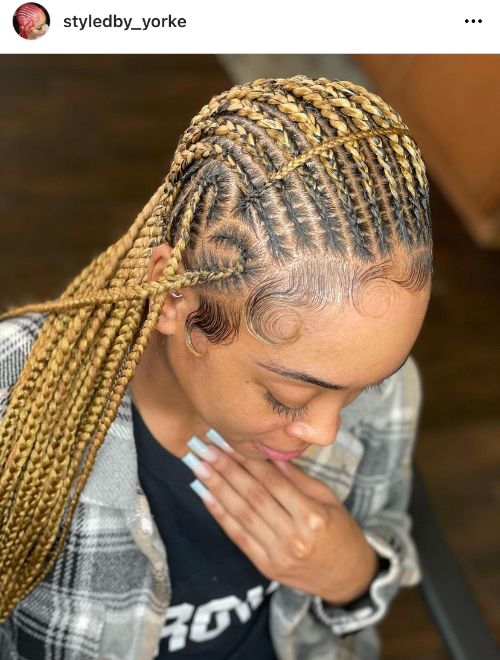 – Half black half pink braids with a heart. One more half-and-half hair color combination for real it-girls.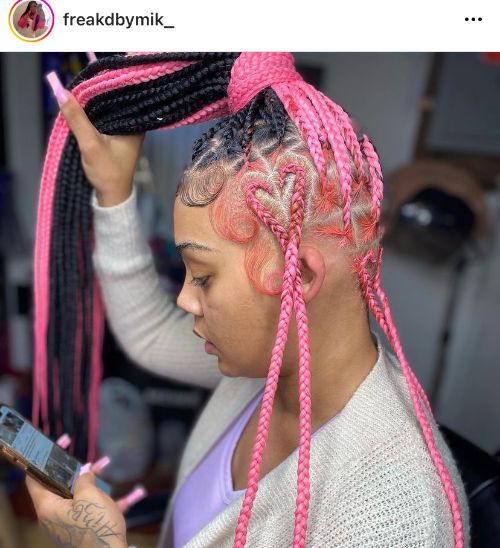 – Dark brunette and honey blonde braids. Leaves us speechless. Charmant, charmant!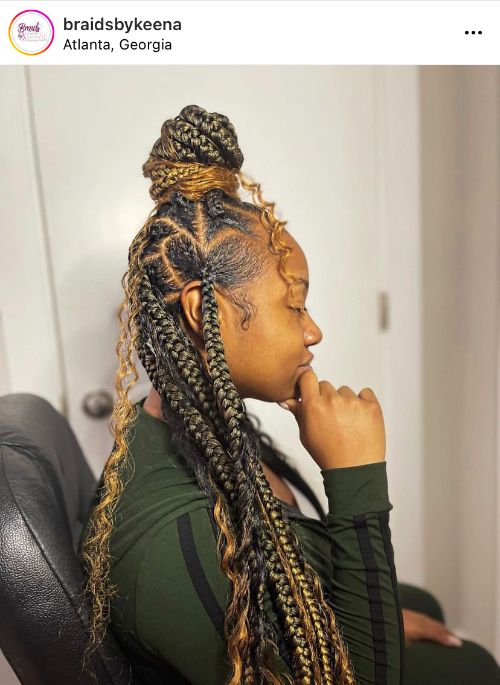 – Kids braids with hearts. Of course, braided hairstyles with heart cornrows (and other types of plaits) are OK for all ages, from the youngest girls, to the young ladies in their 80s. Colorful strands and beads of the same color will look super stylish on kids, more restrained variations will be OK for the grown-ups.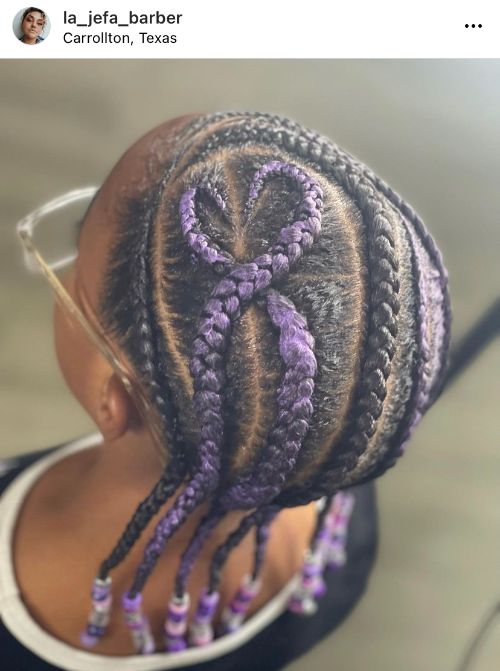 – Symmetrical braided hearts. Scalp braids have never been cuter! Such an ideal symmetrical hairstyle will delight your inner perfectionist. If any.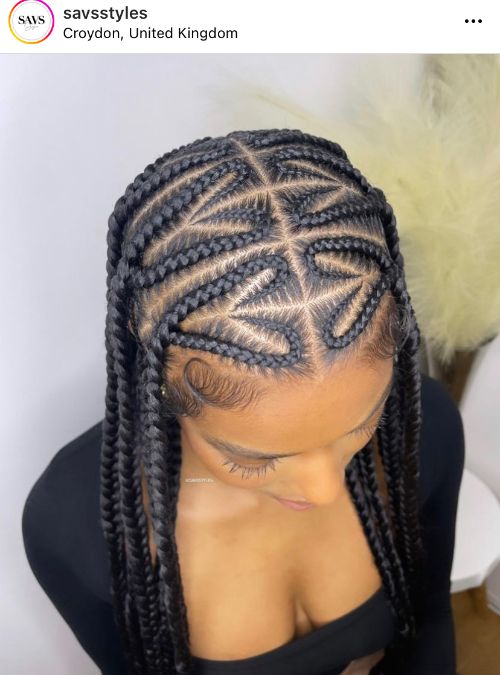 – Low red curly bun. Everything is perfect in this hairstyle: the color, the braided heart accent, the neat stitch-like parting and the curls in the nape bun. Nothing to add.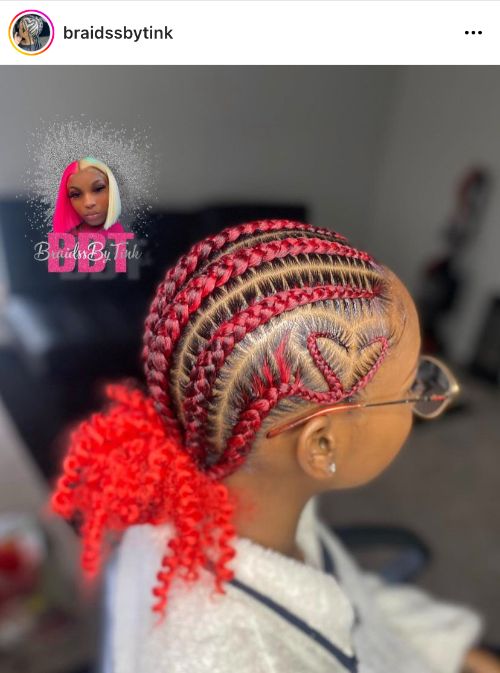 – Chocolate brown braids with tiny hearts here and there. Two braided ponytails aka pigtails will look elevated if they go with neat rows of stitch cornrow braids and small heart partings.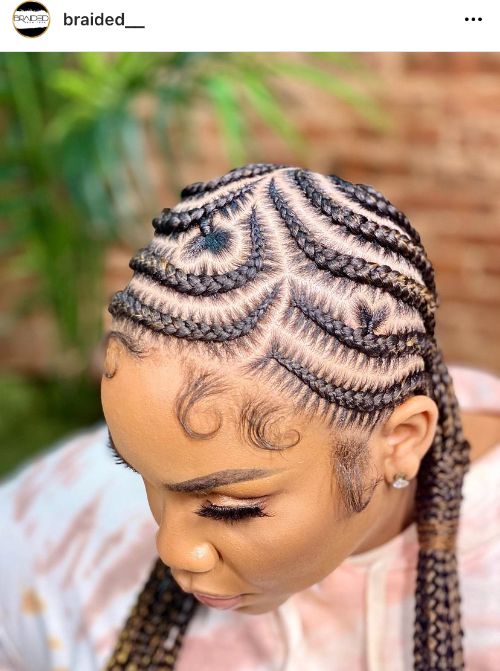 – Two braids with an intricate design between them. Two jumbo braids and a bunch of thinner cornrows are all you need for a really great everyday protective braided hairstyle.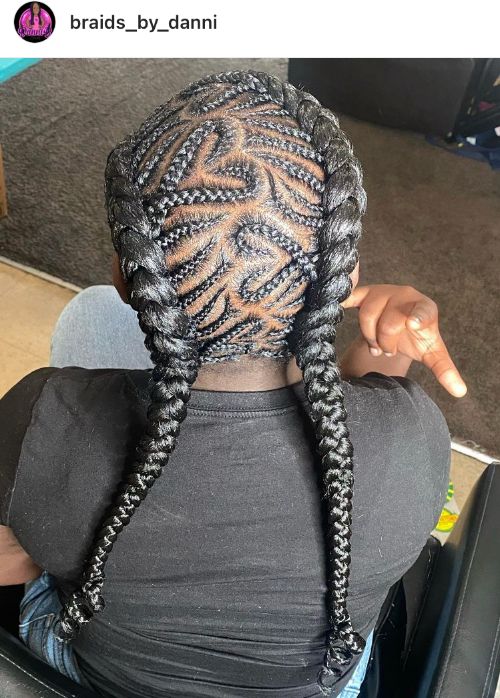 – Sleek "wet-look" braids. Such hairstyles are usually more then welcome on the red carpets. Pair it with a cool feminine dress and you won't have competitors on any event. Slay, girl!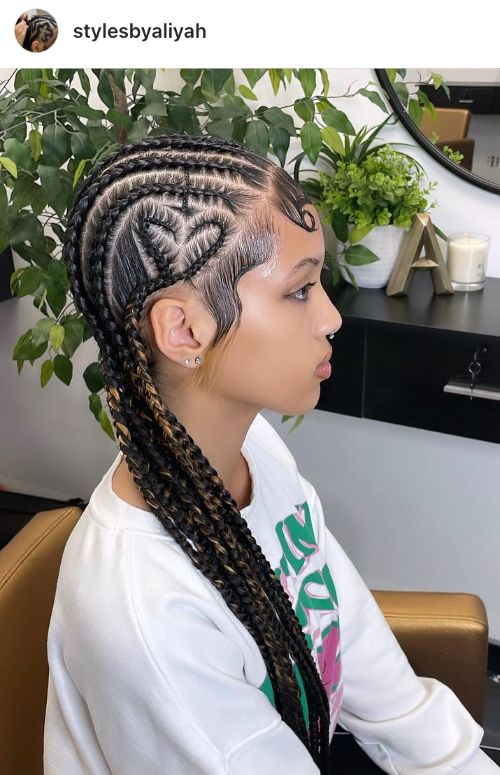 How to Make Braids with a Heart: DIYs, Videos and Tutorials
We are here not just to show you pictures, but also to help with tutorials. Just in case you are a beginner braider and want to recreate this type of braids on your clients' locks, or want to try 'em on your mane. We found pretty easy videos, check out.
So, here they are, the trendiest and most popular braids with a heart that are winning women's (sorry for the tautology) hearts in 2023. Have you chosen something for your next visit to the salon? We did 🙂 If no, worry not, as we have a lot of other articles about braids and plan to write more and more. Stay tuned!