If you are wondering which gray nail designs are trendy in 2023, you are in the right place. We have collected 80 (!) beautiful gray nail arts from the simplest ideas to the more elevated ones.
Advertisement-Continue Reading Below
Gray nails are not among the most popular. Some women think they are boring, others say they are too dull, but we say they are marvelous! Lets start from the shades first, and then check out the trendiest ideas of gray nail arts!
Gray Nails Shades
If you think that there are only several shades of gray, i.e. dark gray, light gray and blue-gray, you will be surprised. Even gray has a great color palette. The images below illustrate some of them. How do you feel about trying the charcoal gray or the purple-gray on your nails?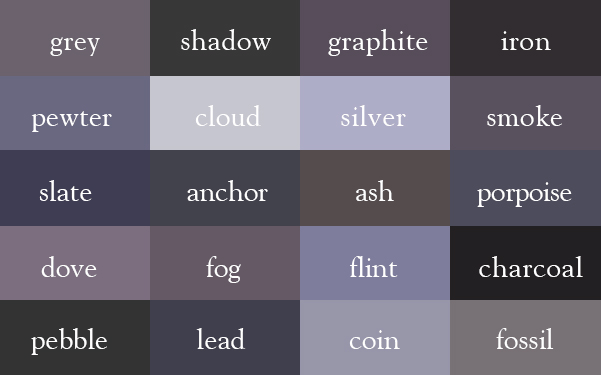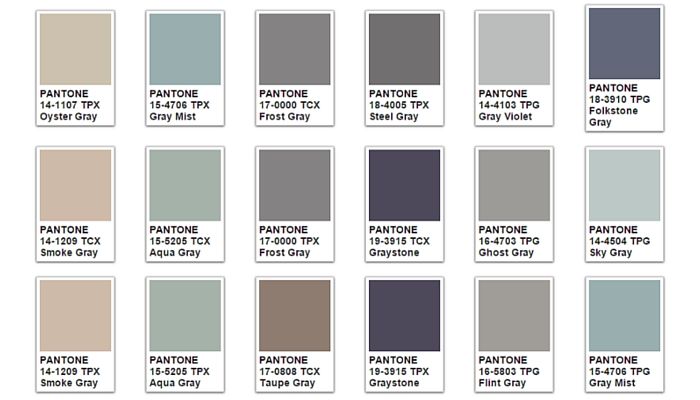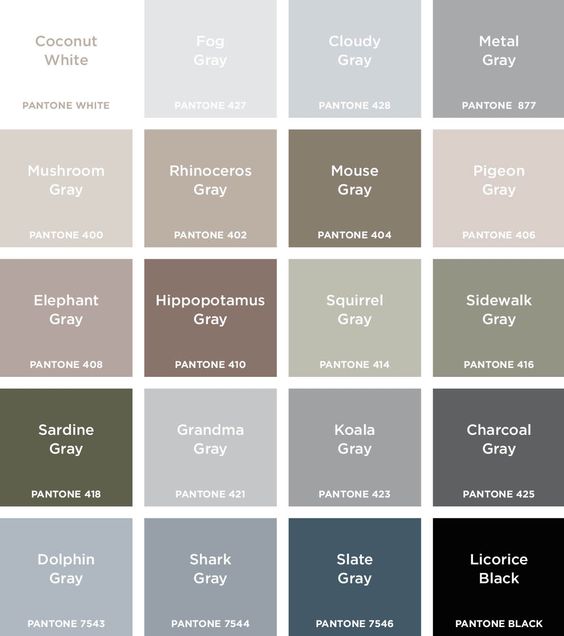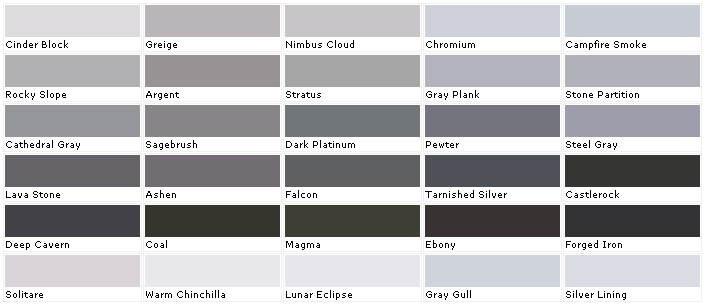 Gray Nails Polishes
Now we will quickly check out what nail polishes are popular this season, and move on to the gray nail arts and designs. So, the most popular gray nail polishes are as always light gray and dark gray shades. Also, there are such marvelous shades as the blue-gray, green-gray and smokey-gray shades.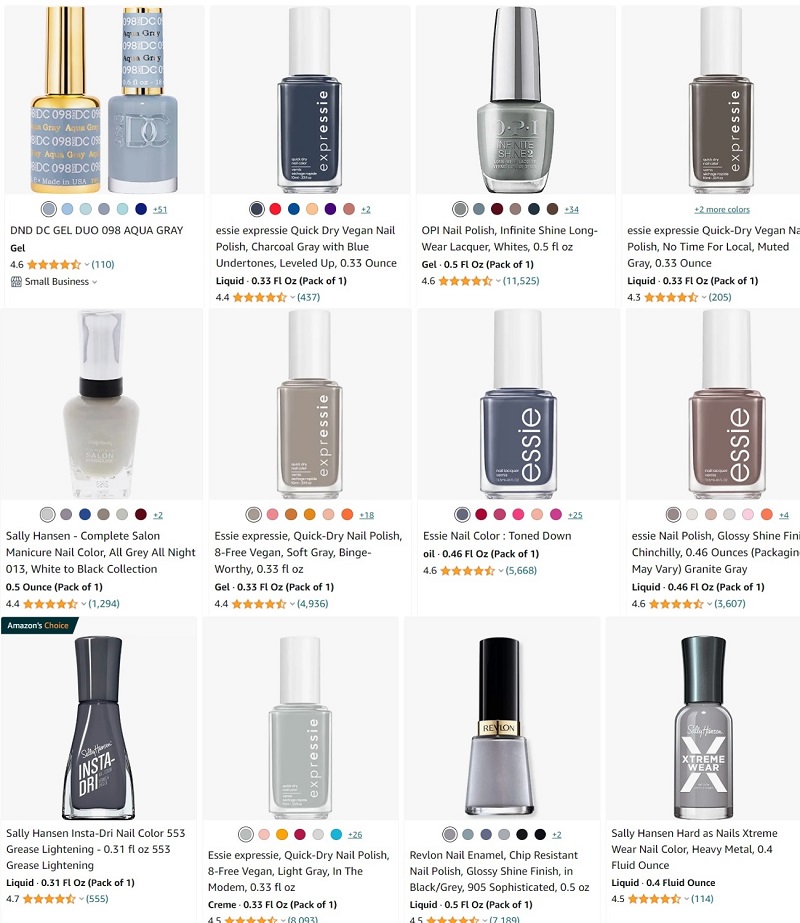 80 Gray Nail Designs Worth Trying in 2023
Time for your favorite part of the article – for designs. What are the most popular gray nails ideas in 2023? Apart from the one-color manicures, you can try the gray ombre (vertical or horizontal) on your nails, combinations of gray, white, and black, pink-and-gray nail designs, adding silver/gold foil, crystals and sequins, matte finish, etc. Actually, the choice is wide. Check out below!
– A Very Simple Gray and White Nail Design. White and gray color combination on nails is still one of the most popular. Especially if we are talking about colder seasons.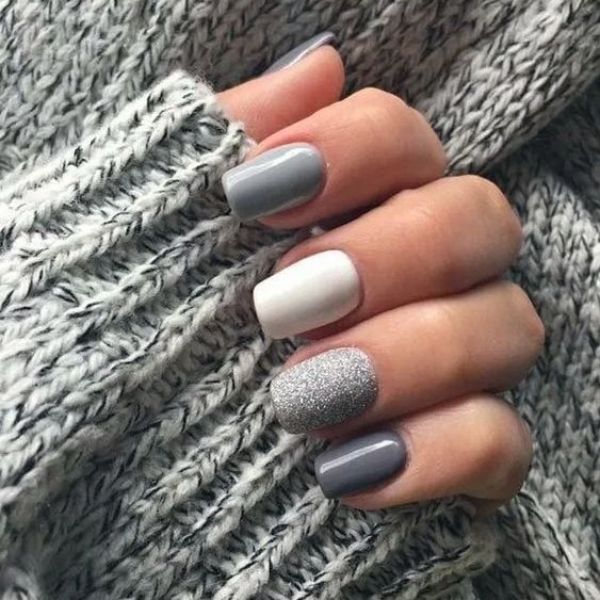 – Gray, White and Black Nails. Add a bit of geometry to your nails and you will get a completely different manicure with the same simple colors.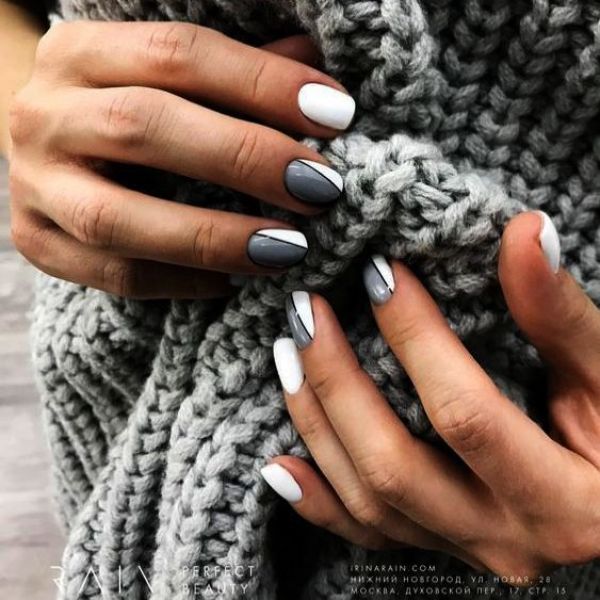 – Almond Beige and Gray Matte Nails. Gray smoke on the beige base and all this covered with a mate finish – this is an idea for real fashionistas!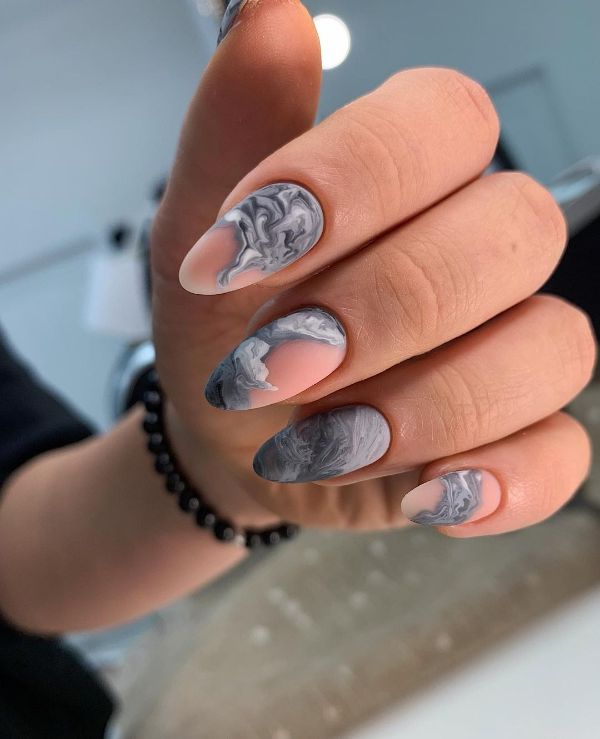 – Gray Leopard Nail Design. Leopard nail designs come in all colors, from pinks to greens. And in gray shades too. Marvelous!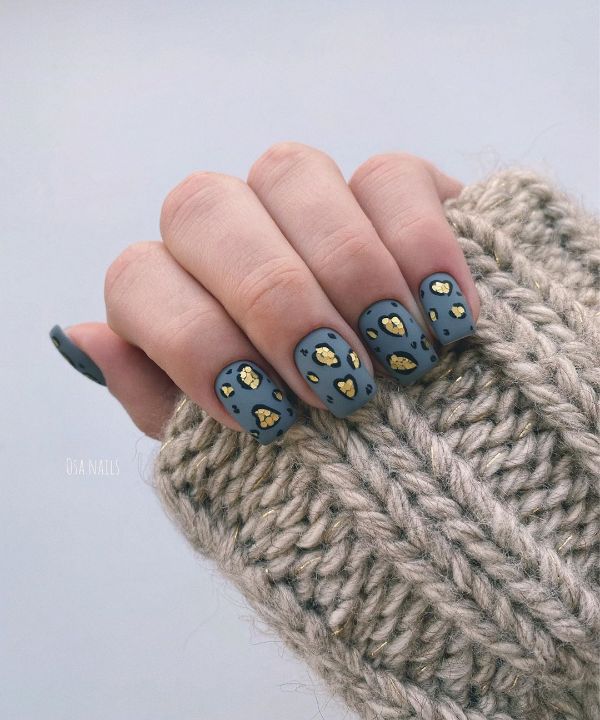 – The Perfect Matte Gray Nails. It is very important to make a perfect nail shape if you want to get a matte nail design like this one. Also, the base coat must be of a very good quality.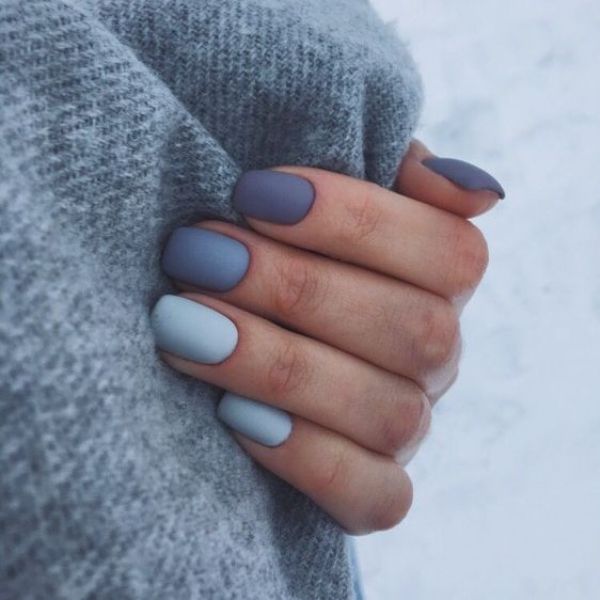 – Matte Glitter Gray Nails. A bit of gray, a bit of blue, and some tiny sparkles – all this makes the design a dream come true for real lovers of the matte nail arts.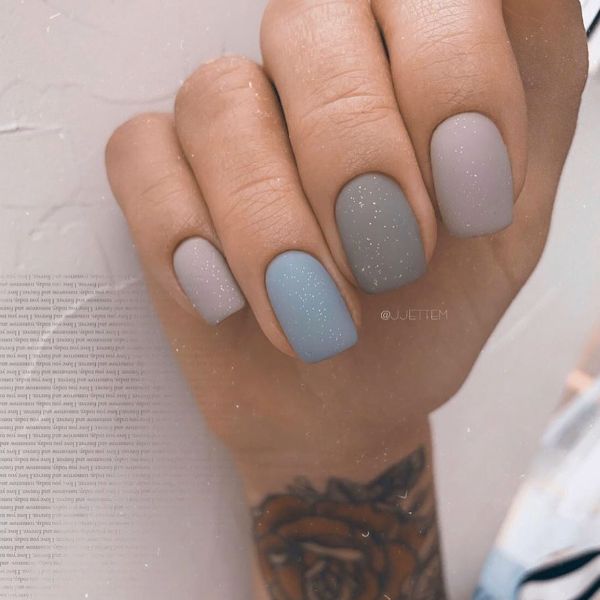 – Short Gray Nails. An idea how to make your short nails look stylish. Just add two universal nail colors, white and gray, and some silver shimmering lines here and there. Ready!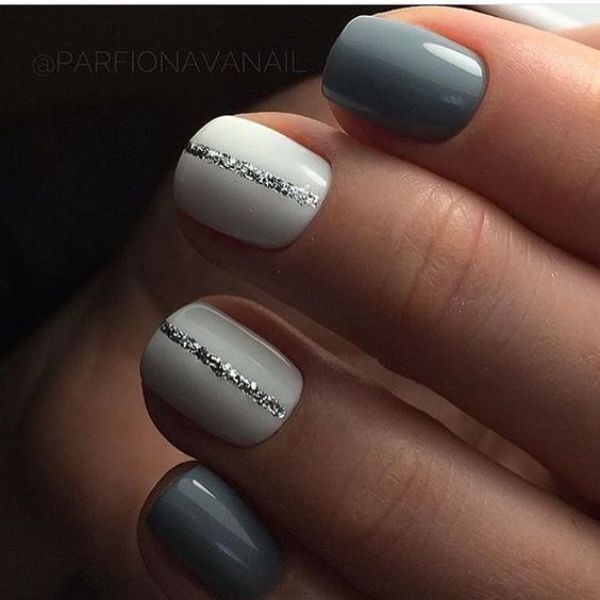 – Long Acrylic Gray Ombre Nails. Here we see an ideal manicure and not less ideal phalanx rings. Such gray nails can be worn even in summer, when all others wear neons and palm tree nail designs.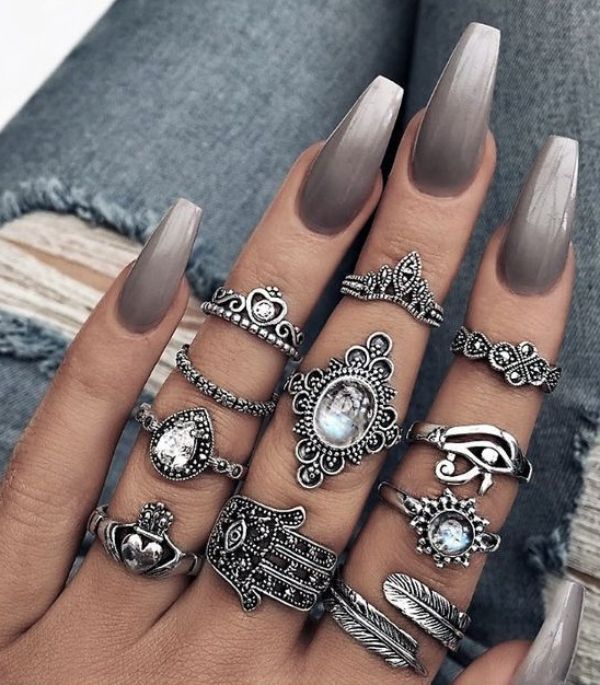 – Gray Nail Art with Butterflies. Such a gray nail art with small butterflies is a cute option for women of all ages.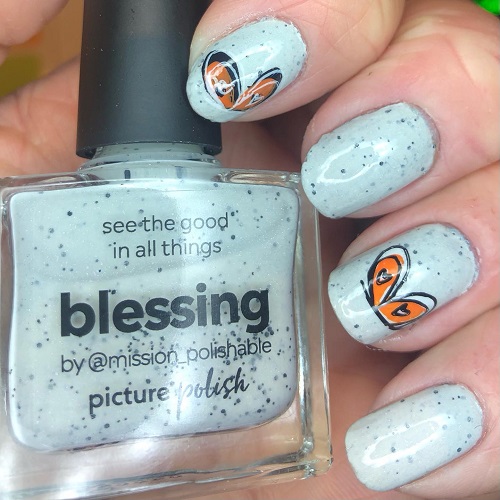 – Gray Nails with Colorful Hexes. As you see, blue and yellow shades pair well with the gray base color. Use this color scheme if you need something subtle and casual on your nails.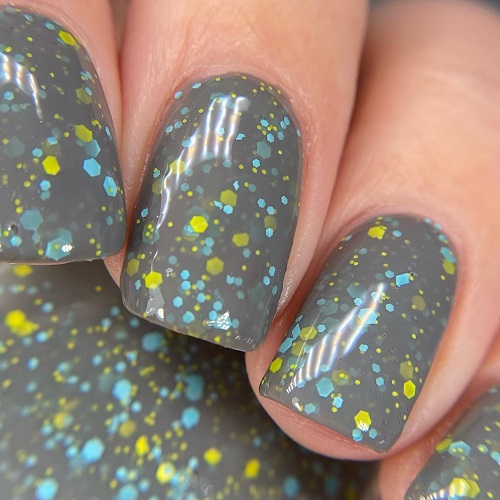 – Black and Gray Nails. One more very classic color combination for your nails. But look at this ombre and shimmering particles! They for sure make the design much more interesting.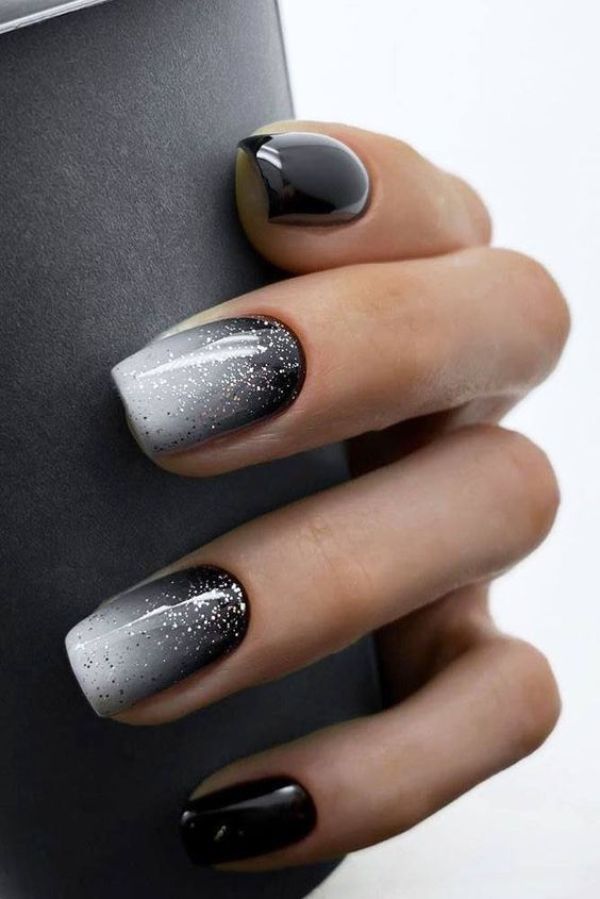 – Dark Gray and Black Nails. Make the diagonal French tips and you will get a new nail design that is both universal for most looks and trendy for this season.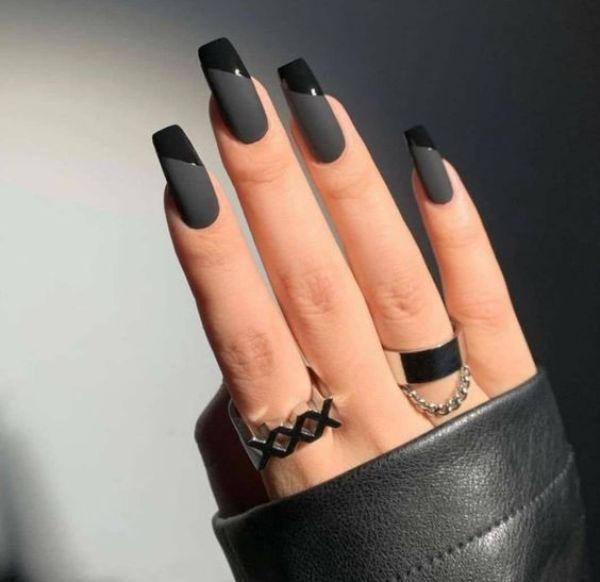 – Oval Gray Nails. Sugar nail design anybody? Designs with the 'sugar' nail powder or glitter powder are most popular in colder months, but actually, they are OK for all seasons.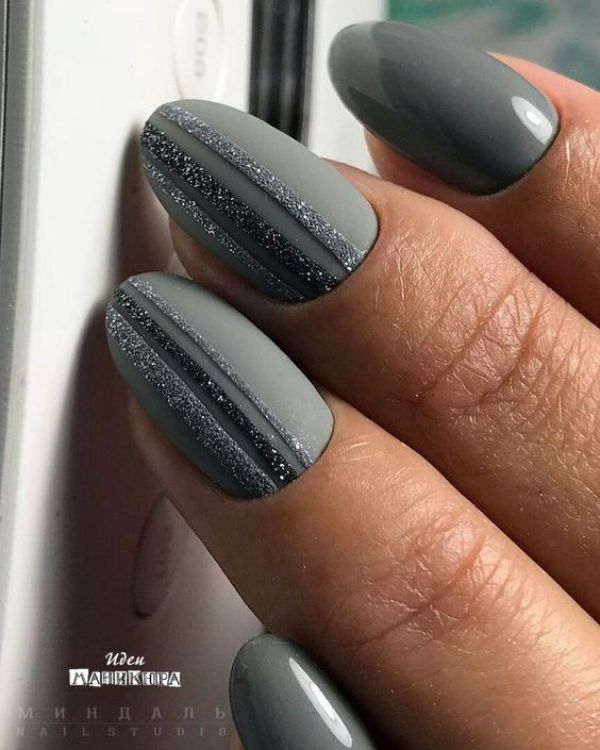 – Geometric Black, White and Gray Nail Design. A really cool shape, and not less cool design are what make this nail art worth going to the salon. Of course, you can recreate some variations of this design at home, but to copy it identically you will need a really good nail master.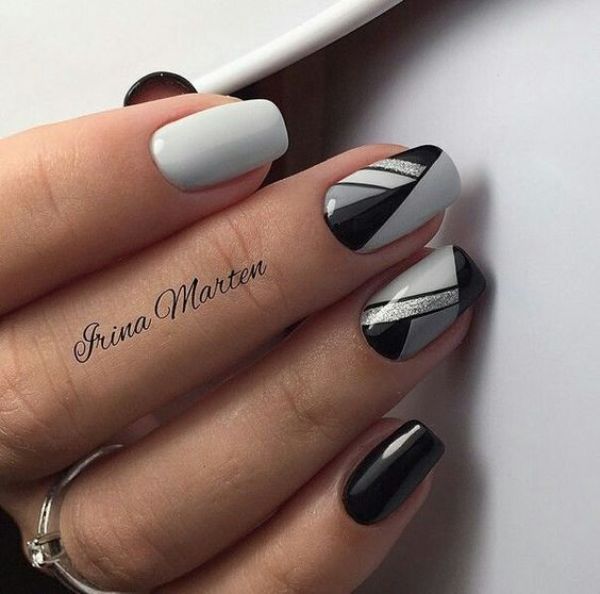 – White and Gray Marble Nail Art. Marble stickers can be bought online if you want to make a similar nail art on your nails, the silver stripes also.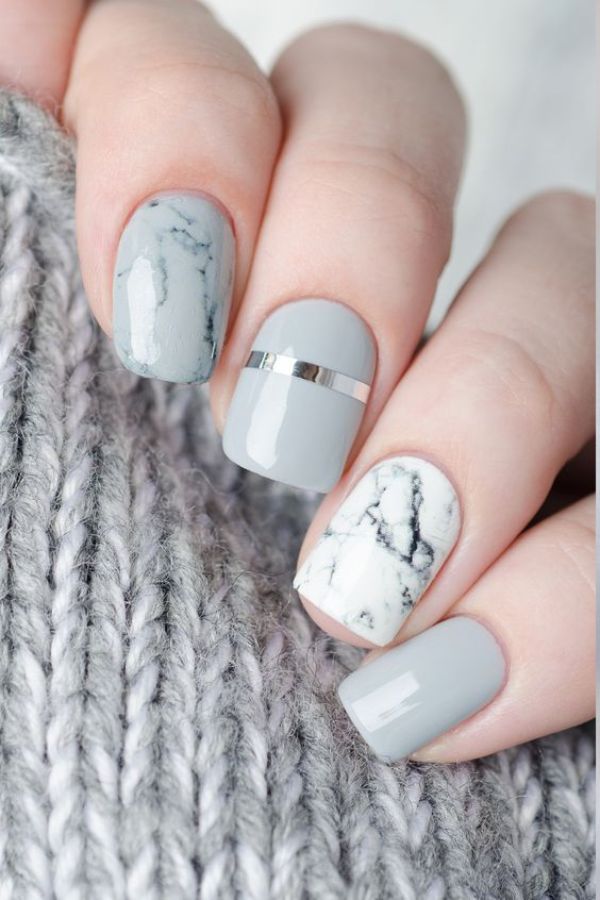 – Gray Metallic French. Have you noticed that gray French is quite popular? Combine glossy gray nail polish with even shinier French tips without any hesitation.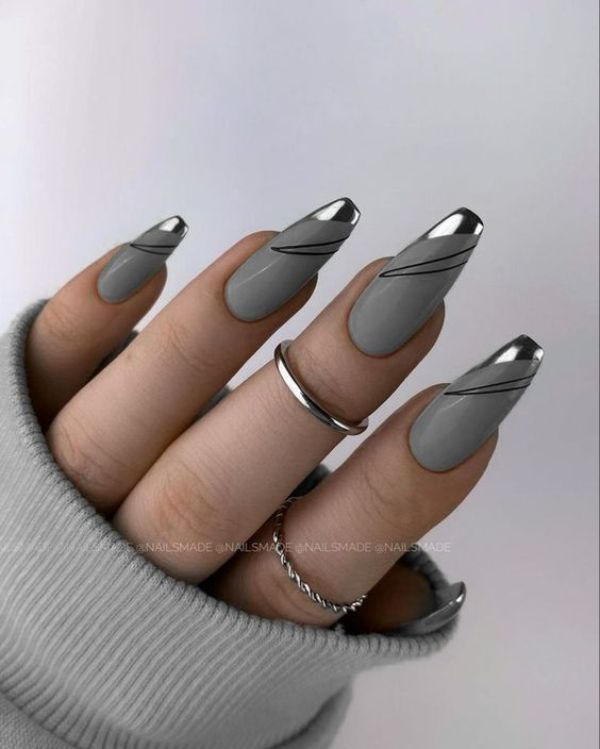 – Pink and Gray "Sugar' Nail Design. Use special powders for the all-year-round sugar effect on your nails. Stunning!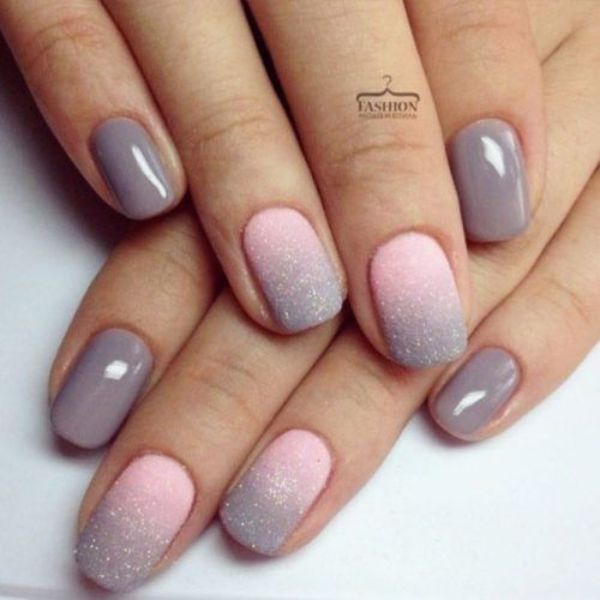 – Long Acrylic Gray Nails with Ombre. Didn't expect such an ombre, right? We too. Finding this variation was a real luck! Copy if you like it, it is worth your attention.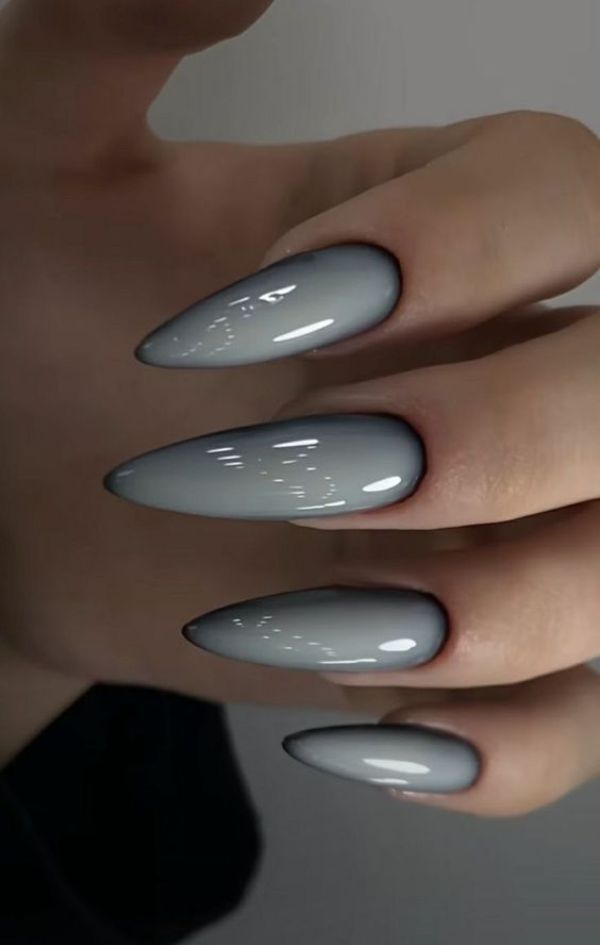 – Matte Gray French Nails. Make a matte French nail design with light pink tips. Wow, cool!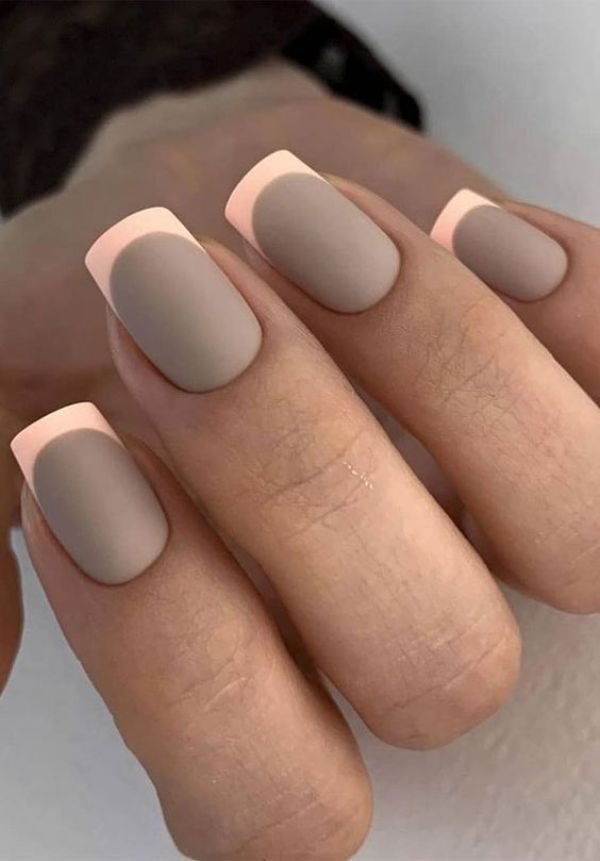 – Gray Nails with Black Cats. Nails with cats are always cute. What's even better is that you don't need to draw them yourself, you can buy stickers with cats. Cute and easy!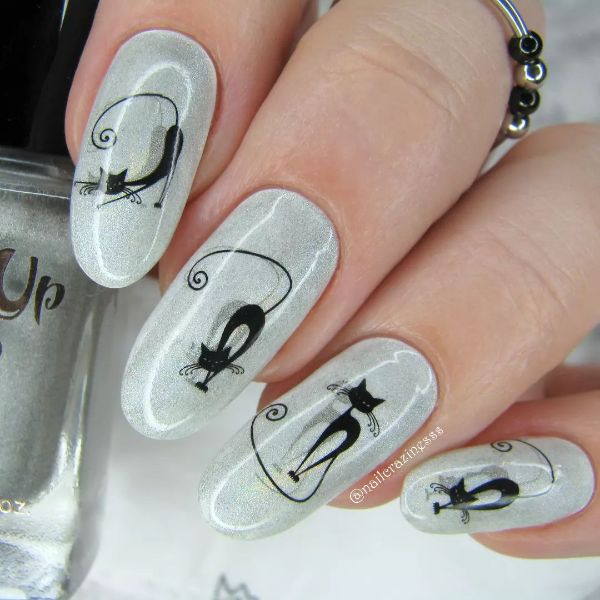 – Gray and White Matte Nails with Black Lines and Strasses. So instagrammable! However, this design is also very comfortable.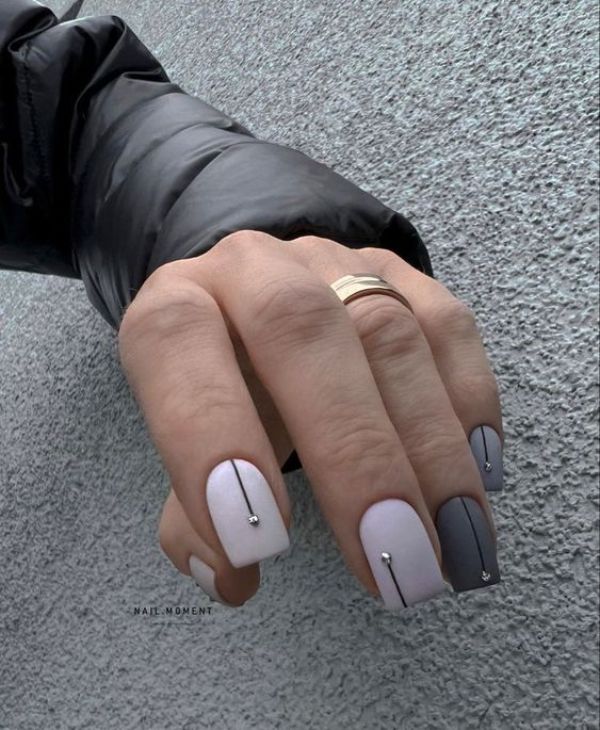 – Long White to Charcoal Gray Nails. You can make such acrylic nails or simply buy a set of fake nails with a similar design.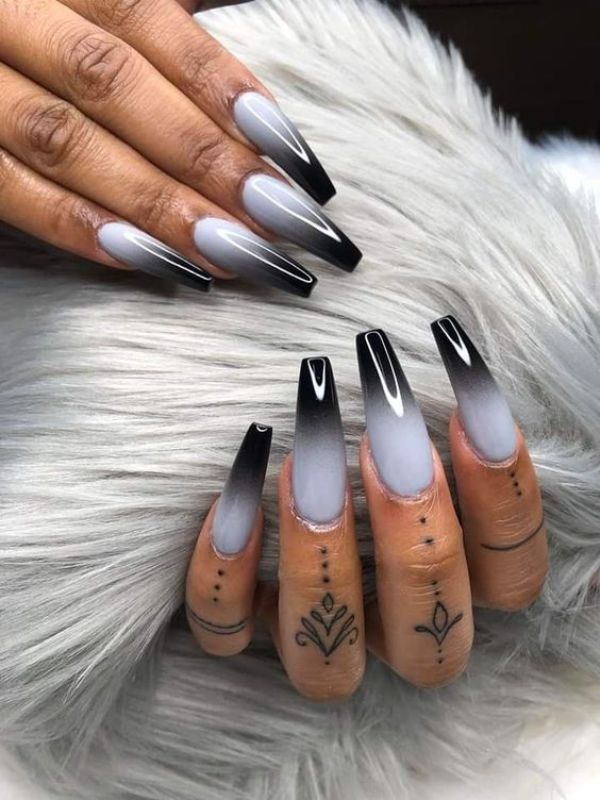 – Long Oval Misty Gray Nails. You can wear this design all year long despite the season, but our editorial team is definitely saving it for the coldest months. When the weather is cold, mysteriously dark and misty.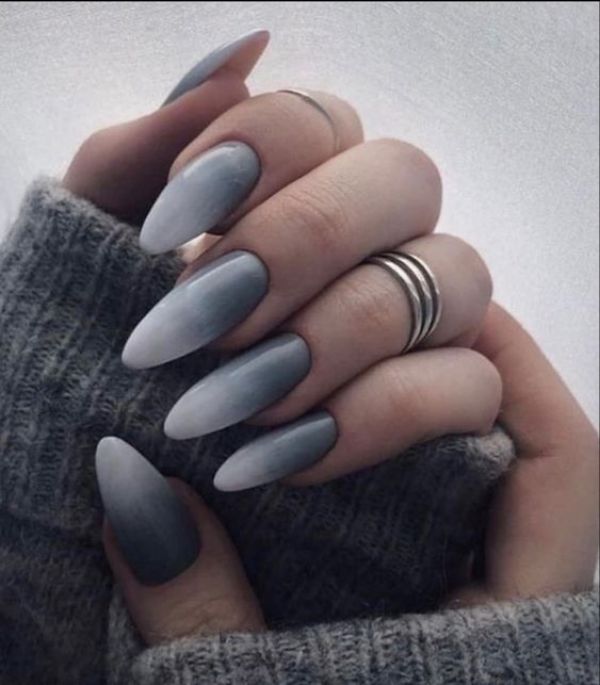 – Pink and Gray Rhombus Nail Design. To us it looks like a knitted rhombus vest, but with girlish updates – rhinestones here and there, and modest glitter lines.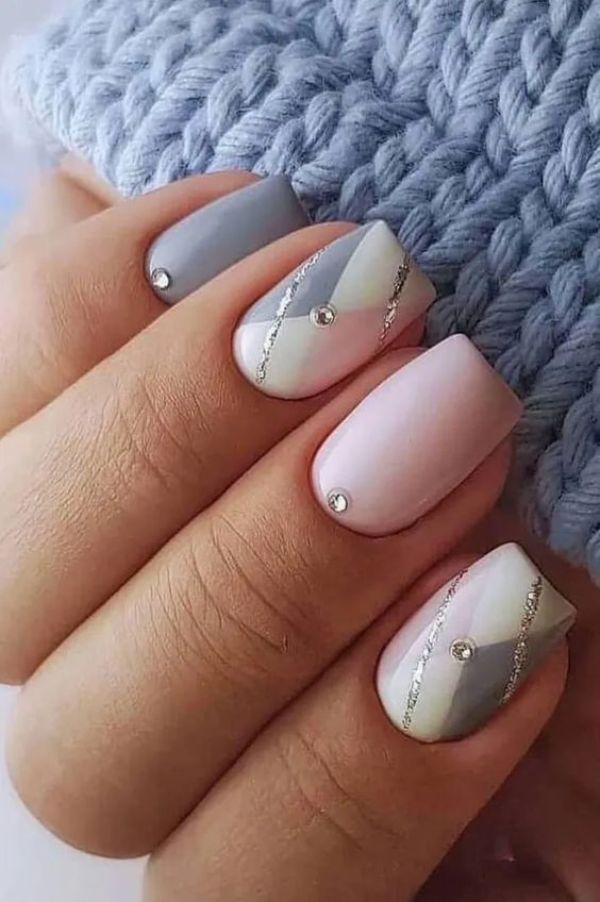 – Dark Gray Nails with Neon Green Underneath. It is called the 'underside nail design' and yes, it is trendy and bold, worth a try.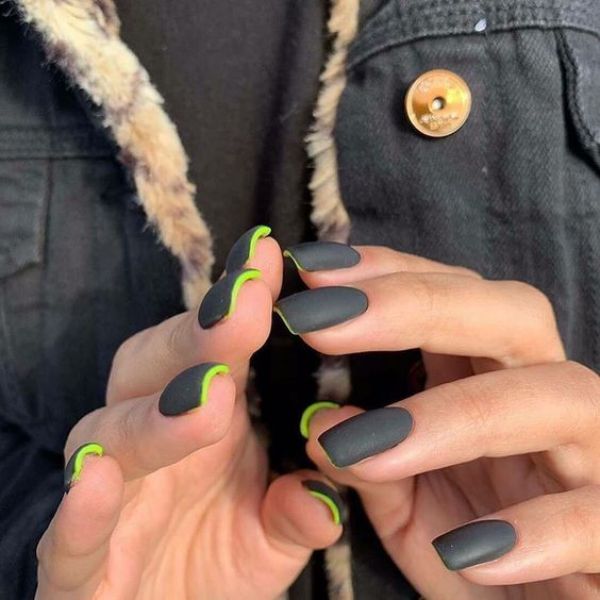 – Yellow and Gray French Nails. Not quite yellow, but not yet green, the color of the French tips perfectly matches the classic light gray base.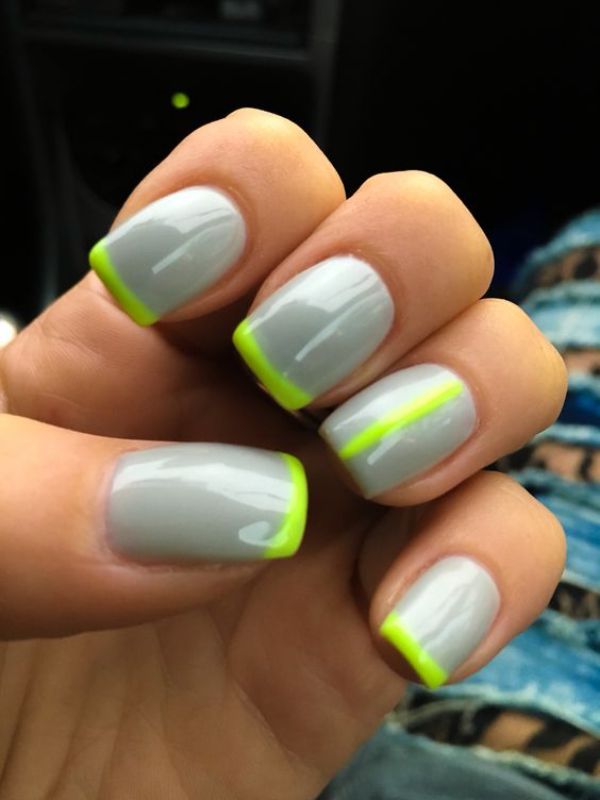 – Orange And Gray Nails. For us it was a real surprise that gray matches with so many colors, and for you? Did you expect that gray looks cool with orange too?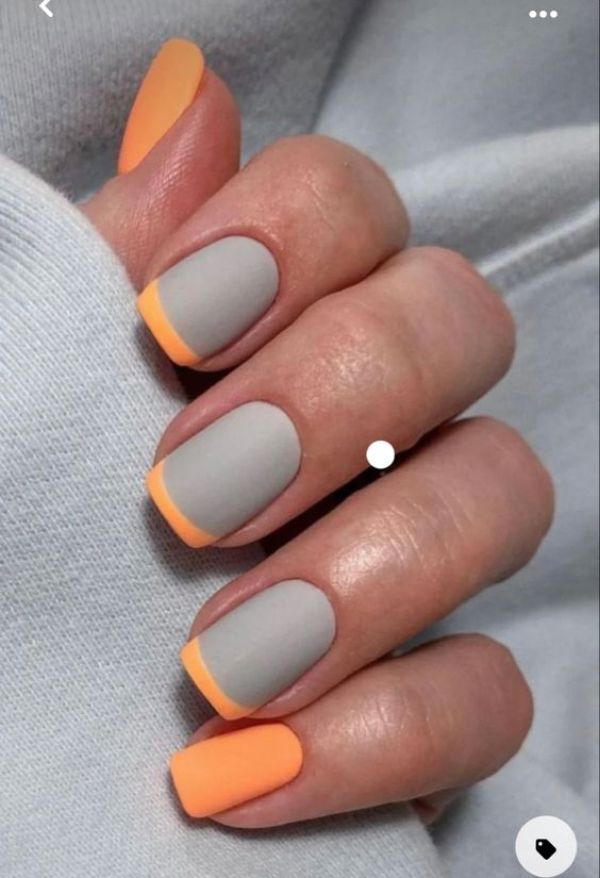 – Sweater Weather Gray Nail Design. We don't know where this design came from and who is the author, but we know for sure that this design was re-pinned thousands of times and copied o beautiful hands of hundreds of ladies. P.S. Two thirds of our editorial team had it on their Pinterest boards.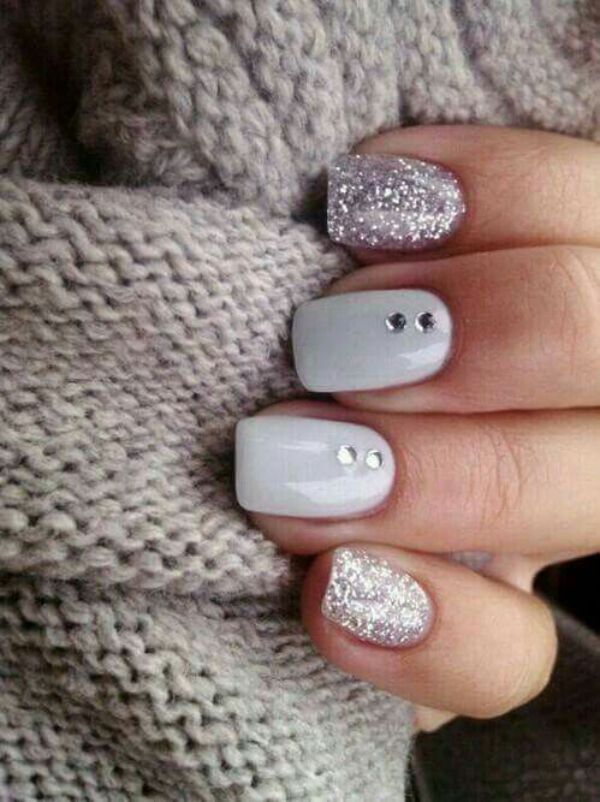 – Gray with Abstract Accent Nails. Silver nail foil will help you recreate this design in several minutes. However, the nail shape and the base manicure will, of course, take more time.
– From White to Gray to Black French Nails. This design is re-pinned multiple times on Pinterest, as a lot of women like such nail arta that are both classic and with a zest.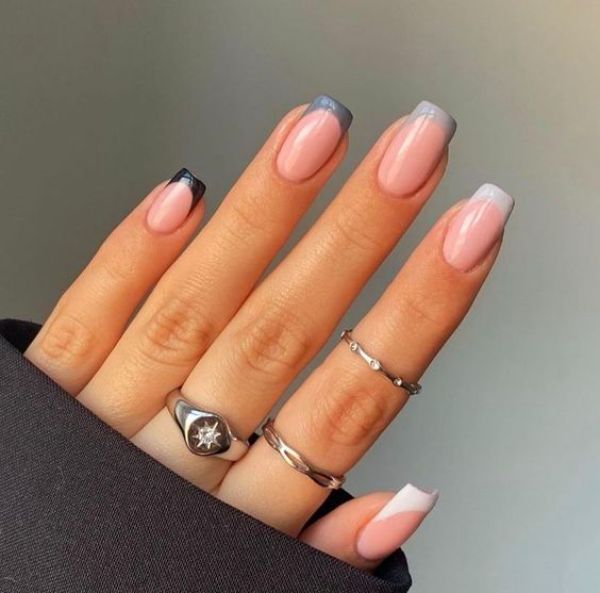 – Blue-Gray Nails. You may wear this design all year long, but it really looks as it was originally created for winter and New Year's Celebrations.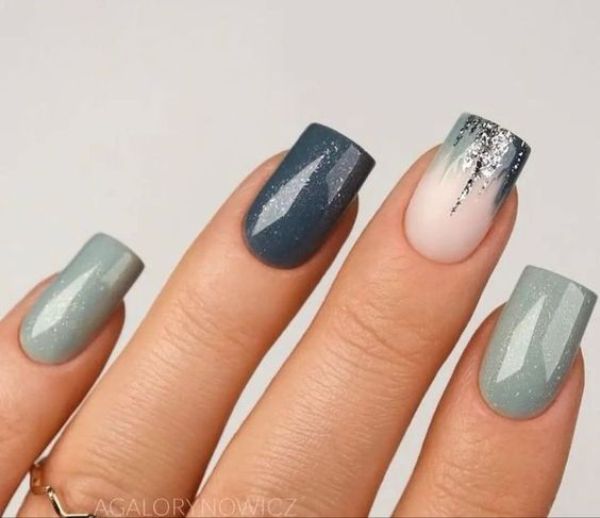 – Gray, Black and White Manicure. Some added shine never hurt nobody.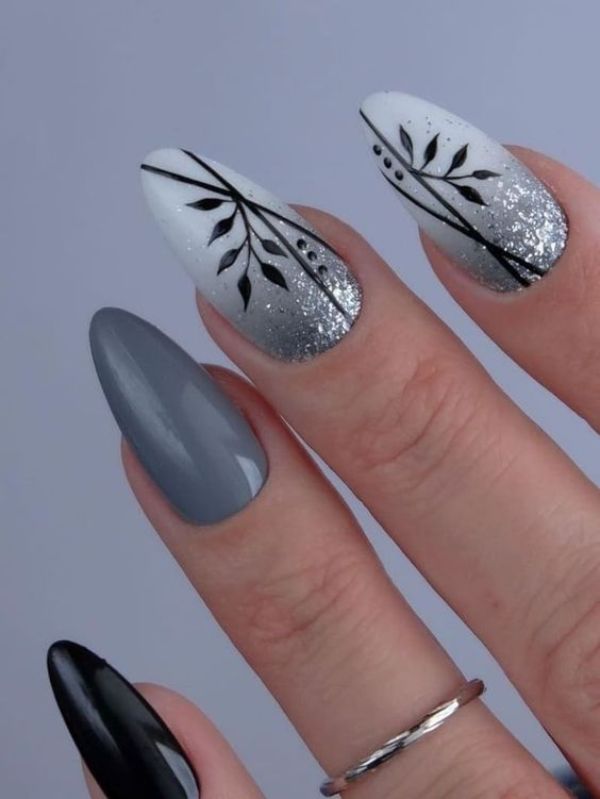 – Intricate Black, White and Gray Nail Polish. The mix of three shades is wonderful and suits well all occasions and looks. Try it if you like non-banal nail polish options.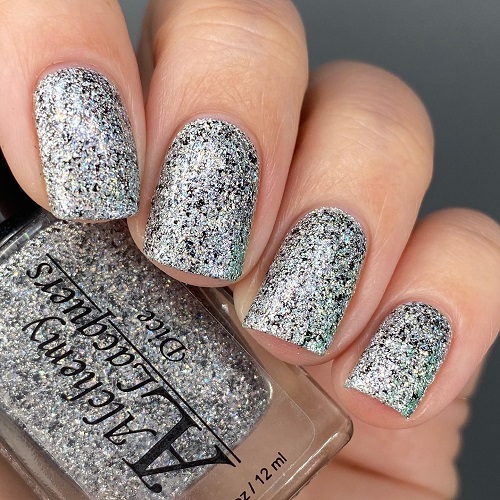 – Gray Marble Nails. This art is good for any nail shape.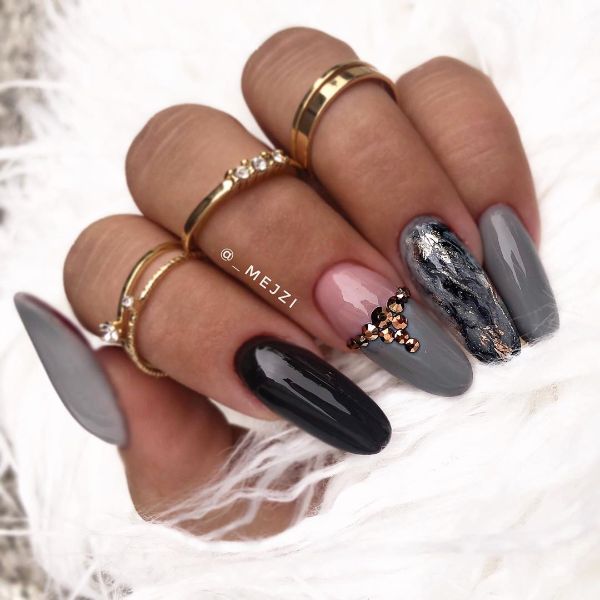 – White'n'Gray Nails with Black Dots and Gold Foil. The color combo is classic, but the design itself is far from boring.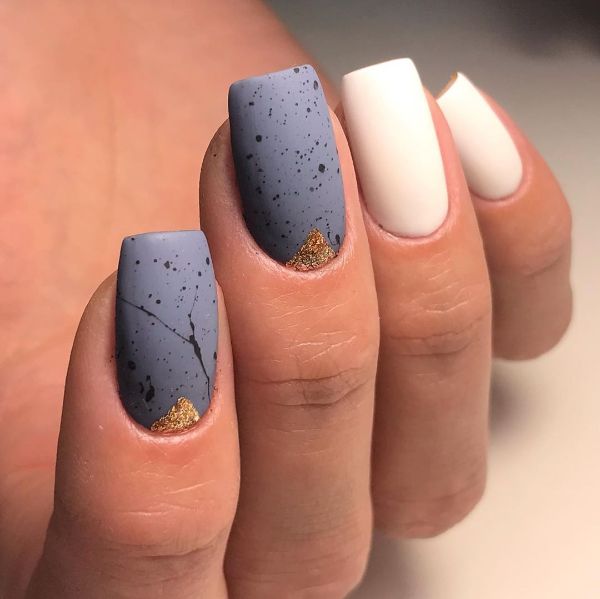 – Neon and Gray Nails. Yes, gray combines pretty well with neon colors.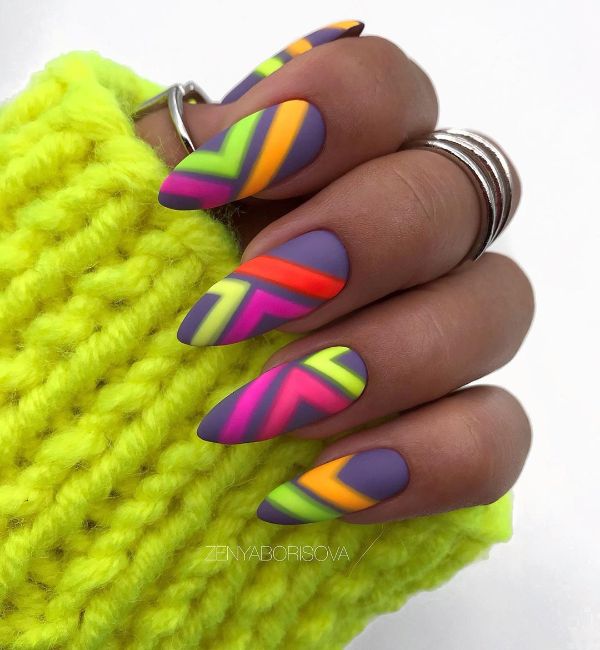 – Pink, Gray and Gold Camouflage Nils. If you like military style, then this nail art is for you.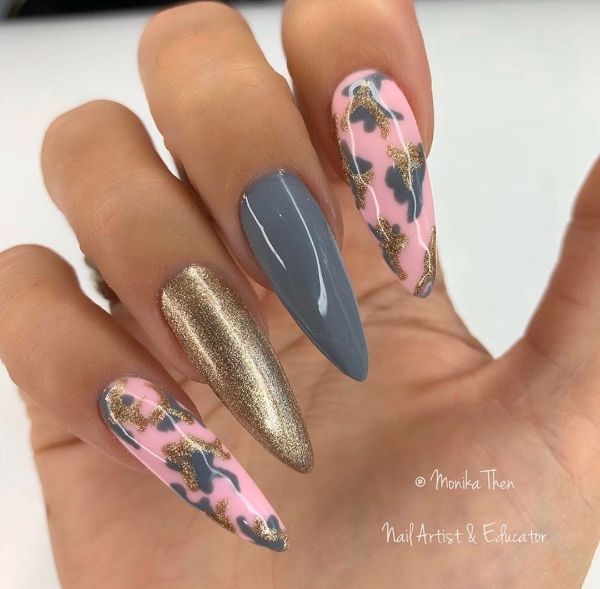 – Very Dark Gray Nails. Very dark gray nails can be 'on the next level' if you choose to add something cute and sparkling to them.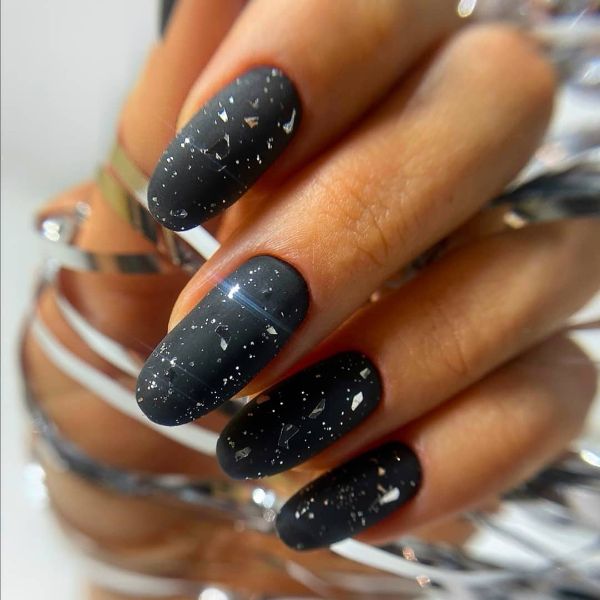 – Gray Nails with Stripes. Without a doubt combine gray and white shades in your nail arts. Moreover, dots and stripes can also be combined together.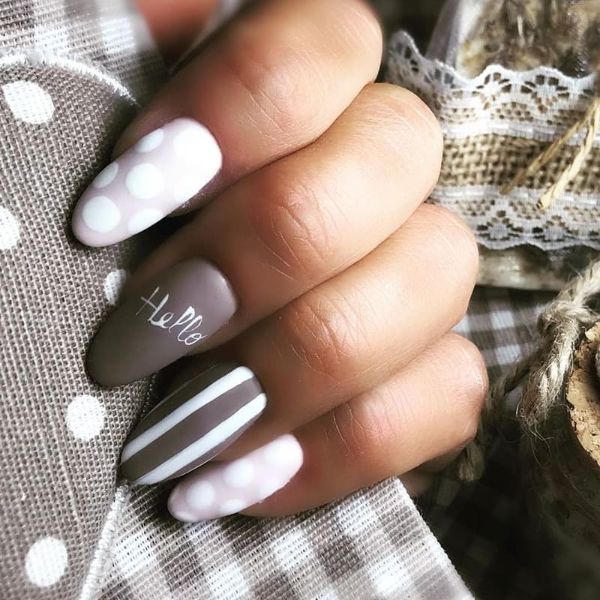 – Brown and Gray Matte Nails. Not too short, nor too long, these matte nails will suit every season and outfit.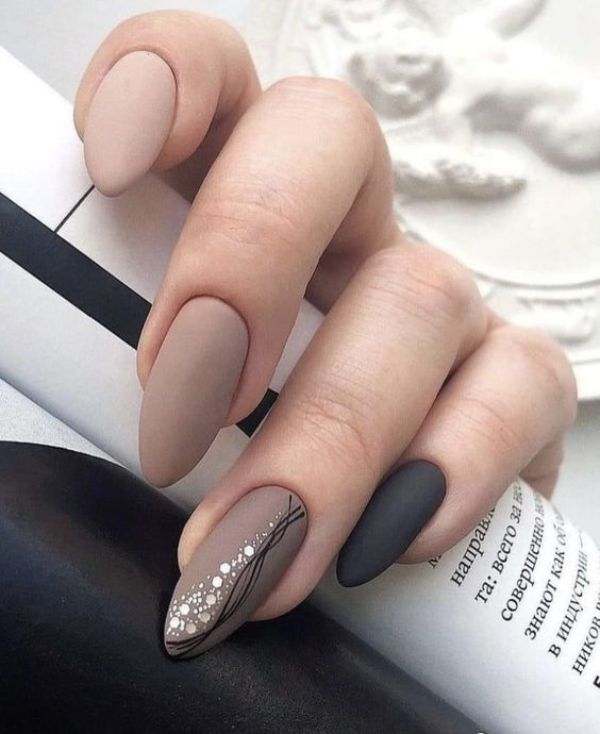 – Autumn Gray Nails. Autumn is a cool season when you can sport your fave gray nails every day! Add new details every time you redo your nails, for example, bright orange leaves, or rain drops, or umbrellas, and you are a fashion icon.
– Yellow and Gray Nails. A not so popular combination of colors, but as we see it is undeservedly. The idea deserves attention for sure.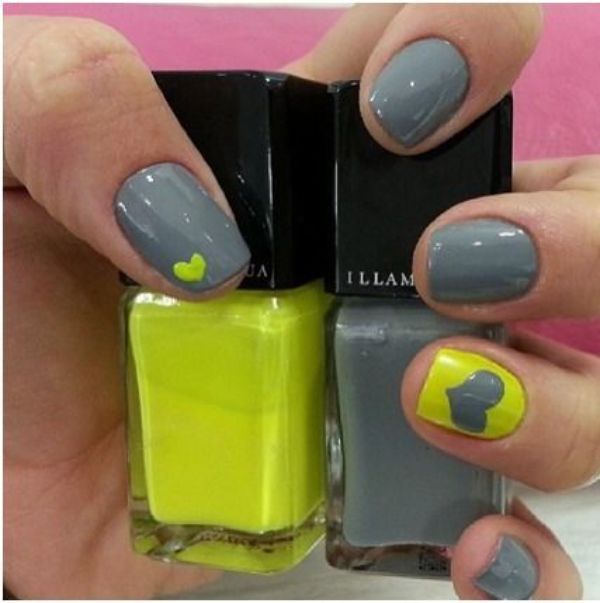 – Oval Gray and Pink Nails. Gray shades and pinks go well together as bread and butter. Don't hesitate to try this color combination. BTW, small white dots are also a cute addition.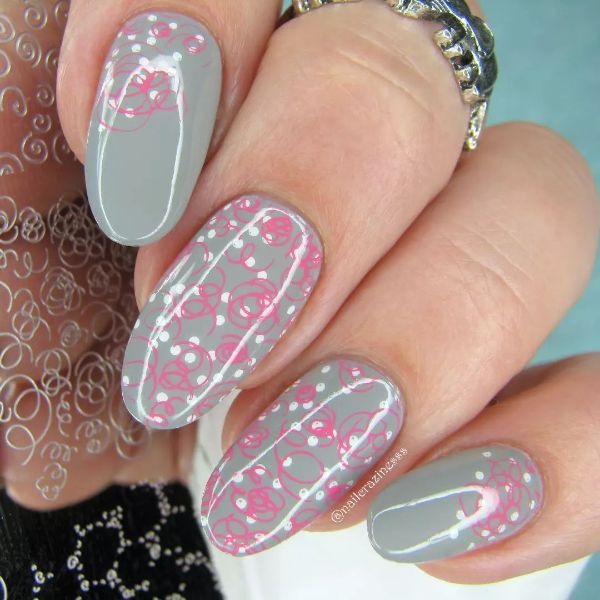 – Long Almond Gray French Nails. These nails are so feminine and cute-looking! If you were in search of something simple but better than one-color variations, here is a great idea, save for later.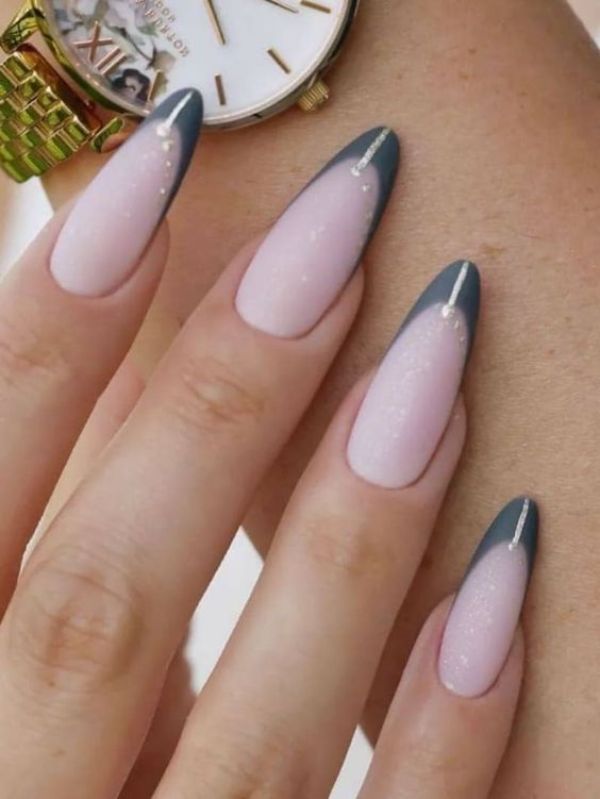 – White and Gray Nails with Leaves. Oval nails with such designs are always among the top-popular ideas. No wonder why, they are universally flattering.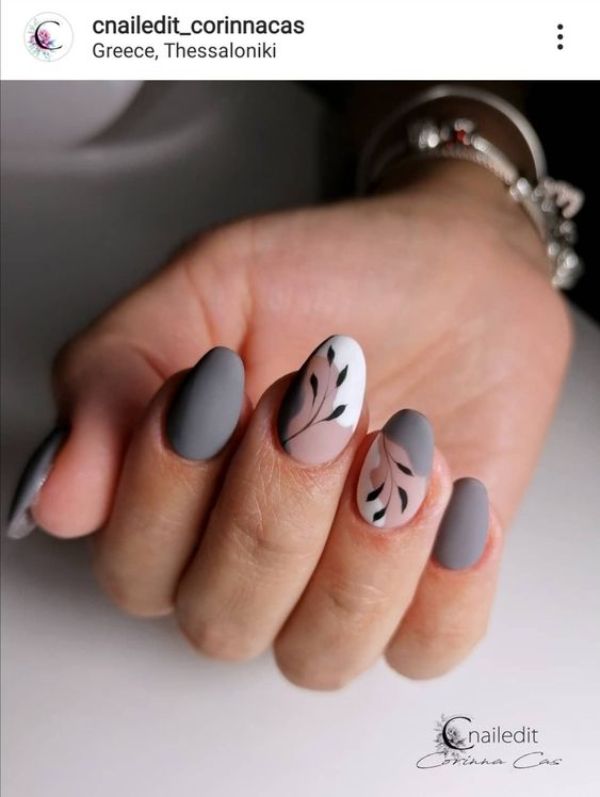 – Gray Egg Nail Design. Choose the matte finish or leave them glossy, it is up to you.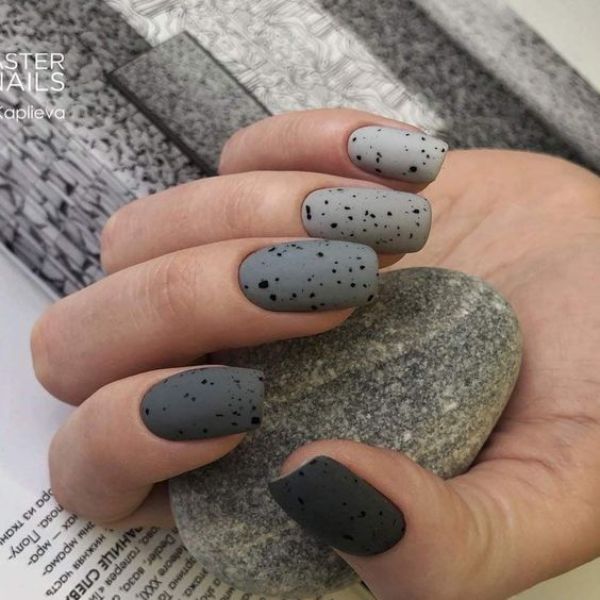 – French Gray Nail Design with 'Shadows". French nail designs rule! They can be so different! This time there are small shades under the white French lines, and this looks oh-so-cute.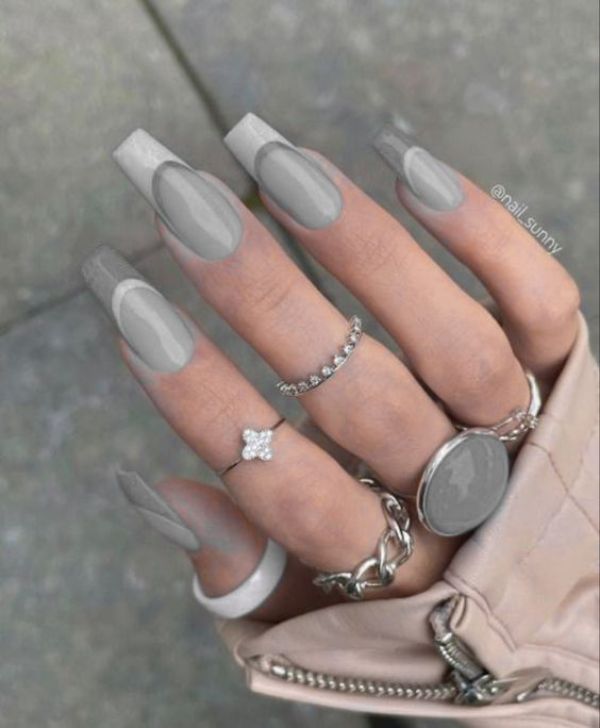 – Black, Gray and White Nail Design. Three monochromatic colors combine perfectly in this nail design.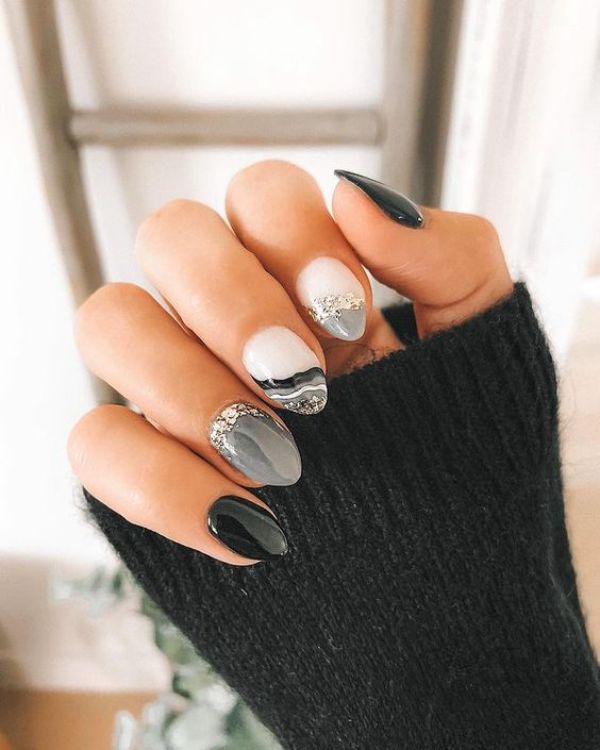 – Dark and Light Gray with Black Leaves. Quite strict and classic. For those ladies who like nail designs without any bright accents.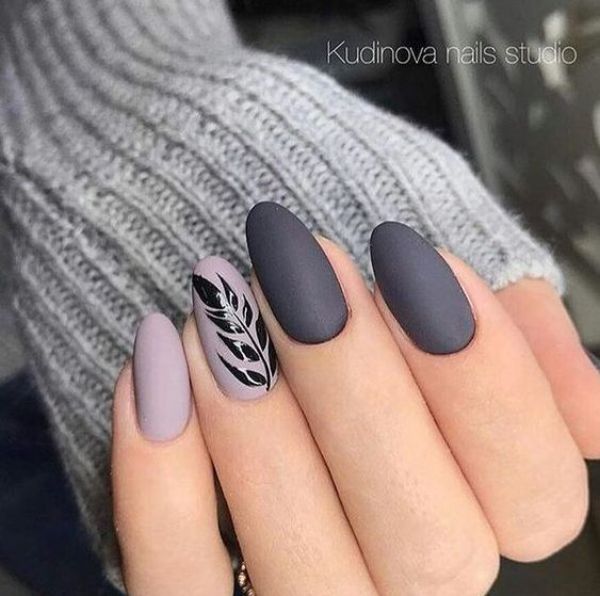 – Non-Banal Black French Design on Gray Nails. How about this French? Anyone still thinking that French manicure is boring?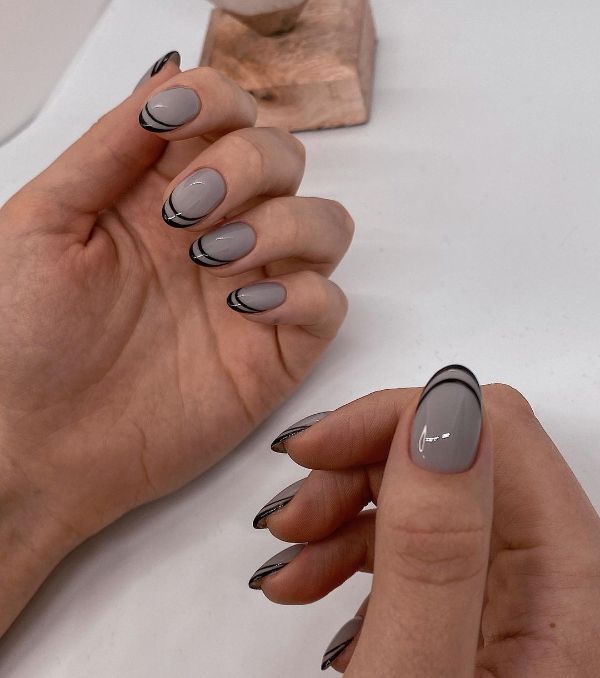 – Gray and Red Nails. A lot of women like nails with abstract designs and some contrast in shades. If you are among them, this design is for you.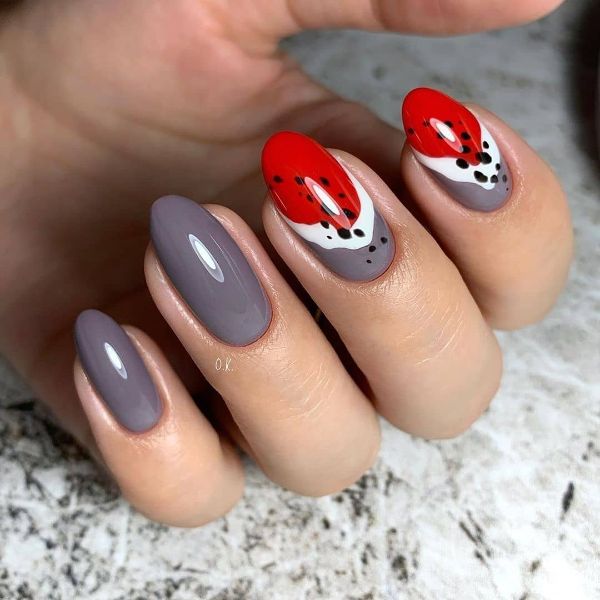 – Gray Matte Christmas Nail Design. Gray nails with a dear like you see in this picture are a cool way to have even more fun during winter holidays.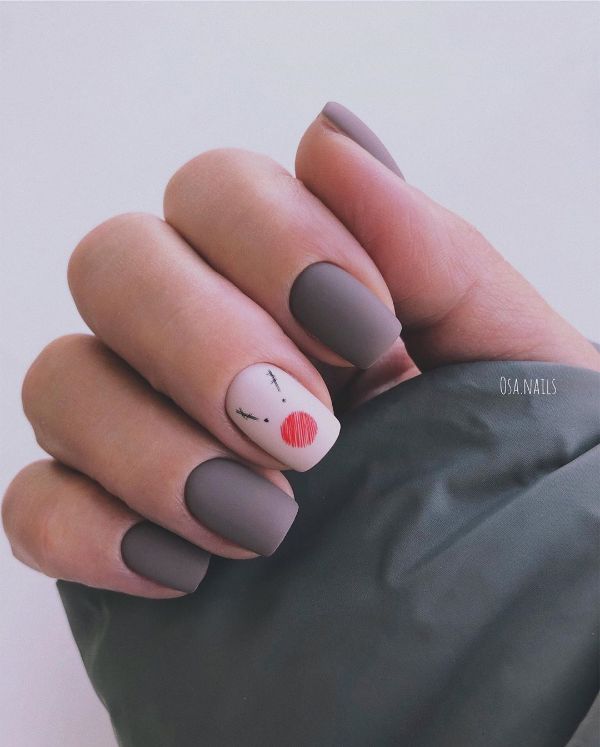 – Gray and Silver Nail Design. A nail design that can be worn all year long, as it will look equally good with warm sweaters and light summer outfits.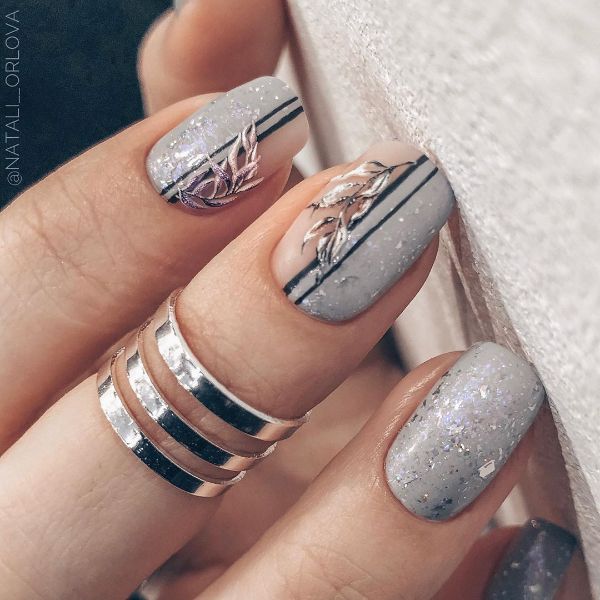 – Gray Sweater Nail Design. Such a cute nails design cannot be made at home though. Find a good nail master who can recreate it in a good nail salon.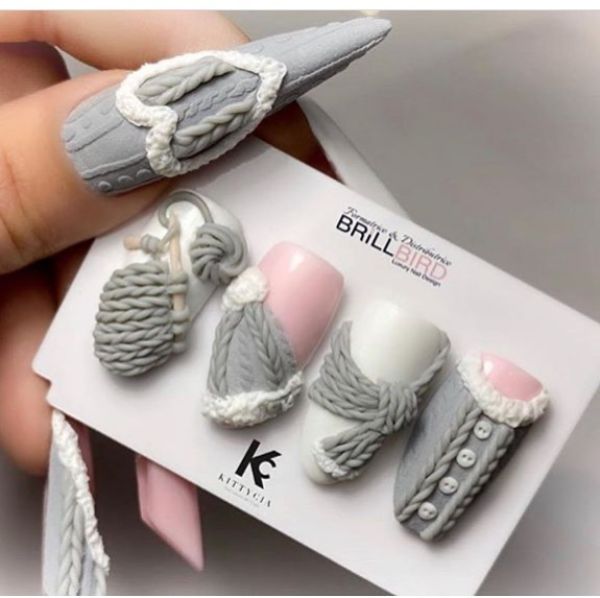 – Blue-Gray Nails. One accent 'right' finger is what you need if this life drives you crazy.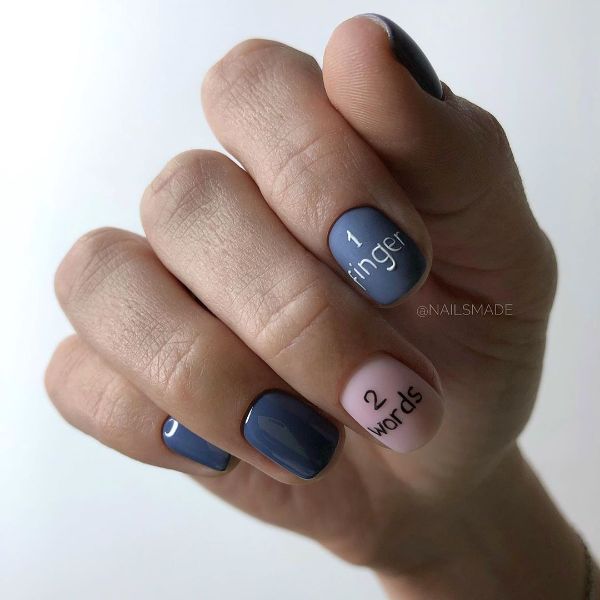 – White, Dark and Light Gray Nails. One more idea of the super-cute and very easy white and gray nails. even a beginner will manage to recreate it.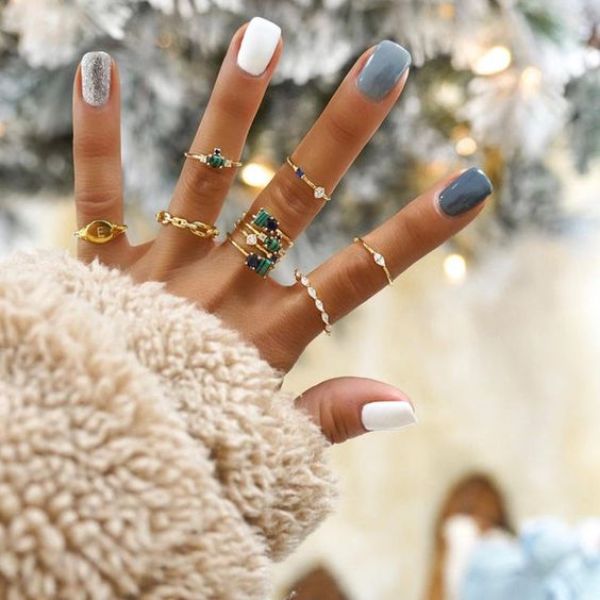 – Short Gray Matte Nails. If you like short nail designs – feel free to recreate this one. it is quite simple but still stunning. Accent nails with black to blue ombre make it super-cool and non-banal.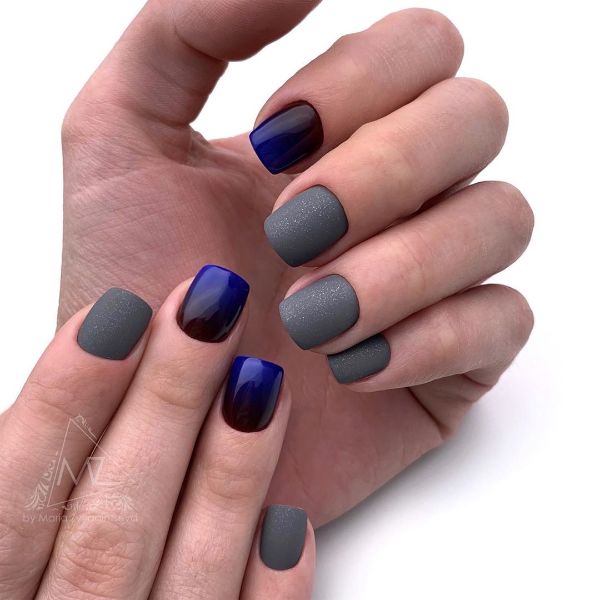 – Coffin Shaped Nail Design. How cute it looks with a sweater!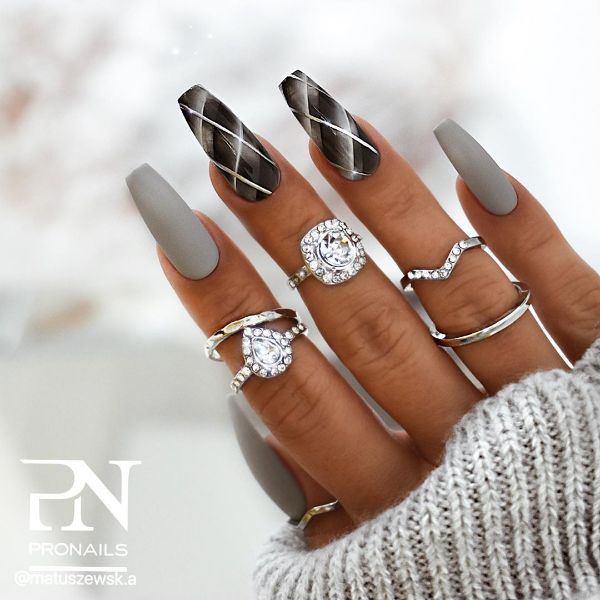 – Gray Nails with Leo Design. Dark and light gray nail design with a bit of gold and some leo dots – that is what you need if you like gray shades and leo designs.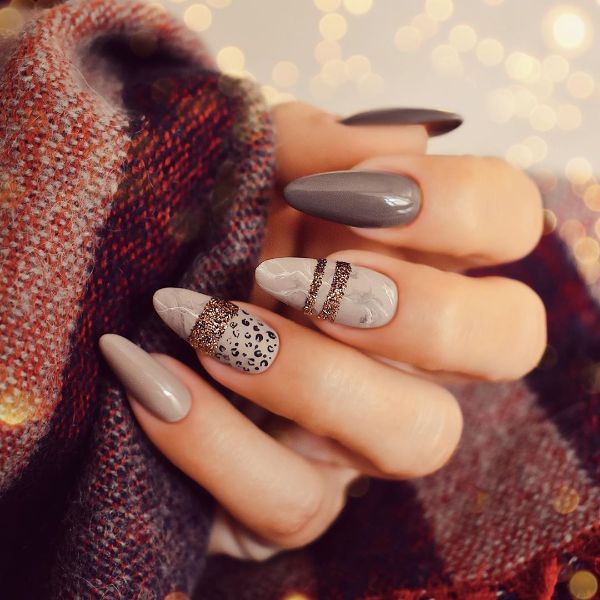 – Light Gray Nails with Flowers. Such a beautiful design can be worn to any party or important occasion.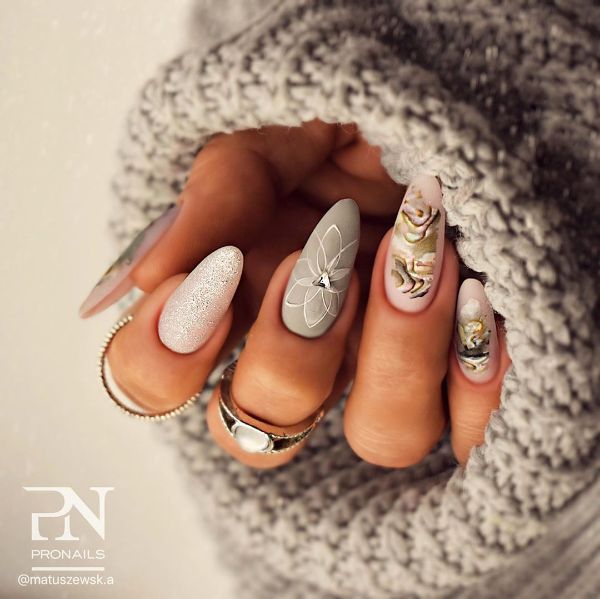 – Cool Gray Nails with Shimmer and Ombre Design. Wow, this stunning design is good enough even for a prom, a wedding, or any other special occasion.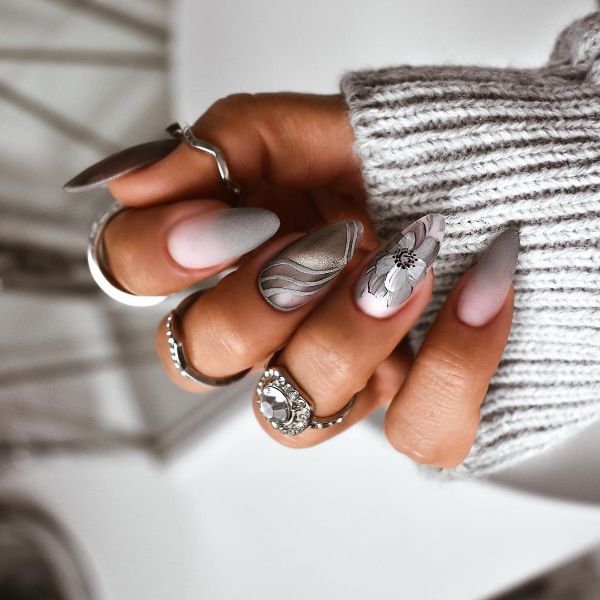 – Very Light Gray Nails with Flowers. We are fond of such cute flower designs, and you?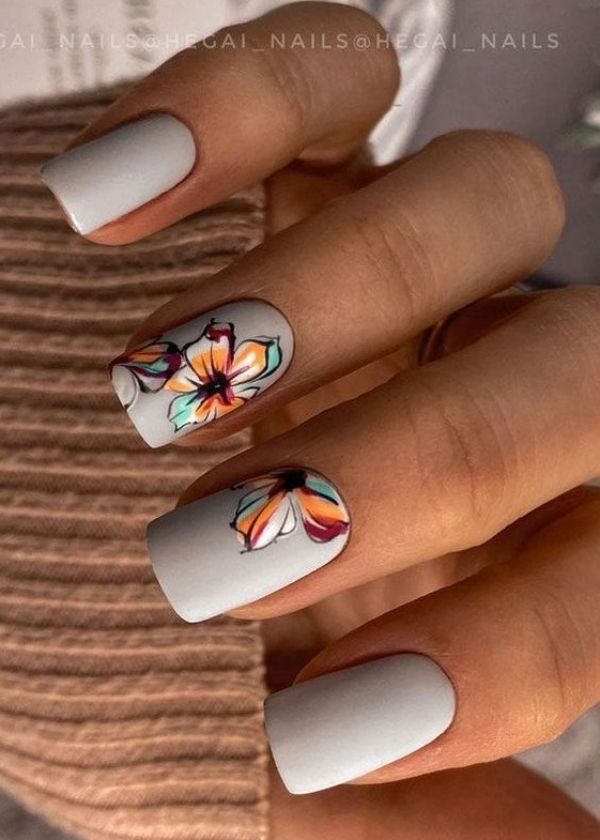 – Brown-Gray Nails with matte Finish and Leaves. Just look how cool these bright leaves look on the dark gray-brown matte base!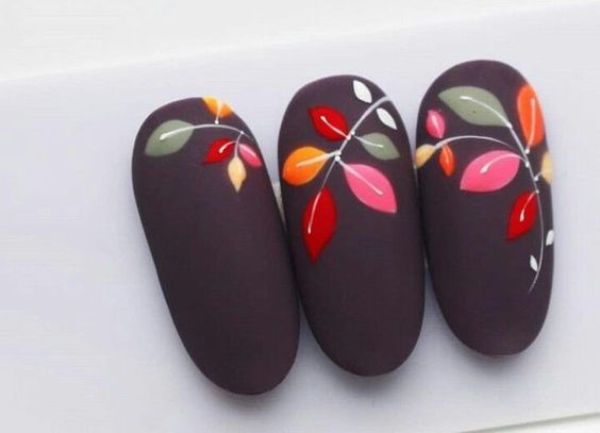 – Gray Nails for Spring. Dark gray nails with green leaves are a good choice for spring outfits.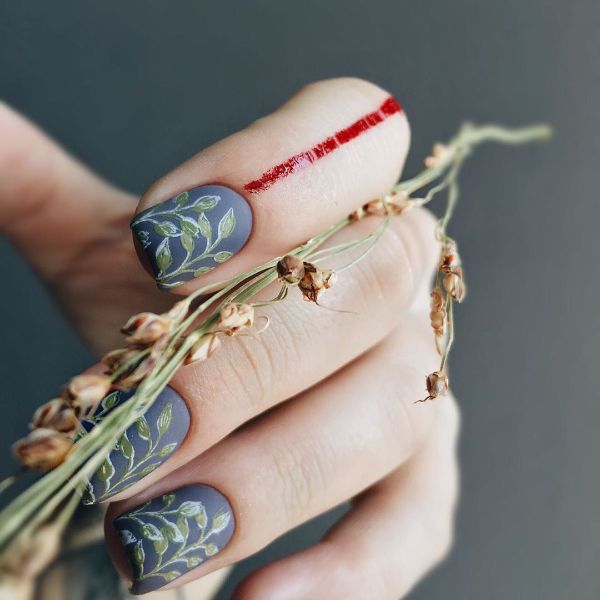 – Gray Batman Nails. Dark gray nails can be decorated in many fun ways. One of them you see in this picture.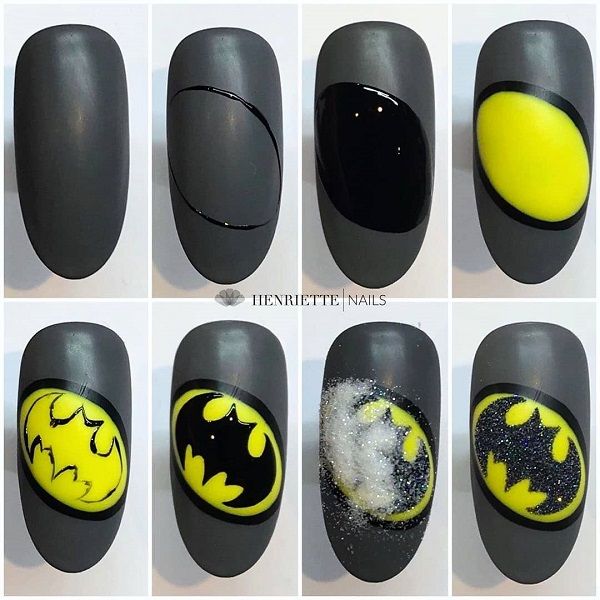 – Super-Long Stiletto French Nails. You will not be left unnoticed with such a great nail design! For real fans of French nails.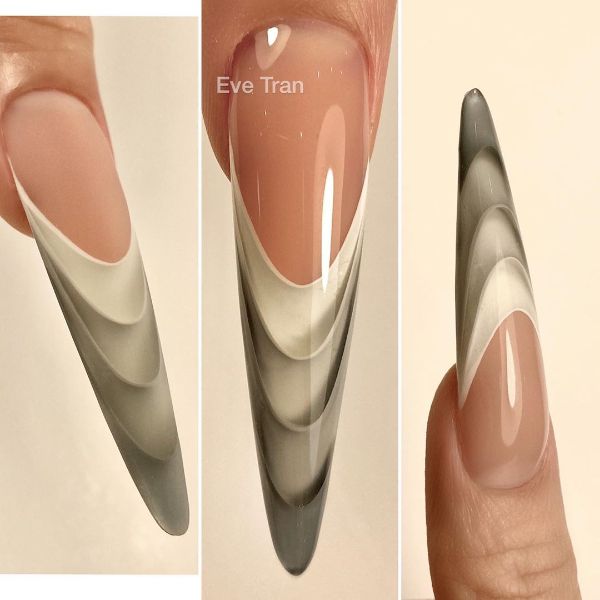 – Simple Short Shimmering Gray Nails. Keep it simple if you want to have a gray manicure that will fit all your clothes and all your mood changes.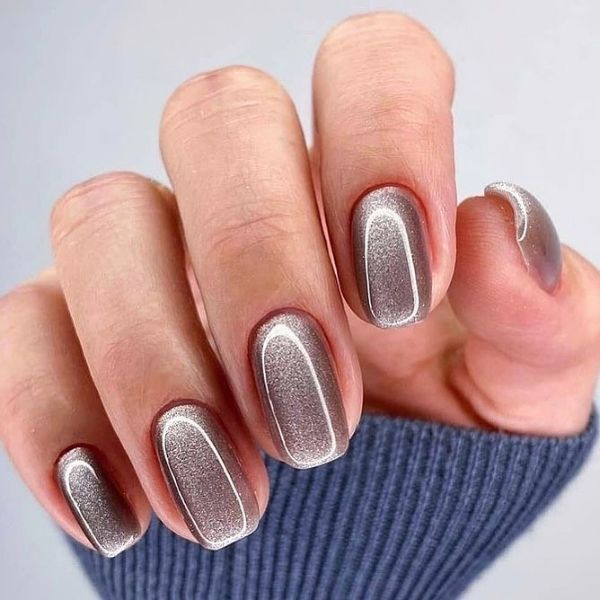 – Long Gray Galaxy Nails. Light gray long nails look perfect with dark 'galaxy drops'.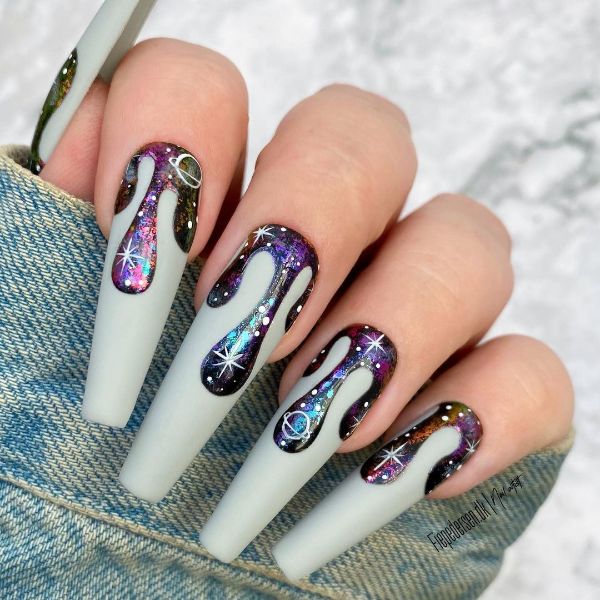 – Very Long Squoval Gray Nails. Stars, the cat eye shimmer, a lot of glitter – everything you love so much can be mixed on such perfect long nails.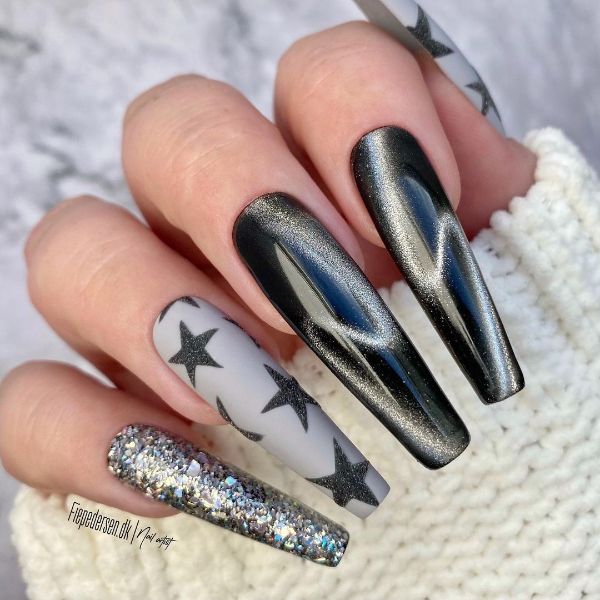 – Gray Nail Design for Fall. A lot of fall nail designs include fall leaves. This nail design is no exception.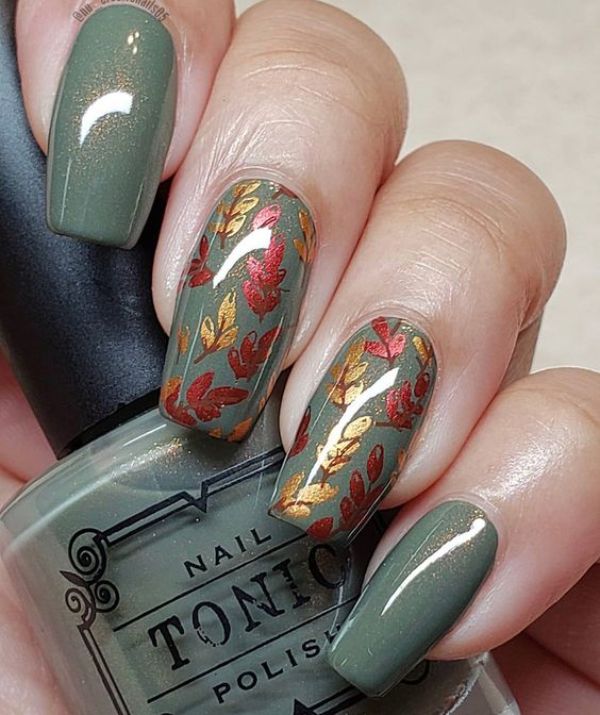 – Gray Nails with Brand Logos. Choose a beautiful shimmering nail polish and add the logos of your favorite brand to the tips. The perfect nail design is ready!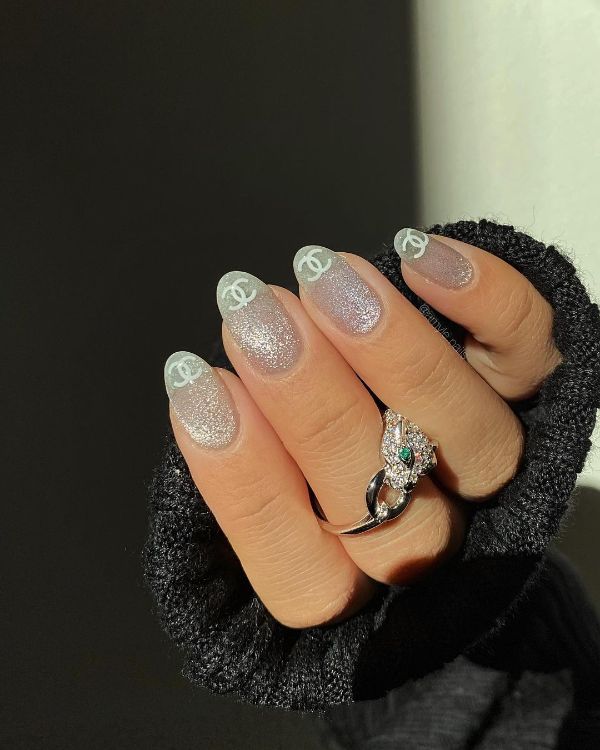 – Cozy Gray Nails for Christmas. Shimmering gray nails with snowflakes are what you need for the next Christmas celebrations.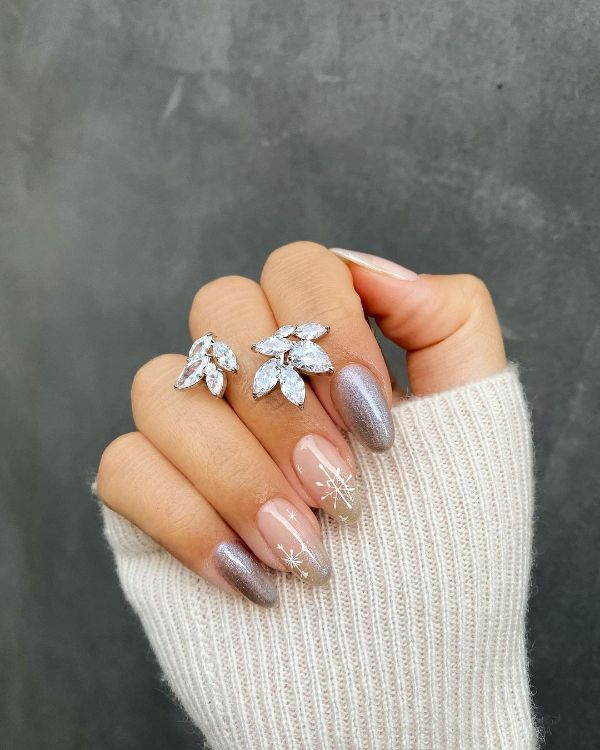 Gray nails can be a fantastic addition to your look despite the season. Cover your nails with just one shade of gray, or play with different colors. You cannot make mistake with gray manicure. We are sure that your gray nail art will come out beautiful in any case!