Are graffiti nails still in trend? Yes, they definitely are! Pair them with casual and athleisure outfits, and enjoy your bright nails during all 3 weeks of wearing them. Because it is impossible not to enjoy them!!!
Advertisement-Continue Reading Below
Graffiti nails are those with interesting fonts and drawings in a graffiti style. Instead of a wall, your nails become a canvas. Before warm months we are more than lucky to see this trend becoming popular. You may choose the black base and a bright design, or make a white manicure and ask your nail artist to draw something black and stylish. Check out the graffiti nail art below and choose the one you love the most. Feel free to screenshot or pin to your Pinterest boards for nailspiration.
1. Black and Pink Graffiti Nails. Pink and black nail designs always look very girlish and cute. The so-called Barbie-style is popular among women of all ages, from teenagers to senior ladies.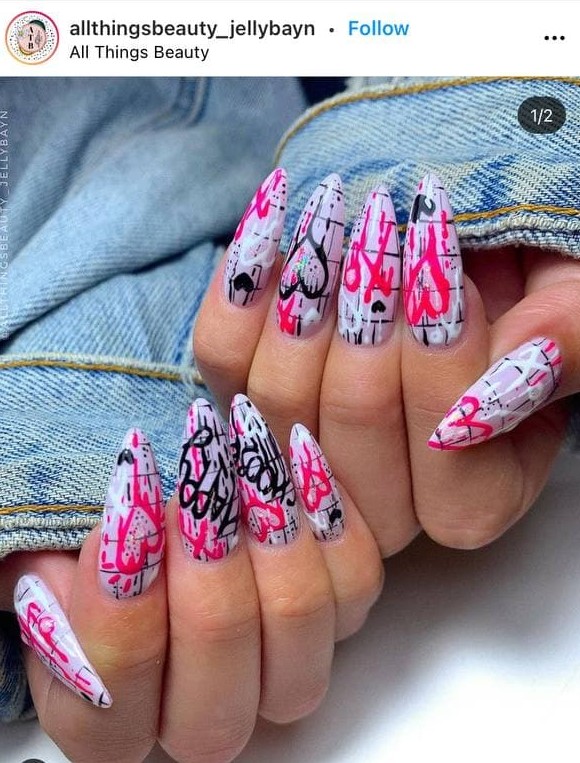 2. Neon Graffiti Nail Design. This is a very classic combination of bright colors in graffiti drawings. Long acrylic nails are a good canvas for all your ideas, even the boldest ones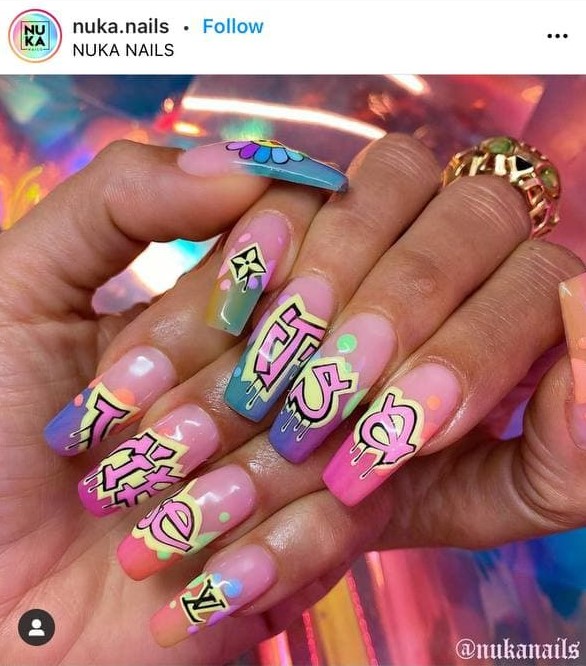 3. Graffiti in Black Manicure. Black nails look great with bright graffiti-style designs. Choose almond or stiletto nail shapes to steal the show.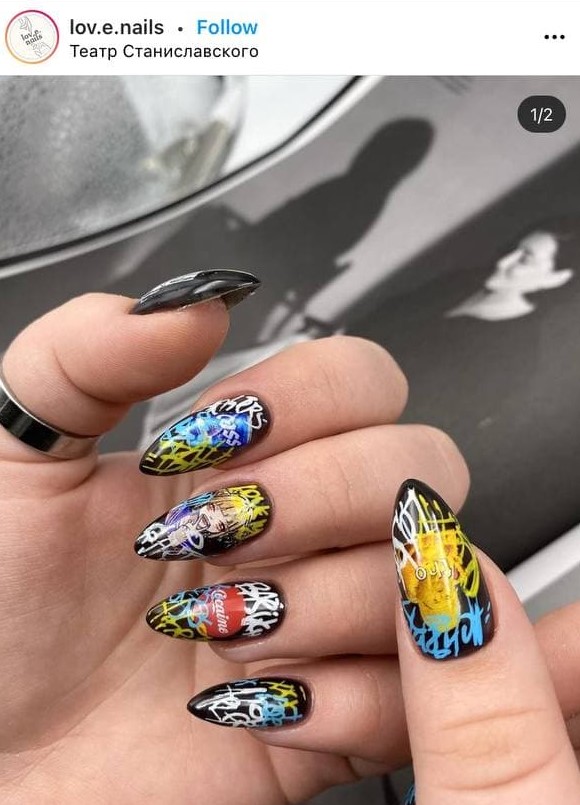 4. Squoval Manicure with Graffiti. Graffiti nails are often created with the help of stickers, nail decals or stampers. However, sometimes nail artists draw everything themselves and their designs become real masterpieces.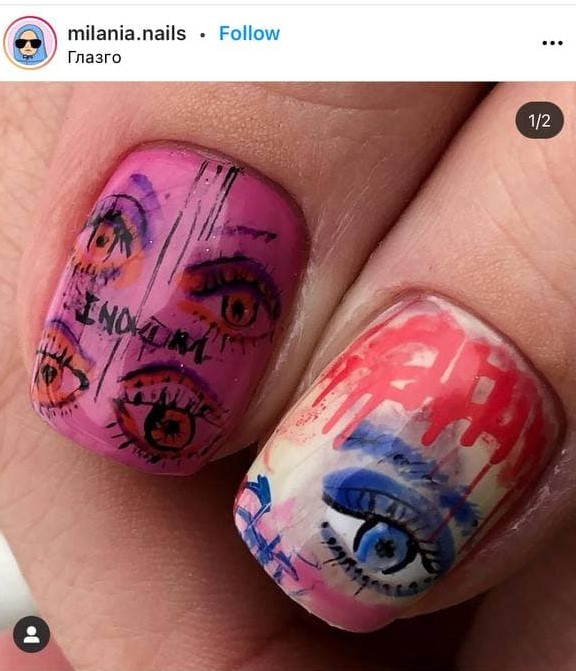 5. Skater Nails with Graffiti. A good addition to your skater look. Pair with creative sneakers and hot socks.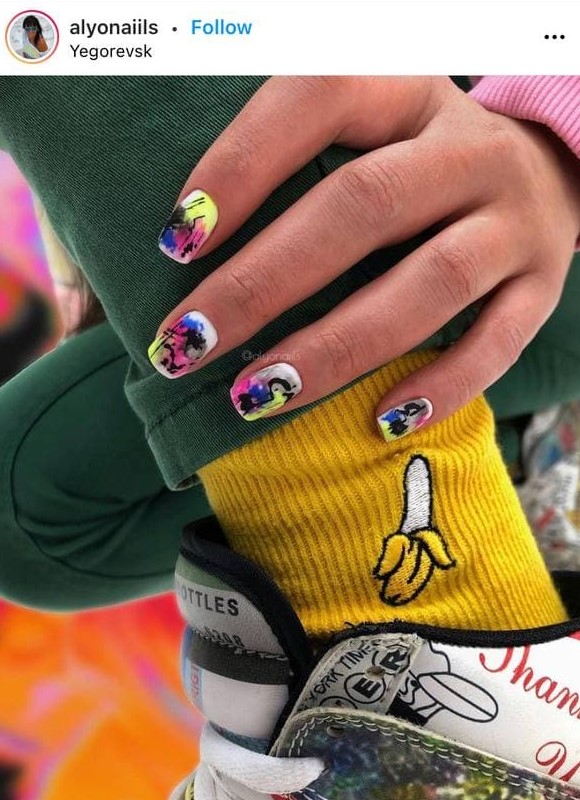 6. Black and Colorful Graffiti on Nails. Combine black and bright letters for better effect.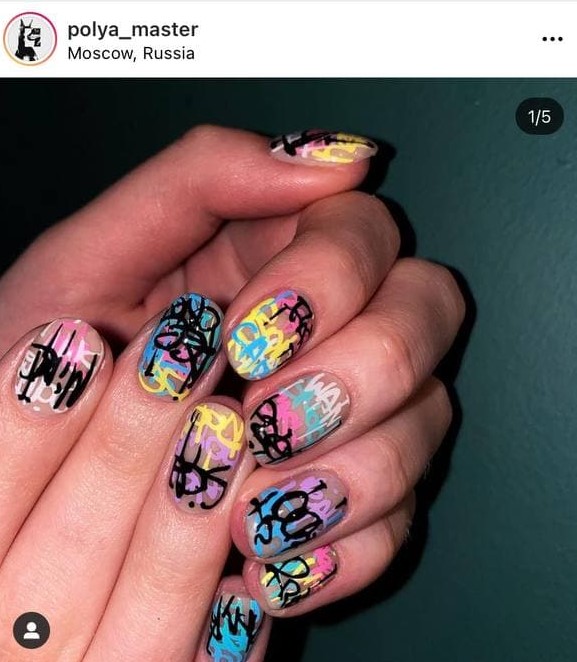 7. Sporty Graffiti Manicure. This nail design was made for sporty looks!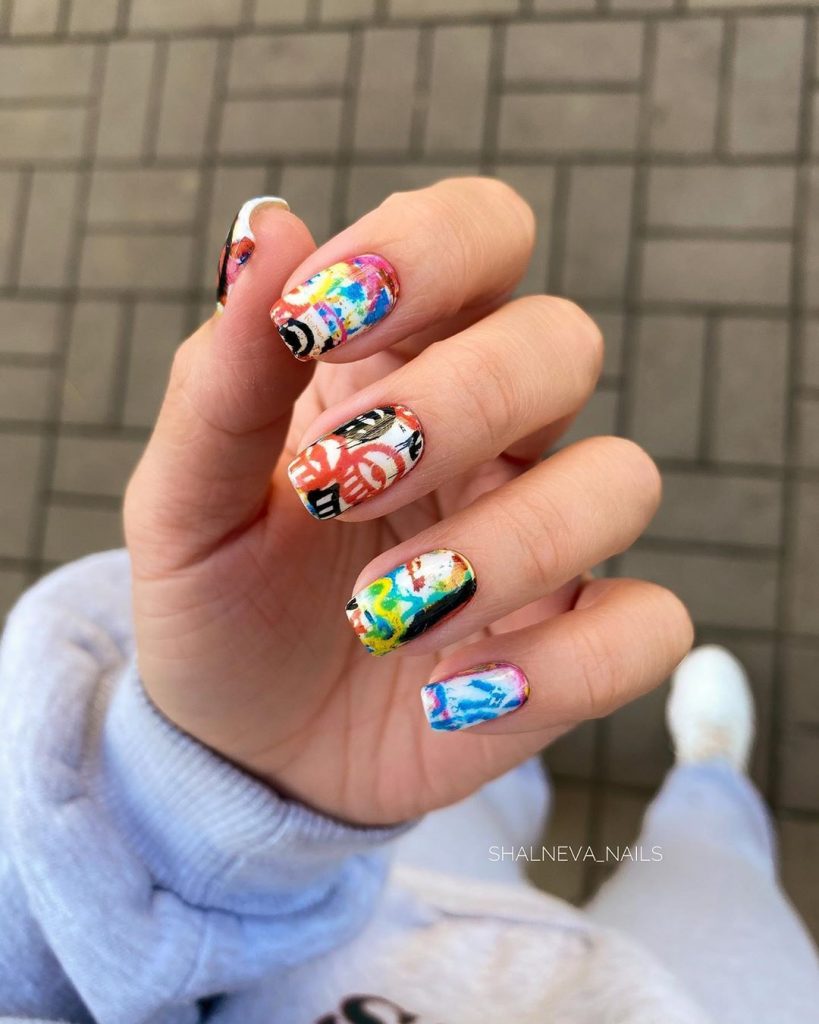 IG: @shalneva_nails
8. Graffiti Nail Art in Black and White Colors. Choose your favorite gel nail polish color for the base, then make black graffiti on nails of one your hand, and white graffiti on your second hand's nails.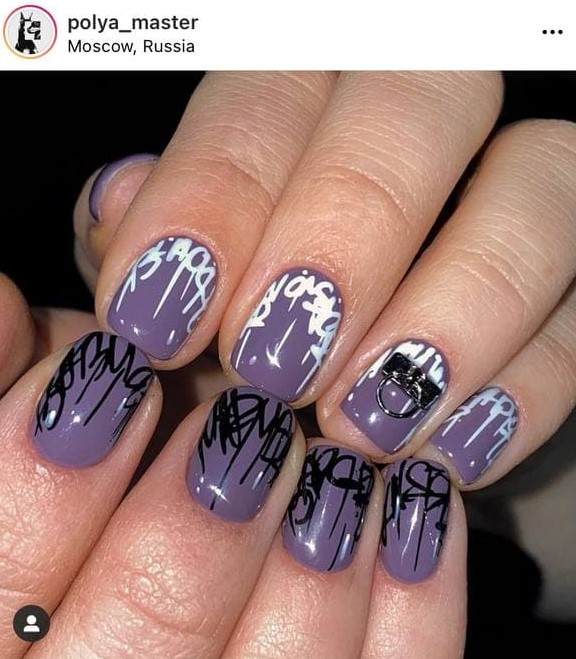 9. Beige Graffiti Nails. A beige base will make colorful graffiti design pop even more.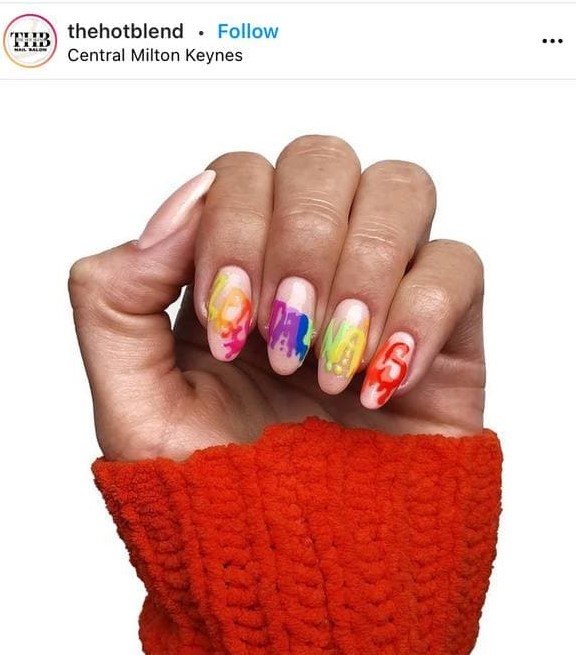 10. Matte Graffiti Nail Design. This one is a top choice for girls that like more classic colors. No too bright shades and bold details, just a neutral dark beige base, and black and white graffiti. Matte top layer gives a bit different, more interesting texture.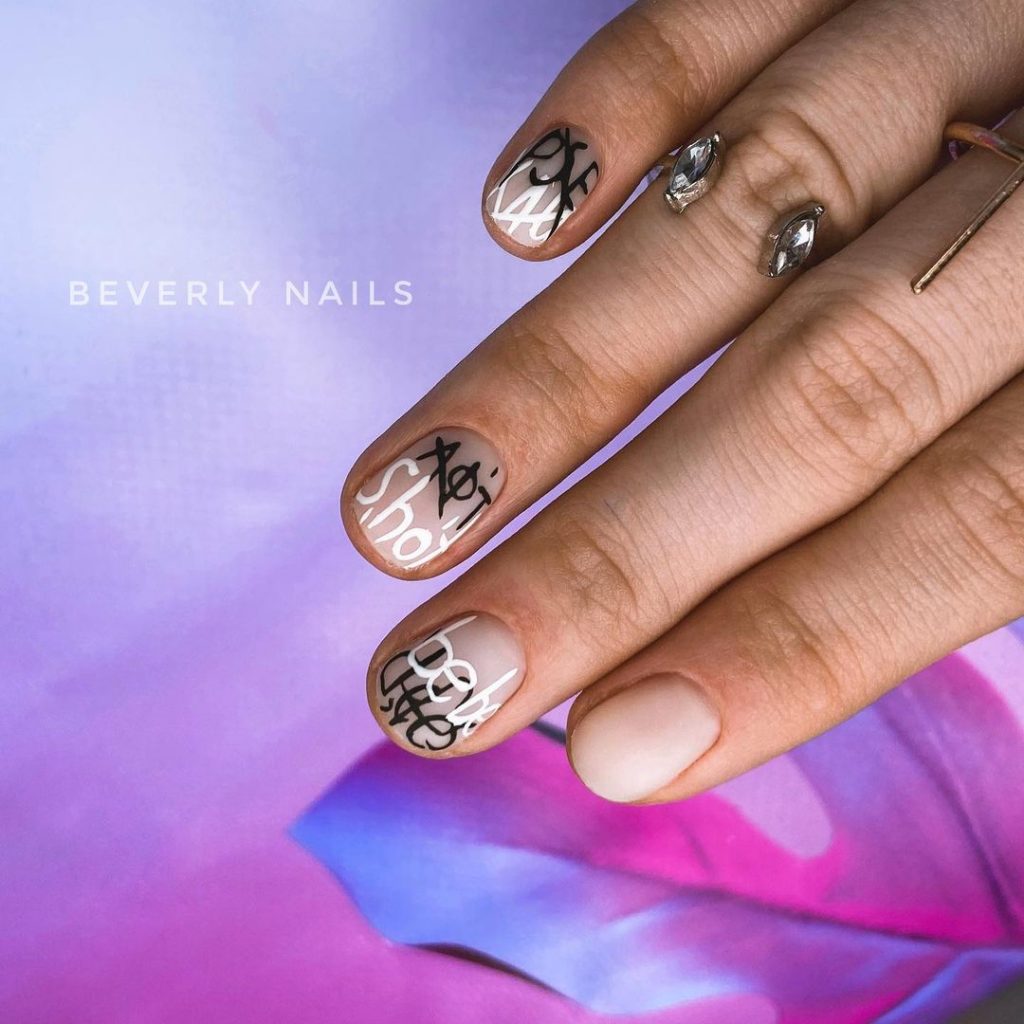 IG: @beverly_nails
11. Sharp Graffiti Manicure. To add more definition to your nail design, use beads, crystals, rhinestones, and any other decor you like.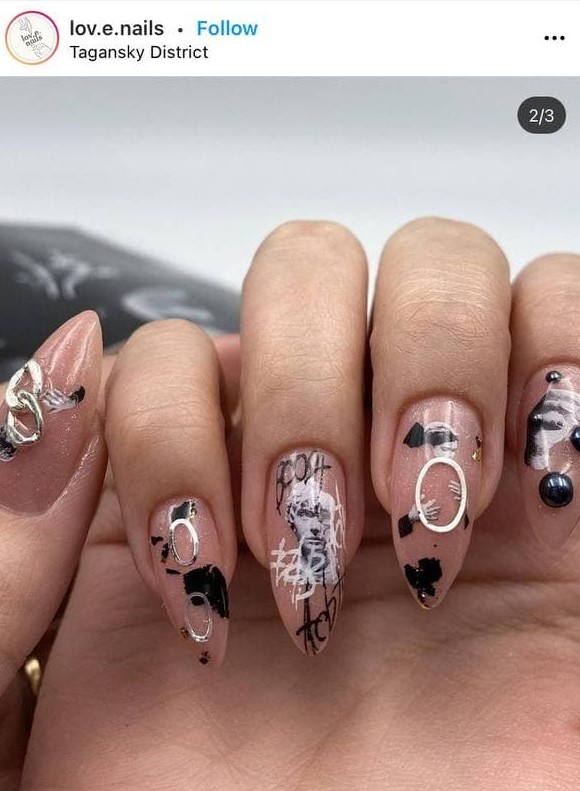 These graffiti nail designs are only a small gallery of ideas, the truth is that you may experiment with the base shade and font colors and create something very yours and inspiring. Long or short, dark or pastel, classic or modern, choose what will make you feel stylish and unique.